It is the main tourist attraction and the most significant symbol of Bratislava. The Castle which in the past was controlled by Great Moravia and for almost 200 years stored the crown jewels of Hungary, nowadays hosts many expositions and is an ideal place for walks with beautiful surroundings and views. It serves as a representative venue for the Slovak Parliament and houses collections of the Slovak National Museum.
LOCATION
Bratislava Castle seats on the hill above the Old Town and Danube river. We prefer to walk there rather than take the public transport as you get to see a lot more that way.

If you take our advice and choose to walk, don't use the main street which goes along the trolley bus line. You will have a better experience walking through narrow old hidden streets of the Old Town which look like this:
If you prefer to use the public transport, get on the trolley bus number 203 or 207 (best at "Hodžovo namestie" – in front of the Grassalkovich Palace) and get off at the "Zámocká" stop. You will find yourself directly in front of the Castle :)
WHAT TO SEE AROUND THE CASTLE?
There are four entrance gates to the Castle out of which three are currently accessible. The whole surrounding area is covered with green lawn. The benches and standing lamps give the park romantic atmosphere.
The area in front of the Castle is called Yard of Honor. It is bordered by two triumphal gates and guard houses of the imperial guard. The panoramic views you get from here are just amazing – that's why you will meet a lot of people just standing by the wall and taking pictures.

The main Castle building includes 4 towers. The tallest one is on the southwest corner, called "Crown Tower," and it is an observatory with a beautiful view on the whole Bratislava, Danube and Austria as well. You can get there via a narrow passage in the Castle Museum of History.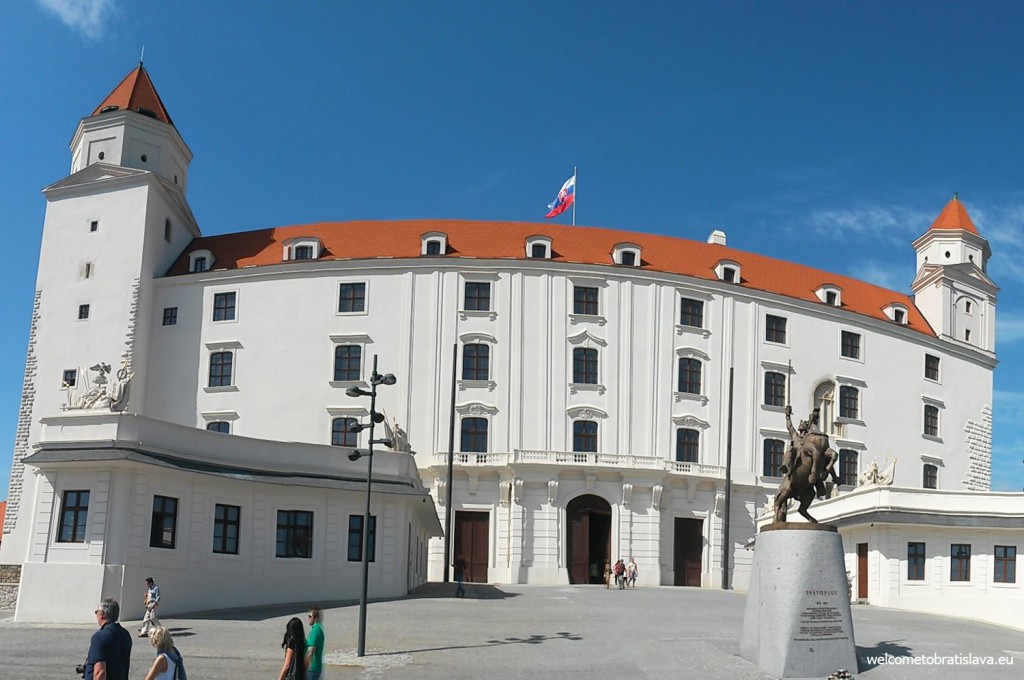 From that tower, you will get to admire this view:
The already mentioned Museum of History is located inside the Castle and offers different exhibitions. Paintings, arts, sculpting and beautiful crafts is what you can find there. Just like the exterior of the Castle, its interior has also gone through a restoration.
If you feel like you need to buy a souvenir at the Castle, you can do so at the souvenir shop which stands at the main courtyard, near one of the main gates. There is also a restaurant called Hradna Hviezda – which has a very nice interior and offers good Slovak meals.
When walking back to the city center, take the staircase which will lead you to the new bridge. On that way down, passing the colorful buildings, you will find small restaurants and bars so you can stop by to refresh yourself.
After getting from that hill make sure you check the UFO bridge and definitely visit the St. Martin's Cathedral :)

 TICKETS: Open for public, you only pay for the entrance to the Museum (7 €)


ADDRESS: Zámocká ulica


 CONNECT: Website, Facebook


 MAP LOCATION: