Feeling like experiencing old Bratislava with a glamour touch of French iconic cafes? Want to contribute to an interesting project of social inclusion while having your coffee? By visiting this place, you may help people less fortunate in life to get back on track. Read on to find out why this place is so special and has a wider meaning than just being a random coffee place.
LOCATION
Dobre & Dobré café is part of the Old Market Hall. It was opened as part of the reviving activities of our town's historical market place situated at the SNP square (Namestie SNP). It is only three minutes away from the Kamenne square (Kamenne namestie) where the big Tesco store is. Excellent to stop here during the regular Saturday market or when other events are held in the venue.
WHY IS DOBRE & DOBRÉ SPECIAL?
This place combines the elegance of its premises with the concept of humanity, since it is the first and only café in Slovakia and Central Europe which tackles social inclusion by employing homeless people. It was established by an NGO "Vagus" as part of its activities for people without home. Apart from professional bartenders, there are people with history of living on the street serving the guests. They wear no nametags, so the guests cannot tell the difference, so those with sad stories are not stigmatized.
In total three people from the streets were chosen to work at the café. The main criterion for selection was their current situation and their idea of how to get out of it. Other were the ability and willingness to work. They went through a job training, psychological training, learned how to prepare coffee and how to approach customers. We bet you would not be able to tell any difference from regular coffee places, only that the staff here are much nicer and funnier. To a question if we can pay by card, we received an answer "Of course… in case it is not a Joker card":) The place is dog-friendly, too.
INTERIOR
This historical place carries a legacy of no longer existing cafes of old Pressburg (what Bratislava used to be called) with its philosophy, interior and menu selection. The feeling of the old Bratislava is complemented by the bohemian Parisian atmosphere. Beautiful blue and brown tiled floor, heavy dark green curtains, high windows with green metal frames so typical for our market hall, marble tables, beautiful elegant French styled lights and a magnificent chandelier bring the design of this place to a higher level and to a different historical period. Big old-school piano dominates the place and if you get lucky, you can experience live piano music. In other cases, they play French chansons in the background which is also lovely!
WHAT TO TRY?
Dobre & Dobré is more of a coffee spot than an eatery. There are no lunches or dinners available but rather small snacks to complement your drinks. They based their philosophy on having purely Slovak suppliers so you can make sure to find only local goods there. The drink selection is wide; apart from hot beverages you can order different lemonades, ice tea, beers of original recipe, Slovak wines and typical Slovak spirits. The coffee they serve here also has an interesting story. It is grown on a Slovak plantation in Colombia and is freshly roasted in Bratislava. Sounds good, doesn't it?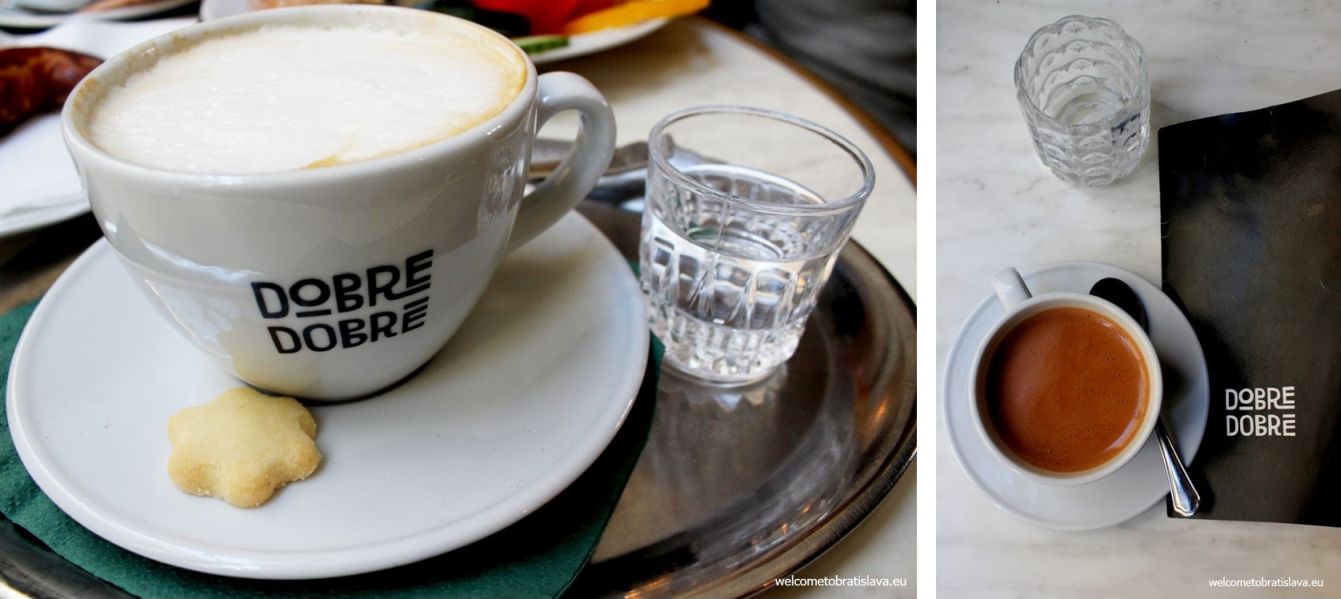 The eating options include a wide selection of home-made spreads (chick pea spread, skvarkova, bacon jam spread, liver spread with cherries or spread made from baked peppers). We tried the "skvarkova" – scratchings spread and finished it all with delight. The portion was huge and yummy, with fresh bread and vegetables. We also tried the traditional Bratislava pastries – you can choose poppy seed or walnut filling. These rolls were gigantic and delicious! The old Bratislava spirit can be retraced through a traditional sponge cake, "oskvarkove pagace" (round cake made from fried kind of fat) or Slovak styled sandwiches. Real old-fashioned yummy cakes are provided by patisserie Danela with a tradition since 1989, be it "veternik" or "puncovy tunel" cake. One of the rare items and our strong recommendation is to have their "trdelník" – a very traditional sweet treat which is usually sold only at open markets. We were very nicely surprised to find it on the menu actually. Dobre & Dobré is the first cafe in Bratislava we are aware of where you can buy this sweet. And if you have not tried it yet, there is no excuse not to do so – you will love it!



(source)
We just love the small details of this place, such as the cute tiny crystal glasses for water or cups with Dobre & Dobré inscription. Because small things and big, full-hearted ideas make a difference :) If you feel like enjoying a nice concert, check the events that are held at this place – jam sessions, piano evenings, jazz and swing concerts are organized here regularly. Those who like brunches can stop by here on Sundays from 11 am – these are nice to try especially in the summer as the café has an outdoor terrace.


(source)
Additionally, you can also help the place by buying one of their hand-made, high quality elegant bow ties which come in different colors.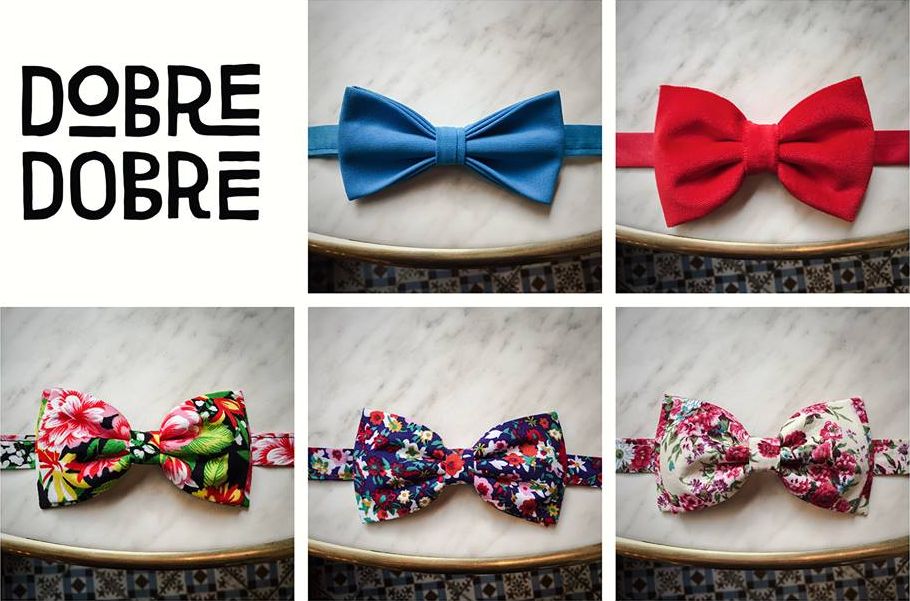 (source)

 ADDRESS: Nedbalova 13 (back entrance of the Old Market Hall)


 OPEN HOURS: Check their FB page


 CONNECT: Website, Facebook


 MAP LOCATION: