Will you be in town on the last day of 2016? Are you searching for a last minute program? There's a lot going on on the New Year's Eve in Bratislava, and you can have fantastic experience in restaurants, bars as well as most diverse clubs. Here is our pick of the best things to do to say bye to this year :)
NEW YEAR'S EVE IN BRATISLAVA'S OLD TOWN – OUTSIDE

For those who like crowds
You will be able to celebrate the last day of 2016 under the open sky in the Old Town. The main program will take place at the Hviezdoslav's Square (22:00 – 24:00). An open air dancing party until the morning hours, an open air bar and Christmas booths will be waiting for you. The ice-skating rink will be open until 01:00. A special countdown timer will be placed at Ľ. Štúra Square to follow time until the midnight and to start the fireworks from the nearby boat on the Danube river. The best spot to watch the fireworks show will be thus from Ľ. Štúra Square. The Main Square will offer an entertaining way of digital fireworks – you can use your mobile to select fireworks with your NY wish to be displayed at the screen at the square. Details.

(source:  Bratislava24)
NEW YEAR'S EVE IN RESTAURANTS

For acoustic music enthusiasts
The Lemontree restaurant prepared a concert played by popular VoiceLive Trio. They will sing acoustic versions of well known songs from L. Armstrong ,M. Jackson, Imagine Dragons or Rihanna, accompanied by a guitar finger style player. Start at 21:00. Entry 29 €. Ticket reservations and other details are available at the restaurant or phone +421 907 264 802. Details.
For those who want to dine at the Castle
An unforgettable view from the Castle Hill and great food are main attractions of Hradna Hviezda's restaurant offer. You can check the menu alternatives on the official website. Price: 49 EUR. Facebook event and booking.
Another alternative, just a few meters distant, is to visit the panoramic restaurant Parlament where the whole city is at your fingertips. Enjoy the fireworks from a terrace with a great view and hot air heaters, a rich menu and a DJ who will play during the night for you! Tickets: 59 €/person. Reservations on info@restaurantparlament.sk or phone: 0908 834 363 or  0910 957 742. Facebook event.

(source: Restaurant Parlament)
For those who like pizza and burgers
Spend this special evening in a cosy atmosphere in one of our favourite restaurants Nervosa. The fee (12 €) includes a welcome drink, finger food, midnight cabbage soup and a midnight drink. You can order pizza, ribs or burgers during the evening. Facebook event.
For fans of Spanish fiesta
Rich feast is waiting for you in La Cava Barcelona restaurant. You can check a six courses dinner here. Price: 65 €. Booking necessary in advance in person or at 0948 448 694.

(source: La Cava Barcelona)
For exotic food enthusiasts
Food lovers cannot miss this special New Year's Eve offer of Green Buddha restaurant. Booking is necessary by phone at 0948 904 404 or email at manager@greenbuddha.sk. Facebook  event.
For those whose hearts beat for beer
Beer Palace, a popular beer pub and restaurant, has prepared a fun evening with a DJ, a midnight drink and a party till the morning! Entrance: 5 €. Booking necessary at 0903 499 499. More info.
NEW YEAR'S EVE IN CLUBS & BARS
For hot-blooded Latino dancers
Spend the last hours of the old year in the popular La Fiesta at their Latino party! Enjoy three stages: one with disco hits; second with salsa and bachata and third with kizomba music. A welcome drink, soft and alco drinks as well as a cabbage soup between 21:00 – 04:00 are included in the fee (40 €). Dress code: White. More info.
For those who like big commercial clubs
DJ Maghi will entertain you during the New Year's Eve party at the popular party place The Club. A welcome drink is included (15 € standing). Entrance with the ticket possible between 21:00 – 23:30. Facebook event and tickets.
For alternative party lovers
KC Dunaj will not disappoint you with the Prague formation Lovesong Orchestra, DJ Julah and DJ Matthew. Entrance fee (25 €) includes a bottle of wine or champagne, sandwiches and other refreshments. You will have a splendid view on the midnight fireworks from their terrace! Tickets can be bought in person in KC Dunaj. Facebook event.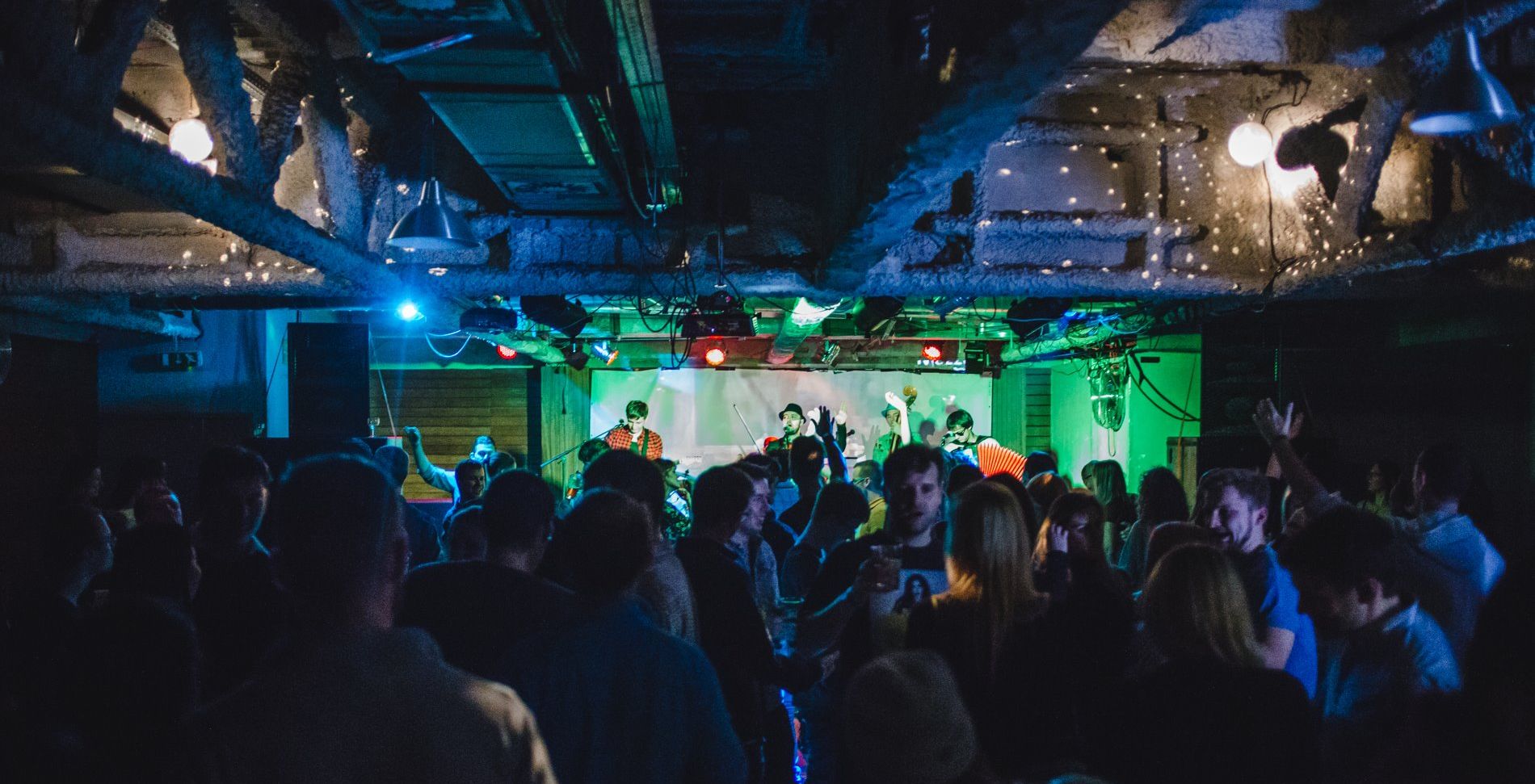 (source: KC Dunaj)
For dancing queens and kings
Get ready for a dancing party on three stages! Popular DJs Mercy, Alex Alexsko Smith and BPM will entertain you during the whole night. Entrance fee: 13 €/15-17 € on the spot. Facebook event.
For wild but stylish rockers
Experience a wild New Year's Eve party in a true rock bar/club Barrock. A welcome drink, three-course dinner and a midnight cabbage soup are included in the ticket (35 €). If you want to book a private table, it'll cost you extra 20 €. Book your spot via +421914346968 or email at barrock@barrock.sk. More info on their Facebook.
For those who like elegant classy gems
Say bye to 2016 in the elegant cocktail bar Le Club with delicious drinks and dance to music of live DJs. The ticket (40 €) includes snacks, a welcome drink and a reserved table in the club room or lounge. The cheaper alternative (20 €) includes a welcome drink and a reserved table in the club room or lounge. Reservations to be made on +421 914 346 951 or via email leclub@leclub.sk.
For excitement seekers
There's a four-course dinner, a welcome drink and a midnight cabbage soup waiting for you in Rio Grande. All this, with a reserved table, will cost you 50 €. If you are OK just with a welcome drink and a reserved table, you'll pay no more than 20 €. Do your reservation via +421 911 25 36 25, email at rio@riorestaurant.sk or in person and look forward to a night full of exciting rhytms!

(source: Rio Grande)
For dancing stars who like packed clubs
See in the New Year in style in Primi, downtown, and enjoy the 2 floors of different music played all night long! This place is a must-do party for the devotees of commercial music. A three-course menu, a midnight cabbage soup, a welcome drink and reserved table = 40 €. Tickets can be bought in person, booked via phone +421914346952 or email michalska@primi.sk.
For fans of mainstream
The TRAFO Music Bar is underground a palace from the 18th century and is preparing a night full of great music for its visitors. You will pay 30 € for a ticket which includes snacks, a welcome drink and a reserved table. Reservations on +421 907 704 849.
For those who prefer small intimate bars
Celebrate the New Year in the favorite NU Spirit Bar with a party starting already at 21:00 – FREE ENTRY!!! Plus, happy hours till 22:00 :) This place is open till very morning hours so you can stop by anytime during the last night of the year :) Facebook event.
For those who want to escape the commercial atmosphere
Join a mix of many DJs for an uplifting New Year's Eve do in the NU Spirit Club, marking its last party of the year with epic music sets and champagne. Entry: 22:00 – 00:00 10€, 00:00 – 05:00 12€, 05:00 – 10:00 8€. Facebook event.

(source: NU Spirit Club)
For Nirvana fans
Nirvana is back for a night! At least in a form of a revival band Nirvanas that will play the most popular hits all night long in the Randal Club. Start at 20:00! Facebook event.
For drum and bass music lovers
In the centre of Bratislava and with ideal view on the fireworks over the Castle and SNP Bridge, kick out the old year with perfect drum&bass sets by many various DJs in Subclub. Tickets 9,50 € in pre-sale, 12 € when bought on the spot till 23:00, 15 € after 23:00, 5 € if you come after 4:00 :D Facebook event.
For techno fans
The only real techno club in Bratislava, even though being small in size, but with great music. Enter the world of this underground gem Radost for a real techno experience and leave in the early morning hours! It will be impossible to stop dancing! :) Facebook event.
For hard rock music fans
Welcome the New Year in a rock style in RockOK and with quality music performed by DJ Rado Messa. Besides good music and great entertainment, drinks and various fun competitions will be waiting for you. FREE ENTRY! Facebook event.

(source: RockOK)
For those who like cabaret shows
Party til the sun comes up on 2017 in the Red Cat Cabaret Club in the "Studio 54" style. If you are looking for an interesting and unexpected program, like to dress up originally and don't mind enjoying tasty drinks in a vintage bar, this might be the place for you. Tickets cost 60 € and you can get them here. Start from 20:00.
For enjoying various music genres
Re:fresh Club promises fun, crazy dancing, smiling friends and good food! Re:fresh restaurant also announced re:capitulation and that is why they offer the very best of their menu combined into a special four course New Year's Eve Menu. Tickets from 30 €. Facebook event.
For those who love oldies
Unique Club is located in Mlynska Dolina, a student area with many clubs to enjoy. The NYE party will be held in a special oldies music style. Entry is only 3,90 € and you can book your table FOR FREE through SMS on 0904485123 – just write your name and number of people. Start at 22:00. Facebook event.
NEW YEAR'S EVE DIFFERENTLY

For swing music lovers
Have a fantastic night in a swingy mood of the 20-ies with the Bratislava Hot Serenaders orchestra! The show will be held in the popular ld Market Hall. Start at 19:00. Get your ticket here (25 – 35 €).

(source: Bratislava Hot Serenaders)
For cultural freaks who love opera and ballet
An alternative program for cultural enthusiasts who do not speak Slovak. You will be able to listen to popular melodies from famous opera pieces in interpretation of renowned Slovak opera singers and enjoy elegant shows of talented artists. The program starts at 16:00. Tickets 20 – 50 €. Get them here.
For those who like exclusivity with a bit of gambling
The UFO Tower Casino event offers you an exclusive experience 95 metres above Bratislava. Watch fireworks from the first line, enjoy a welcome drink, a 10 course tasting menu and live music. Surprise and gifts will not be missing. Start at 19:00. Details.