Preview of concerts, shows, performances and events that are planned to happen in Bratislava in the upcoming months and require booking tickets in advance via a specialized booking system Ticketportal. The portal is run mostly in Slovak so we have made a brief summary of the best events in English – all you need to do to book your ticket is click on the links below and then click on "VSTUPENKY" which means "tickets" in Slovak – there you choose the dates and types of the tickets you wish to purchase and finish the process of with "PRIDAŤ DO KOŠÍKA" ("add to basket").
TRIBUTE TO FREEDOM – CONCERT AT THE DEVIN CASTLE 18.8.
The tribute to freedom at Devin Castle has been an integral part of the cultural and social happening in Bratislava since 2009. The venue itself – Devin Castle is one of the most impressive historical places in Central Europe. Artistic performers at this year's 9th edition will be legends of the Czech and Slovak music scene – one of the biggest pop stars, lady soul MARIE ROTTROVA with orchestra of Karel Vlach, VÁCLAV NECKÁŘ with the band Bacily and vocal group FRAGILE.
DATE: 18.8.
WHERE: Devin Castle
TICKETS: 8 €
BUY YOUR TICKET
W&W AT WAKELAKE 19.8.
The name that does not need to be introduced. So far, probably the strongest headliner that Wakelake ever had. Currently positioned as no. 13 in the DJ MAG Top 100 DJs before Calvin Harris, Axwell & Ingrosso, Alesso or DJ Snake. This Dutch duo creates with its unique style of music an uplifting energetic set, combining the progressive house, the stimulating elements of trance and electronic music. Performing on the Main Stage at festivals such as Tomorrowland and Ultra (where their set had over 6 million views) and collaborating with musicians such as Dimitry Vegas & Like Mike, Hardwell or Ummet Ozcan, they belong among the best DJs and producers in the world.
DATE: 19.8.
WHERE: Wakelake, Cesta na Senec
TICKETS: 10 € – 70 €
BUY YOUR TICKET
SARAH CHANG & MUCHA QUARTET 20.8.
The world-renowned American violinist Sarah Chang made her debut as a 9-year-old with the New York Philharmonic. She is the holder of many prestigious awards, including Gramophone Magazine Young Artist of the Year and the Avery Fisher Prize; she has also received the Young Global Leader Award, conferred on her by the World Economic Forum (WEF) for her professional successes, devotion to society and capacity to shape the future of this world. In the Viva Musica! festival she will present Vivaldi's Four Seasons, accompanied by the renowned string ensemble Mucha Quartet.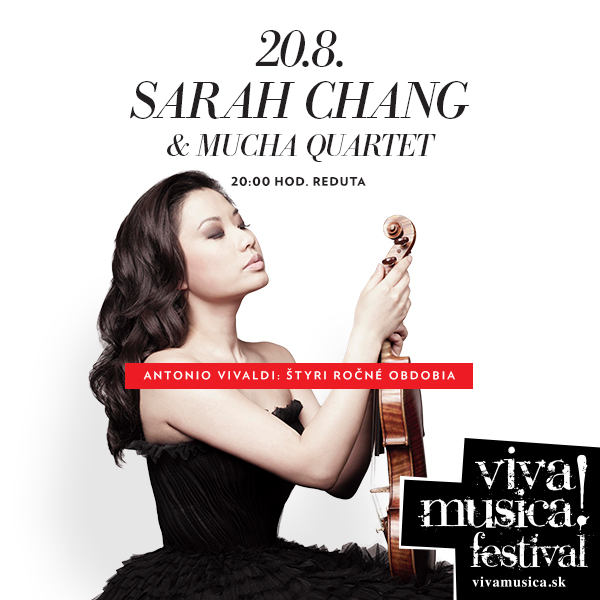 DATE: 20.8.
WHERE: Reduta – Veľká sála, Medená 3
TICKETS: from 20 €
BUY YOUR TICKET
MEASHA BRUEGGERGOSMAN 25.8. 
The Canadian soprano Measha Brueggergosman is among the elite of world opera performers, but apart from opera she devotes herself primarily to art songs and concert singing. In the Viva Musica! festival concert she will perform Wagner's Wesendonck Lieder, accompanied by the Viva Musica! Orchestra, and in the second half a selection of spirituals arranged for symphony orchestra from her latest album Songs of Freedom.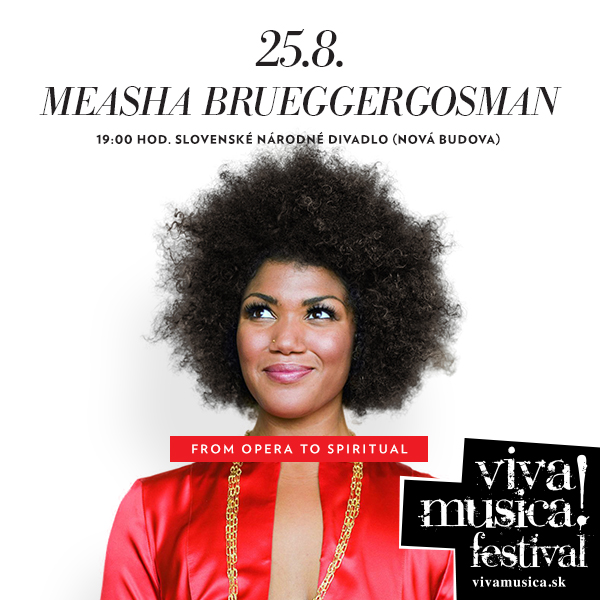 DATE: 25.8.
WHERE: Slovak National Theater (new building), Pribinova 17
TICKETS: from 17.50 €
BUY YOUR TICKET
UPRISING FESTIVAL 2017 25. – 26.8.
You can look forward to the excellent line-up of the following performers: Sean Paul (JA), The Wailers (JA), Alpha Blondy (CI), Irie Révoltés (D), Pendulum Dj Set & Verse (AUS/UK), 5'nizza (UA), Macka B & Roots Ragga Band (UK), Congo Natty ft. Congo Dubz & Iron Dread (UK), General Levy (UK), Zion Train ft. Dubdadda & Michela Grena (UK/IT), Foreign Beggars (UK), Vandal – Kaotik Soundsystem (UK), Nattali Rize (AUS), Marla Brown & Next Generation Family (UK/DE), Eva Lazarus (UK), The Herbaliser – Dj Set (UK), Mungo's Hi Fi Soundsystem (SCO), Manudigital (FR), Vibronics (UK), Classic Wonder Veterans ft Solo Banton, Marga Dread & Jay Dee (UK), Deadly, Hunta (UK), Parly B (UK), Danny T & Tradesman (UK), Medial Banana (SK), N3O Akustika (SK), Rekall & Bassrunner Sound (AT), Rico Tubbs (FIN), Mikkim & Dave Trumpeteer (CZ).

DATE: 25.8.
WHERE: Zlate Piesky
TICKETS: 45 € – 200 €
BUY YOUR TICKET
PARADISE LOST + PALLBEARER + SINISTRO 11.10.
Look forward to the concert of bands PARADISE LOST (UK), PALLBEARER (USA) and SINISTRO (PT).
DATE: 11.10.
WHERE: Randal Club, Karpatská 2
TICKETS: 24.10 €
BUY YOUR TICKET 
DIRKSCHNEIDER 28.10.
Udo Dirkschneider, whose name does not need to be introduced thanks to the glory of the former band Accept, is coming to Bratislava. His current band U.D.O. will be featured at the Majestic Music Club.
DATE: 28.10.
WHERE: Majestic Music Club Karpatská 2
TICKETS: 25 € – 40 €
BUY YOUR TICKET
INTERVALS + POLYPHIA + NICK JOHNSTON 12.11.
Look forward to the concert of the bands INTERVALS (CAN), POLYPHIA (USA) and NICK JOHNSTON (CAN).
DATE: 12.11.
WHERE: Randal Club, Karpatská 2
TICKETS: 19.70 €
BUY YOUR TICKET