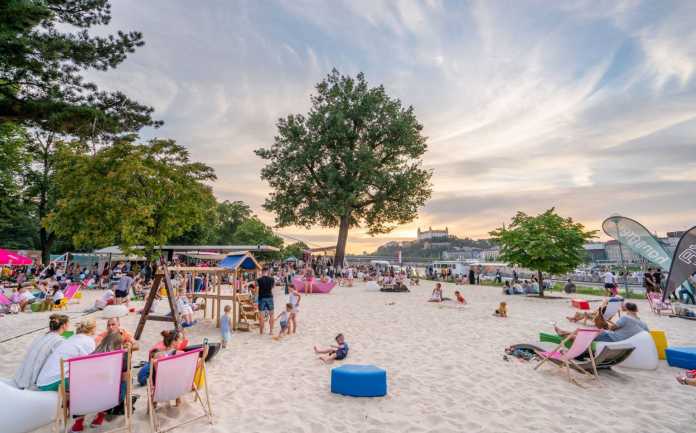 Looking for tips on how to enjoy Bratislava on budget? We have compiled a list of things you can do this summer while having a blast in our capital without having to dig deep in your pocket.
1. SWIM IN A LAKE
Even if we do not have a sea, there are many options for swimming in Bratislava. We encourage you to choose a lake where you do not pay any entry fee. Our favourite one is Kuchajda (there were some issues with the quality of water in the past but it was confirmed suitable for swimming in 2018), Velky Drazdiak, Vajnory lake or Kosariska. If you want to spend a summer day like a local, head to one of these.
There are also numerous swimming pools which require you to pay an entry fee ranging from 3.50 € up to 6 € per person. More info.

2. WATCH A FREE MOVIE UNDER THE SKY
On a balmy evening, nothing beats watching a movie under the stars. Especially with cocktails and street food! :) Check out the best places to see open air movies in our capital this summer!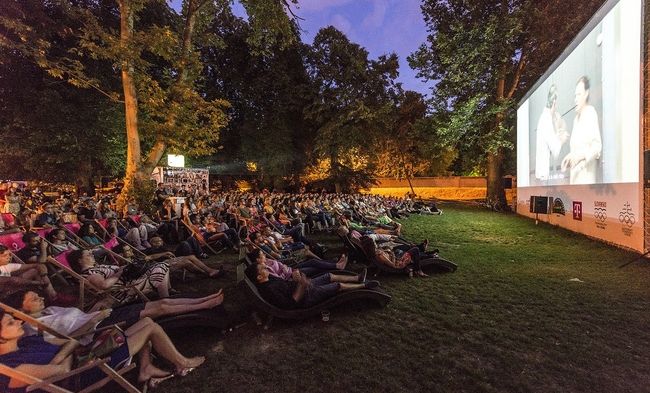 (source: bratislavskenoviny.sk)
3. ATTEND A FREE OPEN AIR CONCERT
What's better than spending a warm summer evening outside with friends, food, drinks and live music? One of the highlights of summer in our capital is the many free music concerts happening in its streets, squares and city parks. Check out our top picks for this year's free summer outdoor concerts in Bratislava and enjoy beautiful music of various kinds!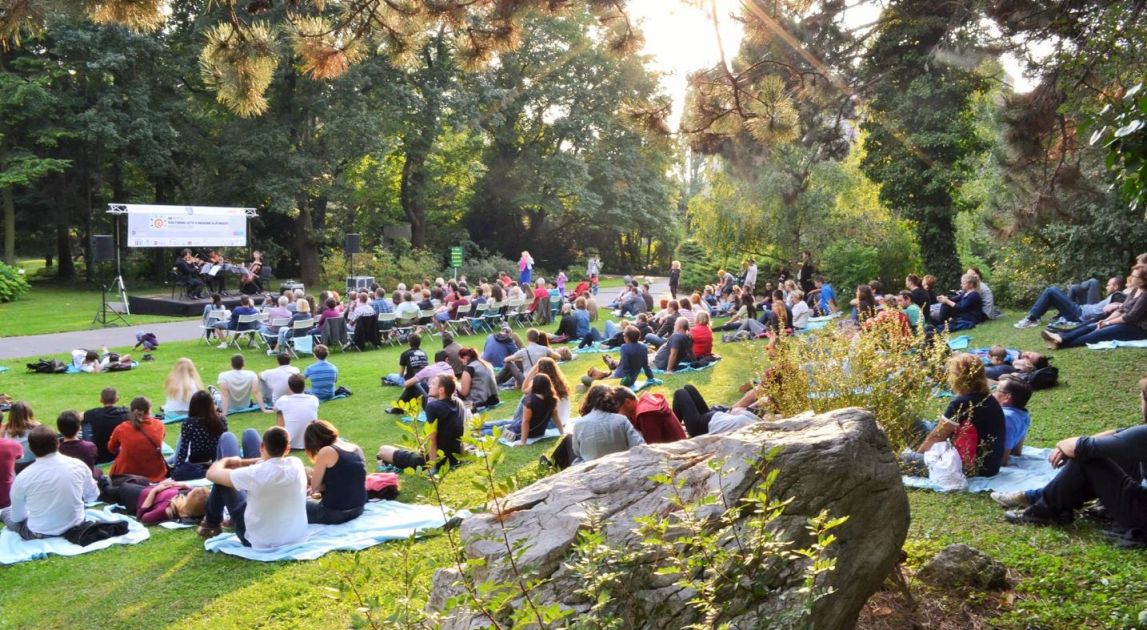 (source: Kamel Klub)
4. SOAK UP CULTURE AT FREE EXHIBITIONS
Different exhibitions of modern and classical art including Gothic and Baroque sculpture and painting are exposed in the Slovak National Gallery. Stop here if you happen to be walking along the Danube river – it is free of charge :) Similarly, you won't pay admission to the Slovak Museum of Design which specializes in collection, presentation and research of all forms of design and selected areas of utility art, architecture and related disciplines, architectural design, photography, free art and new media. If you are in the city center, make sure you check out the oldest souvenir shop which is actually also a museum of trade with old silver cash machines and other shop equipment such as historical advertising signs. Free entry, and you can purchase a variety of qood quality local food products and some special souvenirs, too!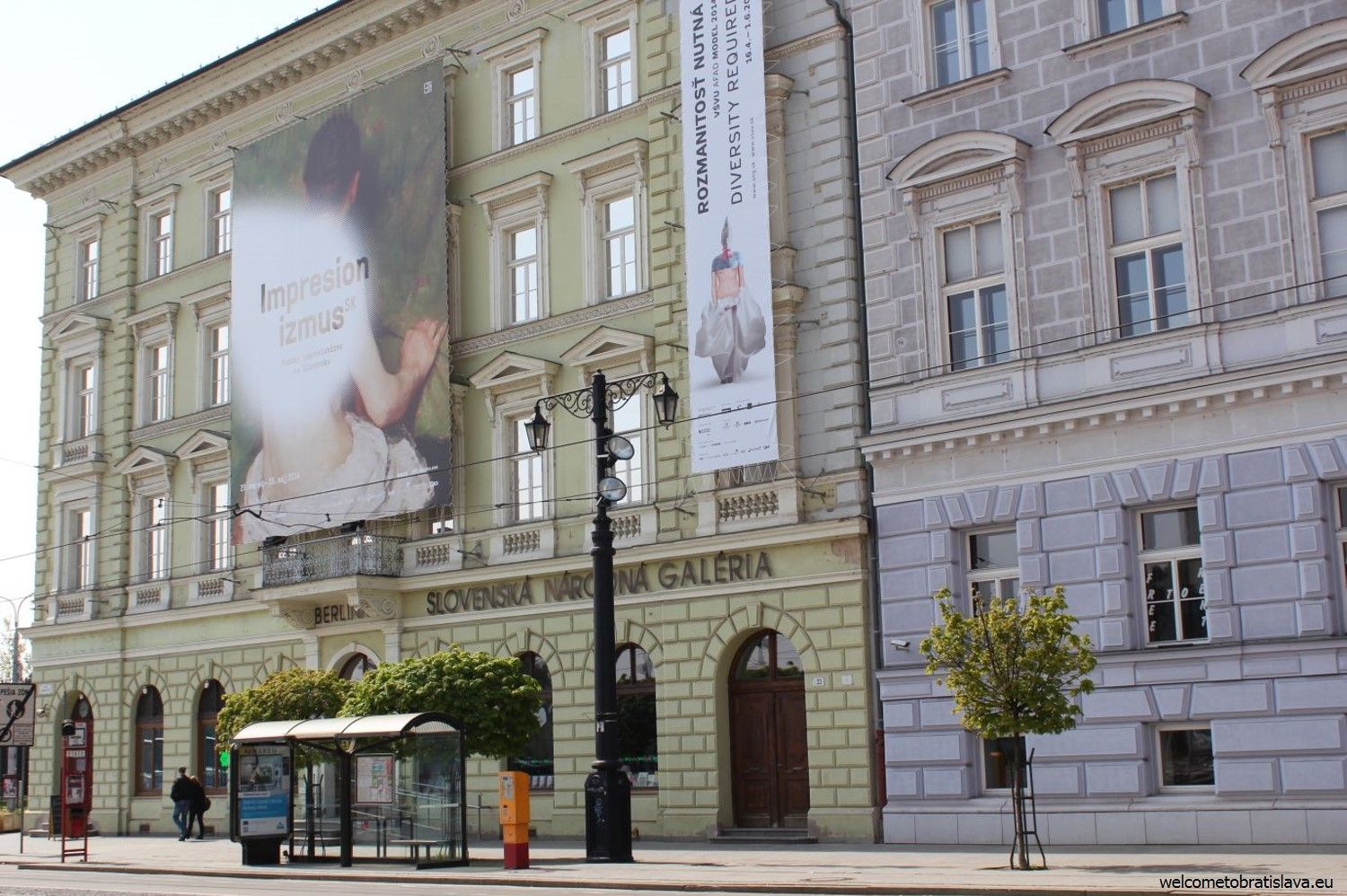 Ever wanted to visit the home place of an actual artist? Now you have a chance! Flat gallery is indeed the home of a man who installed a gallery in his flat's interior. An unconventional concept inspired by galleries in Berlin, contemporary art works displayed and social events held. Just ring his doorbell and if he's home, you can visit him and admire the current art works hanging in his living room :)
5. GET SPORTY!
Play volleyball or take a yoga class at the Tyršák beach. There are two beach volleyball courts available free of charge. You can book them here. For the free yoga classes, check the official programme.
Lake Kuchajda is located in the area of the Nove Mesto neighborhood. There are many refreshment stalls during the summer season. The lake is an ideal place for sports – there are basketball, football, volleyball courts, table tennis, and a children's playground. It is a popular place for running, the circle around the lake is about 1.5 km long. For reservation of the volleyball or soccer field, contact +421 949 221 086 or marianpetras@post.sk. There's a small fee for rental of the equipment.


(source: vypadni.sk)
Are you into skating or biking Bratislava inline skating is a summer event that takes place every Friday evening during the summer holidays since 2004 (under the condition that there is good weather). It organizes cross city rides on roller skates (and bicycles) and the event is suitable for everyone regardless of age. The year 2020 is the 17th year of the summer roller parade in Bratislava – free and no registrations needed!
Alternatively, check out the most popular running spots or read on to find the best biking trails and tips for cycling in Bratislava.

6. ENJOY NATURE
If you need a break from the busy city life and want to "escape" to nature, it could not be easier in Bratislava to do so. With city parks so close to the center, offering various options for relax. Have a look at this list with tips on spending time in Bratislava nature!
Whether you're looking for a romantic hideaway or somewhere in nature to relax with your mates, our capital has many places to do so. Find out which picnic spots in Bratislava are the best.
7. HAVE A CHEAP MEAL
In case you look for an affordable place in the Old Town, probably the best advice you can get is to visit Verne – located  right at the Hviezdoslav's Square, among the higher-end restaurants. It serves tasty simple food, has good prices, cute antique decor, a great summer terrace and lively ambience. A great value place where locals like to meet up.To eat the Slovak traditional meals for good quality/price ratio, visit Slovak Pub on Obchodna Street (10 min walk from the Old Town). Yes, you will meet many tourists there, but it still is a favorite spot for locals and students who like to eat on budget and have a wide selection of good meals to choose from.
For even more "prime location," Nervosa is a less expensive restaurant – right near the Bratislava castle. You cannot miss it particularly in the summer, when all the windows are wide open and the restaurant is interconnected with the street happening through a small terrace seating. It is lively here during the evening and it is quite packed with young guests. The selection of meals is not wide but offers options from each corner. You can choose from meat-based meals, soups, salads, pasta and pizza, for which Nervosa is quite famous.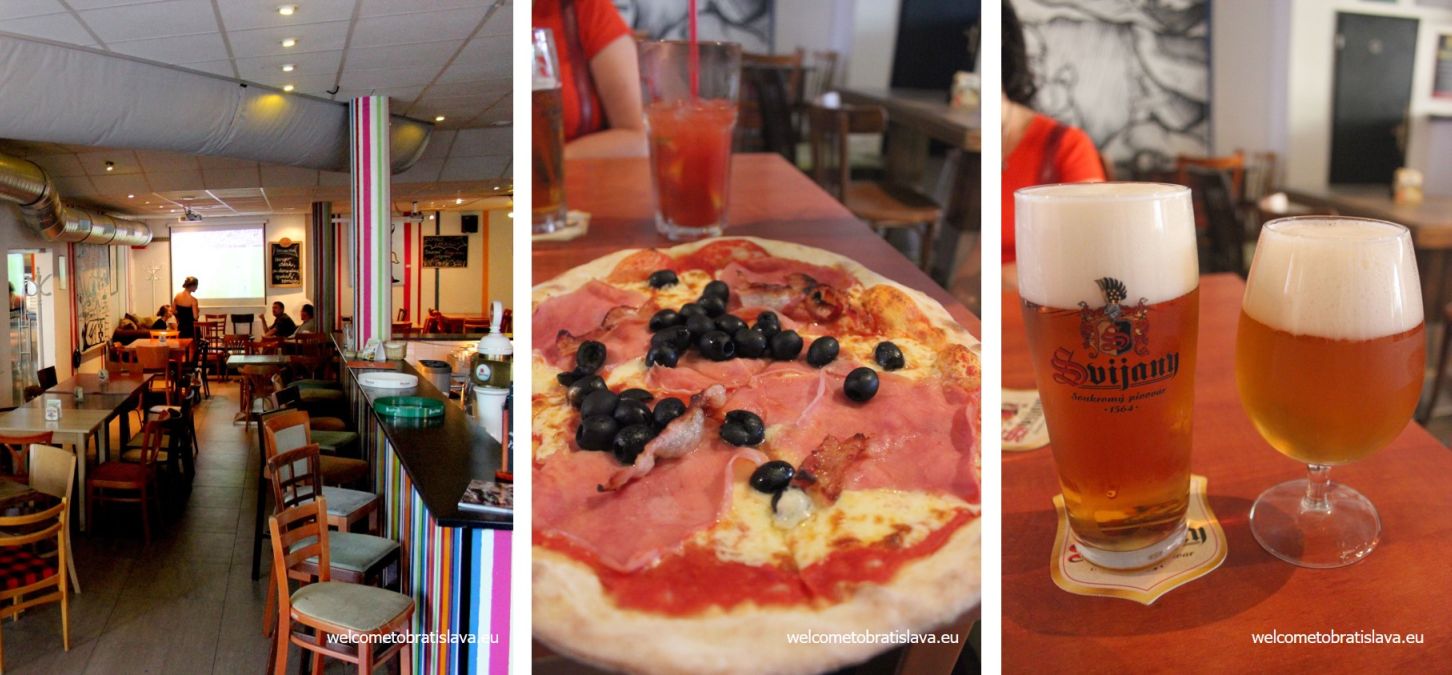 Are you a burger person? Minerva "window" on Michalska Street serves delicious take-away burgers in range 3,50 € – 4,50 €. A hot dog will cost you 1,50 €.
If you are obsessed with eating out but would like to avoid making a hole into your budget, this list of the best street food places will be your savior.
8. HAVE A CHEAP DRINK
Up for a good coffee on budget? Stop at Caffee Trieste at Florianske Square for coffee roasted in Italy. This small gem is popular especially in the morning hours – busy with people stopping here before going to work. An espresso will cost you around 1 €. If you come for breakfast, try their butter croissants as well!
At Bukowski bar, they are dedicated to the famous writers who shared the same strong passion for literature as well as for the alcohol. Each shot costs only 2 € and in addition to that, you get to listen to live music often as well.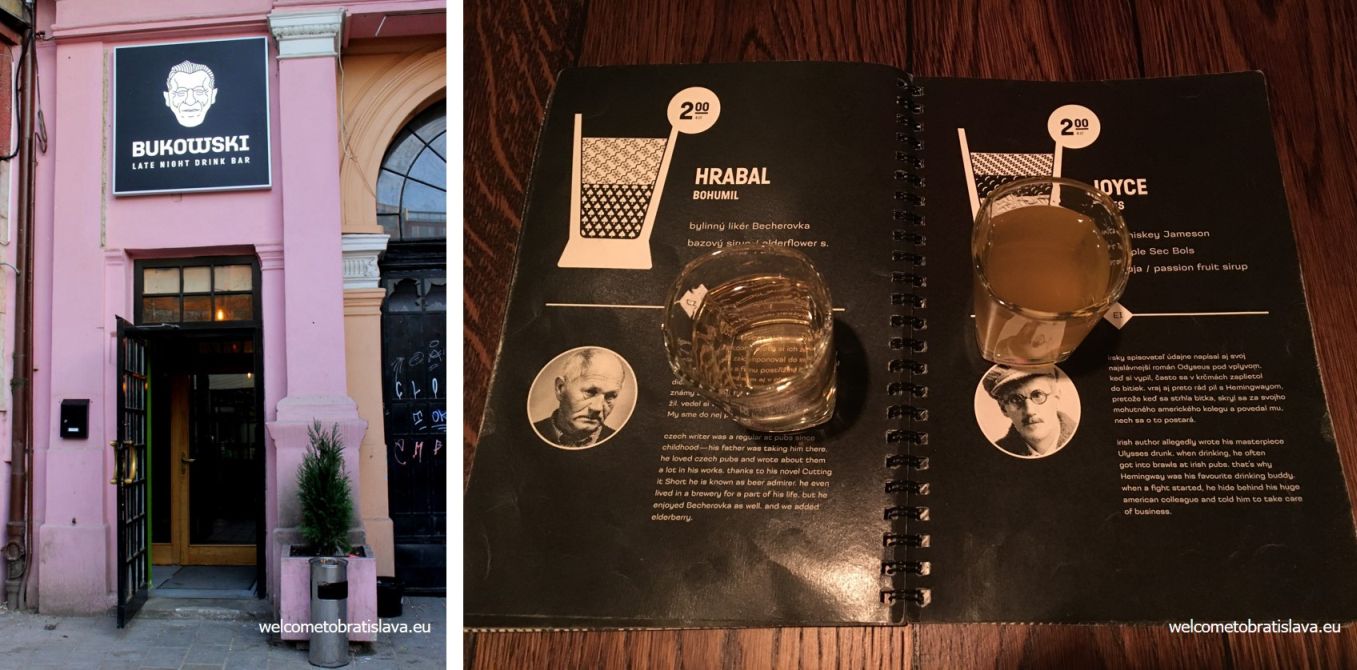 Searching for even cheaper alcohol? If you are into shots, 10 prstov is the spot you wanna visit. Located in the city center, at Laurinská 10 (in the passage towards Gorkého 7), it's a great place to start your party night at. Open daily 9 am – 11 pm. A shot with a glass of beer will cost you 1,30 €, a glass of wine 1 €, a glass of prosecco 1,50 €. They also serve coffee: you will pay 1 € for espresso, ristretto or lungo.
If you want to enjoy Bratislava nightlife to the fullest, try the Nightcards. It offers exclusive discounts in bars, clubs and restaurants in Bratislava. If you are tired of always ending up in the same 3 bars every time you go out,  this will make your experience of finding a new bar more fun! The card game includes 30 discounts, including 20 bars, 4 clubs and dancing bars, 4 restaurants and 1 repeat of your favorite discount. More info.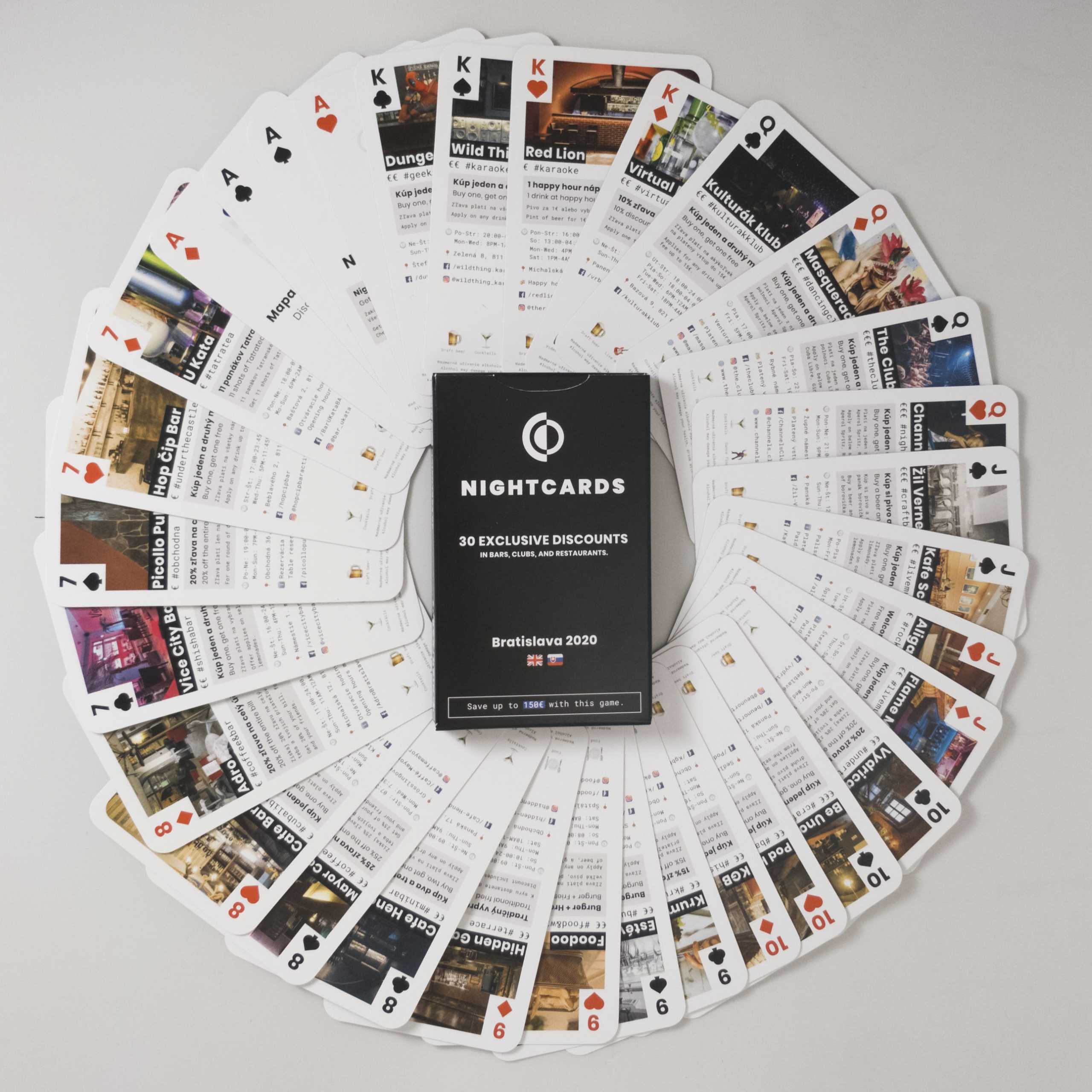 If you prefer beer, check out our selection of best beer places in Bratislava!
9. FREE ADMISSION CLUBS / CLUBS WITH CHEAP ALCOHOL
KC Dunaj is a venue which serves as a bar, a club as well as a place for various social events. It is visited by young, more-or-less alternative or anti-mainstrain folks. The drinks by the bar are a bargain but if there's a thematic party (usually Fridays and Saturdays), be prepared to pay entry fee (around 6 €).


(source: KC Dunaj)
The most popular central club with commercial dancing music that is without admission fee is Channels Club at Zupne Square. For Cuban music, stop at Havana. For rock music, visit Barrock. No admission fee will reflect in the price of the drinks though. So if you are not ready to spend too much on drinks, visit one of the previously mentioned bars to get yourself started before coming here :)
If you are into live music, the concert venues usually ask for fee (many times symbolic though). You will find our recommendations on live music gems of various styles here.
10. FIND COOL LOW COST ACCOMMODATION
Searching for a summer accommodation in Bratislava? And more importantly, would you prefer accommodation on budget? We have a perfect tip for you then – have a look at the rooms in the student dormitories in Mlynska dolina, the biggest student area in the Central Europe! They are available for renting during the summer period also for non-students. Make the most out of your stay in this lively, yet calm area, with many cheap services just around the corner!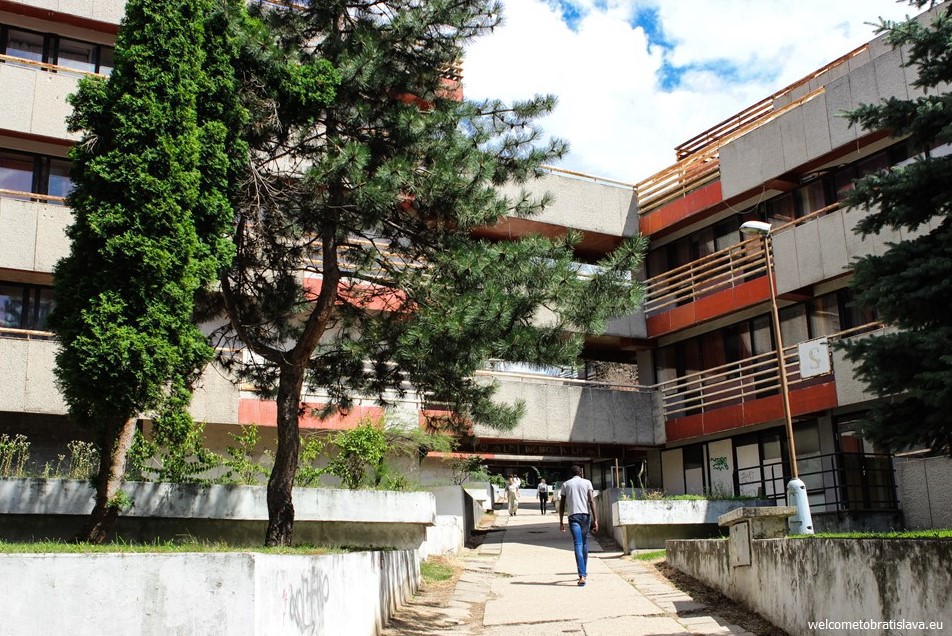 Bonus tips:
Trying to find a great flea market, food market or bazaar? Bratislava's indoor & outdoor markets and bazaars offer great opportunities for vintage finds, antiques and designer items, delicious food or craft goods.
If you want to experience something more adventurous, try playing this mobile city discovery game. Explore Bratislava with your friends for less than 5 € per person and see the Old Town and the most iconic sights from a different perspective. Now available with a 10% discount:) What's the game about? You'll receive through your mobile rhymed riddles and coded trail directions that need to be cracked, while enjoying amazing view spots and local recommendations on where to eat and drink. More information.
Where shall you have your gelato in Bratislava? Check out the best spots for having that delicious scoop of ice-cream!
Author: Maria Kecsoova