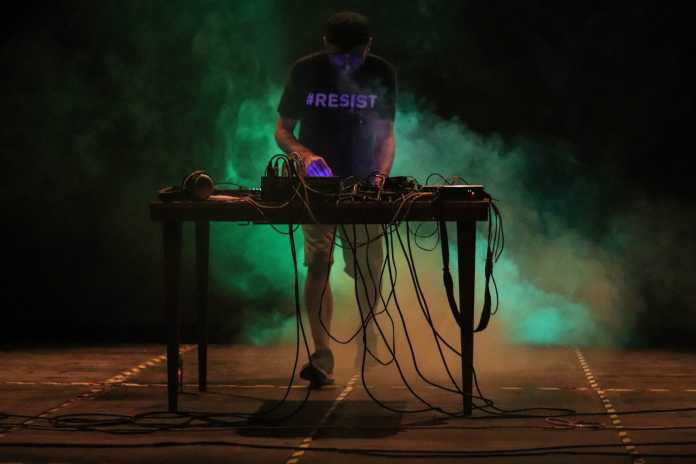 This post is to all who are interested in contemporary and innovative culture. To all who appreciate creative experimentation. To all who prefer disruptive and unique cultural experience. Just keep your mind open and we will take you to a home of a community supporting the most exciting contemporary art. Whether it is theatre, dance, music, film, visual art or new media, this place is full of inspiring and adventurous cultural happenings. Welcome to A4 – Space for Contemporary Culture.
LOCATION
A4 resides in a building located on Karpatská Street at the intersection with Šancová. It is really easy to reach – just 10 minutes walking from the main railway station and surrounded by many stops of public transports. The majestic, one-century old building, listed as Slovak cultural heritage, with a facade decorated by red unedged bricks on a corner cannot be overlooked. Built and used by the Christian Youth Organization YMCA, it still bears this name. At that time this spacious building housed also a gym and a cinema. Nowadays it is home of many different public venues like Majestic Music Club – the biggest concert club in Bratislava, Randal – a wild rock'n'roll music club, Hopkirk – a chillout and cultural bar and some more… But also it is where A4 houses a multifunctional theatre, concert and screening venue for up to 250 spectators resides.
WHY IS A4 SPECIAL?
A4, previously known as A4 – zero space, is one of the first Slovak independent cultural centres founded by several civic cultural organizations. Its wide focus on various forms of professional contemporary art makes this institution truly remarkable. Almost every day there is something interesting happening, either an artistic performance or public discussion, visual art exhibition or creative workshop… Many of them English friendly ;) A4 produces its own program, but also cooperates with various partners. They are a founding member of a network of Slovak independent cultural centres Anténa, a member of the European network Trans Europe Halles, and an initializer of the platform for KU.BA (Cultural Bratislava). Quite vigorous collective, right? :)
WHAT TO EXPERIENCE IN A4
In the field of music, be ready for fresh, original, authentic and daring music of today (and maybe also of tomorrow). A4 showcases innovative musicians on the brink of contemporary classical music, improvised, experimental and electronic music, avant-garde jazz, noise, ambient, and alternative rock. NEXT, the festival of advanced music defines the A4 music program probably the most. This member of ICAS (International Cities of Advanced Sound) is an annual celebration of exploratory music and sound art from electronic experimentation and free¬form improvisation to audio¬visual and conceptual projects. Pushing the boundaries of music already since 2000.
When it comes to theatre, it is mostly performed by the Association for Contemporary Opera with its devised theatre SkRAT. The original plays usually react to current society topics and are regarded as one of the most peculiar on the scene. The bad news is that they are usually performed in Slovak, the good news is that there are also equally excellent performances where language is not important at all – the dance :) These non-verbal performances derive from cooperation with various groups and art professionals. For example, those from Debris Theatrical Company are strongly recommended to visit. A movie section is under the patronage of Kino Inak (Other Cinema). Hard to find better words to define its attributes than "innovative, subversive, unusual." Demanding movies, creative documentaries and experimental films which are hard to find in other cinemas are regularly screened here. Its specialty is also the more interactive and educational approach. You can find more in our previous post on film clubs.
A4 KAFÉ
A clever team of A4 thinks of their future audience already now :) Thus regularly, mostly during weekends, children of all ages can come and learn about art in a playful way of workshops. No surprise that in A4 they neither omit a point where visitors can gather after the performance and discuss their fresh experience and opinions over some drink. A4 Kafé is also a place where more intimate discussions, workshops, or even concerts take place. The menu is conceived to satisfy all possible demands – craft beer, solid wine, some shots, soft drinks… even if you come hungry, they will take care of you. The prices are a nice surprise and also the fact that A4 Kafé operates independently, so you can come for a drink every evening from 18:00. When the weather allows, there is also a cosy terrace available in the backyard. Just be aware that during the summer months they usually take a longer holiday.
At the end one important note: If you are keen on this kind of culture and feel like putting your hands to work, A4 has been involved in the EVS – Space for Culture volunteer project. Thanks to this initiative young people have the opportunity to volunteer or work on projects that benefit communities and people across Europe. So, if this suits you, feel free to contact them ;)

OPEN HOURS: Check their FB


 ADDRESS: Karpatská 2


 CONNECT: Website, Facebook


 MAP LOCATION:

Author: Eva Latakova
Photo source: A4 archive