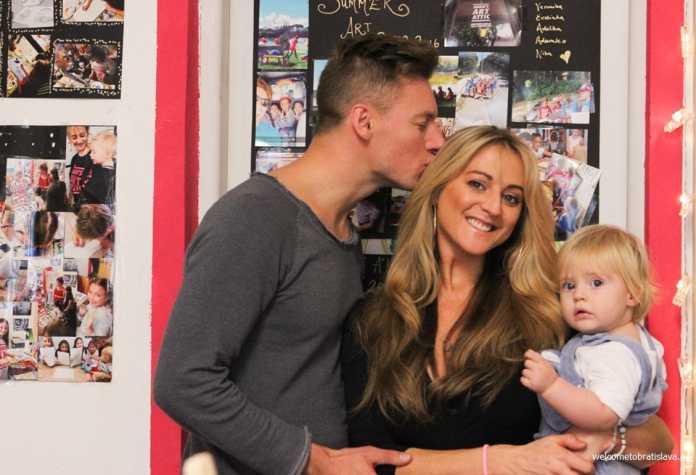 This is one of the 3 special interviews – an entrepreneurial edition – prepared within a project funded from the European Social Fund, supported by the Visegrad Fund and prepared in the cooperation with the Human Rights League.
Abbie Puskailer is a professional dancer born in England who turned into an artist, illustrator and teacher, and started her own business in Slovakia. From commission painting and having a few kids to learn how to draw, she transformed her idea into an amazing little place where everyone loves to come, organizes regular art camps, workshops and classes for children as well as adults, and serves as a source of inspiration for many. She told us about her beginnings, struggles, how life in Slovakia has changed in years for her, and gave recommendations for foreigners who want to turn their ideas into a successful business.
You are originally from England. Why did you choose to come to Slovakia?
I came here in 2010 and it was when Thomas, my now-husband, back then boyfriend, who is Slovak, had an ongoing project with the local television here. At that time I was still a professional dancer and I had a dance show in Vienna and occasional small projects in Bratislava as well. So we thought we should move to Bratislava just for a short period of time while this was all happening – and we never left!
How and where did you two meet in the first place?
After my studies in London, when I was 20, I moved to Germany because of work. My first job there was with a musical Saturday Night Fever – and that's when we met with Thomas. We did a lot of tours and traveling together and it somehow just happened in the process and works very well till now :)
How did you feel upon your arrival to Slovakia, a new country for you? Was it easy to integrate? Do you feel now like this is your home?
When I first moved here, I definitely felt very isolated. It was very hard to move away to a place where you have no family or friends and you don't know any of the local language. And Slovak is not very easy to pick up :) It was also difficult for me to integrate to this new world because people kept asking me why I wanted to come here, why I liked it, when I was going back to England. You know – like they were very surprised I wanted to stay here, they didn't really understand why I wanted to be in Slovakia. Sometimes they would be looking at me like what is this foreigner doing here, with all the exhibitions and so on. But then it somehow changed, they saw I was down to earth and was really trying hard to make our lives work here while doing my arts. It took good 4-5 years till I really felt that I settled and found my place. It was hard work, a lot of trial and error, but it was worth it and now I love it!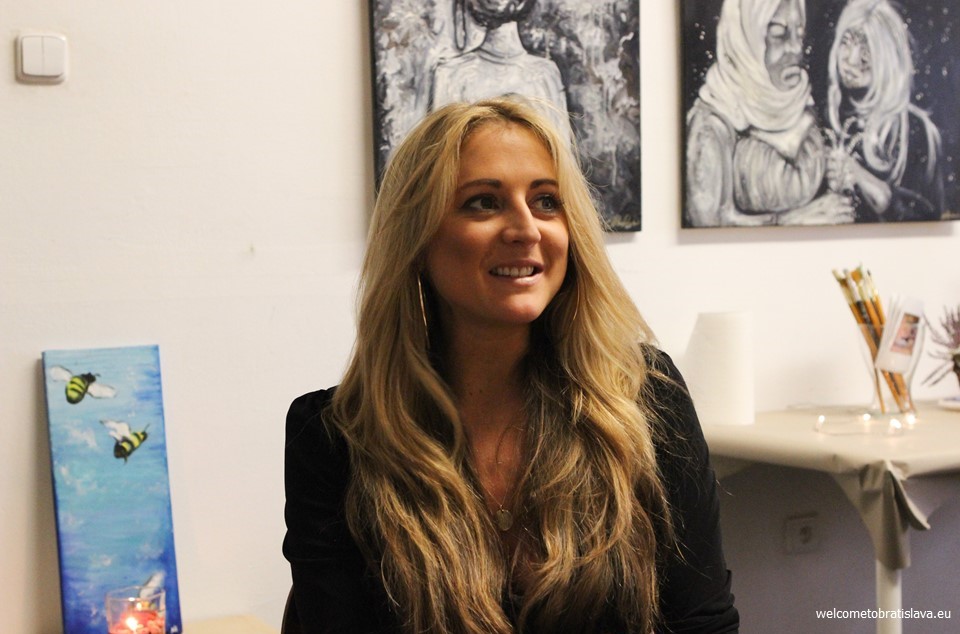 The overall situation was different back than, too. There were far less foreigners living here whereas there's so many expats now. Also, when I first moved here, we did not have many options to eat out, neither. Everywhere we went, we could have some Slovak dishes mostly. So that made it really hard, everything seemed so foreign. No big international franchizes, which now we see in each shopping center, existed. There's been new, modern places that have come up since, Bratislava's becoming more cosmopolitan and open to foreigners.
What about your closest friends and community, do you connect more with foreigners or Slovaks?
Well Thomas has mostly Slovak friends and colleagues, so we mix with them which is lovely because with them I have to speak Slovak all the time. It is good for me as it helps me get better with the language. And then I've got kind of my side which means mostly an international crowd. Since I became a mom, I started to network with one international community of foreigner mums living here, too. It's called Mamaslava and it's just wonderful. It's been a life-safer for me. Especially when you don't have close family around, it is great when you can connect to people in a similar situation, get out of the house, meet for a coffee – have a social life and share experiences.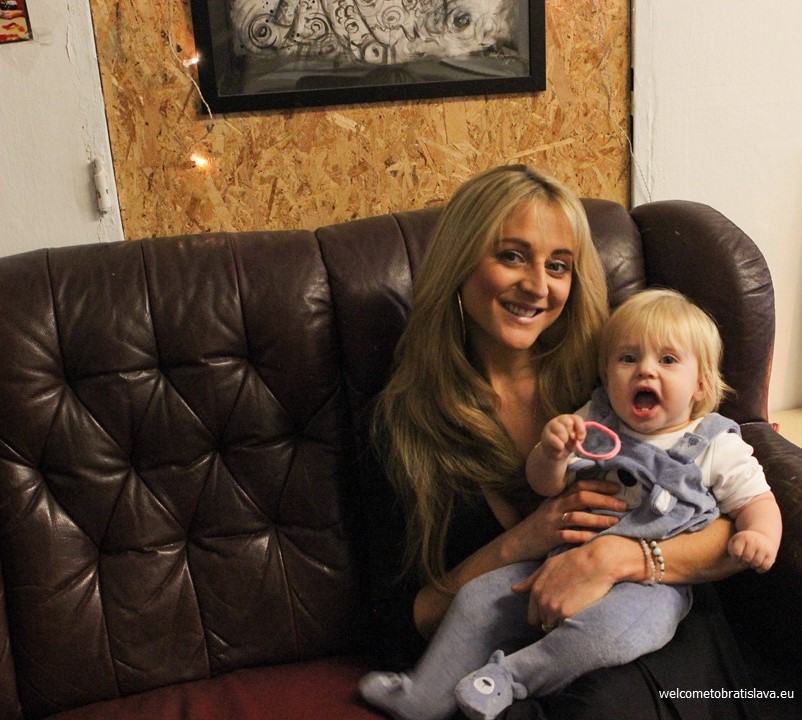 Your professional background is related to dancing, but you are now making living with something different..
Yes, I studied dancing in London for 3 years and held a career as a classical, musical and theater dancer, and pretty much traveled the whole Europe touring and performing at various shows. While living in Germany, I also worked for a big local TV station in one dancing project. As a side hobby, I always loved to paint. I painted for my own pleasure or for my friends, I used to create cards for my colleagues in the theater. With time, people started to commission the pictures of their pets or children, but this was still just a side job, not really full time.
What was the breaking point when you said you want to start business as an artist and illustrator?
This happened when I broke my knee while skiing. I was already starting to feel like my journey as a dancer was coming to an end. I toured the world with it, danced at amazing venues I had dreamed about since I was little, so these kind of dreams came true for me. And I felt like I needed to think of something I could do long-term. So when I broke my knee, that gave me a chance to focus more on my art work. I started doing more commissions and connecting to more people.
Your business is not only about painting, big part of it lies in teaching and organizing art camps. Tell us something about these beginnings.
People who knew my work somehow naturally started to come back to me asking whether I could also teach their children to draw and paint. My beginnings with teaching started off at home because I did not have any other space, and children would come just privately. Soon enough I received such a big demand for it that I had to rent a little space but just for an hour a week so it wasn't perfect. We were looking for something slightly bigger and were lucky to know somebody who had contacts in the old Cvernovka building. This is where we had two rooms and where I did my first art camps – in 2013. It gave me a platform to build up a big clientele and meet a lot of kids – many of them skill come and they get better and better as artists, and it's just fascinating to watch their progress. When the old Cvernovka was closed down, we moved to our current studio which is much smaller but was the best choice we had at that time. We are again looking for something bigger.
Now when children sign up for an art camp, they very often want to continue and start coming regularly for the weekly lessons, after school art clubs or ask for private workshops. The parents also come because they want to learn how to paint, so we do now not only kids workshops but also classes for adults – wine & paint sessions. You know, every person is an artist in their own way, there's no good or bad in art. This is a very non-judgemental space where you can get creative, feel safe to be an artist and be inspired. That's why people love it and come back.
Let's go back to your beginnings. How would you describe the first administrative and legal procedures you had to go through when coming to our country?
Thanks God my husband is Slovak. Having a Slovak partner was definitely a huge help in this matter. The biggest issues were, and still are, related to all the paperwork one needs to do. I think some things are similarly difficult for foreigners as well as Slovaks – because in general, there is no basic communication infrastructure about what to do, which institutions to visit, when one gets into this or that situation. I think locals have the same struggles with this lack of information, it just obviously gets more difficult for foreigners who don't speak the language.
Theoretically, it sounds simple, because there is an answer for everything – once you go and ask somebody. It just takes time and sometimes you waste time because a clerk gives you half of the information or you need to run around the city and come back to get a stamp or a signature. It would be much easier if these information were of disposal online for example, that would save a lot of time to people.
I had a friend who came here several years ago, she tried to set up her own business but she didn't speak any Slovak and it was very hard for her. We tried to help as much as we could but she just eventually had to close it because of all the bureaucracy and the language barrier.
Do you think it is easier to set up your own business in England, where you come from, compared to here?
There's also a lot of paper work and red tape, plus you have to pay a lot more taxes there. I think it's just as hard in England, but in different ways.
How did you go about promoting your business and getting the first clients?
Connecting to the British embassy was really helpful to spread the word about my activities. I did my first art exhibition there, received new contacts, connected to a lot of expats and got to be teaching and giving workshops in international schools. My clients are not just foreigners though, it's a mix. Lots of Slovaks like my work and I think that being a native English speaker plays a positive role because the Slovak kids get to practice it. The children coming to the classes are from different countries and so we need one common language to speak – that's why English is preferred, even though I speak some Slovak.
In the same time, we approached cafes and galleries – I needed to get the word about my work out to the locals, too. My husband helped me here big time as I could not speak Slovak fluently. It took us about three years of continuous networking and doing promotion this way. It worked and once my name was somehow more established on the market, I started to receive job offers for creating illustrations and paintings, commission based.
Do you have struggles at this point as well?
My situation has become slightly more difficult since I have become a mom, obviously. You have less time, need to do better time management and have support of your partner, too. As much as it's joyful and I love it, it is also challenging. For now, the demand for my services is there. My biggest struggle, apart from the obvious administrative work, is finding a new, bigger space for my studio which is affordable and not too much out of the centre, and which has good parking options.
Have you ever had a feeling that you as a foreigner entrepreneur here have some advantages in your business, compared to locals?
Even though there are disadvantages such as the language barrier or being distinguished as a foreigner, on the other side many people, especially locals, look at my work as it's something different, special. Because I am a foreigner, an English artist. So obviously it does make you a little bit different from the other local artists out there. When it comes to the camps, it helps that I am a native English speaker, as I mentioned before – many parents want their kids to learn and practice English.
What would be your advice towards foreigners who were thinking of starting their own business in Slovakia?
First of all, you need to have a really clear concept of what you want to do and who you want to target. Make sure you know who is your primary audience and that you have a direct business plan, do not do many activities which are very different. Get ready that you need to work hard and it takes time, it can take a couple of years till you get going and build awareness about yourself. It comes down very much to networking. Talk to others who have done it and try to learn from their mistakes. If you have Slovak friends, ask them for help, too. There's going to be tough times but if you are really persistent and do your best, you can do it –  it's definitely possible.
EVENT INVITATION: Meet Hon and other foreigners talking about their experience live – at a special Christmas event on 12.12.2018 :)
This project is funded from the European Social Fund, supported by the Visegrad Fund and prepared in the cooperation with the Human Rights League.
You can read the Slovak version of the interview here.
Author: Maria Kecsoova
Photo credits: Zuzana Mytna