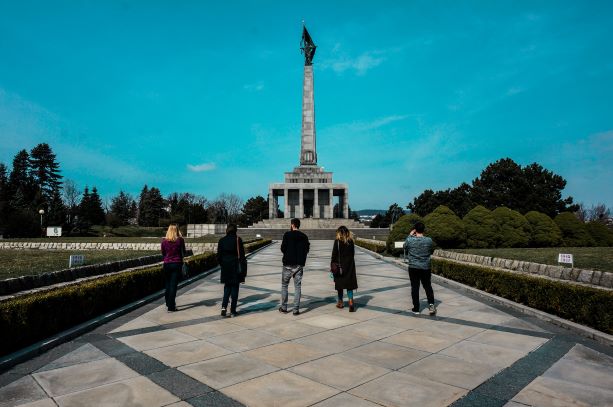 If you are already done with the traditional sightseeing, you are reading the right article! We prepared a one day guide that will show you an alternative face of Bratislava that is all but boring! These are the authentic places we locals visit daily. Get ready for an alternative one day in Bratislava full of fun, cool and other than mainstream things.
Just two recommendations before we start:
1. if possible, choose Friday or Saturday for your alternative day.
2. Sleep well and long, as you will need loads of energy. Now, fasten your seat belt and enjoy your alternative ride!
9:00 BREAKFAST AT BISTRO FOOD 2.0
The bistro "food 2.0" is a perfect start of our tour as it positions itself as a healthy alternative to the routine fast food. They serve everything that you've ever longed for in healthy breakfast: home-made muesli, yoghurt or porridge, scrambled eggs, ham & eggs, omelette, freshly squeezed juice, or smoothie. Sure thing! They are a bit hidden between resident houses near the main railway station, so better use a map on your way there. Unfortunately, they are open only during the work week.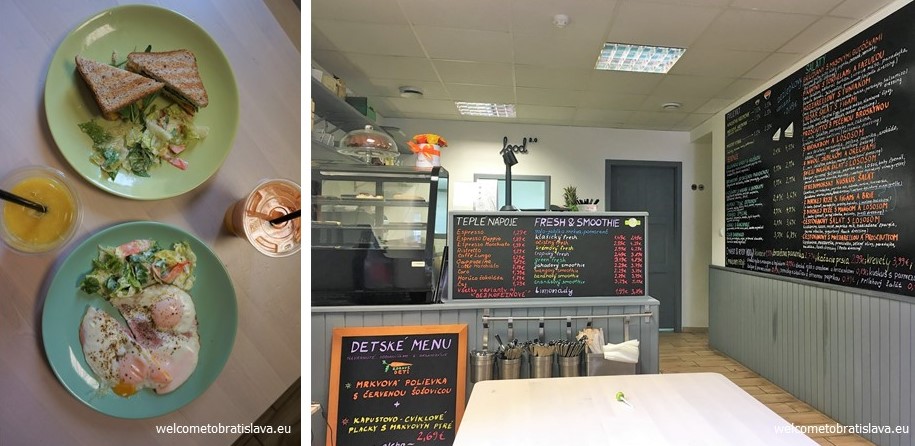 But no worries, we have a great weekend alternative for you. Just a few blocks away is Ranno ptaca, with one of the most extensive breakfast menus in Bratislava, served all day long. Find more tips in our best breakfast selection.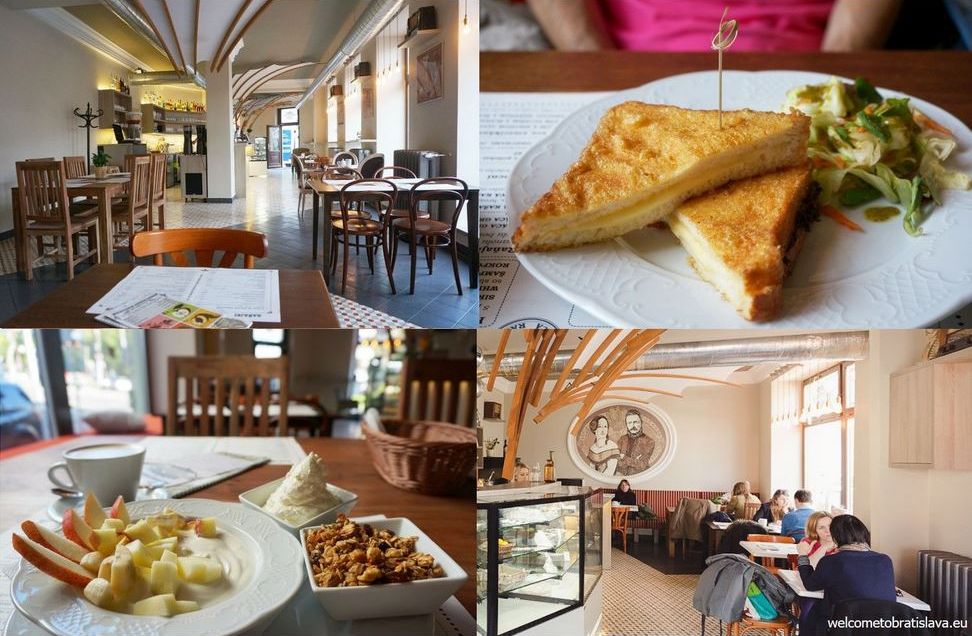 10:30 ALTERNATIVE SIGHTSEEING WITH AUTHENTIC SLOVAKIA TOURS
Usually we prefer exploration on our own, but we just have to make an exception here. Authentic Slovakia is a group of three enthusiasts, born and grown-up in Bratislava and in love with this city. Giving you a fresh alternative to the ordinary mass tourism, passionately revealing authentic Bratislava with zero censorship. Well honestly, Bratislava is not only the cosy historical center. It is a post-communist city and this affects its character a lot. Even now, almost 30 years after. We might not be proud of it, but all we can do is to embrace it. Or maybe – can we even enjoy it? These guys are giving a helping hand :)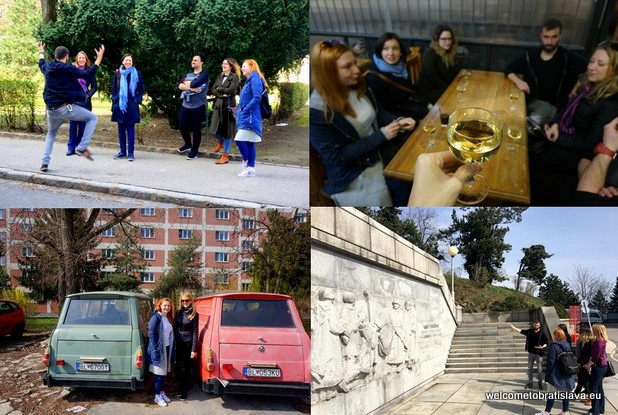 Their 2-hour "Bratislava Post Socialist City Tour" is very reasonably priced and you will be touring in the legendary Czechoslovak car Škoda from the 70's. The largest socialist housing project in Europe – Petržalka, abandoned industrial objects, communist-era or political objects, bunkers against the potential Hitler's invasion, former Iron Curtain area… just to name some of the places to be unveiled. They know a lot of local stories and don't hesitate to share! We tried their longer 4-hour tour version and trust us – it was an unforgettable experience. Even for locals! Just make sure to book the tour in advance.
If you however prefer sightseeing in your own pace and direction, get some inspiration from our earlier blog about Socialist architecture in Bratislava.
13:00 LUNCH TIME AT VEGAN KIOSK
Try this healthier and easily digestible alternative compared to our traditional halušky. At Vegan kiosk, they serve delicious take-away vegan food from an open-fronted kiosk at SNP Square. If your legs hurt already, find some bench either directly at the square or outside the nearby Old Market Hall (Stará tržnica). You can look forward to fresh burgers, sandwiches or wraps, also some soups and cakes. All prepared in front of your hungry eyes by the unconventional stuff. Their kiosk window is open from 11:00, but beware that they are closed on Sundays. Check our Best Street Food section for more inspirations.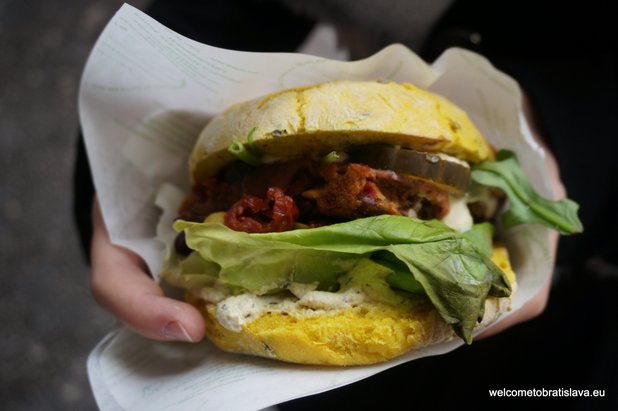 15:00 COFFEE AND ART TIME
Take a well deserved cup of coffee to boost your energy level for the rest of this long day. This place is something special, as it satisfies your artistic cravings at the same time. Contemporary art gallery DOT. lies roughly 10 minutes of walking from the SNP Square.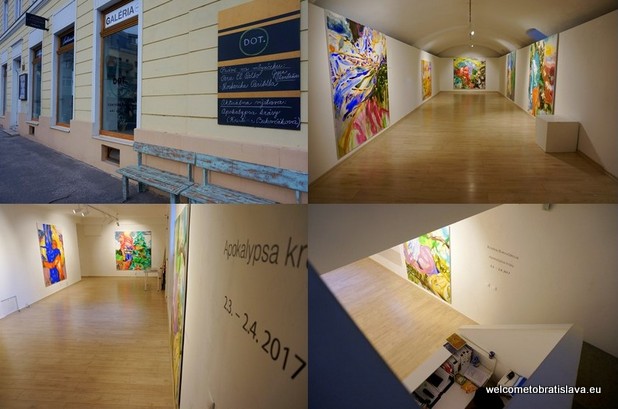 It is a small independent gallery which focuses on the presentation of  the younger artists who "are able to shake the audience out of lethargy" and provide an alternative to "the popular circle of authors repeatedly showing their works in Bratislava galleries." You enter the gallery in the underground premises through a cosy coffee house with gourmet coffee selection – DOT. Espresso bar. Opening hours are the same for both: Monday – Saturday till 19:00, Sunday again closed.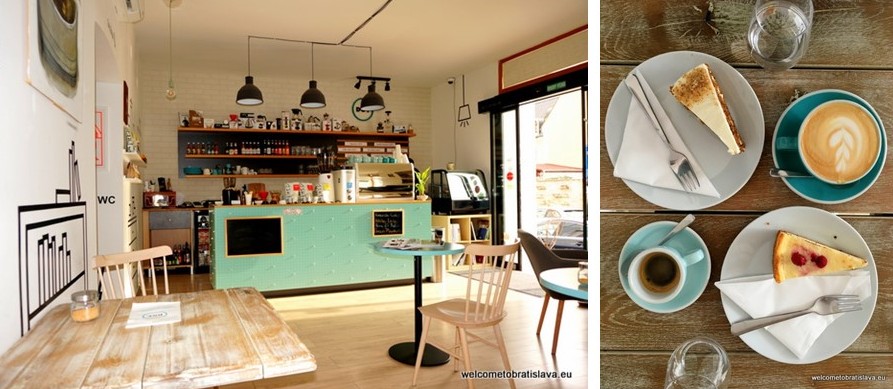 19:00 CONTEMPORARY CULTURE AT A4
It will take you 20 minutes of walking to get to a space for contemporary culture at A4. You can also use the public transportation and hop off at Karpatská stop. The building is quite easy to find  – it stands at the crossroads, is big and beautiful, covered with red bricks. It is a national historic landmark and various institutions are settled inside, including pubs, music clubs and cultural places.


(Source: A4 – priestor súčasnej kultúry)
Don't get lost – from the two main entrances choose the one on the right side. Go down the few stairs behind the pub on the right and you are here. Better check their programme in advance, as it is quite exquisite. It varies from the contemporary theatre forms, dance, music, film, contemporary visual culture to the new media art. You might not be interested in all of it. Even if A4 is a bit further, it is a must stop of your alternative day in Bratislava and we think that sacrificing a little detour will pay off.
21:30 EVENING DRINK
Time for aa drink is here and you will need to get back to the very centre now. We have three alternatives very close to each other for you. Pub Steinplatz used to be a public toilet, and that's not all that makes it special. Located on SNP Square, open till very late hours, with great beer selection and special atmosphere… It's a smoking place, you'll notice soon. If it bothers you, just cross the road towards the Old Market Hall.

(Source: Steinplatz)
You will find there a quite new but already very popular bar named after a famous writer – Bukowski. You can expect opening hours till late night, great music including live concerts, arty interior, shots named after famous writers with passion for drinks and most passionate drinker – Charles Bukowski as a patron. The smoking part is upstairs, non-smoking one downstairs and the live music in the basement or in the interior terrace (not every day).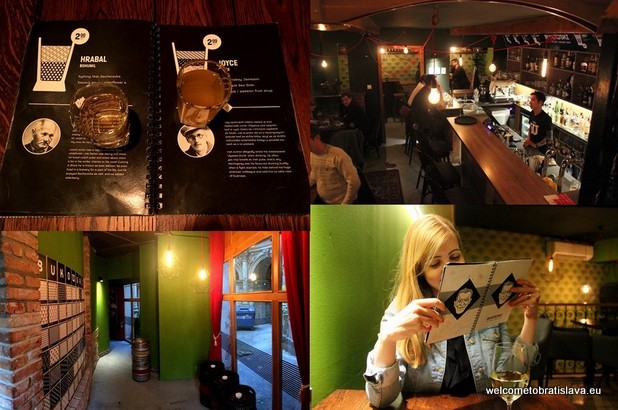 Our last recommended bar stands on the Nedbalova Street. It is a pub called Vanesa – a cult place in a matter of fact. Why? It's really hard to say. But the fact is that Vanesa attracts bohemian souls as a light bulb attracts flies. Again, full of cigarette smoke, but during warmer days they put some tables outside, just like other neighbouring pubs on Nedbalova Street. So you can enjoy vivid atmosphere with fresh air there.
23:30 PUT ON YOUR DANCING SHOES (WITHOUT HIGH HEELS)  
If you have some energy left, put on your dancing sneakers and finish this day with dancing. Just next door from Bukowski bar is a nightclub, or a "space for the missing culture" called FUGA. You can look forward to the more extreme and experimental styles of electronic music, rock, metal and jazz with different atmosphere than other ordinary Bratislava party venues. Variety of music genres is broad and therefore, again, it is better check the programme in advance.


(Source: FUGA)
Author: Eva Latakova