Open air theaters and concerts of classic music, reggae, gypsy or commercial artists, night skating, picnics, boat parties and much more. Have a look at what is prepared for you in August – here is a list of the best upcoming events in Bratislava :)
VIVA MUSICA FESTIVAL
2.7. – 29.8.
The biggest international summer music festival in Bratislava aiming to make a truly valuable artistic contribution offering the best of classical music. Since it was founded in 2015, it has provided high-quality music and top artists from around the world. Check the program and get your ticket before they get sold out!
OPEN AIR CINEMAS
July & August
On a balmy evening, nothing beats watching a movie under the stars. Especially with cocktails and street food! :) Check out the best places to see open air movies in our capital this summer!
MUSICAL TRAM
each Saturday
From the end of July, a historical musical tram rides through Bratislava, being a summer attraction for the locals as well as our capital's visitors. Come to enjoy a free ride, some coffee and listen to some cool music while having a different kind of "sightseeing" :) More details here.
FRIDAY NIGHT SKATING
each Friday till 28.8.
Do you like inlines? Take you skates and join hundreds of people skating on the city roads every Friday evening during the summer holidays. This event is great for the young, elderly, families with children, singles, couples – simply everyone who knows how to skate :) No registration, no fee! Click here for more info.
ITALIAN APERITIVO
each Friday
If you are looking for a perfect start of your weekend, here's a great tip: each Friday evening, an aperitivo is held in Pane & Olio Bistro, a showroom with Italian food and tasting of traditional dishes mainly from the Tuscany region. Delicious food, yummy drinks and Italian wine are surely a great option, whether you want to get yourself in a party mood or just want to have a great dinner time :) More info.
WORLD MUSIC NEAR THE ST. MARTIN'S CATHEDRAL
each Tuesday
In cooperation with San Marten bar & restaurant, the Bratislava city has planned live concerts starting from 7 pm and lasting till 9 pm each Tuesday for free.
MORNING SWINGFIT IN THE MEDICKA GARDEN
each Wednesday
Starting at 7:15 am sharp, there will be a 45 minute workout – a swingfit with swing music! All you need to bring is a mat and sport clothes. Facebook event.
FENCING TUESDAYS AT THE OLD TOWN HALL
2 + 9 + 16 + 23 + 30.8.
Entertaining fencing-theater performances, examples of martial arts from the Gothic, Renaissance and Baroque art, demonstrations of fencing techniques or a fire guns show. Start each Tuesday at 6.30 pm in the Old Town Hall (first round) and then 7.15 pm (second round). Before each show there will be a short musketeers march through the city streets. Official page.
SUMMER AT THE MAGIO BEACH
10th June – 4th September
One of the best summer chill out spots in Bratislava. Imagine hot sand under your feet while listening to live concerts, attending a dancing course or just enjoying some chill out music. Add some great cocktails, lively atmosphere and a view on the Castle and UFO bridge. That's all here. No wonder the Magio beach is a popular place not only for tourists but also locals. Read more here.
SUMMER CAMP FOR KIDS
July & August
WOOW toys store toys in collaboration with the Riverpark Dance School organizes daily or half-day kids' camps for children aged 3-10 years, during the months of July and August, from Monday till Friday. Now you can have a "day off" anytime you feel like with no bad feelings – because your kinds are going to love the place! Check the program, prices and available discounts here.
CONCERTS OF CLASSIC MUSIC IN THE ST. MARTIN'S CATHEDRAL
11 + 18 + 25. 8.
St. Martin's Cathedral is one of the main sights of our capital. For centuries it was a center of cultural, religious and social life. In addition to religious services there are concerts of classical music held as well. Check the program here.
FESTIVAL EUROVEA
13.7. – 31.8.
Concerts, dance programs and travel presentations at the Square of MR Stefanik near Eurovea. Everything free of charge. Check the program here.
SUMMER SHAKESPEARE CEREMONIES
27.7. – 16.8.
Come to the Bratislava Castle to watch performances inspired by Shakespeare – each of the three shows starts at 8.30 pm but it is recommended to come at 8 pm. Bring a warm blanket if you think you might be cold in the evening. Daily shows of Othello: 27.7. – 6.8., A midsummer night's dream: 8. – 12.8., The two gentlemen of Verona: 13. – 16.8. More info.
MEDIEVAL KNIGHTS AT THE DEVIN CASTLE
7.8.
There will be an all day event held at the Devin castle that will take you back to the Middle Ages – the times of knights, ladies and troubadours. A great show (not only) for kids will include children's medieval games, swordplay performances, historical dance or dueling knights on horsebacks! The opening ceremony will kick off at 10 am. No dogs allowed. Check their Facebook page for more info and a nice video teaser! The event be held until 7 pm. Basic fee 8 €, discounted fee 4 €, family ticket 13 €. More info about the show.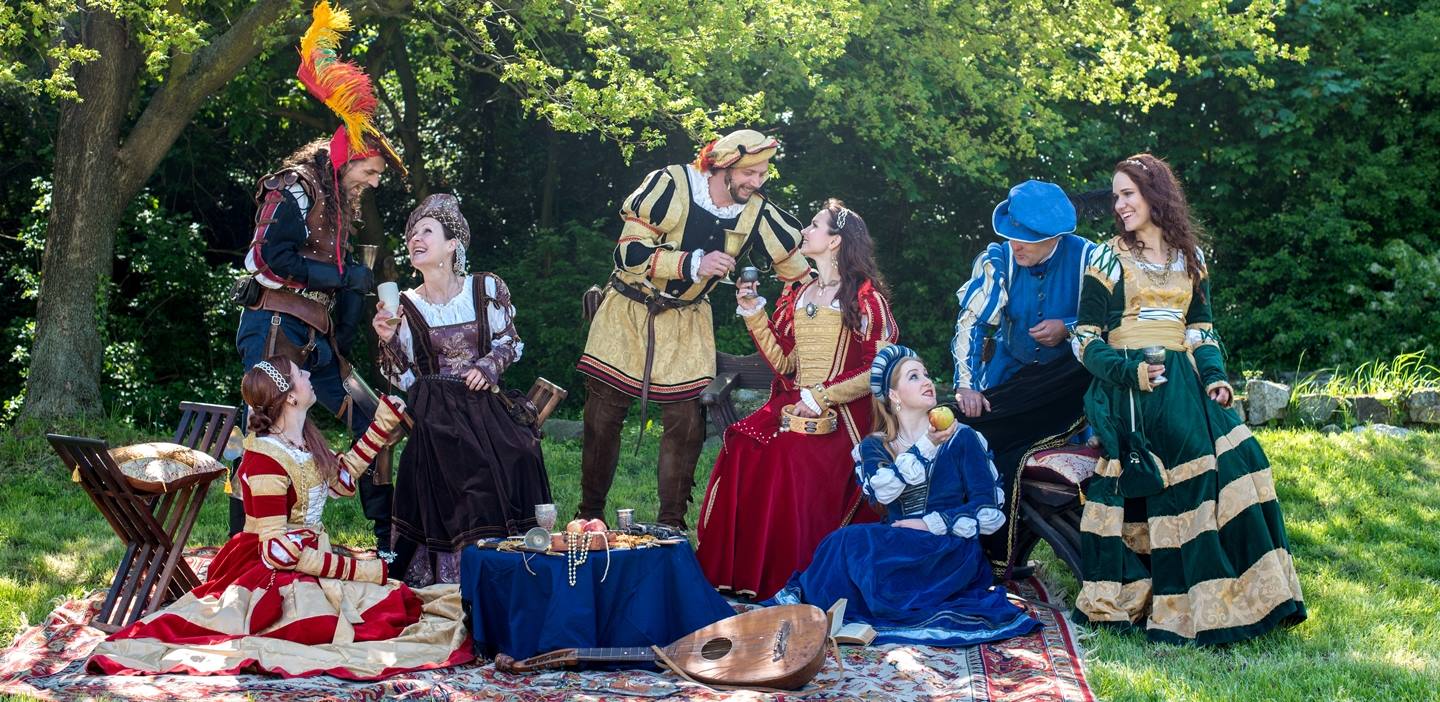 INTERNATIONS MOVIE NIGHT
12.8.
Watch the Jason Bourne movie on Friday August 12th at 21:40 in Cinema City Eurovea with other international people living in the city! The meeting point is at the lounge area behind the ticket counter. Facebook event.
OPEN AIR LATINO BOAT PARTY
12.8.
Come and enjoy a beautiful venue on the Danube river with your friends and fans of Latino music on two dance floors. Cuba, porto,mambo, bachata, merengue, kizomba, samba and other Latin rhythms will be played for you. No registration needed! More info here.
THE EVENT NETWORKING
12.8.
A business networking event accompanied by a non-formal atmosphere. A great opportunity to make new connections and meet interesting people. You can participate only based on a personal invitation by the host. More info.
SUNDAY PICNIC
14.8.
Bring some snacks, a blanket, badminton, frisbee, petanque, balls, guitars or anything you can enjoy at a good picnic, mainly a pack a good mood – and enjoy a great summer afternoon in the Garden of Janko Kral which is close to the Danube embankment – a few meters from the Magio beach, near the Aupark shopping mall. Bathing in the fountain, a petanque league, summer music, a photo exhibition, various discussions but also a contest for the best fruit cake – all this you can be looking forward to starting at 3 pm :) Check this for more details.
LIVE MUSIC AT THE ZICHY PALACE
18.8.
Come to enjoy an open air concert of Zuzana Suchankova who will be performing blues, jazz and folk, starting at 7 pm at the courtyard of the Zichy Palace, in the city center. Entry: 5 €. You can get your ticket via Tickeportal reservation system or on the spot – one hour before the concert starts.
INTERNATIONS MONTHLY NETWORKING: BARBEQUE EVENING
19.8.
The monthly event of InterNations, a community gathering expats living in Bratislava as well as locals. You can join at the stylish venue of Bratislava's Lindner hotel for a fun evening of meeting internationally minded people, mingling and dancing. Enjoy networking and making new friends at this event organized in a summer style in an outdoor-indoor combination – welcome drinks, ice-breaker game and the regular raffle will be accompanied by grilling on a terrace and some nice music! For more info click here.
RADIO KIKI QUEER FESTIVAL
19. – 21.8.
Enjoy this summer at Radio Kiki Queer Festival that brings you great DJs, open air boat party, BBQ, queer movie night, and discussions. The program starts on Friday at Teplaren Café with a free-entry discussion featuring LGBTI representatives from Bratislava, Banská Bystrica and Košice, beginning at 7 pm. The topic is: "Is there a queer scene outside Bratislava?" Screening of a project "Identity: Videoportraits About Queerness" will follow at 9 pm. Every hour, visitors can watch a short movie about queer identity people. On Saturday, Radio Kiki Festival will continue at Loďka (exTanker) with a great party. On Sunday there will be BBQ and the DJs will take turns behind the mixers again. Entry to this party: 5 €. Check the details here.

DIVERSITY UNITES US
20.8.
The non-profit organization Internationals in Bratislava has been dealing with a society-wide problem, which is based on fear of receiving, acceptance and integration of foreigners and asylum seekers in Slovakia. The aim of the project "Diversity unites us" is to tear down barriers between communities of different cultures, languages and religions, to help create friendships and good relations between locals, foreigners and refugees through freely available events, for all of you! You can enjoy a whole day walk-in event on 20th August during which the following activities will be prepared: language workshops for the youngest ones, workshops for women, projections of Slovak movies with English subtitles, discussions with asylum seekers living in Slovakia and dancing workshops (all activities both in Slovak and English language). All activities are for free. Check the details and program.
VEGAN BARBECUE
20.8.
A barbecue party at the court of Bratislava club Fuga where you will be able to enjoy the very best Carribean sounds/music. The barbeque starts at 3 pm and ends at 10 pm and later on the party continues in the Fuga club. Facebook event.
SICK INDIVIDUALS AT WAKELAKE
20.8.
This duo will make your hips move to remixes of party music at the popular Wakelake in the mid August. One of the few big shows of this summer! As a bonus, additional line up musicians will be present. Check the details here.
GYPSY BASHAVEL
20.8.
The 11th anniversary of the gypsy bashavel will be celebrated at the Devin castle in mid August. 10 hours full of fun, joy, music, dance, theater and workshops is prepared for the visitors, with the start at noon. Entry: 9 €, children up to 10 years have free entrance. More info here.
UPRISING REGGAE FESTIVAL
26. – 27.8.
The largest festival of Reggae in Central Europe which brings together people from different countries, cultures and races, and is held at Zlate Piesky, a natural swimming pool. During two days, annually, several genres from reggae through dancehall, ska, latino and hip-hop to dub, dubstep, ragga-jungle and dnb are performed on four different stages. More details here.
NOTE: Some of the featured pictures come from the Facebook pages of the mentioned events.