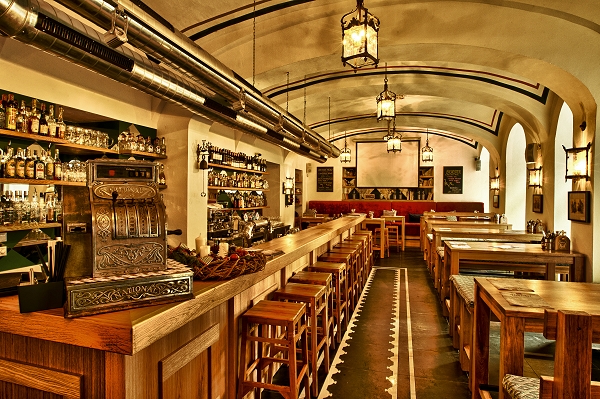 This place is not called a palace just for nothing. It used to be the most luxurious house for aristocrats in the past. As one of the few places in Bratislava, Beer Palace offers tank beer Pilsner Urquell right from the original tanks. Delicious specialties from regional as well as international cuisine are served here.
LOCATION
This palace is situated at Gorkého Street which is in the city center. The street is only a few meters away from the Slovak National Theater at the Hviezdoslav's Square.
THE INTERIOR
The atmosphere of the culinary experience depends on the room where you sit. There are two floors. The upper one, to which you enter, is a lighter space with big windows and high ceiling. You will sit near a long bar or at the wall full of old books. There are also three similar rooms from the other side of the bar.
If you go downstairs, you will find yourself in smaller rooms also with a bar and wooden tables. When there is live band performing, it is down here.
WHAT TO HAVE IN THE BEER PALACE?
As this place is well-known mostly for its tank beer, you definitely should have one Pilsner Urquell. Our favourite soup from their menu is the traditional bean soup with pieces of sausage and smoked meat served with sour cream and bread.
The food here is really very good. One of the recommendations is goulash with fresh chilli, steamed dumplings and potato pancakes. We like to take the classic Caesar salad as well – it is really good here.
One of the classic meals that Slovak really like is fried cheese with fries and tartar sauce. They have it on the menu, too, and it is quite good. One surprise about Beer Palace for us was to find out they don't serve halušky, our traditional meal. If you are after sweet, try the dumplings filled with chestnut puree which come with melted butter and plum jam. Yummy!
If you want to have a selection of the best things, you should take one of the combos the pub offers. We would suggest Combo number 2 which includes a traditional beef tartar, meat paste, Venison rillettes, pickled camembert cheese, crispy chicken wings, roast ribs, garlic toasts, horseradish, mustard, hot peppers, pickles, fries, bread, barbeque and cheese sauce. It is a 700g combo so you should be at least two people :)
Author: Maria Kecsoova

OPEN HOURS: Check their website


ADDRESS: Gorkého 5


CONNECT: Website, Facebook


MAP LOCATION: