There are hundreds of places in Bratislava where you can get a beer. Just stroll down a random street in the city center and surely you will find a pub or a bar with good beer for a very reasonable price just in couple of minutes. However, if you are a true beer lover, this probably will not be enough for you. You need something more, something special, something above the standard "Euro Beer", right? We have thus prepared a list of  the best beer places in Bratislava for our demanding readers. Cheers!
URPINER PUB
This tiny pub is heaven for all true beer lovers, offering fine beer selection of currently most awarded Slovak brand URPINER. It comes from the Slovak town Banska Bystrica located in the heart of Slovakia with 500 year old brewing tradition and uses local spring water from hills and malt growing on fertile southern Slovak fields. Freeze in time thanks to old-school atmosphere – you might feel like the time has stopped here. Just imagine a lot of smoke from cigarettes and this is how most our pubs looked like 30 years ago. The prices here are very reasonable, too!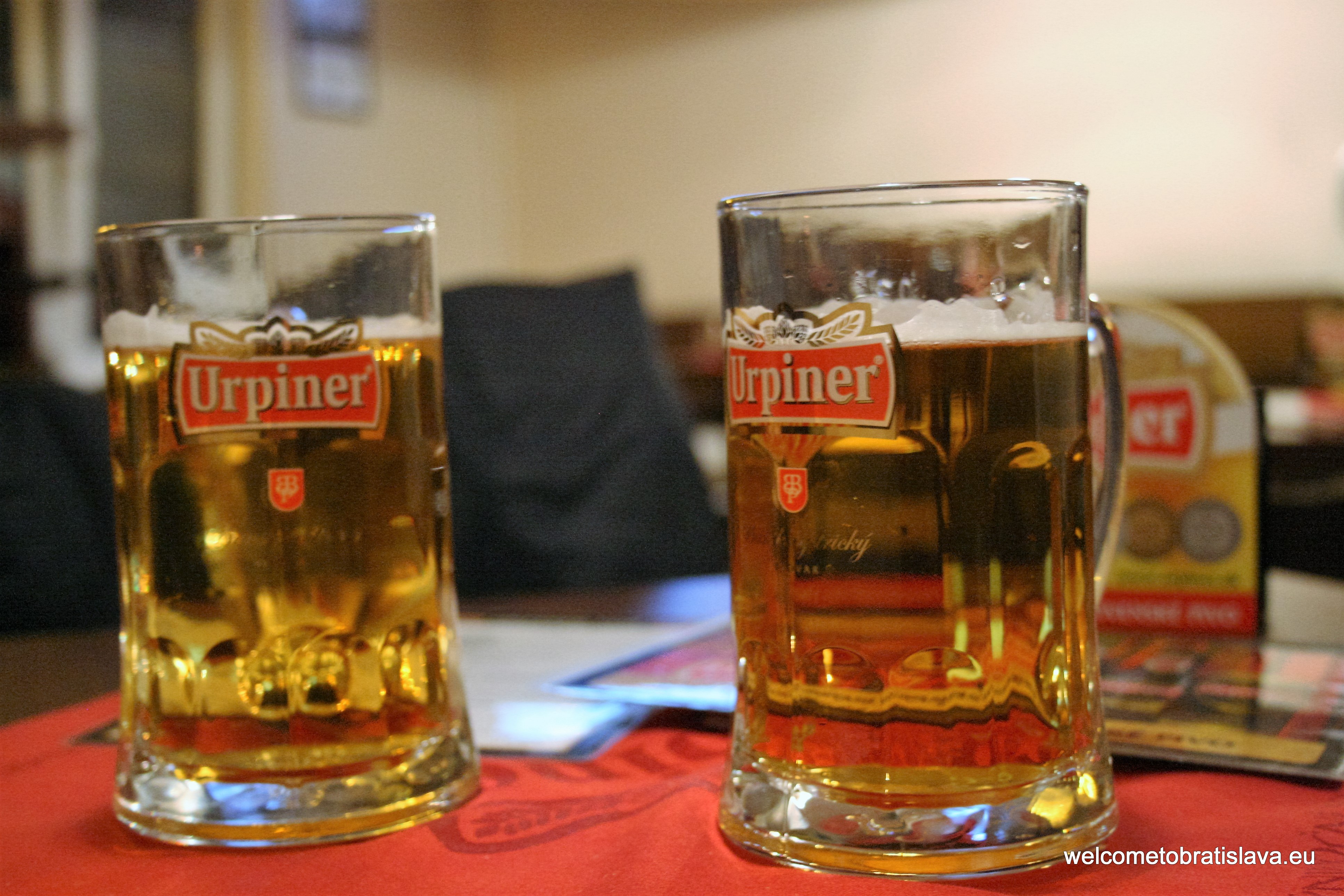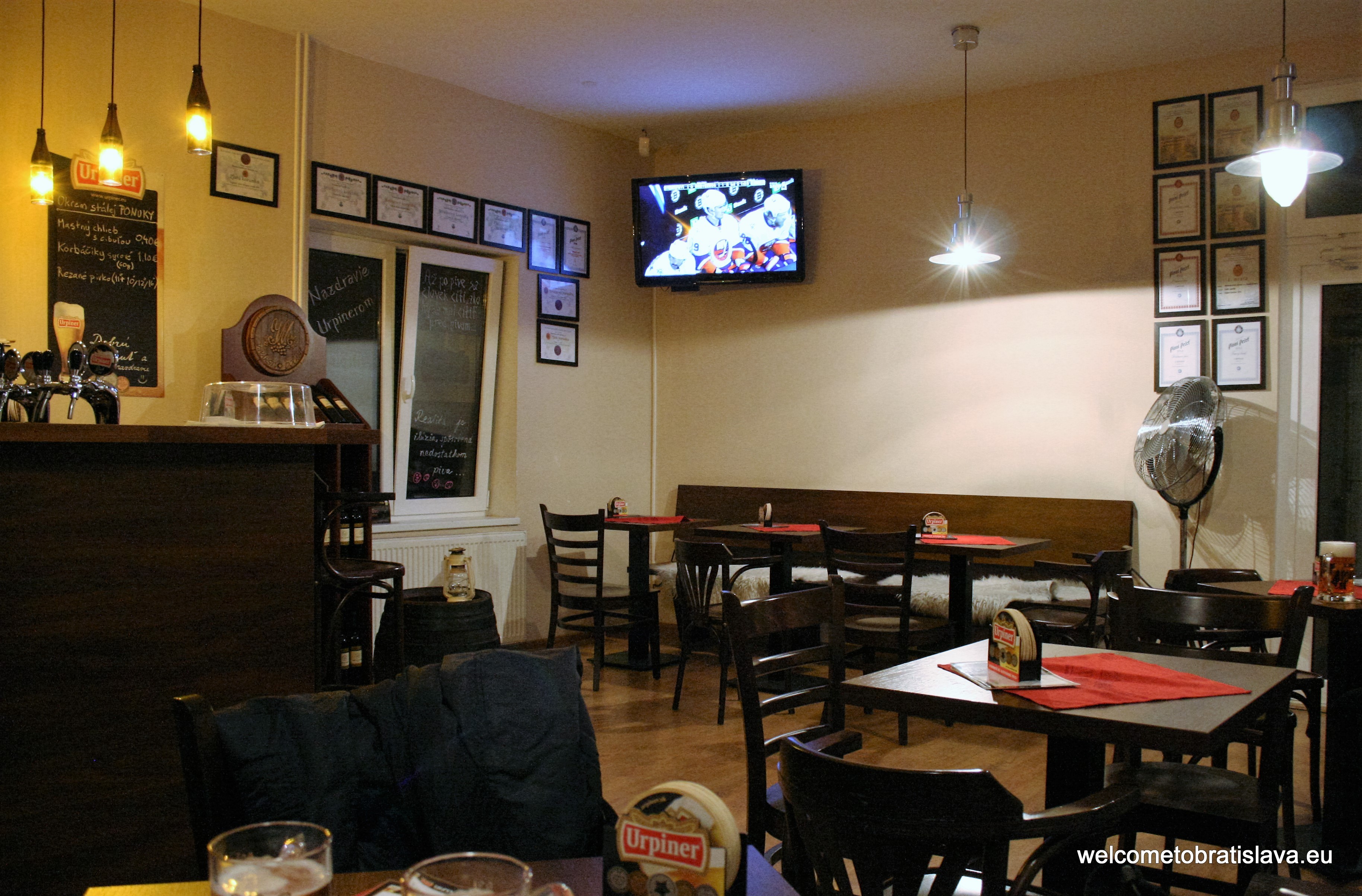 STUPAVAR BEER PUB
This pub will welcome you with real punk music, atmosphere and a punk beer made by punkers from a Slovak town of Stupava. It is a hidden punkers' oasis in the very heart of the city center, surrounded by posh restaurants and disco bars. The rumour has it that the owners got tired of all the Slovak as well as world beer, so the only way was to start brewing their own brand – STUPAVAR. You can choose mostly from their own beer from the daily offer written on the board above the bar or on the ceilings. Fancy the idea of grabbing a punk beer? Click here!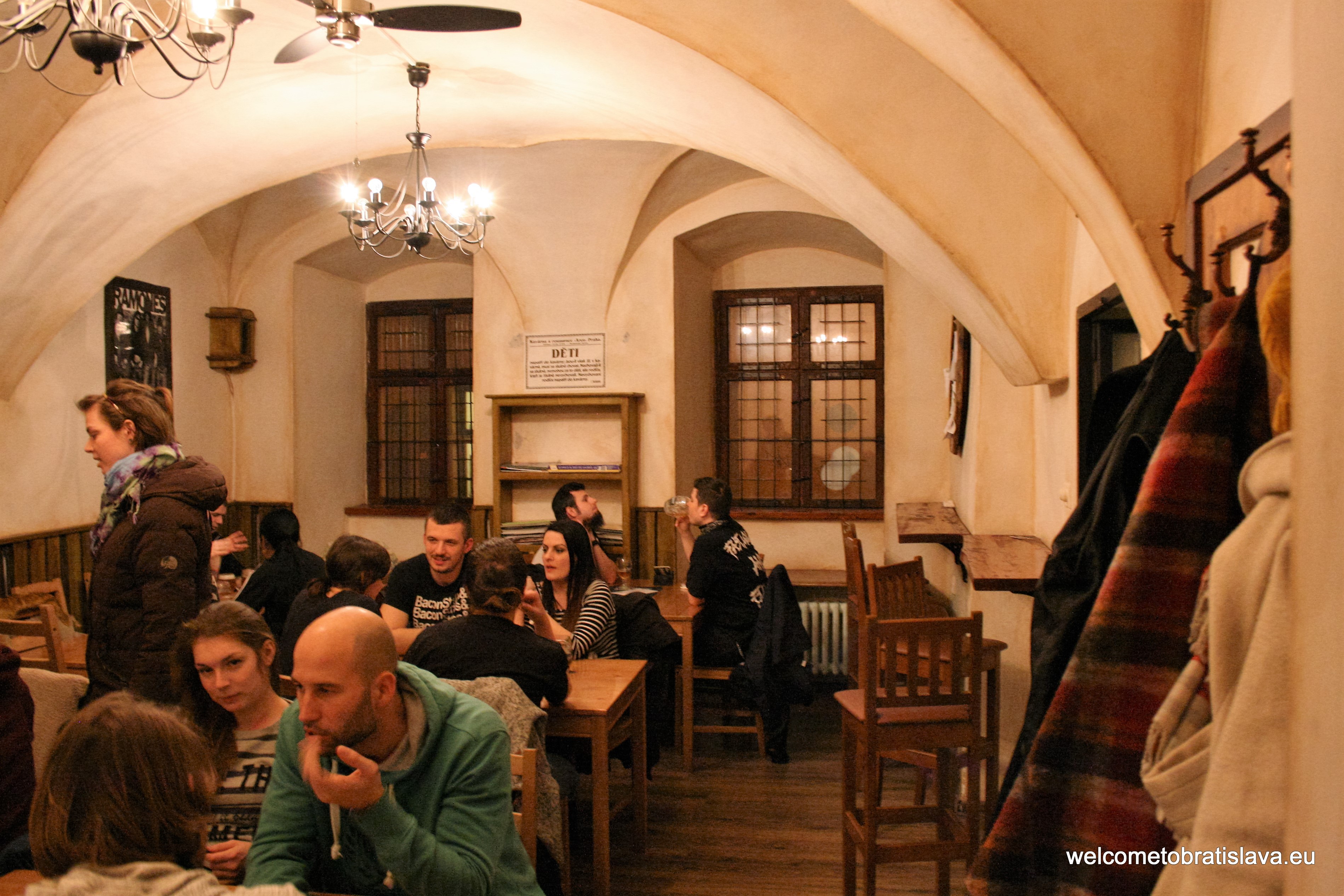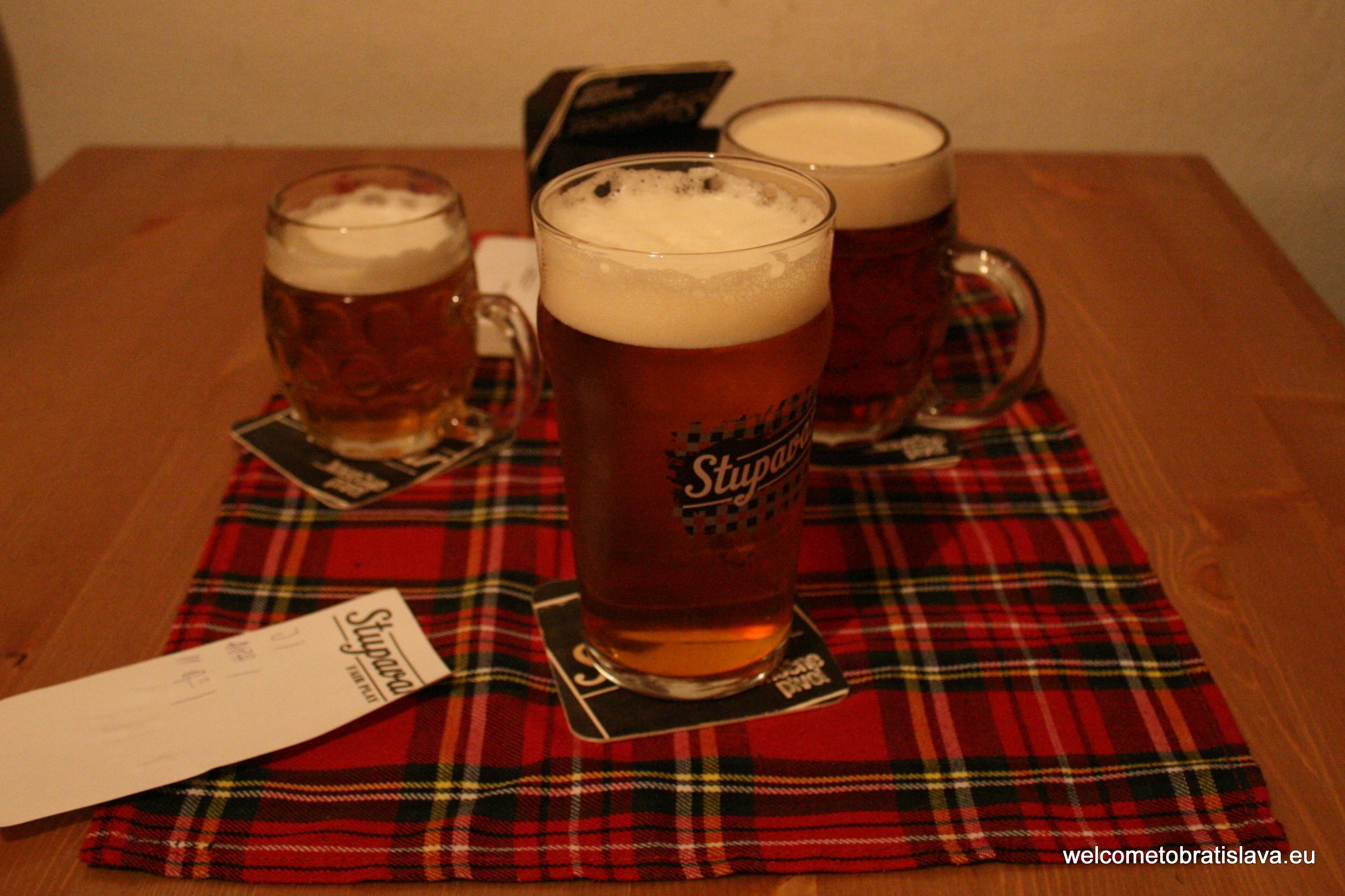 STAROMESTIANSKA PIVOTEKA
This pub is a project of two true beer lovers who also stand behind the beer brand KASTELÁN originating from Slovakia's northern region Orava. Each week you can look forward to a selection of 10 beers from Slovak craft breweries. Usually the offer consists of beer made by local breweries like Stupavar, Urpiner, Wywar, Hellstork, Kastelán of course, and you will find almost everything from porter, through stout, ALE, IPA, to wheat beer and lager.  If this isn't enough, try their pivovica, alcohol made out of beer. Can't decide? Then go for the tasting set – you will get 10 small 0,1 liter kegs of all beers on tap. The best comes at the end – you can brew your own beer here!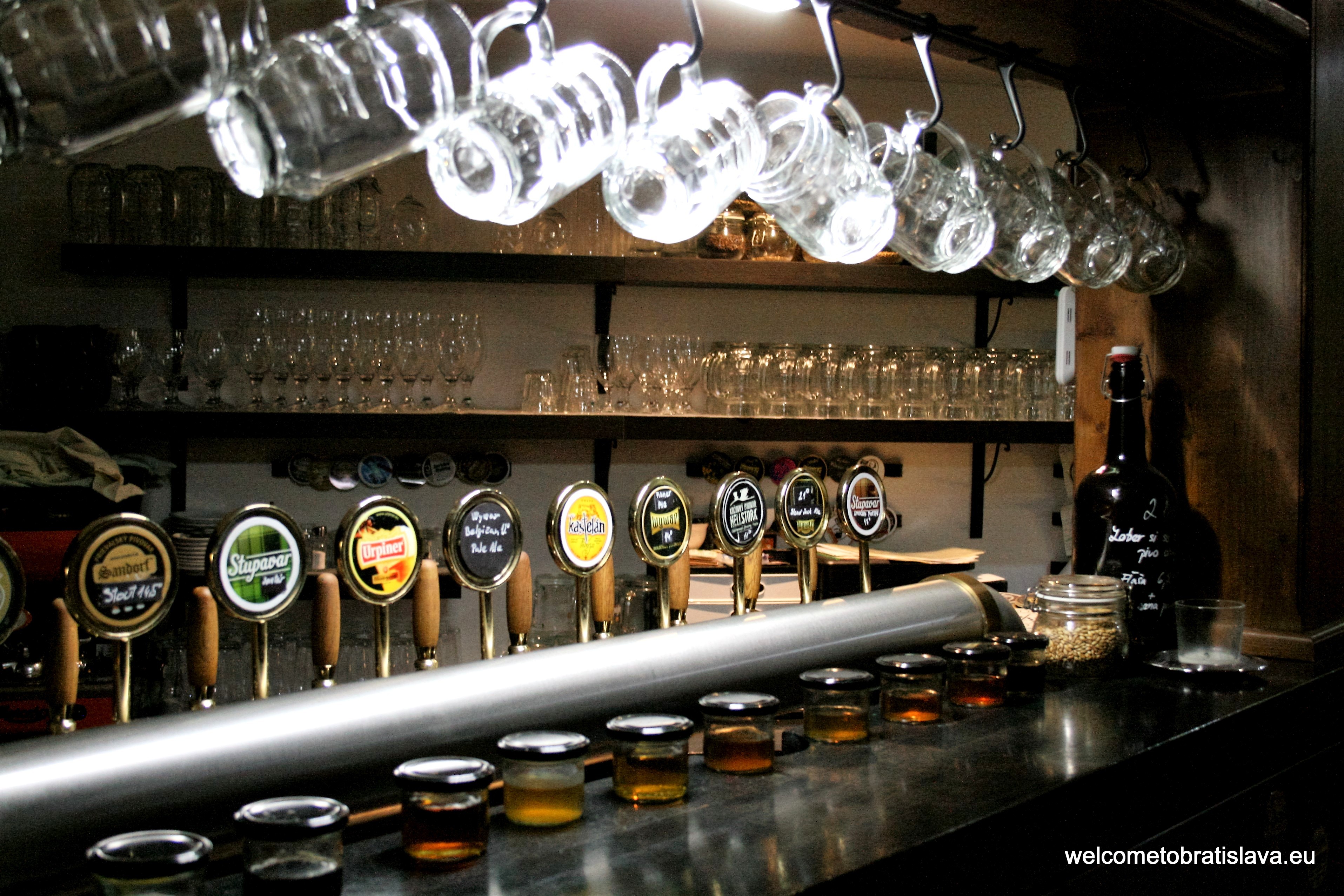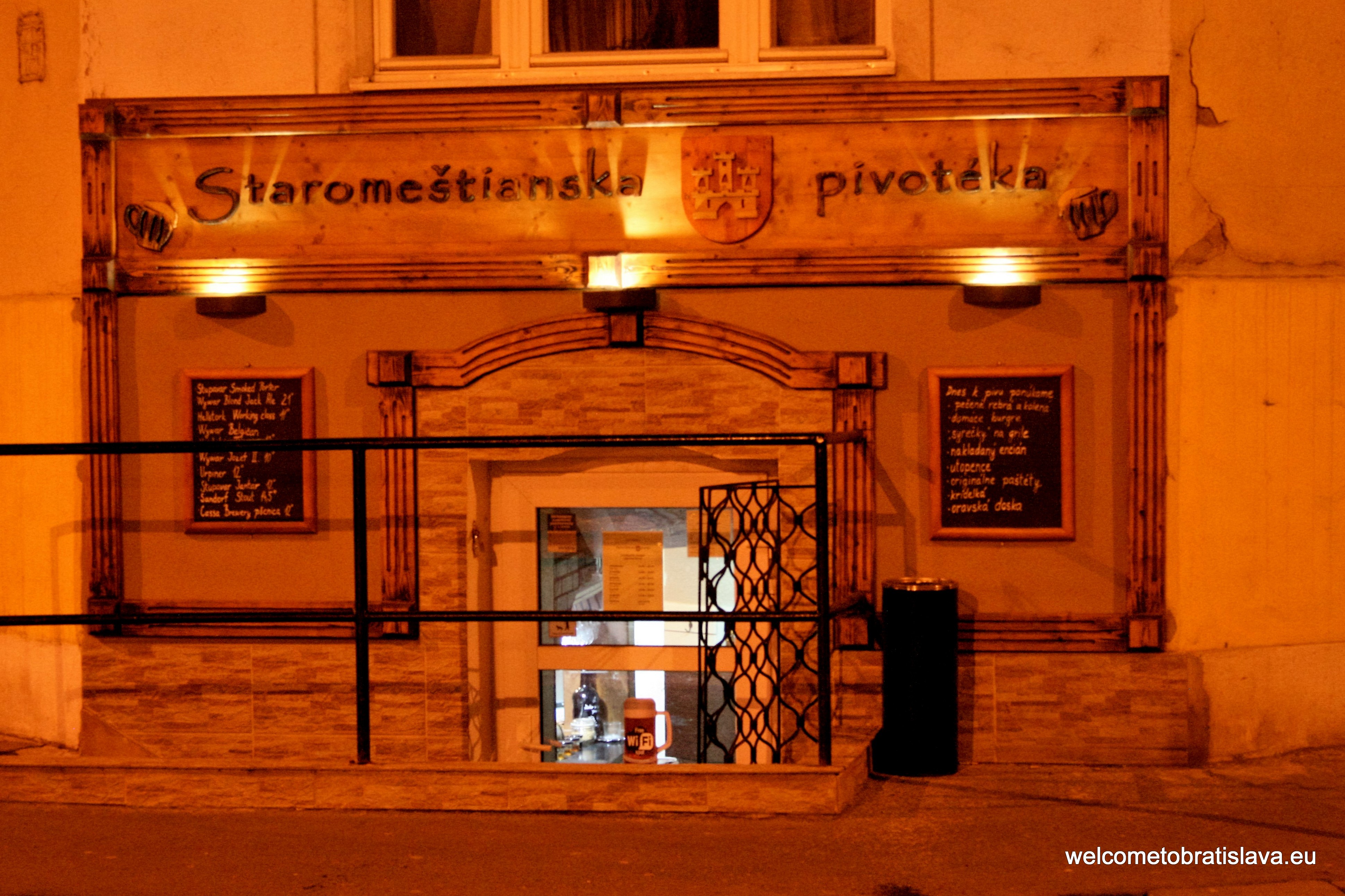 FABRIKA, THE BEER PUB
Let's be honest, not many beer pubs in Bratislava pay special attention to the interior or overall visual experience for their customers, however, at Fabrika this is a priority. The layout and decor all work together in harmony to create the best possible drinking experience. So do the stylish uniforms of the staff and their very professional manners. Even the food and the way it is served looks perfect. The only downside, however, are the prices – a bit higher than the average Slovak beer pub. But if you want to have a regal beer and a memorable experience, it is well worth the price! Fabrika has several of its own draft beers, including a Pilsner type lager, American Pale Ale, light wheat beer or a dark stout.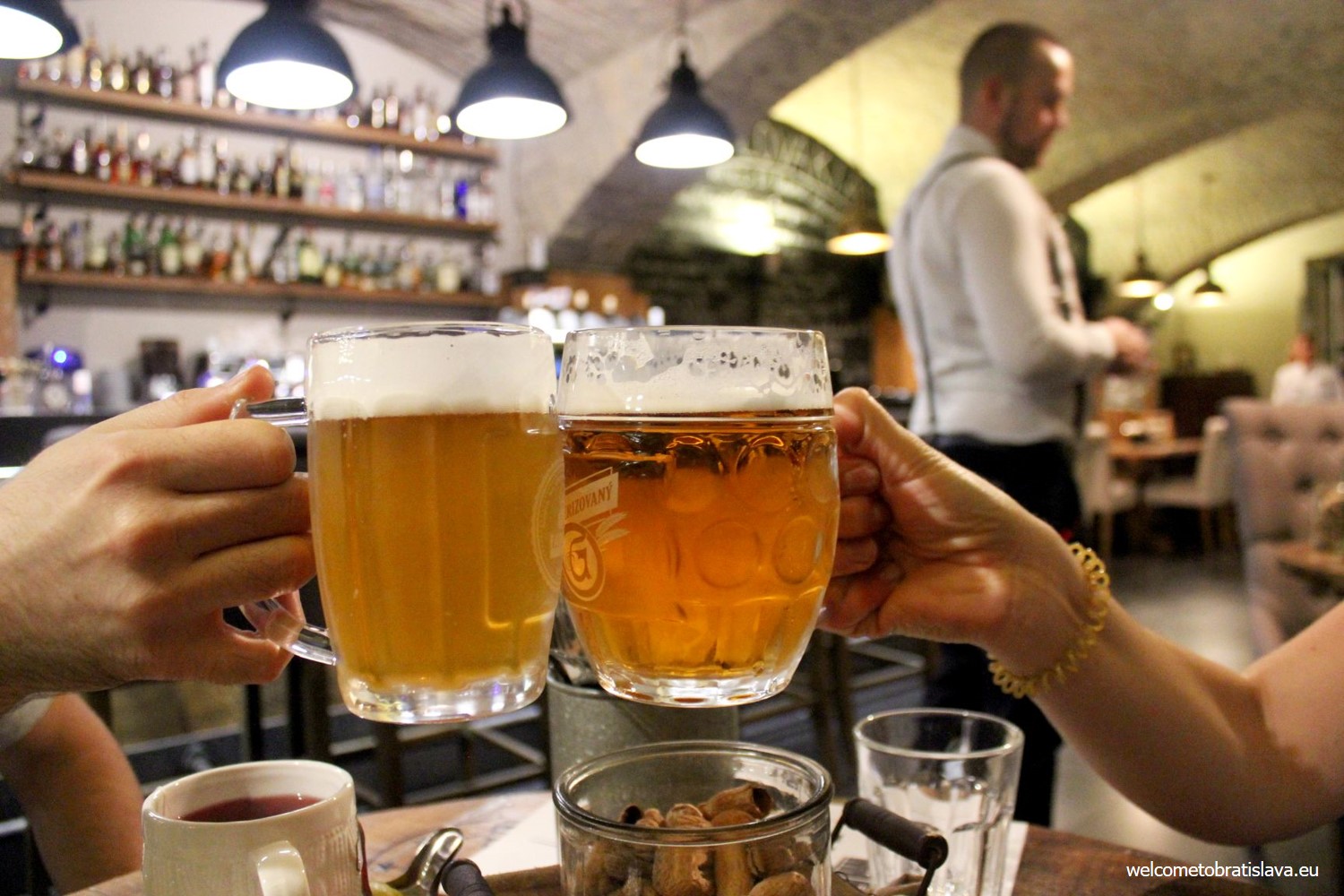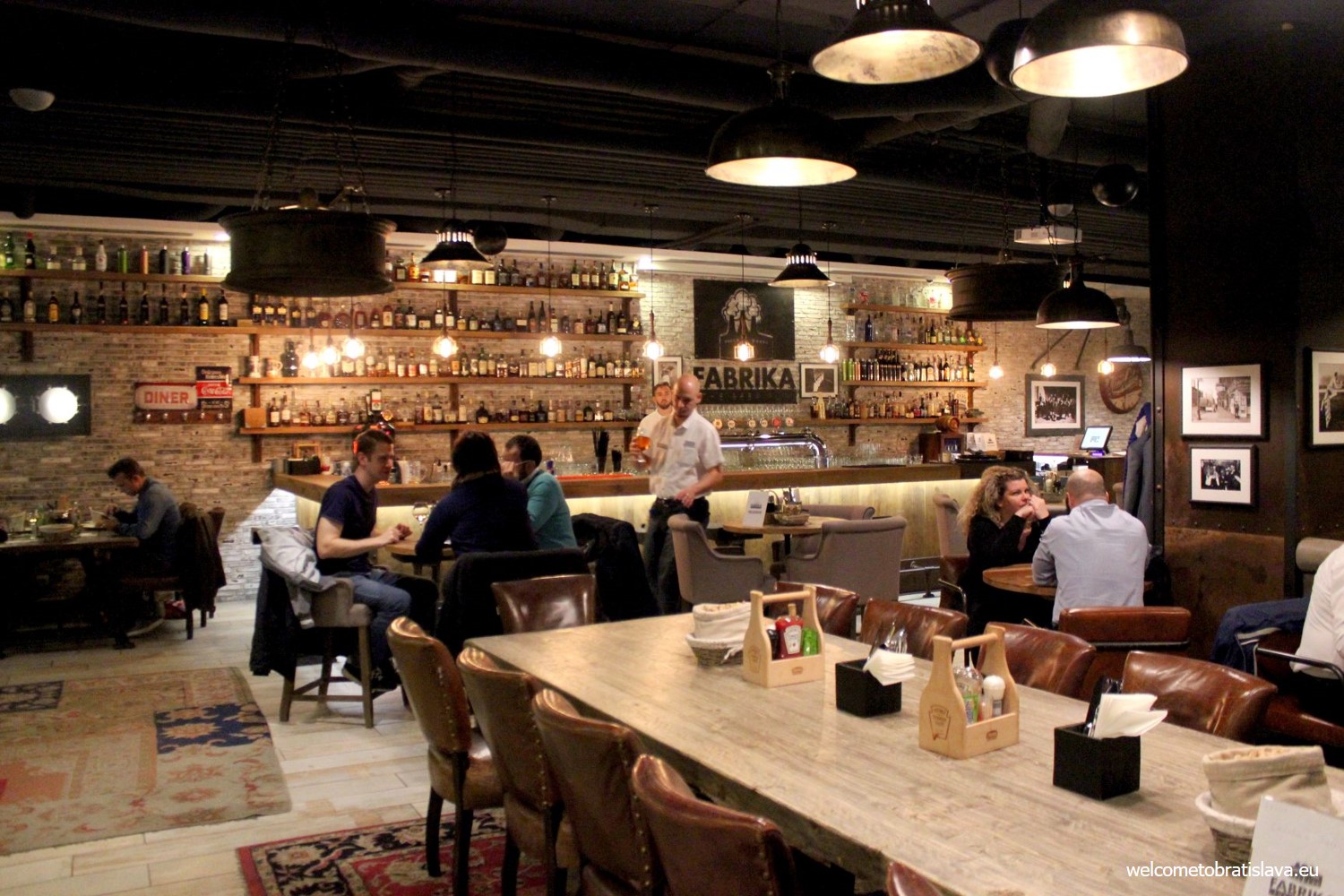 OMAMA SHOP CAFÉ
You will see here how lovely the old Austro-Hungarian Bratislava pubs were. You feel here like it's the turn of the 20th century. Also, the old style poster ads hanging all over the place add a nice touch to an already unique setting. Some of these are really amusing, promoting products that disappeared decades ago. Not to mention, the beer here is simply splendid! Even if the beer selection is not the largest, but the offered brews are very tasty. Consider the Czech Ferdinand Svijany with a long brewing tradition, or perhaps try one of their rotating daily specials.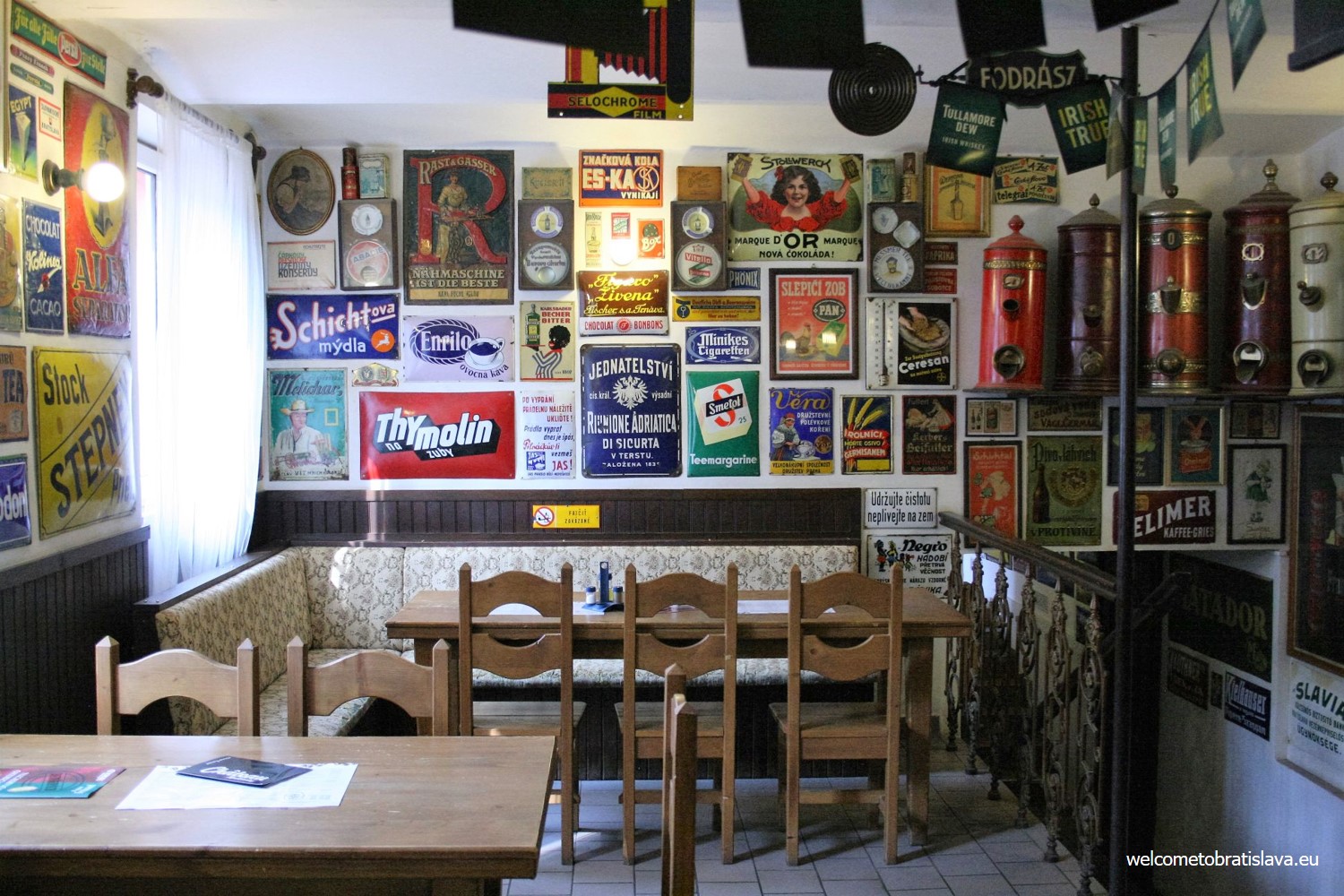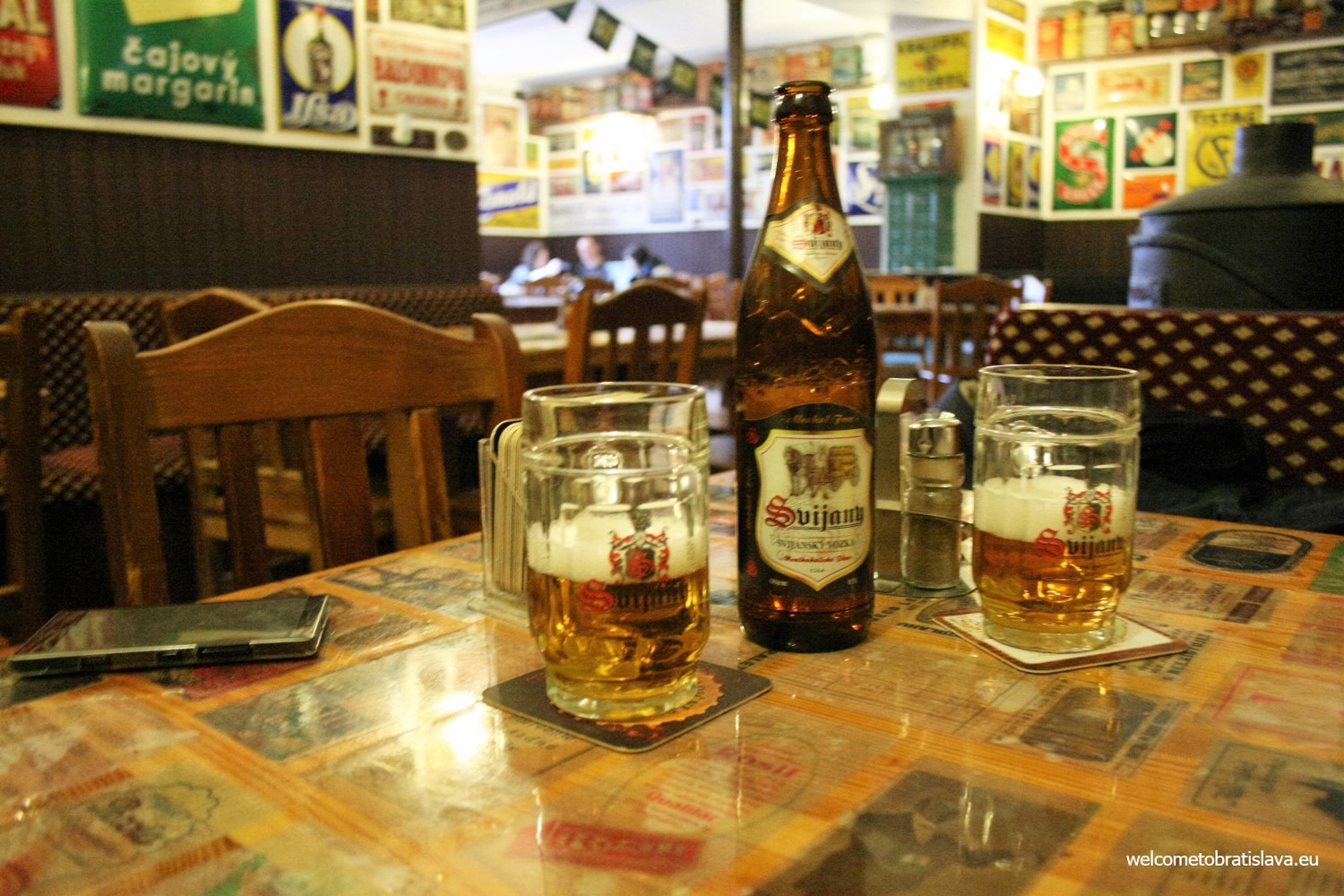 CIERNY PES
Fond of fancy places? Then Cierny pes (translated as Black dog) is really nothing for you. But if you feel like having a good beer in a homie atmosphere, just behind the corner from all the hustle and bustle of the city center, you better book your table in advance. Pub Cierny pes is usually pretty crowded during the evening hours. They are offering popular Czech family beer BERNARD and you can choose from drafted light 10° classic lager, stronger 14°, a bit more distinctive Bohemian Ale or special dark 12° – with an eye-catching avalanche effect (similar to the well-known Velvet beer). They even have draft gluten-free beer and three types of non-alcoholic beers!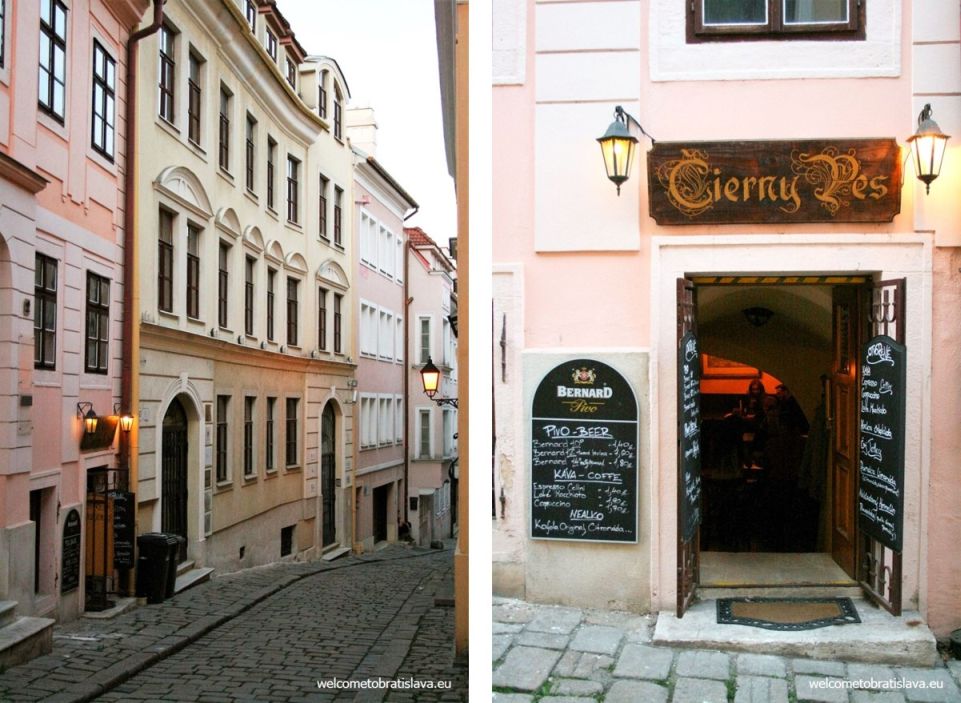 HOSTINEC RICHTAR JAKUB
This mini-brewery will win your heart with its excellent beers and cosy atmosphere. Another winsome pub with walls and ceiling covered with beer decorations that we would definitely recommend among best beer places.  The place is named after a notable family of Bratislava´s mayors, as in that time it was very common to brew beer in almost every mansion. So enjoy the beers with the long brewing tradition dated since the 13th century! Check their own lager – non-filtered and unpasteurized beer called JAKUB. Apart from Jakub this first mini brewery in Bratislava produces also a light lager ANNA, dark KATARÍNA and some occasional specials.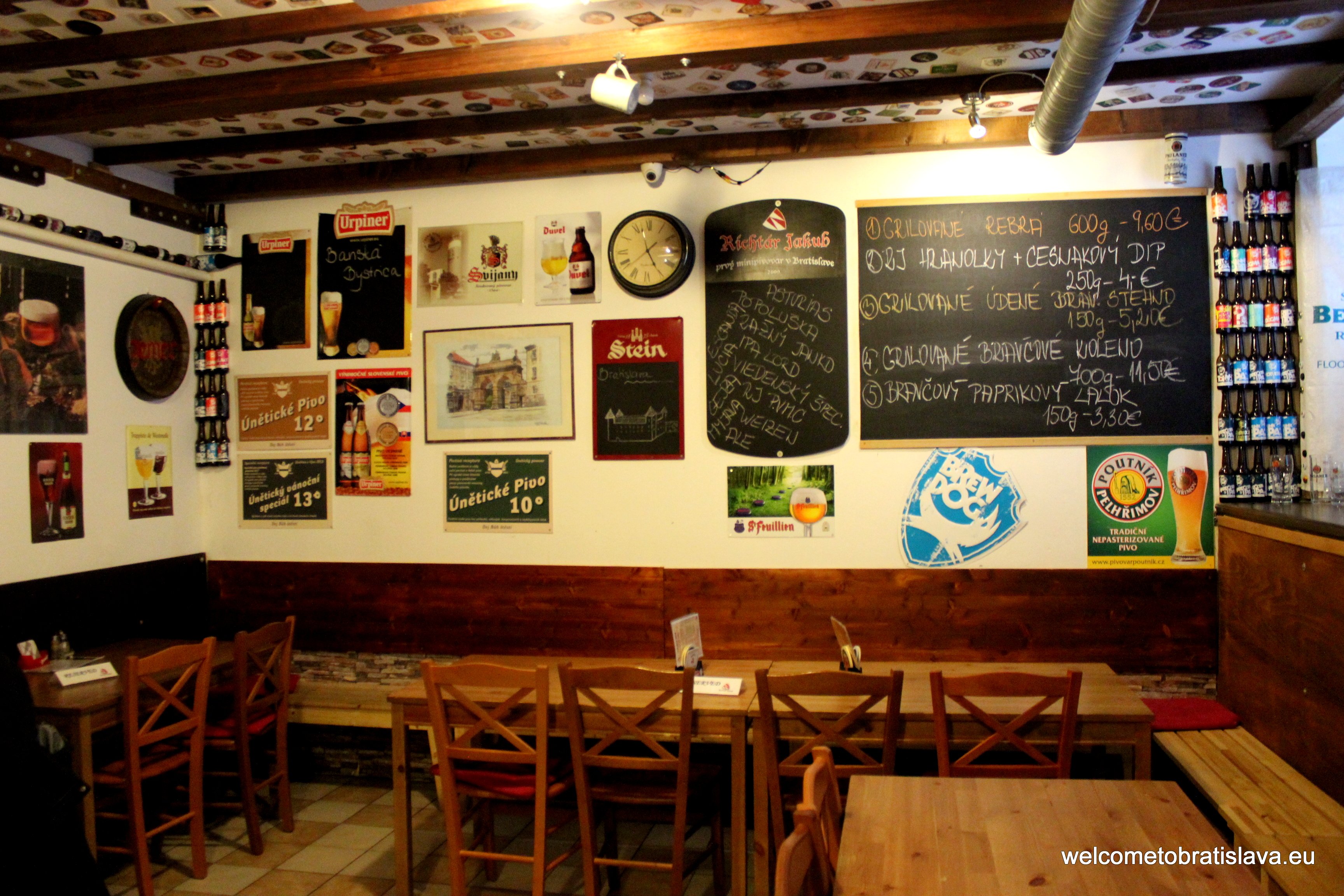 STAROSLOVIENSKY PIVOVAR
We recommend Starosloviensky pivovar very much if you want to scoop deeper into the history of Slovakia rather than just its modern times. The traditional Slavonic cuisine is served here – halušky, bryndza, lokše… basically all what people used to eat when they worked hard in the field! They have their own beer – PRESSBURG, which is the old name for Bratislava. Usually you can choose from 9 beers of the daily offer. Light, dark, nonfiltered, IPA, ALE, wheat beer and many more. They even serve radler, which is the light beer with lemonade that became very popular here lately, especially during hot summer days and nights. If the weather allows so, check the beautiful garden in the back yard which is undisputedly our favourite part.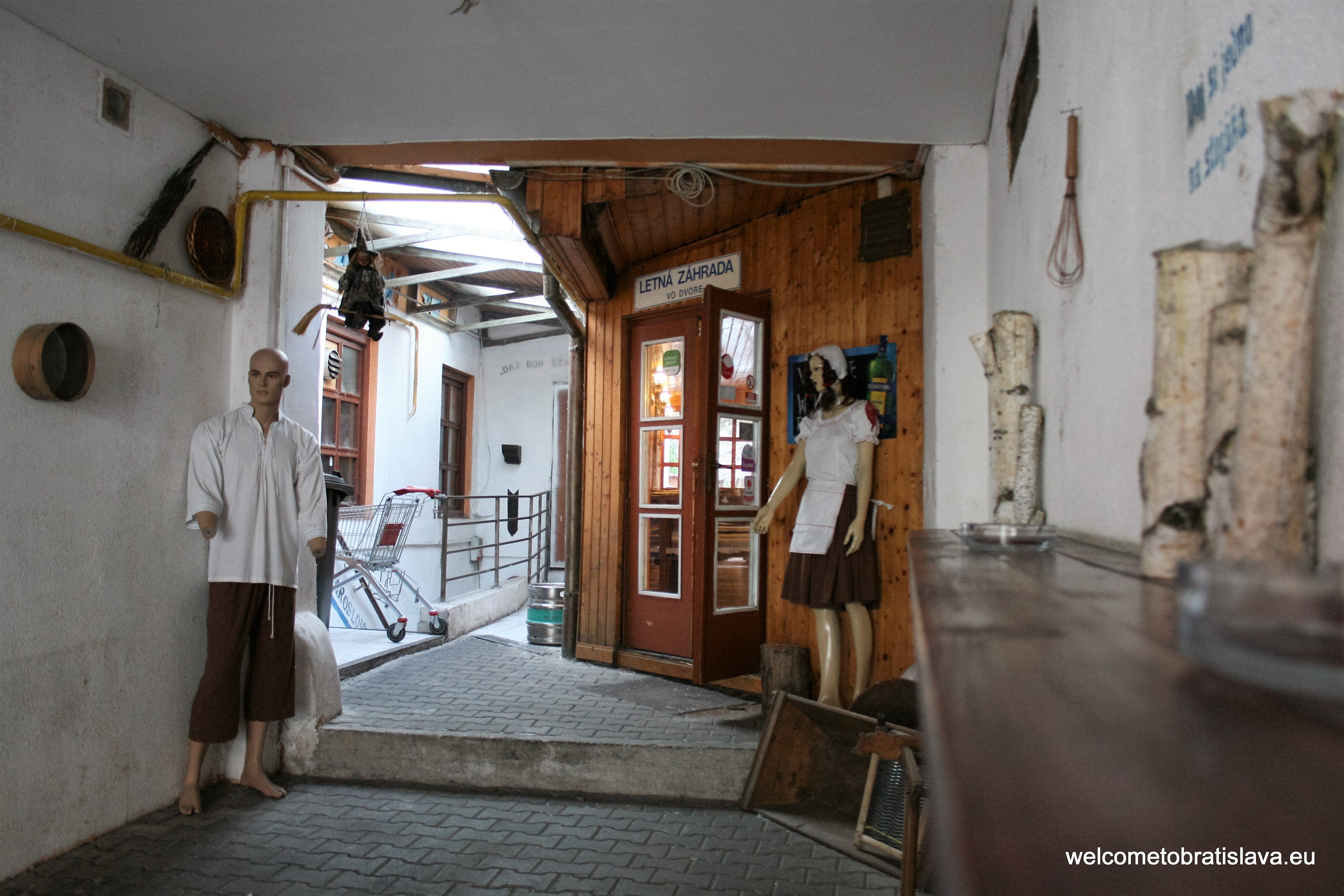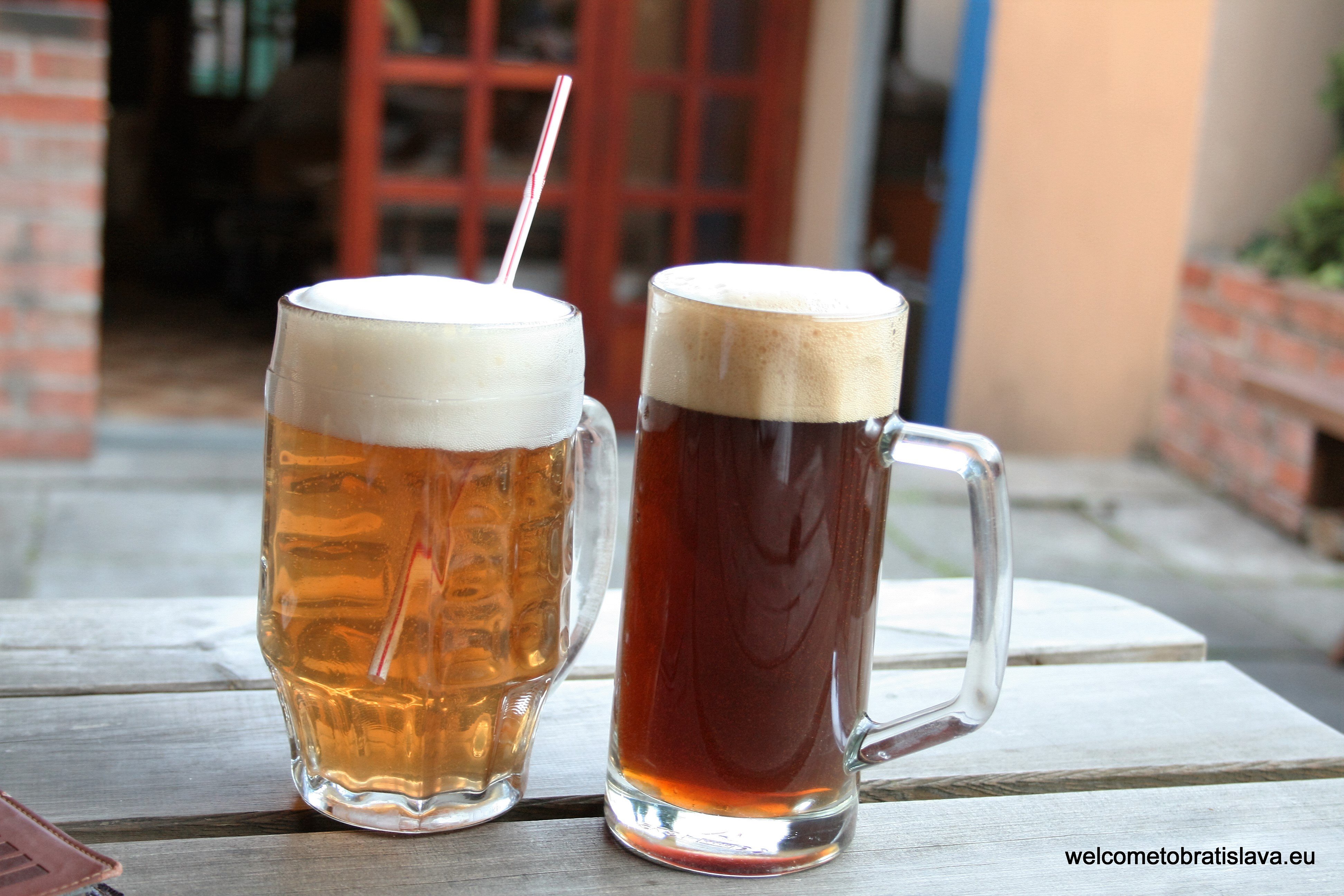 MUZEJNY PIVOVAR
Would you think that visiting a beer pub could have the same cultural impact on you like visiting a museum? This is the case of Múzejný pivovar (translated as the Museum Brewery) which is based in the Museum of Commerce. The feel and the look of the pub reflect the first Slovak Republic and it is truly authentic. We heard people saying that this is the best beer in town. Well, it might be a matter of taste, but as we say, where there's smoke there's fire. They brew the beer in the same room they serve it. Basically, there is only one room, so the smell of brewing complements the atmosphere.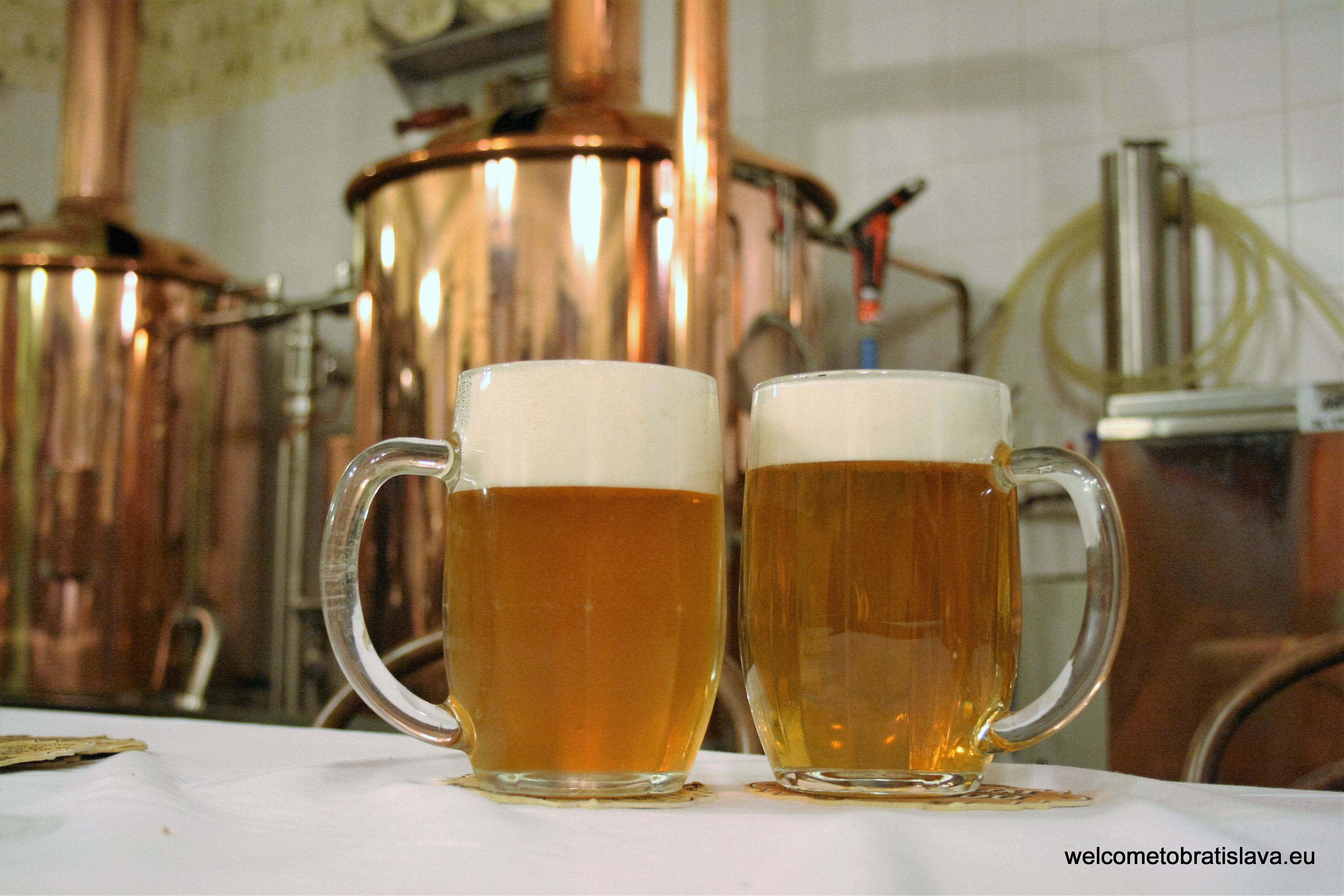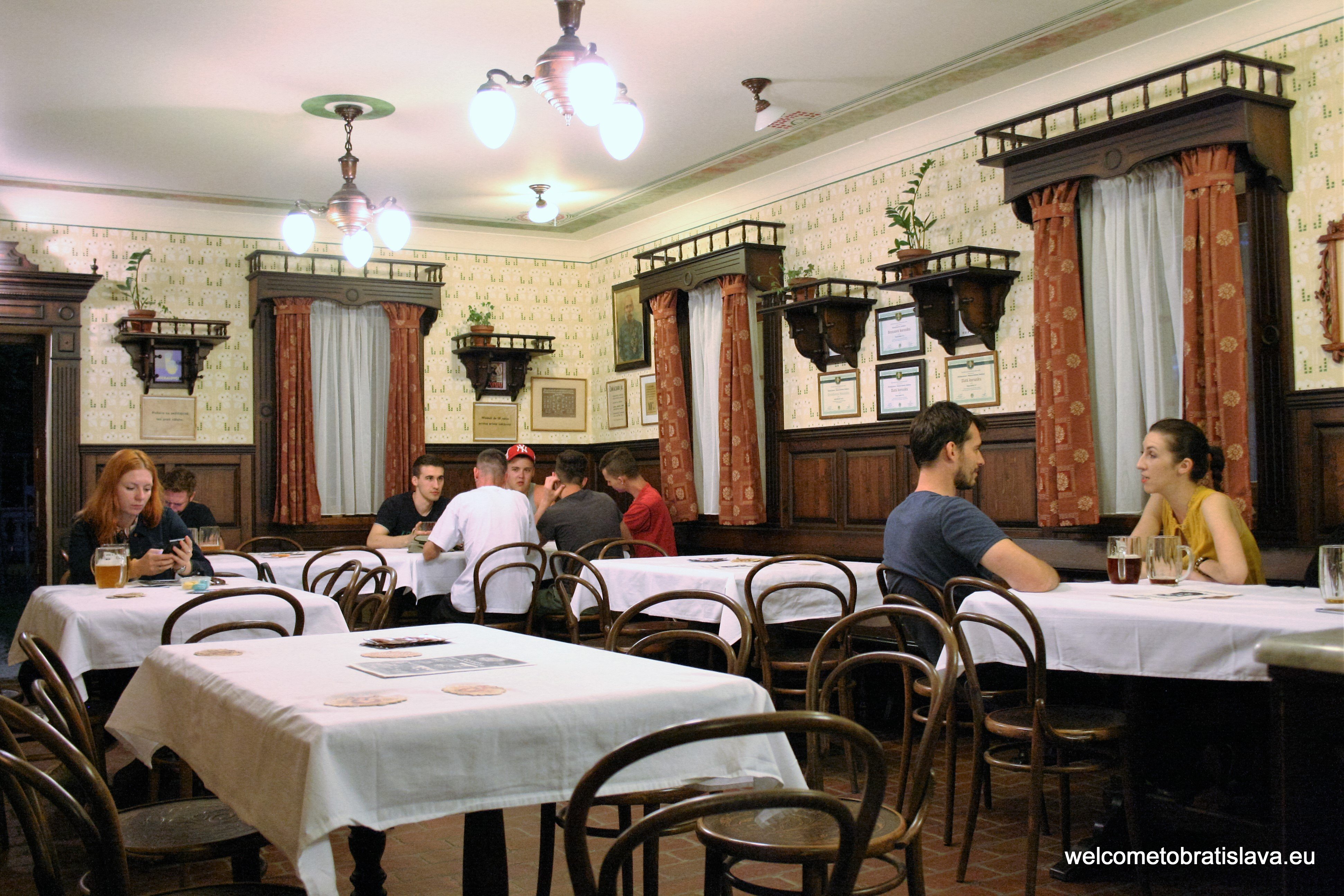 100 PIV – CRAFT BEER BAR
Over 100 different bottled beers, a beermalade and the first beer juror who is the head of this pub and who selects beers offered here! You can expect all of this when visiting 100 Piv. Since the name of this pub announces "a hundred beers", this is probably the minimum number of different bottled beers you can buy there. One wall is fully covered by shelves with bottles and the selection is really, really huge. Moreover, there are six more beers on the tap that are changed regularly. Small place but definitely worth a visit:)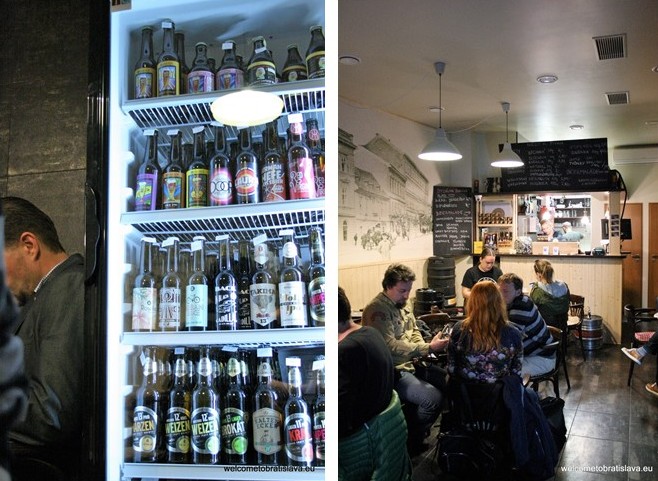 ŽIL VERNE
In order to understand all the strange names used at this place, we need to explain you the local context. The name of the pub "žil verne" translates as "he lived faithfully" but it is also a phonetic transcription of the famous French writer's name  – Jules Verne. They have two beers brewed by two well-established brewmasters specific for this craft beer bar: lager called "VEĽKÝ HRDINA" (Big hero) and IPA "VYNÁLEZ SKAZY" (Invention of a doom) which is the name of the Czech cult movie inspired by Verne's novels. Everything inside the pub is visually inspired by the charming old-school design – from coasters to walls. Enjoy a black and white cartoon depicting scenes from Jule Verne's books. And the outside terrace in the very city center is the best!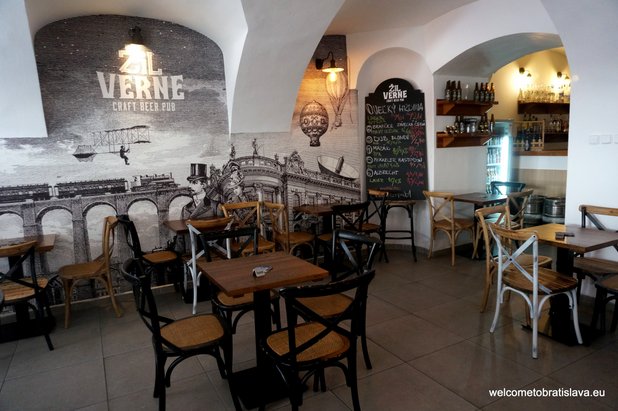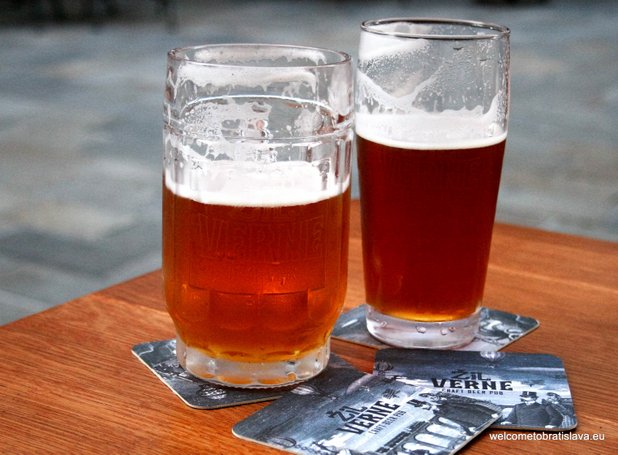 KOMÍN
This beer place lies within the area of a legendary outdoor market, familiarly called "Miletička", standing here for decades. Just follow the tall read chimney, towering over the market which also gave a name to this place as "komín" means "chimney" in Slovak. They offer the three home-brewed beers: light lager, semi-dark lager, accompanied by one IPA. Good beer with full flavor. The cuisine is specialized in the traditional Slovak, Czech and Hungarian meals which are quite tasty. Komín originally started as a small window where you could get the beer. Now it is an impressive building with a generous capacity – two floors and a summer terrace. Despite this fact, it is usually packed during the peak time. So just make sure to count with the option that the place will be full when you come, since it is quite a unique beer place in this neighborhood!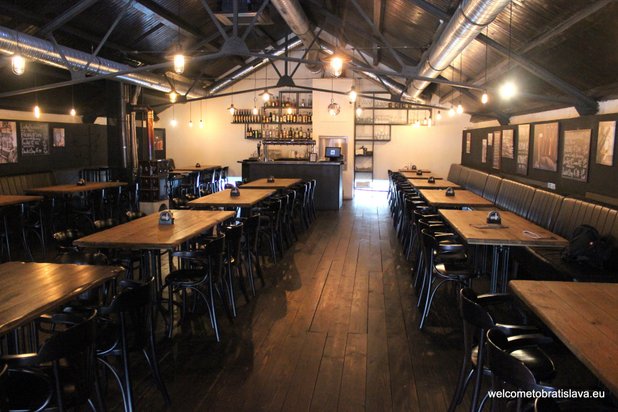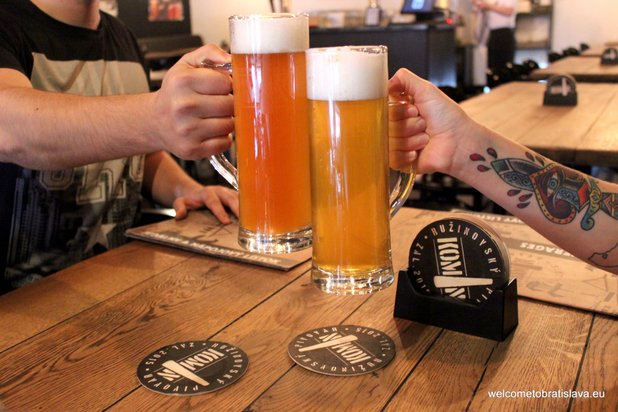 MONASTIC BREWERY
Get ready for a pub where you can get a great home-made beer in a spacious monastic cellar from the early Baroque period. It is quite easy to choose your beer as they serve only ONE beer made here – their pilsner type MONASTIC BEER 11°.  They brew it from the first-class ingredients without any additives. The first fermentation runs as in the past based on a traditional recipe – in open vats for several days and then the beer lies in stock tanks for 22 days. This means that the outcome is an unpasteurized living beer which is beneficial for our organism. We like that! And if you like heavy dishes, we recommend to try some of their meals, too!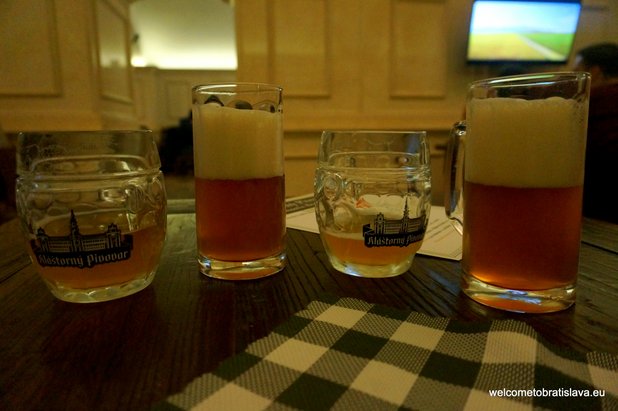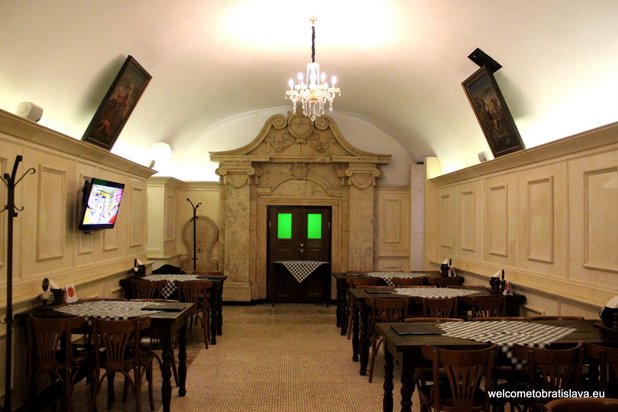 Special tip for those who like food and beer: try this food & beer pairings at a local brewery!
BONUS TIP:
If you want to enjoy Bratislava nightlife to the fullest, try the Nightcards. It offers exclusive discounts in bars, clubs and restaurants in Bratislava. If you are tired of always ending up in the same 3 bars every time you go out,  this will make your experience of finding a new bar more fun! The card game includes 30 discounts, including 20 bars, 4 clubs and dancing bars, 4 restaurants and 1 repeat of your favorite discount. More info.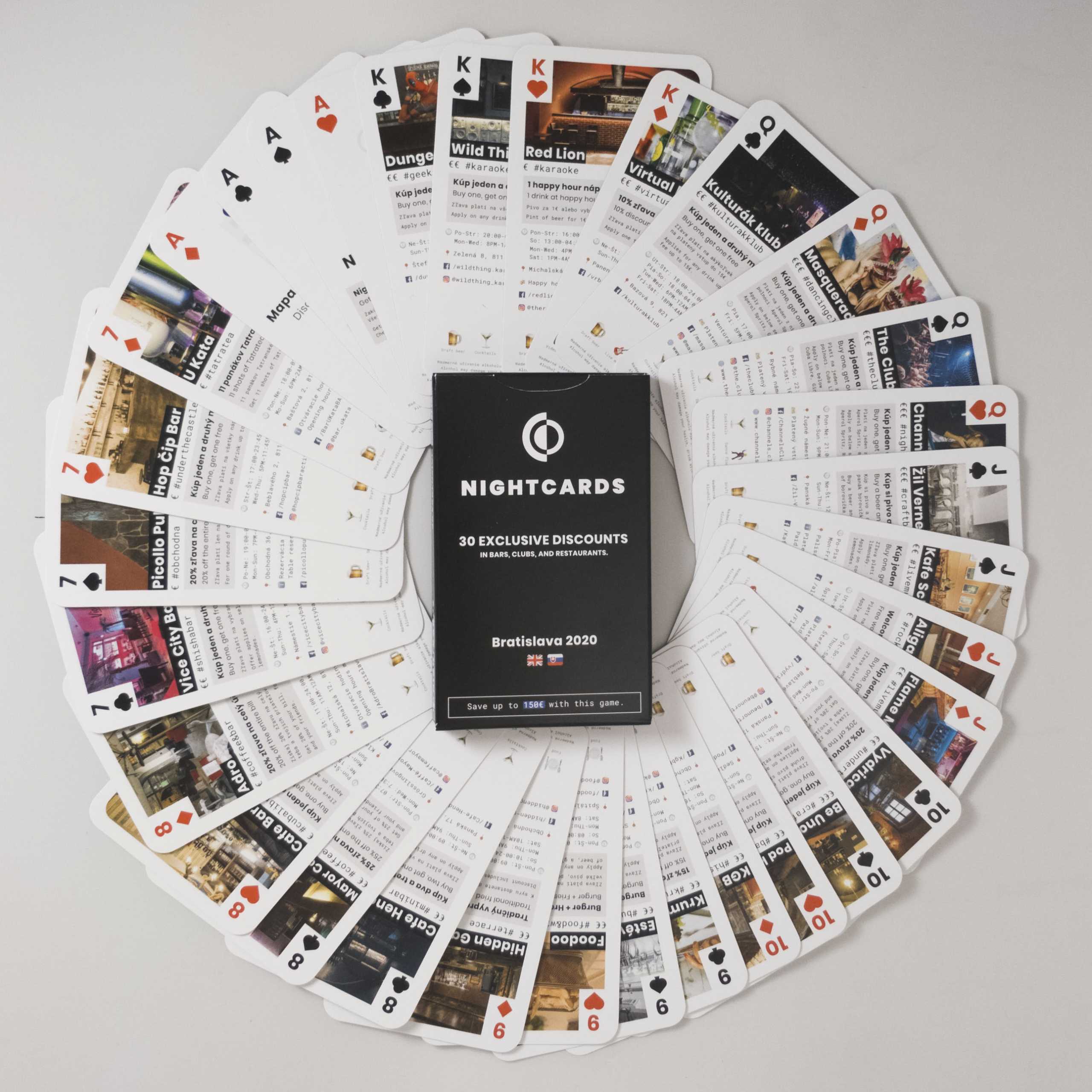 Author: Eva Latakova