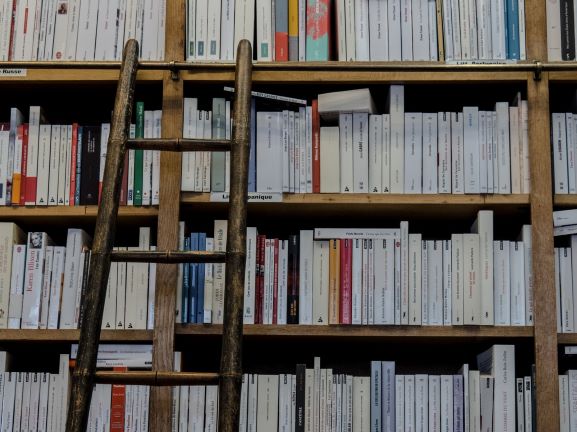 Whatever book you want to read, you're sure to find it in our capital's many bookshops, secondhand bookshops and book markets. Check the most popular places for a unique browsing experience! We are bringing you the list of the best bookshops in Bratislava:
Martinus Foxford
Martinus is one of the most popular online bookshop networks with physical branches in Slovakia. It is also the largest one. Its focus is on books, music and movies. It has gained many various awards for being the best e-shop as well as for its quality. DVDs, audio books, puzzles, games or LEGO can be purchased here, too. Visit their e-shop for online orders (in Slovak only) or stop by at one of their physical branches. They operate together with the Foxford cafe, a place glowing with colors that has a very friendly vibe and you just feel like home there immediately. Click here for the discounts and sales.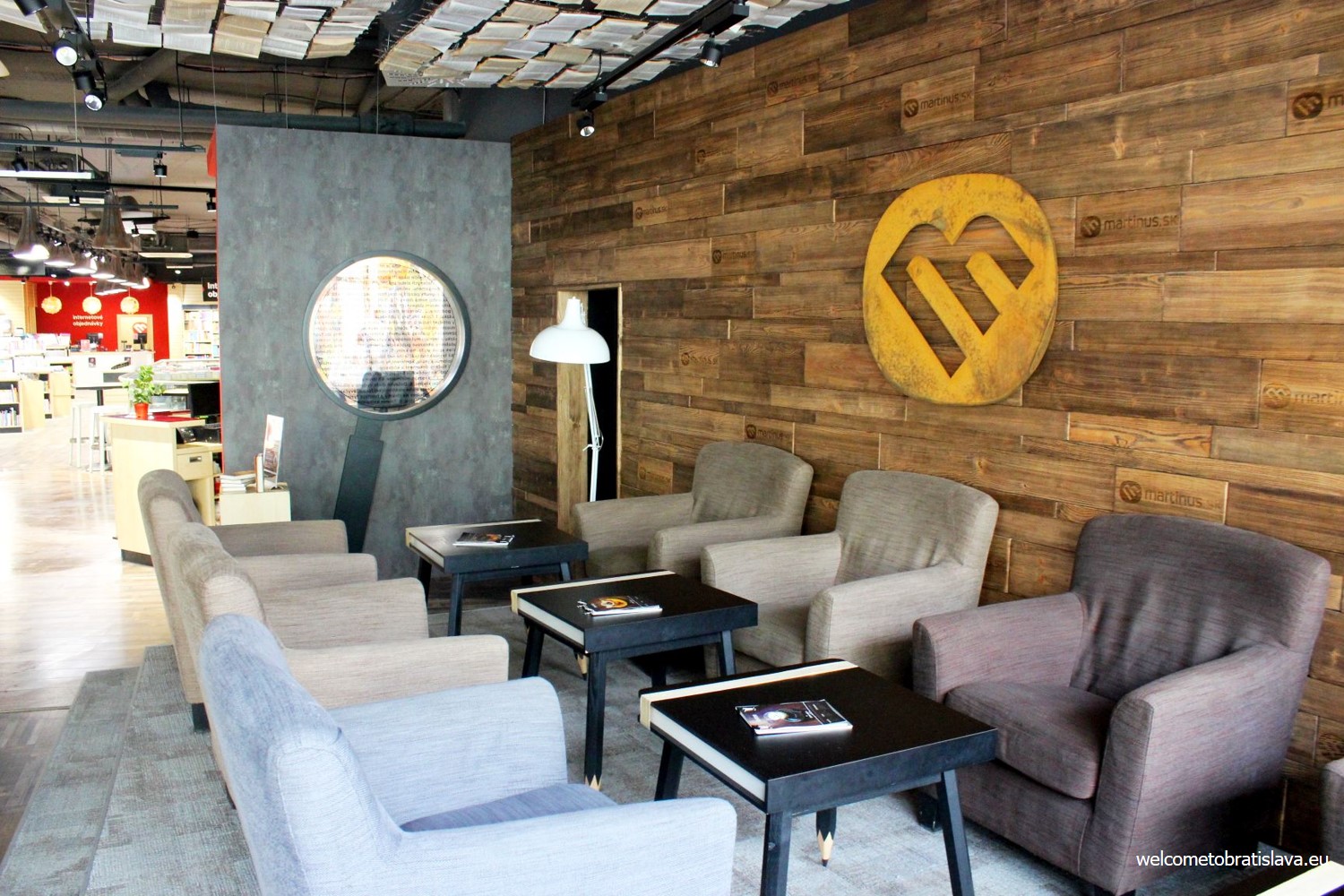 OPEN: Check this FB page for current updates
ADDRESS: Obchodná 26 + Cubicon shopping mall, Staré Grunty 24
CONNECT: E-shop, Webpage, Facebook (bookstore)
Panta Rhei in Cafe Dias
Panta Rhei is a bookshop which operates online as well as a physical branch. The unique experience is delivered through Cafe Dias with its inspiring environment which is always part of the bookshop. The nice atmosphere and the smell of coffee make Panta Rhei bookshops a place where you will fall in love for books (if you haven't so far). A wide selection of books in various genres, many languages and for all ages can be found here. In selected stores you will also find interesting products and decorative items for making gifts, beautiful home accessories, reading areas as well as children's corners. Browse through their e-shop for remote purchasing from the comfort of your home (in Slovak only).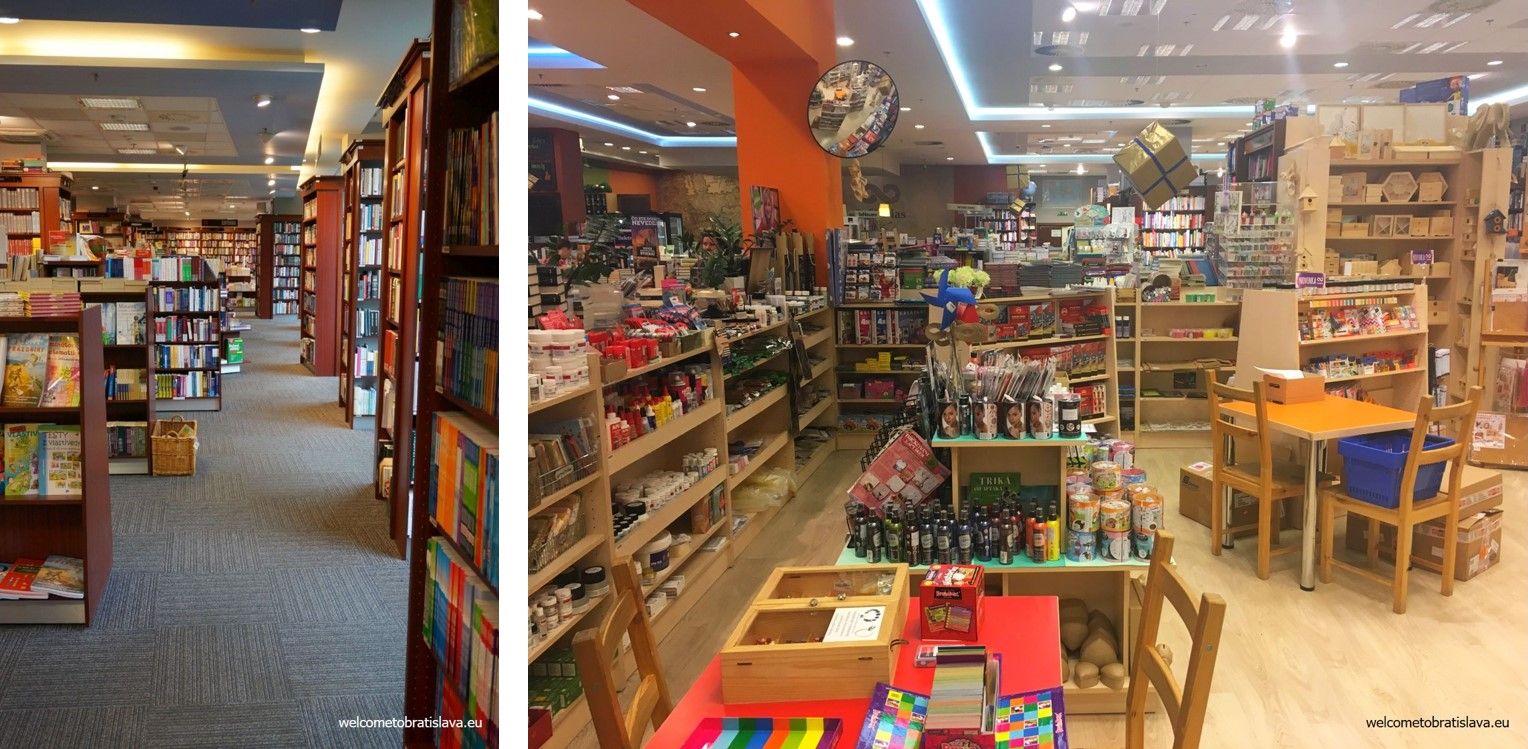 OPEN: Daily (check each branch separately, Cafe Diaz on Vysoka Street)
ADDRESS: Vysoká 2 + shopping malls (Aupark, Avion, Central, Eurovea, Polus)
CONNECT: E-shop, webpage, Facebook
Artforum
Artforum is one of the first but also one of the last small independent bookstores in Slovakia. For more than 25 years, it has been the home to the best non-commercial books and culture. A place where a number of new books, films, exhibitions and musical projects were created. It has its own publishing house, e-shop and newspapers that can be purchased at their physical branch. You can browse for hours through hundreds of books on any topic imaginable. Come to get the translations of older and contemporary fiction, Slovak authors that were not published due to censorship in the years of totality, but also contemporary Slovak prose and poetry. Public readings, debates, concerts and expositions are organized here, too.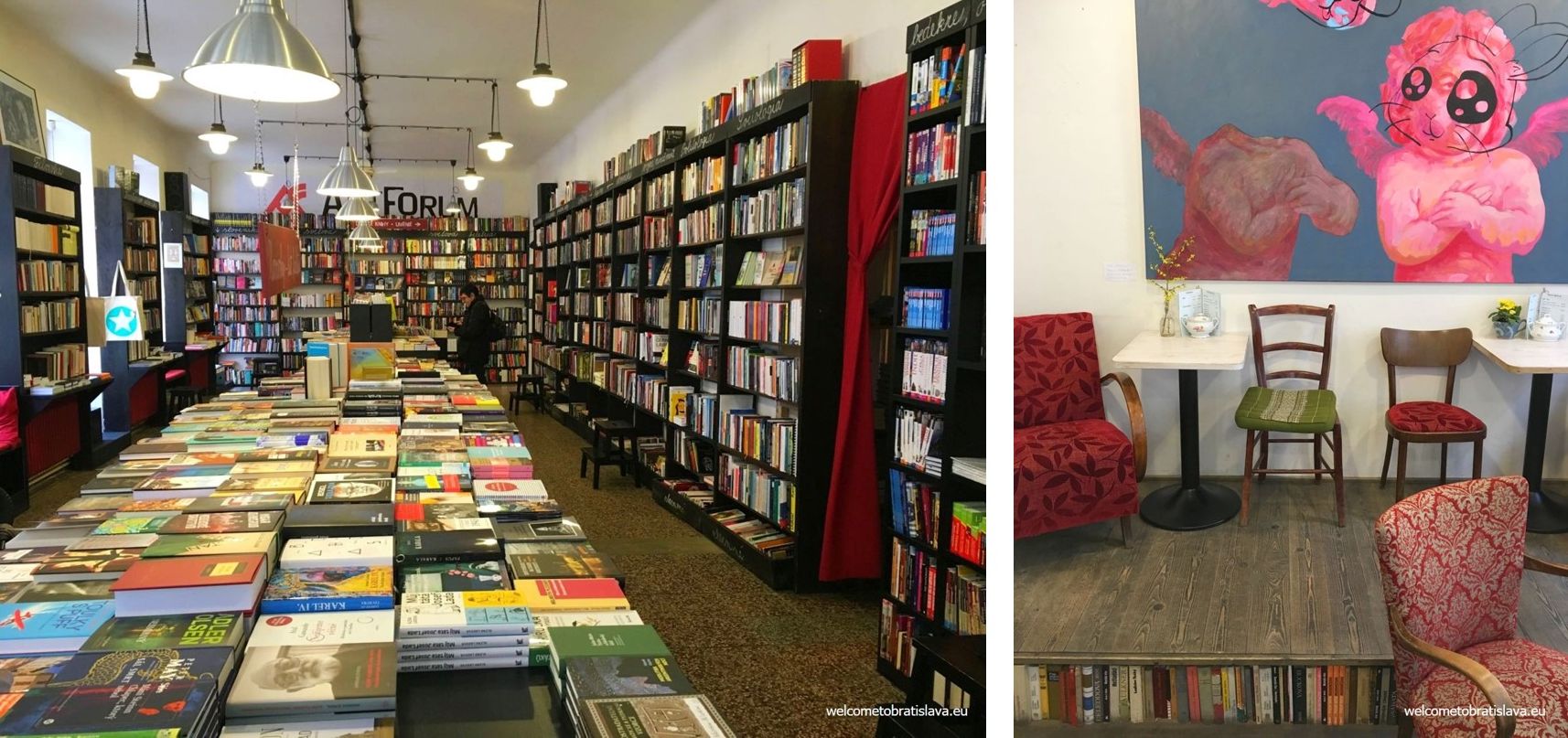 OPEN: Daily with exceptions (check this webpage)
ADDRESS: Kozia 20
CONNECT: E-shop, Facebook
Oxford Bookshop
Visit the Oxford Bookshop which has one of the largest stock of ELT materials, Oxford University Press publications, course books and dictionaries. Even though English books represent the majority of their stock, you will also find books in German, French, Spanish, Italian and Russian. Besides the textbooks you can purchase also various fictional works, classical as well as current titles and authors, art books or titles for children. It is also possible to order any books they don't have on stock.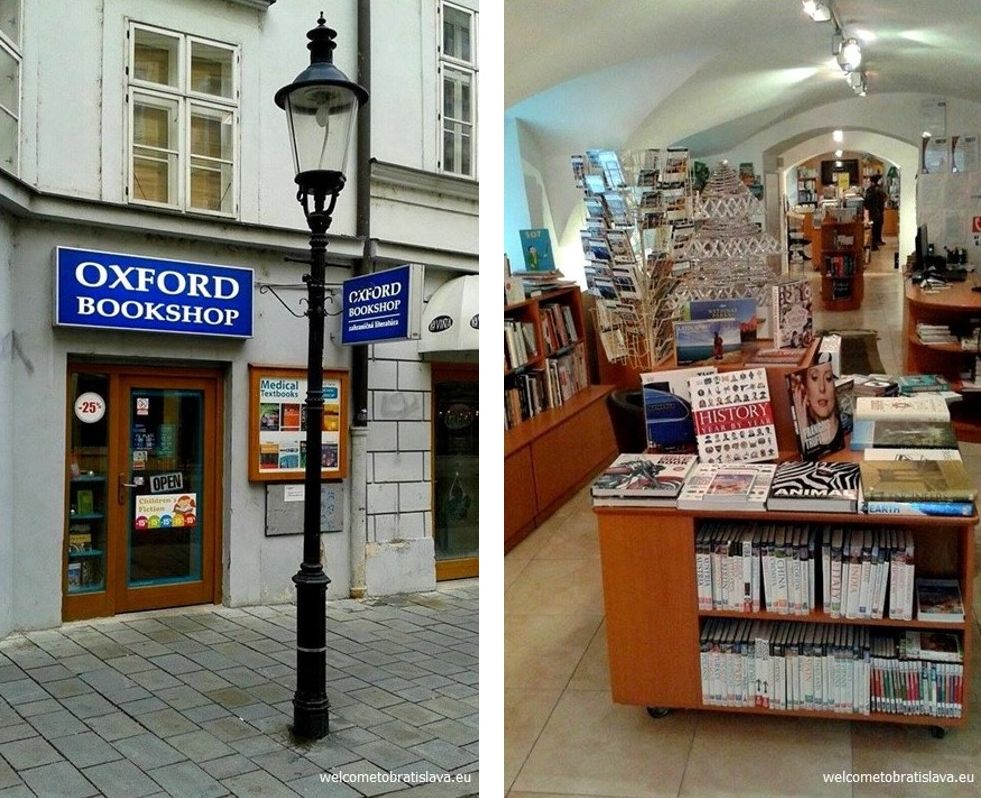 OPEN: MON-SAT (check their website)
ADDRESS: Laurinská 9
CONNECT: E-shop, Facebook
Antikvariát Steiner
Browse your way around the many of book shelves packed with antiquarian books, old prints, graphics and postcards at the famous Antikvariát Stenier. Located conveniently in the very city center, this secondhand bookshop was established in 1847, and after more than 140 years again restored in 1991. With this literature and unique collectors' items you'll be reminded of the atmosphere of Bratislava's old days. If you have books which you think might be interesting for the antiquariat, they might purchase them from you. You can use their e-shop to look for a book of your interest but we recommend to stop by personally. The experience is worth it :)
OPEN: MON-FRI 10:00 – 17:00, SAT-SUN closed
ADDRESS: Ventúrska 22
CONNECT: Webpage, Facebook
Next Apache
Tucked away in a side street of Bratislava's downtown, Next Apache is a bookshop for book collectors who love secondhand books and a cozy ambiance to enjoy some reading.  Visit this place if you want to avoid crowds and prefer to have some calm and chill time with your friends or just a book :) Established by a Canadian living in Bratislava, Next Apache has a unique atmosphere of artistic and intellectual world not just because of the secondhand books and magazines but also thanks to the old, classy furniture. If you are looking for bestsellers, classics, fiction or fantasy, Shakespeare or Star Trek, they have them all. Books in both Slovak and English.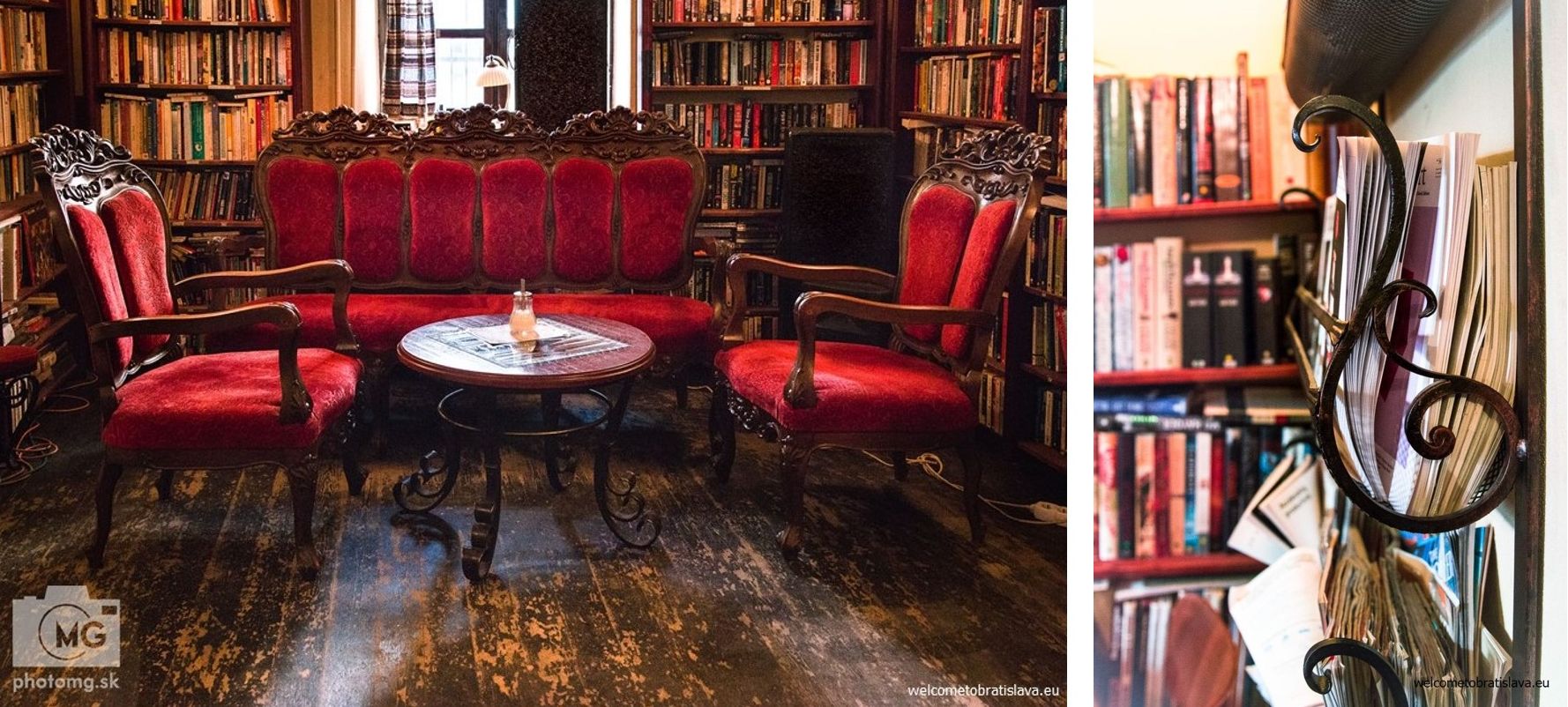 OPEN: Daily (check their webpage)
ADDRESS: Panenská 28
CONNECT: Webpage, Facebook
Antikvariát Justičná
Small, with a constantly updated stock of thousands of titles, this secondhand bookshop has the ambiance of real dusty books and old prints and you literally get lost among the big piles of books once you walk in.  Please note that some "piles" have only a decoration purpose so you should not touch them because you then risk they will fall apart. These are always marked with a paper sign. The shop encompasses a great selection of books in various genres and languages, but also records, CDs and various collectors' items such as badges, coins, banknotes, old postcards, paintings or medals. This place is indeed special. You'll be rooting around the assortment of titles in the basement of an old block of flats, next to the Palace of Justice, slightly off from the downtown. Definitely worth of checking out, there is no other place like this we know of :)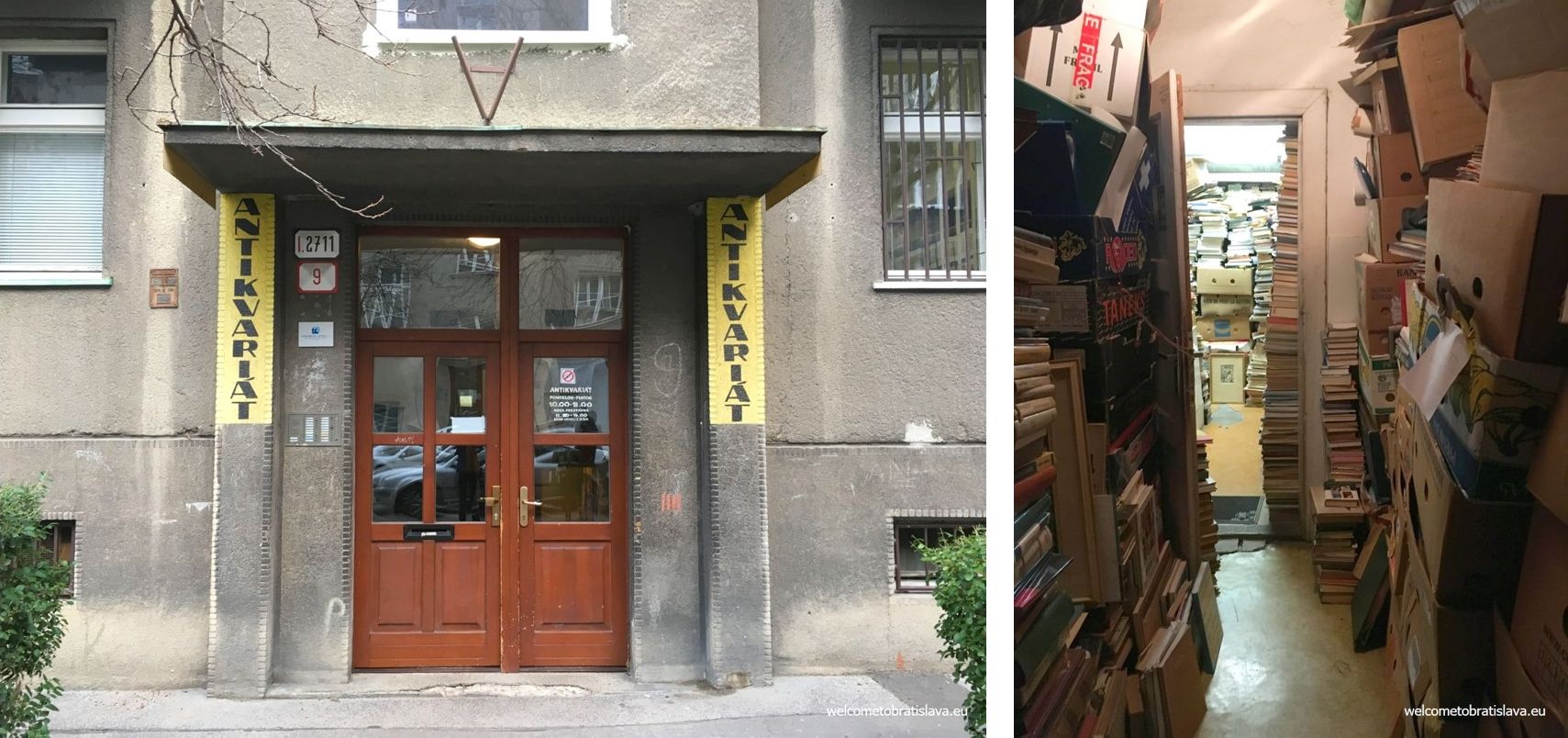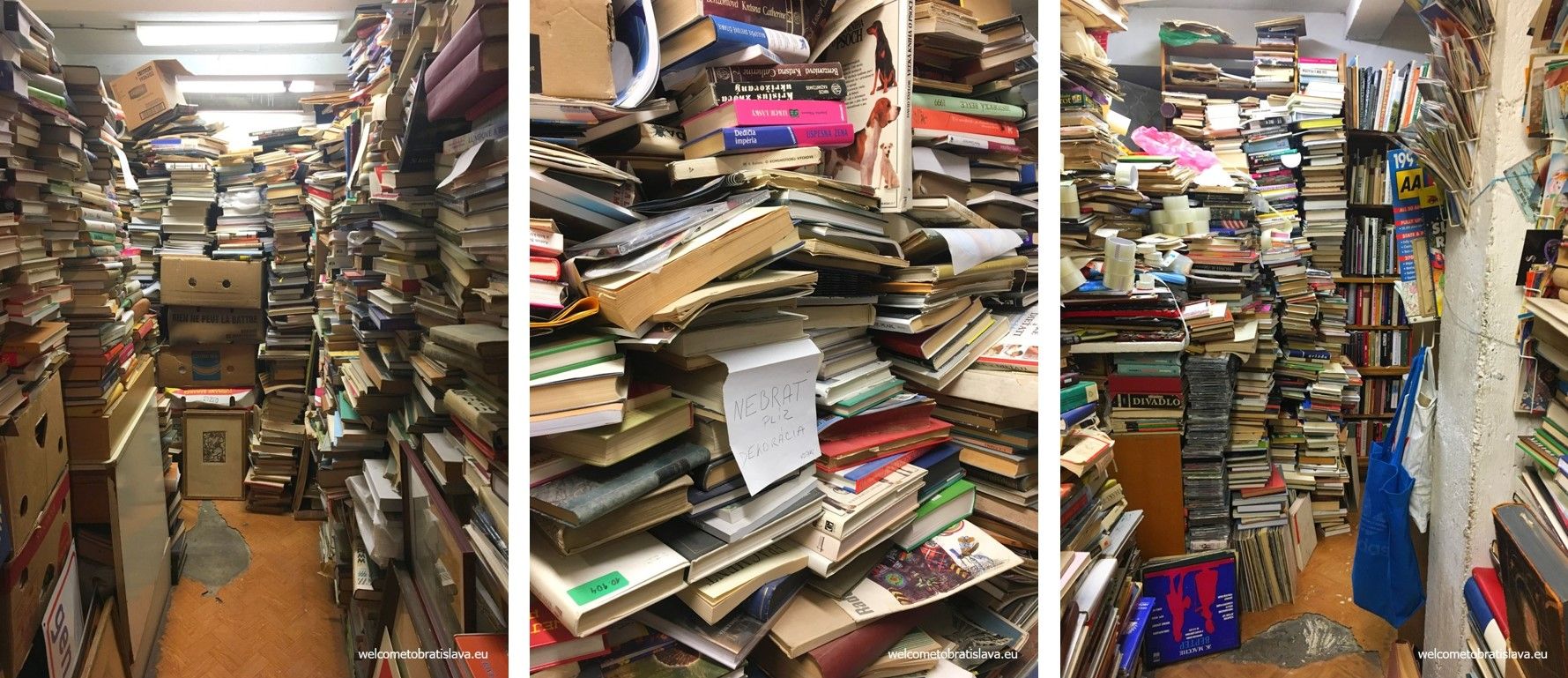 OPEN: MON–Fri 10:00 – 13:00, 14:00 – 18:00, weekends closed
ADDRESS: Justičná 9
CONNECT: Facebook
Eleven Books & Coffee
A small secondhand bookstore and a minimalist cafe located on Bratislava's narrowest street. You'll find English and German books here. The place with a few tables only is very often full as it's a great spot to sit with a cup of warm coffee or tea while chilling with a book or magazine. Small snacks are available as well and the personnel is very welcoming. You can browse through their offer in their e-shop but we recommend to pay a visit because it's really a cosy place where you'll feel great.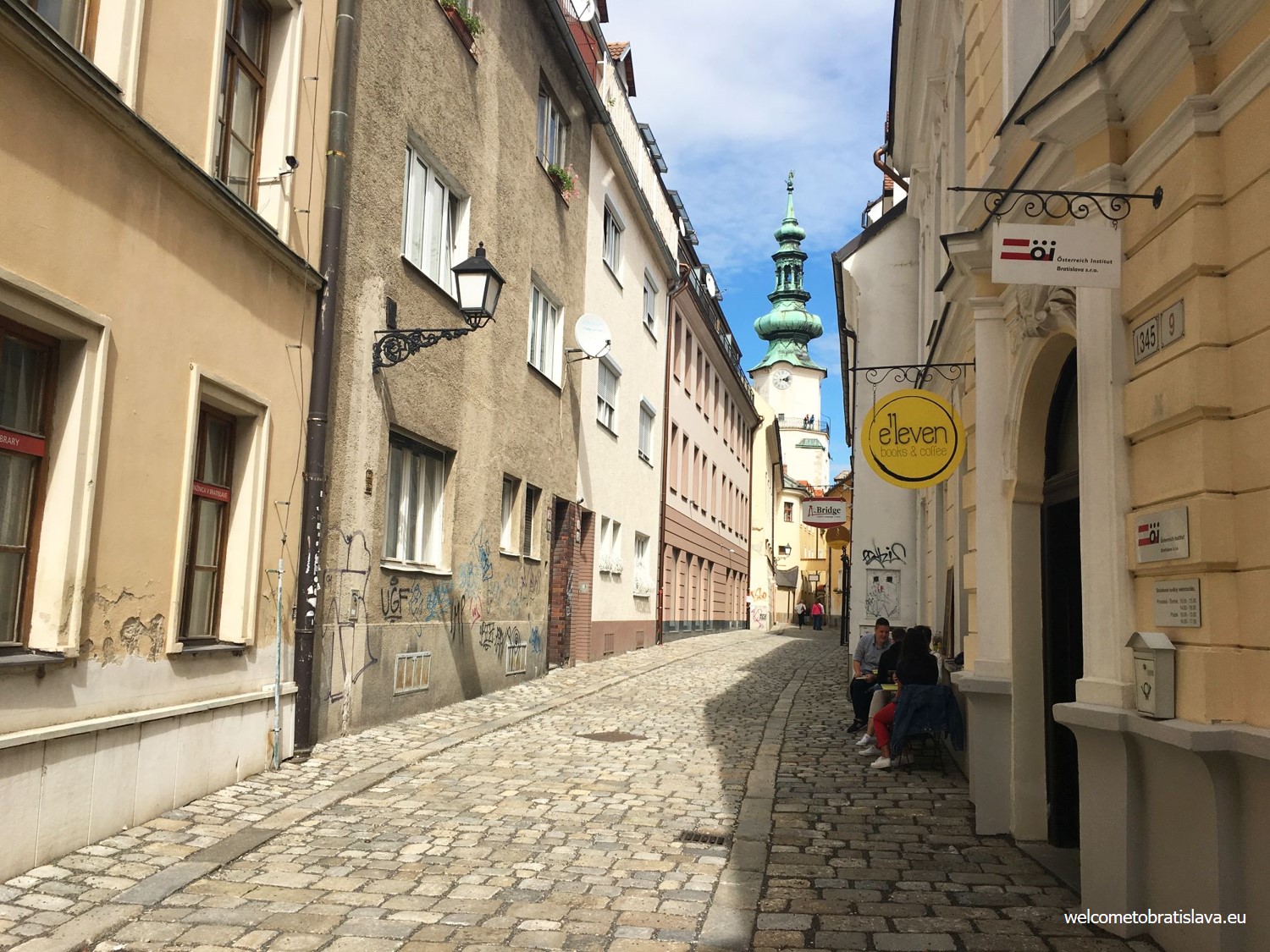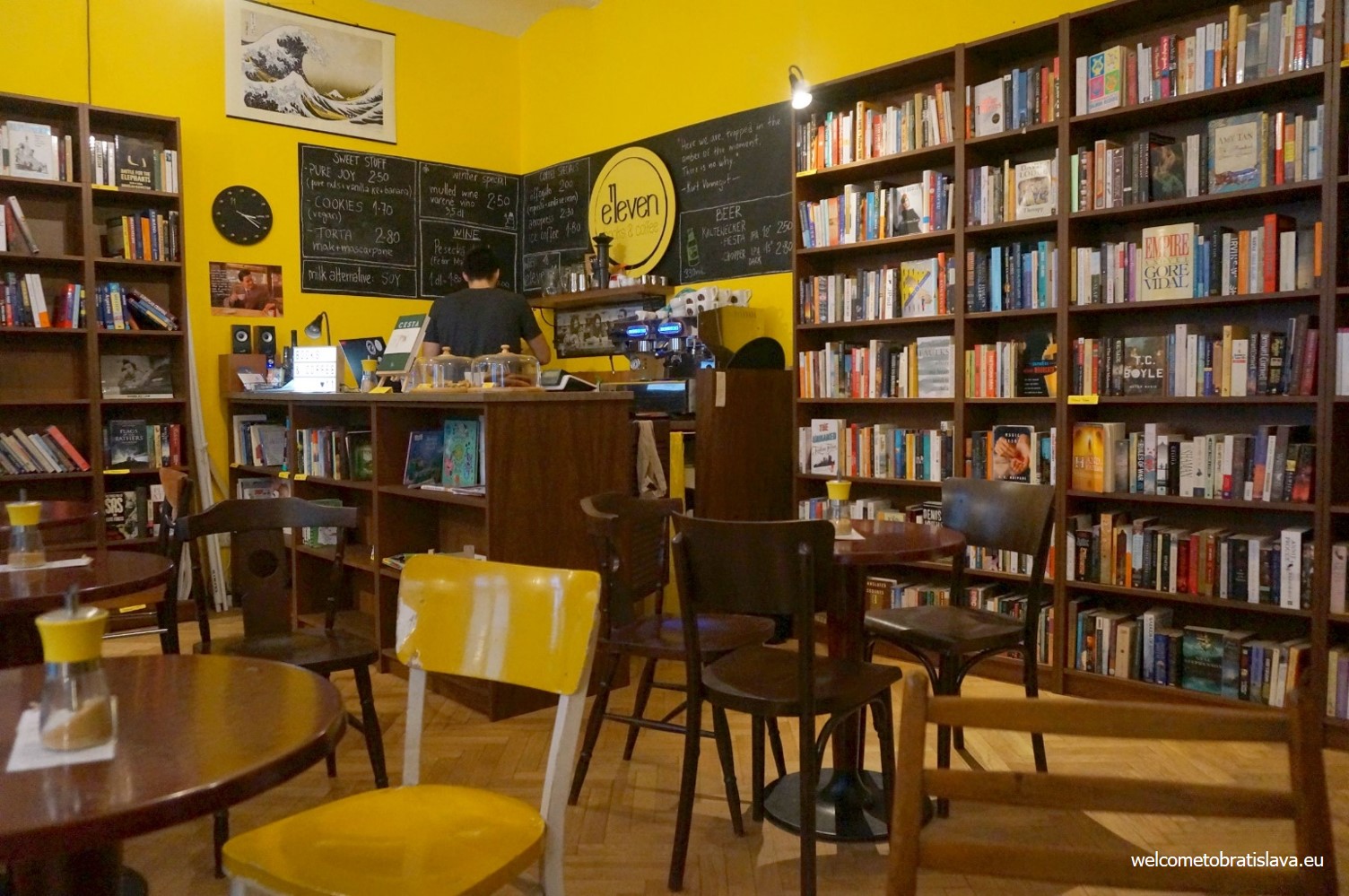 OPEN: Check their official FB page
ADDRESS: Baštova 9
CONNECT: Webpage, Facebook
Urban House
Its comfy atmosphere, combination of modern and vintage look and various options of tasty snacks make this gem a perfect point to hang out. A system of a so-called "book swap" works here which means that you can borrow any of the book on the shelves and provide some of your older books as an exchange. So in fact you can not purchase books here, Urban House is more of a book exchange spot. This café also has an auditorium and and hosts literary and music events.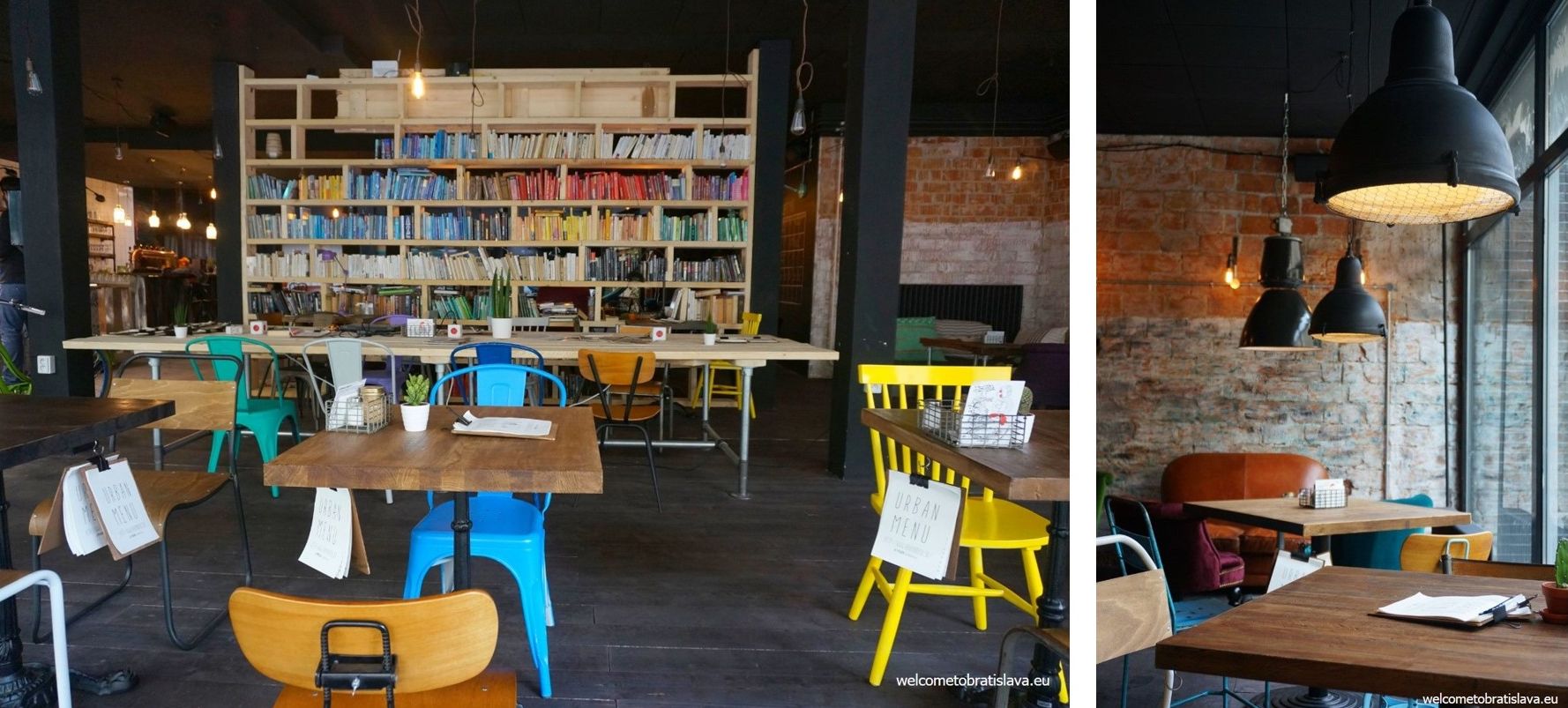 OPEN: Daily (check their FB)
ADDRESS: Laurinská 14
CONNECT: Webpage, Facebook
Book fair in the Old Market Hall
Each Saturday there is a market in the Old Market Hall from 10 am till 3 pm where you can buy the most various items from food to clothes. Usually there is a corner with secondhand and antique books as well. The entry to the market is free of charge. We recommend to come here if you don't mind crowds of people. Great to combine the visit with breakfast or lunch as you will find delicious food here, too.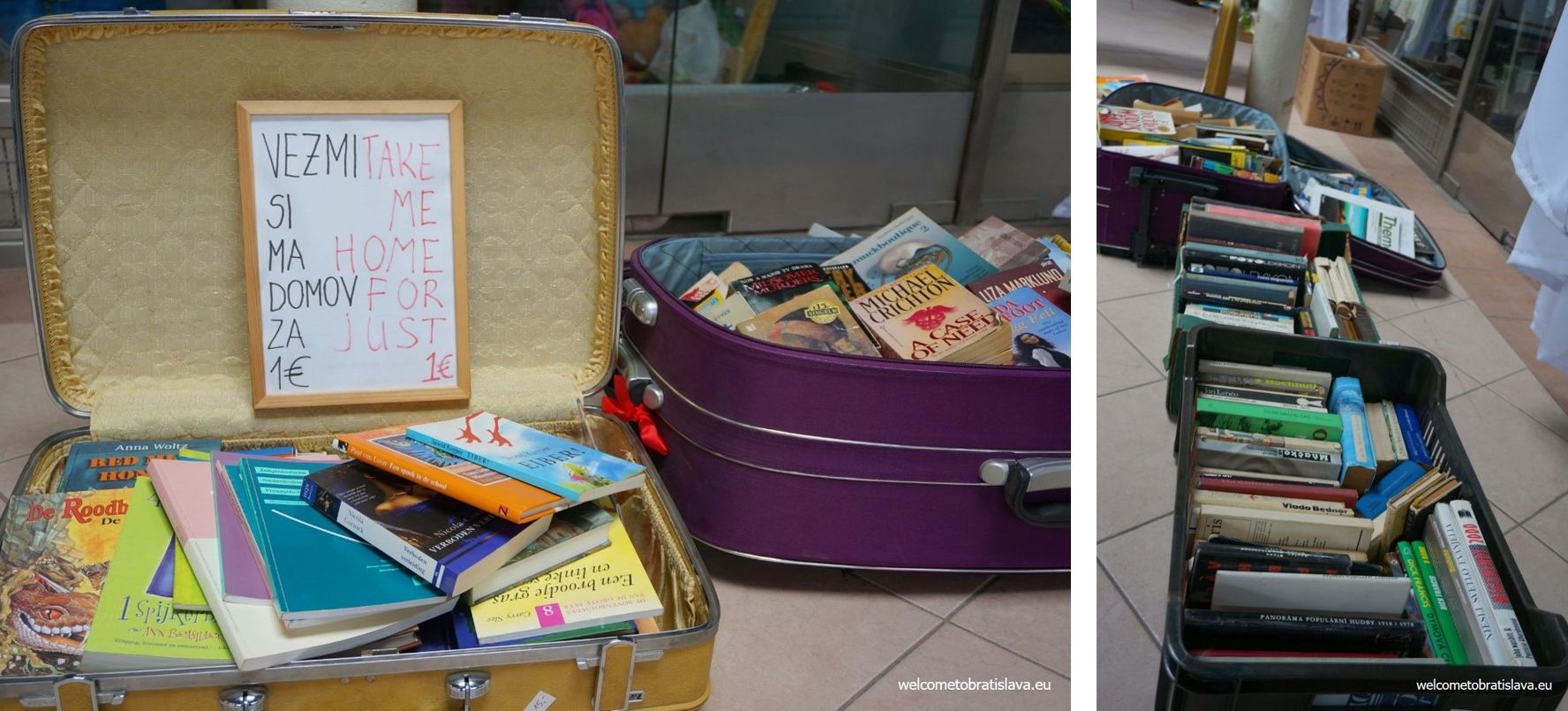 OPEN: Saturdays 10:00 – 15:00
ADDRESS: Nám. SNP 25
CONNECT: Webpage, Facebook
CHOOZE DESIGN SHOP
CHOOZE DESIGN shop focuses on carefully selected design products and books. Its owners, two young Czechs, think that pretty things have a magical power to create beautiful moments and bring joy into life – you just need to choose them. Their specialty are children's books – we love to come here to pick unique books for the little ones of all age groups. The store is tiny and has a lovable atmosphere. Check it by yourself – it is a real gem popular with all the local hip moms:) They operate an e-shop as well.

OPEN: Check their FB page
ADDRESS: Májkova 2
CONNECT: Webpage, Facebook
ANTIKVARIÁT KOCEĽOVA
We found this second hand bookstore by chance when passing by. It has no website nor a Facebook page and thus has been not discovered by many people yet. As the place is filled with great books (and quite many in English language) and the owner is super nice and willing to help you with your search, we think it deserves more attention.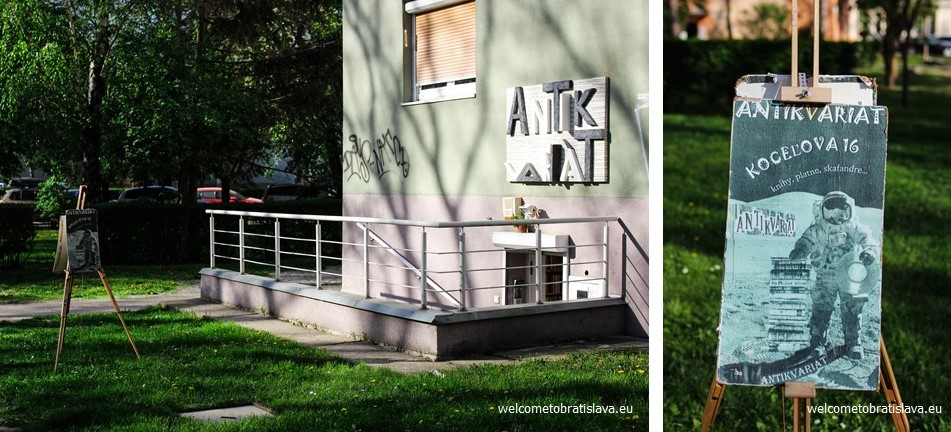 The books are amazingly organized in the neat piles and nicely divided and marked per genre. Come and see by yourself!


OPEN: MON – FRI 15:00 – 18:30
ADDRESS: Koceľova 16
Author: Maria Kecsoova