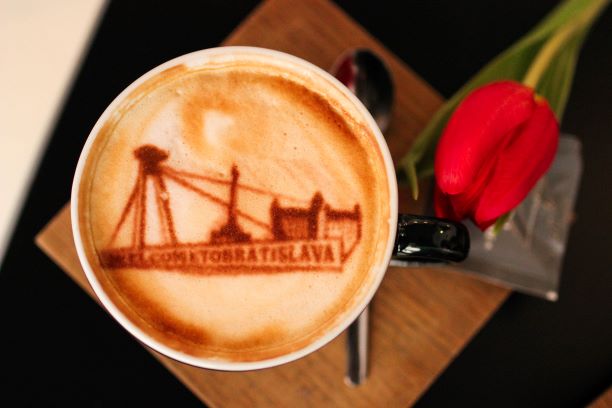 There are many great places in Bratislava where you can dine but not all of them have dedicated breakfast menus. On the other hand, there are places we would usually not choose to eat at, but have amazing breakfast menus. It took us quite some time to map which places are worth of listing in the category "best breakfast in Bratislava." As there are quite some of them, and some with a long menu, we still have a lot on our "breaky-to-do list". But thought it might be good to share what we found so far so you can get inspired as well. Stay tuned for more to come and enjoy! :)
RANNO PTACA
Rannô Ptáča is one of the Stur's cafe branches. It has an identical menu PLUS a special, one of the most extensive breakfast menus we have found in Bratislava. And, breakfast is served here all day. One of the meals we liked the most so far and would recommend is the "chleba vo vajci" which stands for a bread covered in egg, filled with ham & cheese. You can have eggs in 7 different ways, 7 kinds of omelets or breakfast specialties such as burrito or a "Russian egg." One interesting thing is that they serve "their special" potatoes with all kinds of eggs.

They have also a category of "healthy breakfast" which contains a home-made granola with yogurt or milk (our favorite from their menu – the first picture below), porridge, semolina pudding or fruit salad. You might also find interesting that you can order soya milk instead of cow milk (with meals and also coffee) for just extra 0,50 €, and that you can have your pancakes made from a wholemeal flour as well for extra 1 €. (Btw as you can see, these pancakes are huge and come as two pieces – impossible to finish! They taste quite good.

Rannô Ptáča is located near our main train station (10-15 minutes walk from the city center if you wish).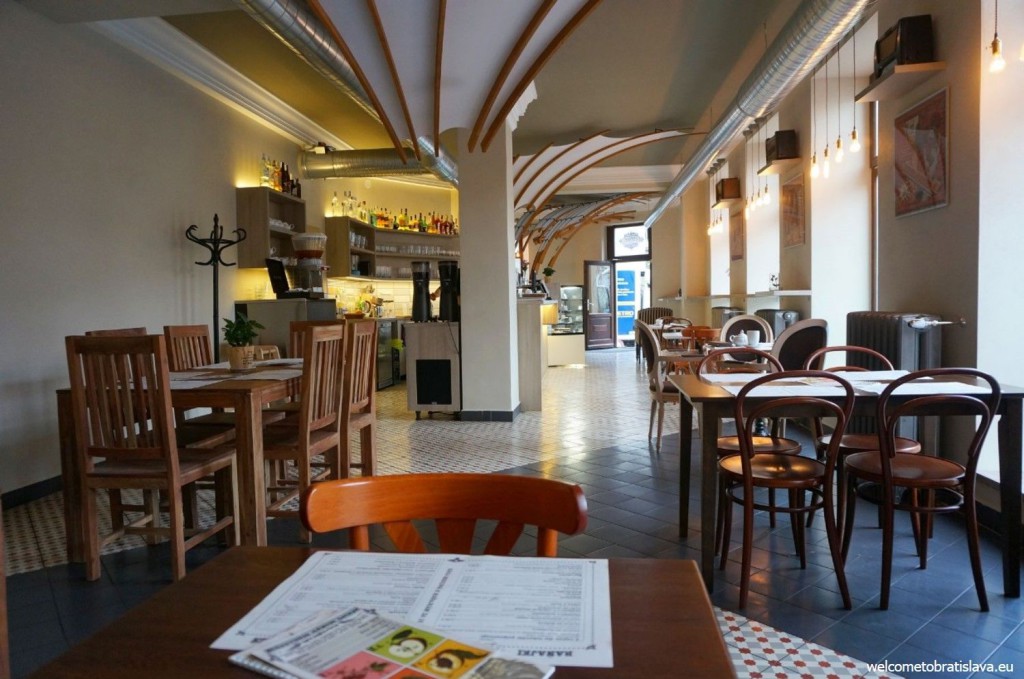 ADDRESS: Štefaničova 6
MAP LOCATION:
LE BAR
Le Bar serves breakfast daily till 11:30. We have had the best eggs Benedict and eggs Florentine here! We like having brunch here because the food is really delicious. Ham & eggs, scrambled eggs with avocado, cheese or onion, roasted sausages, omelet Arnold Benett but also sweet variations: fit breakfast, porridge, pancakes, croissants and fruits. Many options to choose from! As a bonus, you will have a beautiful view on Danube to admire while enjoying your food :)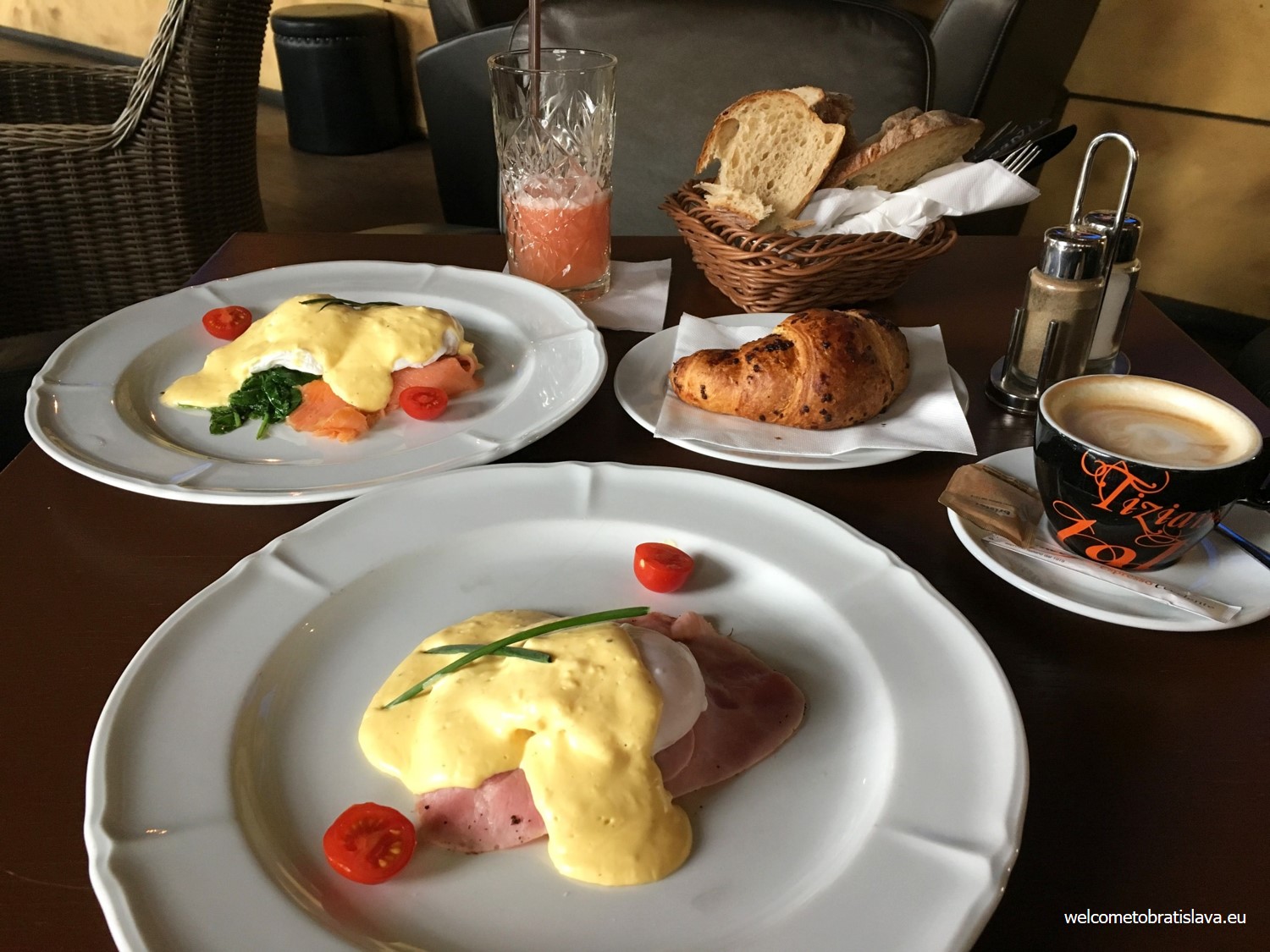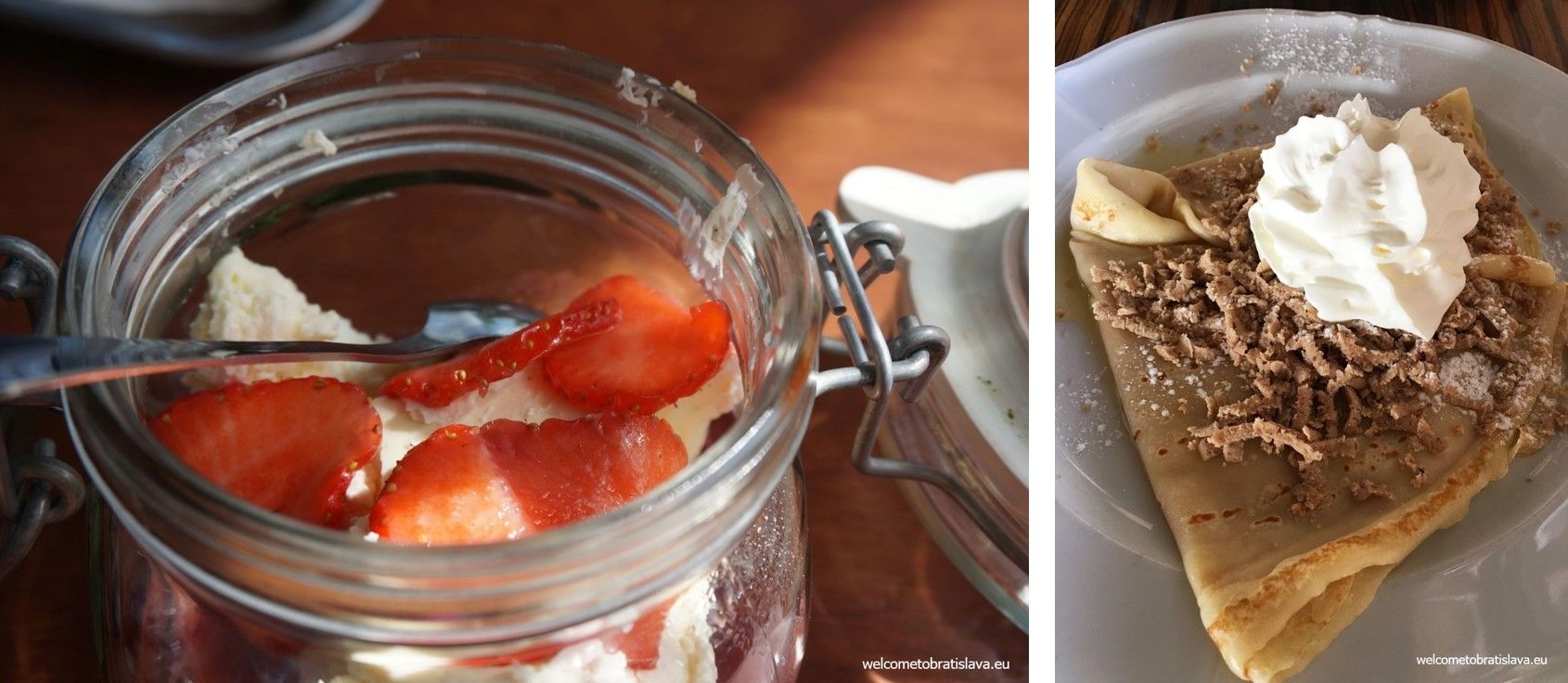 ADDRESS: Eurovea, Pribinova 8
MAP LOCATION:

MONDIEU
Mondieu has a breakfast menu which is served daily until 11:30. It is quite wide and whether you like to have a sweet or salty treat for your start of the day, you will be able to choose something tasty for sure. We definitely recommend the healthy millet porridge with coconut cream, prunes, banana, maple syrup, cinnamon and almonds. Topped with a strawberry. It is worth of waiting the 20 minutes preparation. Heavenly taste and as it is really easy to digest, you will not feel too filled even if you manage to finish it all (we didn't) :) Home made muesli with yogurt, honey and fruits, sweet and salty croissants, eggs and various toasts are also served here. One warning: don't order cappuccino – despite the good meals, we haven't had a worse one than here.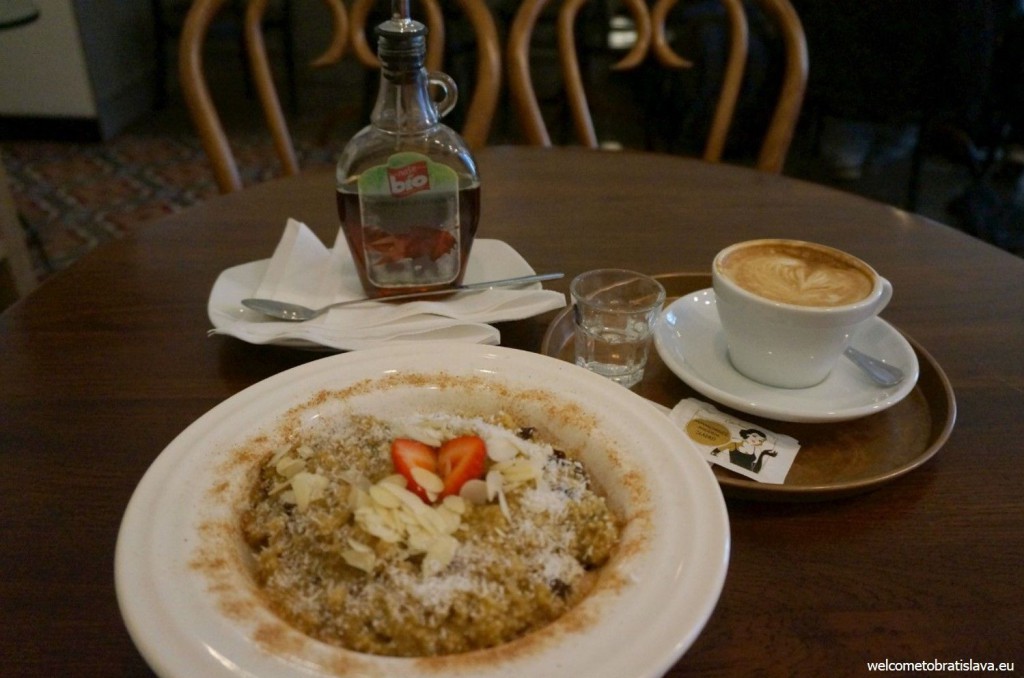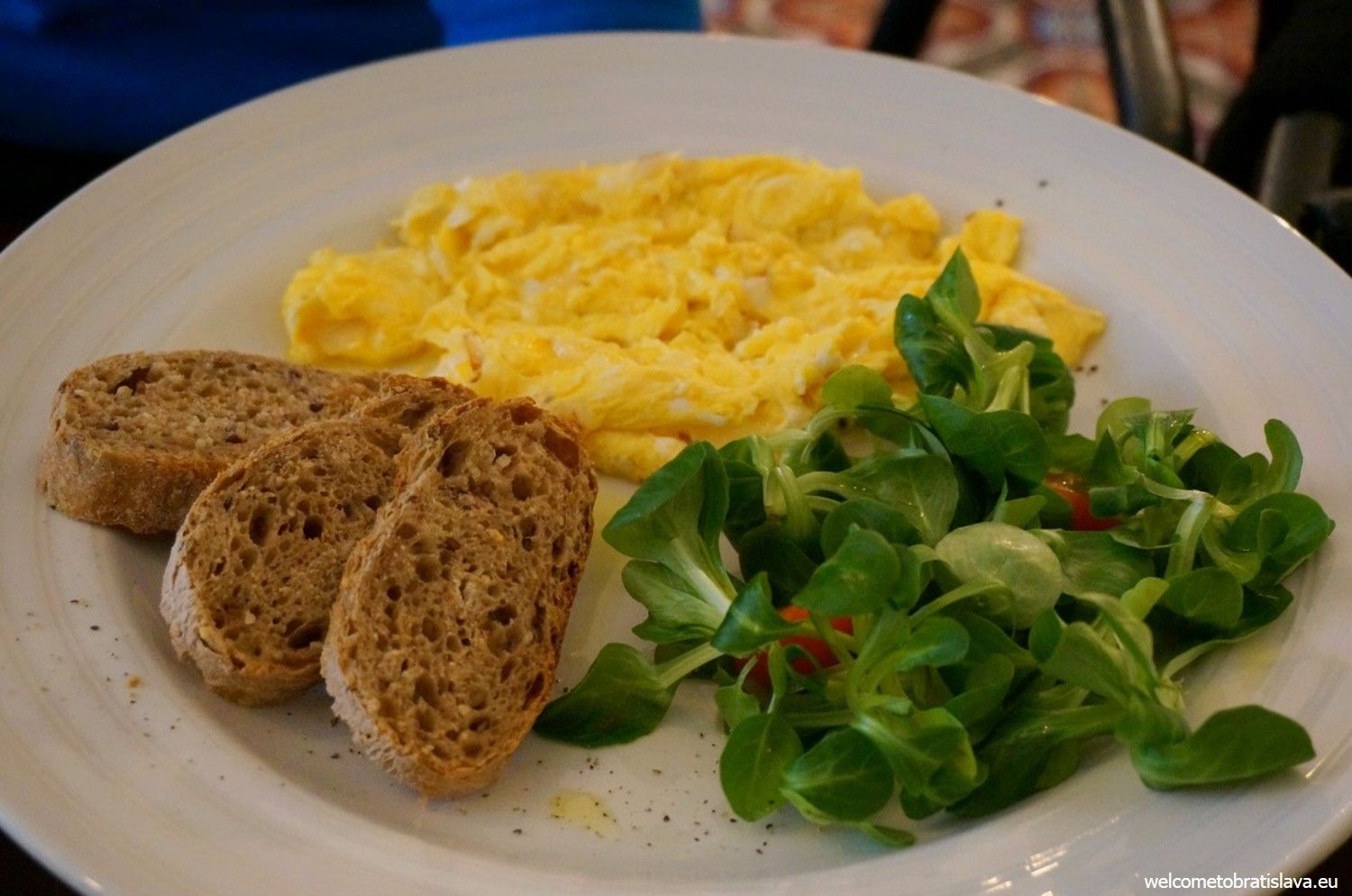 They have a big selection of sandwiches and cakes, too, which are not on the breakfast menu, but you can order them also in the morning. Mondieu is a very nicely looking place, with a lovely music and decor. Its big advantage is that it is open from an early morning.

ADDRESS: Panská 27
MAP LOCATION:

KAVA BAR
This cute little place located between the Old Town and the Castle serves a daily breakfast menu until 11:00. Each "breakfast package" includes a coffee of your choice, a glass of 100 % fresh orange juice and then the third item is up to you – have a sweet croissant with jam or nutella, a salty one with ham & cheese, a baguette with ham & cheese or a bowl of yogurt, muesli and honey.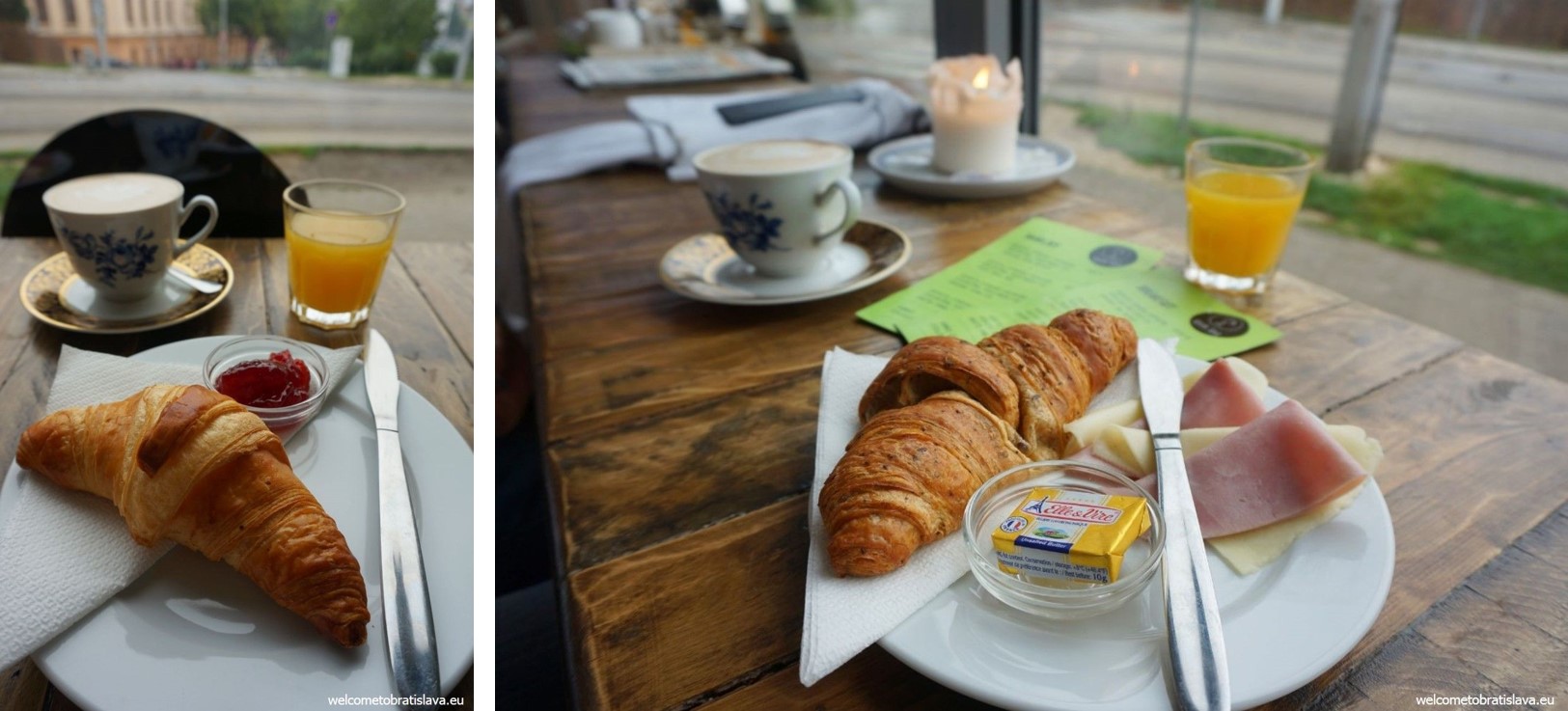 Their breakfast menu also includes hummus with pita and olives but this one does not come with the coffee and orange juice. Anyway, they serve hummus all day long and it is nevertheless more of a lunch/dinner meal than something we would have for breakfast.
ADDRESS: Skalná 1
MAP LOCATION:

URBAN HOUSE & BISTRO

Both "urban" cafes that you choose for breakfast have some options which will not leave you hungry. Urban House and Urban Bistro have almost the identical breakfast menu consisting of egg Benedict, English or Melbourne breakfast, poached egg on avocado toast, other toast or bruschetta options and yogurt with granola.
Moreover, both cafes are really cool places to hang out at.
ADDRESS:  Urban House: Laurinska 14, Urban Bistro: Michalska 5
MAP LOCATION:
BRIXTON HOUSE
Brixton House, brought to you by the same team behind Urban House and The Velvet, recently introduced a breakfast menu (served until 12.00) that ticks all the right boxes: sweet and savory options, traditional choices as well as unique ones, and a smoothie, juice, and coffee menu that will undoubtedly answer your morning prayers. One of our favorite breakfast options was the French Toast; ethereally-light scrambled eggs, crispy onions, and maple syrup top two pieces of egg-fried brioche toasts – satisfying dish for sweet and savory lovers alike. Pancake lovers will fall head over heels for the fluffy Buckwheat pancakes, topped with raspberry-coconut espuma, chocolate crumble, and mint syrup, taking a typically one-note breakfast option to somewhere entirely new and exciting. As Brixton House states at the top of their menu, all dishes are Flexitarian-friendly and free of red meat, so vegetarian and vegan breakfasts are in big supply.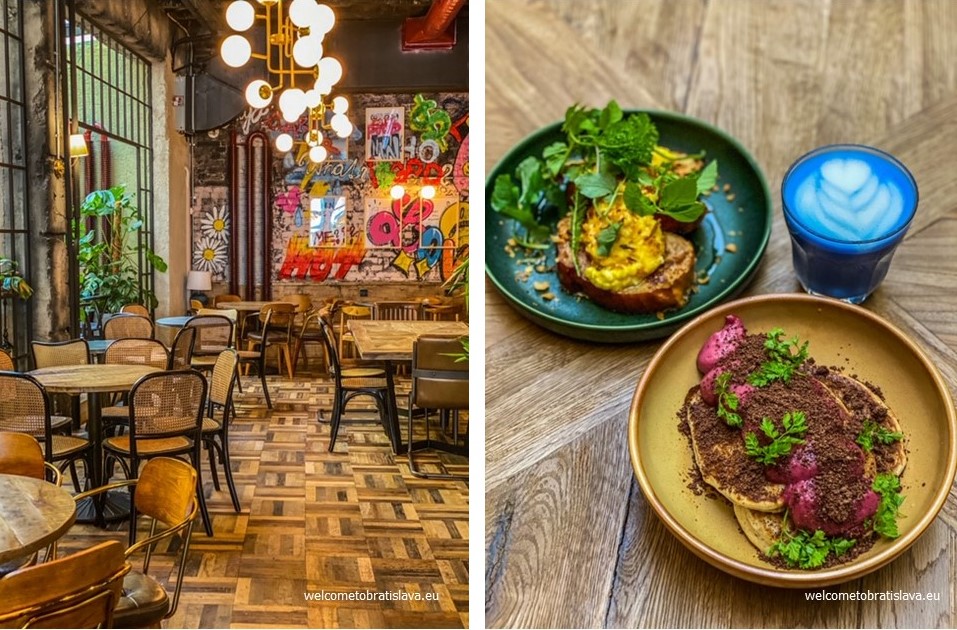 The breakfast dishes are not to be missed, but don't skimp on the coffees, fresh juices, or smoothies, either. Our favorite is the Coffee & Banana smoothie which uses natural sweeteners to give this tasty morning treat an extra kick without sugary guilt. Coffee and bananas probably shouldn't work together, but here, they really, really do.
ADDRESS:  Františkánske námestie 3
MAP LOCATION:

OTTO! BISTRO
This lovely bistro located on Dunajská Street in the Old Town offers amazing breakfast until 11 am during week days and until 15 pm during weekends. What we love the most about it is the original concept of pairing wine with each meal (which you might go for or not, totally up to you!). The offer is not wide but we like to see Otto invests more into quality of the offered dishes than into the quantity on the menu. We definitely recommend their egg burger, kaiserschmarrn for the sweet breakfast fans or shakshuka if you want to try something different.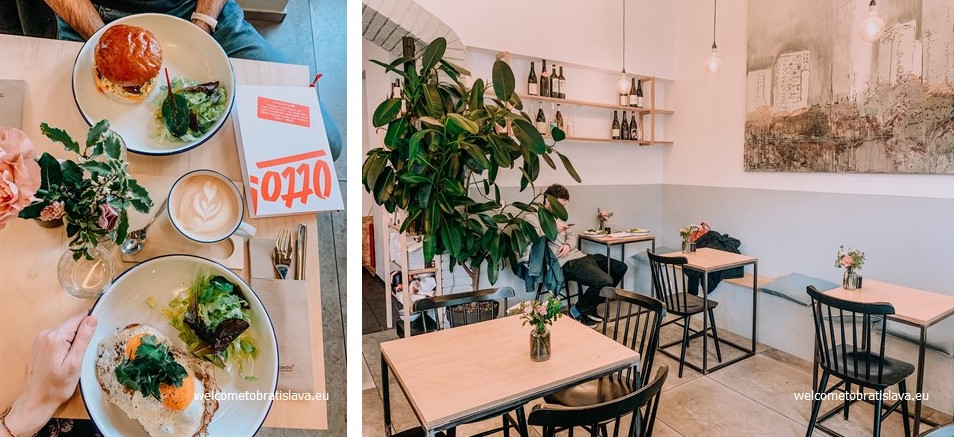 ADDRESS:  Dunajská 34
MAP LOCATION:

KAFFEE MAYER
Fancy a royal style breakfast? Kaffee Mayer will be something for you then. It is a place designed in a period style with big chandeliers, historic paintings and statues and classical music playing in the background. The mornings are slightly less busy than the rest of the day, that's why we like to come here if we need some private time. You can have an omelet with mushrooms, scrambled eggs with onions, ham and eggs or a cold plate (selection of cheeses) here. A plain croissant is also on the menu, we like to have it with the eggs. In case you don't feel like having eggs, you can also have something from their sandwich or toast menu. One tiny recommendation: if you like to have your eggs well done, tell the waiter prior ordering, otherwise you will be served a half-done version (such as on the first picture).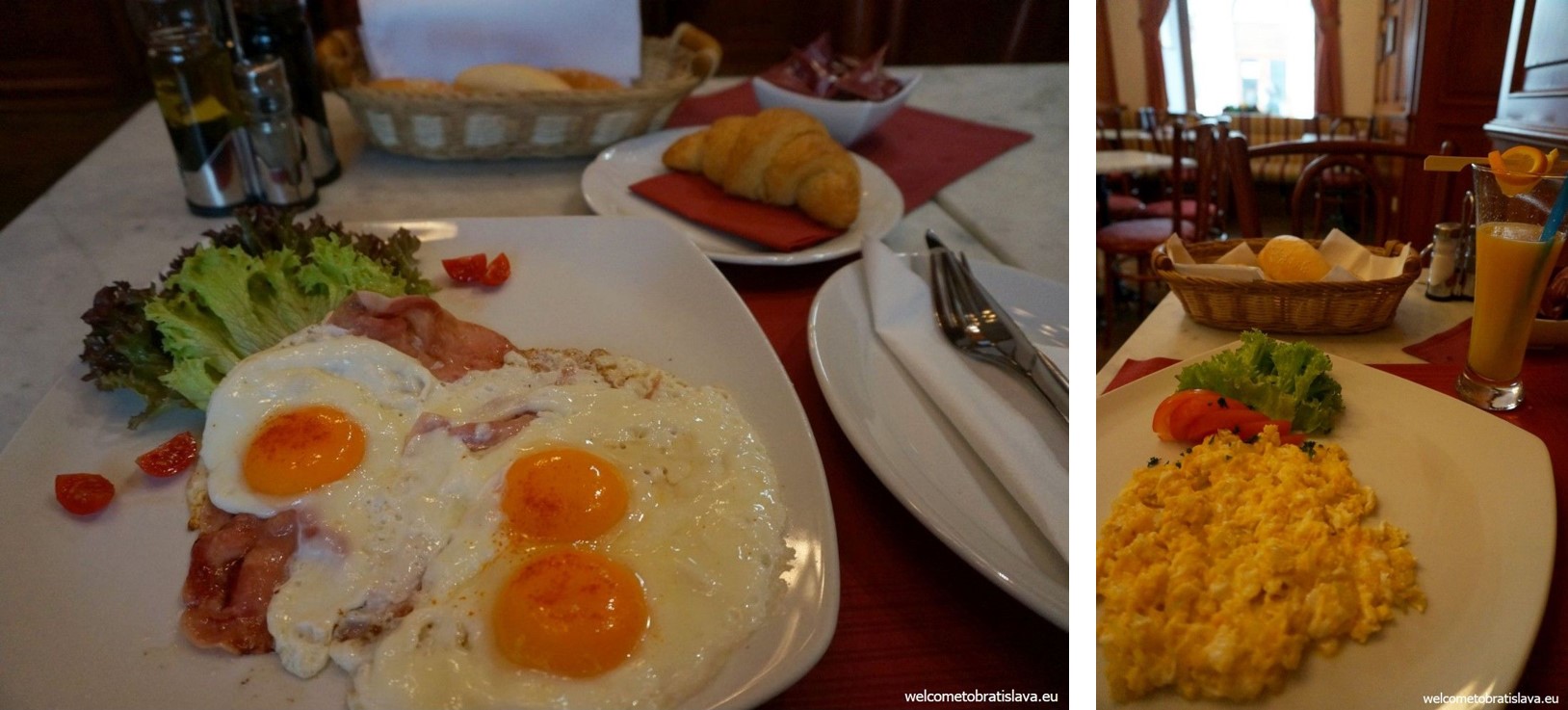 As mentioned above, the whole place is very cute and romantic. This is one of the three main rooms of the cafe.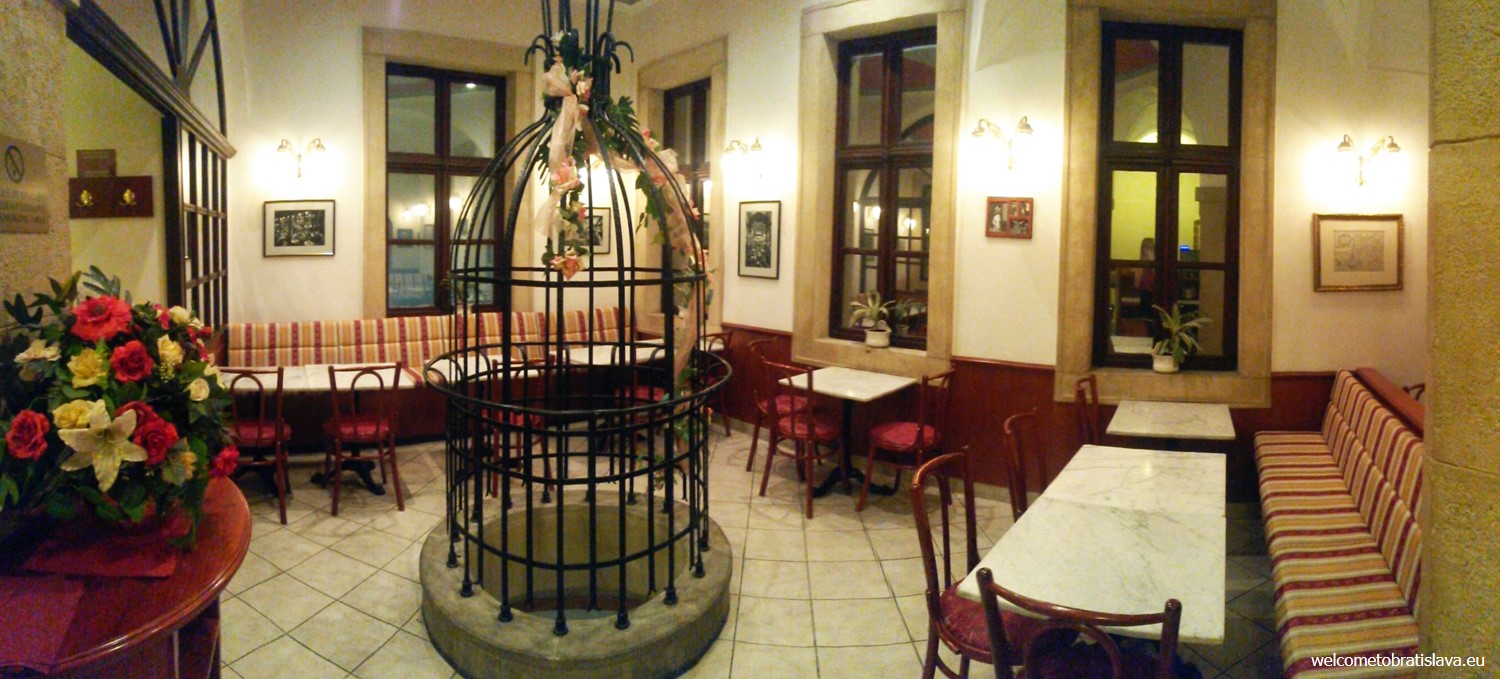 ADDRESS: Hlavné námestie 4
MAP LOCATION:
W CAFE
If you want to start your day at an industrial hip place, W Cafe is a great choice for you. The eating options are not wide but rather tasty. We have tried their breakfast offer of sausages with cheeses and vegetables and a raw coconut and wild berries cake, and really enjoyed both. If you like croissants, you can choose one with a chocolate or marmelade filling. The healthy food fans will be able to enjoy a bowl of Greek yogurt with chia seeds.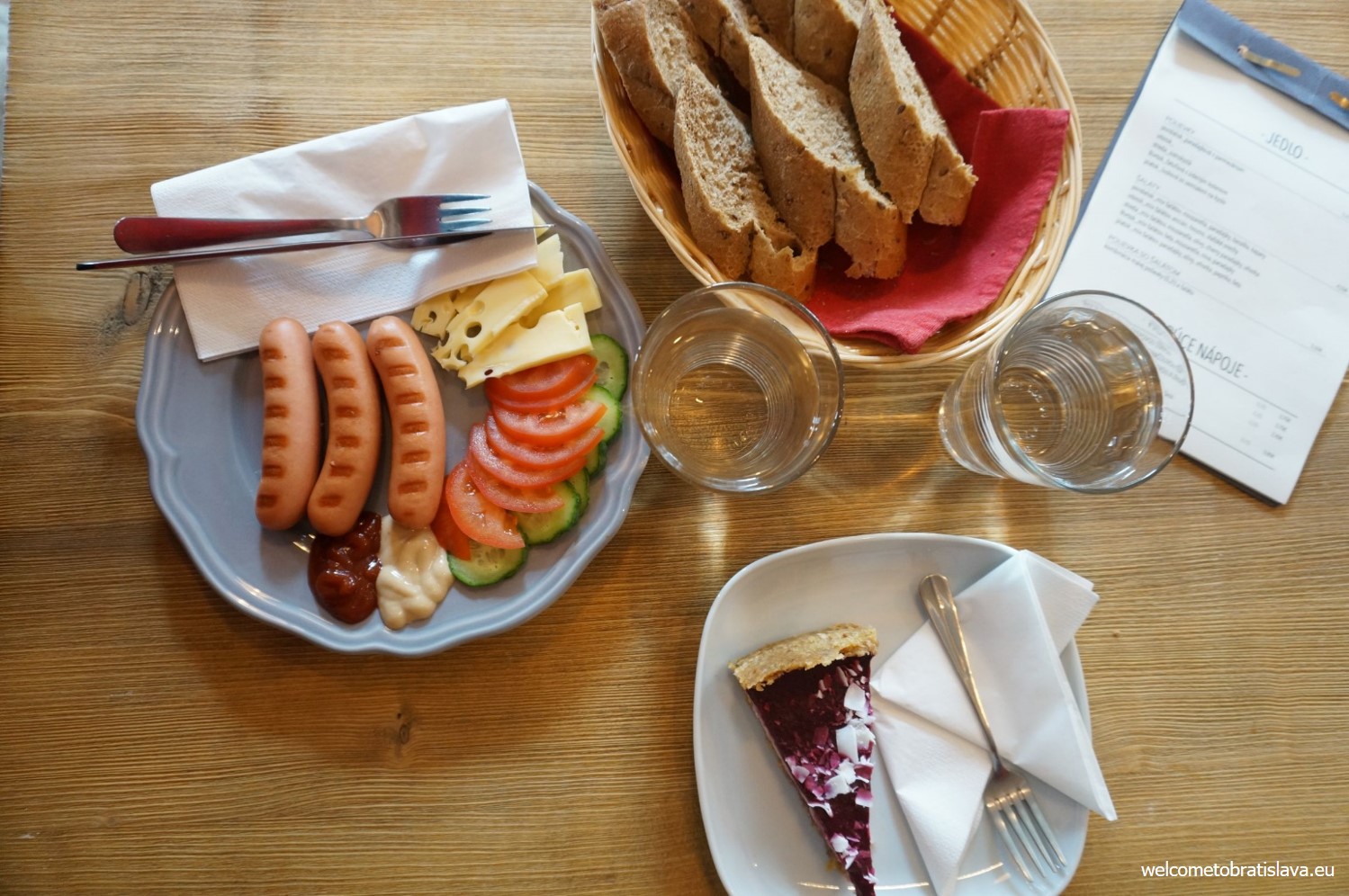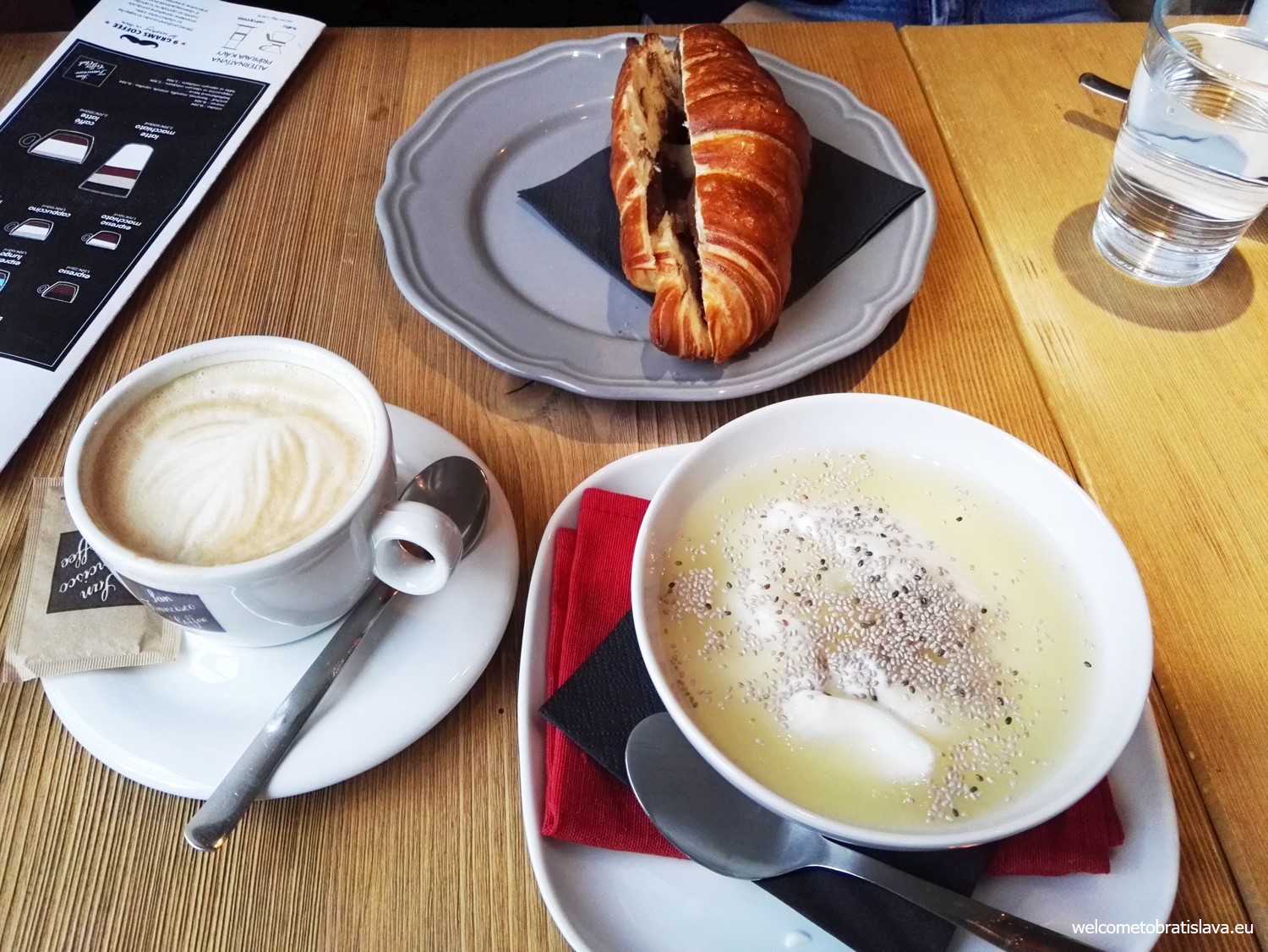 This stylish hip cafe can be found a few minutes walk from the main bus station. It is actually located in the Wustenrot building (therefore the name W Cafe), on the intersection of Grosslingova, Karadzicova street and Dostojevskeho rad.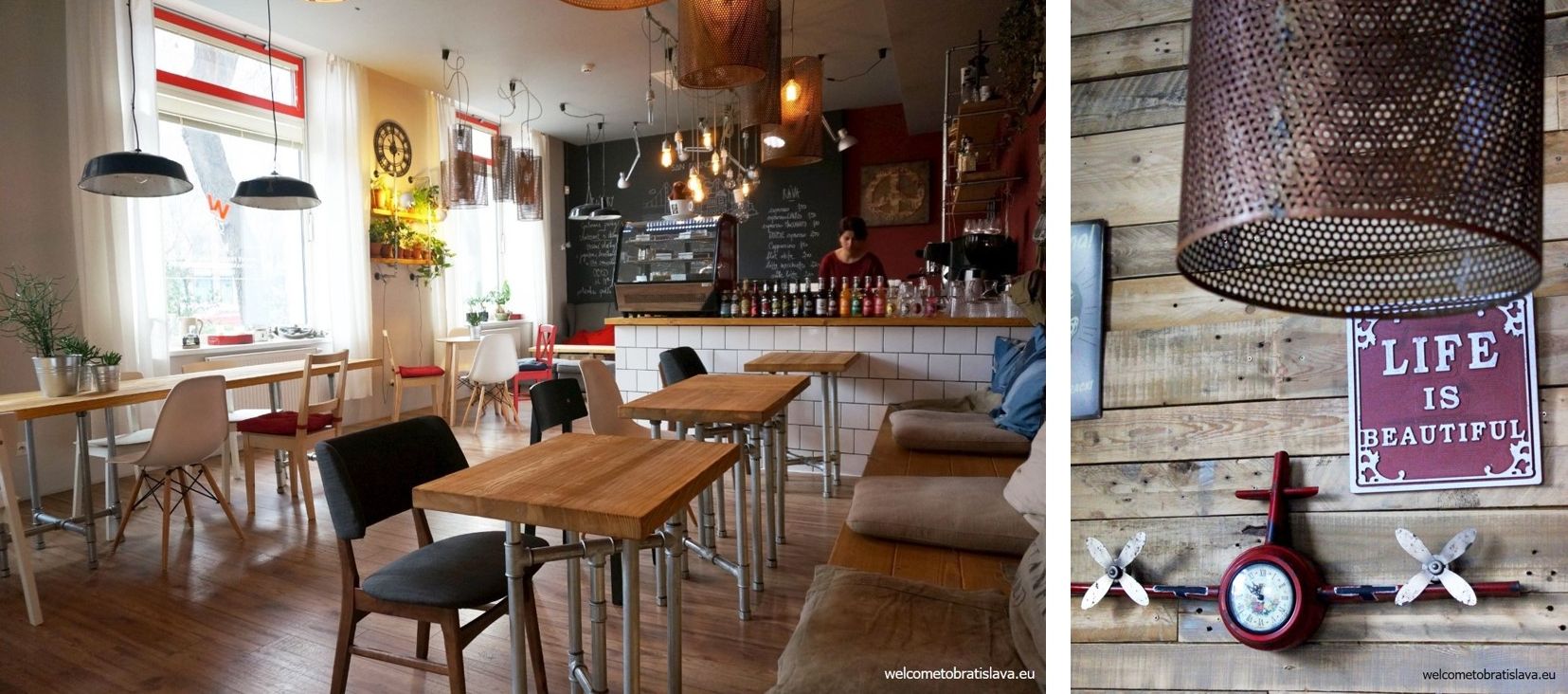 ADDRESS: Grosslingova 62
MAP LOCATION:
FOXFORD
Foxford is not necessarily a breakfast place but offers nice and tasty options to have for breakfast. It has a great brand design with beautiful premises to enjoy yourself at. It is part of a bookstore and while the downstairs area has quite a busy atmosphere, the upstairs seating offers a great ambiance for working. We like to come here not only for the books but also because their cuisine offers healthy and non-traditional dishes and delicious cakes.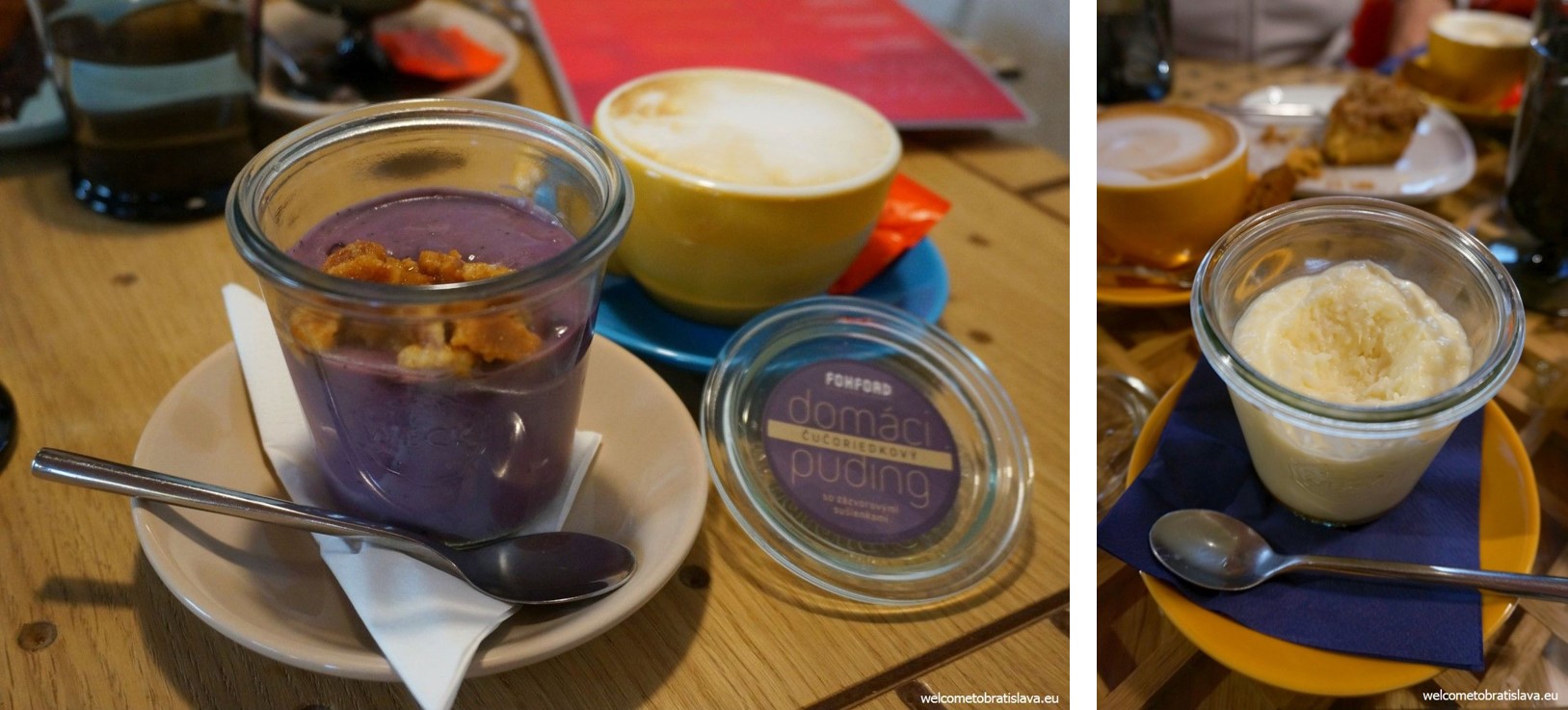 Their fantastic chocolate brownie with prunes is best with a hot cappuccino, and one of the most delicate cakes we have tried at Foxford was the creamy raspberry & chocolate brownie – a great mixture of sweet and savour taste, just delicious! It makes you want to order another one after you finish it :) Their cakes menu varies from time to time, usually according to the season.
Feeling like having a French styled breakfast? No problem! You can have a plain butter croissant or mix it with jam or chocolate – orange spread. Those who prefer lighter meals can pick some of their flavored Greek yogurts.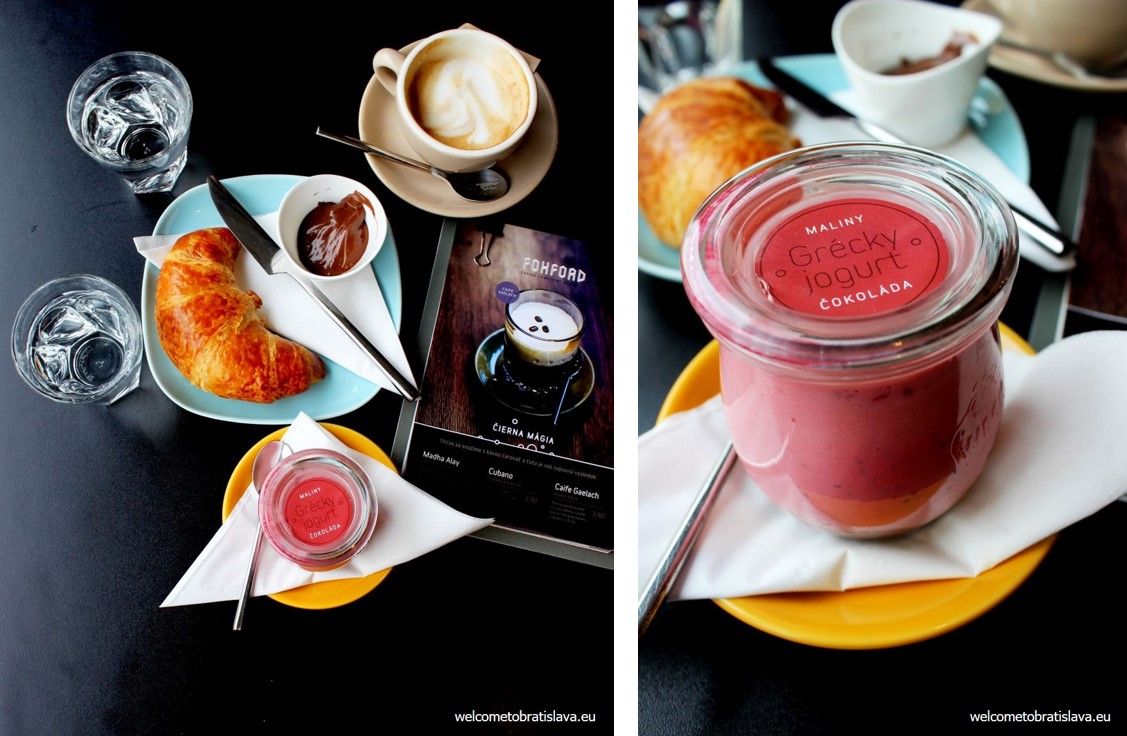 They have many kinds of small sandwiches which you can combine depending on how hungry you are. The menu is quite long, full of tasty vegetarian as well as non-vegetarian dishes. One of the most delicious spreads or jams is their bacon jam which can be served with vegetables or bread.
This place glows with colors, has a very friendly vibe and you just feel like home immediately! It is probably because it is decorated in the spirit of its coexistence with the bookshop and you can enjoy your coffee under the book pages hanging from the ceiling or pinned to the lamps.

ADDRESS: Obchodná 26 and Cubicon, Stare Grunty 24
MAP LOCATION:
ENJOY BISTRO
A cosy cafe with relaxed atmosphere, beautifully presented in a comfy style. The service is friendly and the food is tasty – you can stop by not only for breakfast, but also for lunch, dessert, a cup of coffee or a drink – they have it all.
The menu contains healthy dishes using quinoa, bulgur, millet and other protein based grains. For sugar craving guests, they serve cakes both delicious and pretty to look at.
We have tried their pancake filled with chestnut puree and whipped cream and sweet rice porridge with wild berries – both were pampering our taste buds. You can also try scrambled eggs with bacon and baked mushrooms, home-made muesli with yogurt and fresh fruits, buckwheat porridge with maple syrup, almonds and banana or oats and spelt porridge with almond milk, cinnamon and cocoa. You cannot go wrong with simple butter croissant, the one with chocolate or home-made jam.
With its pure lines, white and grey combinations and many small decorative details, ENJOY Coffee has great charm and style. The prevalent color is white which gives the place elegant nobleness. The designer tried hard when putting together the concept.
ADDRESS: Michalska 3
MAP LOCATION:
FIVE POINTS
Five points Specialty Coffee offers a local artisan coffee in the very heart of Bratislava's Old Town – on Panská Street, which used to be the best address in town housing the Hungarian aristocracy in the past. It offers Slovak coffee brand 9 grams that is based on American style roasting. You can start your day with a proper energy boost at this place!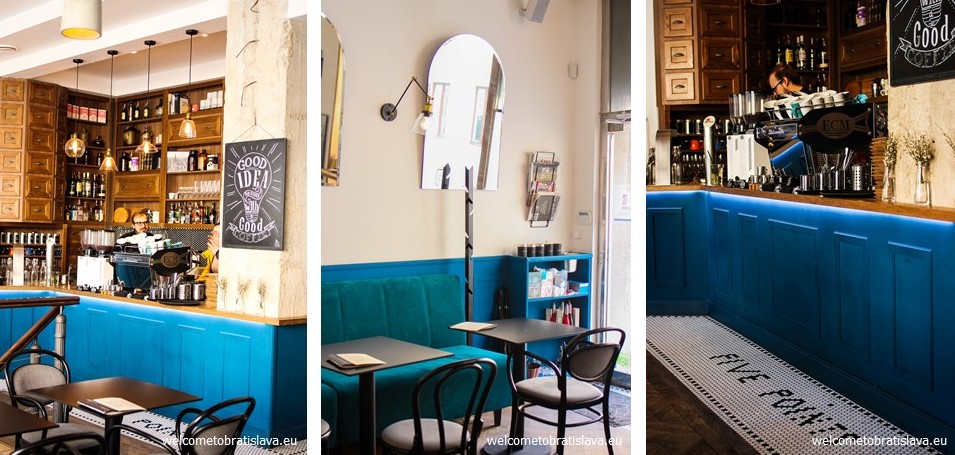 Apart from the traditional coffee styles, they are especially proud of the alternative coffee making techniques such as an Arabic sand coffee prepared in cezve, vacuum pot coffee or a selfieccino – a cappuccino with a photo printed using cocoa-coffee-cinnamon powder.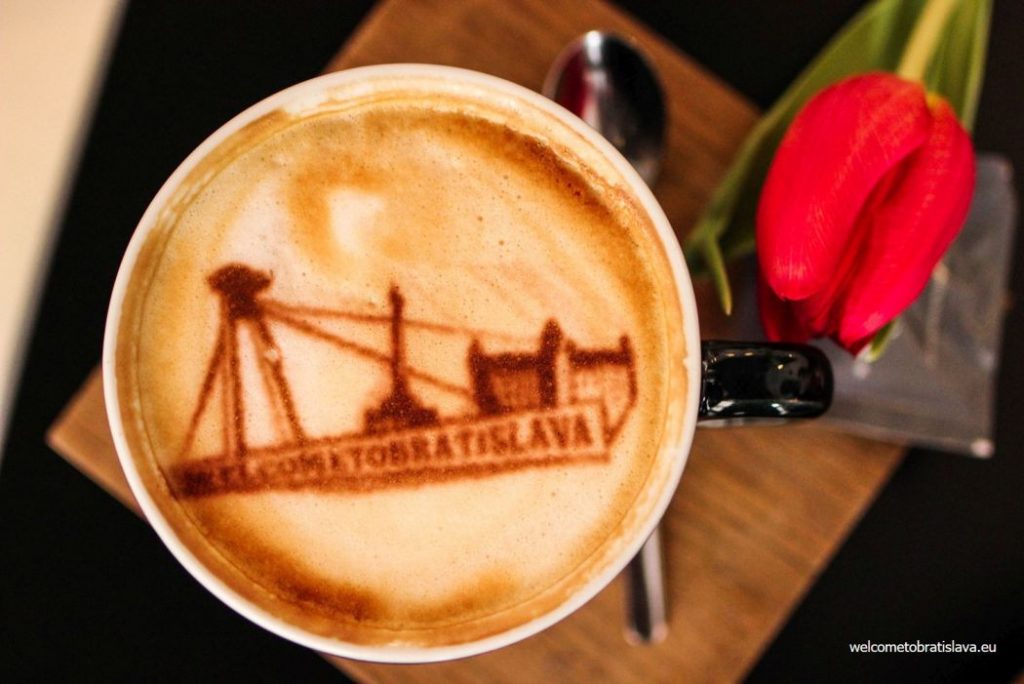 The place opens at 8 am each day including the weekends – perfect if you are an early bird. We love their breakfast menu that offers the usual breakfast meals that are, however, prepared with an innovative twist. Try for example their scrambled eggs with salmon or a bagel with bacon and poached egg. These were our top choices here.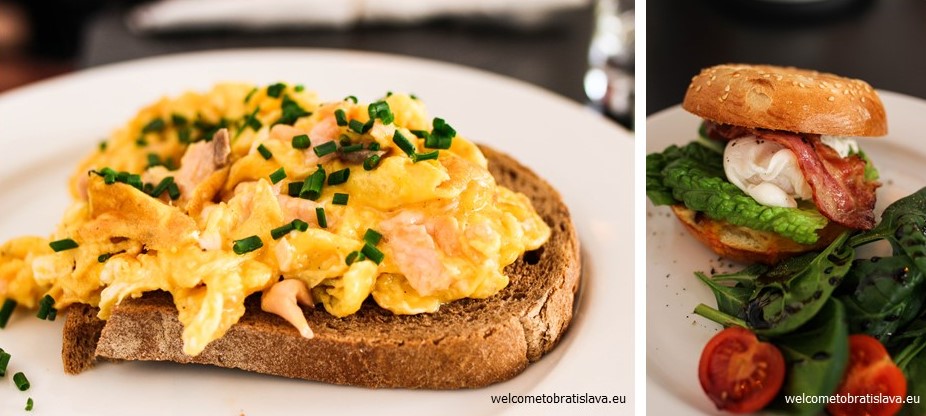 English breakfast with poached eggs was a good choice, too. We just wished the sausages were a bit less spicy. The salmon bagel was a satisfying meal, just note that the side salad is served with balsamico – not everyone likes it.


ADDRESS: Panska 23
MAP LOCATION:

FACH BISTRO
FACH's concept supports local ingredients and seasonal and region-oriented cuisine. Get ready for the simple dishes which are full of strong flavours. This is how the cuisine in FACH has been defined by its former head chef who returned to Slovakia after working in various Michelin starred restaurants abroad. The chef had changed since but the concept stayed.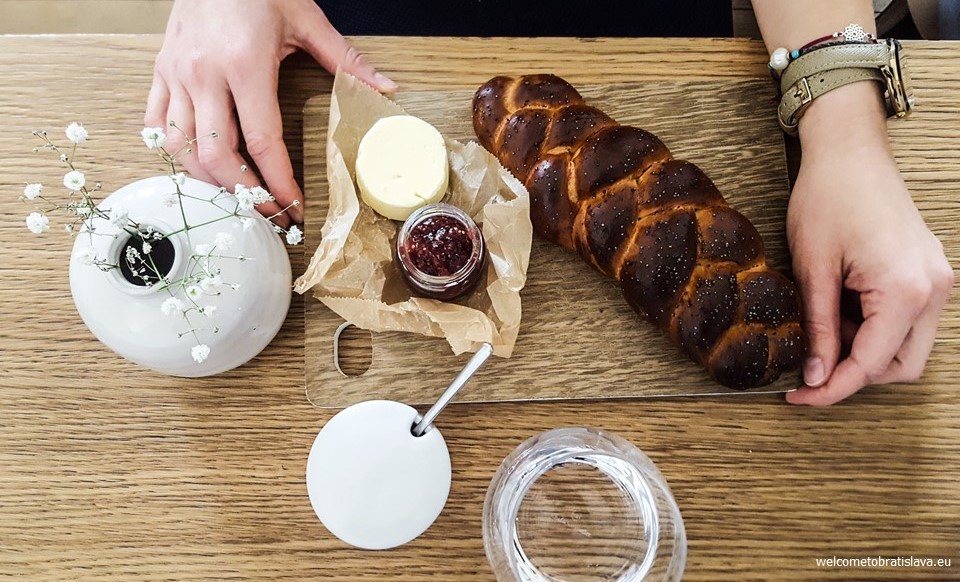 The breakfast menu is not overwhelmingly wide but everyone will find a tasty option here. It is served every day until 14:00. We love their own stone-baked bread from sourdough. The sweet lovers will enjoy the sourdough pancakes with berries, vanilla and crème fraîche. We also enjoyed the  poached eggs with béarnaise sauce and bacon served on a bread.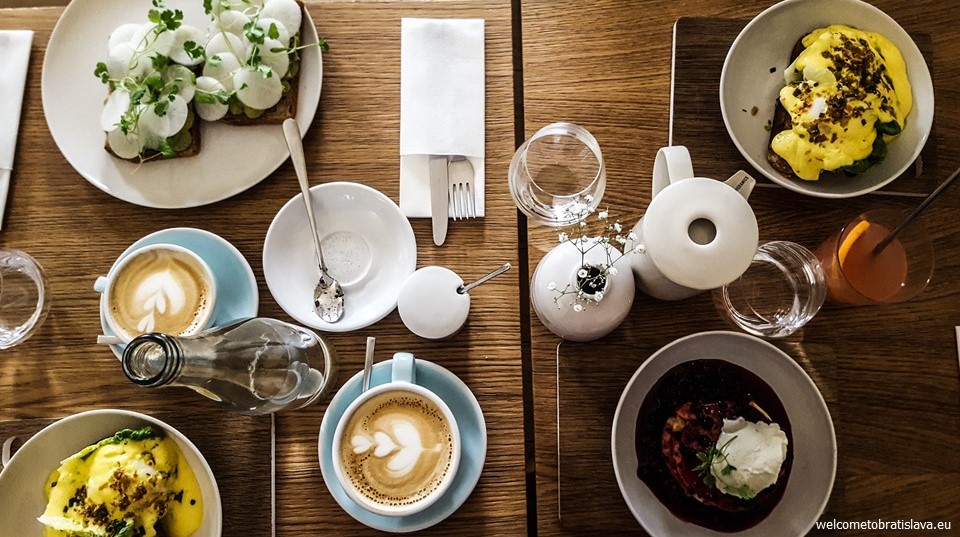 We are indeed big fans of the clean, casual and in the same time elegant combinations styled in the Scandinavian design and this is exactly the case with FACH. In the end, you don't need excessive furniture or accessories. It's the food that you come here for.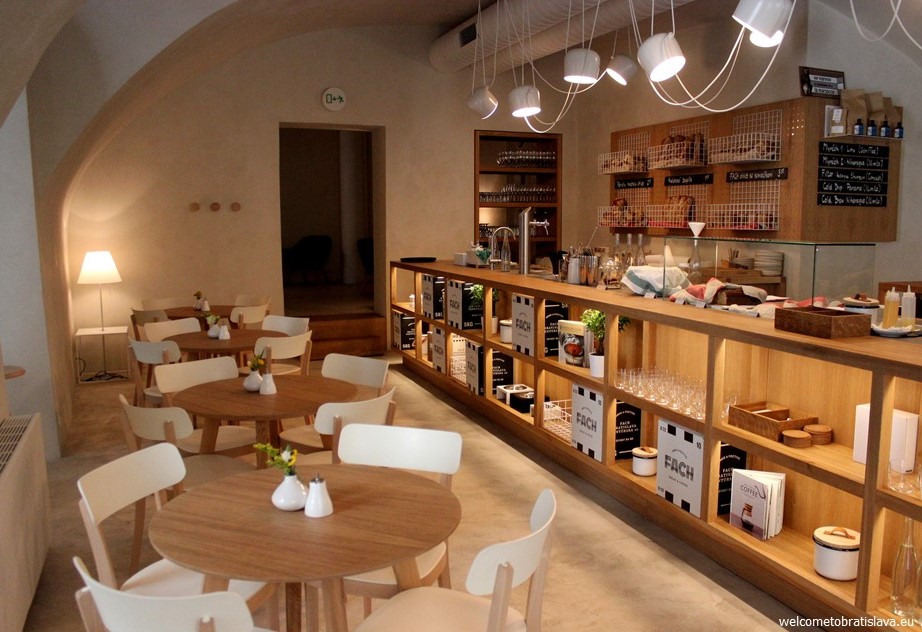 ADDRESS: Venturska 10
MAP LOCATION:
ZUFANA
Zufana is a lovely bistro situated outside of Old Town, specialising in traditional Slovak cuisine with modern and often healthy twist. Established by three young friends, it serves as a kind of a community centre which is nowadays very popular mostly among Slovaks. You can see young families with babies or older children visiting regularly during weekends for a tasty breakfast. So, what not to miss?
The first group of the breakfast menu can be called "traditional Slovak breaky". You can have the best scrambled eggs with roasted onion, tasting like made at home by a Slovak mom. They also offer true boiled Slovak sausages ("párky") or very Slovak "chleba vo vajci" which stands for a bread covered in egg – a truly tasty dish but not very healthy :) Our favourite is also the sweet grits porridge ("krupicová kaša") topped with melted butter and sprinkled with "granko" (a Slovak version of cocoa powder with sugar). Granko is an ingredient used also for a hot drink "kakao" when poured into warm milk and you can also have it in Zufana.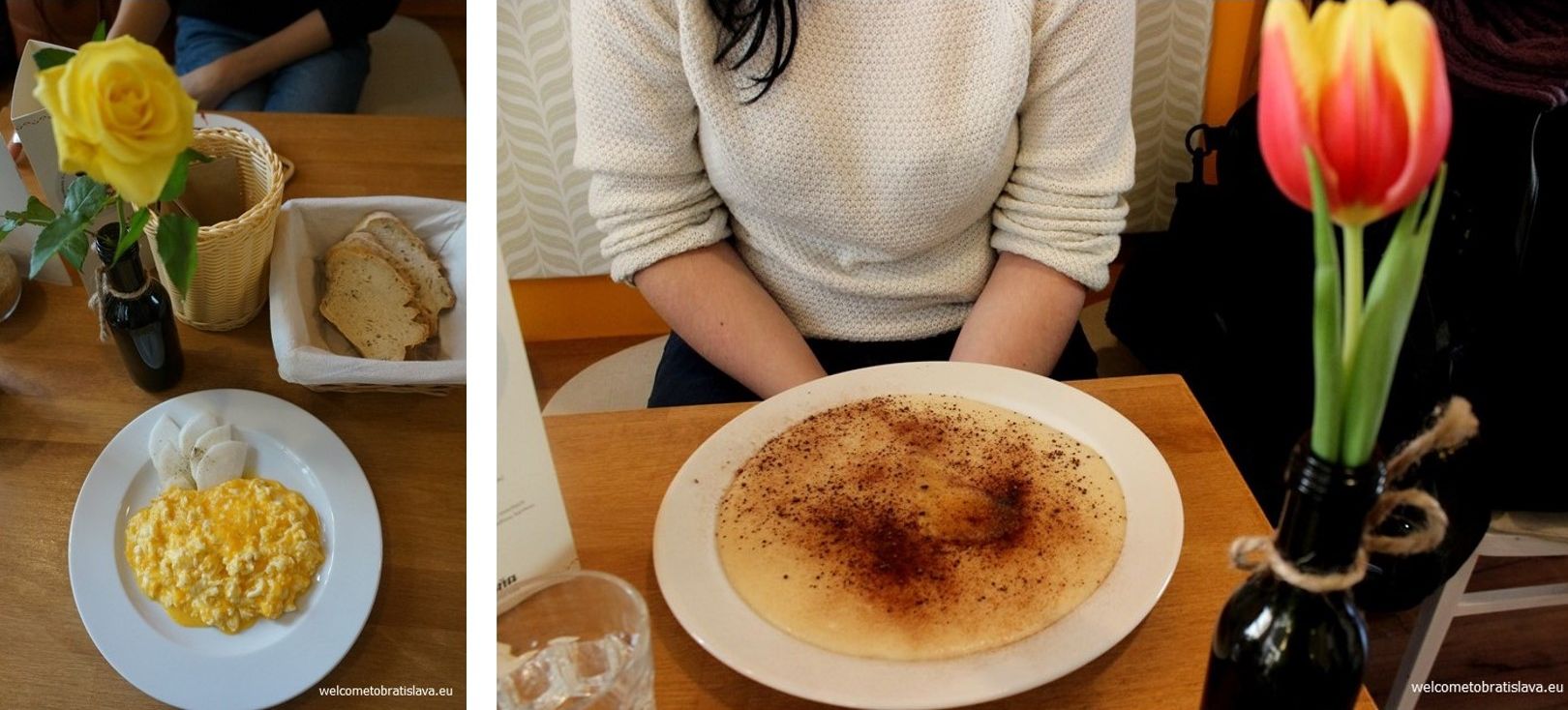 The second group of breakfast options consists of healthier porridges. Changing on a daily basis, there are always two different porridges on the menu – usually a rice version or a grains/oats/buckwheat one, with different berries, dried fruits or other ingredients combined.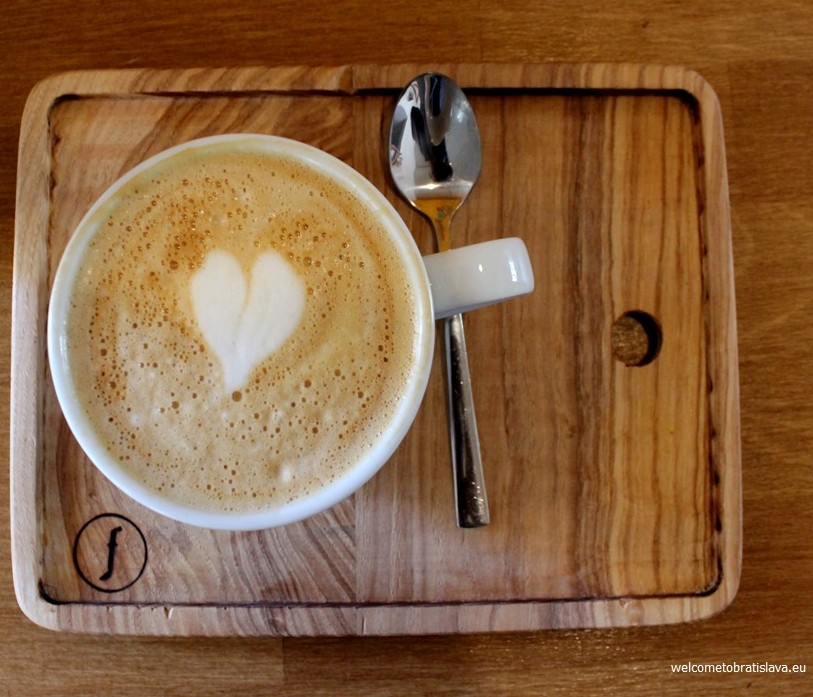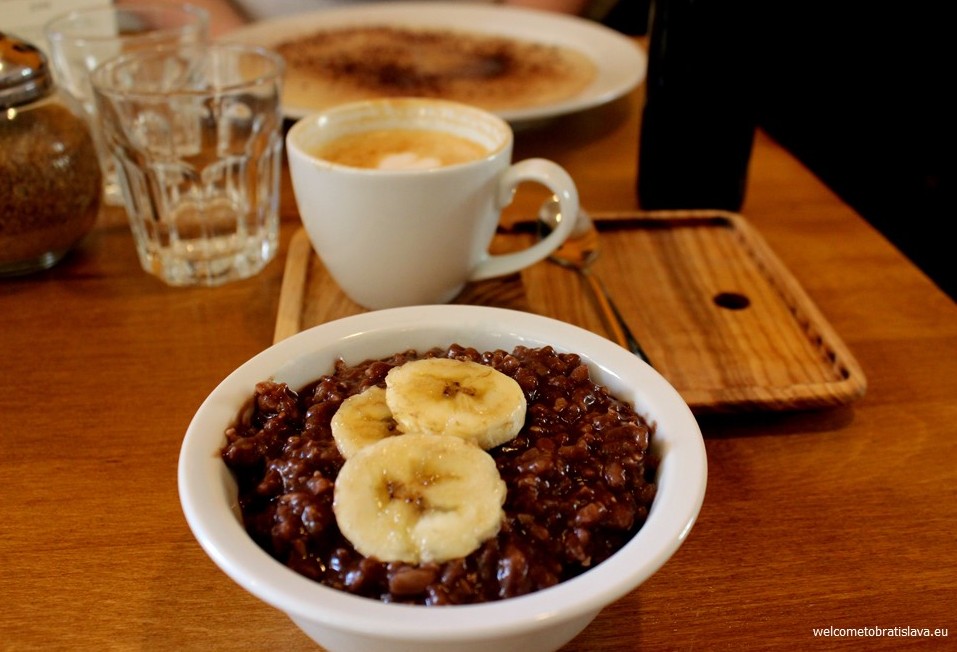 Third option are cakes – they have different types changing daily and usually the options are either healthier types or traditional Slovak ones.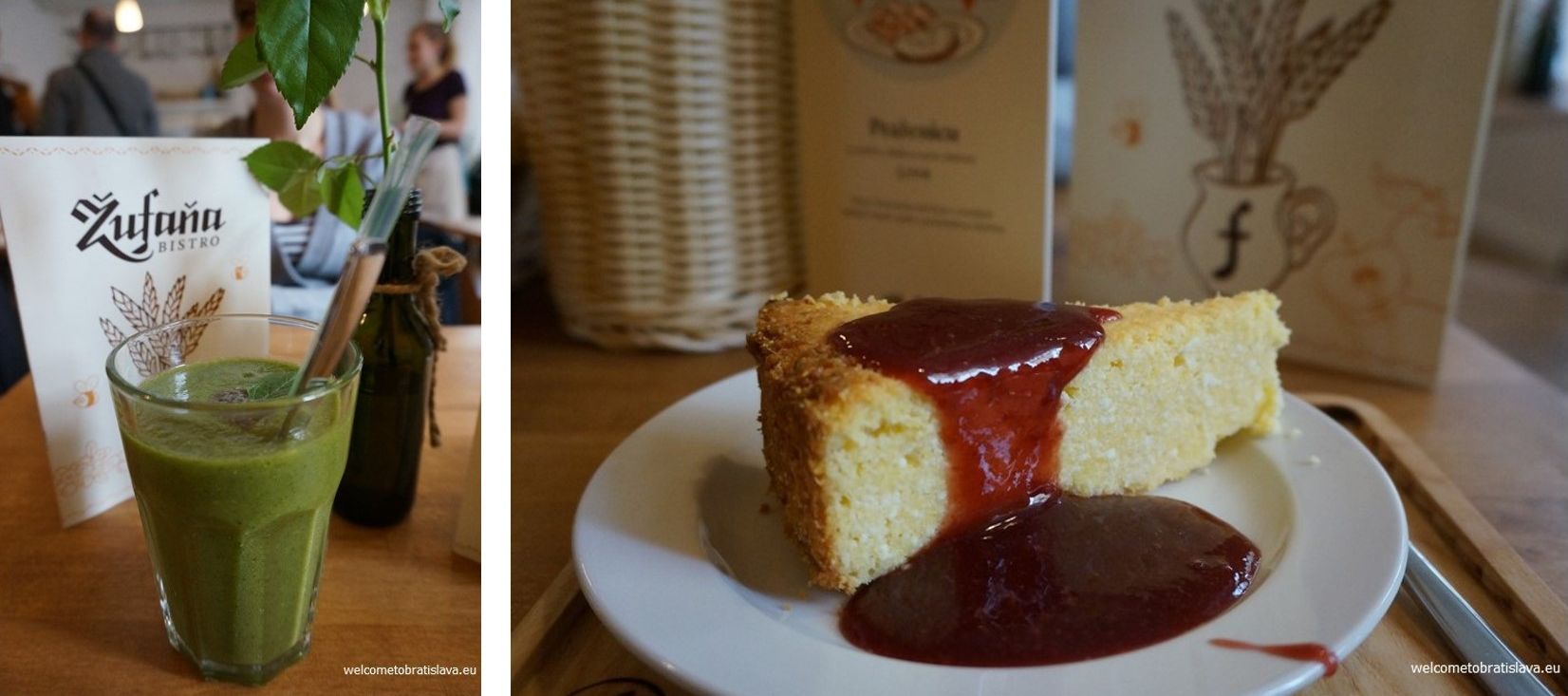 By the way, the name Zufana is a Slovak archaic or perhaps vernacular term for a scoop. We also like the sunny and bright premises with nice small decorations. The place is children friendly – there is a children' corner with toys and a changing table for babies. Ideal for a weekend family breakfast! And dogs are welcome too.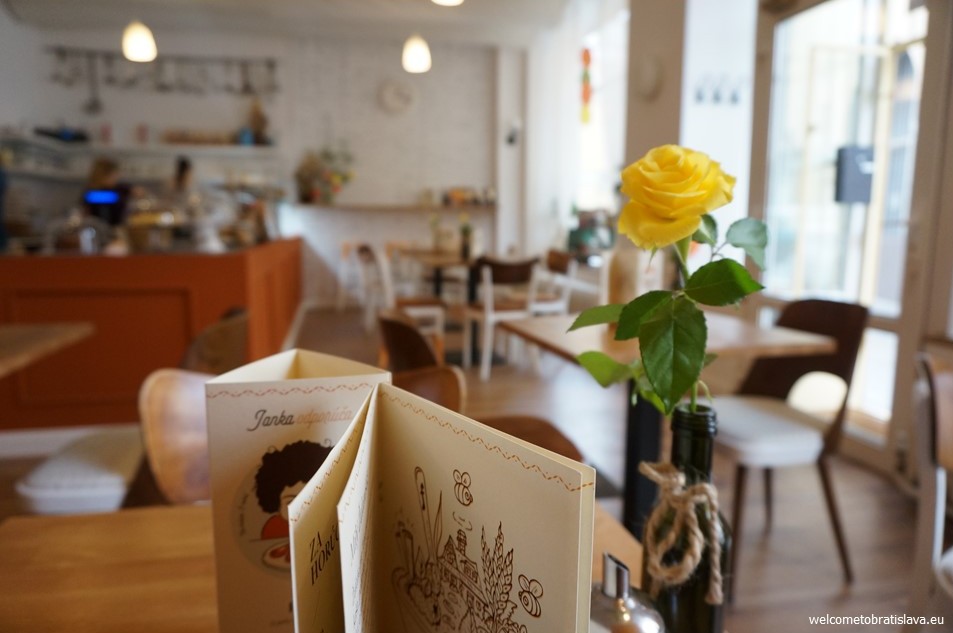 ADDRESS: Dulovo namestie 4
MAP LOCATION:

THE WAFFLE SLOVAKIA
If you don't mind a little travelling in order to indulge in something delicious, and perhaps want to combine this cheat meal with shopping, we advise you to go to Bory Mall and visit The Waffle Slovakia. Owned by a young couple who's been in the waffle business for a while, it's also the only waffle shop in Bratislava that offers, besides traditional sweet Belgian waffles, also salty and completely vegan waffles with vegan chocolate, vegan Nutella and vegan whipped cream. Using the traditional Belgian formula, they prepare the dough on the spot, of which the outcome is some of the softest waffles we have eaten. Love at first bite!
In addition you can have salty toasts, fresh smoothies, milkshakes and even hot chocolate, if that's the first thing your heart craves to have in the morning. They offer breakfast daily till 11:30 am but the waffle and toast menu is available all day long. A very cosy premise makes this place ideal for dates but also business meetings.

 OPEN: Check the official FB site


 ADDRESS: Bory Mall, Lamac (2nd floor near the cinema)


 CONNECT: Facebook


 MAP LOCATION: 

KONTAJNER RIVIERA
If you fancy non-traditional concepts, try this place – a restaurant and a cafe in a shipping container! You will need to travel outside of the city center though, as it stands at the beginning of Karlova Ves. This is the hotspot for all the local hipsters avoiding the city center! We love the cuisine of this place and moreover, they have a wide and amazing breakfast menu. And what is the best, in most cases, you can order breakfast even in the late afternoon hours.
For example, the scrambled eggs with ham and onions were amazing and the bread served with basically all the salty breakfast meals was great. The same goes for the avocado with bacon and eggs – we loved it!

We enjoyed the guacamole toasts with bacon, too, but the portion was a lady size (two breads and a salad), so we would not recommend this dish to the hungry men:D

The oškvarková spread was love at first sight, highly recommended! We also tried the sweet cocoa porridge with  the hazelnuts and strawberries – the hazelnuts had a pretty strong base in this dish and took control over the flavors of the other ingredients.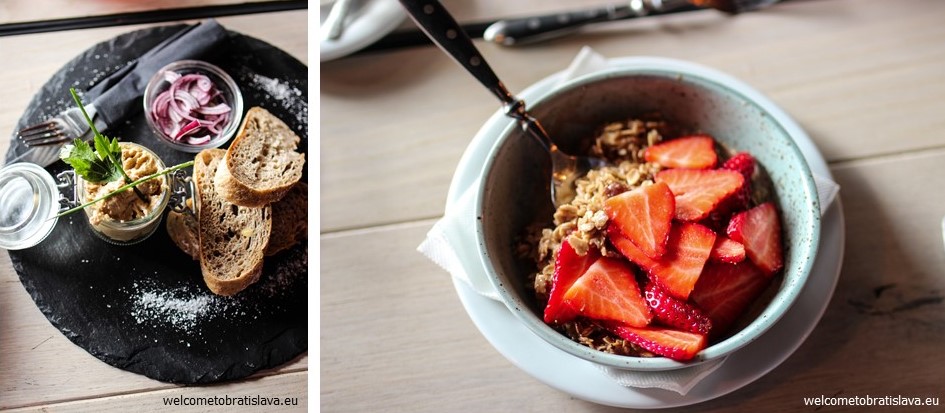 ADDRESS: Na Riviere 2
MAP LOCATION:

Local tip: Too many options to choose from? Let us save your time and worries with a personalized travel plan which you can custom-build according to your travel times, budget and other preferences!
Authors: Maria Kecsoova, Zuzana Mytna

You might also like:
BEST PANCAKE PLACES
BEST HALUSKY?