Finding a place with a really good burger might be difficult, especially when they are served in almost each restaurant. We have visited some that are known especially for their burgers and picked those for you which tasted the best to us.  Enjoy!
ROXOR BRGR & BEER
Roxor Brgr focuses solely on beef burgers and provides delicious beef variations to its visitors. The main cook is the owner himself which is a guarantee of quality. He explained to us that the meat comes from an eco farm in Záhorie (neighborhood of Bratislava) and he processes it straight on the spot. We could not wait to have a bite!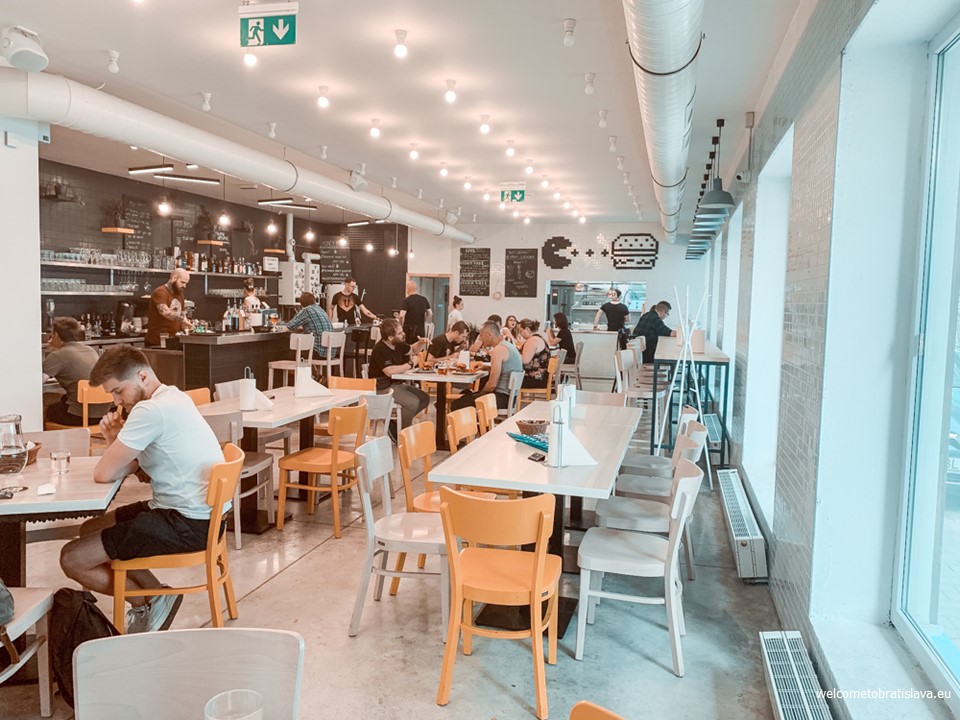 Being a group of 5, we wanted to do a proper "check" of the burgers so we ordered pretty much almost everything on the menu – and all of us were praising the food to heavens! The beef was truly excellent – even our American friend confirmed and that's already something 🙂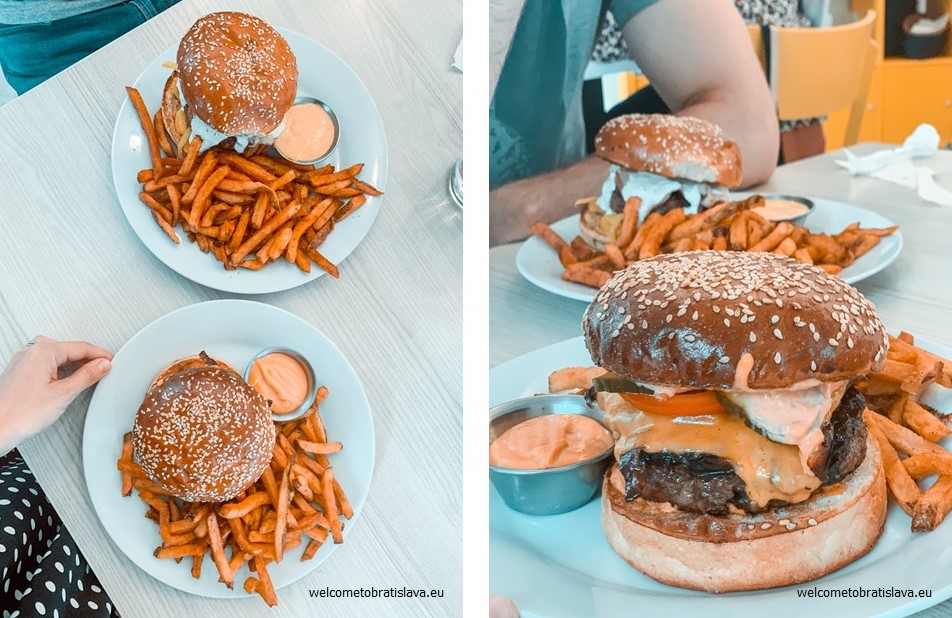 We all agreed that the amount of cheese was just appropriate and the burgers were of a perfect size – not too big and not too small, so you can eat your portion with hands as well. The buns were extremely tasty and we also found out the reason behind – a bakery (by the owner's sister!) bakes them and consist of butter, flour, milk and salt only. Always freshly delivered from the oven.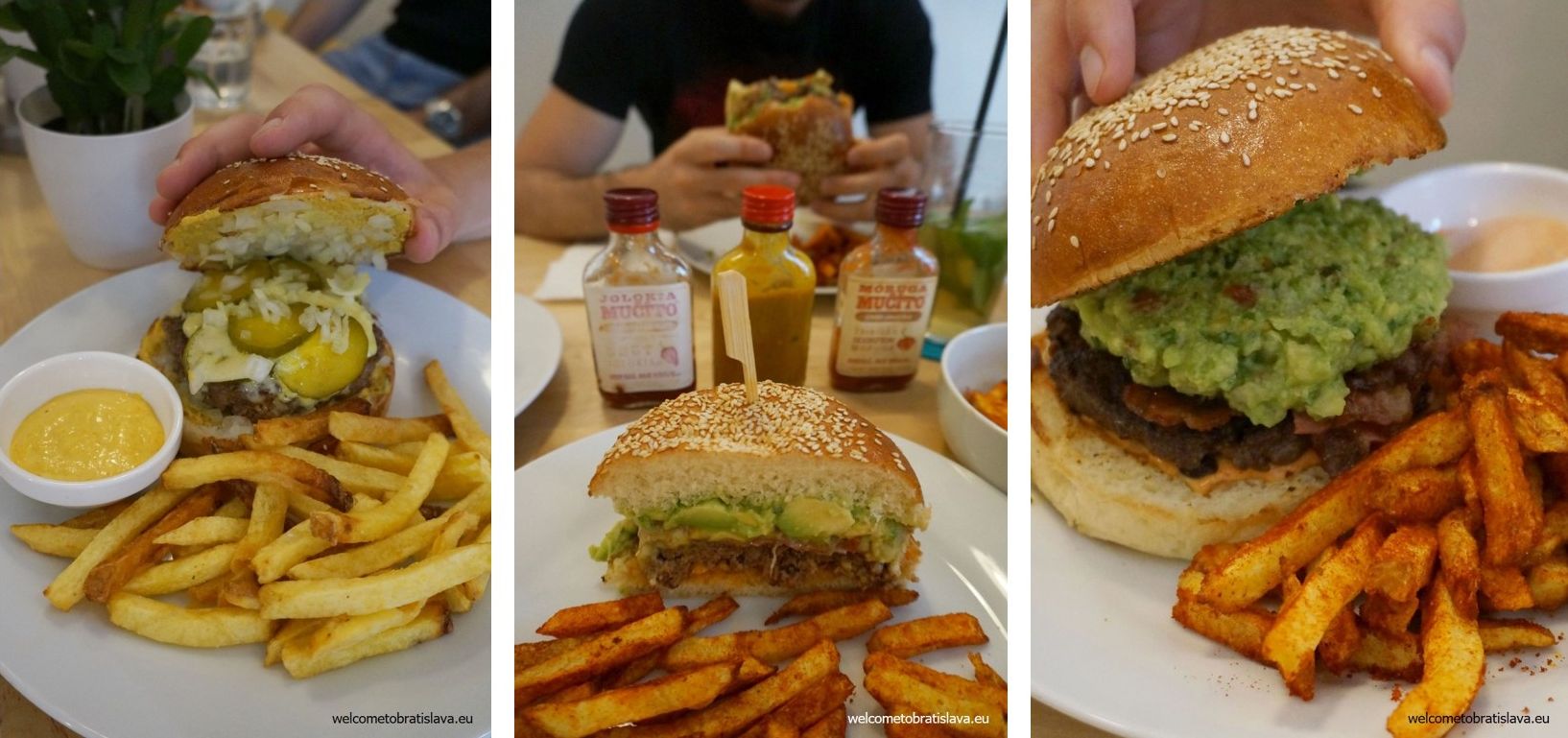 With the burger, there are 2 kinds of chips you can ask for with 2 different sauces and 3 chilli sauces that complement the meat. The menu gets changed once a year for now but they keep the most popular burgers on it.
Have you heard of a punk burger? If not, just ask the owner about it – or about anything else – and he'll be happy to talk to you 🙂 So, do we recommend this place to you? Definitely – some of us were leaving with a statement of having found their new most favorite burger place 🙂 Plus, the ambiance here is laid-back and the service was super quick, which was a slight surprise, given we were a bigger group. Your turn to give it a try!
ADDRESS: Šancová 19
OPEN: Check their FB
MAP LOCATION:
QUINSBORO 
The visual is what stands out at Quinsboro, a relatively recent addition to the burger scene in Bratislava. You will notice the industrial style and the attempt to work with sustainable materials. Believe it or not, the furniture comes from different parts of the world like Russia or Bosnia and Herzegovina. One part of one table even comes from the hometown of the owner.

The staff was very friendly and the enchanting smile made us feel welcome. They pride themselves on the speed at which they are able to prepare the burger. We can only confirm that whatever magic wand they have inside, it works. 
You get four burgers to choose from, which is always a good sign. We placed our bets on the one with the intriguing avocado mayonnaise. The burger could have been a little thicker for our taste, but other than that, it was delicious. It wasn't soggy, we could easily eat it by hand. The portion of the fries seemed small but in fact, they were really tasty. The only problem with their recyclable cup is that you need to dump it on the plate in order to get to the fries at the bottom. Every bite of the burger was uniform all the way through and a sign of mild disappointment ensued as we swallowed the last bite.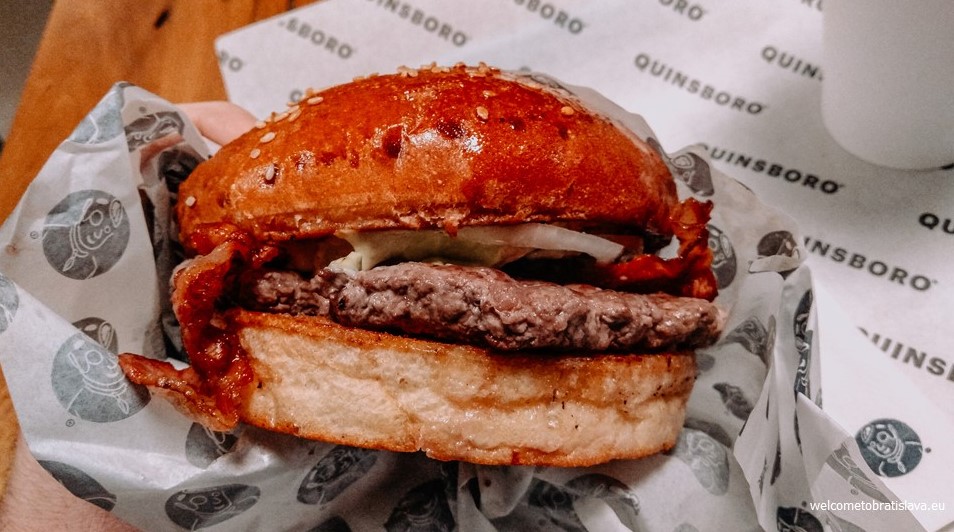 Of the 4 burgers, 3 are from beef and one from chicken. The main difference consists in the sauce. The prices are average, starting at appr 7 EUR for the cheapest burger on its own to 10,90 EUR where you get the burger, fries and a drink of your choice.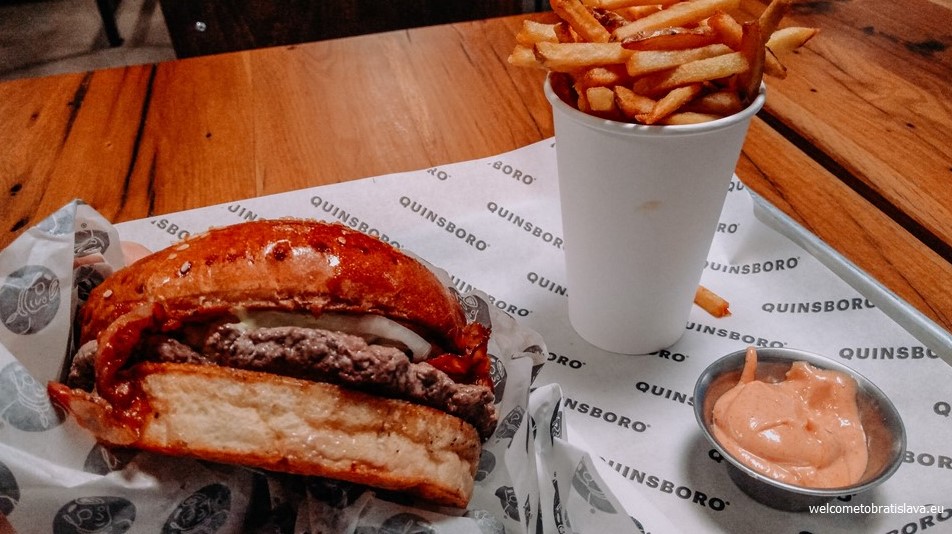 ADDRESS: Obchodná 48
OPEN: Check their FB
MAP LOCATION:

PICCOLA (MINERVA)
Burgers in Piccola (or actually Minerva which is the official name of the restaurant) have become "famous" in Bratislava quite quickly, since the restaurant started to offer them as a take-away meal for less money than the usual deal you pay when you order it as a whole meal sitting down in the restaurant. And of course, they taste great! You can choose from 3 take-away burger variations: a standard, cheese or special burger (that is cheese plus bacon). The burgers are juicy and tasty, we enjoyed each piece a lot. If you decide to eat at the restaurant, the burger menu offers many more options.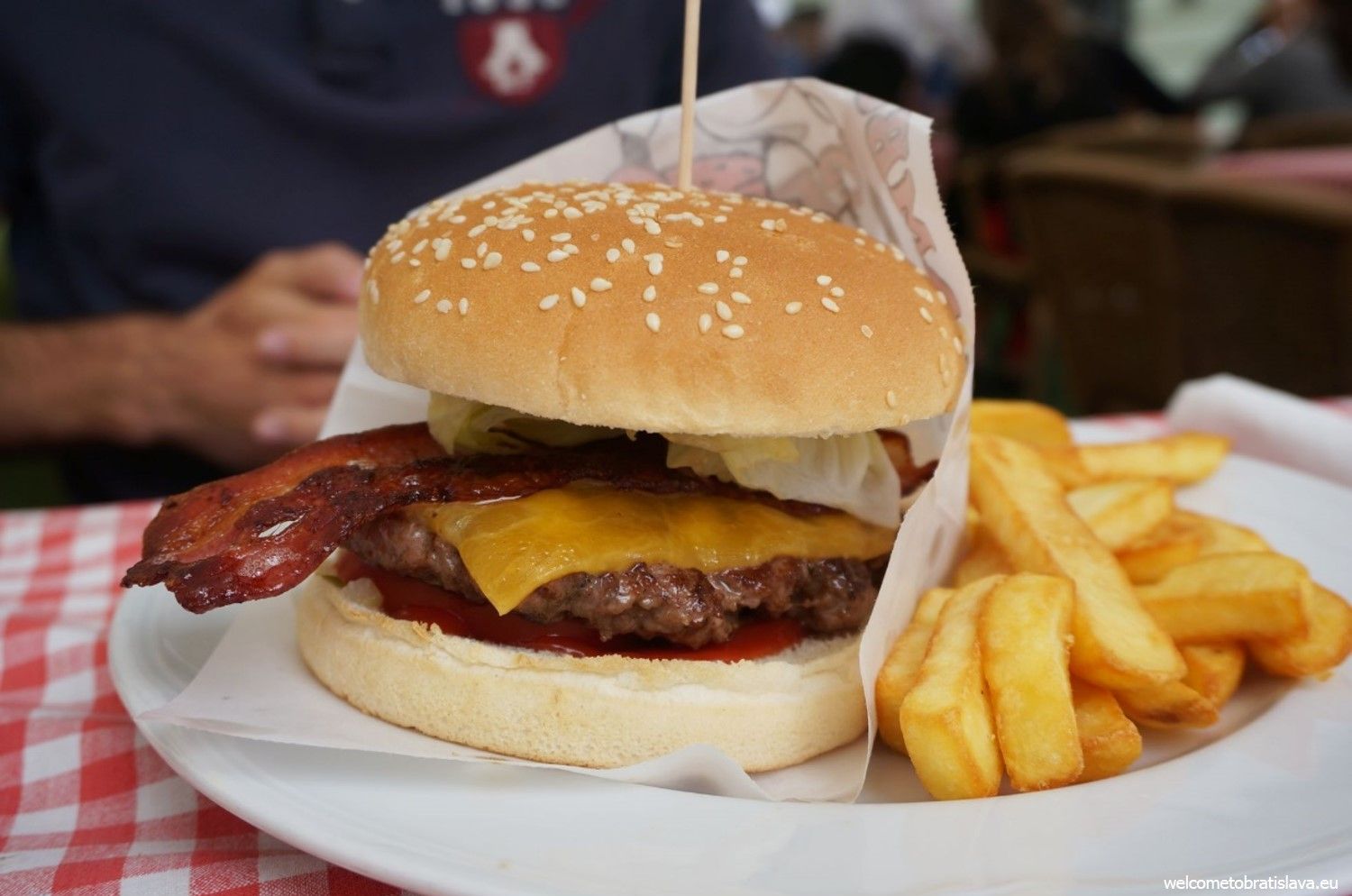 When ordering a take-away, you get it with no side dish. They include it only in case you sit down in the restaurant or its outside terrace. You have an option to select fried chips or a salad. Ladies, we do not recommend the salad – they serve the coleslaw one which we think kills the taste of the meat utterly. And you came for a burger, right? The good thing about this place is that it is open until quite late (Fridays & Saturdays are the best – midnight!) – great news for all the party people!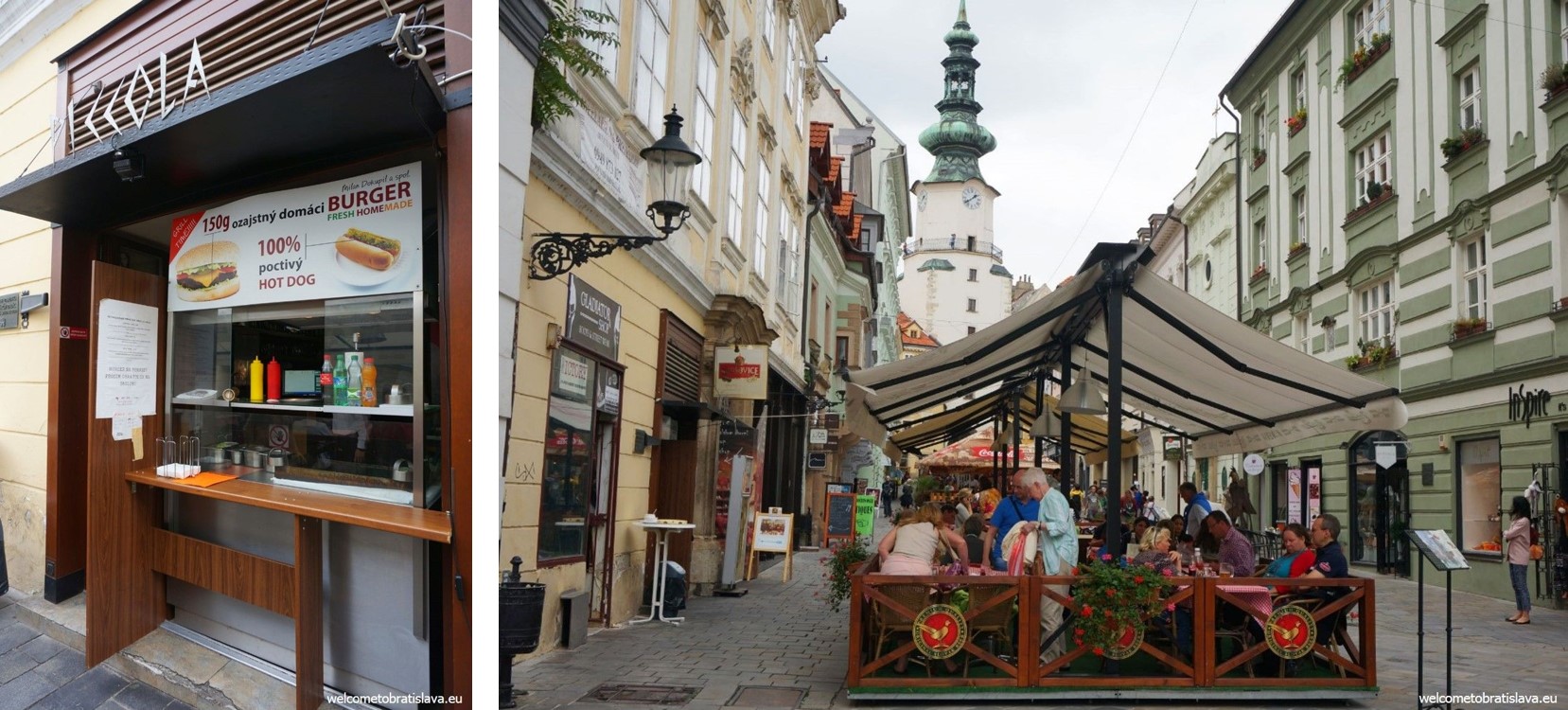 ADDRESS: Michalská 3
OPEN: Check their FB
MAP LOCATION:

TROJKA BISTRO
We hadn't visited this place until recently and we are so glad that we got a tip to go here. Trojka Bistro is a tiny burger kingdom in Petržalka, right opposite to the University of Economics – you just need to cross the big road and find a funny communist-garage-like building. The place has only two bigger tables, one smaller table and a counter. Therefore it is highly recommended to make a reservation in advance or call what time you would like to pick up your burger and they will make sure it's ready. It gets full particularly at lunchtime and dinnertime or when students from the nearby university celebrate after the exams:)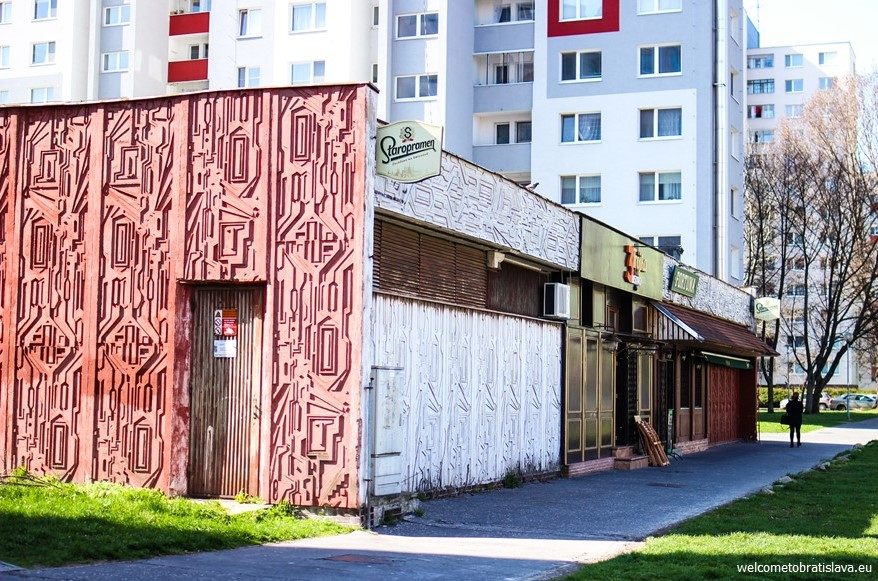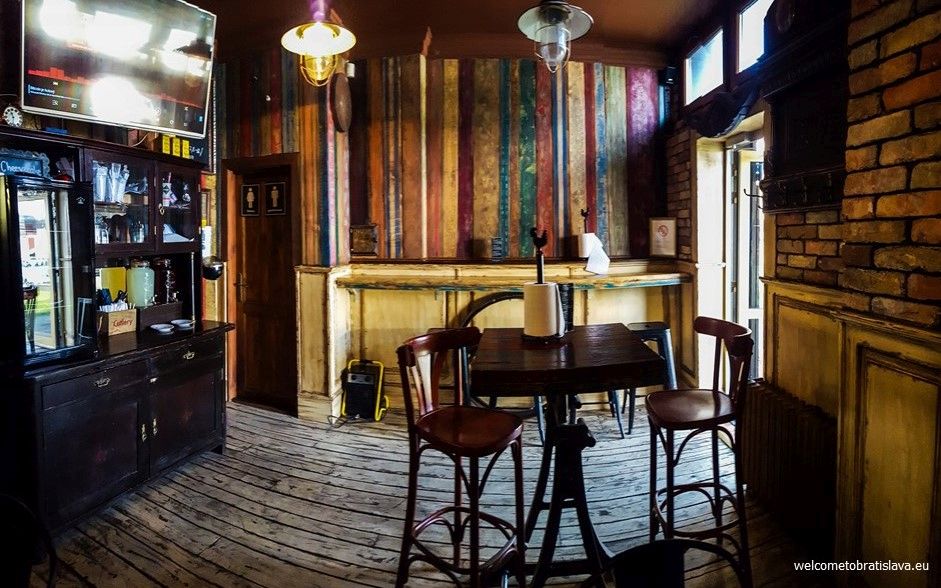 As it implies, Trojka's specialty are burgers – you can get four different burgers here and a week's special which changes regularly (for example, fish & chips). But back to burgers – they were truly amazing. They held well together and were easy to eat. Meat was delicious and came from a Slovak farm and the barbecue sauce they use for the burgers had an amazing, honey-like taste. Coleslaw and the sauce for chips are homemade and taste great. You can order just the burger or a combo package that includes a burger, chips, sauce, coleslaw and a home-made lemonade (or lemon water or tea). Or you can put the package together yourself. The staff is super nice and the service is very quick. And what is our secret tip? Try their lime mayo sauce, it was the best we've recently had!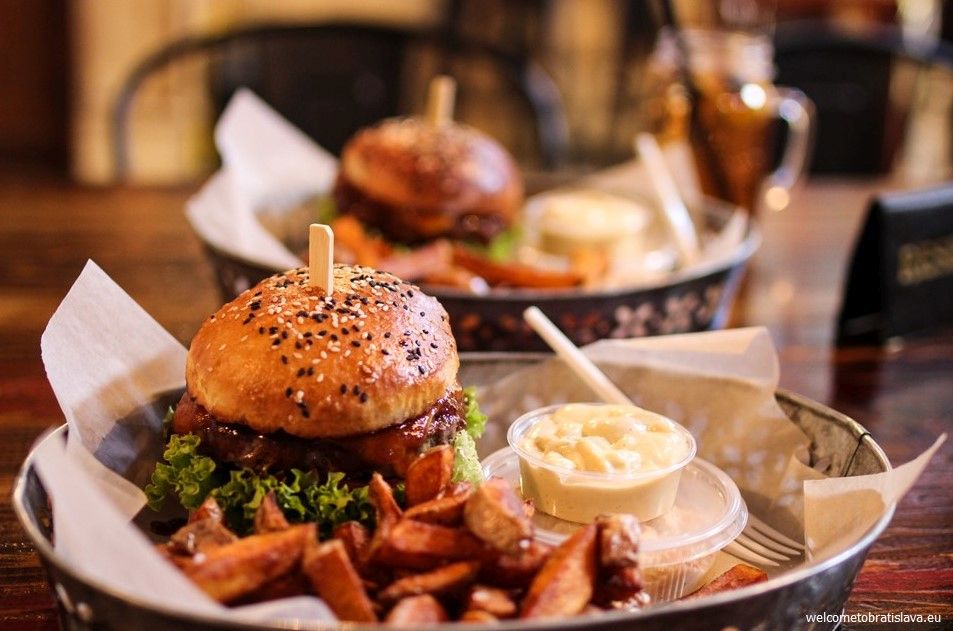 ADDRESS: Bulikova 27
OPEN: Check their FB
MAP LOCATION:

BURGER BAR
This tiny place is visited for its tasty burgers by locals and tourists as well – being located very close to the main bus station, it is a convenient spot for a stop once you arrive in the city. Most of the time you'll find it very busy (that's a good sign, isn't it!), on the other hand the service is quite quick so you won't wait too much. Best is to eat here when you don't have too much time or want a take-away meal, as the place can only seat a few people inside. There is one small table and a few chairs outside so if you see people eating burgers on at the street corner, you know you've found the place 🙂 Their regular menu offers 5 types of burgers (beef and chicken meat as well as a vegetarian option) but you'll find a few seasonal specials as extra items offered on the main bar. Each burger comes with French fries, for the dressing you'll pay a few cents extra. If you're not a fan of buns, you can have your burger with a salad – choose the Burger (beef) or chicken salad 🙂 We usually take the classic beef one which is really delicious – don't skip the American dressing, it's a perfect match!
ADDRESS: Továrenská 9
OPEN: Check their FB
MAP LOCATION:

REGAL BURGER
We wanted to check this place out since we heard a lot of positive feedback and adjectives like "the best burger in town." It was tasty, however not juicy enough for us – somebody else might disagree, we know, it is a matter of taste. Some of our friends would not go to another place than this for a burger experience. We would recommend to try it out and make your own opinion as it is apparently the place of the burger people – and we felt like we had to list it here 🙂 Plus, the chips & dip were pretty awesome here!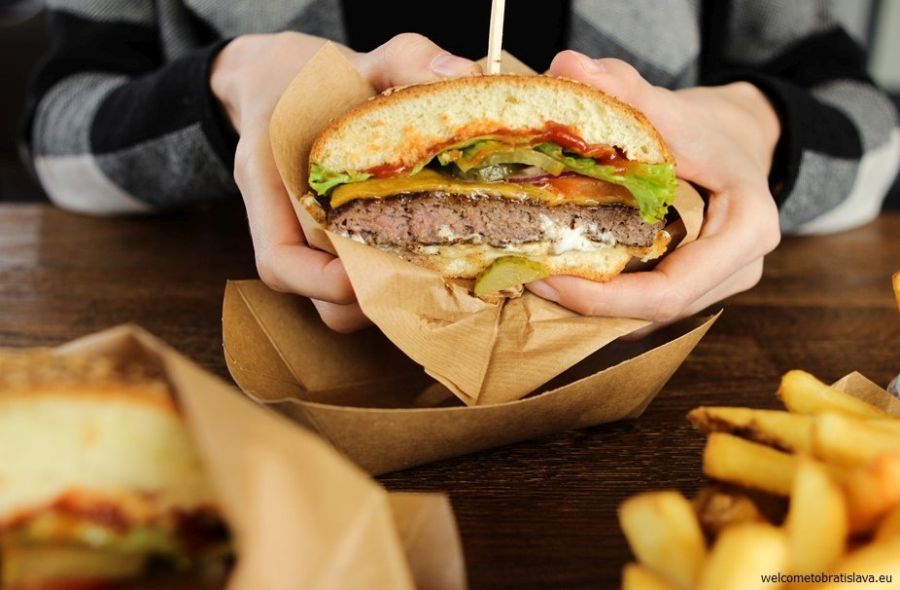 There are five branches of Regal Burger in Bratislava. They all serve only burgers and have built the brand on 3 following things. The meat they use is 100 % beef and comes from a small Slovak farm near Bratislava. Then there is the fresh bread that they bake daily and finally they have come up with a special home-made barbeque sauce. Worth of trying out, don't you think? By the way, they have also a vegetarian version – instead of beef, you can have aubergine inside.

Wanna experience something special? Then go to their branch Regal Rooftop which adds an amazing view to your burger experience:)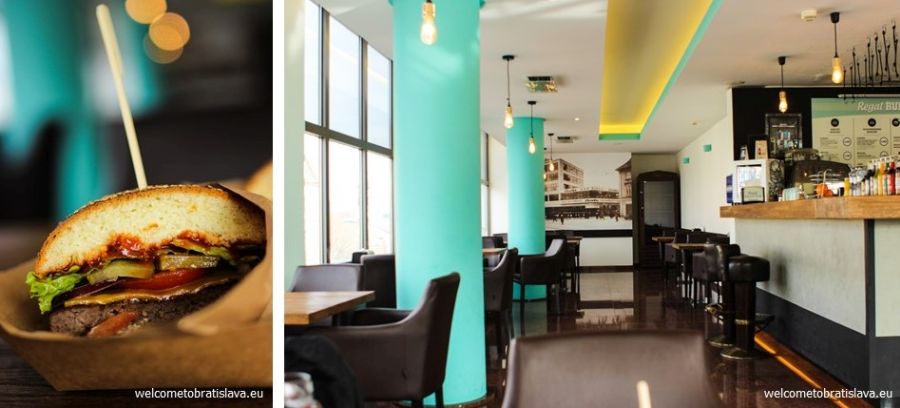 ADDRESS: Palackého 4 + Eurovea + Fresh Market at Roznavska 1 + Hurbanovo namestie 6 (rooftop) + Aupark
OPEN: depends on the location, please check their Facebook page
MAP LOCATION:

BE ABOUT
Be About is a burger restaurant. Their American cuisine offers also tortillas, sandwiches, burritos and salads, but is popular mainly because of its home-made burgers. The fact that they have 15+ burgers on their menu speaks for itself – and they serve each of them with home slaw, fresh tomatoes, red onion, pickles, fries, onion rings and a home-made dipping sauce. You can choose whether you want your burger with beef, pork or chicken meat. The one on the picture displays a burger with cheddar, crispy bacon and egg. The whole portion is so big that if you are not starving when coming here, you can split it with a friend and still be pretty full 🙂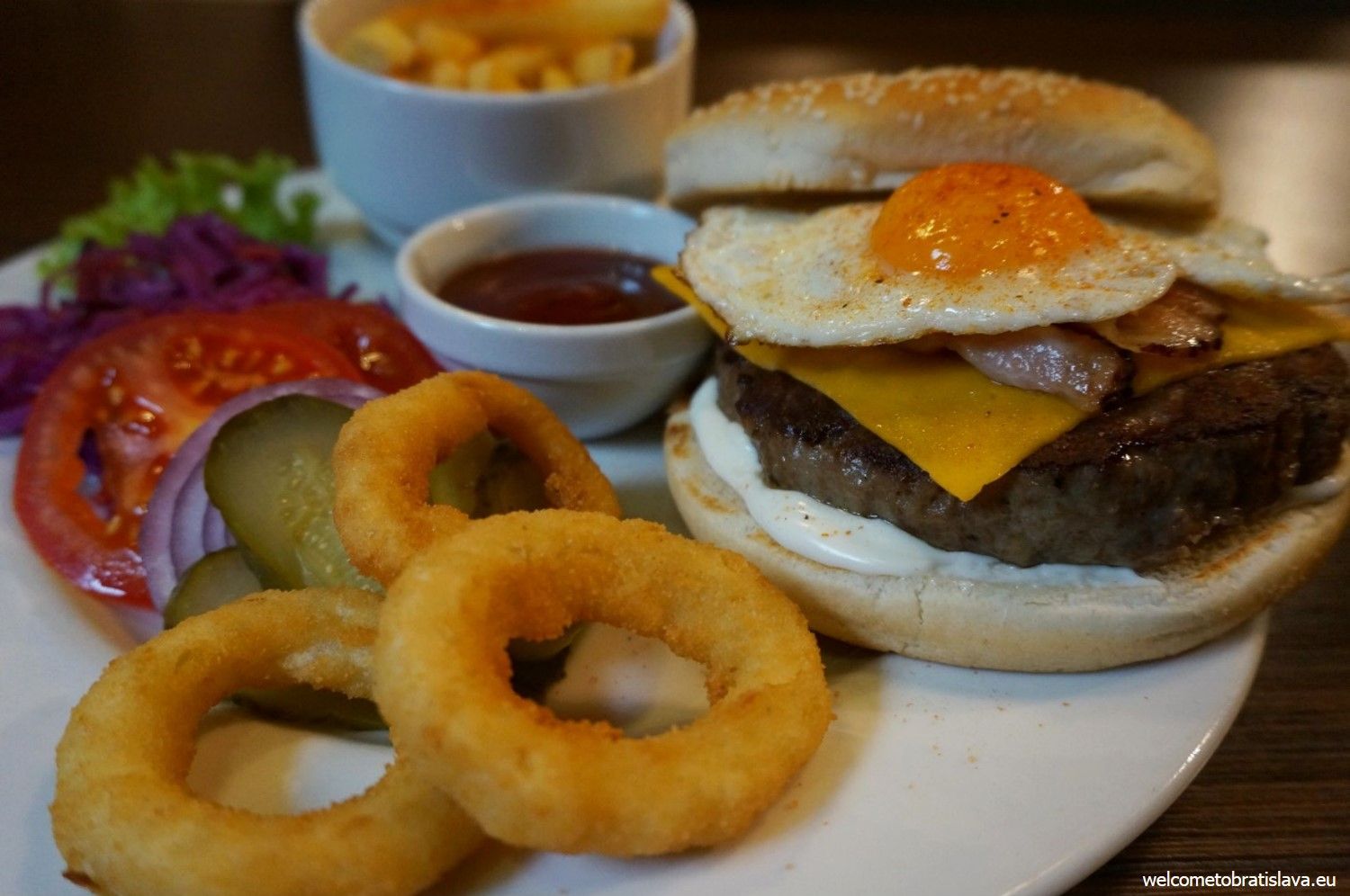 This restaurant is very spacious. It has a lot of seats available so don't  worry about getting a table once you walk in.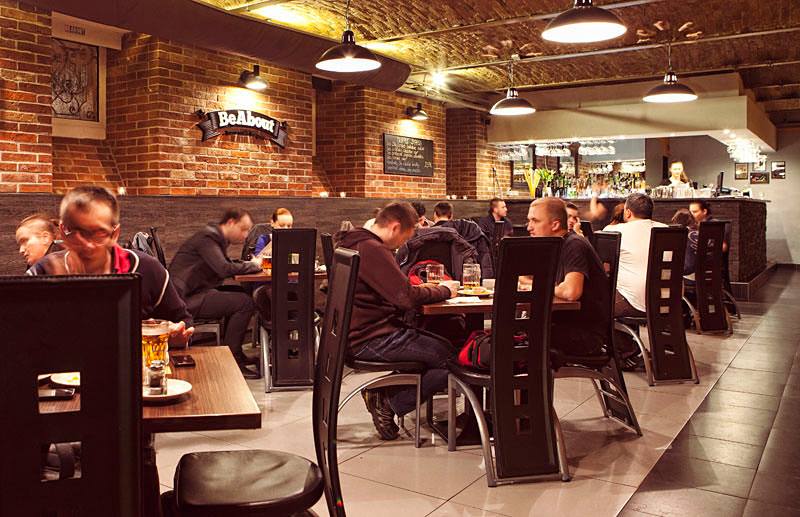 (source: Be About FB)
ADDRESS: Prešernova 4, Dulovo námestie 5/A
OPEN: Check their FB
MAP LOCATION:

Needless to say, there are places which do not necessarily specialize in burgers but have one or two on the menu as well. We definitely like the Pulled Pork Burger (14 hours roasted pork shoulder, mildly spicy mayonnaise with smoked peppers and creamy apple coleslaw) in Urban Bistro. We also like the Savage Garden Burger in Savage Garden Restaurant. It is a beef burger with caramelized onion, cheddar cheese, tomato, pickle and BBQ sauce. At last, we have to mention Jump Street Burger in Jump Street as it is the only black burger sprinkled with edible gold in town and is truly delicious!  Dobrú chuť! 🙂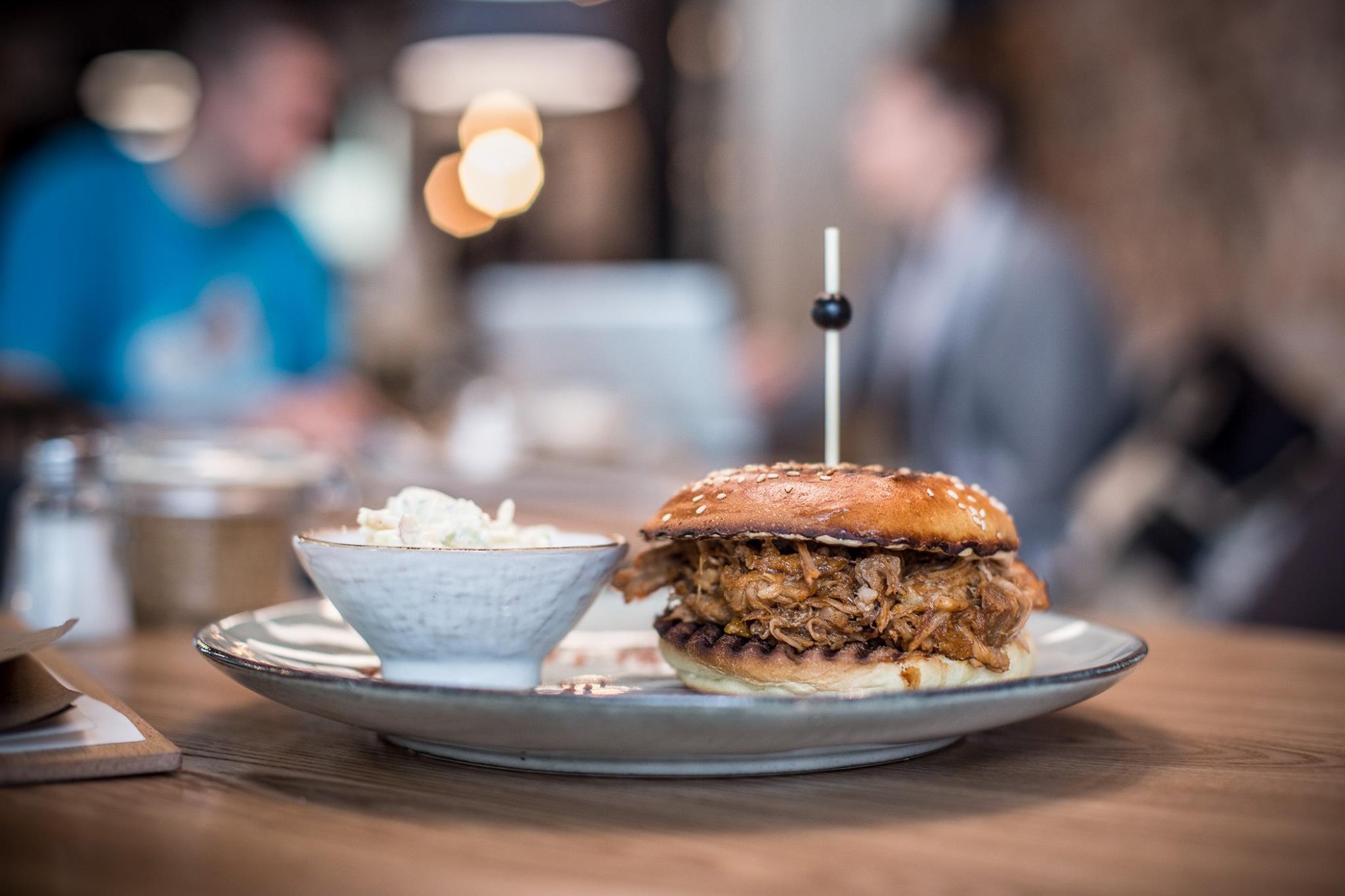 (source: Urban Bistro)
You might also like:
Eat out in Bratislava
Authors: Maria Kecsoova, Zuzana Mytna