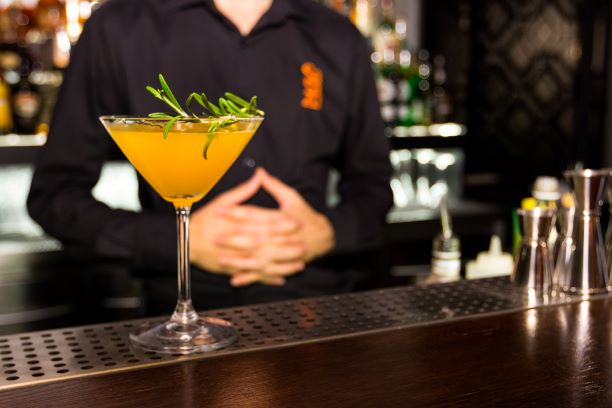 Bratislava has recently made significant progress in the world of mixology. Now, mixed among the glut of wine bars and beer pubs, there are inventive cocktail dens blossoming all over the city. If you liked our previous article about the best cocktail places in Bratislava, check out this list capturing the wave of cool new cocktail bars!
ANTIQUE AMERICAN BAR
What's the vibe? A dose of glamour to your night out, offering as much substance as it does style.
What to expect?
This bar is just one charmingly tiny room that gets packed during weekend nights. The cosy terrace is a big plus towards accommodating drinking guests. An interior sparkling with dozens of lights, the mirror lined wall, luxurious chandelier and vintage decorations all create a perfect atmosphere. The AAB's main lure, though, is its co-owner and main bartender Erik Lorincz who transferred his experience from the Savoy's American Bar in London to Bratislava. And how are the cocktails? Expect all the classics at their best with great service! We love the menu with beautiful B&W photos by a famous Slovak photographer Karol Kallay.
Special tip: These guys are not boring at all. As quirky as it sounds, elegant can be funny at the same time. If you're hungry, just ask for the sausages or cod-fish salad to pair your drink. Be sure to get hooked!
SPIN COCKTAIL BAR
What's the vibe?  A playful concept with sophisticated cocktails and cool pop-up themes changing every few months.
What to expect?
Spin is an ideal place when you want to have some fun with friends! This is thanks to the different games that will keep you in a good mood throughout the night and help you challenge the bartenders and make best out of their skills. Don't be shy to ask for a drink off-menu :) Every cocktail is strikingly vibrant, well balanced and generously sized. The menu consists of signature cocktails and changes every six months along with the concept and story behind it. The service, however, stays perfect all the time – this place is a model for taking the best personalized care of guests. And because the atmosphere is rather intimate, between the craft cocktails and cozy, familiar vibe everything here is designed to make sure you have a memorable night. Don't miss this rare find!
Special tip: Try their game SPIN YOUR TASTE  – three wooden dice will tell which drink you should order. The first of them specifies the taste of your drink, the second one its base alcohol and third one its color. Sounds like fun, right?!
FACH
What's the vibe? A minimalist cocktail lounge with the concept of simplicity at its best: pristine and carefully constructed cocktails that stand out in an unpretentious and unassuming setting. Sexy, photogenic neon is not lacking.
What to expect?
FACH's mission is to group various gastronomy branches under one roof – perfect coffee, bread, cold press juices, meals and drinks in one place. The drink menu therefore receives the same innovative treatment as the food. After cocktails like this, you'll never go back to the usual watery mojito! It is their passion to reinvent cocktails using local ingredients and products from other FACH branches, such as coffee or juices, and turning them into unexpected concoctions. Each unique cocktail tells a story and promises an experience. This is also a cool place to mix with locals.
Special tip: You can reach the bar either going through FACH Bread&Coffee or directly from the Zelena Street. It is seated in the beautiful baroque styled Mozart house with a gorgeous glass-topped atrium with real trees!
OLD FASHIONED BAR

What's the vibe? The second "secret bar" in Bratislava, this time themed into '60s and '70s style lounge with an eclectic range of house cocktails – ideal if you want a drink with a twist that isn't just lemon peel.
What to expect?
A less hidden secret bar (follow the gate with iron bars) – bigger, more commercial but also more luxurious as its sister on Michalska Street. This bar is ultimately, completely and unarguably gorgeous! Old Fashioned has a dimly lit bronze-hued interior with Chesterfield leather sofas, romantic candlelight and it's classy as hell. The drink list hits all the marks: the variety of hard to find liquors, vintage bottles of wine and spirits, and updated classic cocktails and daring modern creations. The drinks are often served in retro glassware with sophisticated garnishes. This is a great place for one of those special occasions when splurging on cocktails is just what you want to do. Just be careful – while they excel in their drinks, the customer service sadly lacks the perfection!
Special tip: Don't hesitate to sit at the bar – you will be able to smell the wonderful edible essences used in almost all house cocktails! Get ready for patchouli, tonka bean, santal or cedar wood.
BAUDELAIRE EVIL FLOWERS BAR
What's the vibe? Not a nightclub, not a cocktail place, not a winery nor a beer pub. Baudelaire is simply "just" a bar. Everyone gets what they need – the offer includes local wines, smaller brewery beers, playful shots and our favourite – signature cocktails.
What to expect?
Baudelaire attracts younger, sophisticated and artistic local crowd that likes the Bohemian atmosphere but at the same time seeks calmer and quieter surroundings. The well-elaborated literary concept of this place elevates the drinking culture to a completely new level. Baudelaire Evil Flowers Bar pays homage to the famous French poet Charles Baudelaire who took the very essence of the carefree lifestyle to his heart and is known for his love for alcohol and drug use. And the imagination does not stop here – all the Baudelaire's cocktails are called "Muses" and are named after the famous femme fatales like Czech actress Adina Mandlová, American model Edie Sedgwick, Haitian dancer Jeanne Duval or French model Kiki de Montparnasse. Our favourite one is Kiki, containing the fragrant violet liqueur and fresh Adina with grapefruit juice and Becherovka – a traditional Czech liqueur.
Special tip: Baudelaire's menu won the Slovak Bar Awards for the best design and concept in 2018. One reason why we think it is so unique is that the drinks are organized based on the plant that they are made of.
MECHECHE
What's the vibe? A tapas bar ideal if you want to team your drinks with tapas, pinchos or one of the various imaginative jamon or cheese sharing platters.
What to expect?
Mecheche is a popular restaurant ideal for contemporary, yet classic dining. It focuses on European cuisine and we love it mostly for its Spanish tapas-style creations. On top of the excellent meals, they have a two story wine cabinet with excellent wine collections. And their cocktails are another reason why this place became so popular among the locals! The interior captures the feel of hand-laid brick and rustic – but modern – elegance.  Mecheche is a perfect spot for the start of an evening when not only impeccable drinks but good food play an important role.
Special tip: Ladies, ask for the delicious cocktail called Feminity. Or do you feel like having a sangria party?
SASAZU
What's the vibe? An upscale bar within SaSaZu restaurant with Asian-inspired décor for the ultimate self-indulgent luxury.
What to expect?
This award-winning restaurant strives for something a little more upmarket. The dimly lit dining room with an extremely high ceiling (thanks to its location in the roofed courtyard of Erdody Palace) and huge red lanterns creating a lavish feel that attracts a more mature clientele. The majority of guests come for SaSaZu's cuisine rather than the cocktails, as the bar itself is limited in size. The ideal spot for having a cocktail is the lounge area or the seating around the bar. The cocktail menu is identical to the one in its bigger location in Prague and consists of unchanging signature cocktails.
Special tip: This place is ideal for a romantic dinner accompanied by a mixed drink. A part of the stable cocktail selection, there is a special cocktail offered each week.
BONUS TIP:
If you want to enjoy Bratislava nightlife to the fullest, try the Nightcards. It offers exclusive discounts in bars, clubs and restaurants in Bratislava. If you are tired of always ending up in the same 3 bars every time you go out,  this will make your experience of finding a new bar more fun! The card game includes 30 discounts, including 20 bars, 4 clubs and dancing bars, 4 restaurants and 1 repeat of your favorite discount. More info.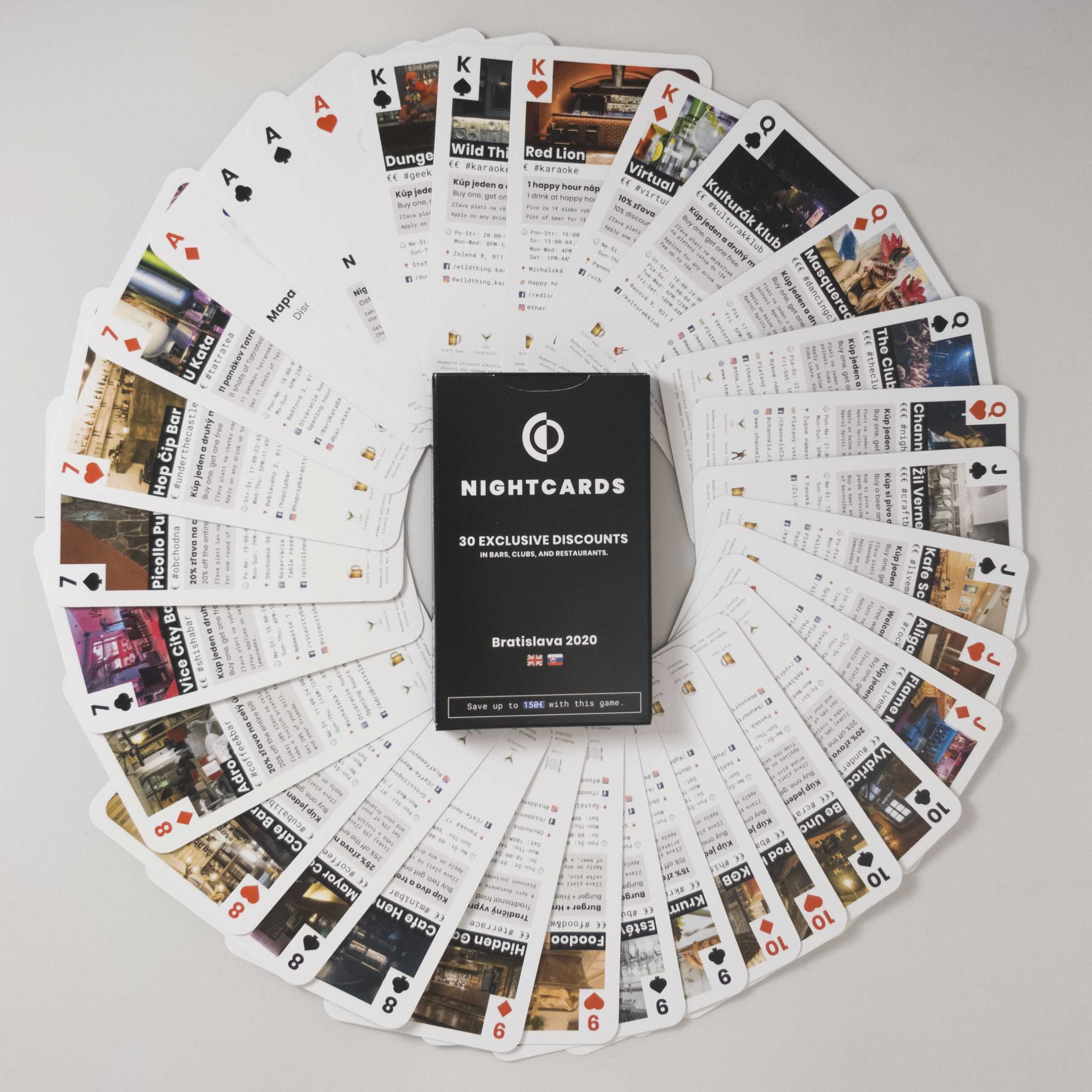 What is your favourite bar? Let us know!
Author: Zuzana Mytna
Photos credits: Martina Gallovicova, Zuzana Mytna
You might also like: