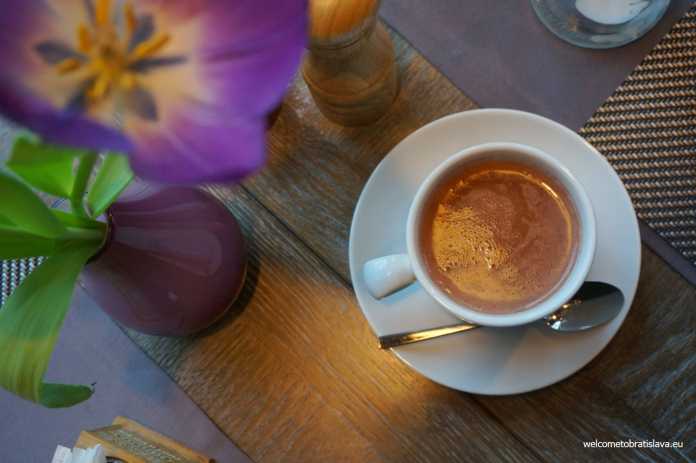 A rich, creamy cup of hot chocolate can make your day not only in the winter months or rainy weather, but whenever you feel like treating yourself to a dainty. If you are a chocolate-lover, look no further – here is our top list for indulging in this sweet drink that will warm your tongue and your stomach :)
MONDIEU
One can't help but be distracted by the fantastic cakes when visiting this elegant café, but there's a wide range of chocolate here, too. The finest chocolates from around the world are combined with fruit and delicious flavors – mint, ginger, coconut or freshly roasted hazelnuts do not sound so bad, do they? :) The hot chocolate portion comes with a real thick chocolate, but if you want something less heavy, try their chocolate cocktail!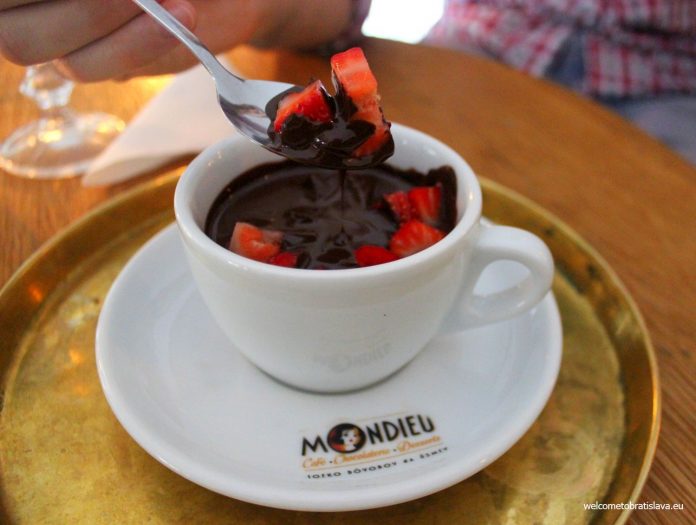 Mondieu belongs among favorite spots of locals and tourists for a reason – these trendy French-styled cafes with warm interior offer healthy meals as well as many options for a delicious sugar fix. Try yourselves!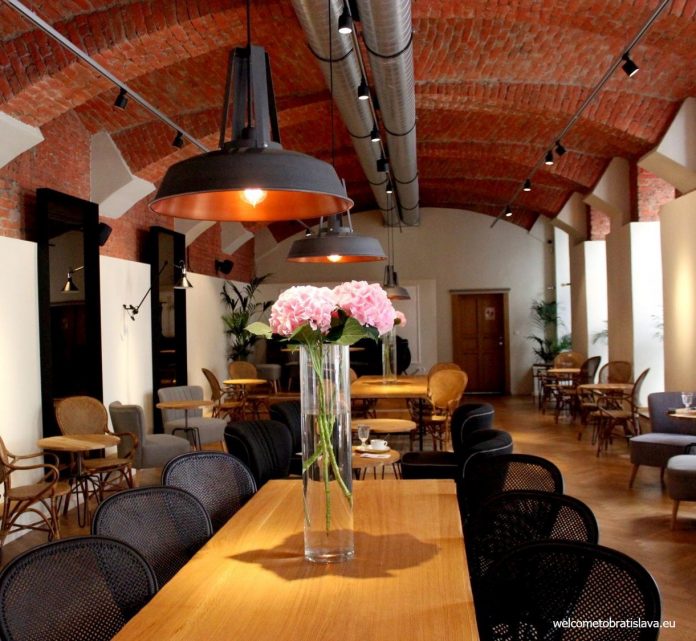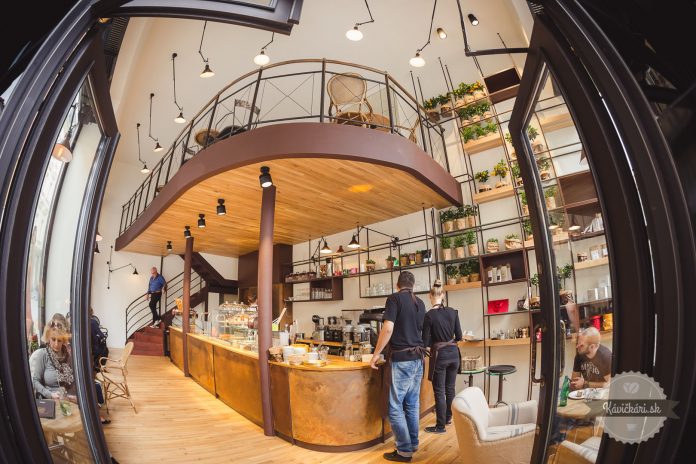 (source: kavickari.sk)
ADDRESS: Panská 27, Laurinská 7, Laurinská 1 (Laboratoire), Laurinská 3 (Franchisé NO.1), Bory Mall shopping center, Žižková 17 (Espress, Zuckermandel)
OPEN: Check their webpage
MAP LOCATION:

ICE-DREAM
Ice-Dreamis a cute ice cream place with great Italian coffee and one of the best Italian gelato we have had in Bratislava. During the winter, the ice-cream offer is suplemented by the seasonal hot chocolate which is semi-dark and truly rich and creamy. This hot chocolate had an amazing texture – exactly the way we love it.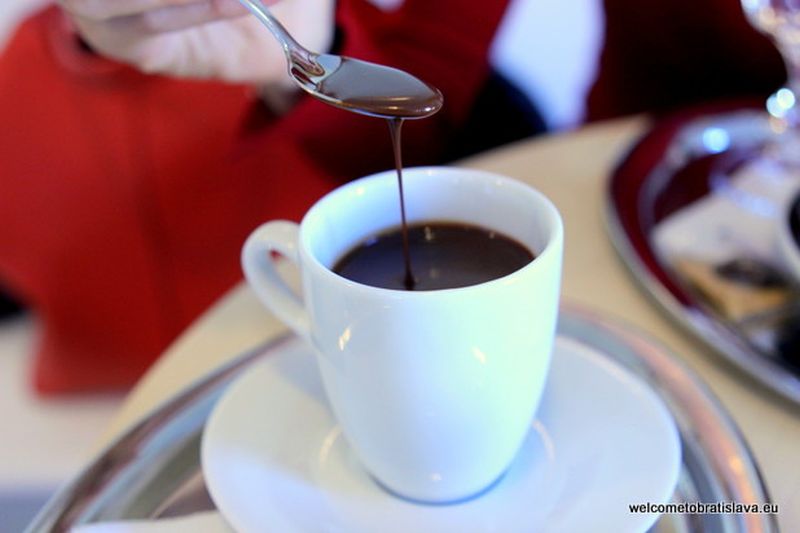 Your romantic soul will be on cloud nine  from the beauty of this place in the pastel colors and feminine decor. Don't miss a chance to enjoy genuine atmosphere and one of the most outstanding services we experienced in our city.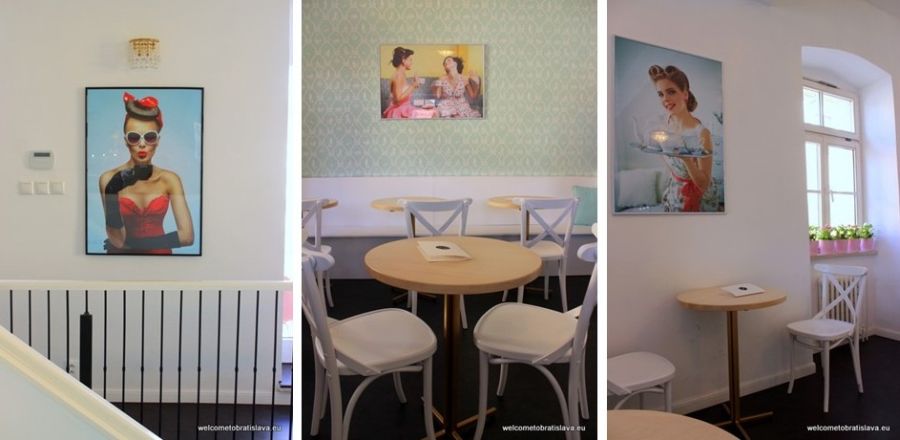 ADDRESS: Špitálska 23
OPEN: Check their webpage
MAP LOCATION:
W CAFE
For a cup of thick and splendid Belgian hot chocolate, you can also pay a visit to the hip W Cafe located near to the main bus station. You can choose milk, dark or white chocolate, and they also offer chili, mint or nuts with it if you feel like having your choco with a taste of something else. Other than hot chocolate, their menu includes several special hot drinks – mixtures of Slovak spirits, wines and juices, for the fans of sweeter and fragrant tastes.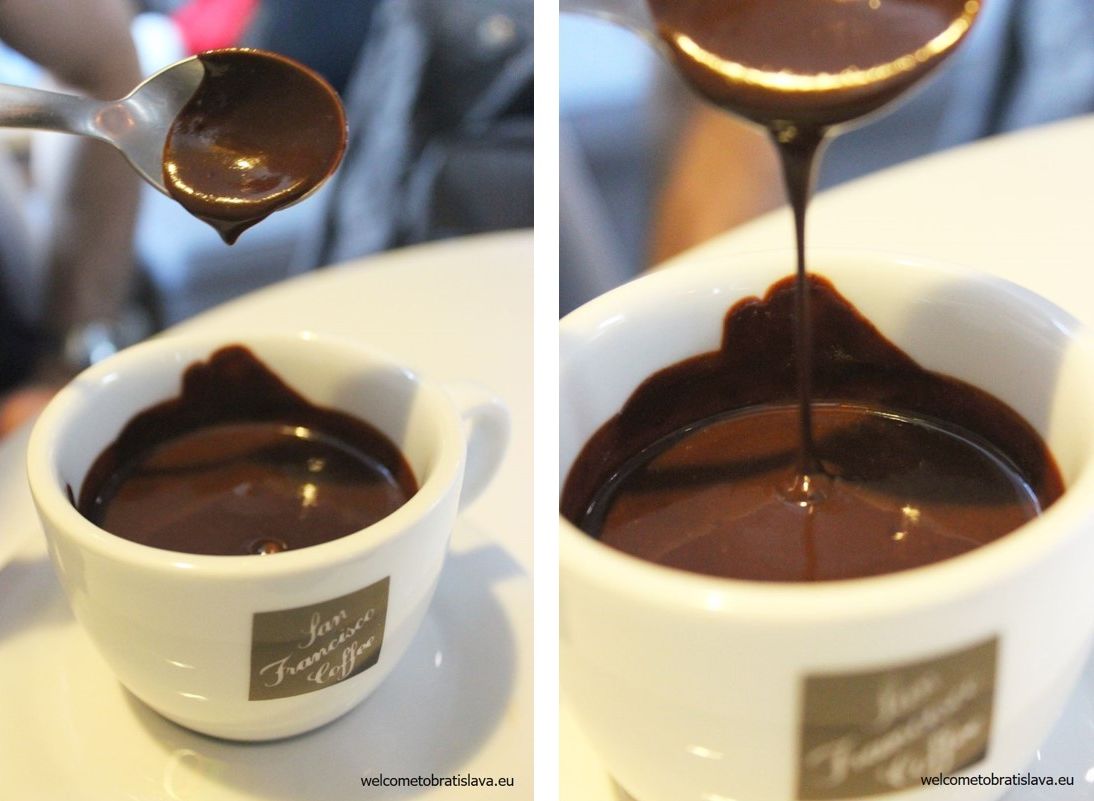 You will feel immediately welcome and cosy here because of how its interior is designed – it is well known for changing its look regularly and shocking its customers with the creativity and invention.
ADDRESS: Grosslingova 62
OPEN: Check their Facebook page
MAP LOCATION:
KAFFEEHAUS GORIFFEE
Another spot for delightful chocolate is Goriffee, a small coffee house which is part of Goethe's Institute (German cultural institute), located within its library's premises. The only chocolate (but definitely worth trying) available on the menu is dark hot chocolate which is thick, smooth and without the pudding-like texture. You can feel high percentage of cocoa in it.
Apart from the friendly staff and high quality treats, you can relish a large selection of German books and board games from the library. We love their simple premises with irregularly shaped tables and beautifully decorated hot drinks, as Goriffee baristas participate at prestigious coffee competitions. Apart from the hot chocolate, the specialty of this place is the selection coffee Garuka imported from Rwanda or Columbian hot cocoa Casa Luker.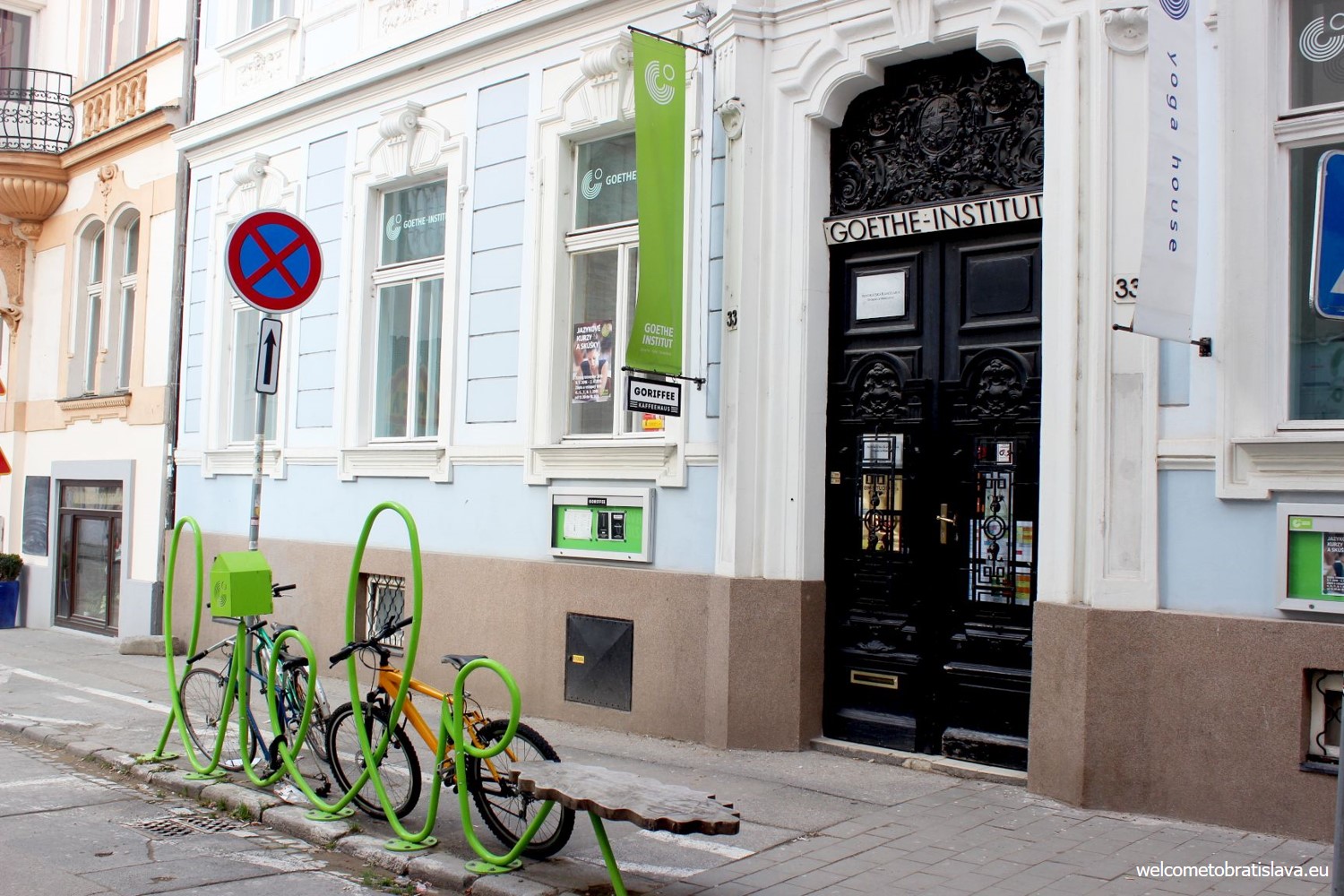 ADDRESS: Panenska 33
OPEN: Check their Facebook page
MAP LOCATION:
KORZO CAFE & RESTAURANT
If you want to enjoy your cup of hot chocolate in a nice atmosphere reminding you of the old Pressburg times, you might want to visit the Korzo restaurant. It is located in the very heart of the city, next to the Slovak National Theater, on the busy promenade of the Hviezdoslav's Square. It has a wide menu including fantastic options of desserts. They only have one type of chocolate. It is not the thick kind which you would have to eat out with your spoon, rather a milky one, easy to drink. Not super sweet but still tasty, great as an alternative to your dessert after the main meal.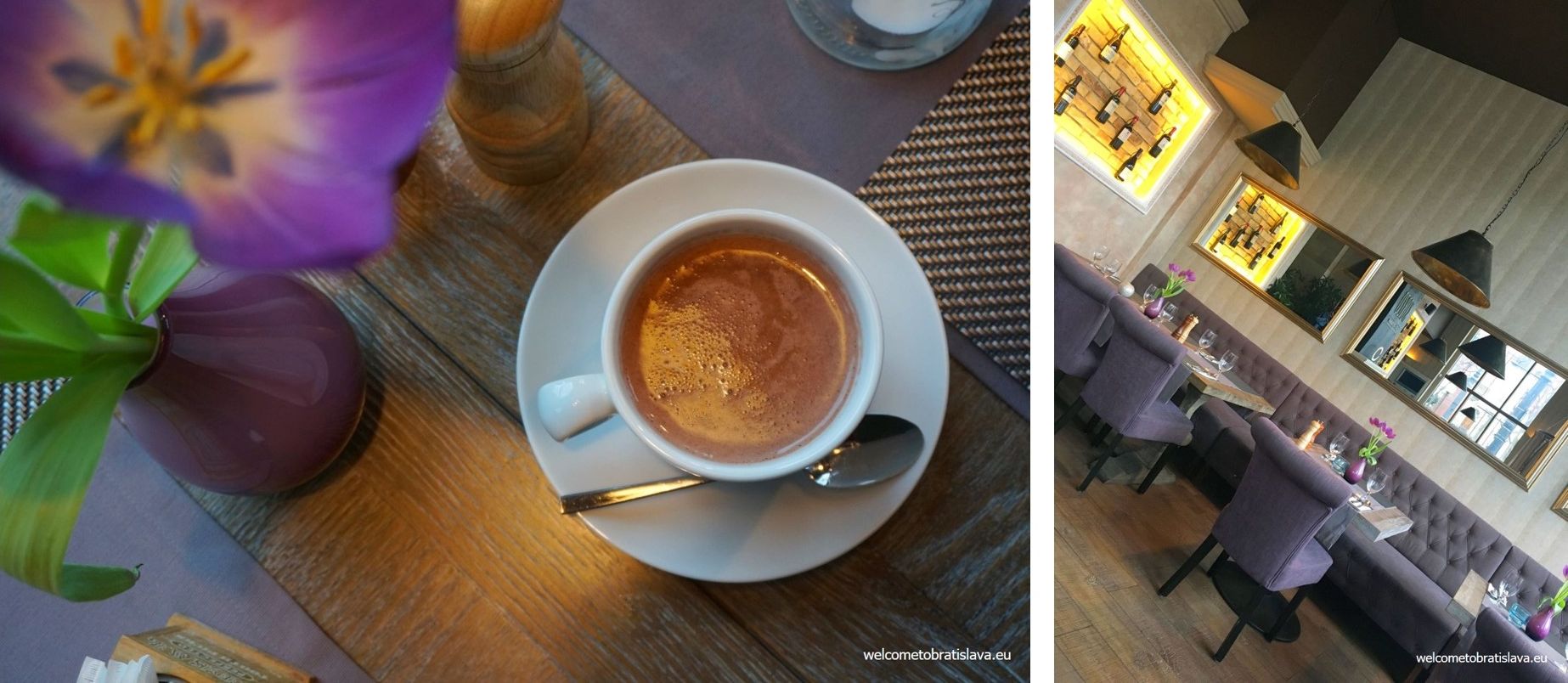 ADDRESS: Hviezdoslav's Square 3
OPEN: Check their Facebook
MAP LOCATION:

ZEPPELIN CAFE
If you prefer not so thick hot chocolate, you might fall for the one in Zeppelin Cafe. The texture of this warm treat is something between watery and pudding-y – which however does not need to mean anything bad. This way the chocolate drink, for us which it was, is not so super sweet or heavy. Unless you ask for additional ingredients like marshmallows, chestnut pure, coconut, other nuts or seasonal fruit :) You can choose from milk, dark and white chocolate and the whipped cream is also optional.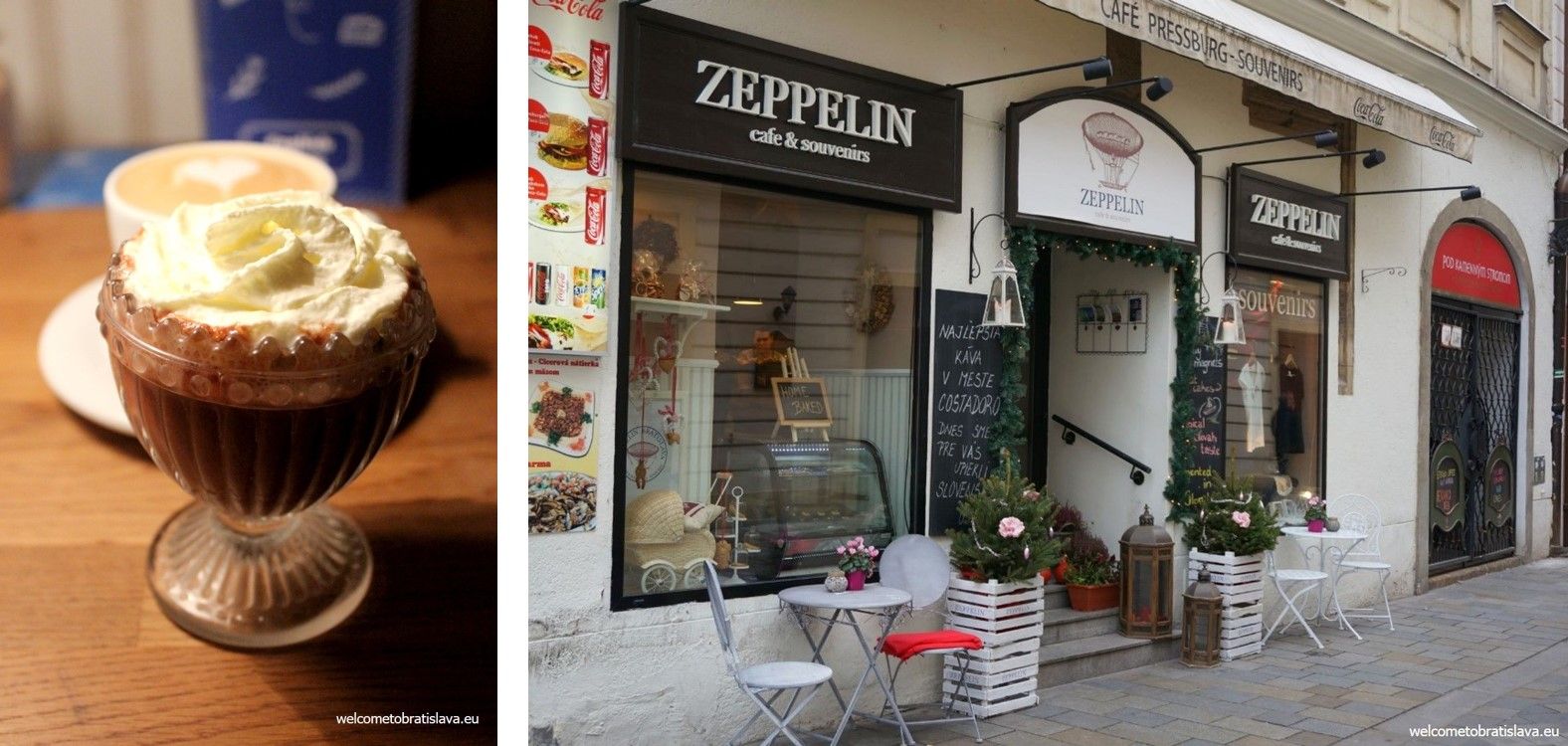 What we like about this place is the cute interior, cosy ambiance and super nice personnel. And, in addition to all of this, it's a kingdom of cakes! Do we need to say anything else? :)

ADDRESS: Sedlárska 10
OPEN: Check their Facebook page
MAP LOCATION:
ENJOY COFFEE
10 types of hot chocolate is what you will be choosing from in Enjoy Coffee. Each with a minimum of 70 % chocolate, and you can go from simple "with just whipped cream" to various combinations of fruits and nuts, or try some less typical flavors such as solted caramel, poppy seed with cherries or even rum, if you like to have your choco with alcohol :)
With its pure lines, white and grey combinations and many small decorative details, Enjoy Coffee has great charm and style and represents a relaxed atmosphere – you will surely enjoy your visit.
ADDRESS: Michalska 3
OPEN: Check their Facebook
MAP LOCATION:
URBAN PLACES
Both urban branches – the Urban House and Urban Bistro have hot chocolate on their menu. They both offer only single origin 70 % dark or milk hot chocolate. Their hot chocolate is not too thick and not too watery, however it is perfect for drinking – we recommend to try the milk one which was super delicious. Just the right thing for those cold or rainy days when you want to warm up with something tasty.
Cozy, comfy, industrial, that's what the Urban places represent. You will not find them empty for sure as they are very popular spots for hanging out. Visit them if you like to be surrounded by busy people while drinking your coffee or reading your book – these places are everything but calm :)
ADDRESS & OPEN HOURS: Check their FB pages: Urban House, Urban Bistro
U KUBISTU
This spot is a really cool and hip bistro with healthy and tasty meals and a regularly changing menu for each season. Choose dark (54%) over milk chocolate for a more intense chocolate flavour. At U Kubistu you will savor a medium thick choco pleasure with almonds that make your treat a little crunchy, but still classic. Come to this place if you like your hot chocolate rich and deep in taste, and you prefer a comfortable atmosphere – and you can make sure that you will both warm up your cold days and satisfy your sweet tooth in the same time.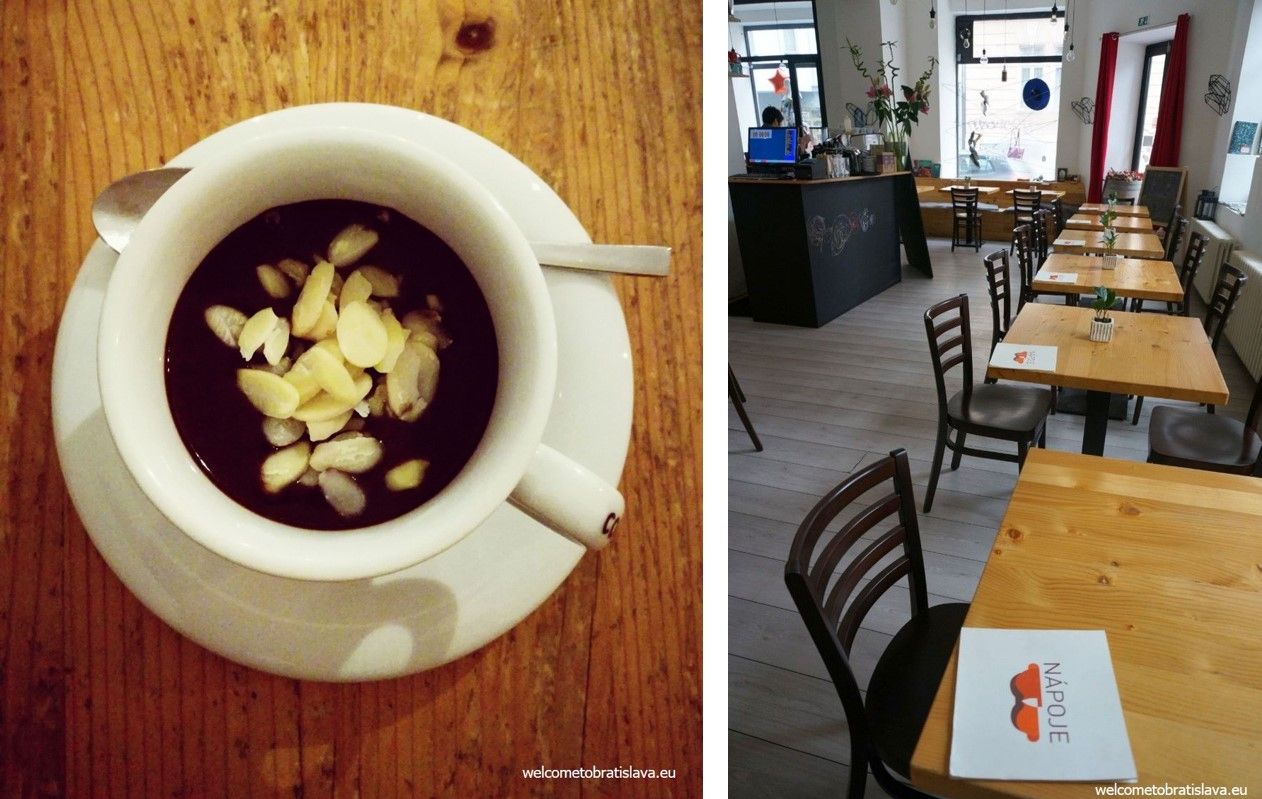 ADDRESS: Grosslingova 26
OPEN: Check their Facebook page
MAP LOCATION:

FACH
FACH is a café with specialty coffee and its own traditionally baked bread, a natural restaurant, a juice shop and a place to have drinks in the evening. They have only one type of hot chocolate on their menu – but that is definitely recommended to try. It's dark, thick chocolate and is served with delicious cinnamon cookies which make a perfect match together. You will not regret buying this cup of treat :)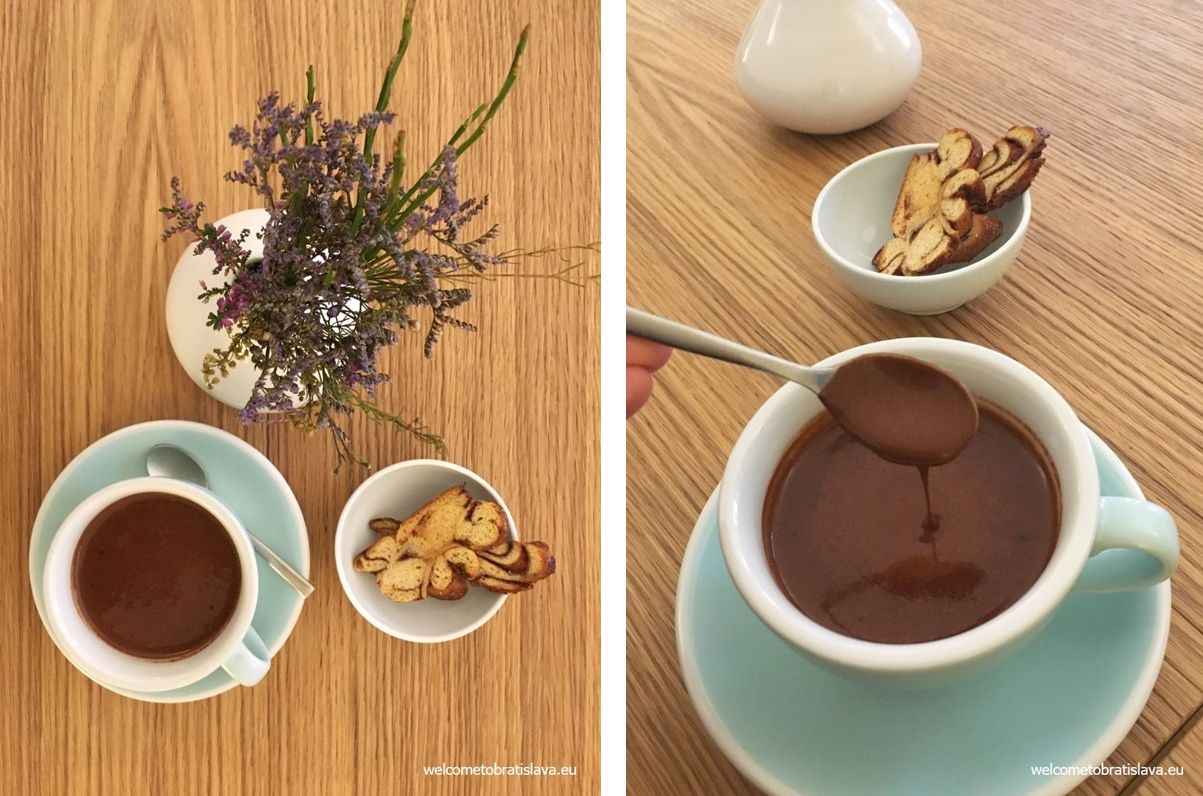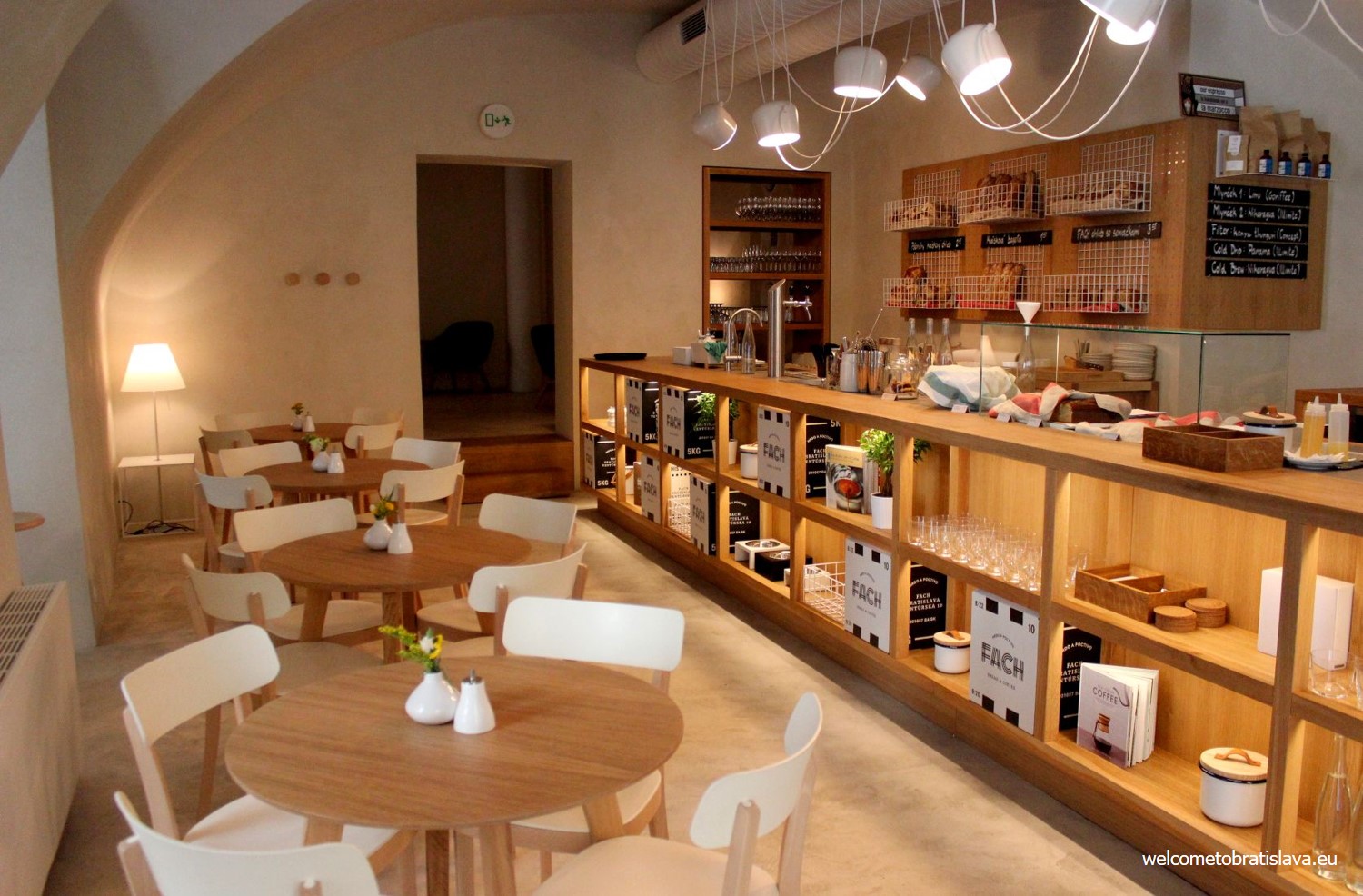 ADDRESS: Ventúrska 10
OPEN: Check their FB page
MAP LOCATION:
SKODOVKA
Visiting Škodovka café is an experience on its own – genuine retro interior of the 80's with contemporary music and unique atmosphere. You will even find here a model of an original Škoda car and many museum pieces of  a socialistic Czechoslovakia including old-school chairs and sofas, an old telephone, a radio or a vacuum cleaner! We tried their hot chocolate with raspberries and whipped cream and since a combo of the raspberries and the chocolate is our soft spot, we cannot stay fully objective here:D The hot chocolate was a bit more liquid than what we like but despite of that very intense in its flavor and very rich. We had problems finishing the portion.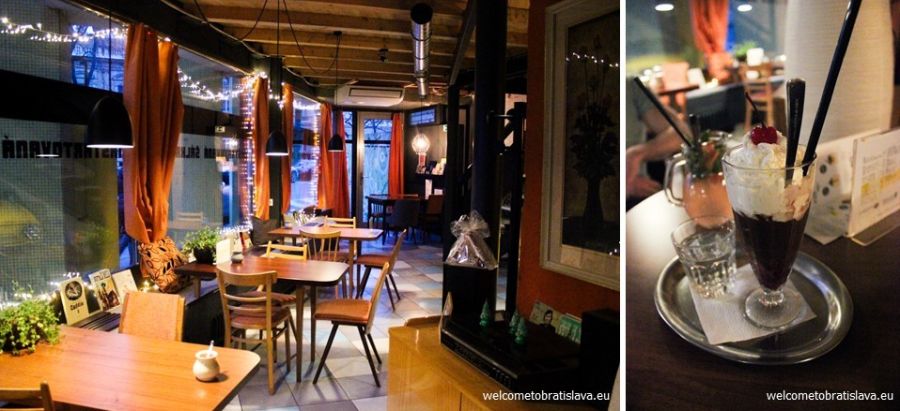 ADDRESS: Medená 21
OPEN: Check their FB page
MAP LOCATION:

HORÁREŇ HORSKÝ PARK
If you have kids or dogs and wanna enjoy a cup of hot chocolate, Horáreň is the place to go. It is the most kids and dog friendly place that we know of. Great atmosphere, mesmerizing location in the tranquility of the city park and nice staff. Definitely a local jewel!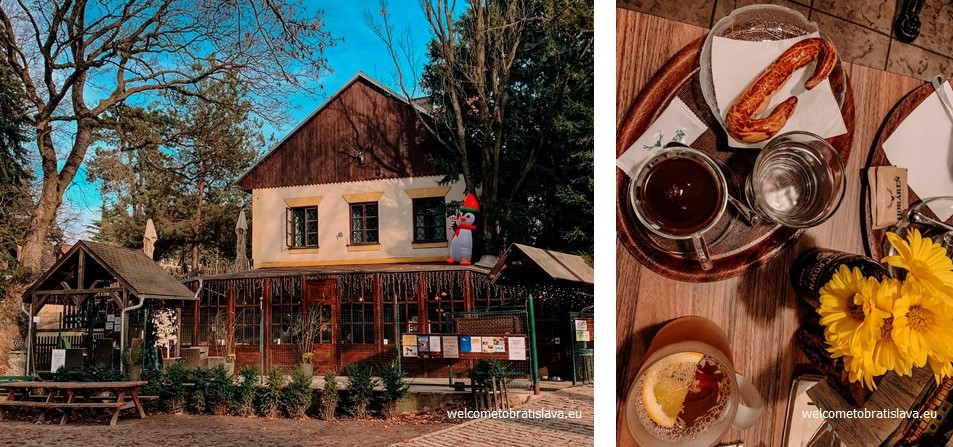 ADDRESS: Lesná 1
OPEN: Check their FB page
MAP LOCATION:

PATI PATI PATISSERIE
For one of the best cups of hot chocolate in Bratislava, visit Pati Pati. It is the place for lovers of authentic Belgian chocolate. They serve the chocolate on sticks which are then put in the cups and melted – yes, pure chocolate! So don't let the small cup size fool you—the chocolate is rich enough to satisfy your sweet tooth for days :)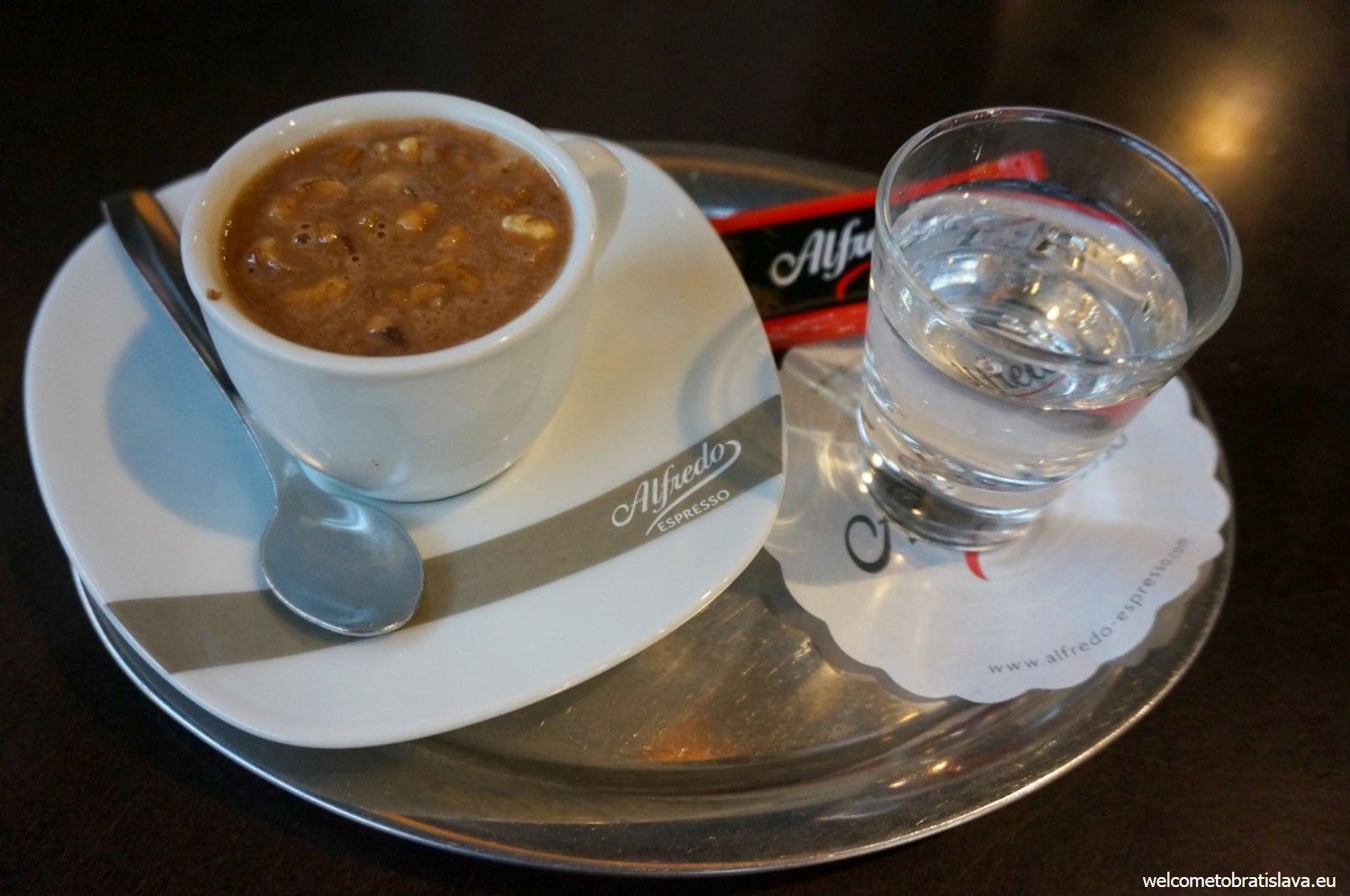 The only minus point of this place is its location. It is housed in Avion, one of our biggest shopping malls, 25 minutes bus ride from the main train station (near the airport).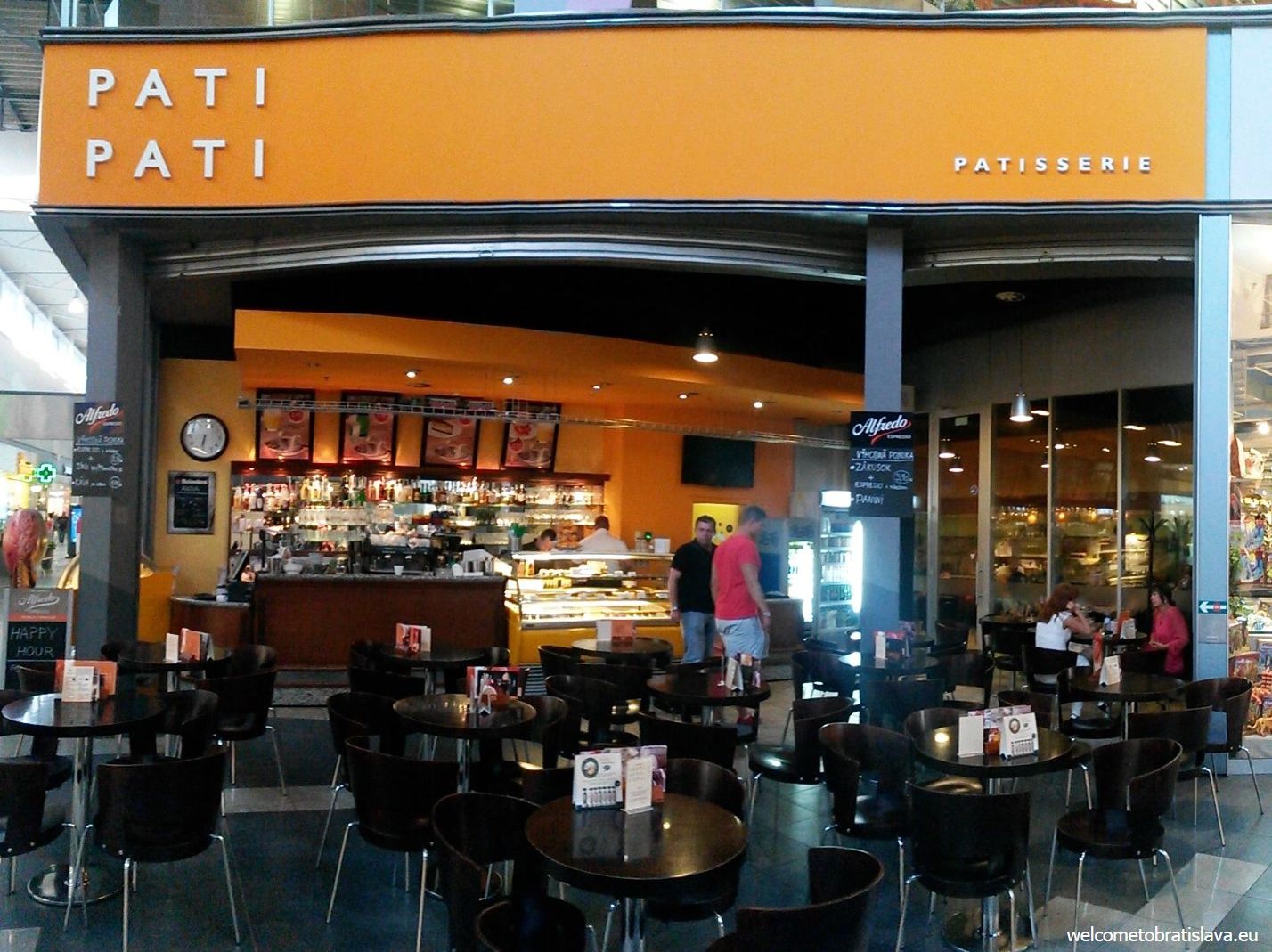 ADDRESS: Ivanská cesta 16 (Avion shopping park)
OPEN: MON-SUN 09:00 – 21:00
MAP LOCATION:

Whether you prefer to stay traditional with plain milk, add complementary flavors or some extra booze, you are good to go in Bratislava's cafes. Enjoy!
Authors: Maria Kecsoova, Zuzana Mytna