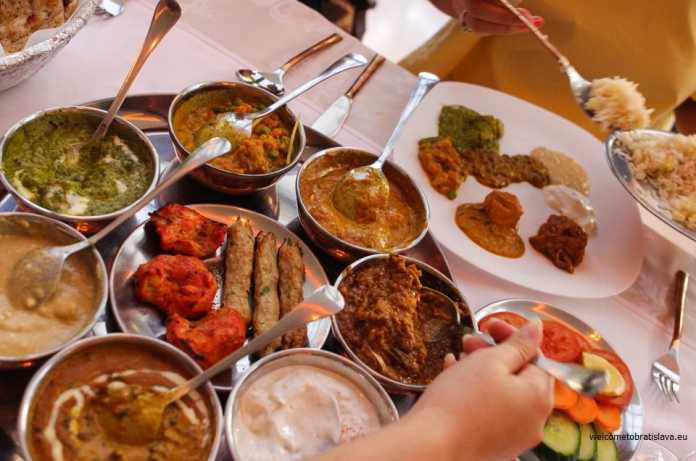 Indian food is one of the most popular cuisines in the world and we are happy to have many solid options in Bratislava offering authentic Indian cuisine. If you are intrigued where to find the best kickass curry in Bratislava, go through our list of the best Indian restaurants in Bratislava that includes everything from the hole-in-the-wall spots to fine dining places!
ROYAL KASHMIR
This authentic Indian restaurant is a family business run by the Indian family located on Chorvatska Street close to the beautiful Medicka Garden. We love their meals and our readers confirmed that they have some of the best food in the town. The staff is very friendly and informal but be careful if you are starving – the service takes quite some time and you'll be most probably waiting for your dish. We recommend not going there in a hurry!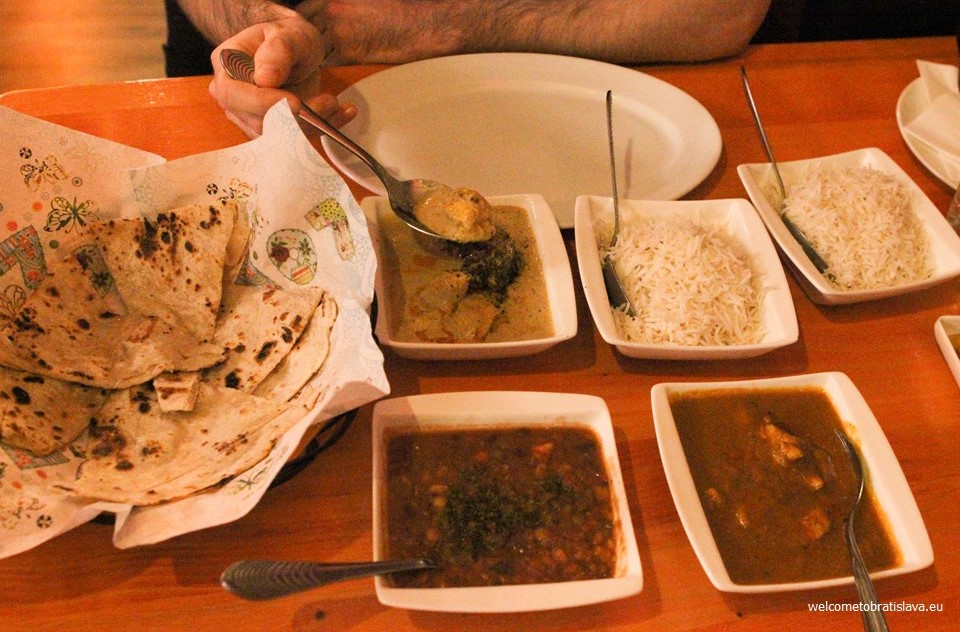 The interior is not our style and is quite dark but this can be an advantage for your date night ;) It's definitely higher level than some of the Indian lunch places thriving in Bratislava.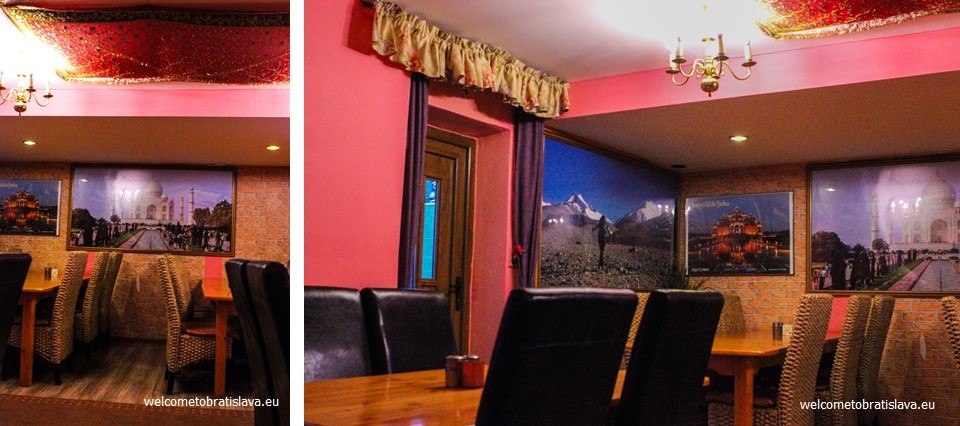 Royal Kashmir brings strong flavours and its menu reflects dishes from across India. You can choose if you want to have them prepared mildly or strongly spiced or not spicy at all. Royal Kashmir also offers a delivery service but we have not tried it yet.
PUNJABI DHABA
Punjabi Dhaba is another Indian cuisine flagship in Bratislava that our readers recommend the most. It has multiple locations and we tend to visit the one on the busy Šancová Street close to the public transportation hub Račianske Mýto the most. Don't expect any luxury – the place is simple and tiny, with only few tables and beloved especially during the lunch hours. On top of the regular menu, they also offer daily lunch menu with two options to choose from – a vegetarian and a meaty one. If you are not in the mood for this kind of a punk style, try their branch on Hlboká Street which is more restaurant-like. If you are in the city center, try their branch within Eurovea shopping mall's food court. The last of their branches is located on Prievozská Street in Ružinov municipality.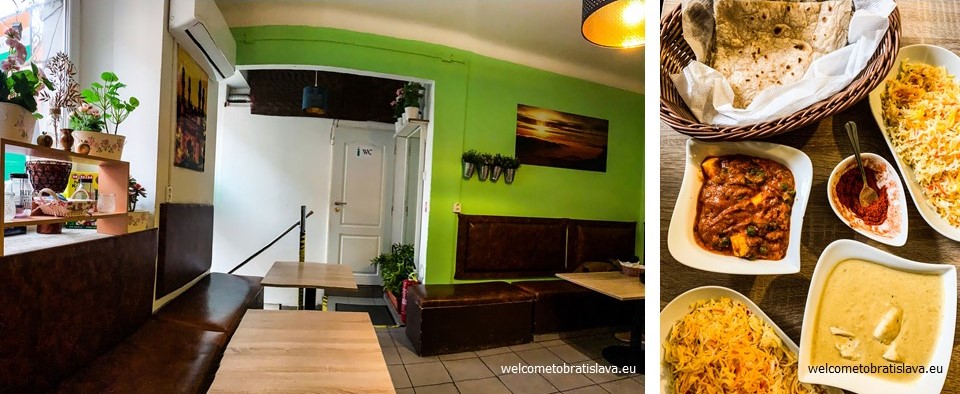 The dishes are amazing and majority of them are quite spicy. If you don't like it spicy but still want to have something Indian, we recommend to try their Chicken Korma. Our favourite dish here is the classics  – Chicken Tikka Masala or Mutton Rogan Josh.
The strongest advantage of Punjabi Dhaba is its amazing delivery service. In this way you can enjoy excellent dishes in  the comfort of your home. We strongly recommend to try it.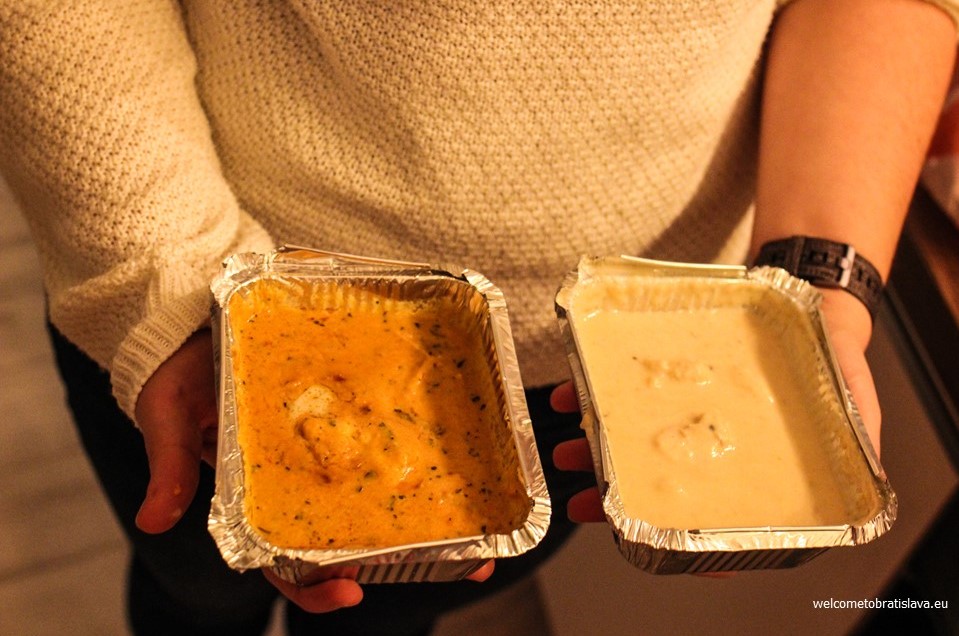 THE CURRY
Indian cuisine probably isn't the first thing you think of when you think of the best food options available in Bratislava, but after eating at The Curry, you'll most definitely change your tune. When Ivan Štefánek, Dheerendra Kumar, and Pradeep Kachhap opened The Curry in 2019, their goal was to serve classic and modern Indian dishes so spot on that even those intimidated by the flavors of Southeast Asia would have a memorable culinary experience.
For your main course, options abound, so rather than try to decide on two or three of your favorites, order the Royal Thali instead, and let the best of the menu come to you. Served on a golden platter, the Royal Thali comes with creamy mango lassi, three meats, two kebabs, dal, maharaja rice, freshly baked naan, papad, salad, raita, and coriander chutney, as well as Gulab jamon for a sweet and syrupy finish.
CHUTNEY
Chutney is a result of a business connection between an Indian chef who came to Slovakia ten years ago and a Slovak manager from a lovely Slovak village Čičmany who fell for the Indian flavours. You can see the influence of both of them in this concept – while the cuisine is 100% authentic to India, the elegant restaurant premises look more familiar to Slovaks.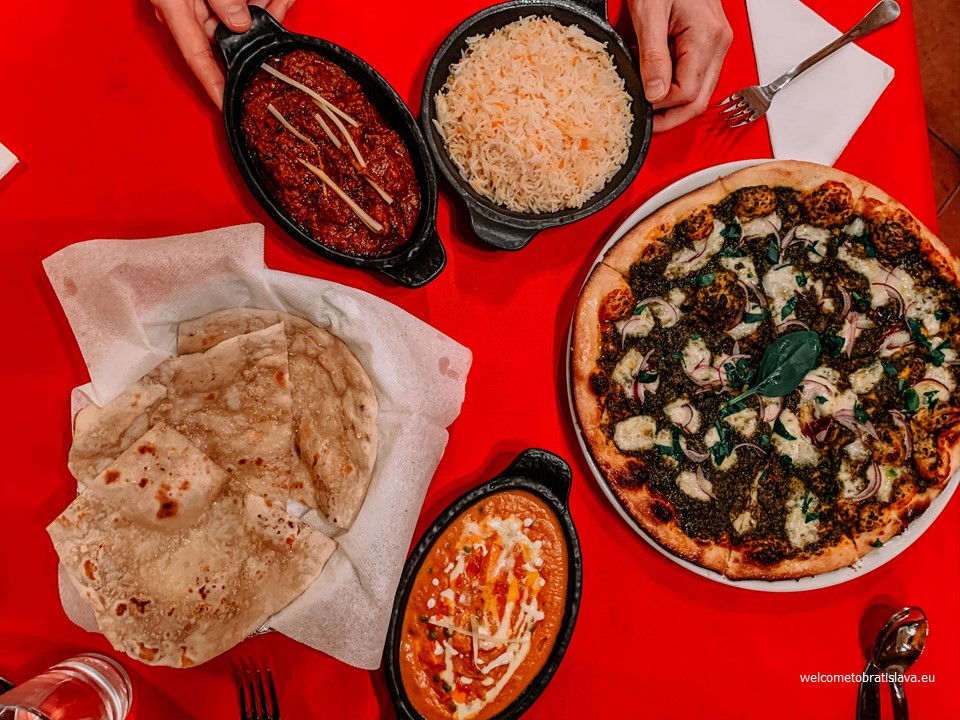 Chutney offers classics like paneer tikka masala, butter chicken or chicken korma, which we can confirm taste splendidly. You might be interested to know that all the cooks are from India.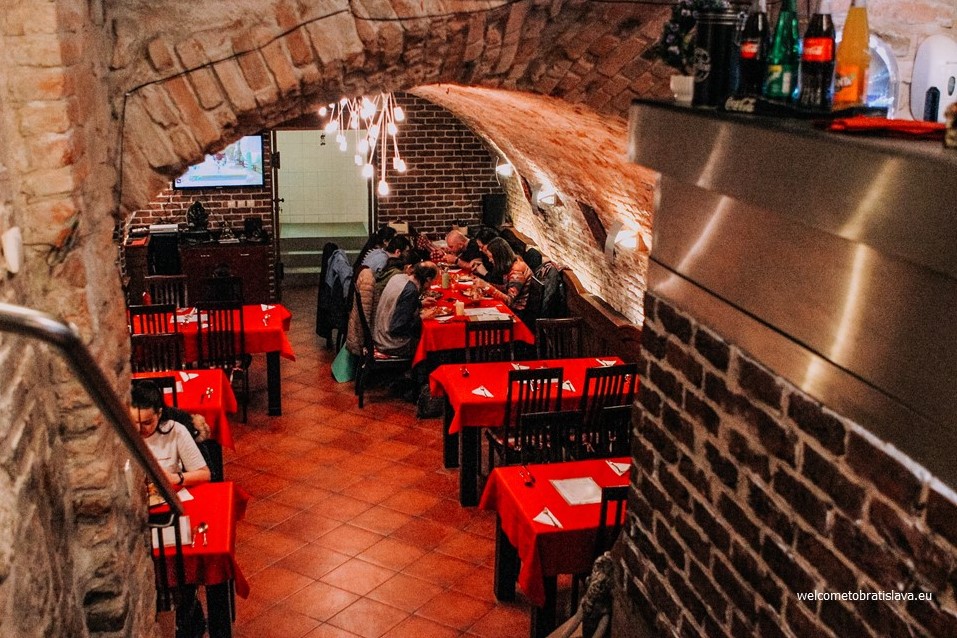 As far as we know, Chutney is the only place where you can get an authentic Indian pizza in Bratislava. Maybe you have not heard of it before but Indians do have their own pizza, too. It is usually topped with the same ingredients as you would order as individual Indian dishes. We loved that the taste was completely different than the one of the Italian or American pizza and we savoured it!

VEDA
We have a soft spot for this place. Maybe it's because of its super nice staff or because of Veda's amazing vegetarian and vegan Indian dishes or because of both. You can have a fast but healthy and tasty lunch here during the working week. The food embodies the ecological and ethical aspects of modern dining. As their tagline says, at this vegetarian and vegan restaurant you "eat well, live well!"
While not in the city centre directly, VeDA's location in a business and residential area near the main railway station means it is easily reachable by any means of public transport or by walking from the centre. If the location doesn't suit you, you can use their lunch delivery service.
VeDA specializes in vegetarian cuisine based on Vedic Indian traditions which are mulled with many various herbs and spices (which they ground each day afresh here!). So, if it is your first experience with this cuisine, we recommend trying classics like Samosa, Paneer Tikka Masala or Mango Lassi. We totally love their Naan bread, baked fresh in a special clay oven "tandoor" directly on the spot.
GOVINDA
Govinda offers daily menu with vegetarian, vegan, and gluten-free options inspired mostly by Indian specialties, but also by domestic and international cuisine. Located on Obchodna Street in the city center, it is a quick option for lunch during the week. They have three types of lunch menus (small, medium, large + soup) and you can always choose between a traditional or a classic meal. Free water on the tables is a matter of course. Do not expect anything posh, rather a classic busy place with fulfilling meals that will not cost you much. Meals are available for a take-away as well. If you are into sweets, take one of their desserts with you – the offer is big and they all look fab and healthy!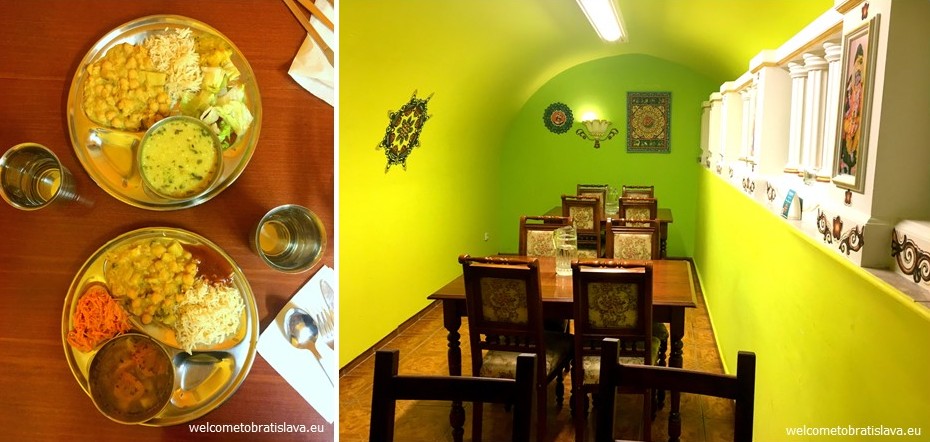 GANESH UTSAV
Ganesh Utsav is an Indian, Ayurvedic and vegetarian restaurant. The premises are truly enchanting. Even though the restaurant presents itself as a vegetarian one, those who like meat will be able to choose a dish as well. Trained Indian professionals  with experience from the world-famous Indian Ayurvedic center Somatheeram in South India will serve your dishes. We have to say that Ganesh used to be our favourite spot to go to when we craved Indian cuisine but the quality went rapidly down recently and the dishes we were served were quite tasteless. Moreover, we missed authenticity in them.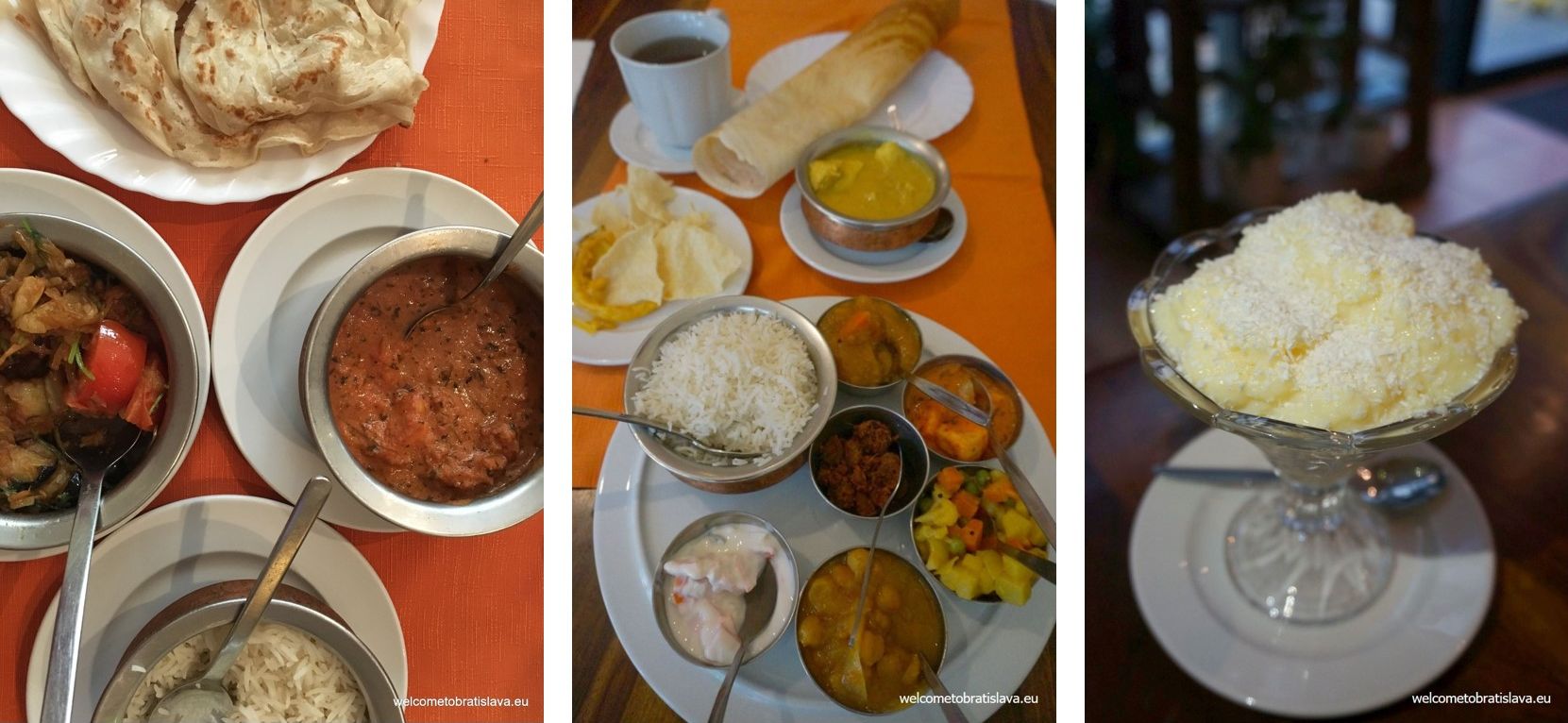 You can choose from an "a la carte" menu and during the week days they also have a daily vegetarian lunch menu (11:00 – 16:00) for a special price. If you can't make up your mind on what to try, we recommend to go for the "Vegetable Tali". It is basically a tasting menu consisting of 2 starters, 3 main courses, 2 side dishes, pickles and a dessert. The pick of the dishes is the chef's choice (changes daily), so it's gonna be a surprise to you. However, there is always a meal based on yogurt, on cheese and on lentils – you can also ask for maximum one meat dish, the rest is vegetarian. It's quite a lot of food in total so it serves perfectly for 2 people to share :)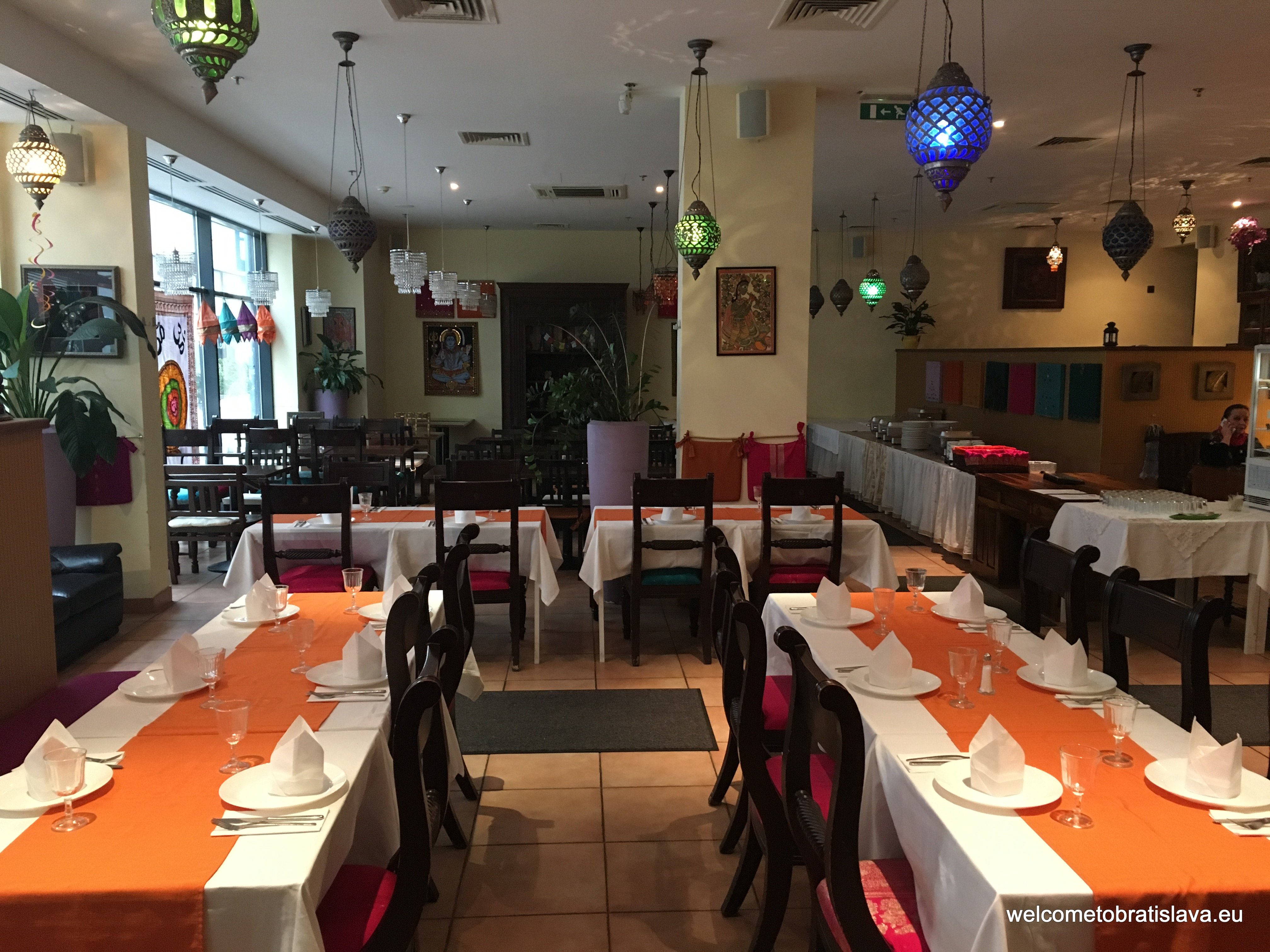 ASHOKA
Ashoka is our choice if we want to eat Indian food in the very city center (between Obchodna Street and Hodzovo Square. ) and in a fancier environment. This place is ideal for your business dinner or a romantic date. Its interior authentically reminds the design of the luxurious restaurants in India. This makes you feel like dining in India directly. We consider it for being authentic as the owner, the waiters and chefs are from India and the majority of the ingredients are imported directly from India. We are not surprised that the restaurant received Gourmet Award 2018 for being one of the top 10 themed restaurants in Slovakia.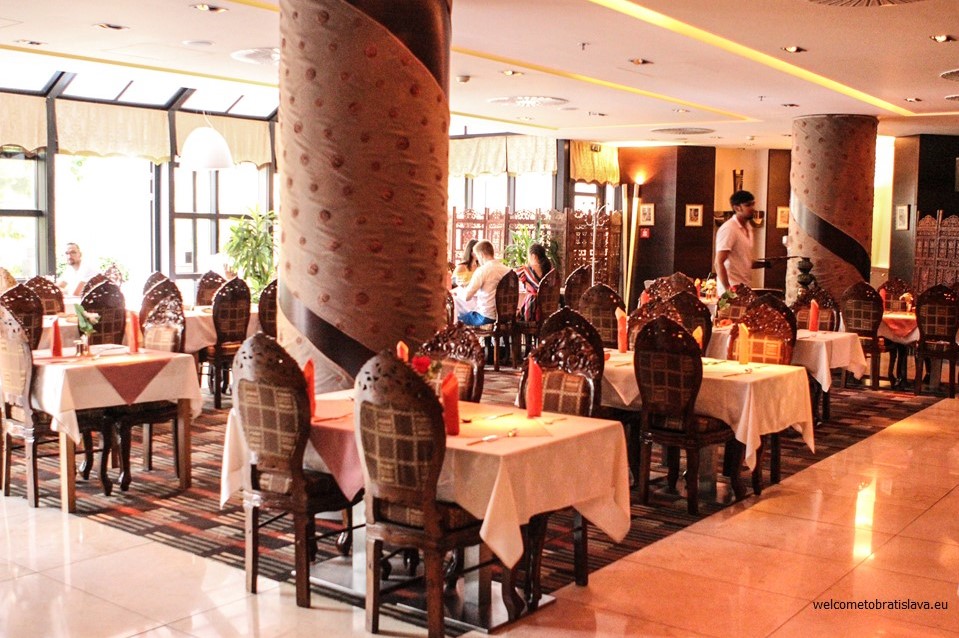 We were always happy with the meals we ordered here but have to mention voice of our readers – it happened that the dishes were not warm when served.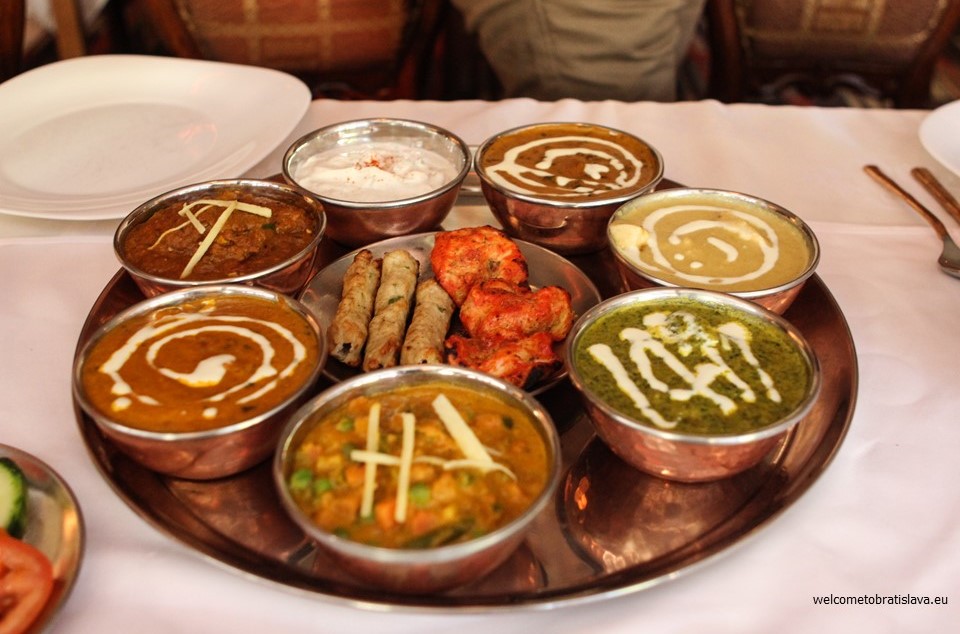 THALI
This popular Indian and Thai vegetarian place has seven branches – our favourite ones are the one in the city center on Dunajska Street (we think it is smaller but cuter) and the one in the farmer's market Freshmarket within its food court (less charming but you will for sure find a place to sit down).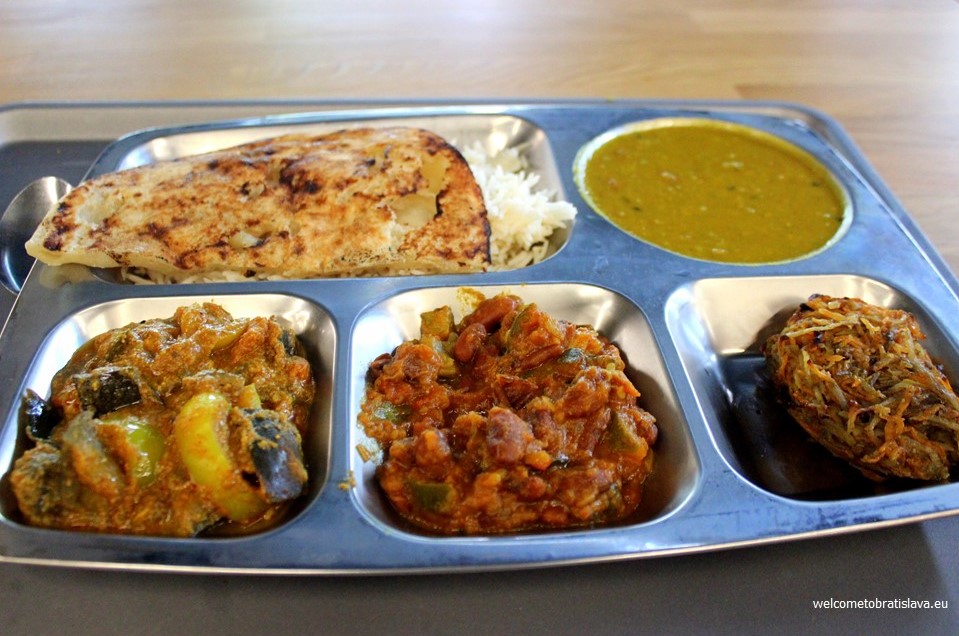 Again, don't expect a fancy restaurant – this is rather a quick fix for your lunch break with the high quality tasty meals. They have several options to choose from every work day, all nicely marked if they are spicy, vegan, gluten-free, etc. You get a traditional thali plate with several compartments and can choose what and how much you like, as you pay by the gram. Just beware that with the weight system, the price gets higher than a regular daily lunch menu. The food, prepared by Indian chefs, is very tasty and authentic and one generous plate usually makes two people full and satisfied in our case. And they have delicious desserts, too! Tap water is automatically served for free here.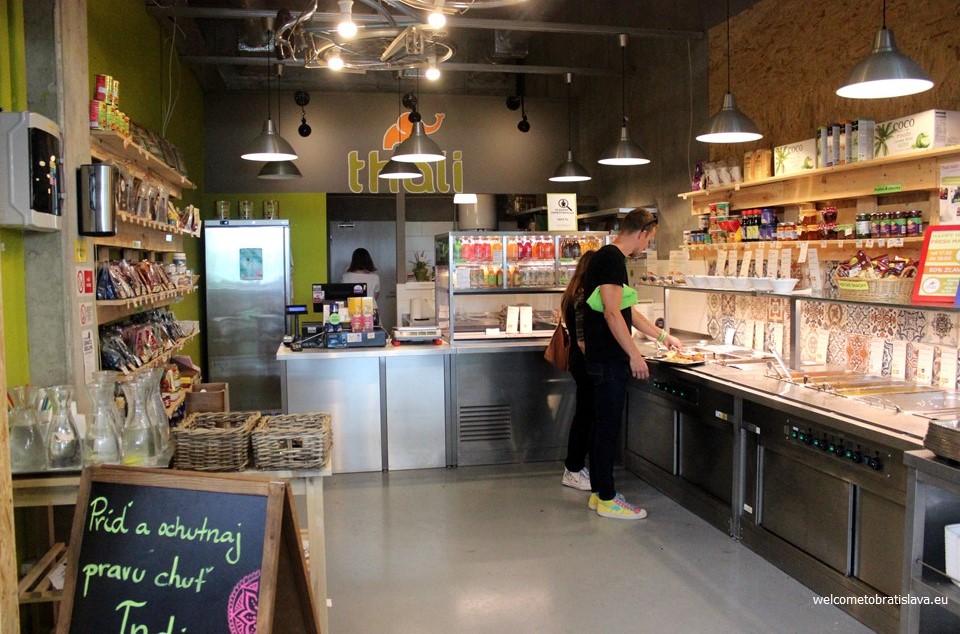 Big thanks to our reader Pauline, enthusiast Indian cuisine lover, for her great insights about Bratislava's Indian food scene.
Author: Zuzana Mytna