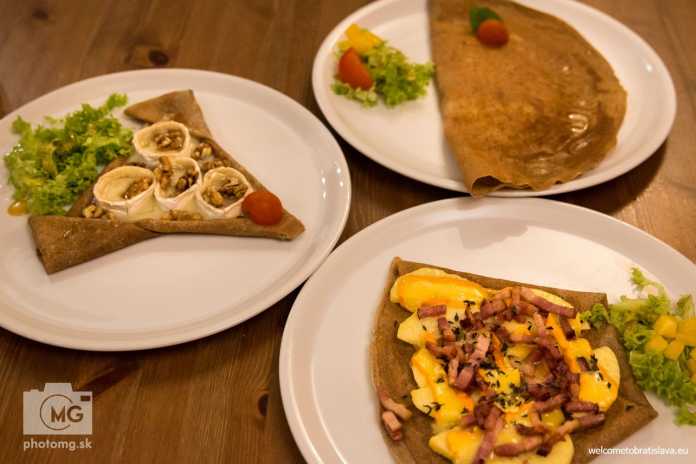 A warm, fluffy and tender pancake with rich filling is a dream of each gourment. If feeling like rewarding yourself with this delicious treat, be it salty or sweet one, we have a few tips for you. Huge pancakes, affordable ones or something more trendy. You will find a spot for yourself in our list of best places to have pancakes in Bratislava for sure!
BASIC INFO ABOUT SLOVAK PANCAKES
For those of you who have never tried Slovak pancakes, these could be compared to French crepes rather than to American ones. This does not mean that you cannot get American pancakes in Bratislava. On the contrary, there are certain places serving them, too. The most usual name in Slovak language, describing what you consider as an American pancake, is "lievance" compared to "palacinky." That's the Slovak equivalent for crepes. Slovak pancakes are somewhat thicker than the French ones. The most typical way is to have them sweet, filled with sweet cottage cheese, strawberry jam or Nutella. However, zillions of other fillings are popular and available on the market, including salty versions, too :)
VIKTORIA – THE BIGGEST PANCAKES
The biggest pancakes we have ever seen! You can order a sweet or a salty one. We say "a pancake" deliberately in singular. Don't order more than a piece, trust us. You'll have problems finishing that solely one :)
Yellow walls, blue ceiling and wooden furniture, that's quite a combination! Sit down and you will be taken a few years back to an older bistro like from a movie.
Special tip: Our favorite pancake is called Extra and stands for 350 grams of pure joy. Filled with whipped cream, mandarin curd, nougat, mixed fruit, vanilla pudding and walnut liqueur. Don't forget cash at home, cards are not accepted.
PRICE OF THE PANCAKE: up to 5,50 €
ADDRESS: Prievozská 21
More info
PAN CAKES A JEHO PALACINKY – THE MOST VISUALLY APPEALING PANCAKES
The package sells the product and this is valid twice in case of visual appearance in the culinary world. Pan Cakes has the most beautifully arranged pancakes that taste like heaven! You are definitely eating them also with your eyes. They are of a normal size which means that you can manage to eat more than just one and try out different fillings. You can choose salty or sweet ones. They are made out of a normal dough or a special rice-buckwheat gluten free dough without lactose.
You will appreciate the nice hip atmosphere and the Scandinavian style of interior. Simple & stylish premises, naked light bulbs and pure lines with a high blue counter, behind which all the magic happens.
Special tip: Take your dog with you, Pan Cakes will not mind.
PRICE OF THE PANCAKE: 1,40 € – 1,90 € each
ADDRESS: Suche Myto 4
More info
LACINKA – THE MOST AFFORDABLE PANCAKES
Lacinka is a hidden gem of Bratislava's old times. All natives will know what you are talking about when saying "Lacinka". Salty or sweet pancakes of many types dusted with sugar are believed to be some of the best in town and definitely the best value for money. This is what we consider to be the most Slovak and tasting like from our moms :)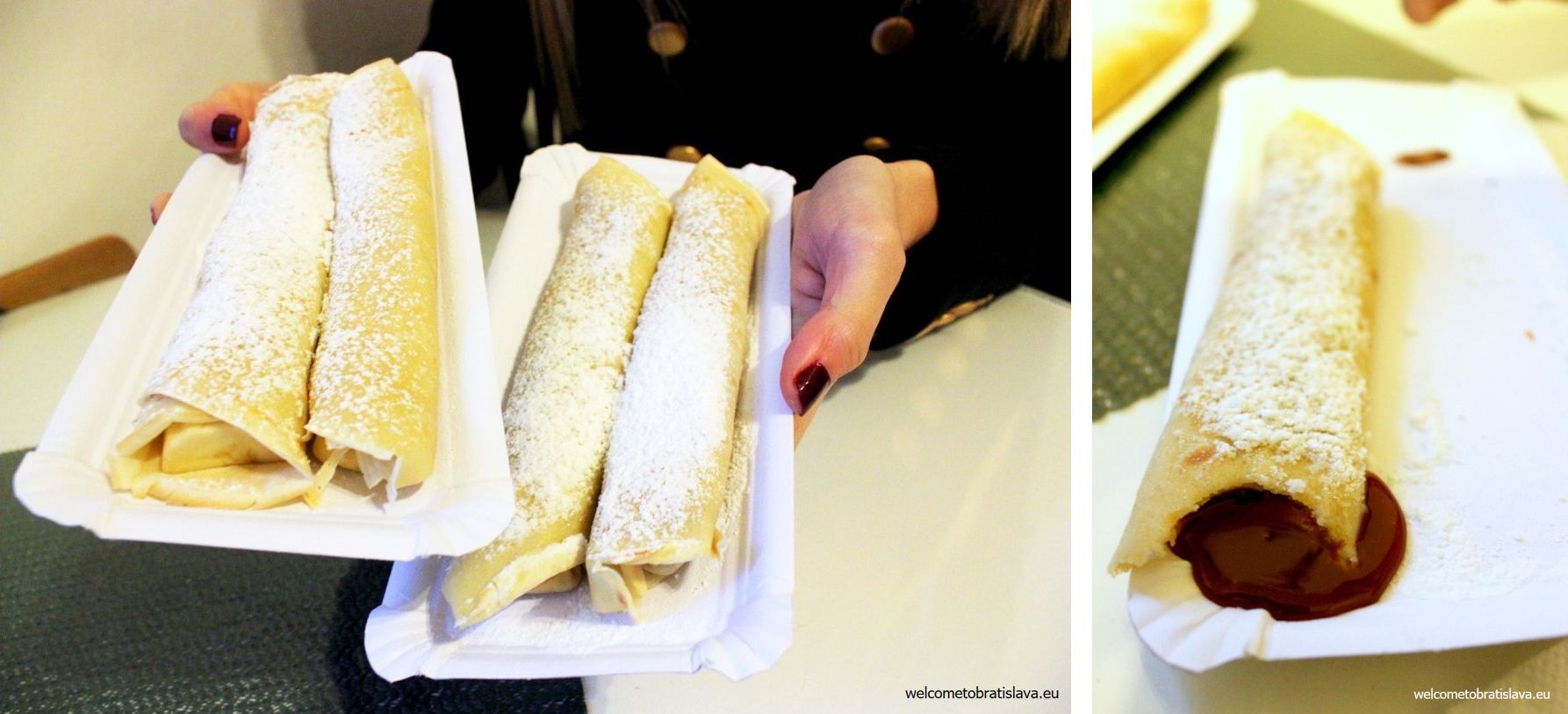 Just to set things straight, do not expect a fancy place. When entering a subtle yellow old building, you will fall into a different world. This super tiny space with a long queue of pancake-craving customers reminds us of a school canteen in socialist Slovakia several years back. Staff in white coats or alternatively aprons look more like in a butcher's shop than in a pancake place. But this is part of the special atmosphere, so don't hesitate to visit if you want to have an old Bratislava experience!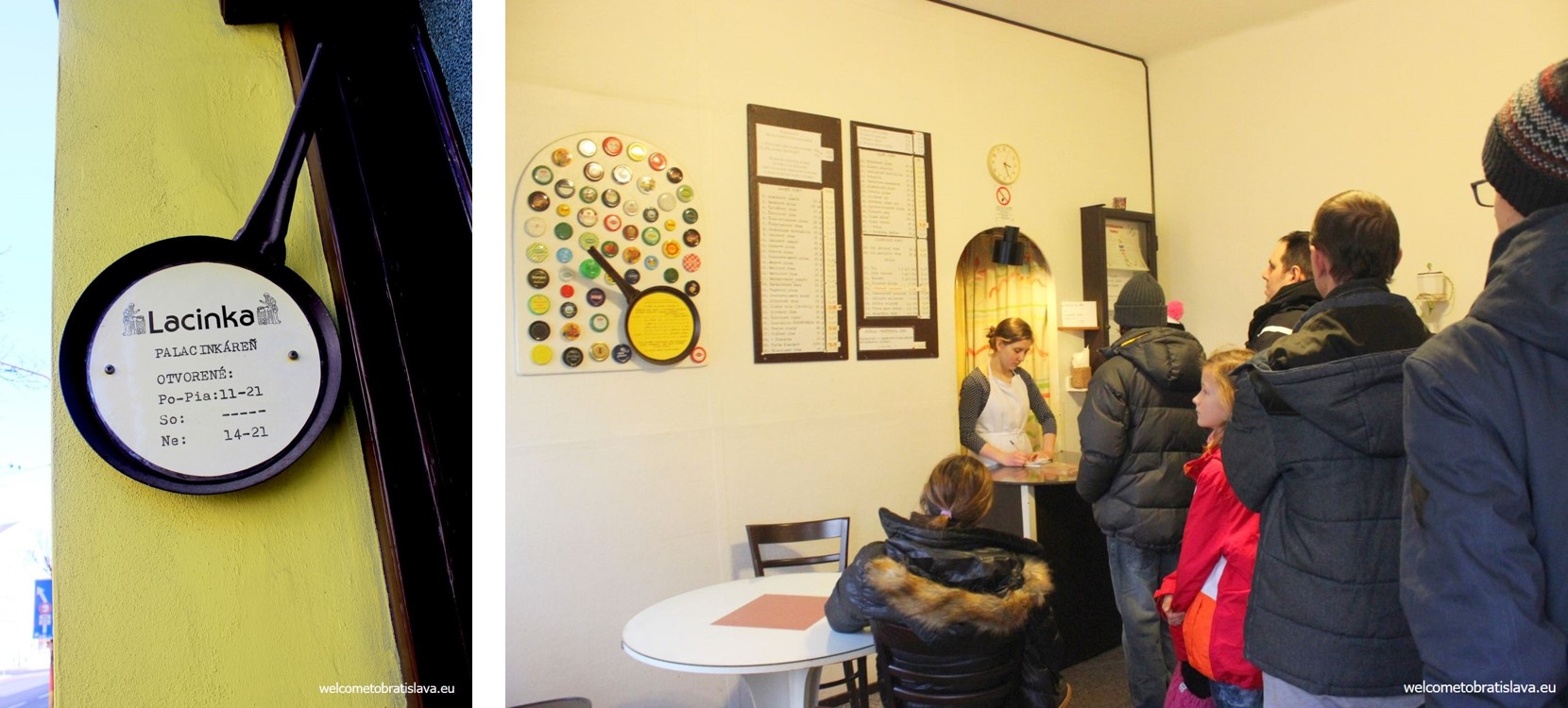 Special tip: We recommend to use a take-away option and relish the treat at home. Don't forget cash at home, cards are not accepted.
PRICE OF THE PANCAKE: 0,25 € for a pancake plus up to 0,50 € for a filling
ADDRESS: Sancova 18
More info
CHEZ AMELIE – THE MOST CREPES-LICIOUS (AKA FRENCH STYLE) PANCAKES
A French native owns this pancake place, so we assume this is how to expect to get your pancake in a French way. We love two small details that make this place absolutely special on top of the delicious pancakes served. First of all, each pancake has a name after a Parisian metro station – Odeon, Opera or Bastille are not missing.
The second detail is that each pancake is served in a different way – they are all folded or decorated uniquely, reminding a pancake origami :) Big like!
You will find Chez Amelie hidden in a small court of an older building on Laurinska Street. The interior is very friendly, with impressive stone ceiling and full of colourful paintings of Paris or copies of real Parisian street labels.
Special tip: Try the sweet pancake with hot raspberries and vanilla ice cream. Pure deliciousness!
PRICE OF THE PANCAKE: 3,30 € – 6,90 €
ADDRESS: Laurinska 11
More info
MOODS BAKERY – THE MOST AMERICAN PANCAKES
For those who do not consider thin pancakes to be real pancakes, we recommend to visit Moods Bakery. Their American pancakes with marmelade and maple syrup are the best in town! We mean it, it is a must-try thing!
There are six Moods cafes in Bratislava. The one at the Hviezdoslav's Square is the biggest and our favorite one. It is very tastefully furnished, with wooden tables and chairs, simple lamps and shelves of bottles hanging on the white walls. We like that the seating is set up along the big glass windows, through which you have a great view on the square and the UFO bridge.
Special tip: It is one of the few that requires self-service. That means you order at the bar and pay straight away.
PRICE OF THE PANCAKE: around 4 €
ADDRESS: Hviezdoslavovo námestie 11
More info
FUNKI PUNKI – THE MOST HIPSTER PANCAKES
If you ride a bike, have a beard and like a hipster crowd, this is an absolutely great place for you :) Or if you just simply love the pancakes! We do love them here, especially the ones with more exotic flavors, such as poppy seed pancake with honey, cinnamon and lemon zest, apple pancake with honey, cinnamon and nuts or salty pancake with baked Niva cheese. You can also ask for gluten-free buckwheat versions.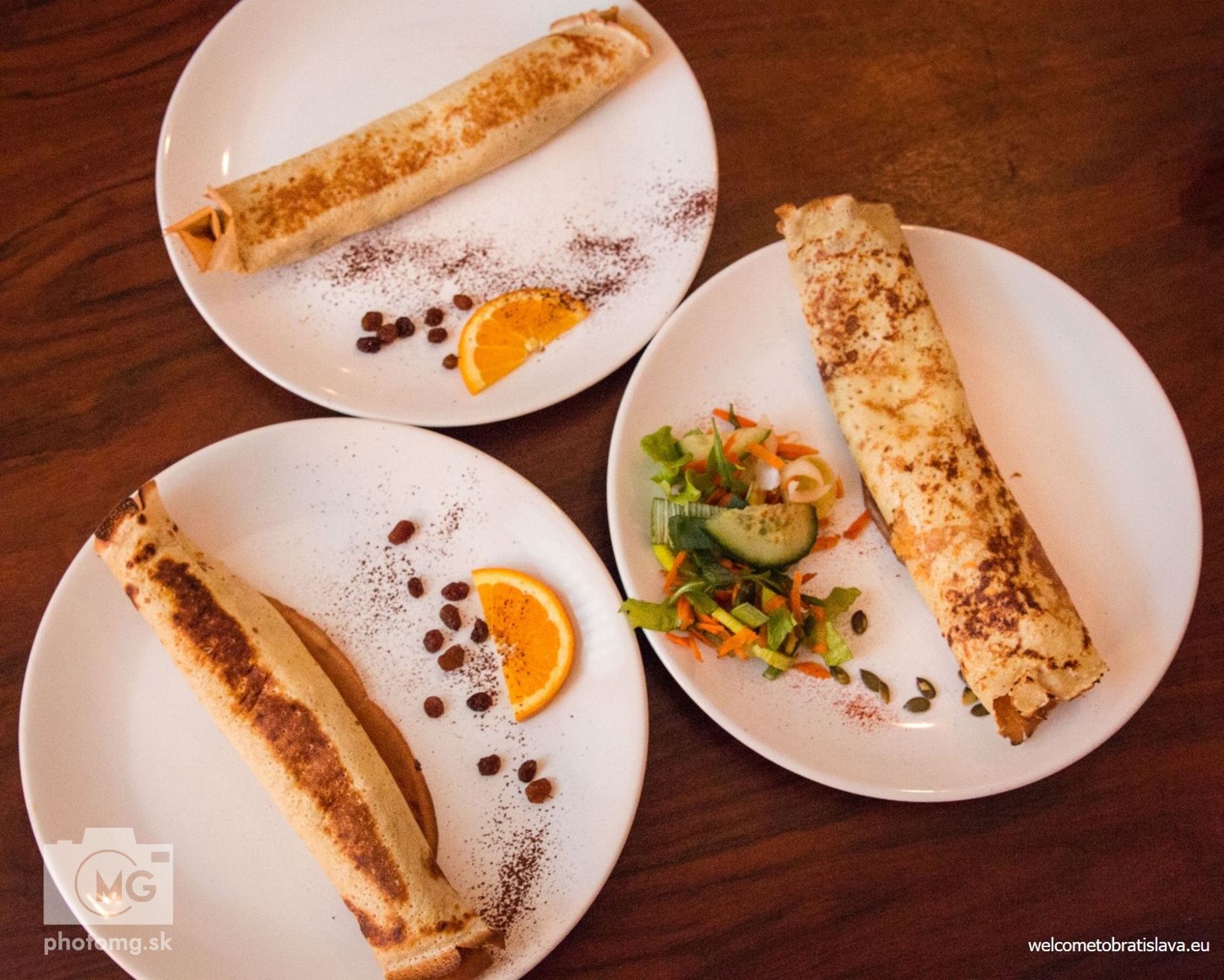 This place is cool inside-out. Funki Punki proudly proclaims to be an IKEA-free bar – you will find this sign on their entrance door. We really like their colorful tables and the way they present their menu. That blue book you'll find on each table is not for reading during long winter evenings, it is their actual meal offer :)
Special tip: On working days, until 14:00, they offer a special lunch menu – a soup plus 2 pancakes (you will get the soup for 0,50 € instead of 1,50 €) or coffee plus one sweet pancake for 2,50 €.
PRICE OF THE PANCAKE: from 1,80 € + you pay for extra fillings
ADDRESS: Klariska 12
More info
PETITE CREPERIE – THE MOST AUTHENTIC STREET PANCAKES
We discovered this food stand quite recently and the originality and deliciousness of its pancakes blew us away. What you can expect are yummy pancakes wrapped "to go."  Folded in a triangular shape and placed into a paper cone which makes it very convenient to eat them while standing on the street or walking.  You can choose a sweet or a salty version, gluten-free or with a buckwheat flour.
A young Slovak girl established this small business. She got the inspiration during her studies in Paris. You cannot miss a bright red booth on Vysoka Street with a small and lovely terrace open during summer.
Special tip: Try their special version of French "crêpe complète" upgraded by the home-made beetroot chutney!
PRICE OF THE PANCAKE: 2.50 €  – 4.50 €
ADDRESS: Vysoka 22
More info
Whether you prefer to eat a pancake as a main dish or relish it as a sweet dessert, we are sure you cannot go wrong with any of these choices!
Author: Zuzana Mytna
Credits: Zuzana Mytna, Martina Gallovicova, Maria Kecsoova