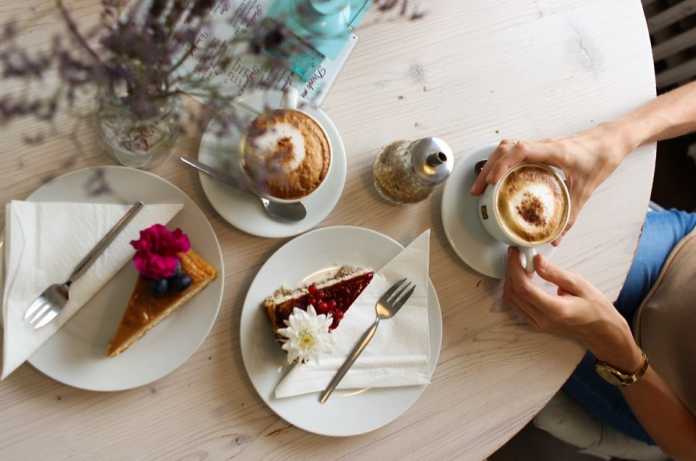 Are you a person who simply cannot stay away from the sugary treats? Does flour power rock your world? This is our case, too! Beautiful and colorful cakes, pastries and tarts leave us unable to decide, exclaiming 'That one! No THAT one! No ALL of them!'
The craftsmanship that goes into the creation of these sweets is special; a feast for the eyes and the tastebuds. Here is our list of the best patisseries in Bratislava that bake their own cakes and are perfect to pop into for a bite of something deliciously sweet.
DANELA
This local pastry shop is located in Trnávka which is part of Bratislava's neighbourhood Ružinov lying close to the airport (so quite far away from the city centre). They have the best old school Slovak pastries, as copied from the deep socialism times.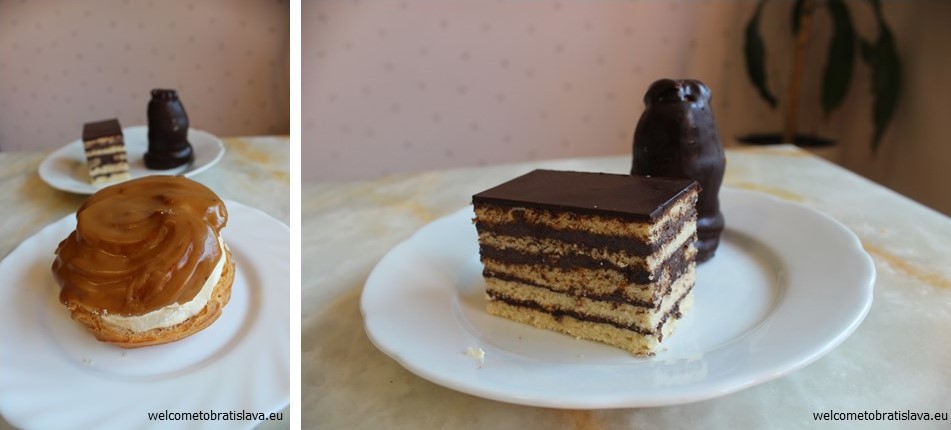 The interior is also like a travel to history, so we prefer to get our sweets "to go" from here. Don't expect any gluten-free or sugar free versions – this is the place where all your dreams about butter, sugar and flour come true :D You won't regret it, we promise.

GO FOR: Try the Slovak classics like "špic"or "kávové zrno." Their caramel "veterník" is to die for. There's a reason why it's a classic.
FERTUCHA
This family-owned bakery has simple deliciousness nailed. It focuses on the tasty cakes made out of high-quality fresh and local ingredients. Real butter, seasonal fruits and other ingredients from the local farmers are the basis of its success. Fertucha serves classics but with a modern twist – we love this place for its honest, authentic offerings. Its specialization are the whole cakes including a bunch of various cheesecakes rather than the individually-sized cakes.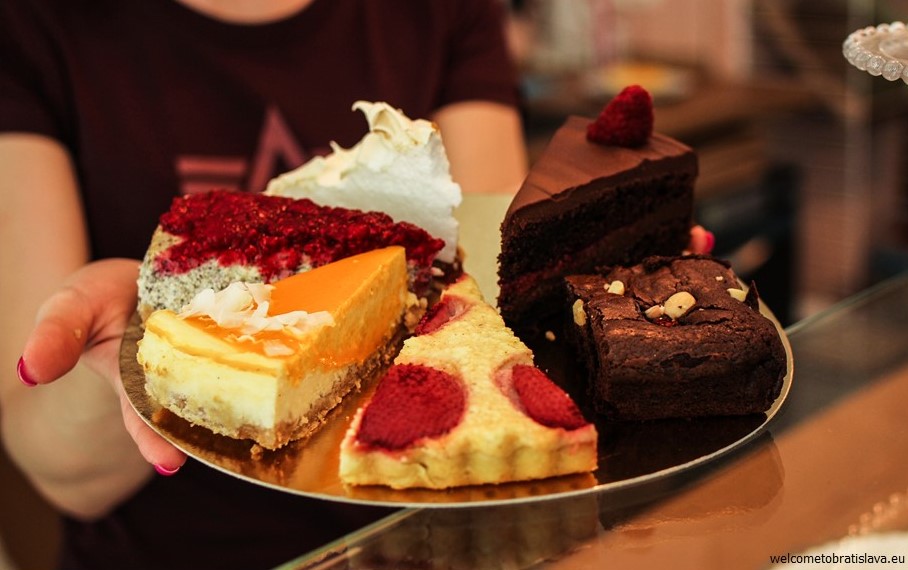 Fertucha has two branches. The first one is in Freshmarket where all the baking happens and the second one is on Kosicka Street with a loveable interior in the pastel pink and menthol green colors.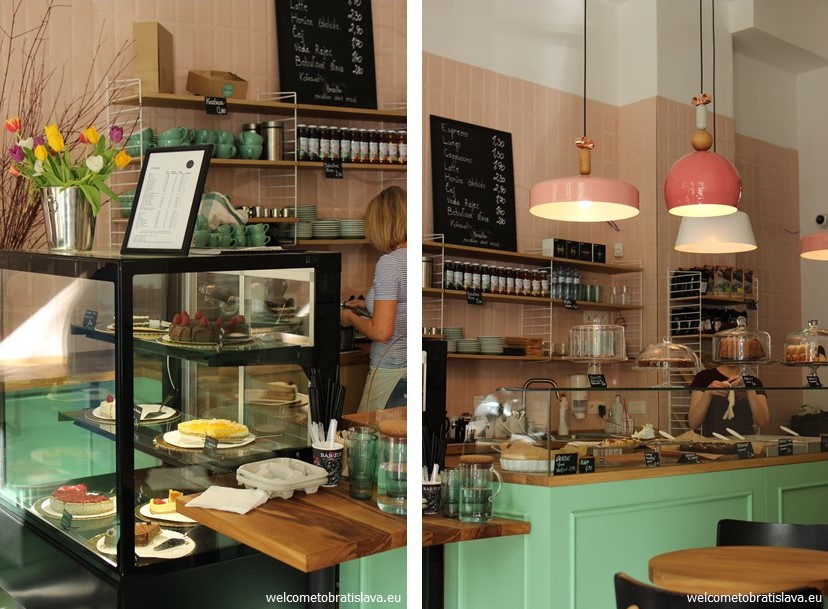 GO FOR: Fertucha has with no doubt the best brownie in town! We also love their breakfast brioche, mango or pistachio cheesecake.
FLEUR BAKERY
This bakery offers fresh pastries made out of quality ingredients with amazing flavors. Its offer includes croissants, Danish pastries, Roman pizza or a specialty – bread pudding made out of croissants! We recommend to visit it in the morning, as they get usually sold out in the afternoon.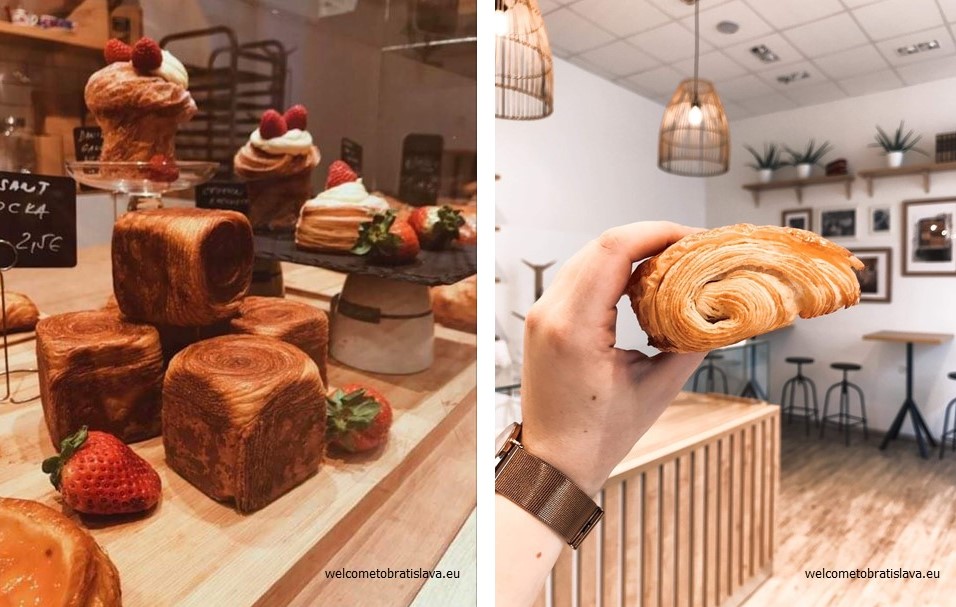 GO FOR: Kouign-amann, a Breton cake, known as the fattiest pastry in all of Europe! It's a calory bomb for all your senses made out of a similar dough as a puff pastry, with multiple layers, crunchy sugar and loads of French butter.
KAPKEJKÁREŇ
Cupcakes anyone? Beautiful to look at and delicious to savour. Kapkejkaren knows how we people cannot stop eating cupcakes and made a good decision to specialise in cupcakes only. They have all kinds of them on display every day and it's really tough to choose only one. So we prefer going for a box and stuffing it with as many cupcakes as possible :D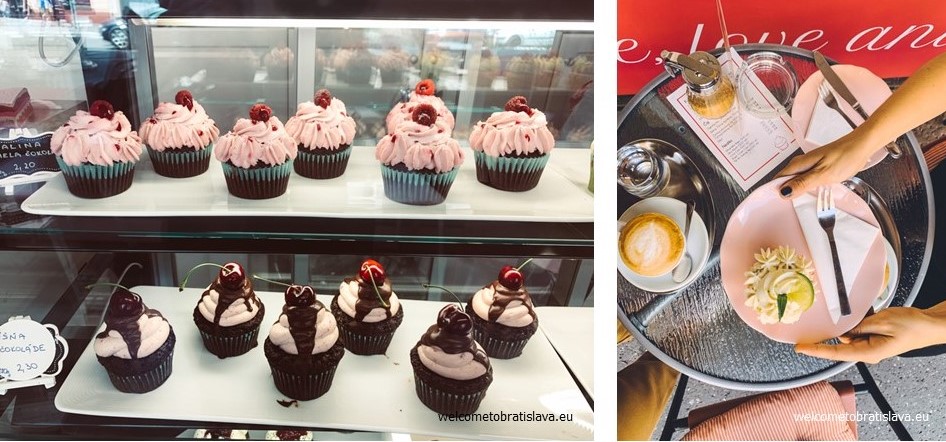 And it's not only cupcakes that are sweet here but also the pink girly premises and the friendly staff.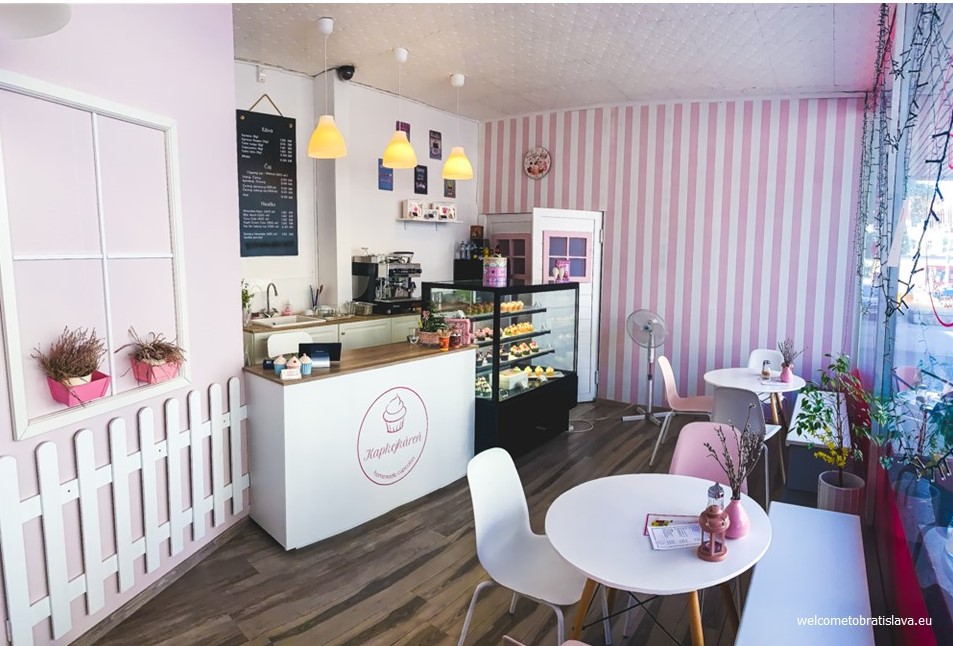 GO FOR: Great tip for those with celiac disease are the gluten free cupcakes with poppy seeds and cherries!
LA PATISSERKA
La Patisserka's stunning cakes and tarts leap out of the display at you. This French patisserie serving authentic pastries was established by two friends who fell in love with the sweet smell of vanilla and freshly baked pastries on their vacation in France. The French all time favourites on the menu make you feel like you stepped into a Parisian cafe.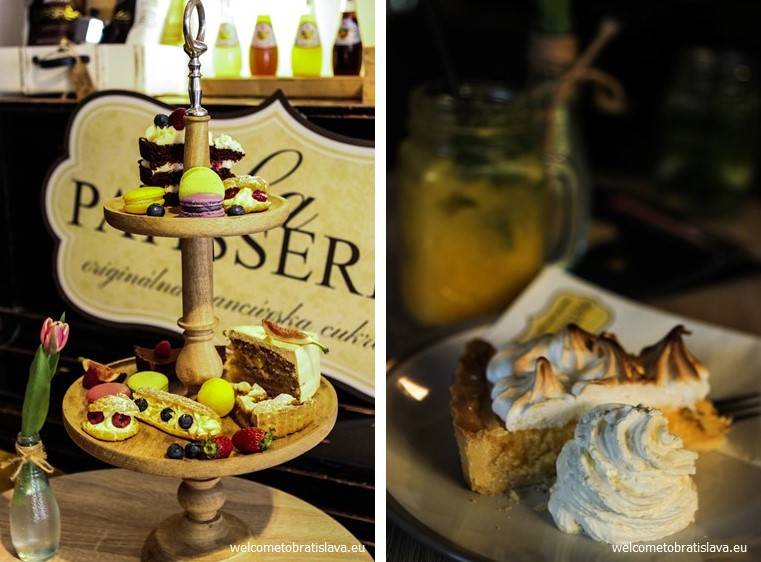 The cosy vibe of this place makes sure it is always full. All the pastries are so pretty here but don't be fooled by the style over substance – their taste is simply divine!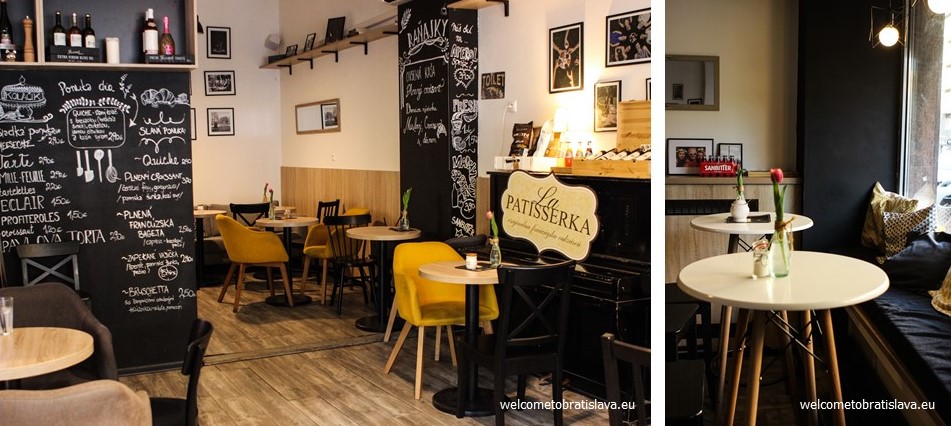 GO FOR: Lemon-lovers must try the lemon tart with delicious lemon curd and fluffy foamy meringue topping.
LAURENT
Our recent finding, a tiny but beautifully decorated one-room stop to have your sweet treat. This traditional patisserie is located in the Old Town and has another branch at Racianske Myto as well, but the one in the city center (Dobrovskeho 1) is more cosy and we felt better there. Laurent is proud of not using vegetable fats or artificial creams, only pure butter and whipped cream. All the cakes look like from a magazine! Be ready to pay a little extra for that as well, but if you like good quality cakes, it is surely worth to stop by.
GO FOR: We felt like having chestnut cakes when we visited and can surely recommend to go for them. Many people though say you should definitely try their "krémeš" (a special Slovak cream cake), and have it with a cup of coffee!

LE MIAM
Le Miam is the dream coming true of a young Slovak girl Barbora who brings a piece of genuine flavor of Paris to our capital. She is in love with Paris, France and its confectionery art which combines flavors, colors and scents from around the world. She studied at one of the best French gastronomic schools and soon after got a prestigious job in the Michelin star restaurant Jules Verne located directly at the famous Eiffel tower! You will find real French desserts, mini cakes, but also grande desserts, macarons and mini macarons at Le Miam.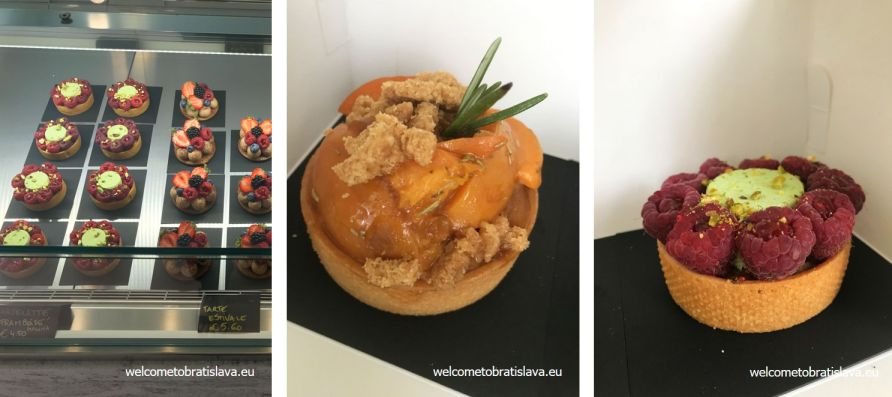 Desserts in Le Miam are hand-prepared only by Barbora and her boyfriend Yoann – a professional confectioner coming from Brittany. We love the fact that they have an open kitchen so you can see how everything being made. Ingredients seem to be top quality, which you can say from the taste. Most of them are imported from France – which is mirrored in the pricing as well though. Be ready to pay more for the beautiful and delicious pieces of art, compared to the other mentioned places. They also have a machine for rolling the puff pastry as they are serving homemade croissants! During the summer – as it is the low season – they offer just a few types of desserts because they want everything to be fresh. In colder months you can look forward to a bigger assortment :)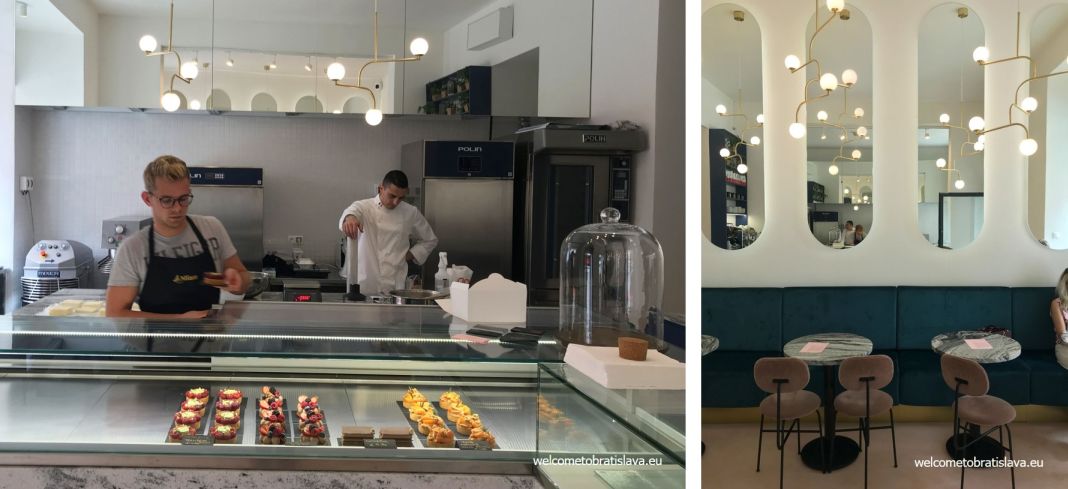 GO FOR: The nutcracker (luskáčik) – definitely our number 1, a brilliant combination of flavors and textures, a chewy sponge, fantastic crunchy chocolate layer with nuts and feuilletine wafers, smooth and light chocolate whipped ganache and ultra thin squares of high-quality milk chocolate!
LUCETTE
Get ready for a trip through Petrzalka's deepest parts in order to get to Lucette. A longer distance should not discourage you from the journey, as the best handmade macarons are waiting for you at its end. Besides the perfect French macarons, Lucette's specialty is the tremendous cheesecakes of different kinds as well as tiny Pavlova tarts.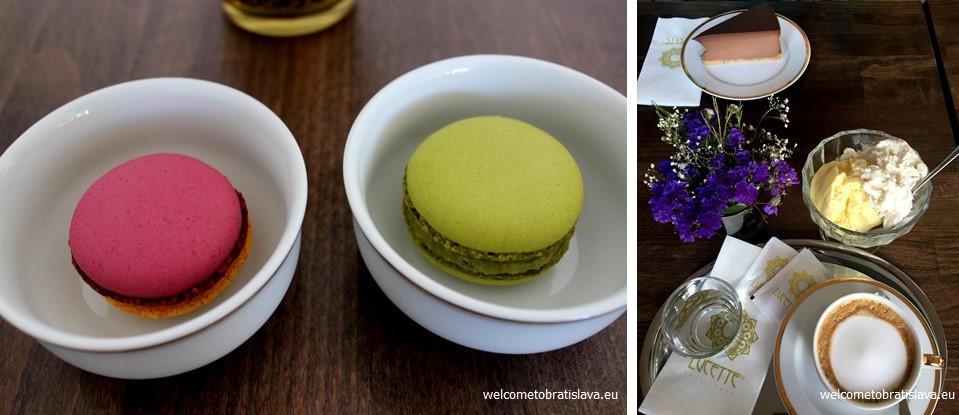 This place is simply charming – elegant premises complement perfectionist desserts served on porcelain plates, with napkins with a noble logo. Lucette simply has a style. All the desserts look just perfect, even though handmade. The summer terrace is a nice plus.
GO FOR: The maracuja & beetroot macaron makes us weak at the knees!
NATACHA PACAL
This patisserie is owned by a lady with Slovak and French roots that brings French cakes to Slovakia. The branches are located mostly in the shopping centres.
All the cakes look like colorful masterpieces and it is hard to choose only one! The prices are higher than the average but look at that craftsmanship! We can confidently say that it's art pieces what you're getting here! The patisserie is a continuation of the owner's previous project – Veterníky Natacha Pacal – which you might have seen in several shopping centres.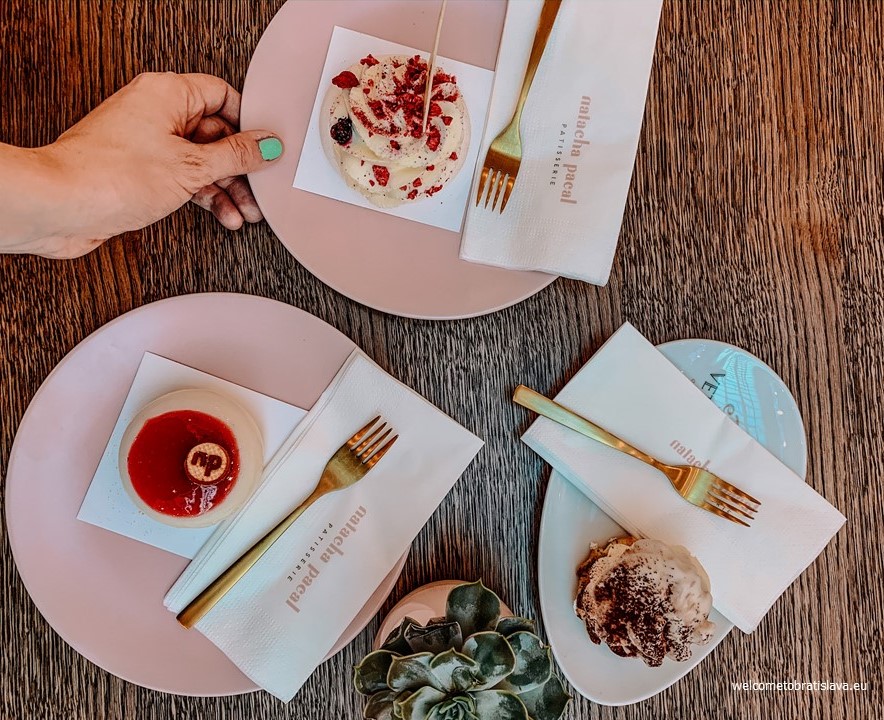 GO FOR: Try their first signature product – veterník – it combines French art of baking with the Slovak tradition:)
PASTELERIA
When you read local discussions about the best real Slovak cakes, Pasteleria will come out as a winner with the highest number of mentions. This place is run by a young welcoming guy and the cakes are baked by his mom – which means that they do not only taste like made by a Slovak mom but are actually baked by one:) We love such family businesses! You will find mostly the Slovak classics here and their execution is perfect. A central location in a courtyard of the Panska Street in the Old Town makes this place easily accessible. Check out their lovely terrace which gives us Tuscan vibes:)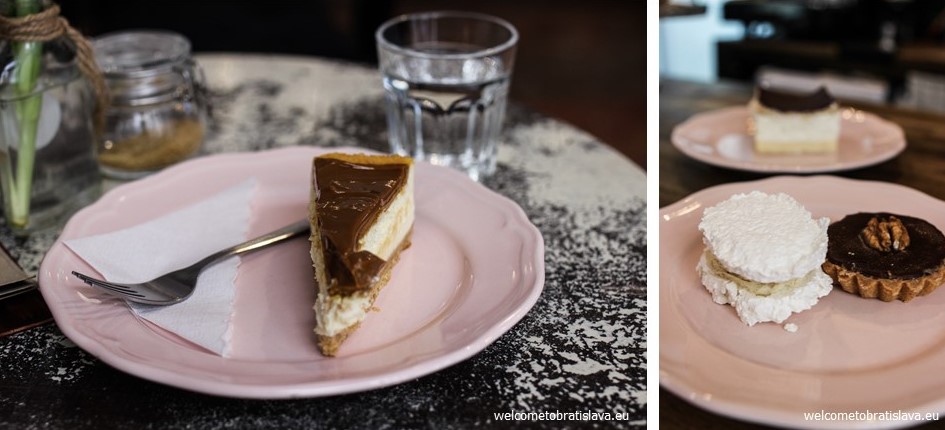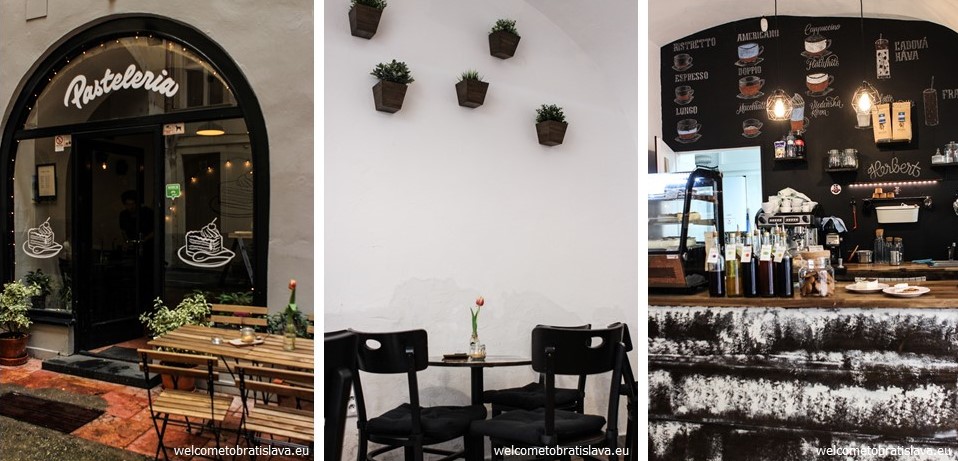 GO FOR: Try the Slovak traditional cakes like creamy "krémeš" or  nutty "laskonka".
POLLITO CHEESECAKE
Pollito's specialization are the cheesecakes. Hand-made, delicious and with various flavours. For us, it has become synonymous with the New York–style cheesecake itself. We were blown away with its freshness, light texture and distinct flavour. The central location on Laurinska Street makes this place an ideal stop during the city strolls.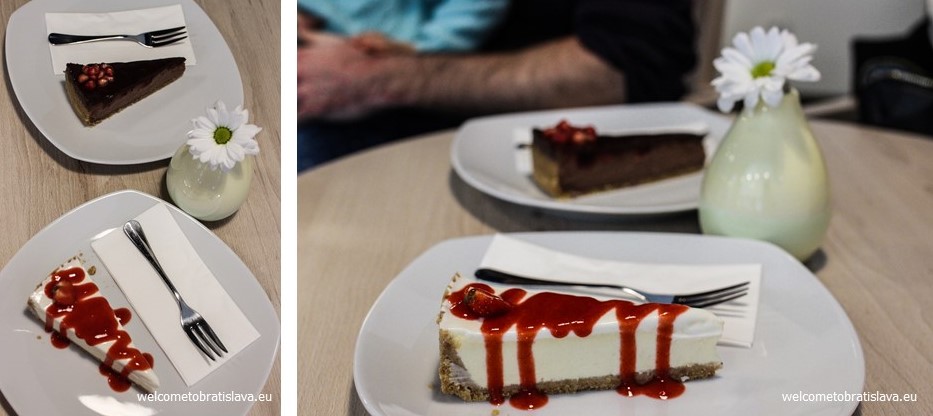 You'll feel comfortable when sitting on Pollito's yellow plush chairs, admiring photographs of the Big Apple (home of Pollito's flagship produce) hanging on the walls. The perfect service is worth mentioning, too.
GO FOR: We tried a classic New-York styled, a coffee, a salted caramel, a mango coconut, a poppy seeds, a chocolate banana and a dark chocolate cheesecake with raspberries and all were phenomenal.
U GULKY
Warm service and wonderful, subtly-sweet offerings make this place a local favourite. Another reason why U Gulky is a must-visit place is its central location on Zidovska Street, with the view on the city walls and the stunning St. Martin's Cathedral. The romantic interior invites you to choose this place for a date :)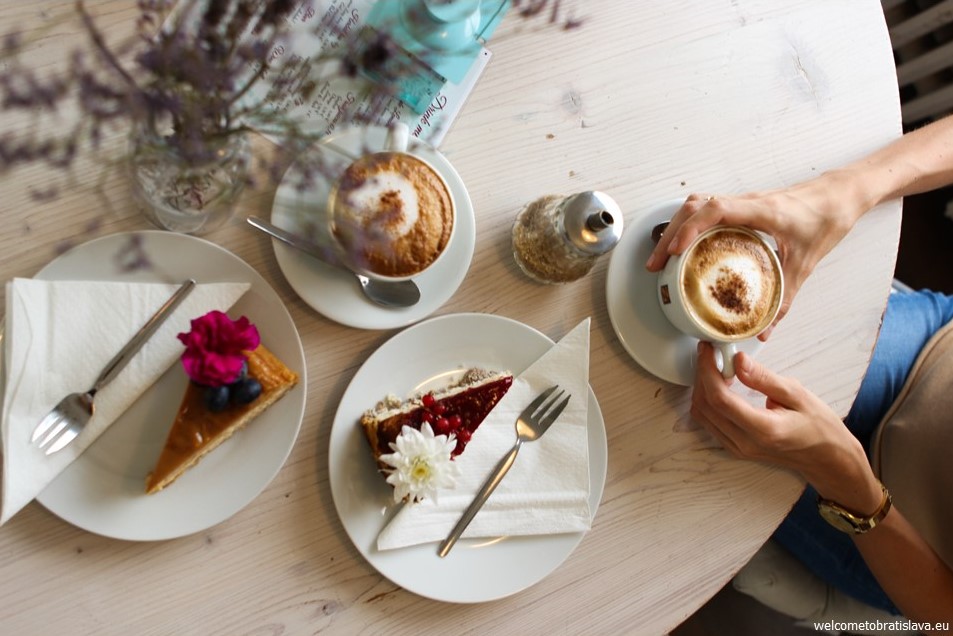 U Gulky was opened by two ladies who wanted to show the beauty and uniqueness of each piece of cake they had made.Their cakes are beautifully decorated and topped with real flowers, fruits or multicolored macarons.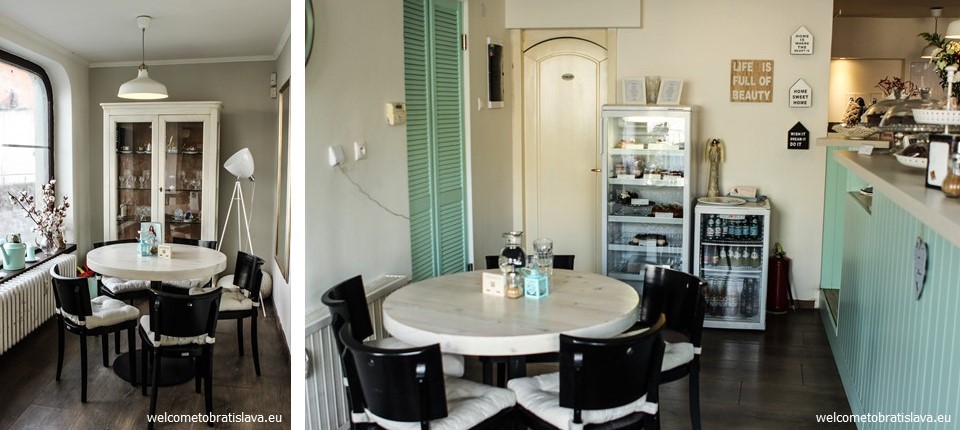 GO FOR: Delicious coffee to pair your sweet piece of art with.
WAGNER
Wagner is a family business with over 70 years long tradition. With such a long time on the market, they certainly know how it's done. The prettiest, poshest looking cakes in the city come from them.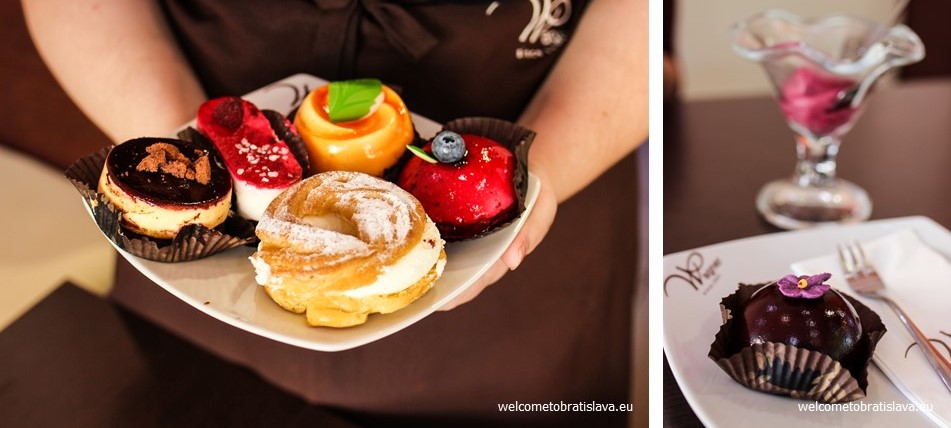 They focus on the traditional classics with a modern look – especially the individually-sized cakes are so unique in their design that you can with certainty guess the producer.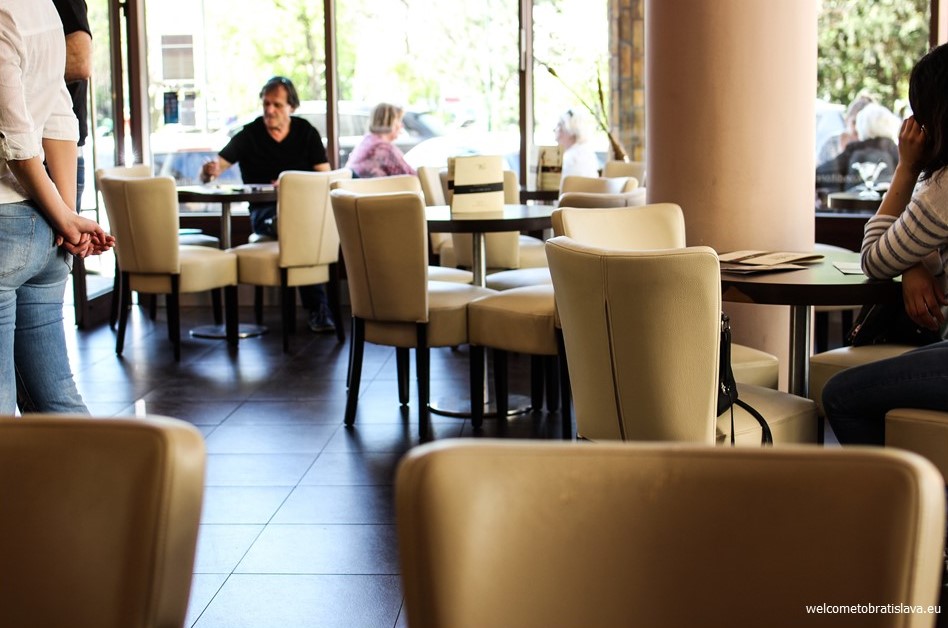 GO FOR: The chocoholics should definitely try the Berryolett with 70% Belgian chocolate, fruits and violet extract. The fruit lovers will definitely fall for the Forest Fruit Bomb with strawberry foam and forest fruits. So yummy!
ZEPPELIN
The kingdom of cakes. This place is one of our best findings! Warm personnel, excellent home-made cakes and pastries, perfect coffee, beautiful souvenirs – Zeppelin cafe is definitely an amazing spot to have a rest while enjoying some really good treats. And the location next to the Main Square in the Old Town is a perfect plus.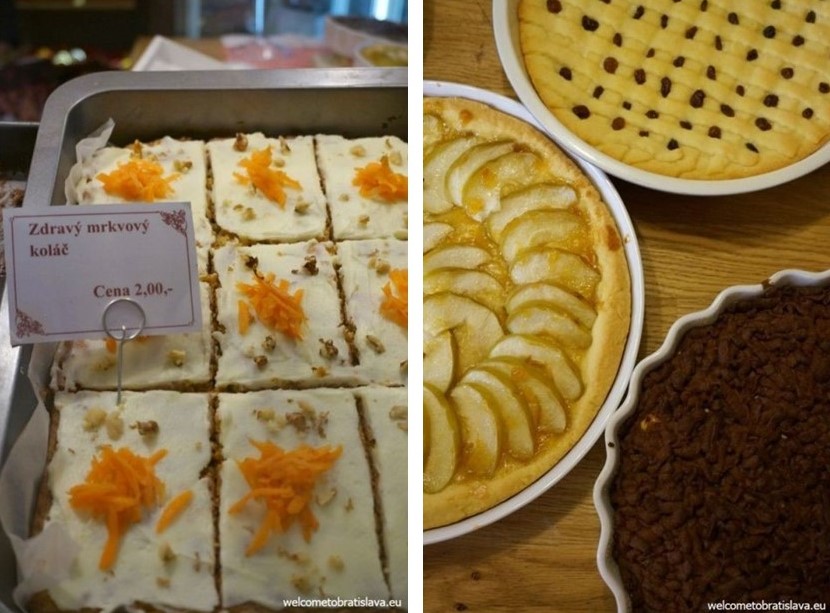 They have their own bakery where the delicious cakes are baked all day long. There are 4 ladies that take constant care of the baking – and that's why the cakes don't just look like made by your grandma, they also taste like from your grandma :)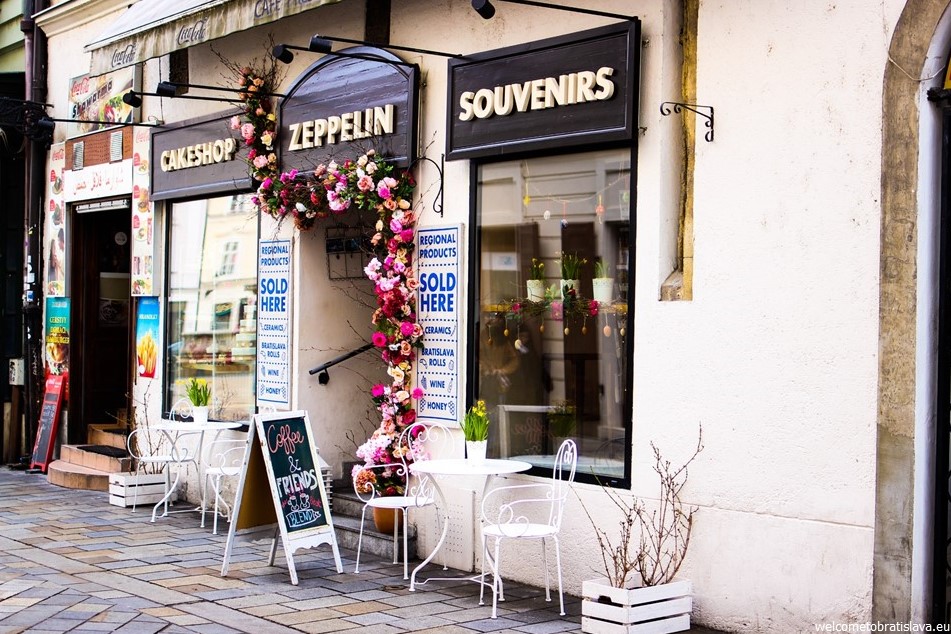 GO FOR:  One of our favorites is the healthy carrot cake which goes perfectly with their cappuccino – and yes, it has just the right amount of foam!
Did we forget your favorite spot? Let us know:)
Author & photo credits: Zuzana Mytna