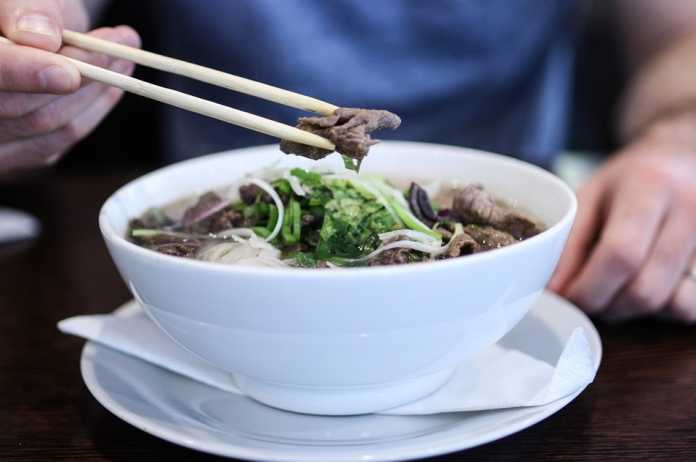 Discover the Vietnamese restaurants serving the best Pho in Bratislava! This affordable, delicious meal will warm up your cold days or simply make your tummy happy about all the fresh flavours and the abundance of fragrant herbs that define Vietnam's famous soup. Pho is one of our favorite dishes and we can say with confidence that the future of our capital's Vietnamese restaurants has never looked more promising!

PHONG NAM BISTRO
These days when people say they are going to the Miletičova market, they usually don't talk about the groceries, vegetables, or flowers that can be bought there. They mean going to eat at Phong Nam. Don't get fooled by the shabby look of this small shed; it easily competes with the city's fancy Asian restaurants. A recent reconstruction of the outdoor dining areas adds a modern vibe that makes it somewhat more representative of the hip dining scene in BA while creating ample seating space, a must for a restaurant with lines out the door starting as early as 10:00. Their Pho is one of the best in town – you will be able to enjoy a genuine Vietnamese foodgasm! Remember to look past the outdated interior and  hungry crowd; it is the food you are here for!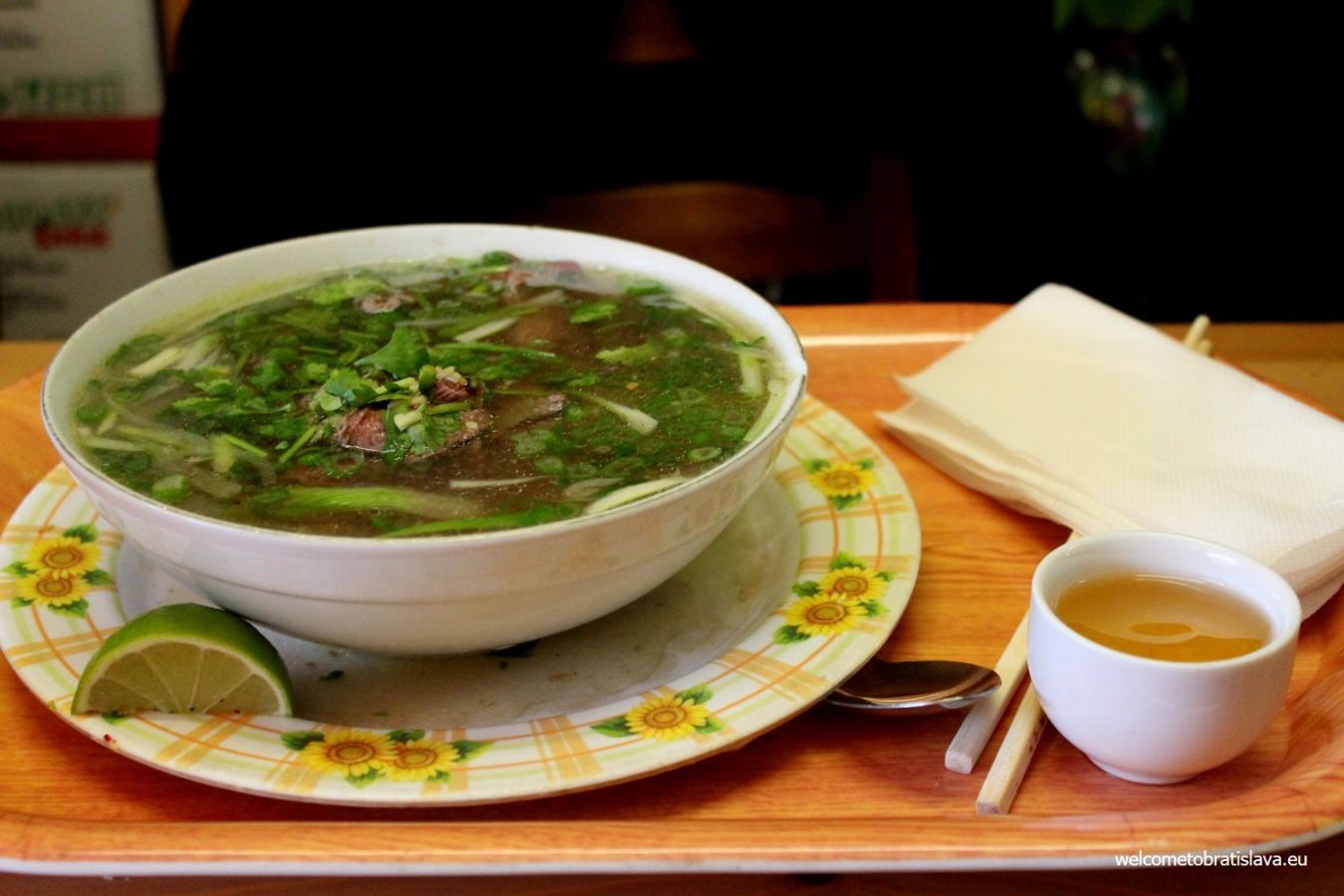 ADDRESS: Trhovisko Miletičova (Ružinov neighborhood)
CONNECT: Facebook 
BAMBOO SNP
Located in the city center, Bamboo SNP is one of the recent newcomers to the local food scene. Occupying the 6th floor of an old building, you will need to take an elevator (if it works) to get there. After entering the door which looks nothing like an entrance to a restaurant (we won't reveal more so that you can have a small surprise), you will find a spacious area with many tables. If possible, we recommend sitting by the window so that you can enjoy the nice view. The  menu is rather limited – which is not always a bad sign and for Bamboo's kitchen quite the opposite. Pho can be found under the Main Dishes section. There are three options to choose from: chicken, beef, or vegan broth. We tried the chicken version and the broth was excellent. If looking for an awesome classic Pho, this place will not disappoint.
Make sure you have cash on you; it is not yet possible to pay by card. Smokers will be happy to know that inside the restaurant there is a small separate room where you can smoke and still enjoy the view on the city!
ADDRESS: Námestie SNP 30 (Old Town)
CONNECT: Website, Facebook
BAMBOO STUROVA
Another decent place for a decent Pho is a newly opened Bamboo Restaurant on Sturova Street (not to be confused with Bamboo on SNP Square). It is a mixed Asian cuisine place with a proper restaurant service, nice wine selection and a very professional approach to cooking. Although Pho is not their signature dish, the Pho Bo we tried (the beef one) was really something! The flavour was not too intensive but still full-bodied, portion was large enough with plenty of noodles, meat and fresh onions. Besides Pho, you can find here a huge variety of Korean, other Vietnamese and Japanese dishes, including sushi.
They are also planning to add some specialties of Thai cuisine and waiting for a Thai chef to come. This is the restaurant's strong suit as well, as the owner believes that every area needs its expert and professional; that's why there are separate chefs for every cuisine in the Bamboo restaurant. We love the ambiance in here – an elegant place in the heart of the Old Town, suitable for date nights out as well as hanging out with friends. Definitely stop by!
ADDRESS: Štúrova 13
CONNECT: Facebook
HANOI GARDEN
If you feel like having delicious Vietnamese food in a restaurant with service rather than in a fast food style, try Hanoi Garden. This popular restaurant on Nobelova Street is 100% authentic – we found out the location was strategically chosen since this area has the highest concentration of Vietnamese expats in Bratislava; in fact the chef is from Vietnam and the personnel is mostly Vietnamese, too! But there are actually 5 other branches of Hanoi Garden in Bratislava.
There are four Pho on their menu but everyone orders Pho Tai Lan here, a stir fried beef soup with rice sticks. This Pho is believed to be the best in town by many locals! We have to agree it was super tasty and the full dining room of satisfied guests confirmed their popularity.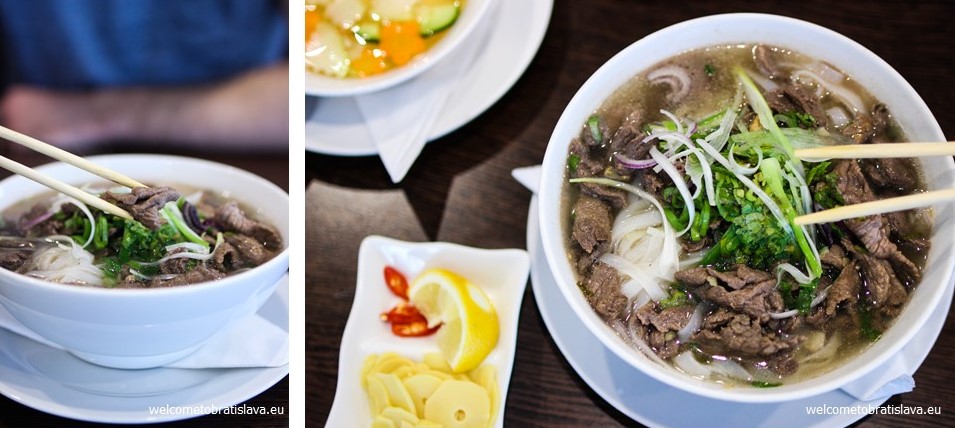 And their Bun Bo Nam Bo passed our quality test as well,  exceeding expectations:)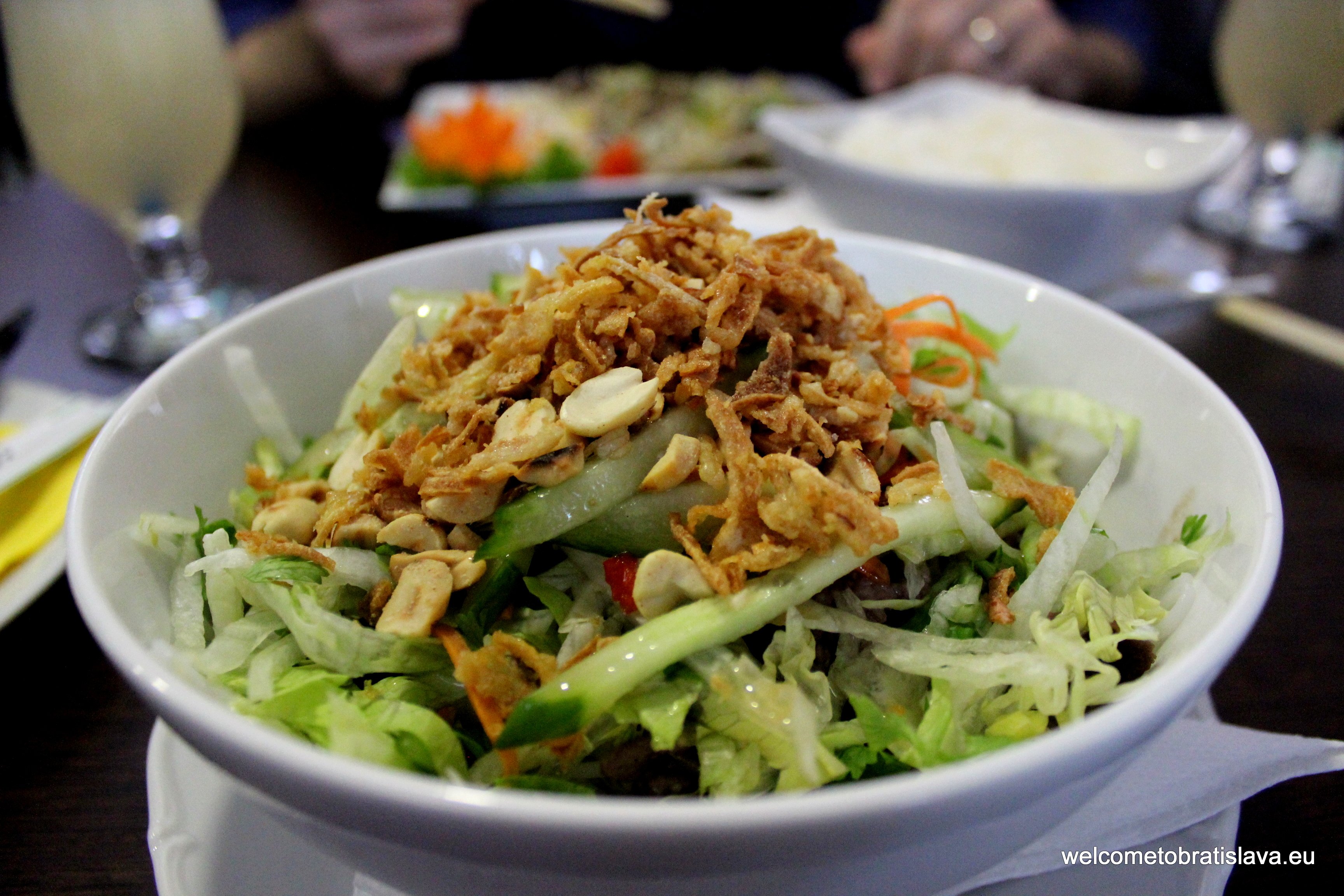 ADDRESS: Nobelova 5 (Nove mesto neighborhood)
CONNECT: Facebook, Web
VIET PHO
This Vietnamese/Asian restaurant is located outside of the center in the Podunajské Biskupice neighborhood. Our first positive surprise was the interior – very clean, quite modern, and expansive. It is really a big place! The second surprise came when we saw the menu with more than 200 items to choose from, plus a separate sushi menu! Sometimes more is less and we had mixed feelings about what to expect, but everything we ordered was tasty and we left with the feeling that this was definitely not our last visit.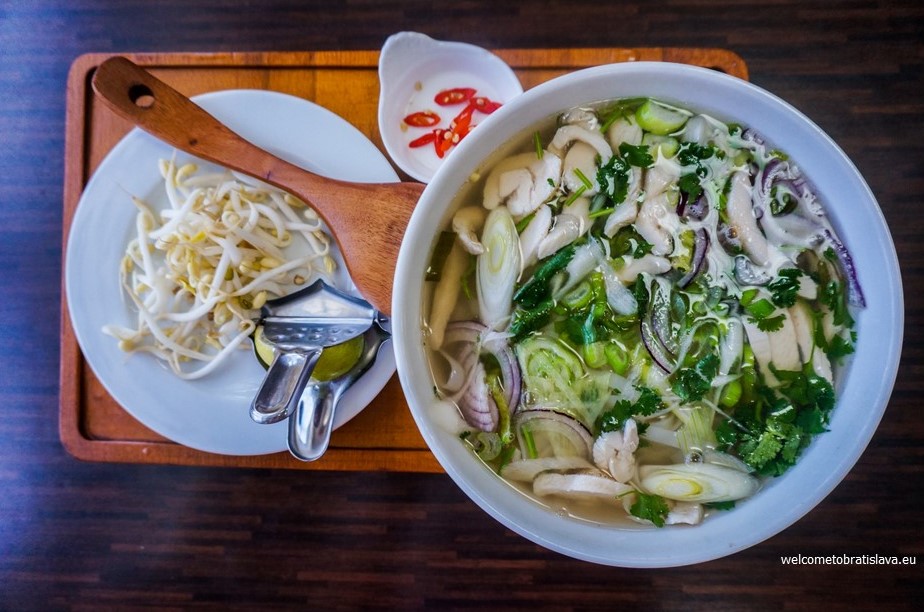 You can choose three types of Pho –  chicken, beef, and a special version with minced beef in beads. The small portion comes as 0,5 l and the bigger one as 0,7 l. We went for the chicken version  and found the broth to be rather light, reminiscent of the traditional Hanoi style with its milder flavor For us the lighter style made it easier to finish the whole bowl. The taste was a little better after we added some seasoning. We'll try other types as well for sure!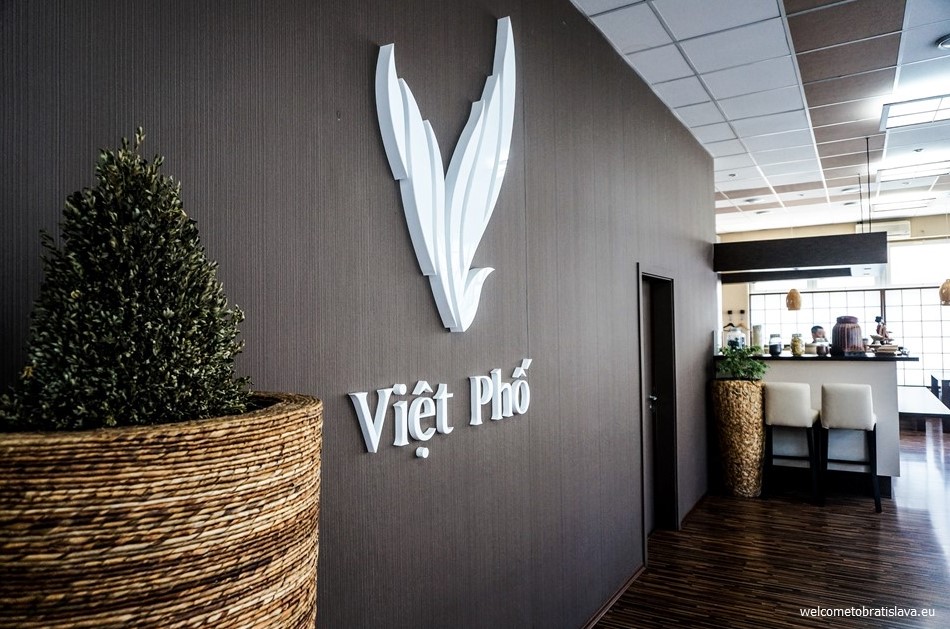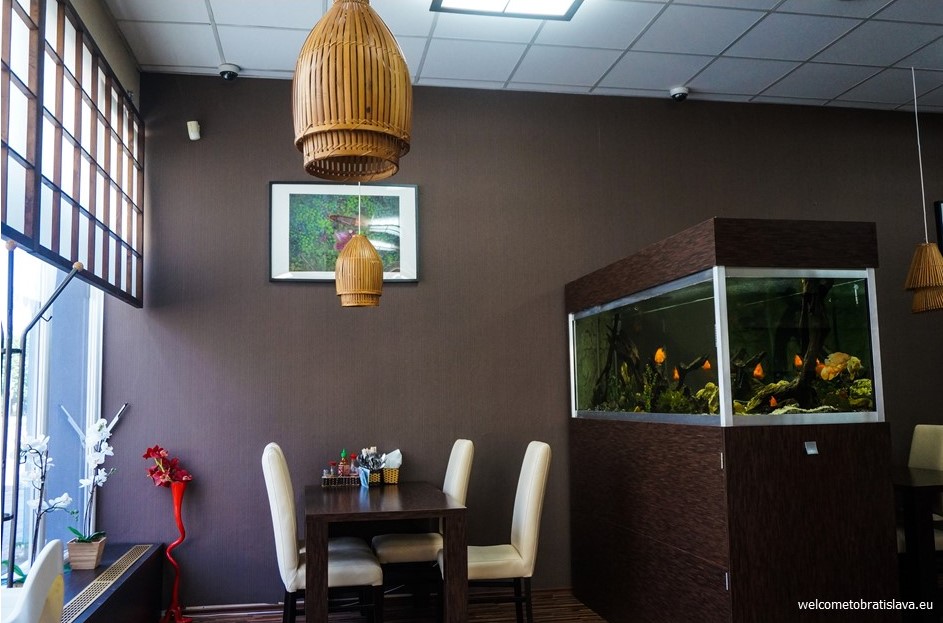 ADDRESS: Kazanská 56 (Podunajské Biskupice neighborhood)
CONNECT: Facebook
VIET HOUSE
We got a tip to visit this place from one of our readers, so of course we could not resist checking it out. The biggest plus  here is the very sweet staff with excellent service and the nice welcoming atmosphere. The team is Vietnamese which adds to the authenticity of this place.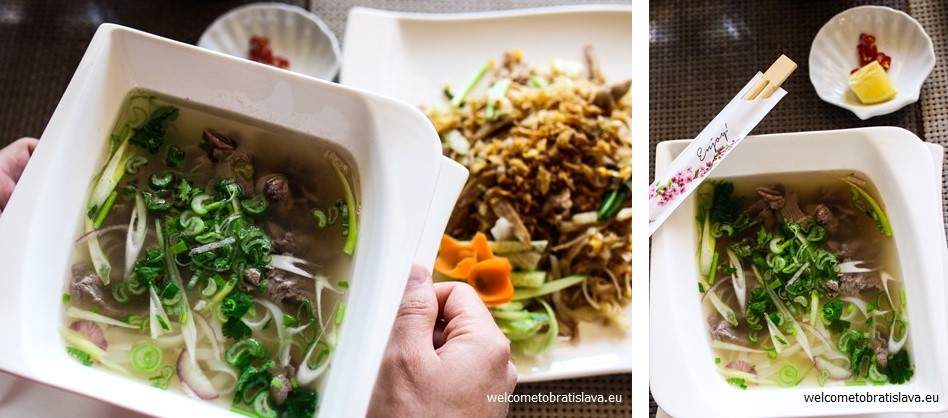 You can choose from 5 Pho here. We tried the regular beef Pho which tasted solid, but it was more brothy than the other versions. We enjoyed it taste-wise though :) Regulars suggest trying the tom yum, too; a mango and peanut salad with shrimp and lime dressing served with  udon noodles – all believed to be incredibly fresh and delicious!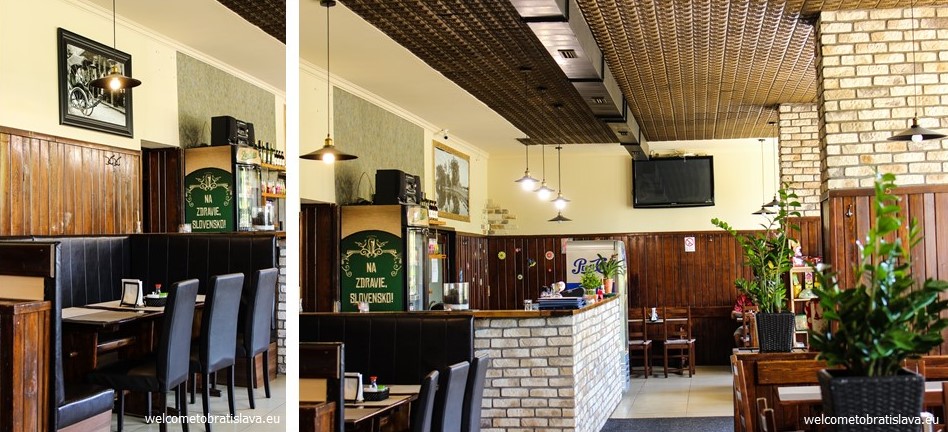 You can find the Viet House on Mlynarovičova Street in Petržalka next to the water canal.
ADDRESS: Mlynarovičova 3 (Petržalka neighborhood)
CONNECT: Facebook
BAMBUS BISTRO
This place got us! They have the most amazing pho ever – it tastes exactly like we love it the most and is served in the huge portions, too. It is also believed to have one of the best Bun Bo Nam Bo in our city. Bambus is quite small, so expect it to be full when coming during the lunch time.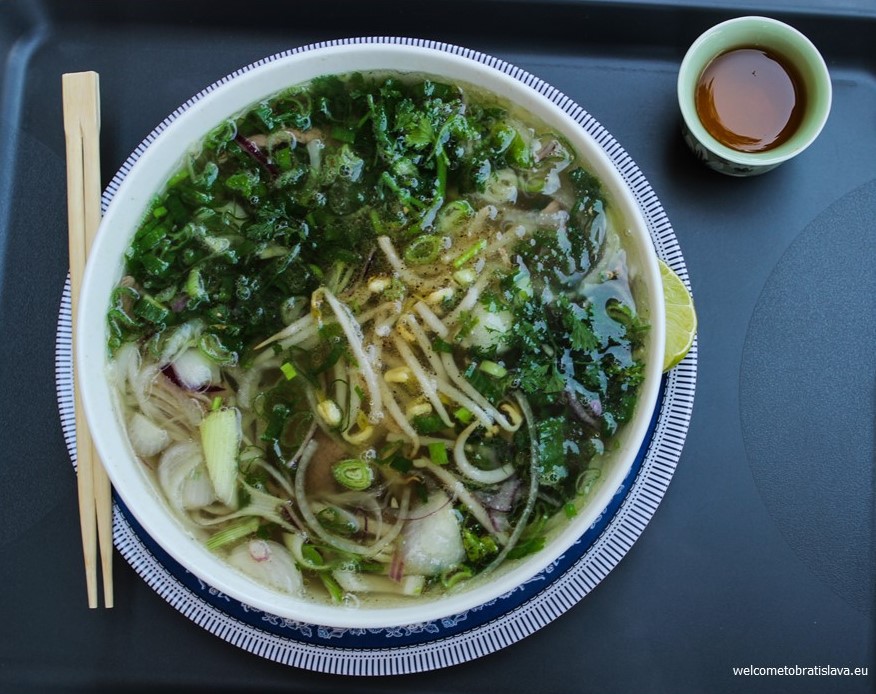 The interior is not impressive – the red signs with names of the meals are more typical for the fast food establishments. There is a single table outside, standing on the busy and noisy Šancová Street (not romantic at all). But the location is perfectly close to the main train station. Focus on the food only while eating here and you will be more than happy :)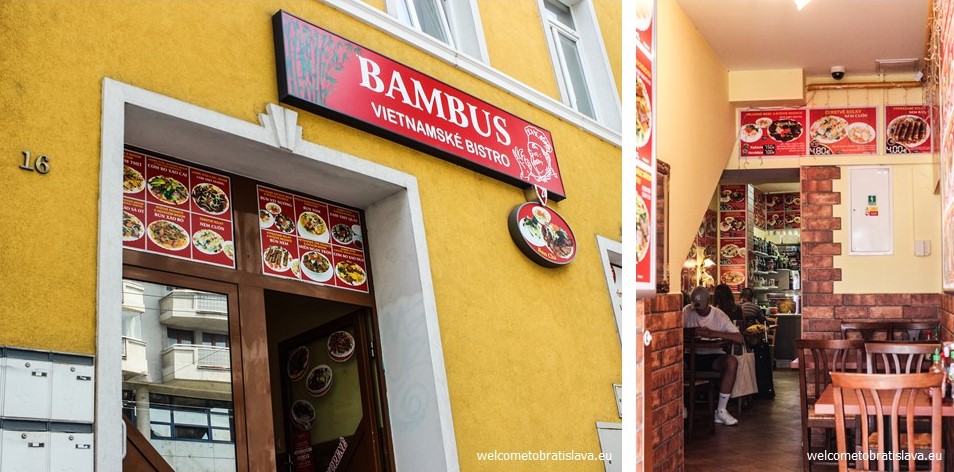 ADDRESS: Šancová 16 (Old Town)
CONNECT: Facebook
PHO – Vietnamese Street Food
This place (also known as Phočkáreň) brings the diverse Vietnamese cuisine closer to the people of Bratislava. They offer quality and authentic Vietnamese dishes and the only downfall for us is its location in the busy food court of the Bory Mall and Eurovea shopping centre. We think they have the funniest marketing with creative social media and the way they serve their Pho is too cute – using authentic Vietnamese bowls:)
ADDRESS: Bory Mall, Lamač 6780 (Lamač neighborhood) & Eurovea, Pribinova 8 (Old Town)
CONNECT: Website, Facebook
Authors: Zuzana Mytna, Jennifer Brown