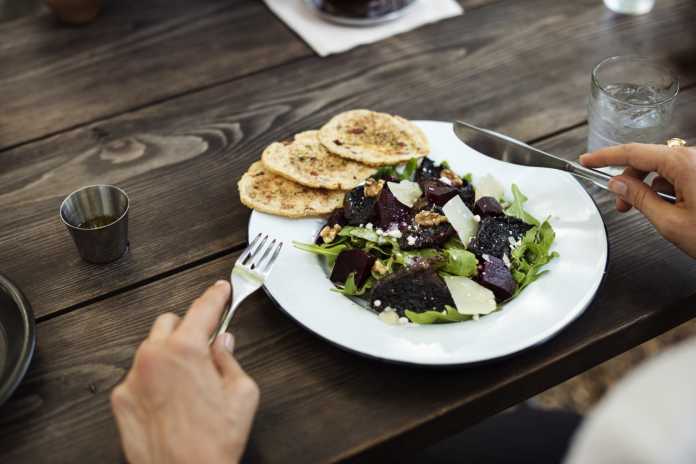 Looking for healthy food options free of meat? When it comes to vegan and vegetarian restaurants, Bratislava has herbivores well covered. There are many choices for healthy and tasty meatless meals in the city. The question is which places are worth visiting? Check out our list of the best vegan and vegetarian places in Bratislava!
BALANS BISTRO
Balans Bistro is a cute vegan gem "hidden" on a small street in Bratislava's Old Town – Živnostenská Str. It is full of colors and has a very positive vibe. We always feel very welcome and homey there, thanks in part to the very friendly personnel. And we love the small details here, such as glass straws that come with your drink! Balans is open 7 days a week so you can enjoy your vegan meal over the weekends and evenings as well. Just remember that during the week many people choose it as their lunch spot and you will need to queue to get in. We recommend visiting in the afternoon, evening, or weekend.

BEMBA RAW VEGAN BISTRO
Bemba is a cool place where the chefs don't cook and you still leave full and gastronomically satisfied! It offers only raw meals, but we were surprised how delicious and creative the kitchen is here with exclusively raw cuisine. It is located outside of the city center, in the Nove Mesto municipality.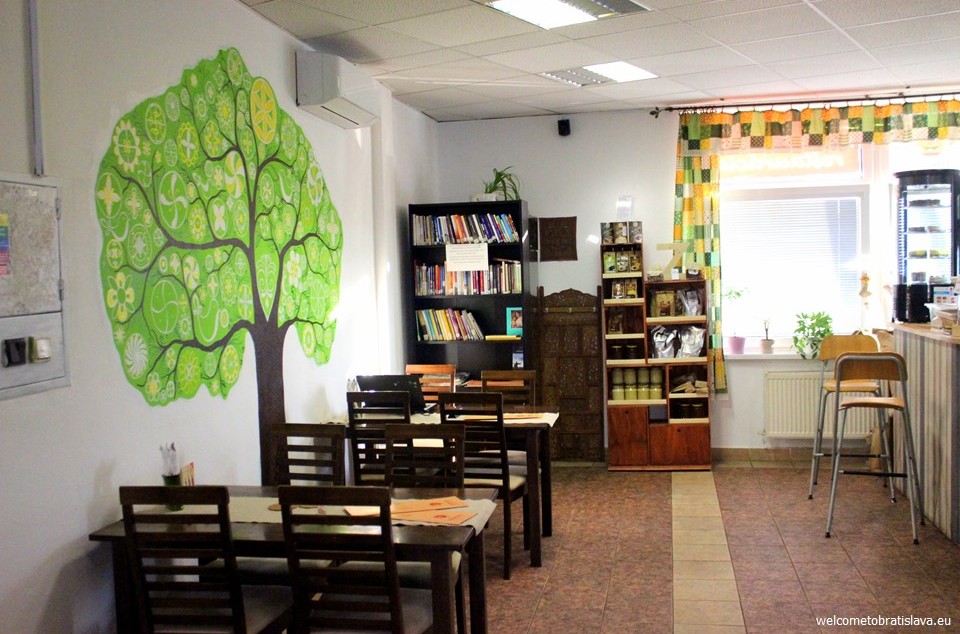 The menu is quite extensive, service is quick, and we admired the family character of this place. We were blown away with their version of pizza and burger full of green leaves. We definitely recommend banana dough pancakes filled with poppy seeds as a dessert!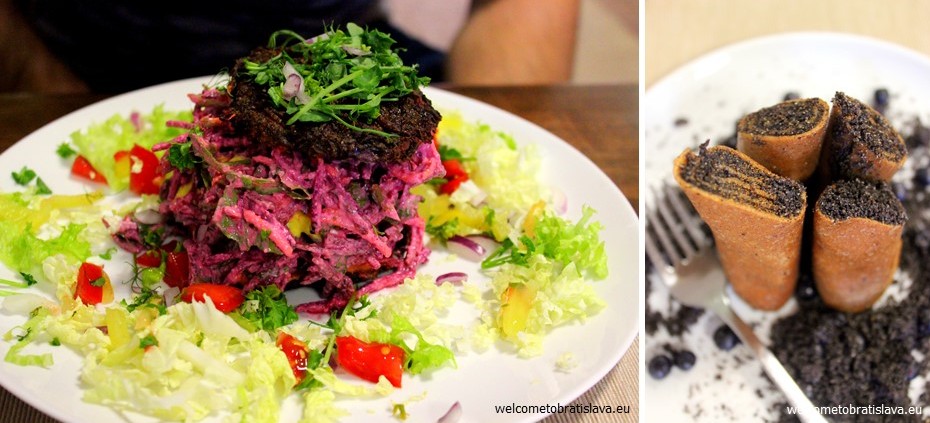 BIELA ĽALIA
Biela ľalia is a tea room outside of the city center in the municipality Ružinov. You will find it next to an elementary school and a track field in the underground premises of a house. Apart from various teas, Biela also serves non-meat dishes during lunch hours. There is one lunch option served every workday consisting of a soup, main dish, and a homemade dessert. We enjoyed our food but do note that the premises is more suitable for a tea room than for traditional dining – the small tables and low stools made it a challenge to fully enjoy our lunch here.

FOODSTOCK
Foodstock used to be only a truck offering yummy vegetarian dishes at various festivals and Christmas markets. It quickly became so popular that it was obvious a regular shop was needed. Now you can enjoy this amazing cuisine at a small establishment on Klobučnícka Street. The menu includes various vegetarian Asia-inspired dishes.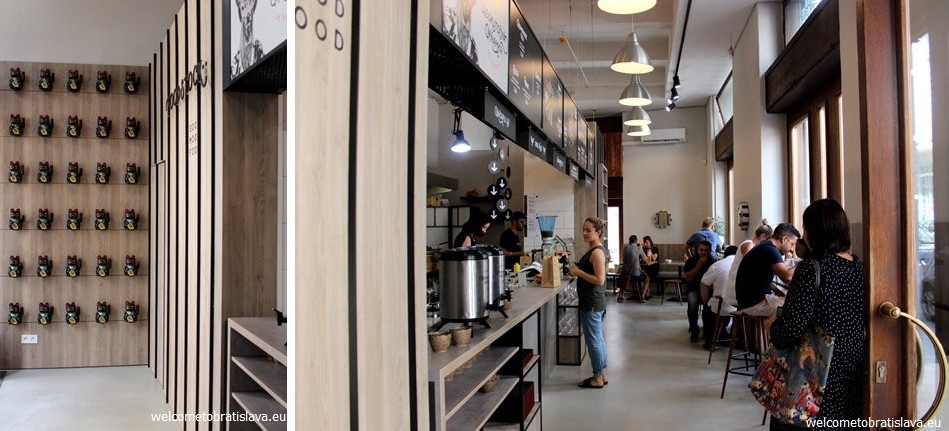 Our all time favourite is the Gyoza Crunchy filled with local vegetables and topped with the amazing combination of teriyaki, sesame, and edamame beans. Highly addictive! And a nice plus is that you get tap water for free :)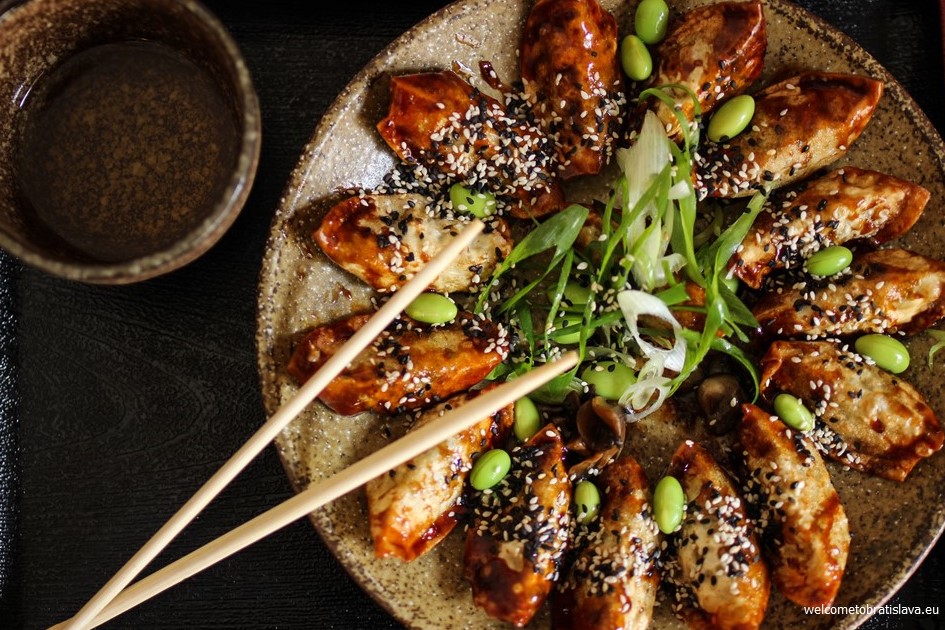 GOVINDA
This restaurant offers a  menu with vegetarian, vegan, and gluten-free options inspired mostly by Indian specialties, but also by domestic and international cuisine. Located on Obchodna Street in the city center, it is a quick option for lunch during the week. They have three types of lunch menus (small, medium, large + soup) and you can always choose between a traditional or a classic meal. Free water on the tables is a matter of course. Do not expect anything posh, rather a classic busy place with fulfilling meals that will not cost you much. Meals are available for a take-away as well. If you are into sweets, take one of their desserts with you – the offer is big and they all look fab and healthy!
GRIN GRIN SALAD BAR
Grín Grin is a hidden treasure of the Mlynske Nivy neighbourhood. Healthy, high quality, tasty vegetarian lunches for a good price! Even the biggest gluttons won't leave this place hungry, or disappointed. You can choose from the buffet menu and even combine it with the current offer of fresh raw and warm salads. Because you pay for a grammage on your plate, we found the price – 1 EURO for 100 grams – fair enough. Water, usually flavoured with fruit, is free. If you feel really hungry, add some vegetable soup and raw dessert on your tray!
MADE WITH LAF
Made with Laf is a lovely vegan bistro on Dunajska Street. It has a cosy colourful interior, super nice staff, and amazing vegan dishes. If you visit during lunch hours, you will immediately understand how popular this place is – people are literally queuing in the street. Thus we advise to visit it outside of the peak hours or to ask for your lunch meal "to go."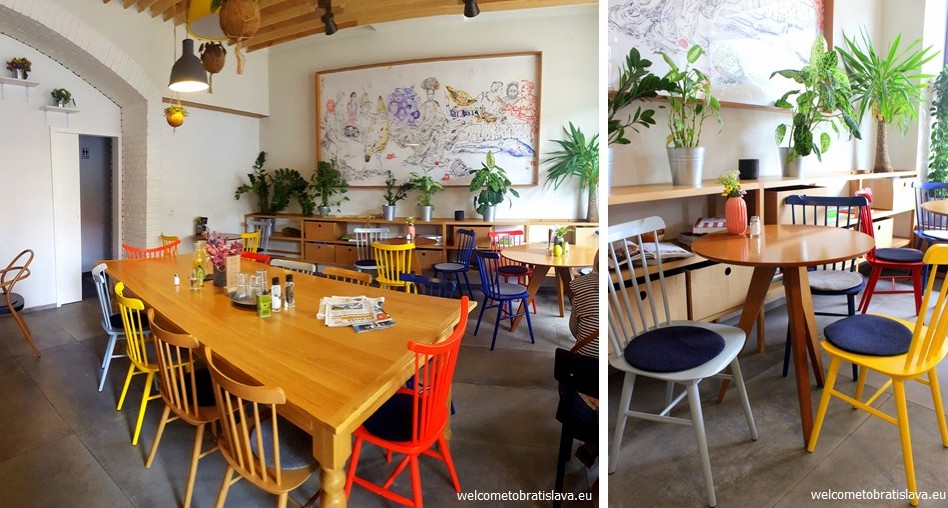 Every work day, Laf offers two lunch menu options to choose from – two soups and two main dishes. Apart from that, there are few fast-food vegan meals on the menu every day. This establishment prides itself on being environment friendly. Just go there – a truly charming place with delicious food! And they now have a second branch located within a street food garden Possonium.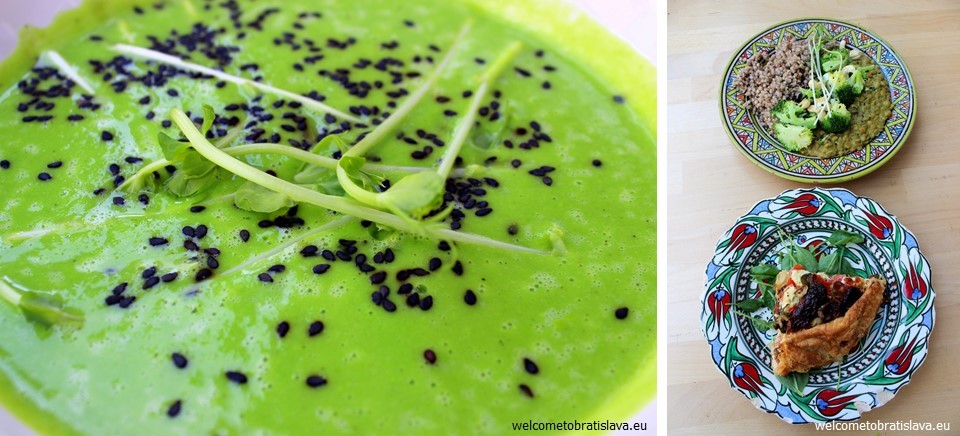 MERCADO
A trendy restaurant/cafe that is aimed at real healthy, nutritious, and valuable modern food prepared from bio and local raw materials. Their whole menu was created by the nutrition expert Silvia Horecká and it truly shows: you will find the vegan or vegetarian meals marked with a special symbol making it a bit easier to dine healthfully.  
Mercado is located in the Aupark Shopping Center – definitely a good choice to stop by once you go shopping, especially if you have kids as there is a children's corner directly next to it. We fell for their risottos and cakes but make sure you check out their whole menu, it has so many options! And, there is always a seasonal offer, too. And a special kids menu, for your little ones :)
RE:FRESH
Re:Fresh in the city center is not purely vegan or vegetarian but has quite extensive menu for the vegans. This is one of the most solid kitchens in town. We recommend trying the Old School Vegan Czechoslovakian salad. The kitchen also serves meat and dairy free versions of burgers and many other dishes, too.
THALI
This popular Indian and Thai vegetarian place has seven branches – our favourite ones are the one in the city center on Dunajska Street (we think it is smaller but cuter) and the one in the farmer's market Freshmarket within its food court (less charming but you will for sure find a place to sit down).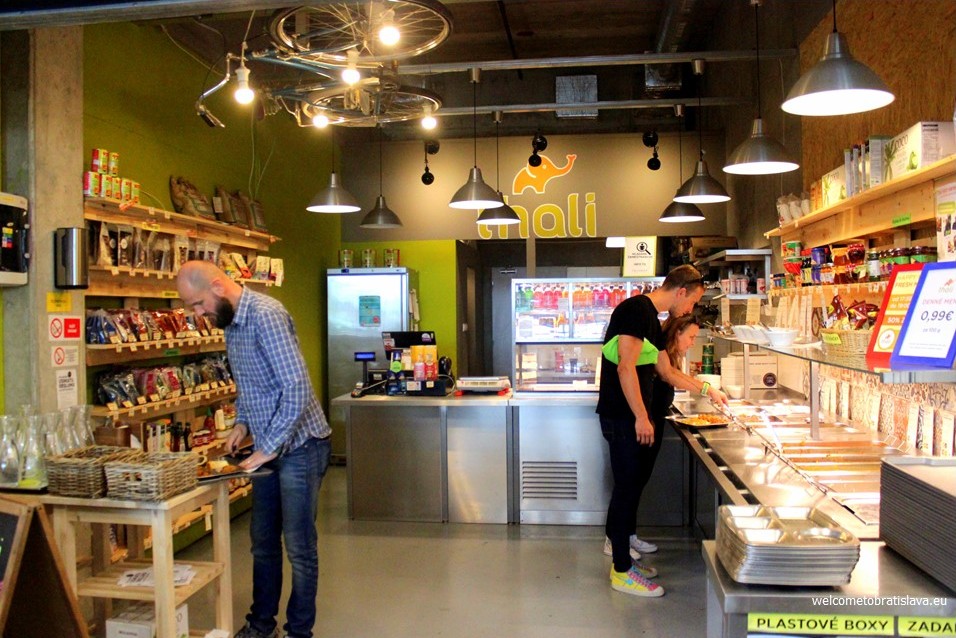 They have several options to choose from, all nicely marked if they are spicy, vegan, etc. You get a plate with several compartments and can choose what and how much you like, as you pay by the gram. Just beware that with the weight system, the price gets higher than a regular daily lunch menu. The food, prepared by Indian chefs, is very tasty and authentic and one generous plate made two people full and satisfied. And they have delicious desserts, too! Tap water is automatically served for free here.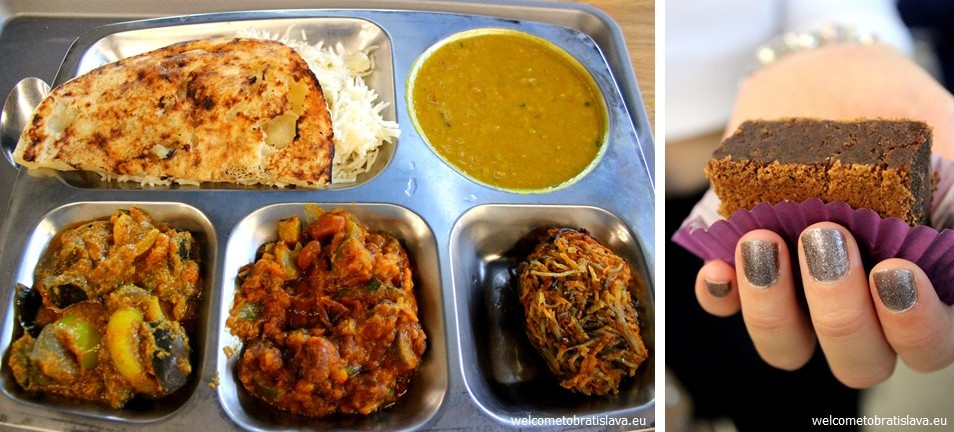 VEDA
This vegetarian and vegan place serves authentic Indian flavor dishes. It is a place where you can eat wholesome, fresh and delicious food with no extra waiting. Better yet, the food embodies  the ecological and ethical aspects of modern dining we often seek out. As their tagline says, at this vegetarian and vegan restaurant you  "eat well, live well!"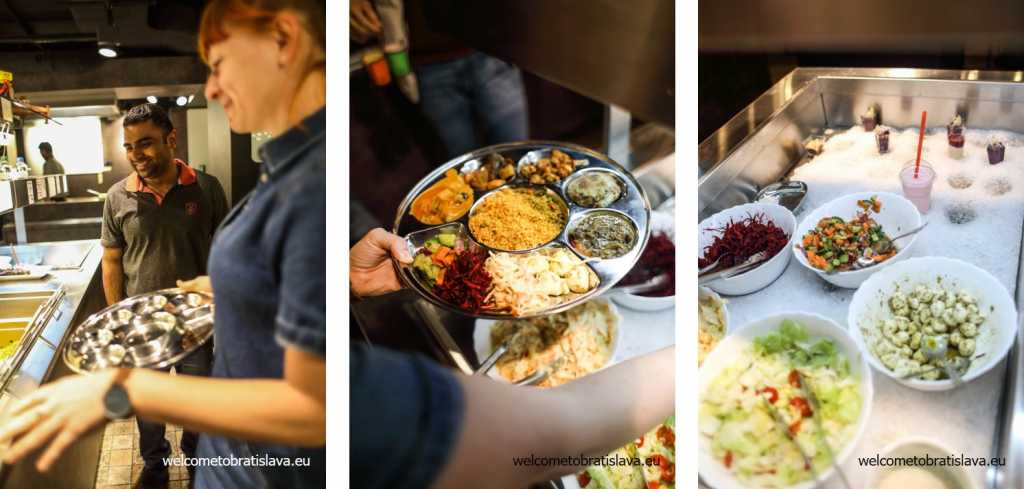 The space is really pleasing, cosy but modern, with a touch of Indian soul and spotlessly clean. Everything just plays perfectly together to create a feel-good vibe. The clever setup allows them to rent it for various events, from soirées to parties! It's no wonder, either – one of the founders of VeDA is an architect.
VEGGIE HEALTHY FOOD
Another veggie spot on Obchodna Street! Open during the week only (though only until 4 pm), this place is also a popular pick for lunch menus during the day. The style here is self-service, which means you take a plate and choose the meals which are most appealing to your eyes (and senses) :) You pay per weight. You can find vegetarian, raw dishes, desserts and healthy drinks. Some offerings are suitable for those with celiacs, as well. Their goal is to create a new perception of the vegetarian diet and show that it can be really delicious, nutritionally balanced, varied and fun. So far it has always worked for us!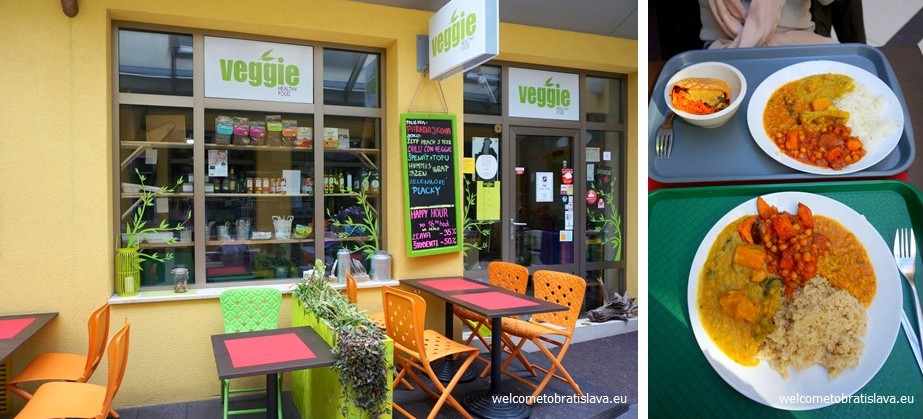 VEGAN BAR
The philosophy of this tiny place is simple: they are open Monday to Friday and you have only one choice to order – one soup and one main dish. It might happen that if you come for a late lunch, they will be out of soups or the main meal. Which would be a pity as their vegan meals are really delicious!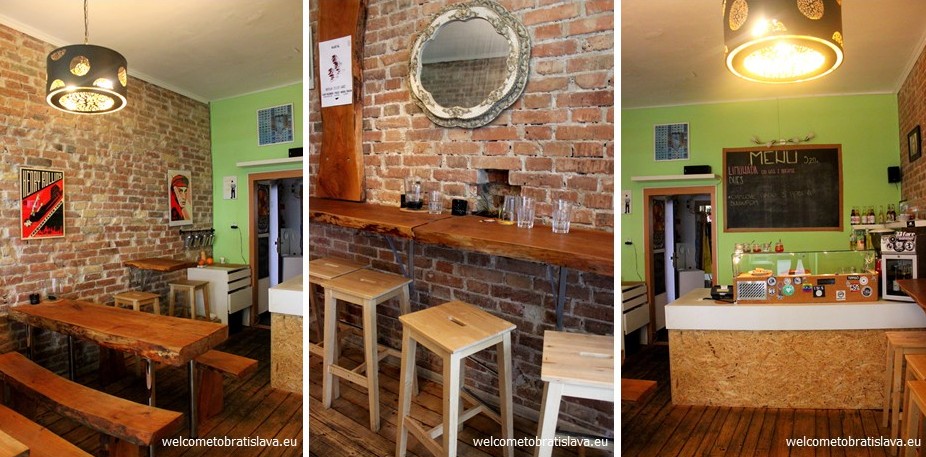 Soups look average but are perfectly seasoned and the main dishes are amazing! Don't be surprised by the small premises – one room only and bigger tables that invite you to sit with strangers :) Plus you get tap water for free.

VEGAN KIOSK
This vegan take away food is a life-saver for all plant eaters. It serves delicious vegan meals indistinguishable from the carnivore-friendly stuff. Everything is prepared in front of your eyes. Sometimes they sell the vegan desserts as well. Make sure not to miss their amazing Papa Americano burger! Plus you will save some animal friends :)
VEG LIFE
A vegetarian restaurant with four branches in Bratislava. Open Monday to Friday only and is best served as a lunch spot. You can mix-and-match your own menu at their self-service buffets. Again, you pay per weight. And they have a neat Happy Hour in the late afternoon when you can get food for half price.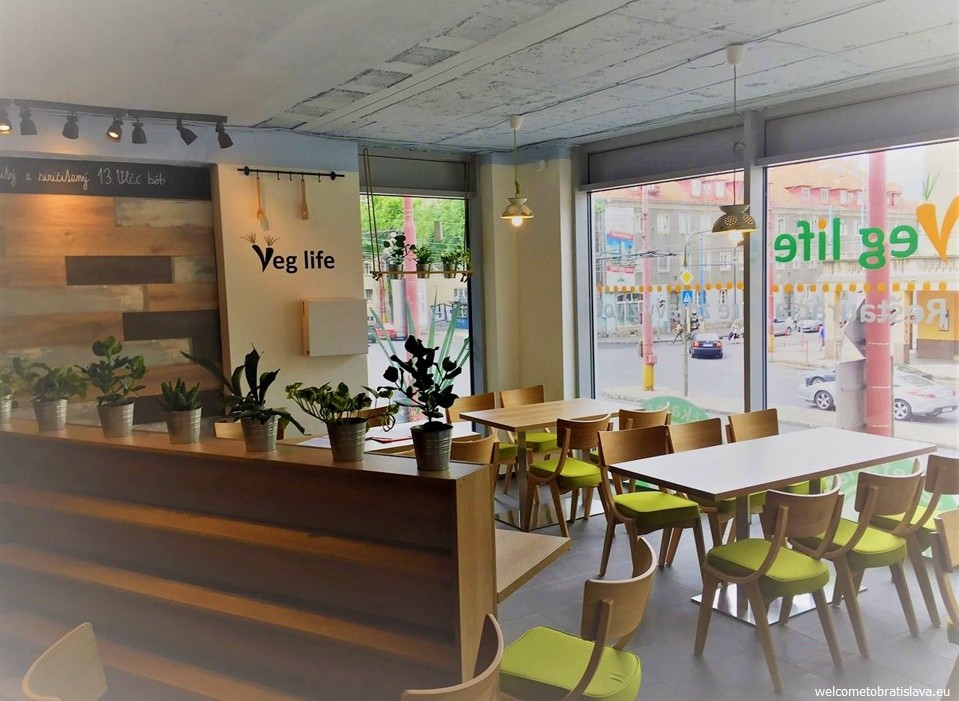 (source: Veg Life)
You can buy healthy and tasty vegetarian, vegan and gluten-free meals, fresh juices and delicious raw desserts here. They also have a delivery service so you can enjoy the healthy portion at your home or office as well :)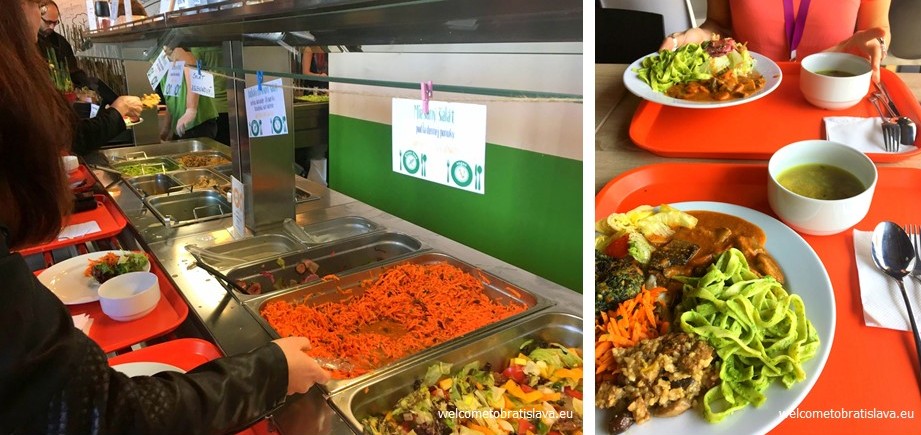 THE WAFFLE SLOVAKIA
If you don't mind a little travelling in order to indulge in something delicious, and perhaps want to combine this cheat meal with shopping, we advise you to go to Bory Mall and visit The Waffle Slovakia. Owned by a young couple who's been in the waffle business for a while, it's also the only waffle shop in Bratislava that offers, besides traditional sweet Belgian waffles, also salty and completely vegan waffles with vegan chocolate, vegan Nutella and vegan whipped cream. Using the traditional Belgian formula, they prepare the dough on the spot, of which the outcome is some of the softest waffles we have eaten. Love at first bite!
They offer breakfast daily till 11:30 am but the waffle and toast menu is available all day long. A very cosy premise makes this place ideal for dates but also business meetings.
What is your favourite place? Let us know in the comment section below.
Author: Zuzana Mytna