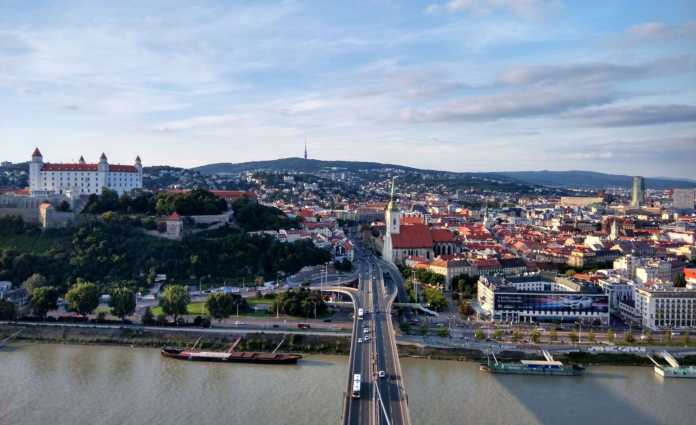 Fancy a drink with a view of the Castle? Or would you prefer to watch a romantic sunset with the city at your fingertips? Bratislava is rich in spots from where you can enjoy its beauty, be it while having a drink, savouring delicious dinner or visiting some of its famous tourist attractions. If you want to see Bratislava from all its perspectives, you have to go up to one of these viewpoints and enjoy the view of the city from the sky.
1. Castle
The main tourist attraction and the most significant symbol of Bratislava. In the past controlled by Great Moravia and for almost 200 years stored the crown jewels of Hungary, nowadays hosting many expositions and offering a stunning view!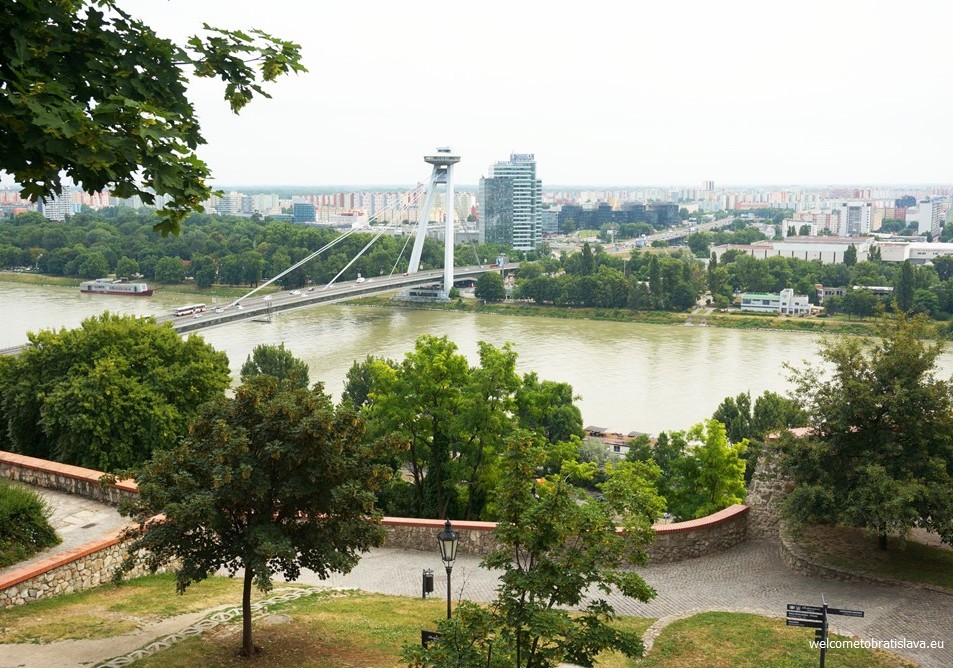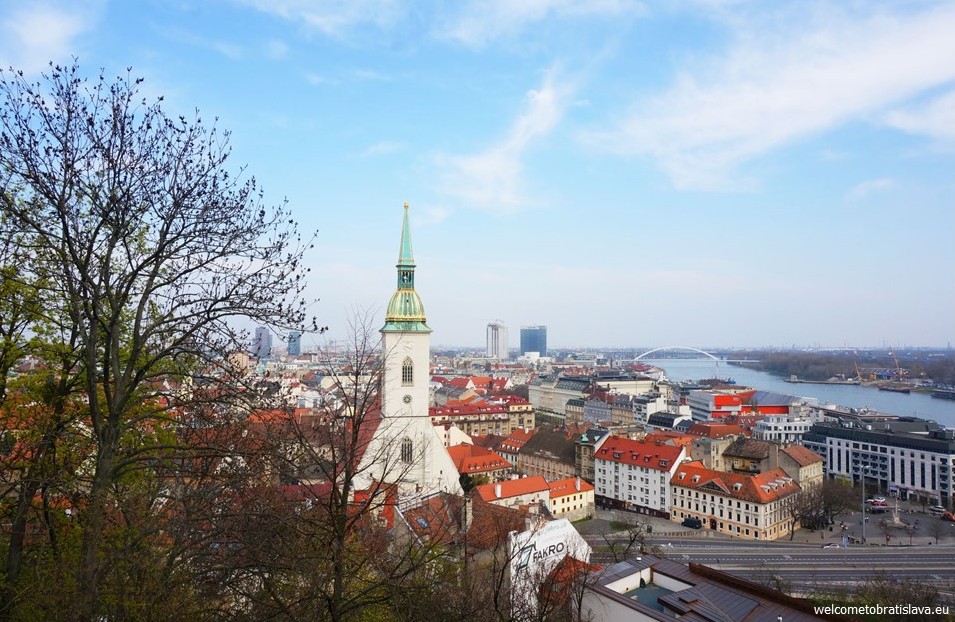 ADDRESS: Zámocká ulica


 CONNECT: Website, Facebook


 MAP LOCATION:

2. Old Town Hall Tower
The oldest city hall in the country and one of the oldest stone buildings still standing in Bratislava. Housing the oldest museum of the city and owning a tower that offers a charming view on the city center to its visitors. A definitely must-see place you should not miss when in Bratislava.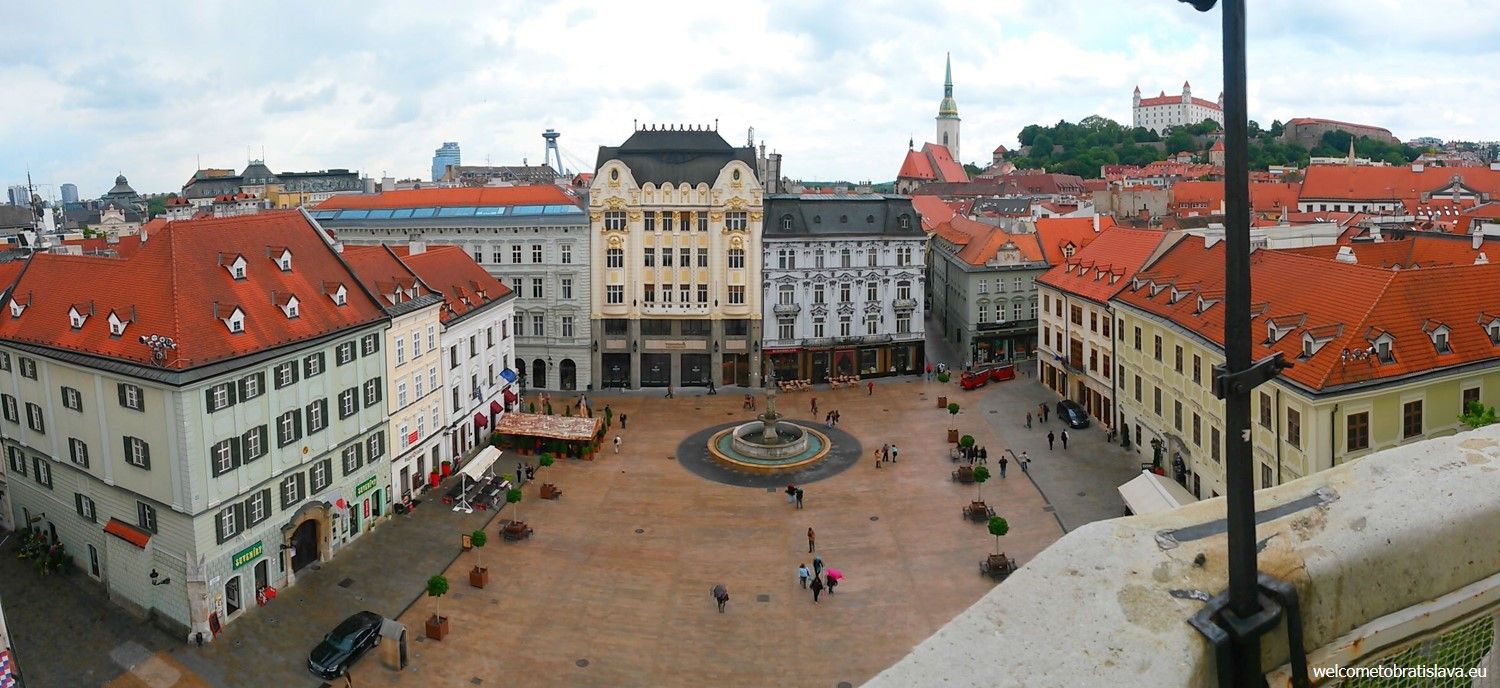 ADDRESS: Hlavné námestie (Main Square)


 CONNECT: Website


 MAP LOCATION:

3. Michael's Tower
Michael's Gate is the last standing gate in Bratislava. When walking through the Gate, look up and you will see the Micheal's Tower. Make sure you check out the Museum of Arms on the top floor of the Tower for a great view on the city!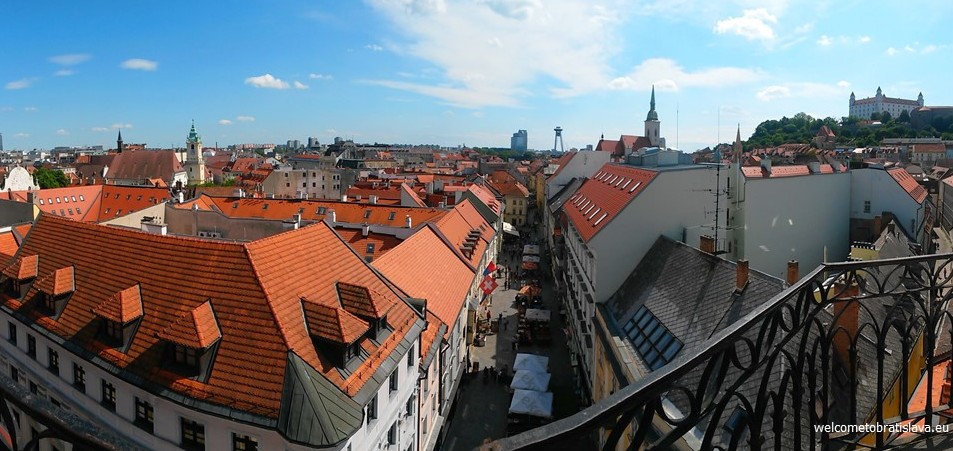 ADDRESS: Michalská ulica


 CONNECT: Website


 MAP LOCATION:

4. UFO observation deck and UFO restaurant
Get a panoramic view on the whole Bratislava from the open-air observation deck on top of UFO-shaped cupola over the New Bridge 95 meters above ground. Refresh yourself in a fine dining restaurant or a bar which are up there, too. But mainly – get your camera ready! Photos taken here will surely be a great memory! The view is stunning both during day and at night.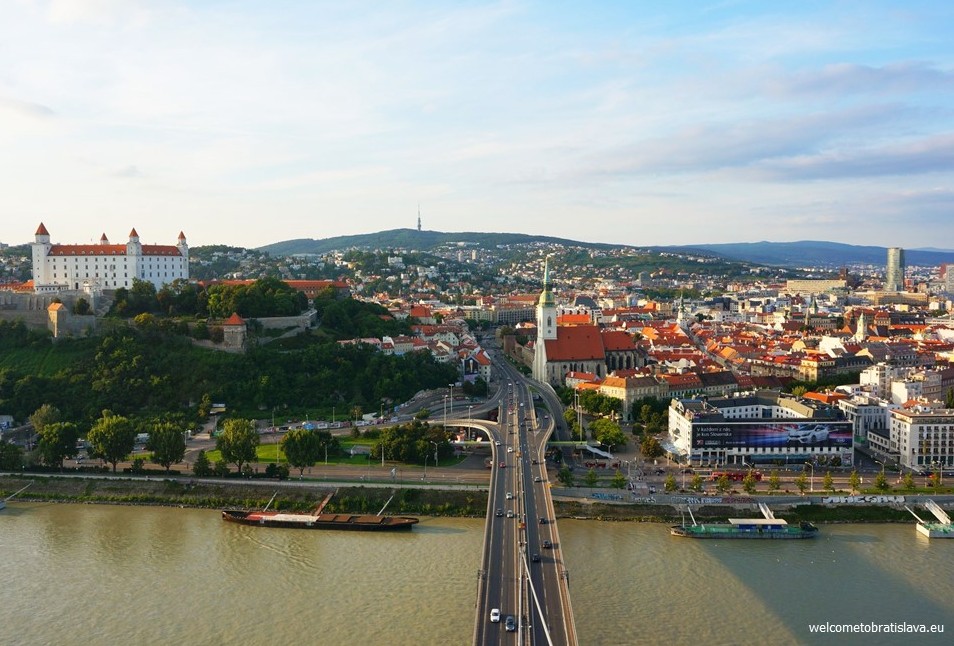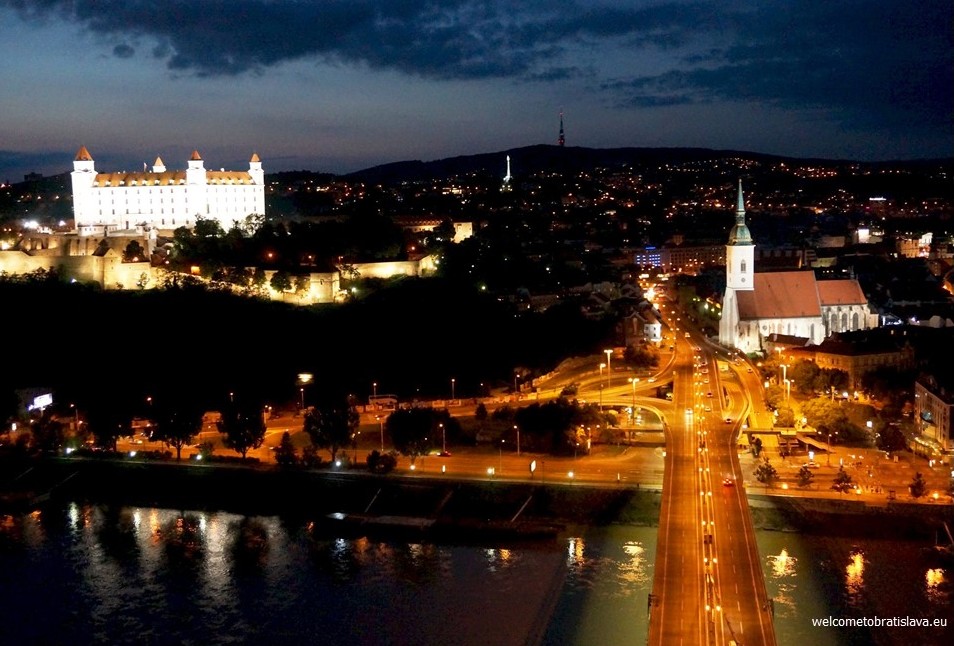 ADDRESS: Most SNP (Novy most, UFO Bridge)


 CONNECT: Website, Facebook


 MAP LOCATION:

5. OLD BRIDGE
The Old Bridge is the oldest bridge in Bratislava and at the same time the newest one – it has been reconstructed after 124 years. You will love its distinctive green color. Enjoy a beautiful walk here with a perfect view on the Danube river and its embankment.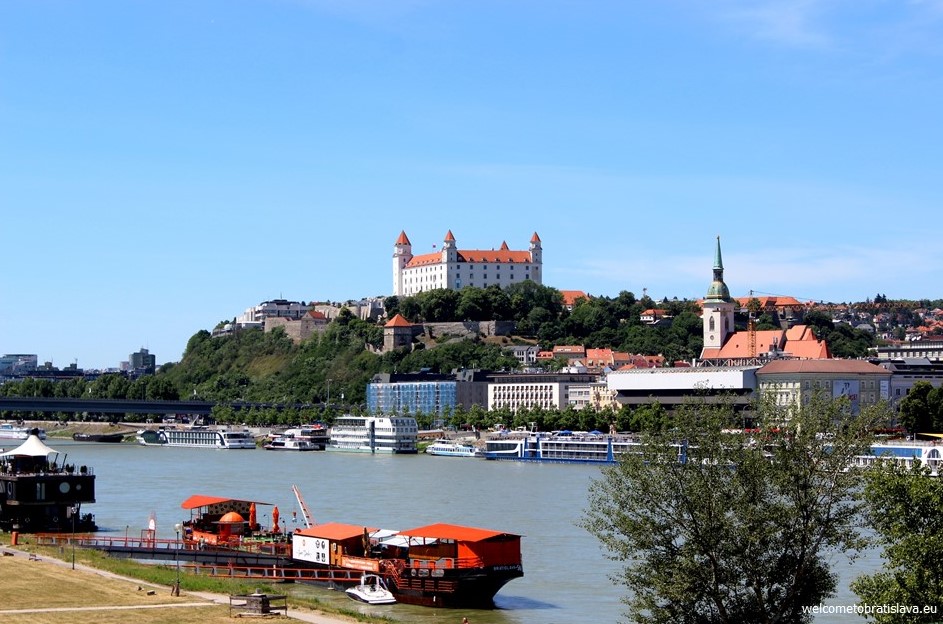 ADDRESS: Stary most


 MAP LOCATION: 

6. Kamzik Tower
Kamzik Tower is an actual TV tower and the second highest point of Bratislava. On its top, there is an observation deck (almost 200 meters above sea level) from where you have a perfect view on the whole city and you can even see the territories of boarding countries with Slovakia. You can either dine in the main restaurant (called Altitude), or have something in its bar (called Brasseria). The restaurant's corner sections are rotating so you can have a 360-degree panoramic view! Not afraid of highs? Take the cable car from Kamzik to "Zelezna studnicka" which is another forest park and a great spot for barbeques.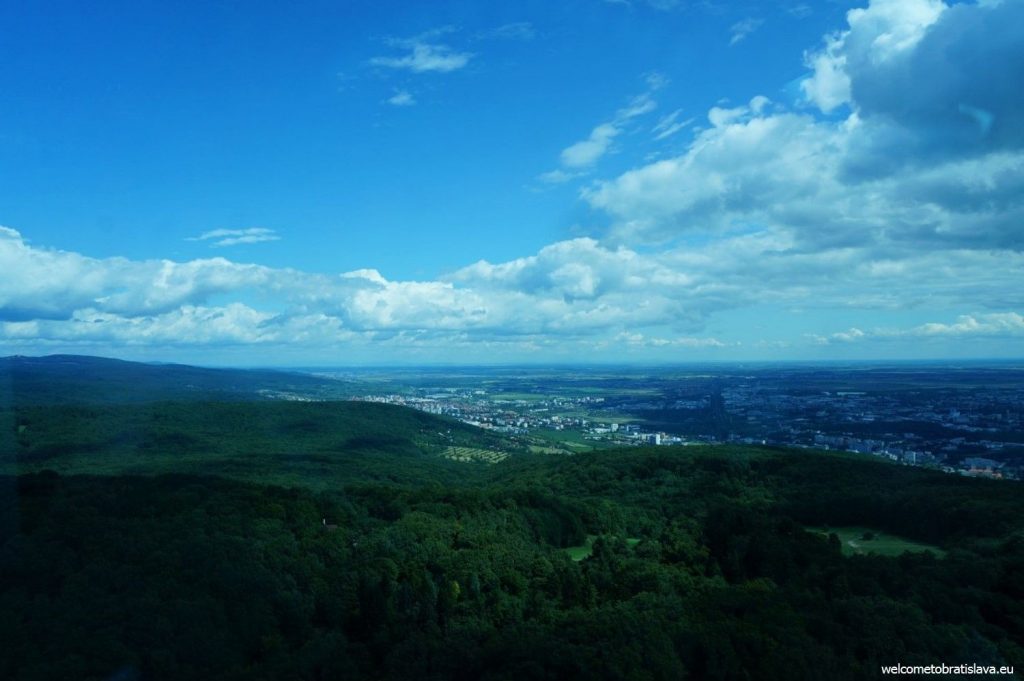 ADDRESS: Cesta na Kamzík 14


 CONNECT: Website, Facebook


 MAP LOCATION:

 7. Slavin Memorial
Slavin is a memorial monument and military cemetery of almost 7 000 Soviet soldiers who fell during the World War II while liberating the city in April 1945. This National Cultural Monument is situated on a hill above the castle which offers a beautiful view on the whole Bratislava. Because of that as well as its quite surroundings it is often a choice for couples who come to hide here from public and spend some romantic time with their halves.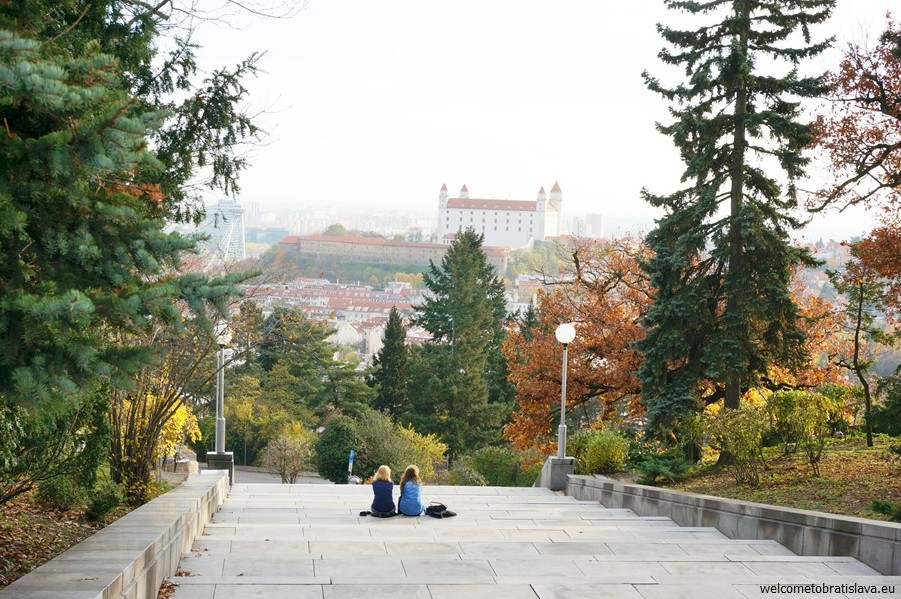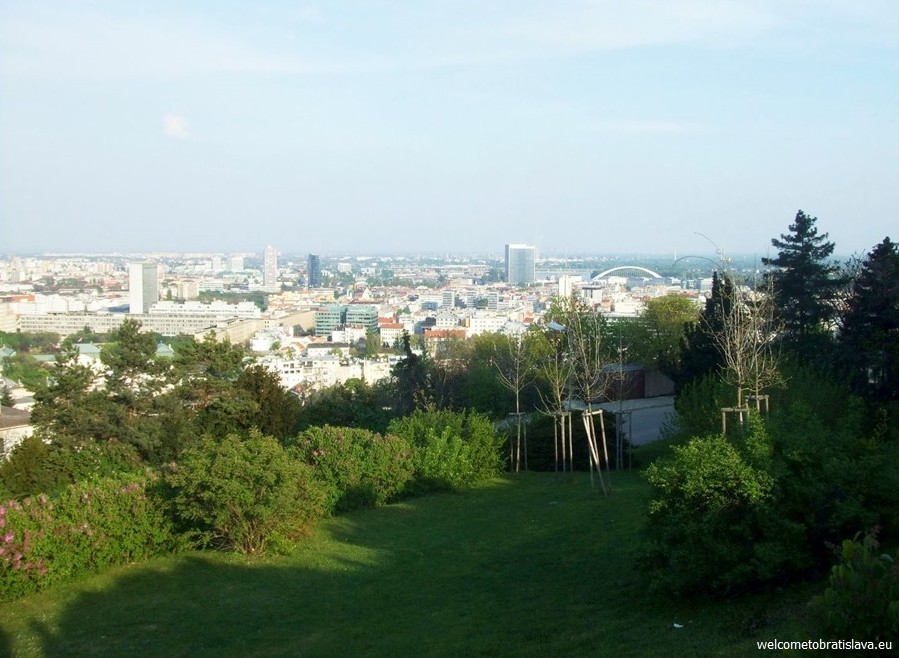 ADDRESS: Na Slavíne


 CONNECT: Website


 MAP LOCATION: 
8. Devin Castle
The castle which witnessed the glory and fall of Great Moravia and was blown up by Napoleon's army. Later declared to be a national cultural monument of Slovakia. Situated on a high cliff over the Morava and Danube rivers, and standing on the frontier between Slovakia and Austria, it offers beautiful panoramic views and is a very popular place to visit. Come here if you want to soak in the rich medieval history which is mirrored in its ruins :)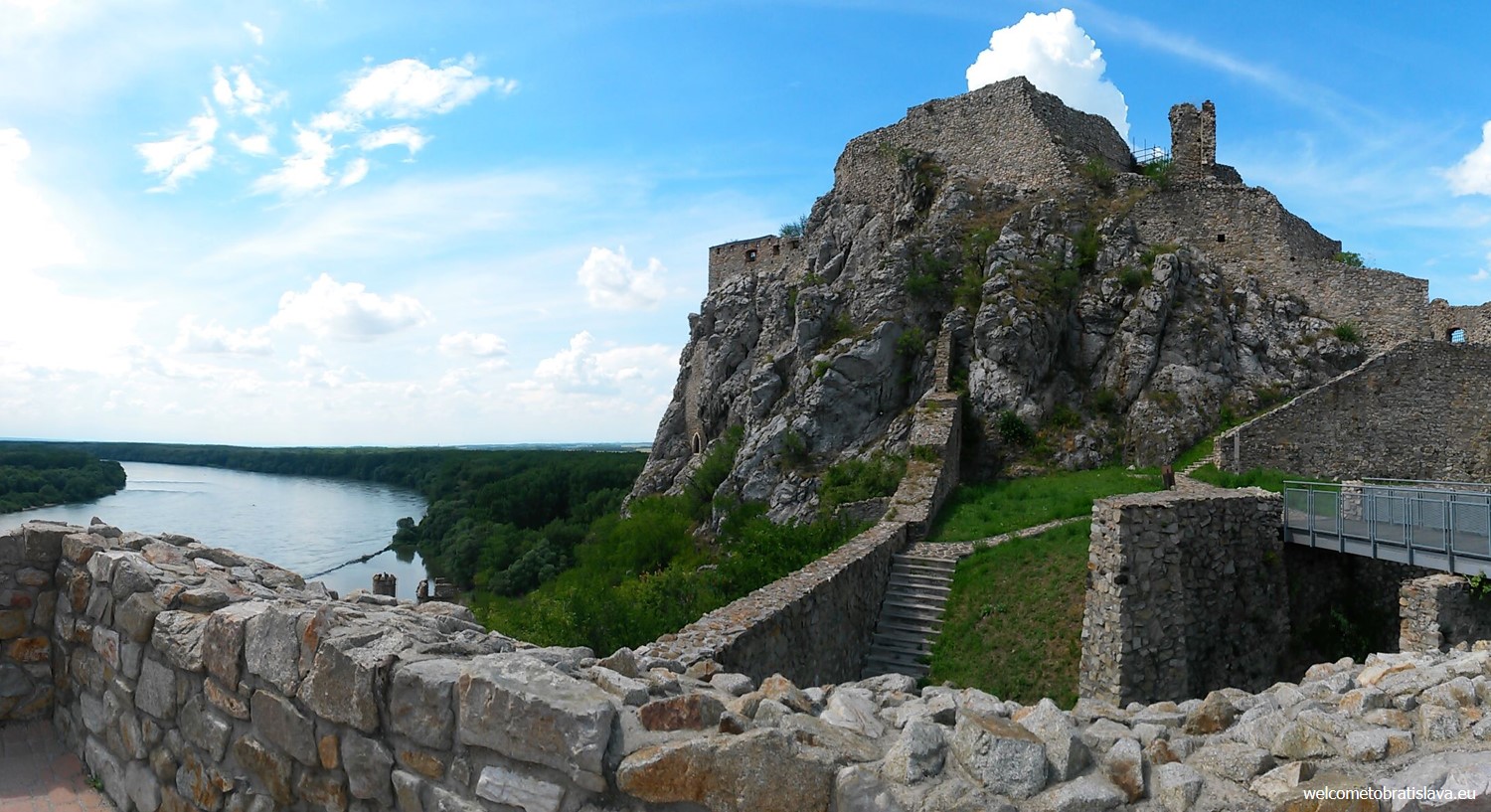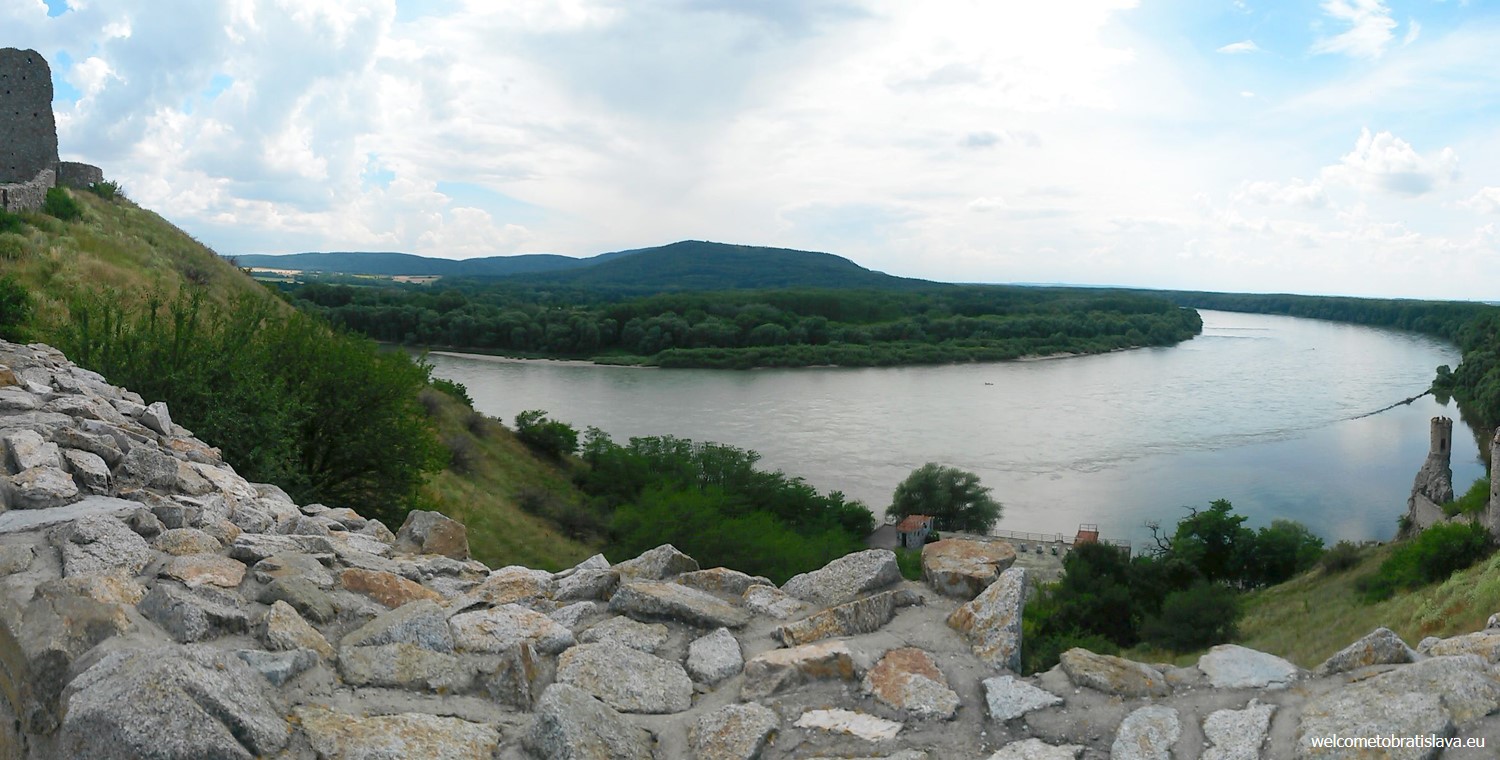 ADDRESS: Muránska ulica 10


 CONNECT: Website


 MAP LOCATION: 
9. Sky Bar
Sky bar has one of the most beautiful views on the Castle, St. Martin's Cathedral and Old Town among the places in the city center. Located on the seventh floor, it is also called a vodka bar, offering seventy different kinds of exclusive vodkas but of course you can also choose from a wide selection of delicious cocktails. The bar serves as a restaurant, too, providing Mediterranean and Thai cuisine, so you can dine here enjoying the sun shining to your face or admiring the sun set in the evening.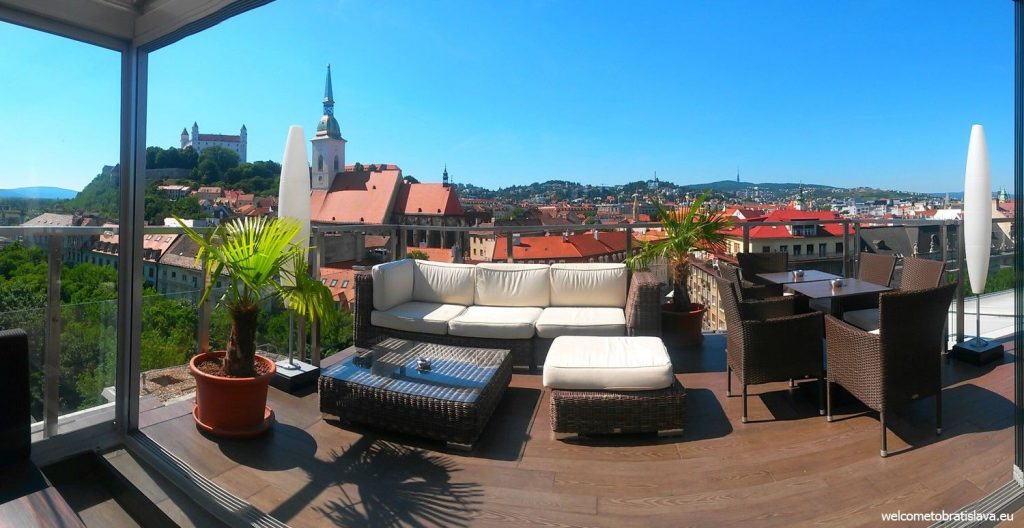 ADDRESS: Hviezdoslavovo námestie 7


 CONNECT: Website, Facebook


 MAP LOCATION: 
10. Outlook Bar & Lounge
Situated on the 13th floor of Lindner hotel, Outlook bar offers you a full Bratislava view from a different angle. Sip a delicious cocktail or have a romantic dinner while watching a sunset over Bratislava. Your experience will be strengthened thanks to a glass wall. Notice an interesting ceiling, covered by a black and white map of Bratislava streets.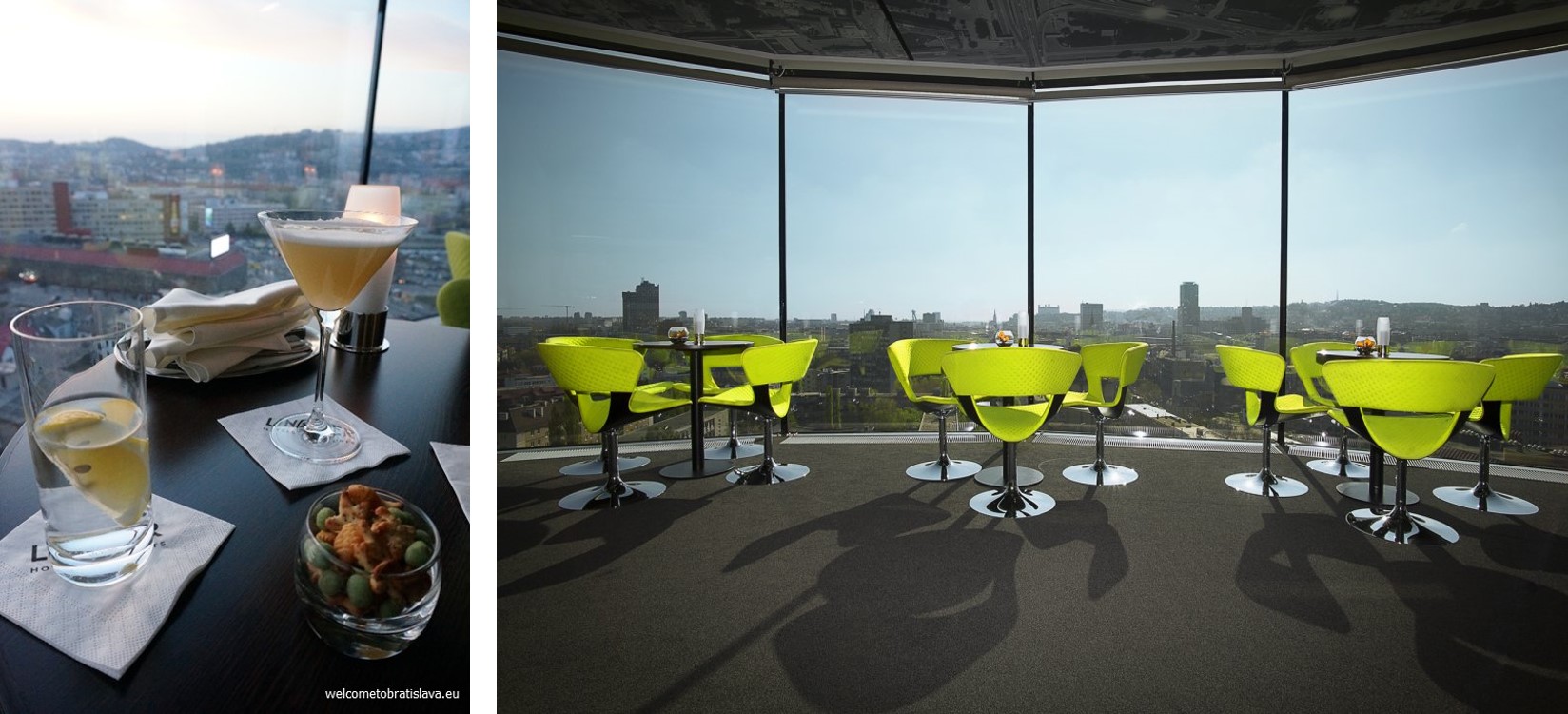 (source)

 ADDRESS: Metodova 4


 CONNECT: Website, Facebook


 MAP LOCATION: 
11. Auspic restaurant
One of the places that offers a great view without getting you up in the sky. Situated in the building of Slovak row club, Auspic offers a perfect view of the Danube river and direct shot of the Castle!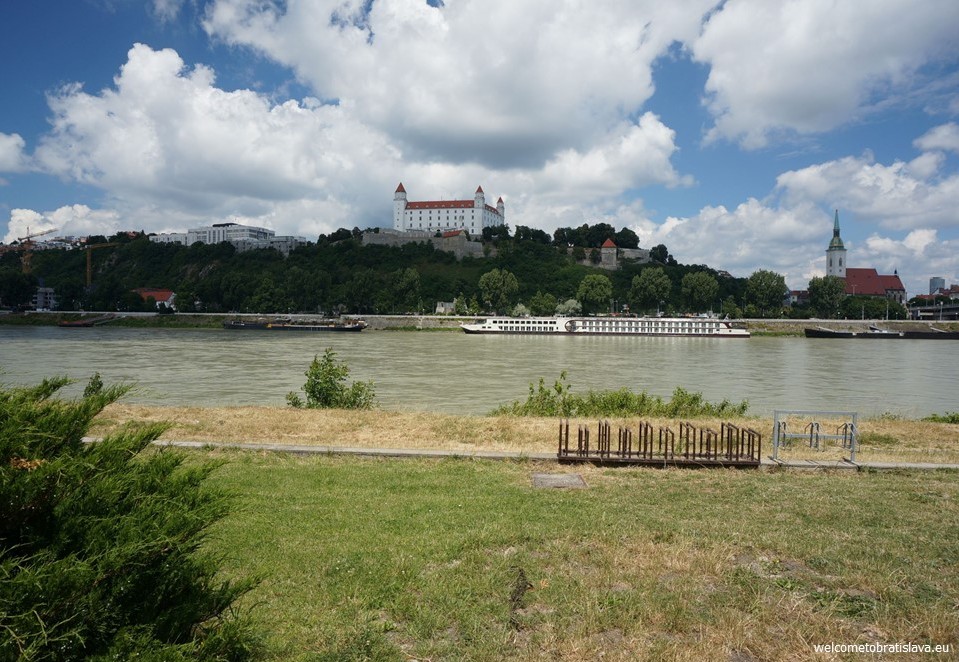 ADDRESS: Viedenska cesta 24  


 CONNECT: Website, Facebook


 MAP LOCATION: 
12. Zeitlos bistro and hostel
This is a good option if you want one of the best views directly from your bed. Apart from accommodation services, Zeitlos is a bistro/pub located in the heart of the historical centre. While eating their signature burgers on the terrace, stare at the iconic St. Martin's Cathedral from the first row or watch the city from  a completely different perspective.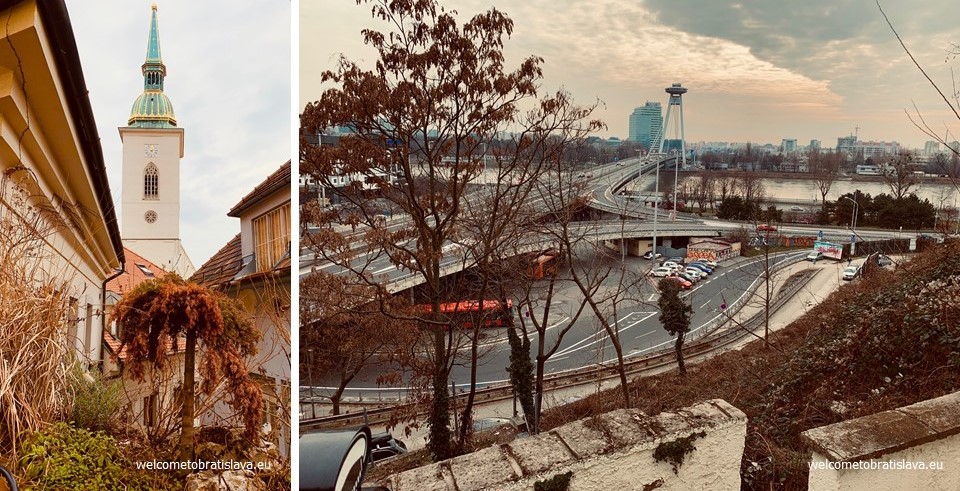 ADDRESS: Zamocke schody 5


 CONNECT: Website, Facebook


 MAP LOCATION: 

Author: Zuzana Mytna