Slovakia is undoubtedly the country of wine. Slovak vineyards lie in the proximity of the best wine parallel in Europe which also runs through famous Burgundy or Cote d'Or. Slovak wine makers definitely contributed to the world wine-making with their new wine types such as romantic white Devin or elegant and strong red Dunaj. If you want to taste local Slovak wines or prefer good old world producers, we have prepared a list of our favorite wine places for you.
WINE NOT!?
WINE NOT!? offers over 1000 different wines from all around the world including about 300 wines from Slovakia – you won't find more types of Slovak wine anywhere else in the city! Most of the wines are exclusive (cannot be just found in a regular supermarket) from small local wineries while they usually offer a whole wine portfolio from that specific producer. In addition, here you can find the widest scale of champagnes in the whole Slovakia! The place differentiates itself also by the way of taking the orders. Instead of a regular paper menu they will bring you a tablet 🙂 This recently opened wine bar (since March 2017) is situated in an excellent location in the very city center at the Main Square (Hlavne namestie).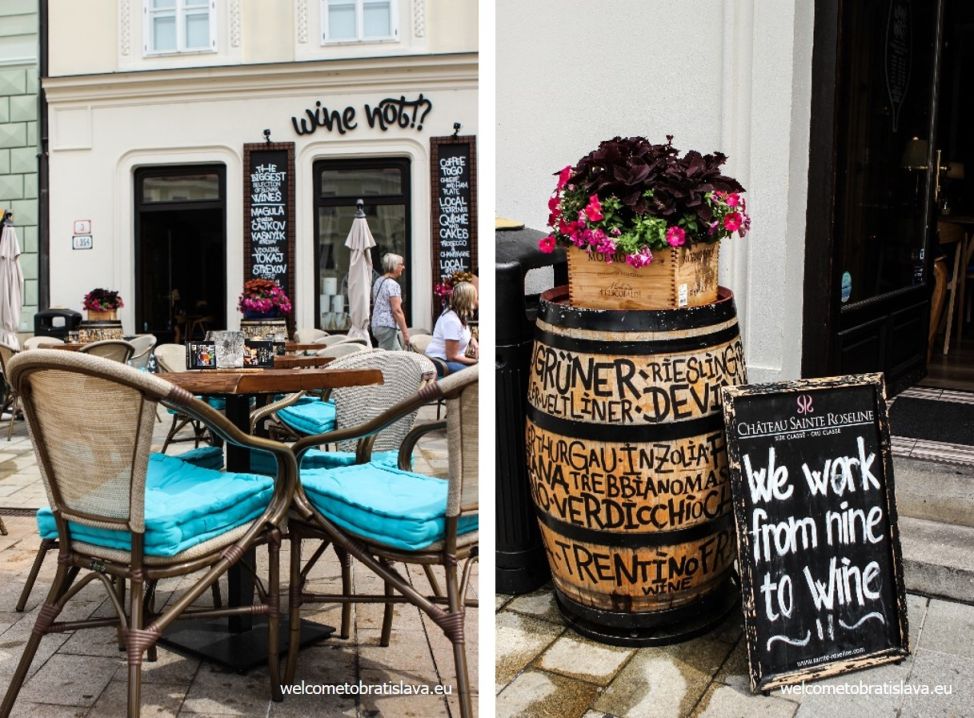 Luxurious interior with tall shelves full of wine bottles can accommodate up to 70 guests and during the summer additional 60 seats are available on its terrace.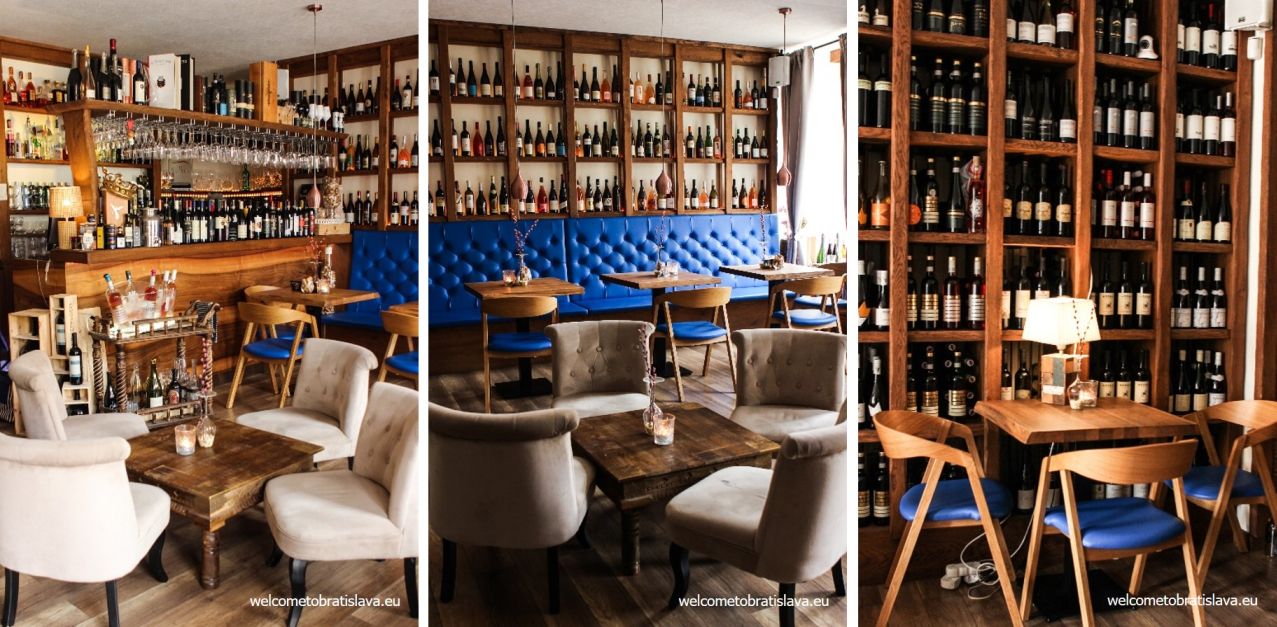 Our tip: If you prefer something local, definitely try the Slovak or Austrian wines, or go for the classical Italian wine selection. Do you want to try something exotic? Wines from South America or Mallorca will not let you down. What we recommend is any white or red wine from the small local producer Magula (from Sucha nad Parnou). Those wines are bio-organical and are just "different" – in a very good way!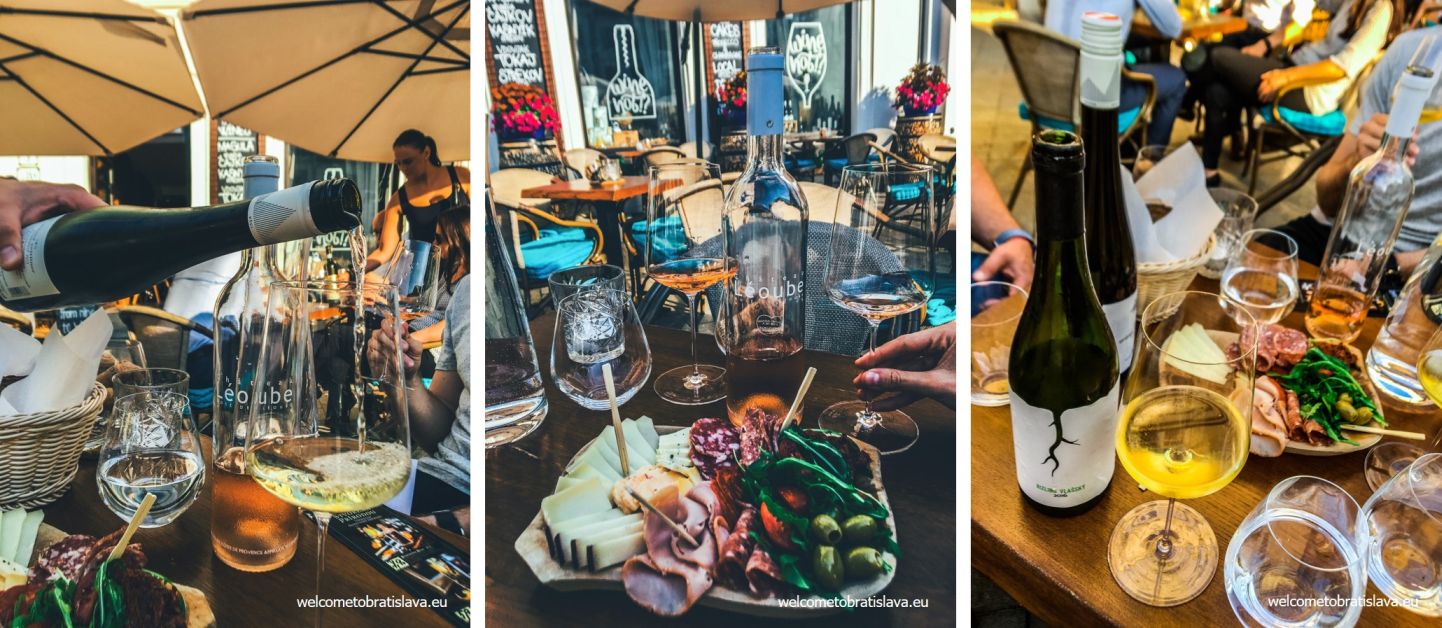 For those who like a little snack with wine, WINE NOT!? offers a selection of French pates, Italian and French hams and salamis and Slovak cheese. Dessert, you say? They have those, too, but be quick – they only have a few pieces of each. And for the biggest gourmans – you'll love their truffle butter!

 ADDRESS: Hlavne namestie 3


 CONNECT: Website, Facebook


 MAP LOCATION:

VIECHA MALYCH VINAROV
An absolutely special place – fresh, original with great ambiance and Slovak wines only. Its focus lies on wineries of the area around Slovak towns Pezinok and Sv. Jur. You can choose either tank wine or one poured from bottles. We definitely recommend White Sauvignon 2015 from Dubovsky&Grancic (Sv. Jur) with flower scents or semi-dry rose Frankovka Modra 2015 from Lukas Krasnansky (Grinava). Try also their spreads – we loved the typical Slovak "oskvarkova" one with dijon mustard.
The interior is very extraordinary. You will love the white stone walls with little dried flowers in them, huge tanks with wine behind the bar, blue wooden shelves or glass panel in the floor through which you can observe the room downstairs.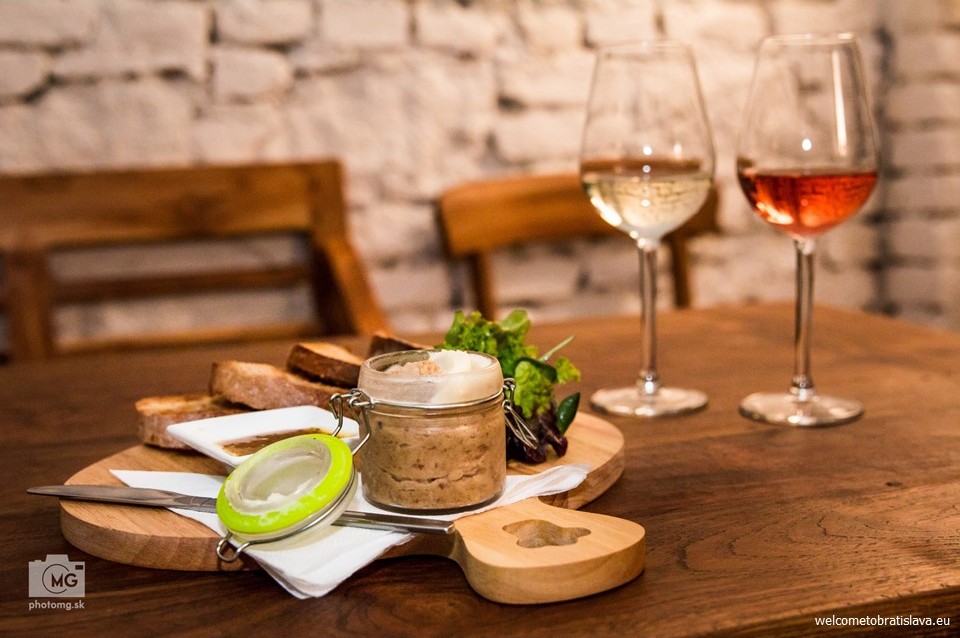 Water automatically served with wines: YES


 ADDRESS: Radlinskeho 24, Kosicka 48, Nedbalova 13


 CONNECT: Website, Facebook


 MAP LOCATION:

SAN MARTEN
San Marten is not a specialized wine place but rather a restaurant with a good wine selection. All wines on the menu are dry and come from countries other than Slovakia – the majority is Italian, Spanish Chilean or Argentinian. An ideal place if you want a good meal accompanied by good wine. Combination of turquoise and dark brown colors in the interior and an amazing terrace in the summer make you feel like spending an evening here.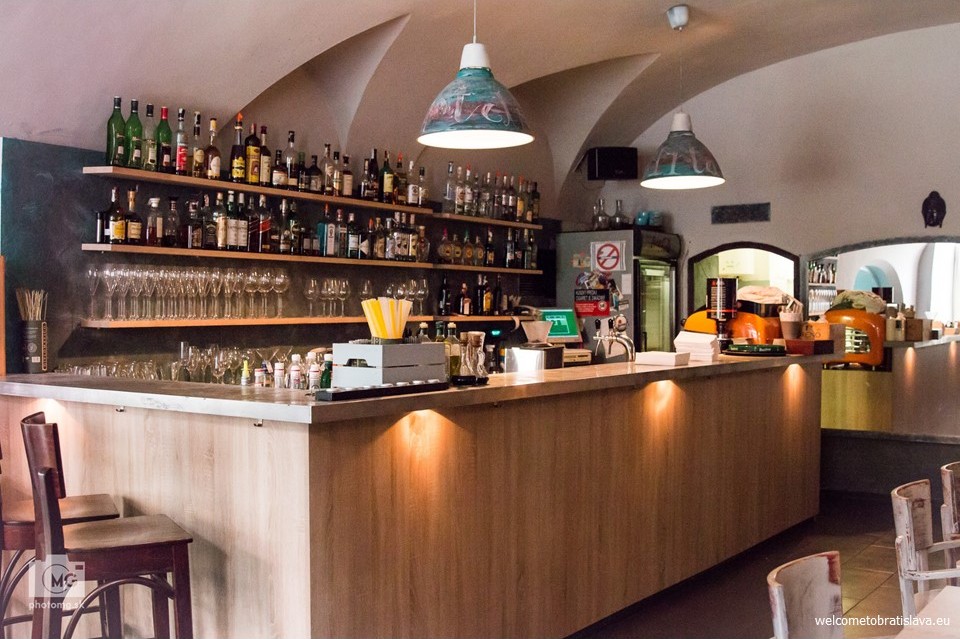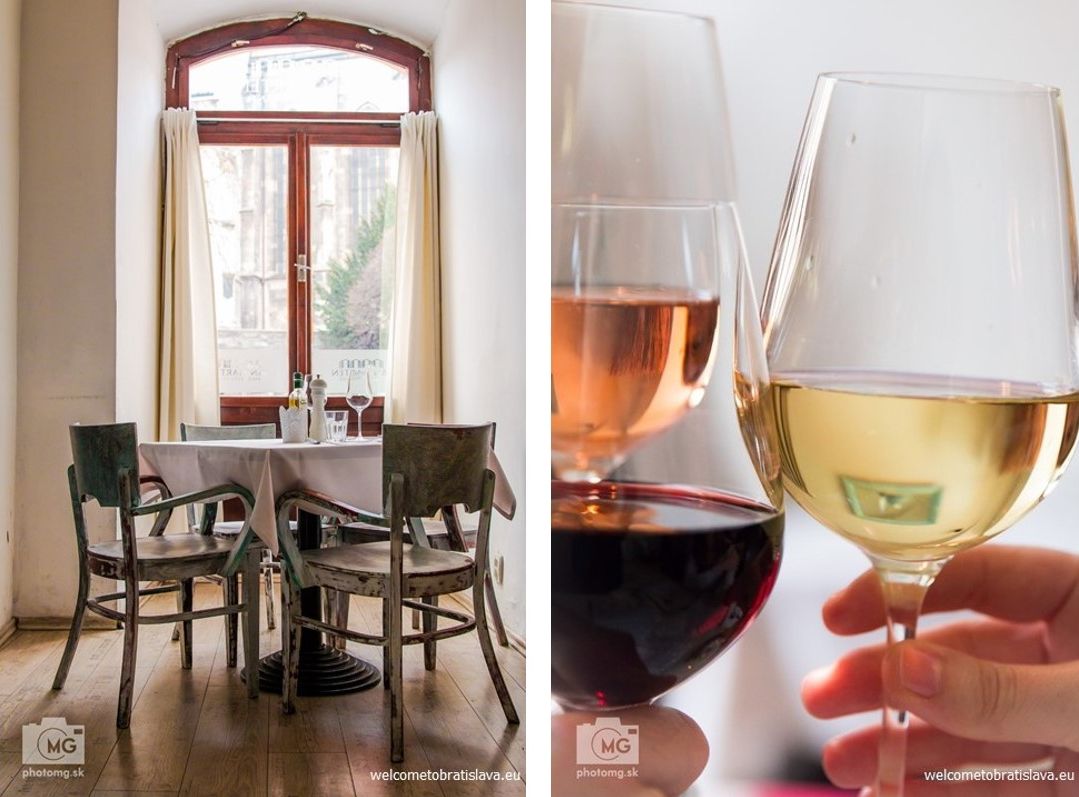 Water automatically served with wines: NO


 ADDRESS: Panska 33


 CONNECT: Website, Facebook


 MAP LOCATION:

VINOTEKA POD HRADOM
Wine is popular also under the Castle! This wine place at Zamocka street is recommended mostly for groups of people since they do not offer poured wine but only whole bottles. The principle is simple and cool. Just choose a table, go through the wine selection placed along the walls and pick your bottle. Each bottle has a visible price tag which makes it convenient at the end to count the bottles and prepare your bill. You can choose from both Slovak and foreign wines, specifically Italian, Spanish, Argentinian Chilean, German or Austrian.


 ADDRESS: Zamocka 36


 CONNECT: Facebook


 MAP LOCATION:
VINIMKA
A very stylish and higher class wine place ideal for formal business meetings. You will love the good quality and professional service. You can find the whole world on the menu – wines coming mostly from France and Austria but also from Portugal, Argentina, Israel, South Africa, Spain, Chile, Lebanon, Germany, Slovakia (the Little Carpathian area), New Zealand and USA.
We tried for the first time the Orange wine, specifically Mash Pitt, Pittnauer from Austrian Neusiedlersee, made without sulphites and with traditional method of draining without using pumps. It had a very different and distinctive taste. We also enjoyed the Port wine Kopke Tawny Reserva which was so sweet it reminded us of liquor. You can also try freshly pressed juices and grape ciders. We liked the small bites you can order with your wine – we ordered a mixed plate of high quality cheeses and hams and we could choose the combination of its ingredients on our own.
The premises consist of three rooms – the main one with a bottom part and an upper part, a hidden private room ideal for cognac tastings and a back room full of wine bottles and interesting light visuals. We were also amused by the funny toilets testing your logical thinking with its signs 🙂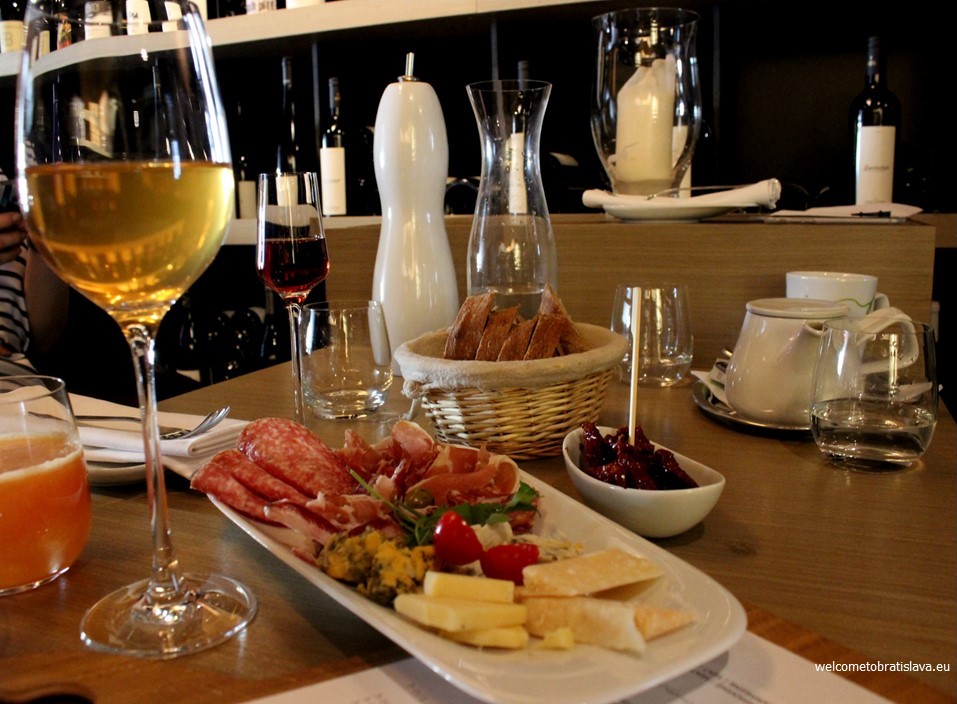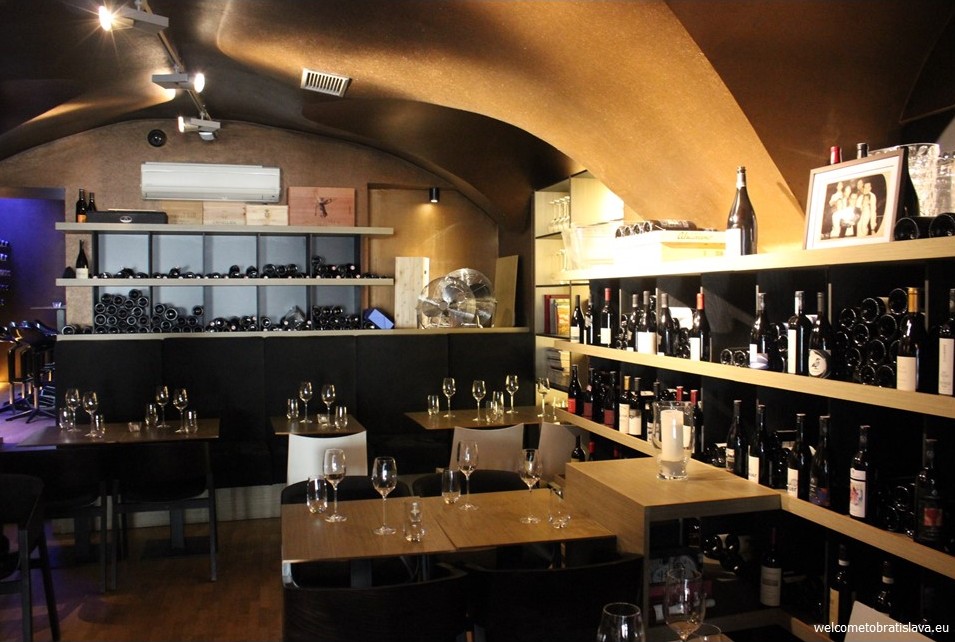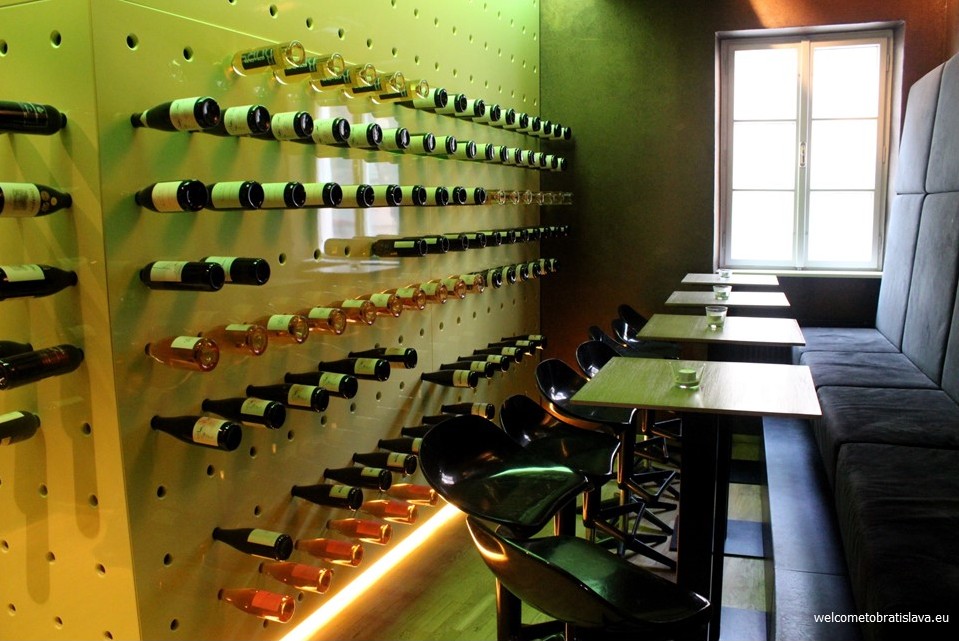 Water automatically served with wines: YES


 ADDRESS: Venturska 3


 CONNECT: Website, Facebook


 MAP LOCATION:
GRAND CRU WINE CLUB
Another exceptional place where the owner makes a big difference! You can immediately notice that wine is his element. On top of his skills, he is super nice – we were let in before the official opening when we were caught studying the opening hours on the door 😀 The majority of wines served are Slovak but you can also choose from some Italian and Spanish ones. We loved the glasses red wine is served in. The place is dog-friendly, too.
You will for sure like the huge windows turned into comfortable seating benches and beautiful cork decorations covering the whole bar wall. Sepia photos of Bratislava give the place a contemporary character.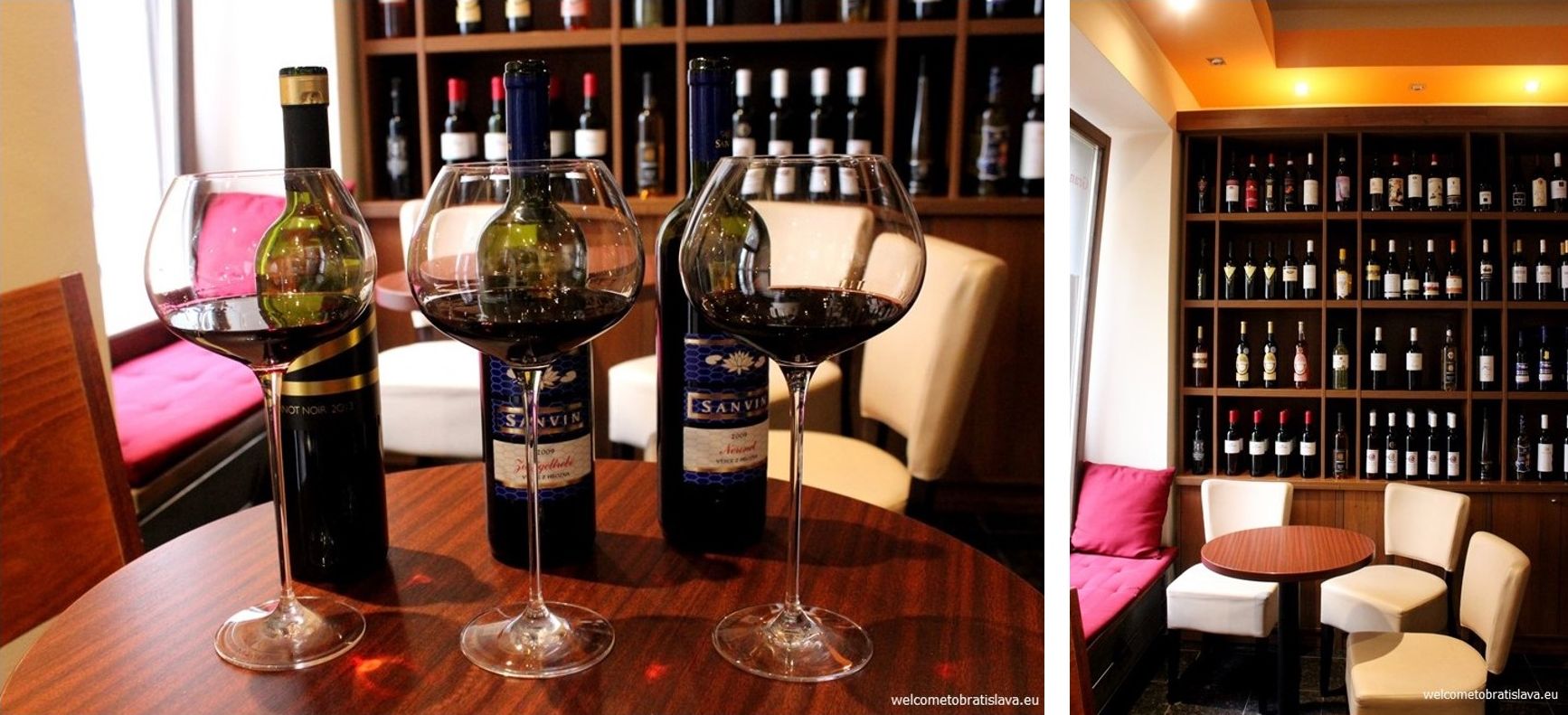 Water automatically served with wines: YES


 ADDRESS: Zamocnicka 8


 CONNECT: Facebook


 MAP LOCATION:
VINOPOLITAN
Globe-trotting Vinopolitan offers no Slovak or Czech wines. 80% of its menu consist of French wines which were confirmed to be exclusively good by our French friend. You can also find Spanish, Italian, Austrian, German or ones coming from the New World on the menu. On top of that, good quality brands of international spirits are served here. You can try tasting per glass or per bottle. The owner brings the added value and can give recommendations based on required specifications. We loved their red Pinot Noir and Bad Boy (already the name sounds cool, right?). Snacks are served until 3 pm only. There are also regular tastings organized.
The atmosphere of Vinopolitan feels just right, thanks to the light orange color of the walls in combination with photos of wine glasses. It inspires you to order deep shades of heavy red wine for enjoyable evenings with friends.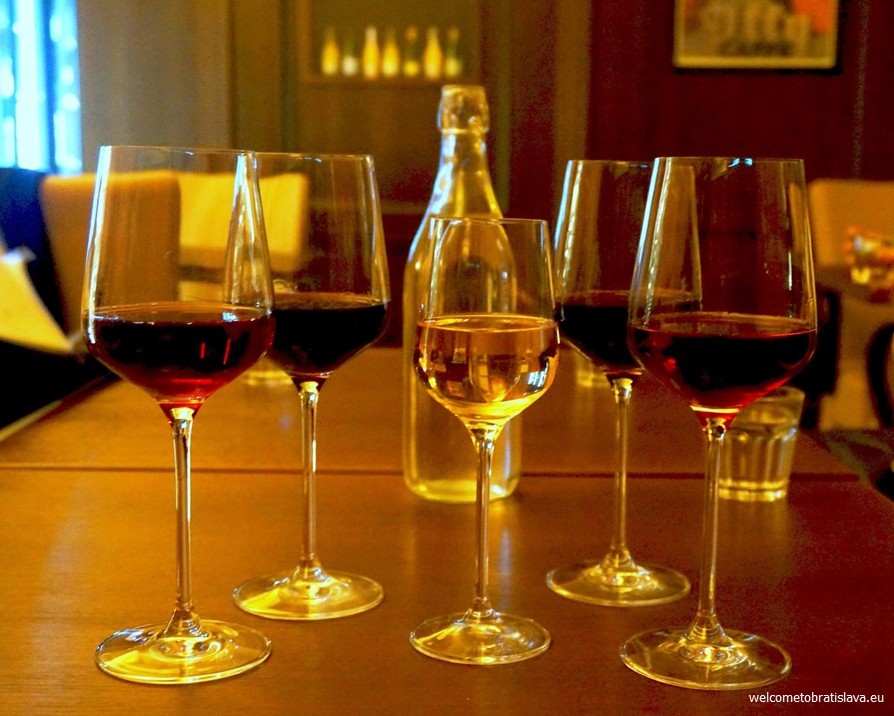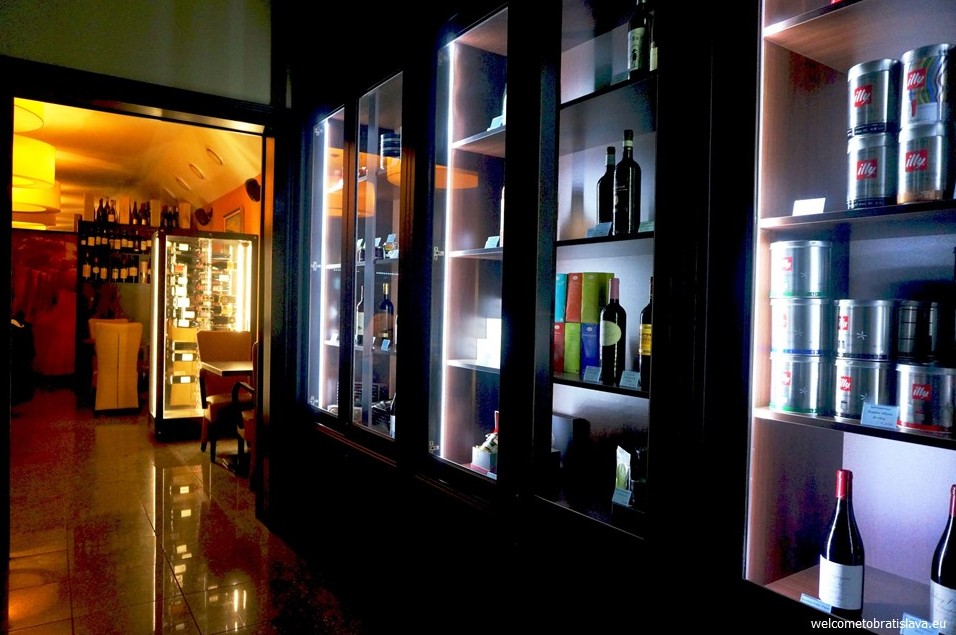 Water automatically served with wines: YES


 ADDRESS: Námestie SNP 6


 CONNECT: Website, Facebook


 MAP LOCATION:

TRUNK
Trunk confirms Bratislava is full of excellent high quality wine places owned by superb people who care about what they do. You can choose tasting by glass or by bottle (for higher sorts) which have the same price if consumed on the spot or taken home. The owner organizes worldwide competitions of best wine – winemakers send samples of their wines and top 60 are selected and published in a book. Of course, you can find all of the winners on the menu. They hosted us with excellent salty bio cookies from Corsica and spicy bryndza spread made out of non-pasteurized milk. We give 100 points for the personalized approach of the owner and the ability to advise us. Our recommendation is to try the divine Cabernet Sauvignon from HR Winery Gbelce terraria.
The Trunk serves as a gallery, too, having colorful or black & white modern abstract paintings on the walls.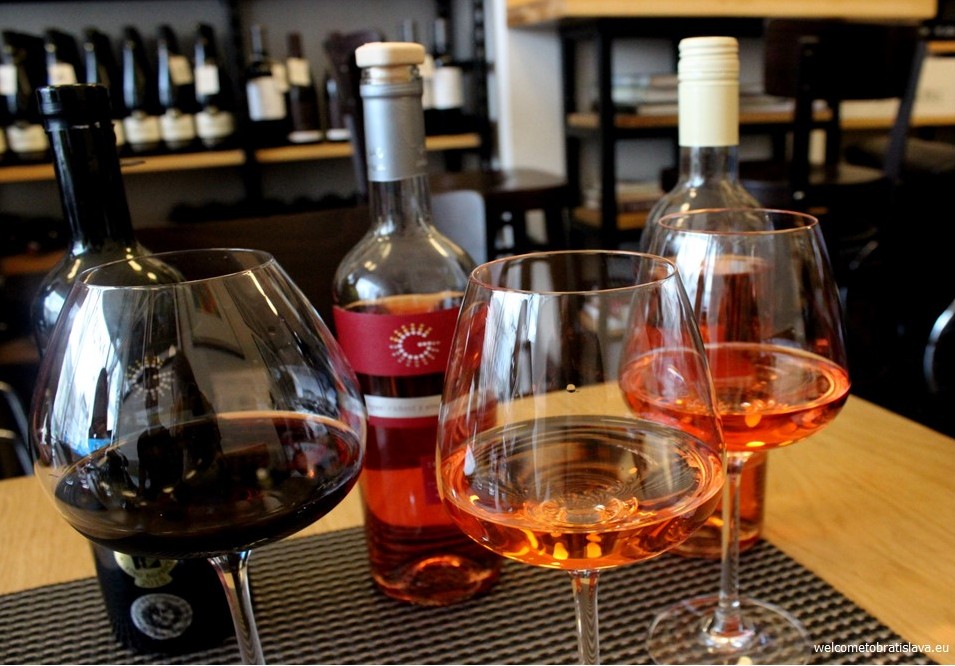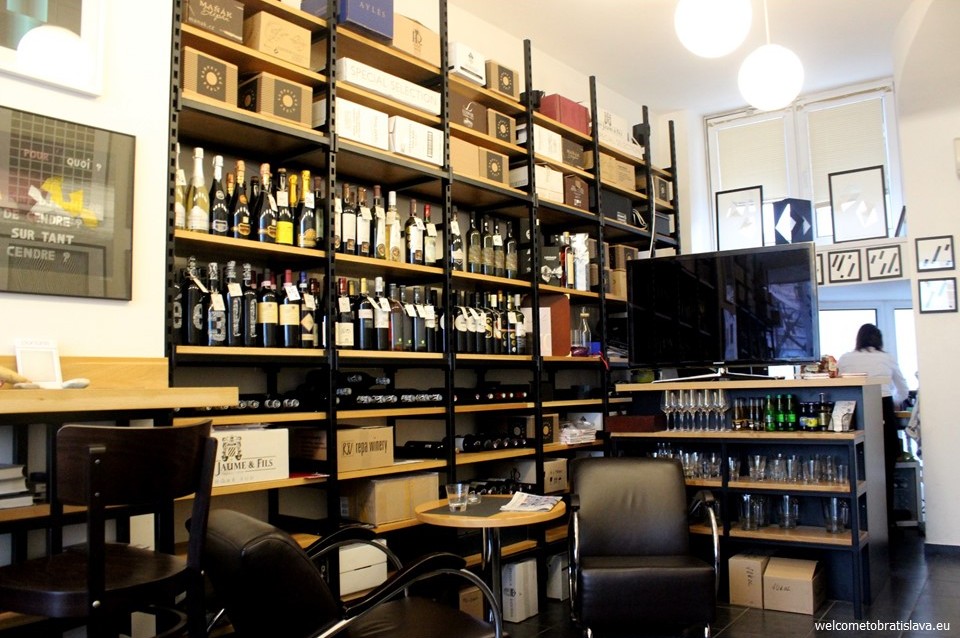 Water automatically served with wines: YES


 ADDRESS: Hurbanovo námestie  8


 CONNECT: Website, Facebook


 MAP LOCATION:

PINOT U BRUNA
Another must see wine place visited mostly by locals and considered as a part of the secret Bratislava. Situated in an old classical house behind the fabulous cathedral, you will get your piece of romance and solitude.
There is no paper menu in this place. You can choose from a board over the bar or ask the waitress. The wine selection is smaller, including mostly organic traditional wines but compensated by a wide choice of small bites which include different spreads (hare, chicken, duck or goose), seasonal dishes (we tried yummy deer ragout and pickled miniver), pies and a daily offer menu. There is a cool LP player playing differently styled LP's – we unfortunately caught a moment of depressing church choral music which was definitely horizon opening 😀
The place is very spacey with good ambiance and interesting brass lamps. The biggest plus is a couple of tables placed outside and creating a small charming terrace in the summer period. We noticed some of the Slovak local artistic celebrities appear here gladly.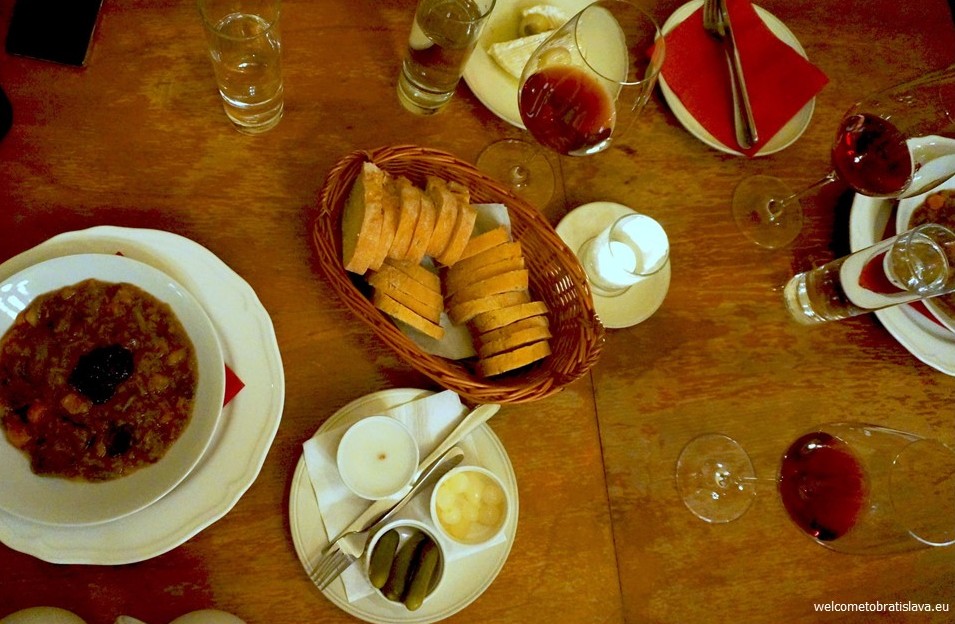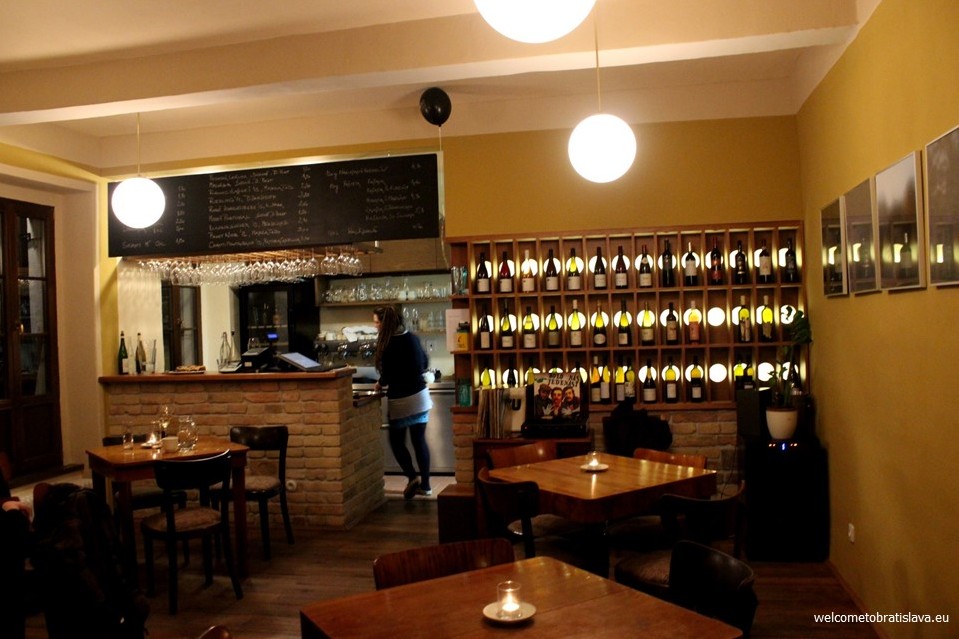 Water automatically served with wines: YES


 ADDRESS: Rudnayovo námestie 2


 CONNECT: Facebook


 MAP LOCATION:
THE TASTE
A high class wine place with stylish and elegant surroundings. If you expect no less than luxury and VIP treatment, you are at the right place. Amazing choice of over 60 different types of both Slovak and international wines will definitely not leave you thirsty. If you are lucky, you can experience live music here.
The premises are very modern and well-designed, with wine dispensers lined up along a wall and wine bottles hanging lighted up from the ceiling. Check out the bathrooms, you will feel like in a spa:D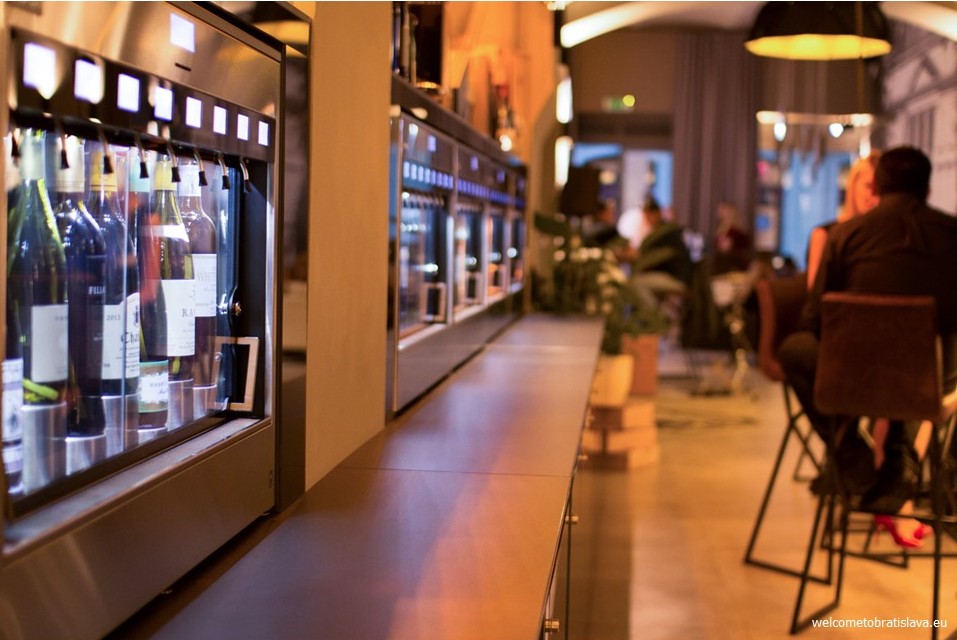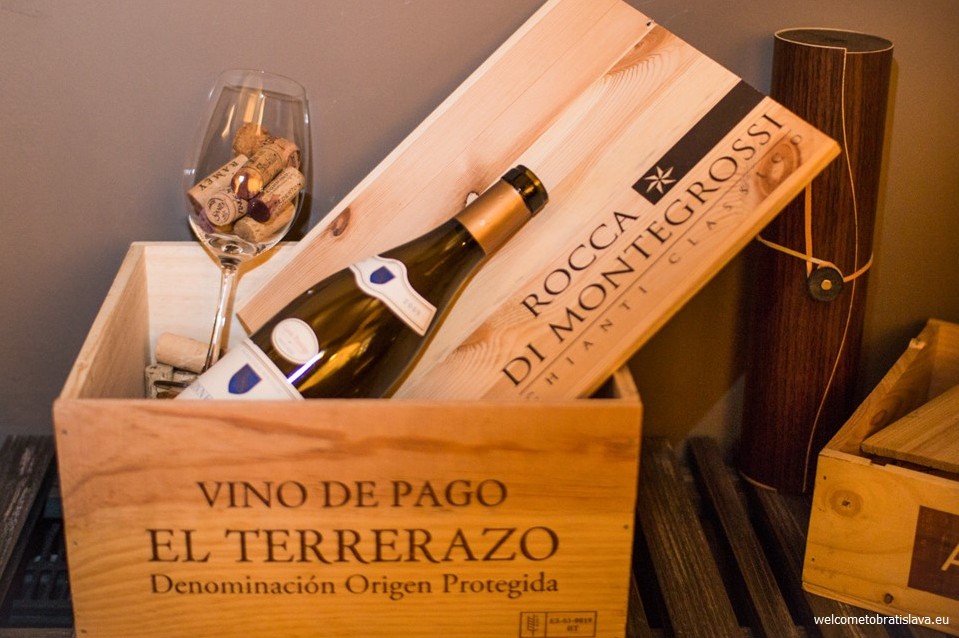 ADDRESS: Laurinska 8


 CONNECT: Website, Facebook


 MAP LOCATION:
BONUS TIPS:
If you want to enjoy Bratislava nightlife to the fullest, try the Nightcards. It offers exclusive discounts in bars, clubs and restaurants in Bratislava. If you are tired of always ending up in the same 3 bars every time you go out,  this will make your experience of finding a new bar more fun! The card game includes 30 discounts, including 20 bars, 4 clubs and dancing bars, 4 restaurants and 1 repeat of your favorite discount. More info.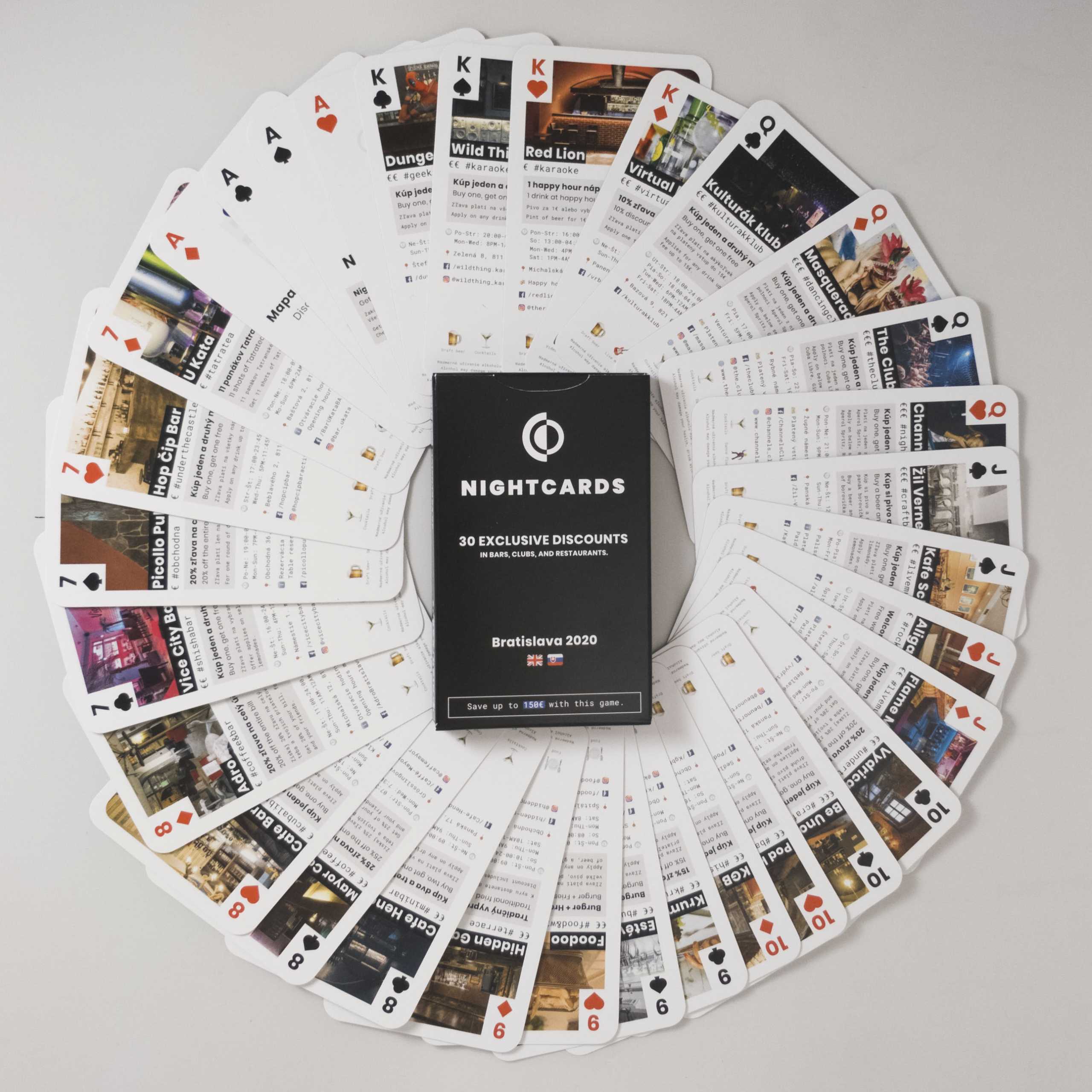 If you are into wine and wine making, you might want to explore the beautiful Slovak countryside, visit a pottery workshop, find out about the traditions and history of the Slovaks and sample some local food and wine on this 6-hour wine tour from Bratislava.
Author: Zuzana Mytna
Photo credits: Zuzana Mytna, Martina Gallovicova