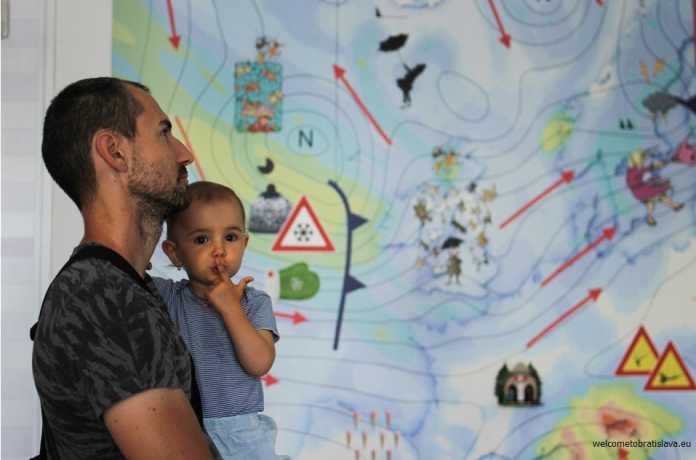 Do you agree that it's never too early to start introducing your kids to the world of art and taking them to the galleries? We have a tip for you then! Bibiana, an International House of Arts for Children, is a cultural institution that organizes interactive exhibitions, holds a regular reading club and is a partner of a world-known event with a long tradition "Biennial of Illustration Bratislava." Children can play here, see original, modern yet tasteful interactive exhibitions, or can try how it feels to be an artist. We fell in love with this place and we hope to extend our excitement from this place to you through this article!
LOCATION
Bibiana is located in a historical building at the very end of the Panska Street, in the proximity of the Rudnay Square and the Rybne Square. It is easily reachable by foot from any point in the Old Town.
If you plan to visit it by car, it can be tough to find a parking spot in the centre, so rather park your car in the Aupark shopping centre and take a lovely walk across the UFO Bridge. Bibiana stands just a few metres from the end of the bridge – it's impossible to miss its colorful gate:)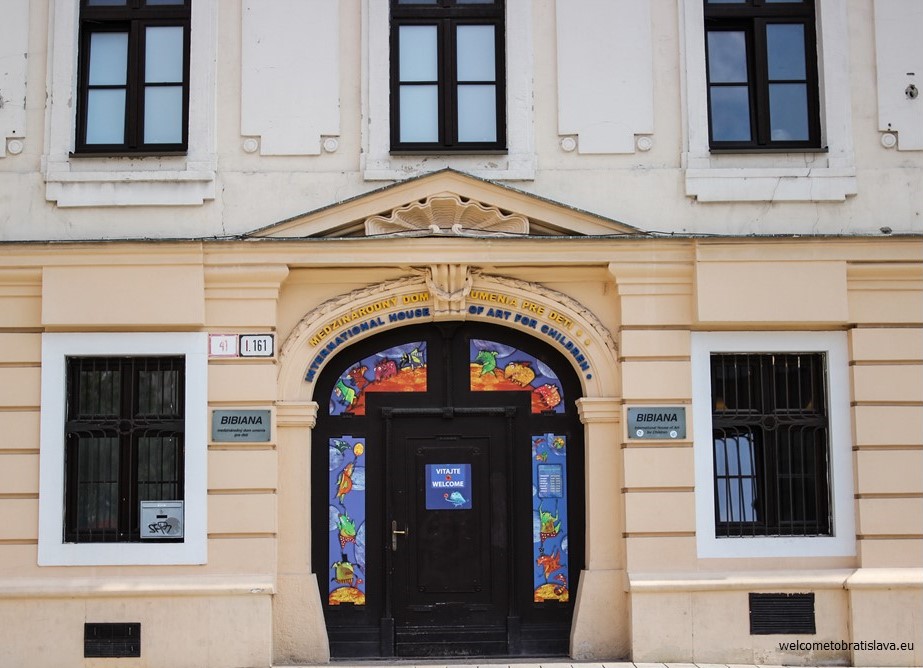 The public transportation will bring you almost to its entrance – take tram 4 and get off at the "Most SNP" stop and walk a couple of meters.
WHY IS BIBIANA SPECIAL?
Bibiana is the only institution of its kind in Slovakia and one of the few in Europe. It is dedicated to children, displaying untraditional and experimental pieces of work. All the exhibitions are carefully designed, so they can be enjoyed by various age groups. From our experience, even the youngest toddlers will find something eye-catching and interesting to try out. The exhibitions are interactive and invite kids to take part in them and try out numerous activities. They are educational yet keep emphasis on the playful concept. The exhibitions are temporary and change on regular basis.
Majority of the staff is used to kids and supports their free discovery. But be ready for a few elderly ladies who are a bit too direct towards the children who have a different than intended use for some of the displayed objects (we called them very strict grandmas:))
What  we really loved is that the place is friendly to foreigners – all the descriptions accompanying the displays are bilingual (Slovak and English).
The exhibitions are complemented by the accompanying events such as theater performances, creative workshops or music programmes.  
Bibiana also has a rich library and if you speak Slovak, you can join some of the numerous activities of the Bibiana's Reading Club that emphasises the importance of reading to children.
This is a true kingdom for all the kids to be raised into creative and sophisticated adults one day. Do you agree? Let us know about your experience.
Author: Zuzana Mytna

 ADDRESS:  Panská 41


 OPEN HOURS: Check the official website


 TICKETS: adults 2 €, children 1 €


 CONNECT: Website, Facebook


 MAP LOCATION: