Since September 2018, dozens and dozens of uniform yellow bicycles have appeared in the streets of Old Town, New Town, Ružinov and Petržalka neighbourhoods. And it's about time. After many other modern cities began with this super cool, effective, cheap, healthy and ecological way of public transport, bike sharing has finally arrived to Bratislava. Added bonus, the scale of the city's most thriving neighborhoods makes it the perfect place for biking! Yay! No need to own your own bike and no more worries about parking or traffic jams!
Get on the "BAjk"
Let's start with some good news – the fact that we now have a functional public bike sharing system definitely is! The system is quite easy – just register on their website (available also in English); choose a program; pay online and use the PIN code you will receive via SMS to unlock the bike. No permanent residence, or any other obstacle stands between you and your yellow bike!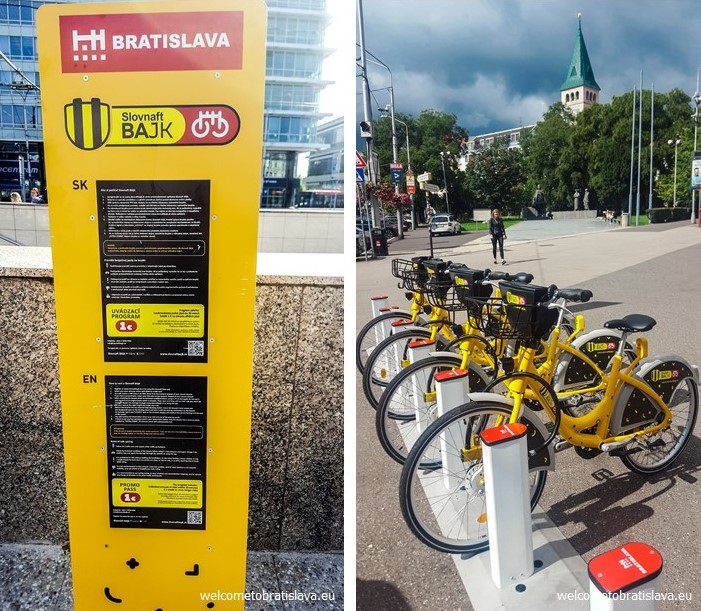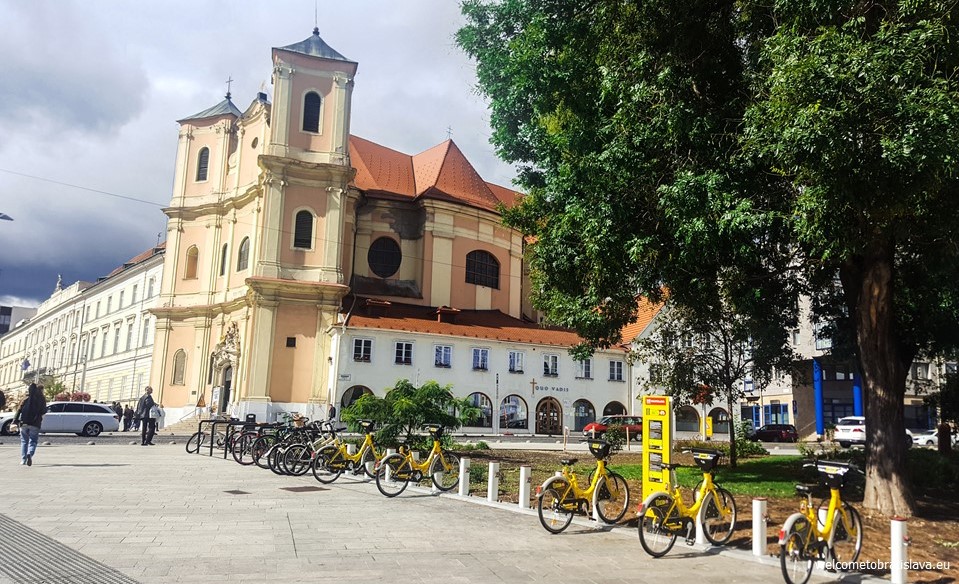 Initially, more than 70 docking stations were placed around  the Old Town, New Town, Petržalka and Ružinov boroughs, usually placed close to public transport stops or near  cycle paths. The distance from every subsequent station is very close – from 300 to 500 meters. As for the bikes themselves, during the pilot phase there are 200 to 550 bikes. After March 2019, the number of bikes raised to hit around 750. The upcoming months will also see a mobile application where users will be able to register and pay for the service at the smart stations.
Oh, and if you were wondering about the strange name of the service, here is a little help 🙂 "BAjk" is a little wordplay – "BA" is a shortcut for Bratislava + "bajk" is how Slovaks write the  word "bike" to be pronounced correctly in English. And why did the local oil refinery Slovnaft help sponsor BAjk? As you can probably guess, this is a joint project with the city office to adhere to their social responsibility program.
Follow the rules
Bikes are at disposal 24/7 and can be rented for a maximum of 24 hours. The service is intended for users who are 16+ years old and bikes are permitted for use exclusively within the Bratislava territory. It is also recommended that you check the technical conditions of the bike you want to ride. And obviously if you find any damages on your bike, or create new ones, report it through the same webpage. After the ride, you have to return the bicycle to a Slovnaft BAjk docking station, but it can be any official docking station.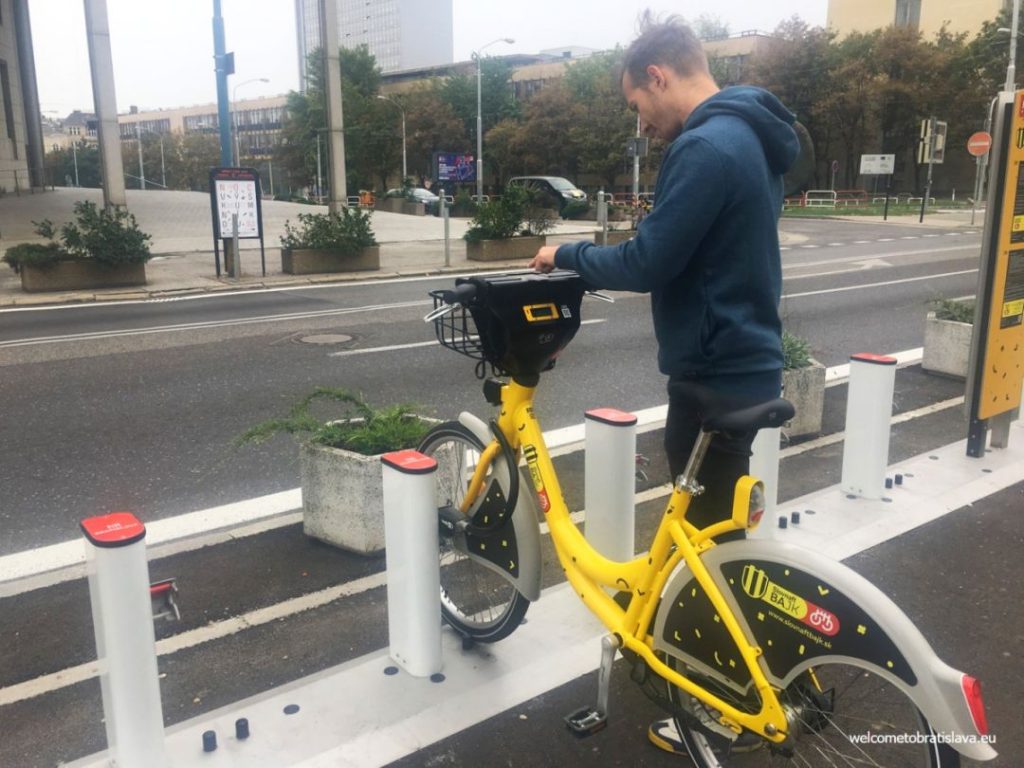 When riding in the city, wearing a helmet is not mandatory but it is recommended. For rides outside the city, the helmet is obligatory. This is not part of the bike-sharing service, so you need to secure one by yourself. Also be careful about riding on the path for walkers – even though some riders do so – it is prohibited and you might get fined 60 €. This doesn't apply when you are walking with the bike, of course, and note that cyclists can only use the cyclo-path or the road.
Be patient
By now it all sounds amazing, right? Well, not everything is perfect right from the beginning and Slovnaft BAjk is not an exception. The biggest issue with this program is the imperfect  docking system. You might not be able to unlock the first bike you choose. From our experience, if you do not manage to unlock the bike on the first attempt, don't even waste your time by trying it again and move on to a different one. This might mean finding another docking station with more bikes.
Thankfully these stations are very close to each other. Still, it might take you some time to finally unlock the bike. Especially if you are with a group and each need one. If this is the case, our tip is to reserve enough time for searching around. The online map which should ideally show you where to find available bikes doesn't seem to be perfectly updated either. We definitely don't recommend using this service for the first time when you are in a hurry. The provider asks users to announce any problem to the Infoline. This is available from 7 am to 7 pm via +421 2 5950 5950. Please do so; it will help other bikers.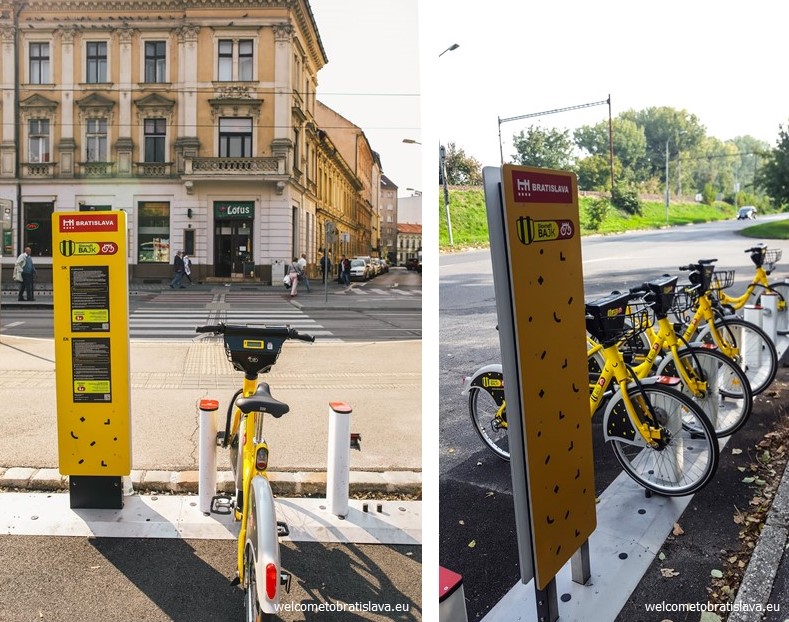 Finally, what we find most frustrating is the current state of cycling paths in Bratislava and the unfortunate arrogance of some drivers. The city office will soon solve the first problem. It promises improvement in this matter and new paths are becoming a higher priority. We guess that the second one just needs some more time and patience. The ease of renting a bike will bring more cyclists to the city. And it may even convince some drivers to try this method of commuting. Let's hope for the best 🙂 What is certain is that BAjk is a cool addition to Bratislava. And, a real improvement on the quality of life in our city. We are keeping our fingers crossed 😉
Read also:
Cycling in Bratislava
Author: Eva Latakova