Literally translated, bokovka means "sideways." More practically, however, Slovaks use this term to mean something on the side: a side job, a roadside reststop, or – gasp! – a rendezvous! When it comes to this home-style restaurant in the heart of Ružinov, we like to think of bokovka as an ideal moniker for a place that offers familiar pub-vibes and homespun cuisine in a glamped-up setting with plenty to offer everyone. Bokovka is one of this neighborhood's places-on-the-side where locals come back to when trendy new joints lose their cool and home is the last place to be on when an evening out calls.
LOCATION
Ružinov is a unique, extremely desirable location for the residents of Bratislava. For tourists and day-trippers, much less so. Presumably, what little remains of the neoclassical baroque-ness that is Old Town occupies the spare time of out-of-towners. Venture west of the elegant Medická záhrada park and it's uncharted territory. But consider this an insider's tip: Bokovka is located in one of the coolest neighborhoods in town.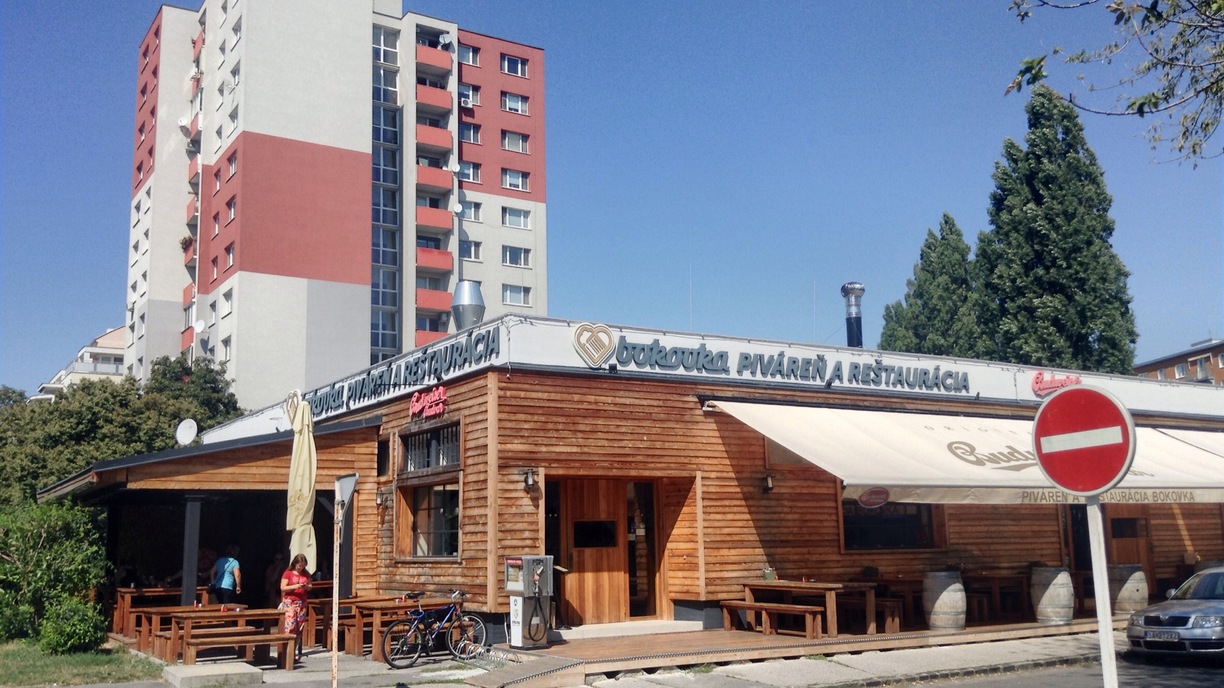 (source: trover.com)
Despite fresh, glitzy housing projects that literally crane over every rim of available skyline, this area seems intent on utilizing the existing Communist-era buildings, compelling them to stand proud, colorful, and rectangular beneath heightened industrial progress. Superficially the area can seem dated, but hidden behind layers of 1960's brick dwell the sleekly designed open-floor plans and on-trend interior composition of Bratislava's newest homeowners. The same latent charm can be found in the restaurants and shops that dot this otherwise residential zone.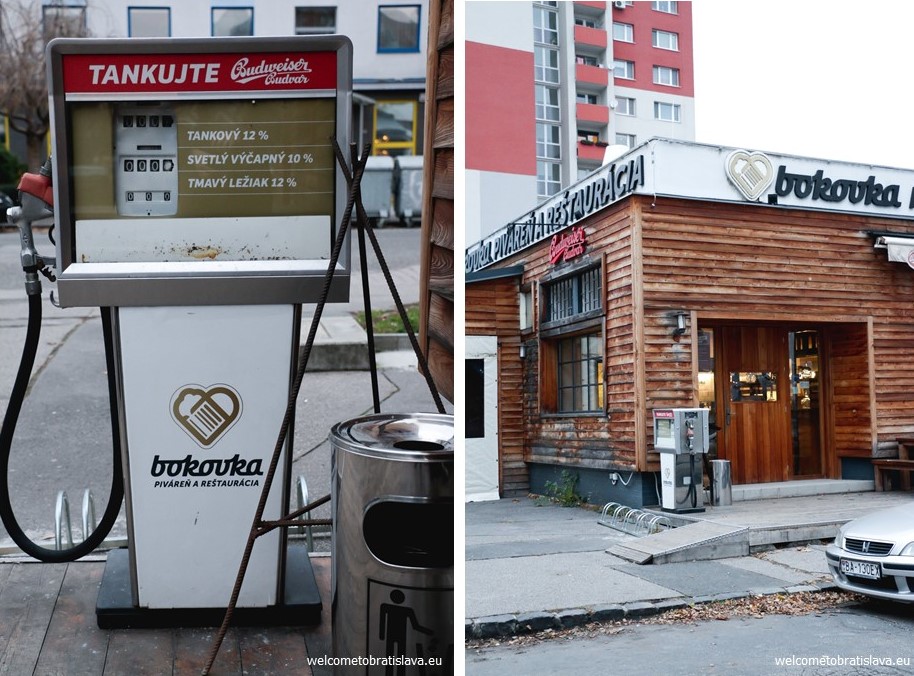 INTERIOR
Housed in the shell of a former self-service grocery store, Bokovka is one of many buildings here being repurposed rather than bulldozed. Remnants of the building's former life are expressed with touches like the pump-your-own gas nozzle – now advertising beer, though sadly for decoration only. The exterior, too, is nondescript. Dwarfed by dated apartment complexes, Bokovka's single story and wood slatted facade manages to blend in while still feeling out of its element.  

The interior design is what first strikes the guest and reveals how special Bokovka is: The highly distinctive ceiling with its raw open space and exposed timber beams sets a modern, almost industrial tone that's softened by the handsome open floor plan and old-school touches such as cabin chairs and a ski-lodge wood burning stove.
A foosball table in one corner; a discrete children's playland with enough books and toys to distract the kiddos for a moment and give parents a much need chance to catch up with friends; cozy semi-circle booths for intimate dinners: there is a side-area for each type of dinner that ventures into Bokovka.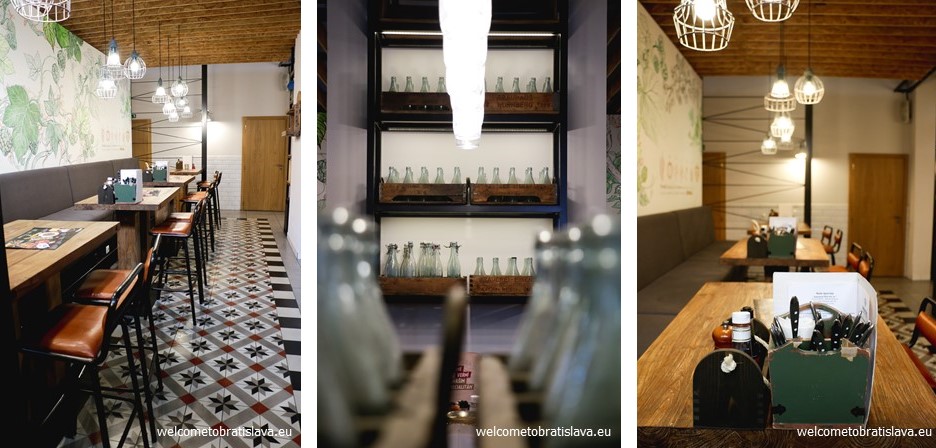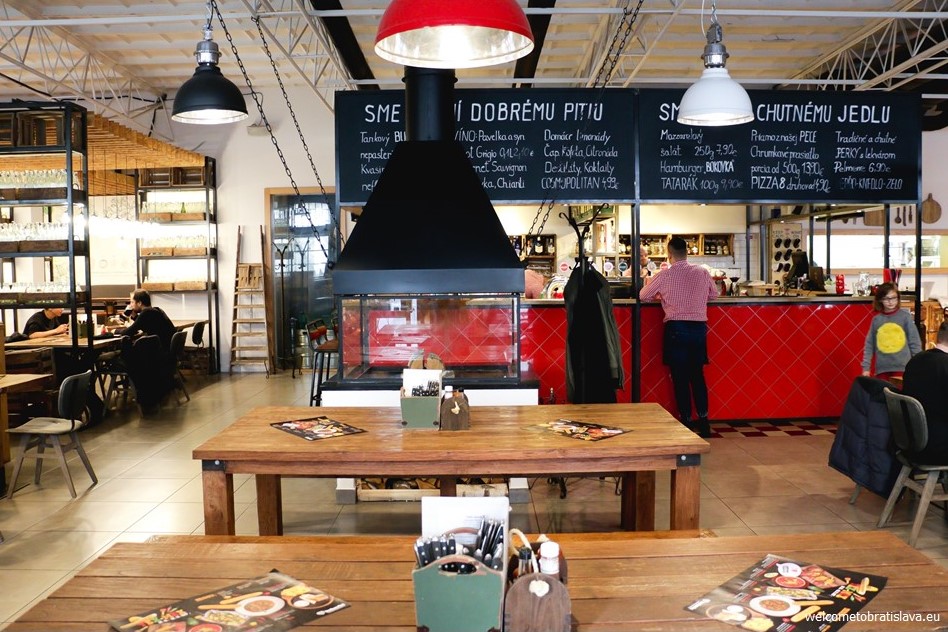 Lest the local art crowd feel out of place in a pub-style establishment, a print by local artist Alexandra Hudecova takes place of honor along one of the main walls. She is an up-and-coming artist in Slovakia and a very smart addition to this outwardly hum-drum pub. But again, therein lies the magic of Bokovka.
WHAT TO HAVE AT BOKOVKA?
If you've been following along with the theme here, the description of Bokovka's food won't shock you: comely platings of comforting beige cuisine that – on the surface – register as slightly more presented versions of favorite Slovak childhood meals. The bone-broth, the fried cheese, the obligatory plnené papriky. But that's the point, isn't it? Things here are vaguely familiar and happily reassuring; from the ski lodge-esque main room to the attentive, if weary waitstaff, to the happy groups of families nazdravie-ing over beer and spirits.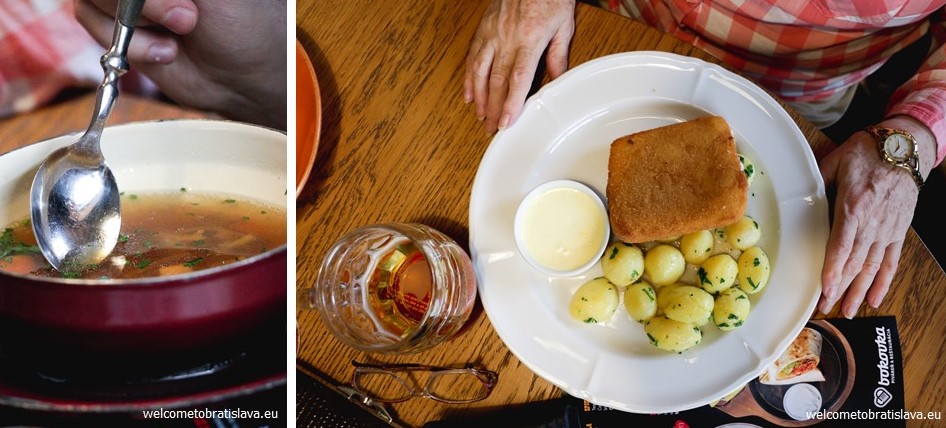 Let's take the humble Kuracie stehienka meal of chicken drumettes, mashed potatoes and cucumber salad. Simple enough. But the chicken's delicate, flavorful coating manages that perfect crunch to juicy-meat ratio that's nearly impossible to produce in home kitchens. The mashed potatoes are rich and buttery, but not heavy. And no watery cucumber salad here: the thin slices are bright and crisp just ever so lightly marinated.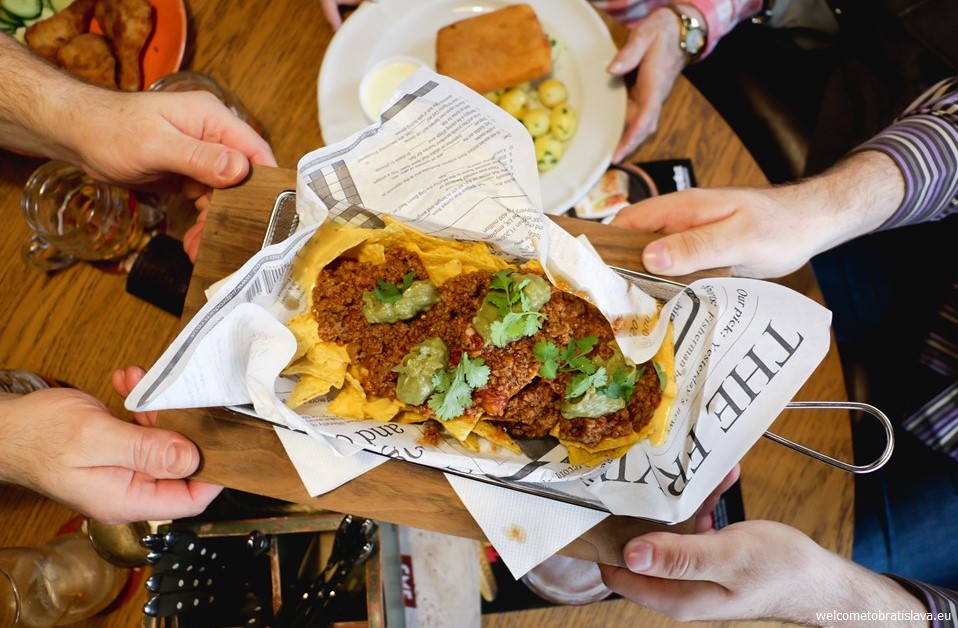 The Domáci nakladaný hermelín, too, stood out as a surprise hit. Hermelín is a cheese that manages to find its way onto every pub menu in Slovakia; yet, this pickled delicacy often  resembles a waxy, off-white biscuit floating in oil and smothered in hastily sliced raw onions. Our hermelín is supremely creamy with a complex ripeness brought out by the extended marinating process they use (quality recipes call for up to three weeks!). Layers of shaved onions virtually melt into soft, molded rind – now toothsome with a hint of aged cellar must on the nose – and the custardy, tangy middle. OK – so this dish won't be for everyone, but this is a sold place to try it if inclined.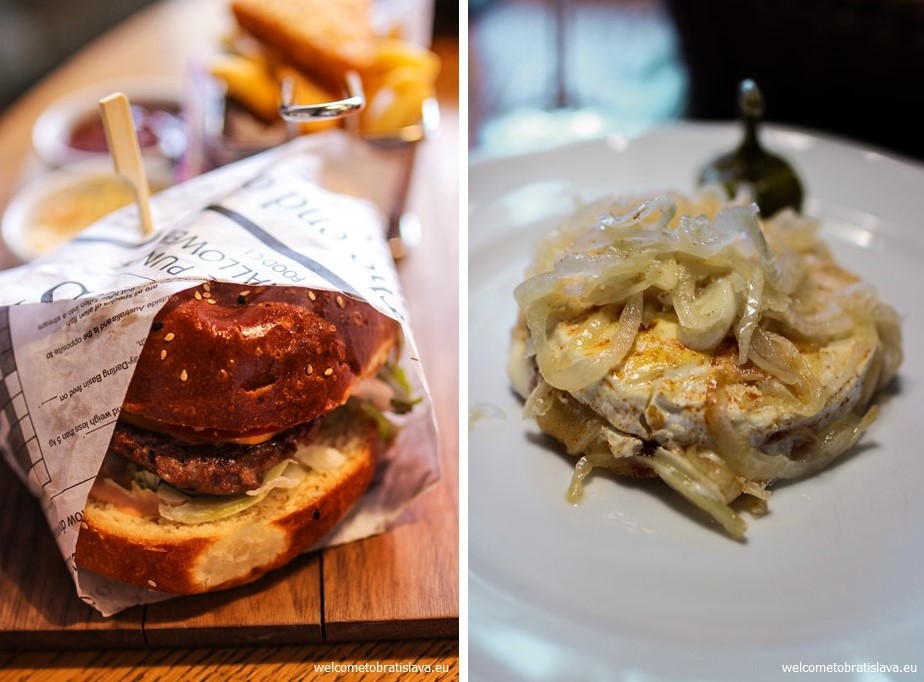 Sure, the burger has a hip presentation and mainstream items like Fish & Chips or Chilli Beef Cheese Fries are fun and serve their purpose on the extensive menu. But Bokovka shines brightest when they focus on the preparation of pub and homestyle classics. It was here, in fact, where our very own California girl-turned SK expat first fell for  huspenina, the love it or loathe it dish of tender seasoned pork in jellied bone-broth. (She married her Slovak boyfriend the next year. Coincidence? That's for you dear readers to decide.)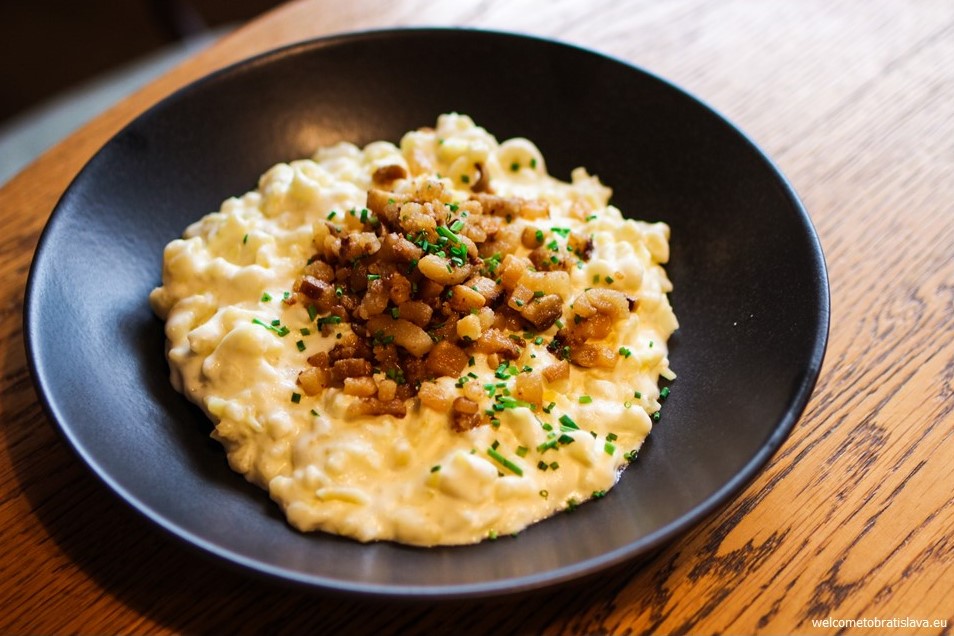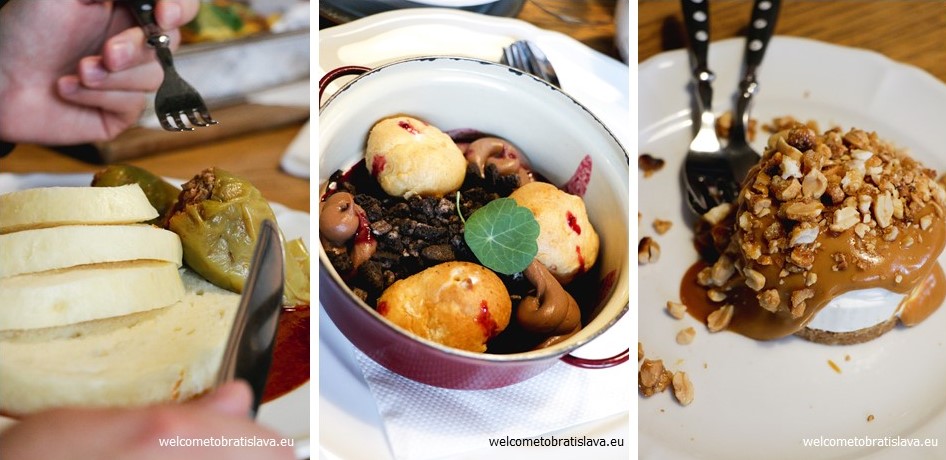 The only disappointment was a duck leg that tasted as re-heated from the previous evening with too greasy potato pancakes and too sweet red cabbage.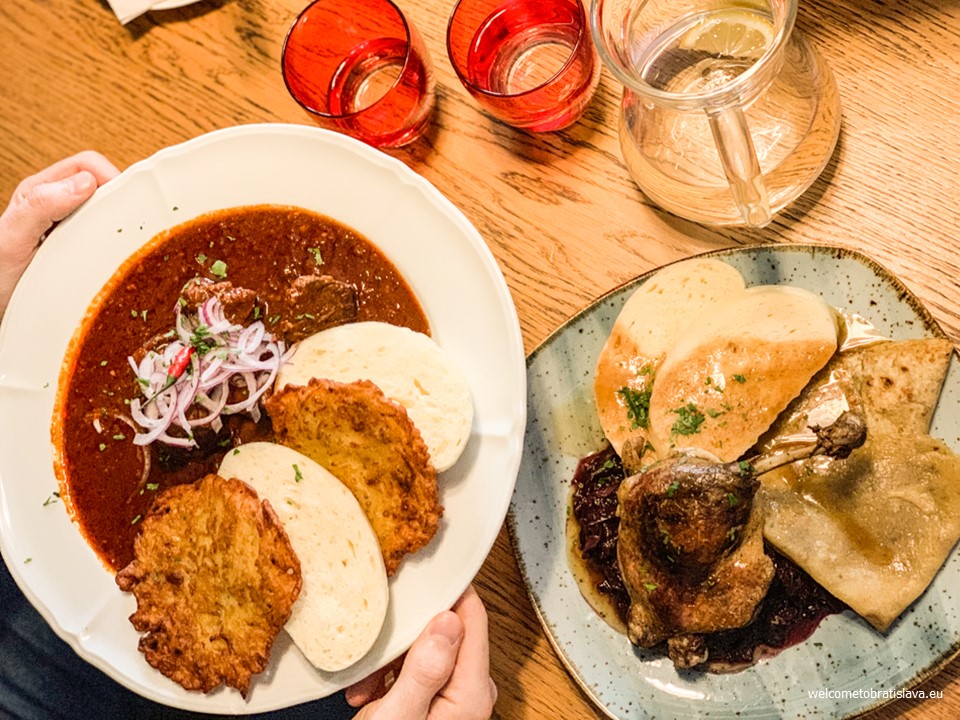 In short, stick to the classics and keep the beer and spirits coming. You'll feel right at home.
WHY IS BOKOVKA SPECIAL?
Starting with the architecture, Bokovka opted for the "win win" style of interior design that transformed a former self-service store into a sleek, eco-friendly restaurant with a group hangout atmosphere. While the seating areas are separate and tailored for individual events, the floorplan screams Communal Seating! And it works.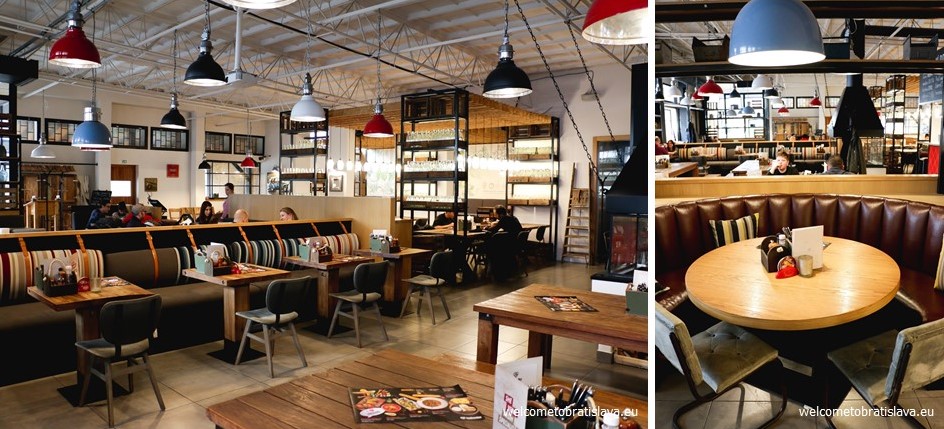 The central bar, too, lends an element of fun. While Bokovka does not brew in-house, the beer on tap is fresh and local. The spirit list is extensive and the prices are reasonable. Importantly, the crowd here is a perfect mix of friends out for pub fair and laughs, young families, old-time locals, and the occasional tourist trying her first Slovak delicacy.
Guests here feel welcomed and homey. It's a place that treats traditional visages with modern applications, but never seems to forget the importance of solid quality. As the carapace of Ružinov continues to rebuild into chic condos and yupster food stores, there is comfort in knowing a place like Bokovka exists. A place that manages to make both the traditional and the hip feel right at home. Even if on the side.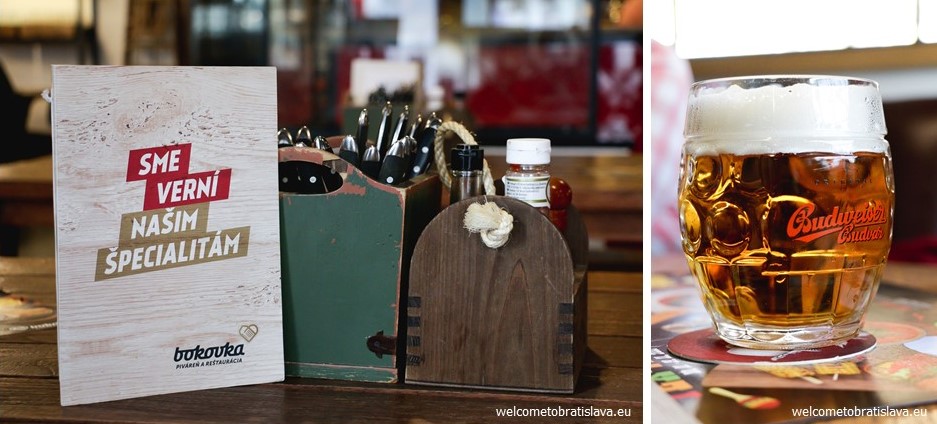 Author: Jennifer Brown
Photo credits: Natalia Jankova

 OPEN HOURS: Check their Facebook


 ADDRESS: Sabinovska 7


 CONNECT: Website, Facebook


 MAP LOCATION: