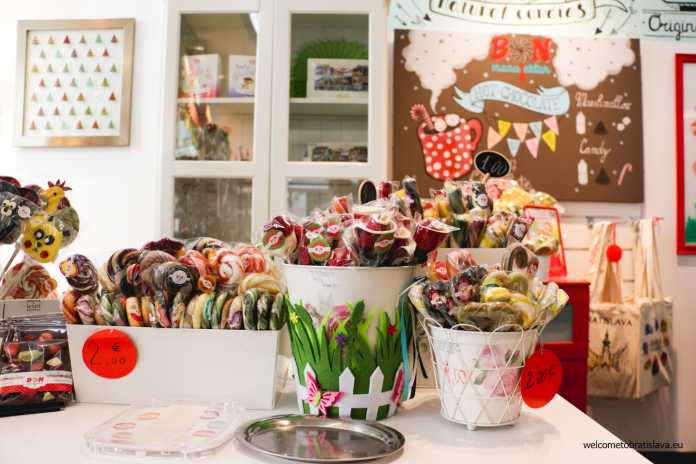 Did you use to dream about living in a sweet kingdom with sugar trees, chocolate rivers and gingerbread houses? Make your inner child happy right in the middle of the Old Town. Bratislava gives you a unique opportunity to make your childhood dream come true – or, at least, part of it :) Welcome to Bon Manufaktur – our capital's candy land!
LOCATION
Bon Manufaktur is located on Sedlarska Street the Old Town of Bratislava. This makes the premises easily accessible for tourists and citizens. There is a bit of a problem with parking though, as with every place-to-see in the Old Town. So the best choice is to take a bus or tram to UFO Bridge, Ľ. Štúra Square, SNP Square or Jesenskeho Street and then to have a little walk.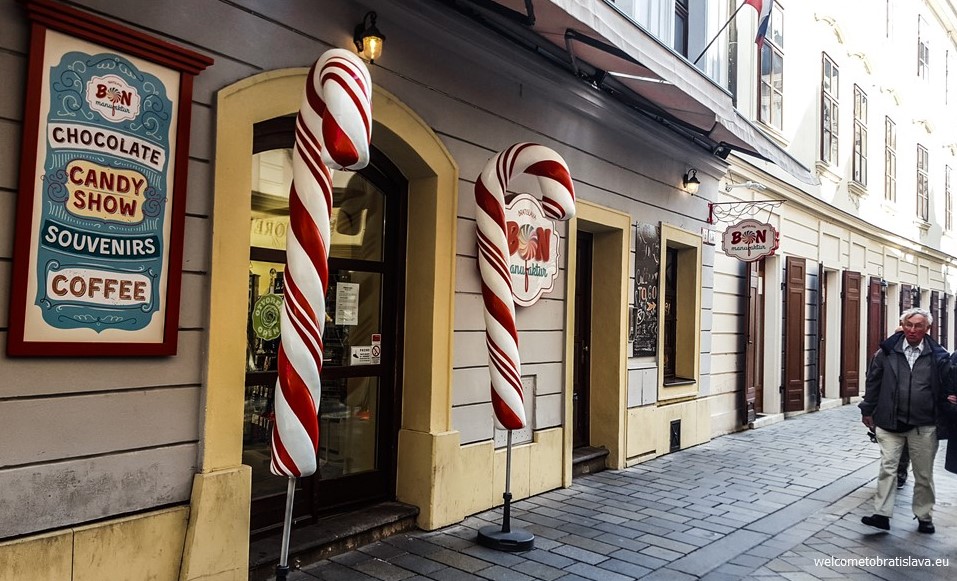 BON MANUFAKTUR – YOUR PERFECT SWEET SOUVENIR
Bon Manufaktur is a light and spacious hall of a real caramel factory with fairy glass castles near large windows and small bright jars with sugarplums, peppermints, lollipops and other candies and candy-related gifts. People are wandering around amongst the shelves examining jars with open curiosity. Glass pots and pans are filled with small colourful candies with tiny images: limes and grapefruits, peaches and cherries, hearts, avocados and I LOVE BRATISLAVA signs. Sounds attractive, right? That's not the best part yet.
We have taken these pictures at its former location on Laurinska Street from where they moved to the new premises in May 2018.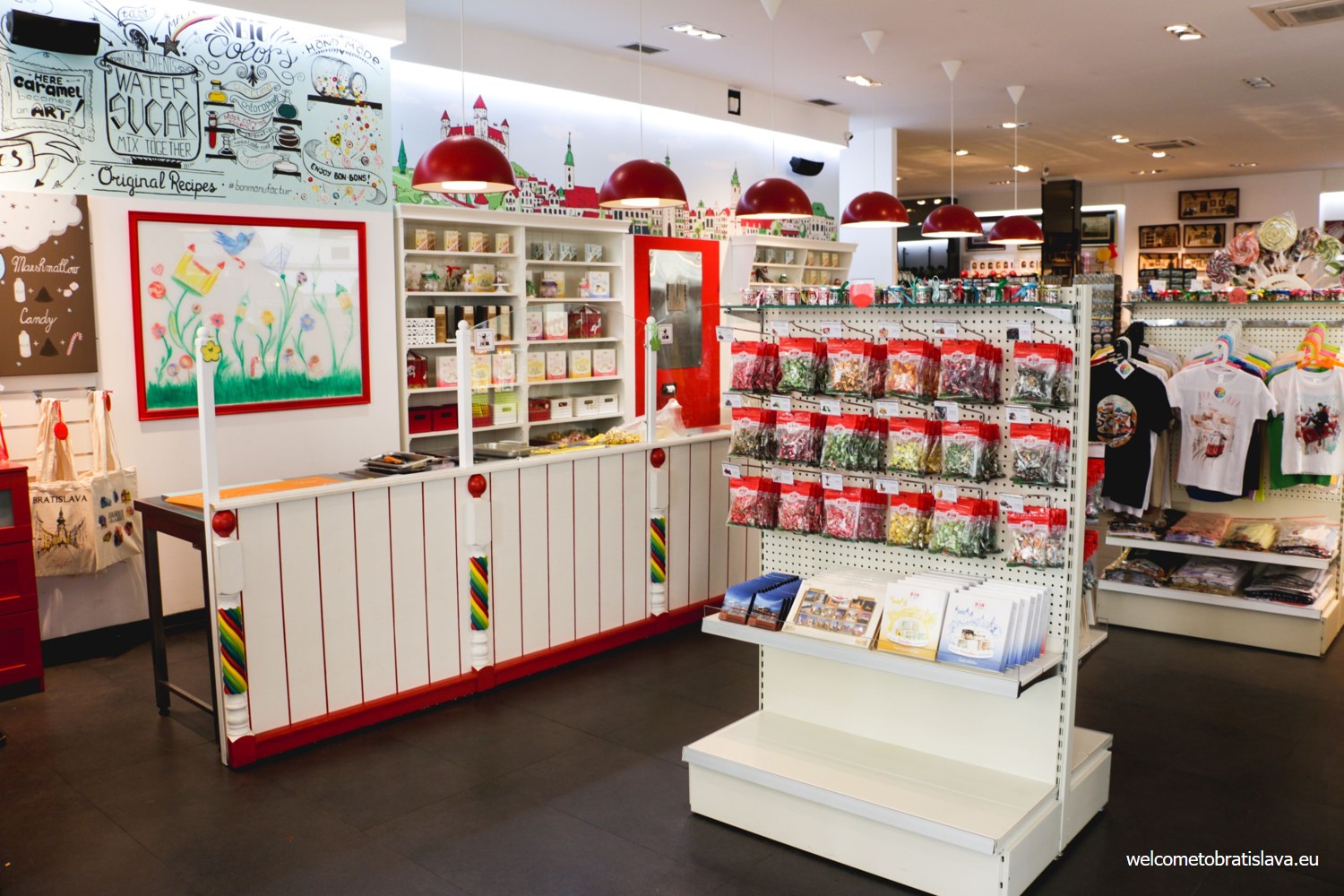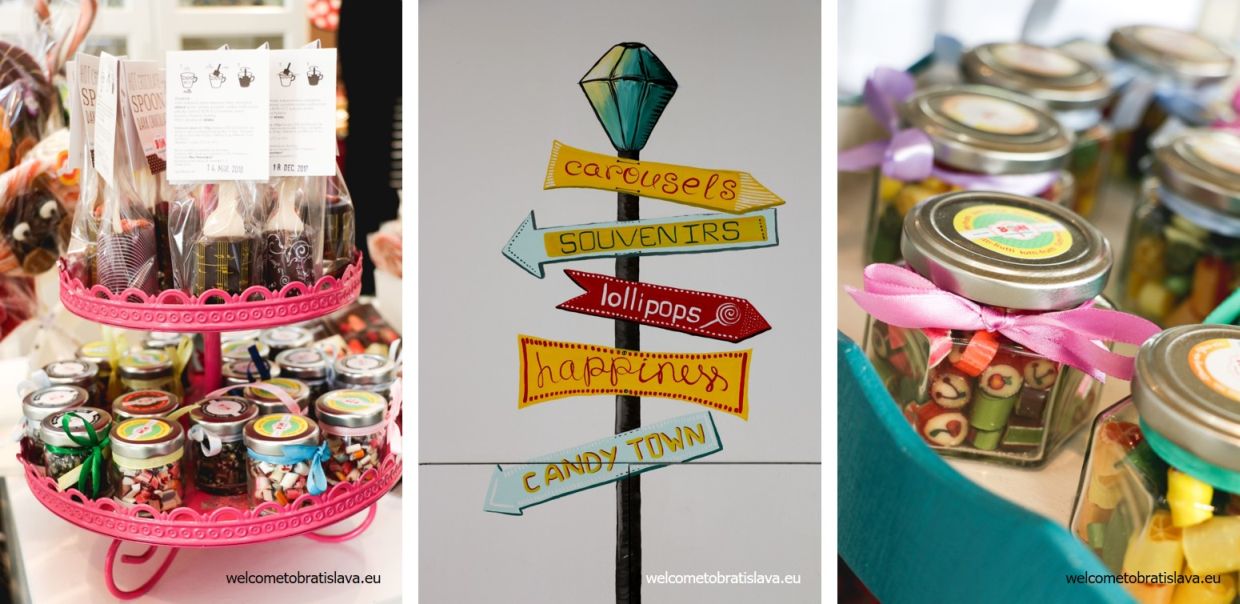 The premises are shared with a traditional Slovak souvenirs shop selling T-shirts, magnets, mugs and glasses. This neighbourhood is rather useful for both shops which can literally share their customers enriching a choice of goods for each other. In that way, a colourful jar full of handmade sweet Slovak flags or Bratislava inscriptions with natural flavours and colours can be a perfect gift for the foreigner.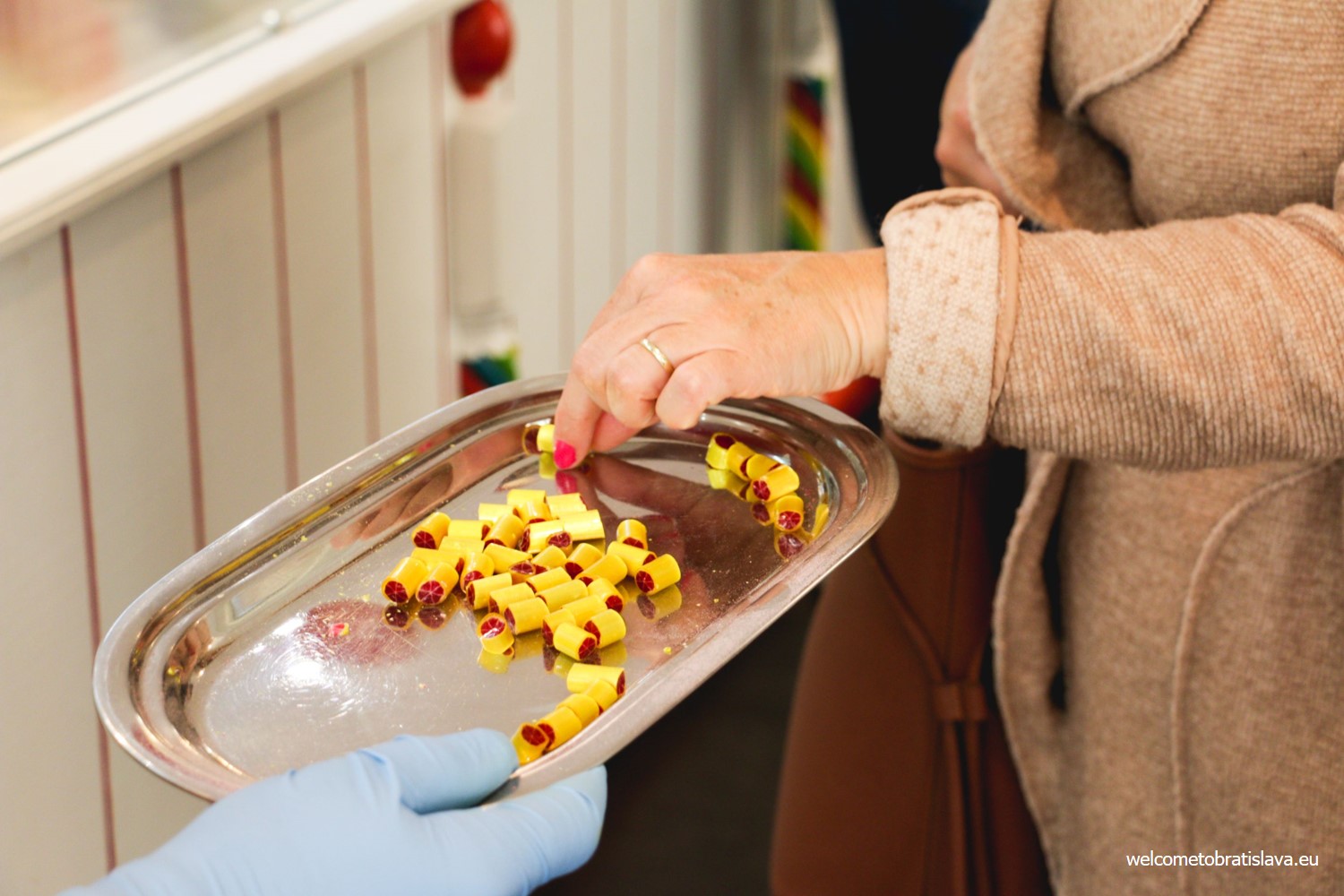 MAKE YOUR OWN CANDY!
Bon Manufaktur gives you a chance to watch the whole process of making candies and lollipops from the very beginning: starting with boiling sugar and water and finishing with tasting of candies.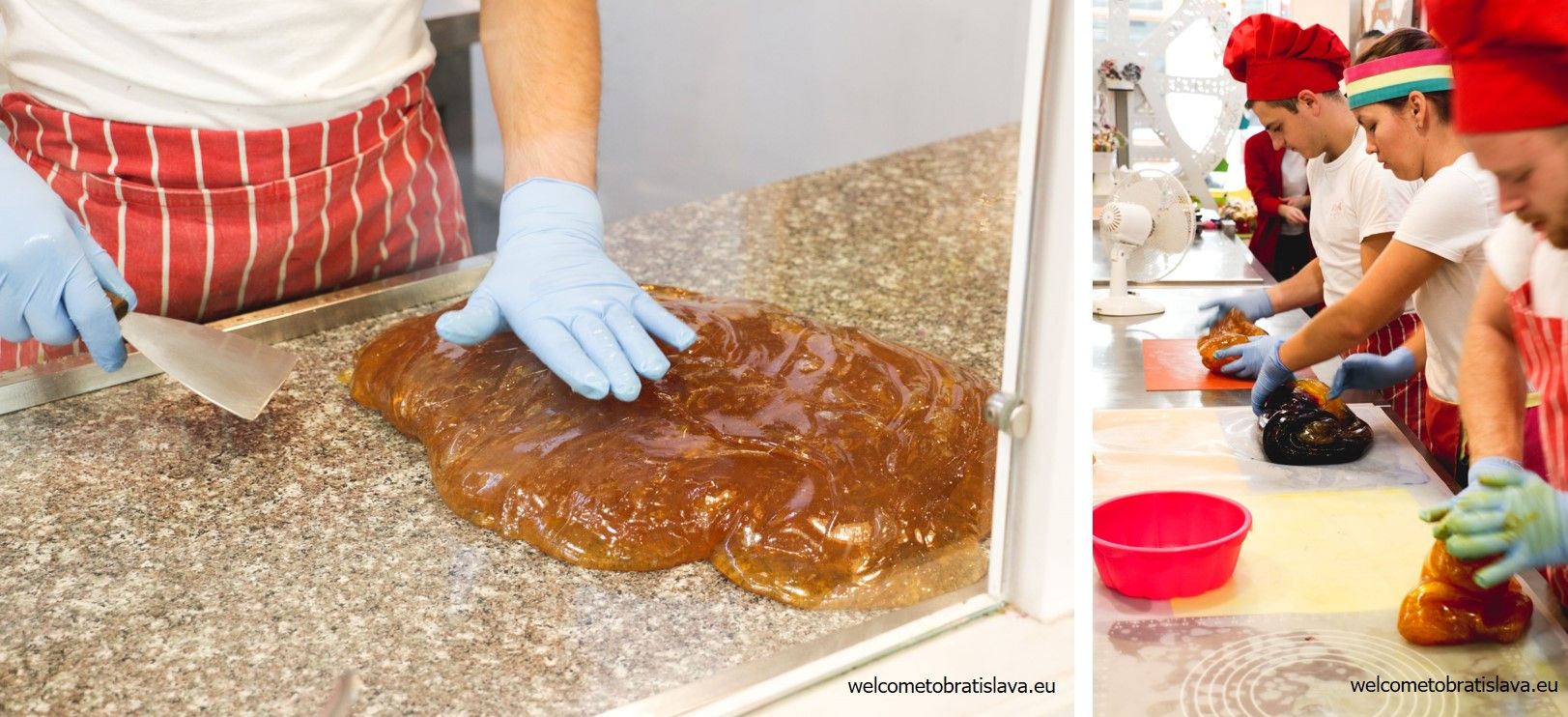 Do you want to know how Candy Men and Candy Girls (as written on their working T-shirts) manage to place those microscopic images of fruits, hearts and minions? Then you should book a workshop for you, your kids or friends and take part in a candy-making process. Because we can't reveal all their secrets ;)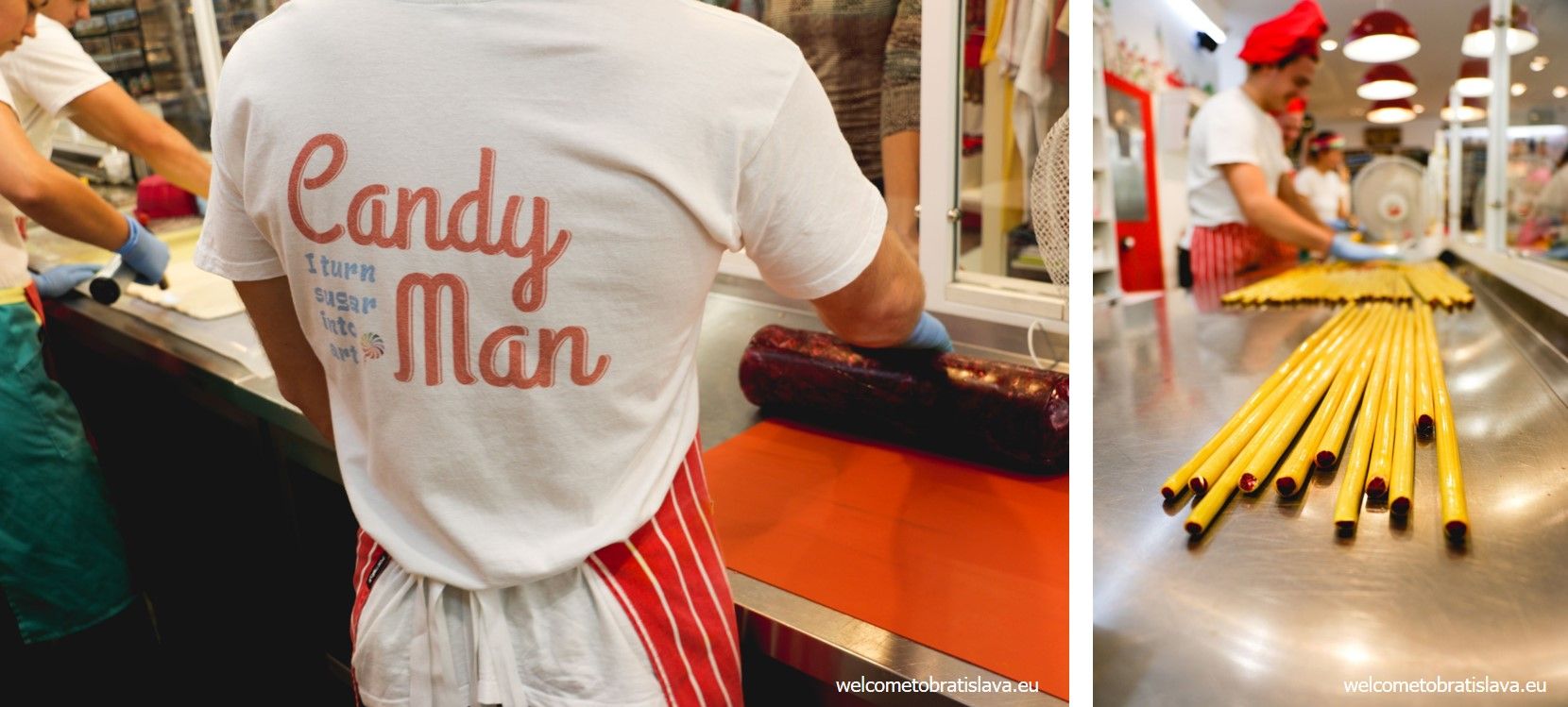 Friendly staff is ready to tell you everything about the charming process of pulling sugar and folding it into various shapes and images. They use only natural flavours and natural colourings, such as black carrot or beetroot. And at the end of the workshop you will get a chance to design and shape your own lollipop, add some distinctive details and pack it with foil and a ribbon.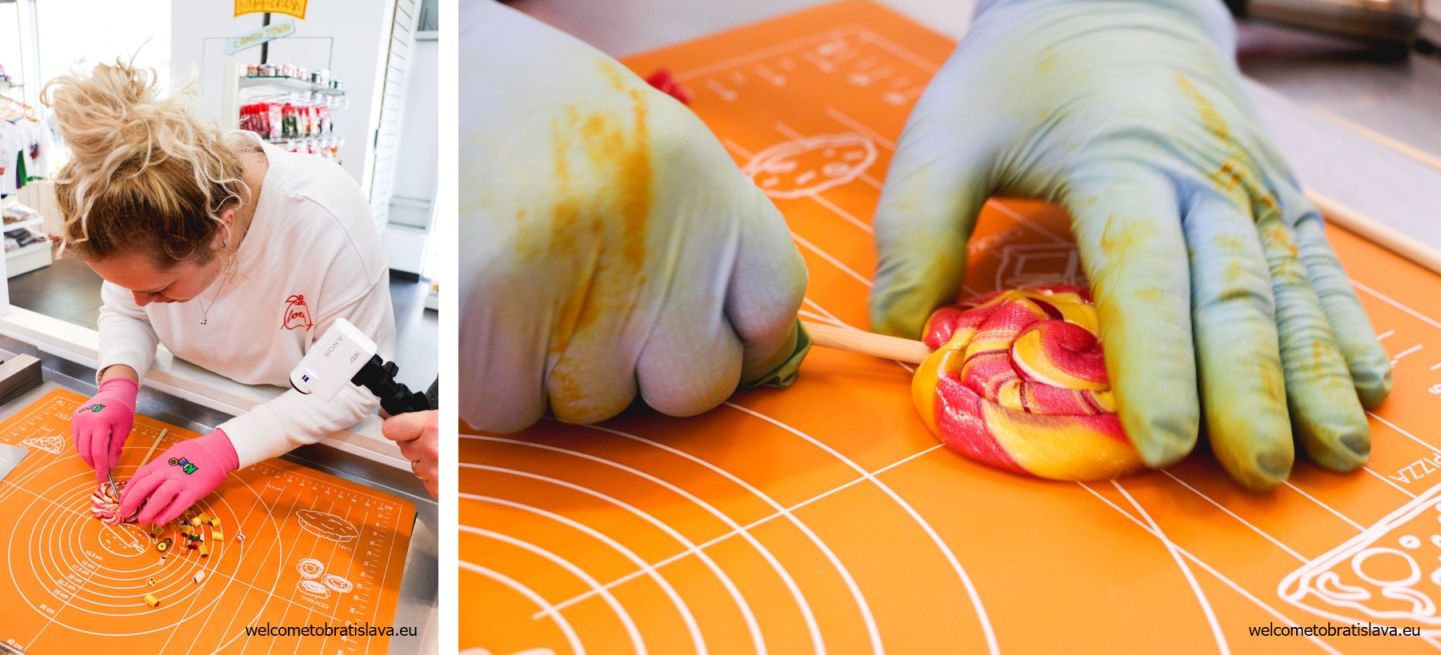 Also, you will get a personal certificate confirming your knowledge about the candy-making process. And an opportunity to enjoy a large lollipop made by yourself. By the way, the taste is great!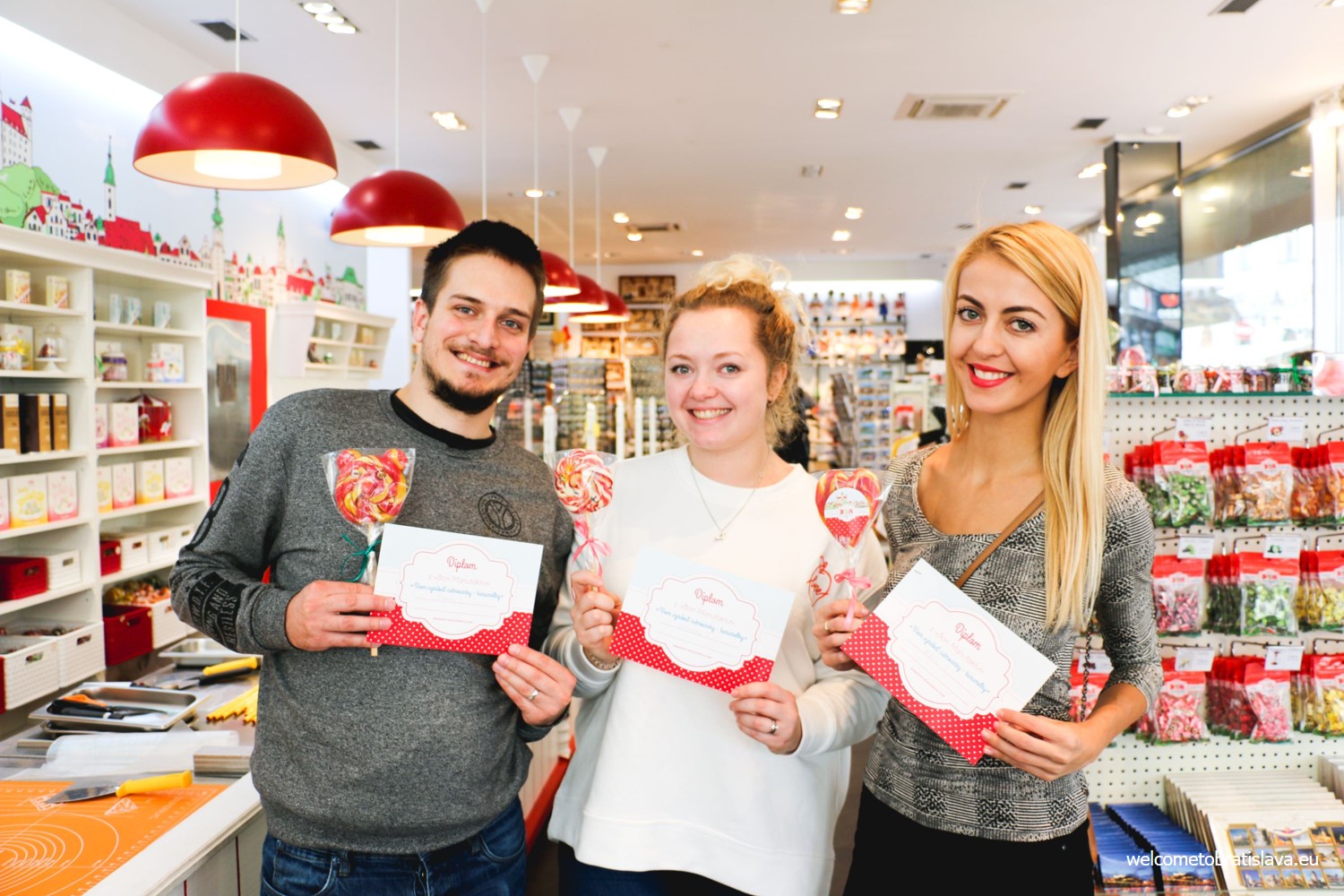 And this is how we made our candies during a workshop:
Important note:
All workshops must be booked in advance, so they can guarantee they will be prepared for giving a master-class. But if you are lucky enough, sometimes it's possible to enter the shop and just watch the process of creating the candies on the spot.
Author: Maria Kecsoova
Photo & video credits: Natalia Jankova

 OPEN HOURS: check their FB page


 ADDRESS: Sedlárska 5


 CONNECT: Website, Facebook


 MAP LOCATION: