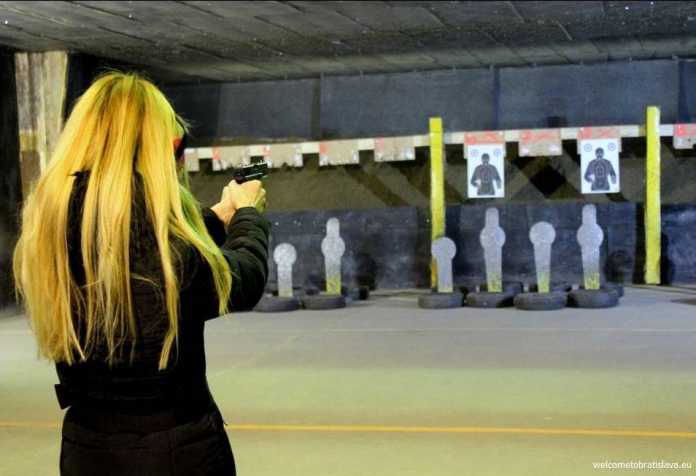 Do you like action games and would like to turn your life into a real counter strike experience for at least a while? We spent a day with Bratislava Shooting Club firing from real guns with real ammunition. AK-47 Kalashnikov was not missing!
Plenty of adrenaline, released after the loud bang of each shot, is kind of a life-time experience you don't want to miss out!
WHAT IS BRATISLAVA SHOOTING CLUB?
Bratislava Shooting Club offers its services for both experienced shooting enthusiasts and beginners at several shooting ranges in Bratislava and nearby. The shooting ranges within city limits offer a broad variation of pistols and revolvers, as well as assault rifles in smaller calibre.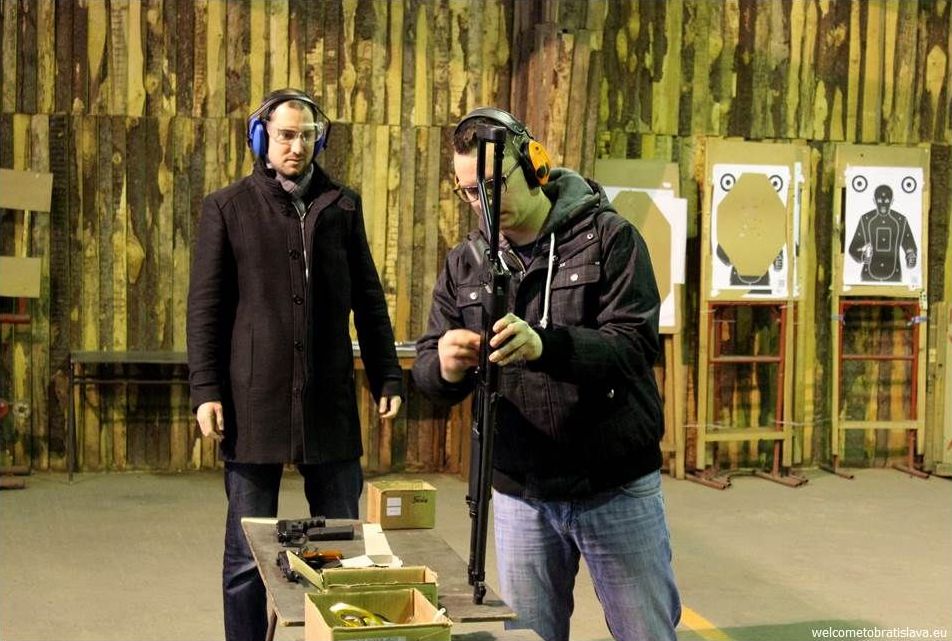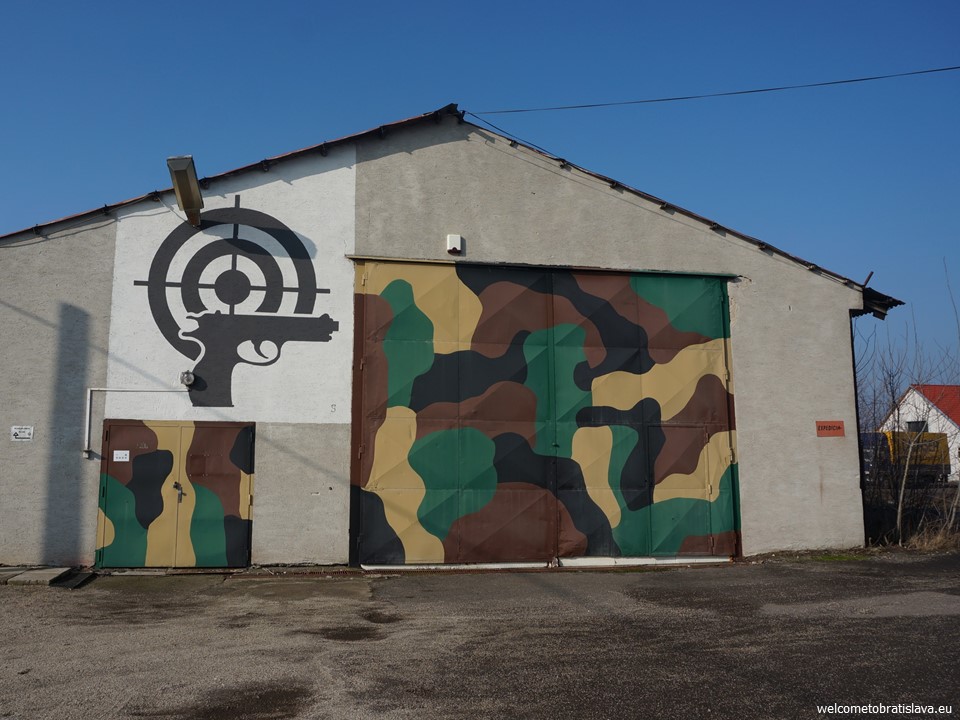 However the real action starts at the best equipped partner shooting range which is located a 25-minutes ride away from Bratislava and offers a wide range of weaponry including automatic AK-47 Kalashnikov with military calibre and shotguns. That's where we were. And tourists are very welcome!
Wondering who could be interested in shooting? It is a great option for spending time extraordinarily not only for a group of friends having a get-together party trip but also for couples who want to try something different during their trip or individuals who are relishing Eastern European weapons and would like to try "the icing on the cake" –  historical world war weapons or guns typical for the former Eastern Bloc. There is a wide range of packages to choose from, depending what weapons you would like to try, available 7-days-a-week, for both individuals or groups. So let's start!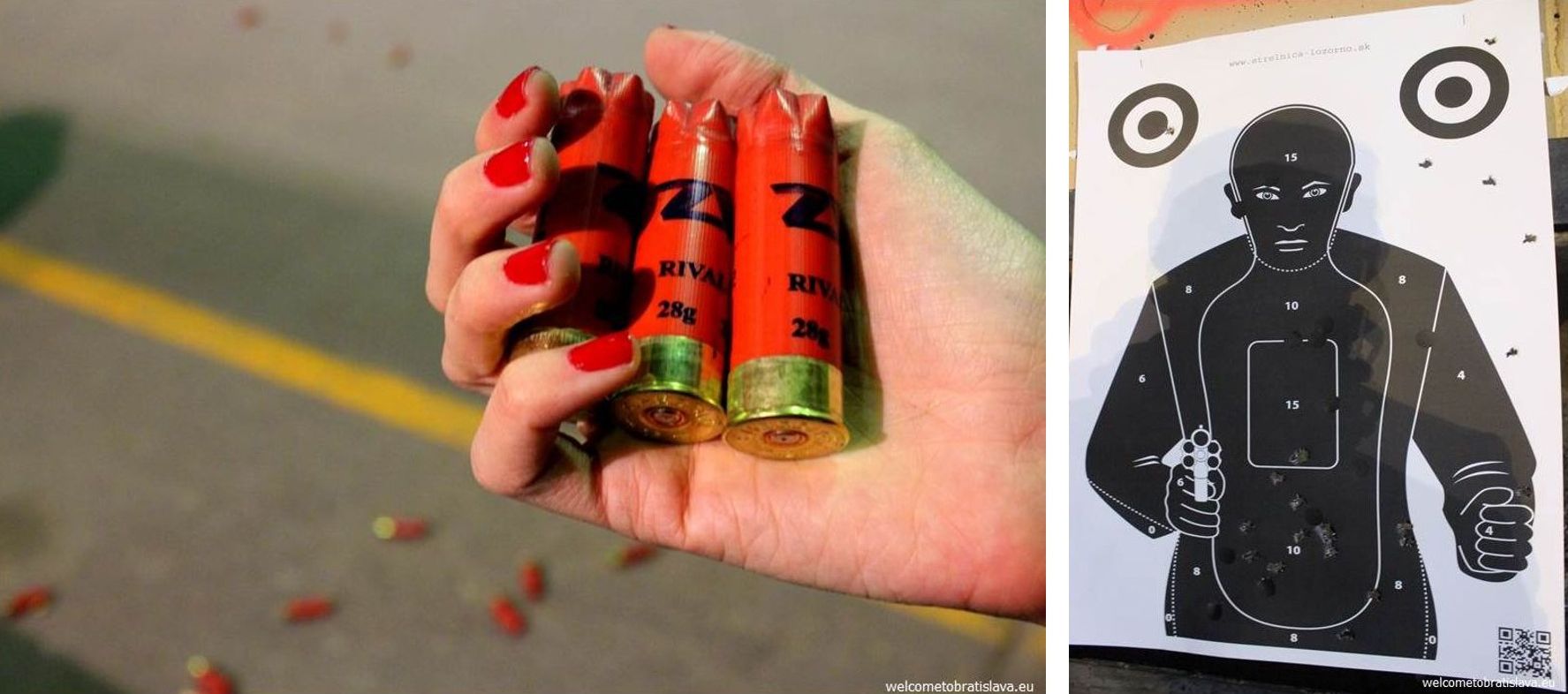 WHAT WAS OUR EXPERIENCE?
It was our first time at a shooting range and all three of us were shy newbies in the field :) The pick-up was on time and we headed to the further branch with respect and excitement, ready to try out heavier weaponry.
I still cannot believe we were shooting from REAL weapons, starting from the smallest one and ending with the big shot, shooting from 15 meters on both paper and metal targets:
Glock 17 pistol with 15 loads
Skorpion VZ 61 submachine gun with 20 loads
Benelli M3 shotgun with 10 loads
AK-47 Kalashnikov assault rifle with 20 loads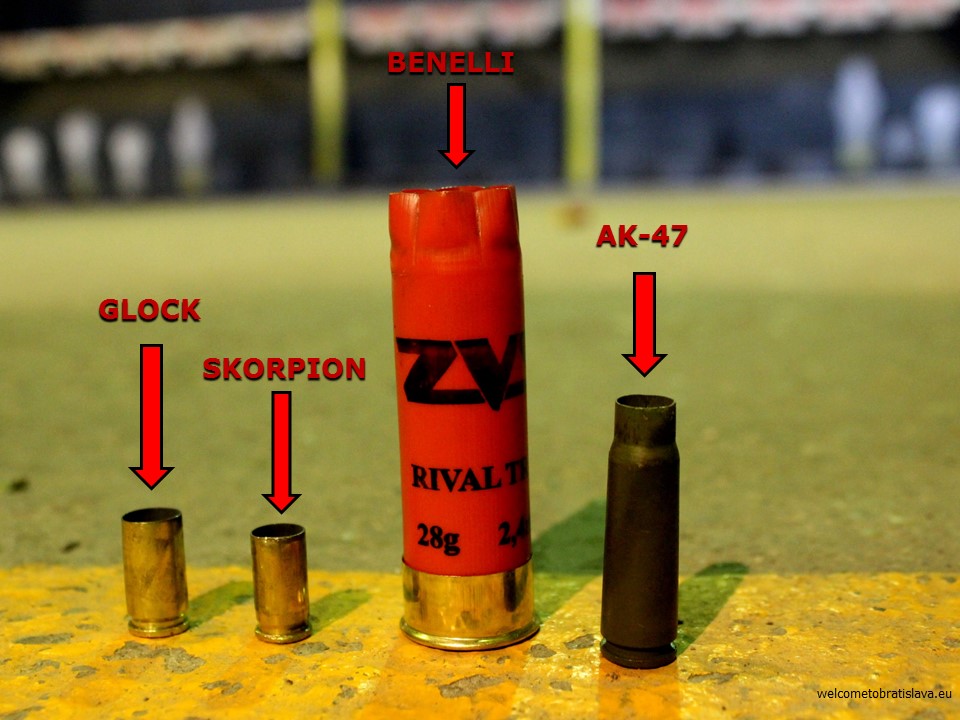 It is hard to describe the feelings of excitement, waves of energy and satisfaction when your paper "enemy" ended up with a hole in his face :D  Here is a short video of our experience!
Each of the guns had its own special charm that could be appreciated even by us, females. With the world-wide popular Glock we felt as in a James Bond movie, with Skorpion it was like in a former Czechoslovak secret police, with the tactical shotgun Benelli M3 we understood what a gun for dummies means (you can't miss the target) and the top was of course the AK-47, the most popular firearm in the human history.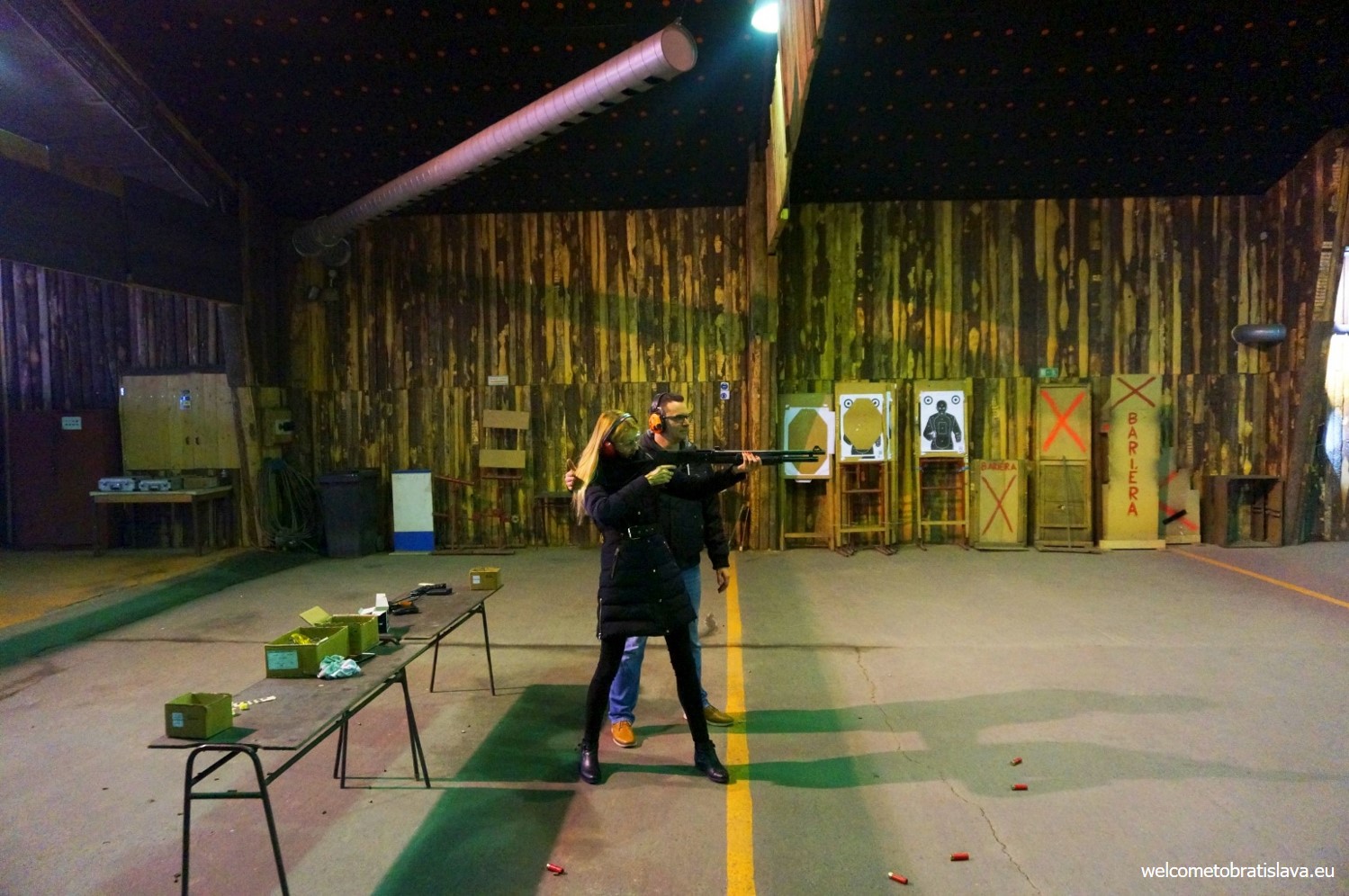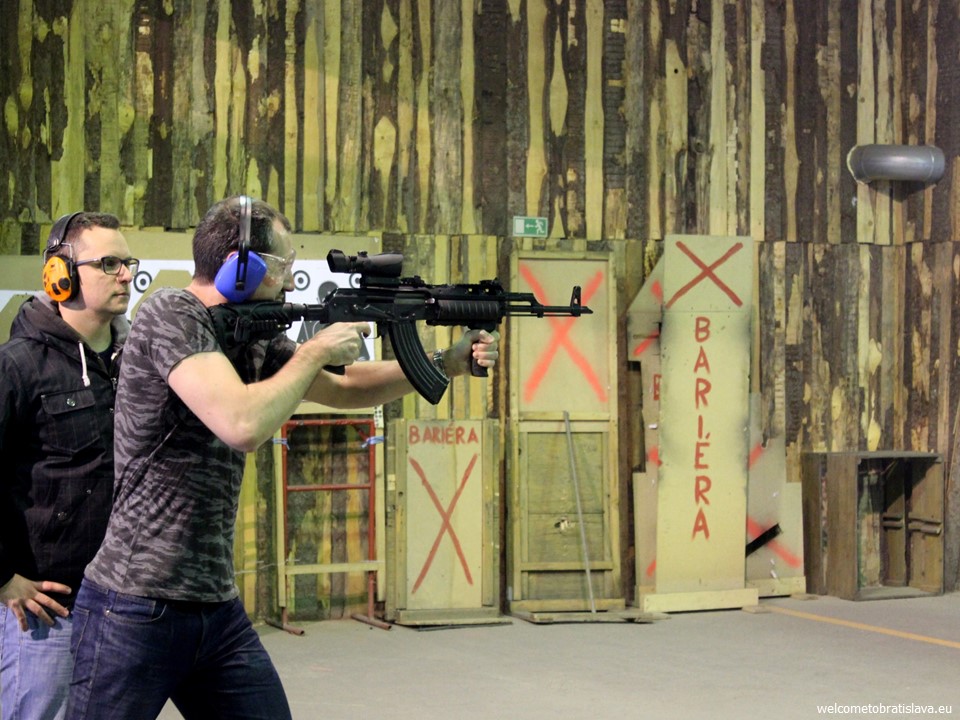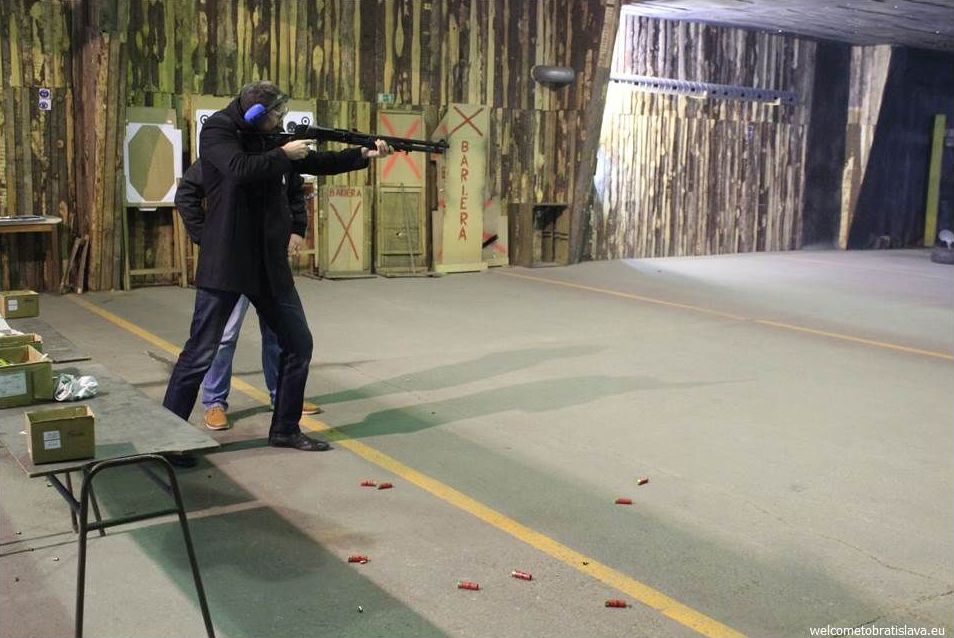 The instructor was wonderful, we were explained important postures and corrected when needed. All safety equipment was provided and we felt secure and under control the whole time. We mark his explanation as great. Despite being beginners, we managed to hit the target and not just once!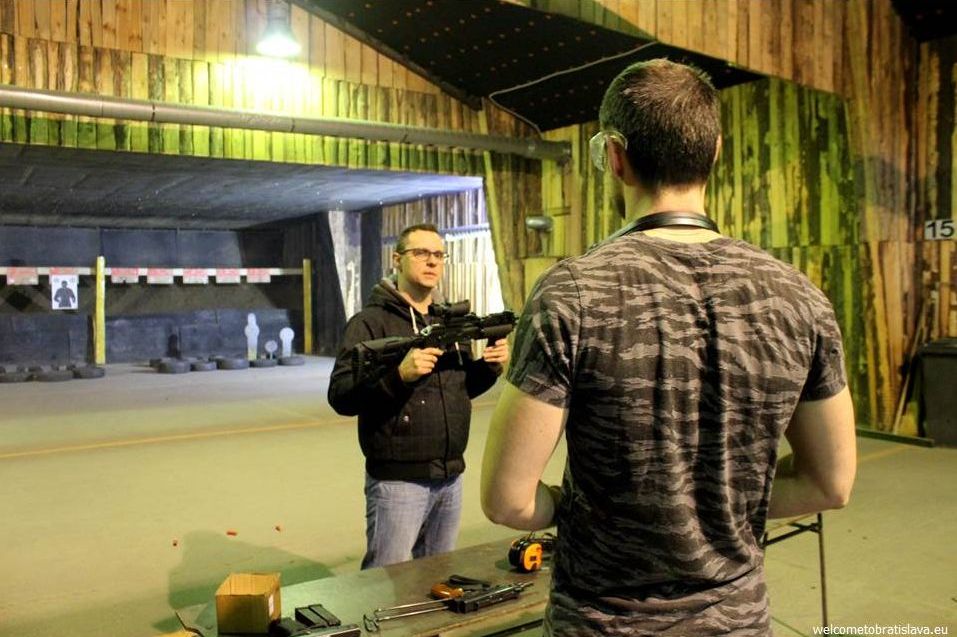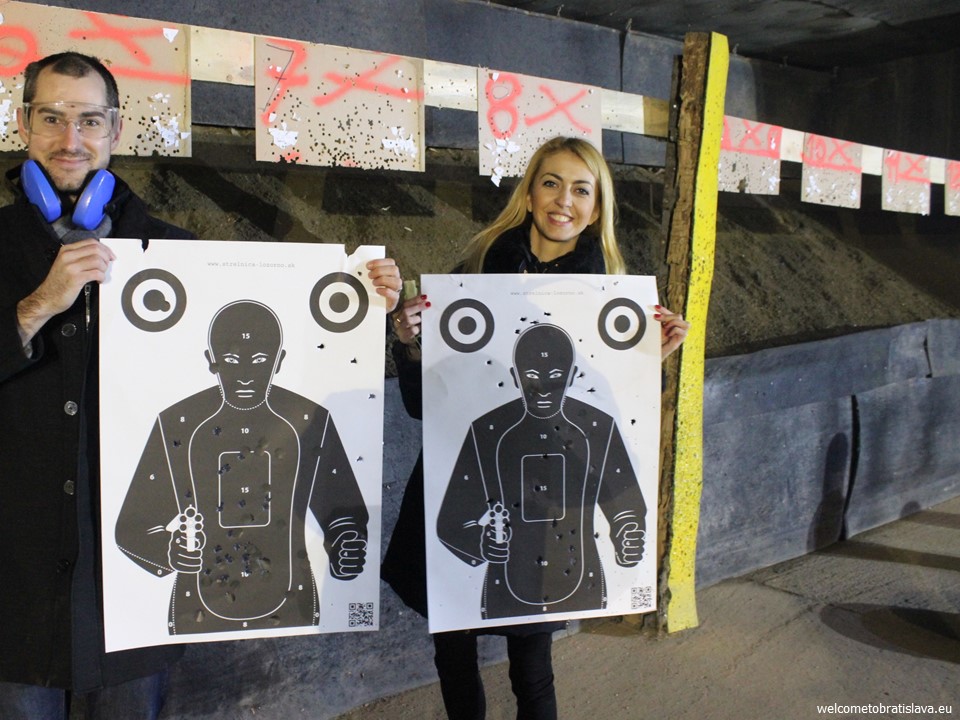 No previous shooting experience is required and you do not need a shooting licence. The events are strictly for adults (18+) due to legal requirements.
Special tip: There is a huge inside hall where the shooting takes place, so wear something sporty and warm, as it is quite cold inside in winter.
By the way, shooting is one of the most popular Bratislava stag activities and there are many packages these guys offer – make sure you check their page for the details!
Author: Maria Kecsoova

 PRICE: 39 € – 229 € depending on selected shooting package and number of participants


 ADDRESS: Obchodna 68 (office)


 OPEN HOURS: 10:00 – 19:00, advance booking necessary


 CONNECT: Website, Facebook


 MAP LOCATION: