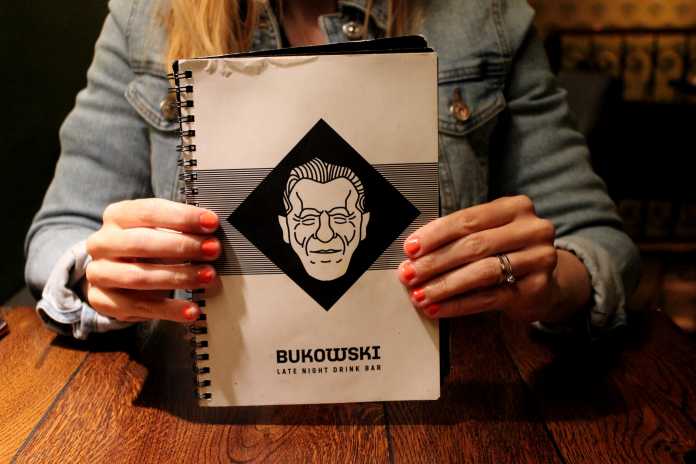 How to catapult a newly opened bar to the list of the most popular drinking spots in Bratislava and keep it there, written in bold letters? Perhaps to have a great selection of drinks from all over the world, and for favourable prices? Location in the city centre with a stylish but cosy interior? The perfect bartenders' service and excellent music selection? Or maybe late night opening hours with a true Bohemian atmosphere? What about a killing combination of all of that? Ladies and gentlemen, welcome to the Bukowski bar!
LOCATION
Among all the perfections connected to this place, it also has a good centralized location. It is thus easily available by any means of transportation. The bar is a little bit hidden in the left corner of the SNP Square, surrounded by many other tempting places. It is easy to overlook it. And that would be a big mistake! Search for a pink-ish building :)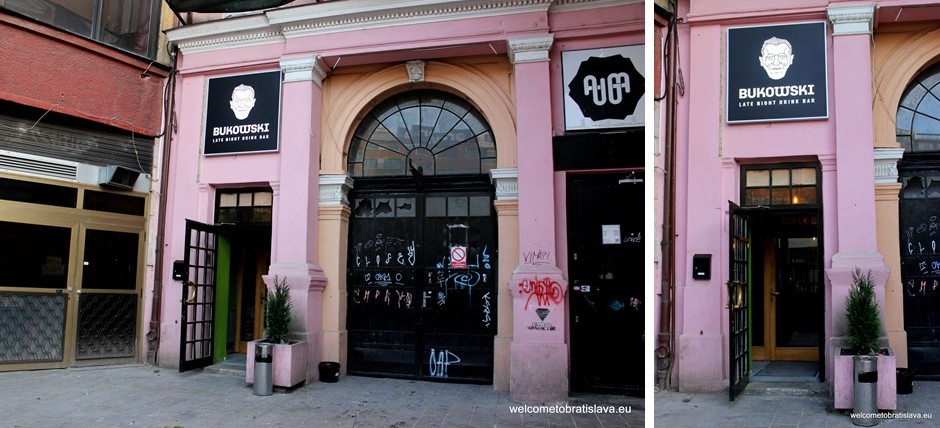 Actually, Bukowski bar replaced a legendary place here. Previously, a pub "Malí Františkáni" dwelled here for ages and was well known for being open till early morning hours. Bukowski seems to build on this tradition. In their own words, they "want to be a place for all creative night souls of the city."
INTERIOR
If you travel a little, you may have already seen a few places named after an American writer Charles Bukowski. But this is the only unoriginality you will experience at this place. The interior of the two-floor bar with a basement is pleasing to the eye.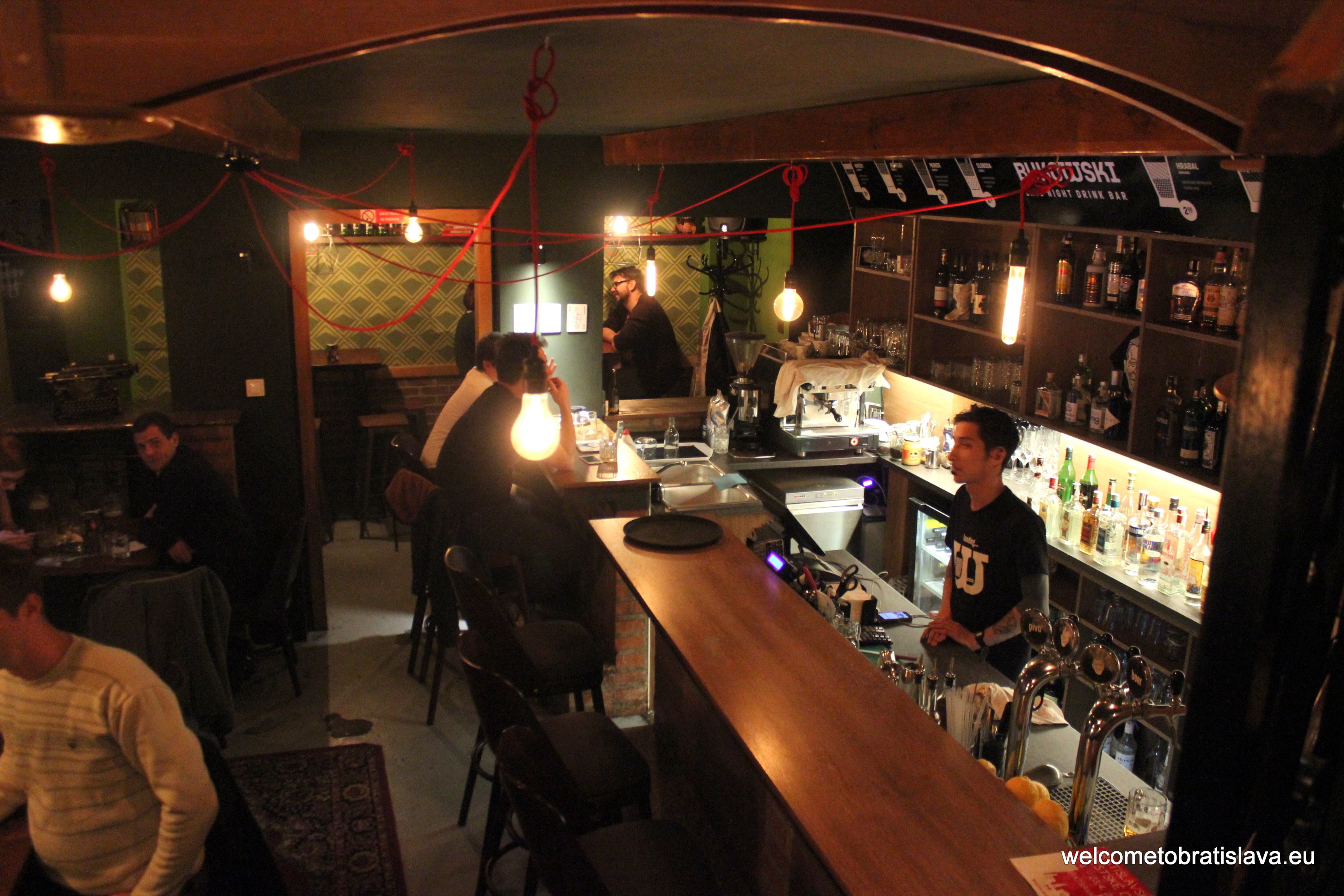 Let us mention just a few details making the place special, but not easy to notice on the first sight. First of all – a legendary manual typewriter Underwood from 1920. By the way, it is the same year as Charles Bukowski was born. A coincidence? We don't think so :) They also claim that the machine belonged to a young journalist who wrote a beat poetry in the sixties.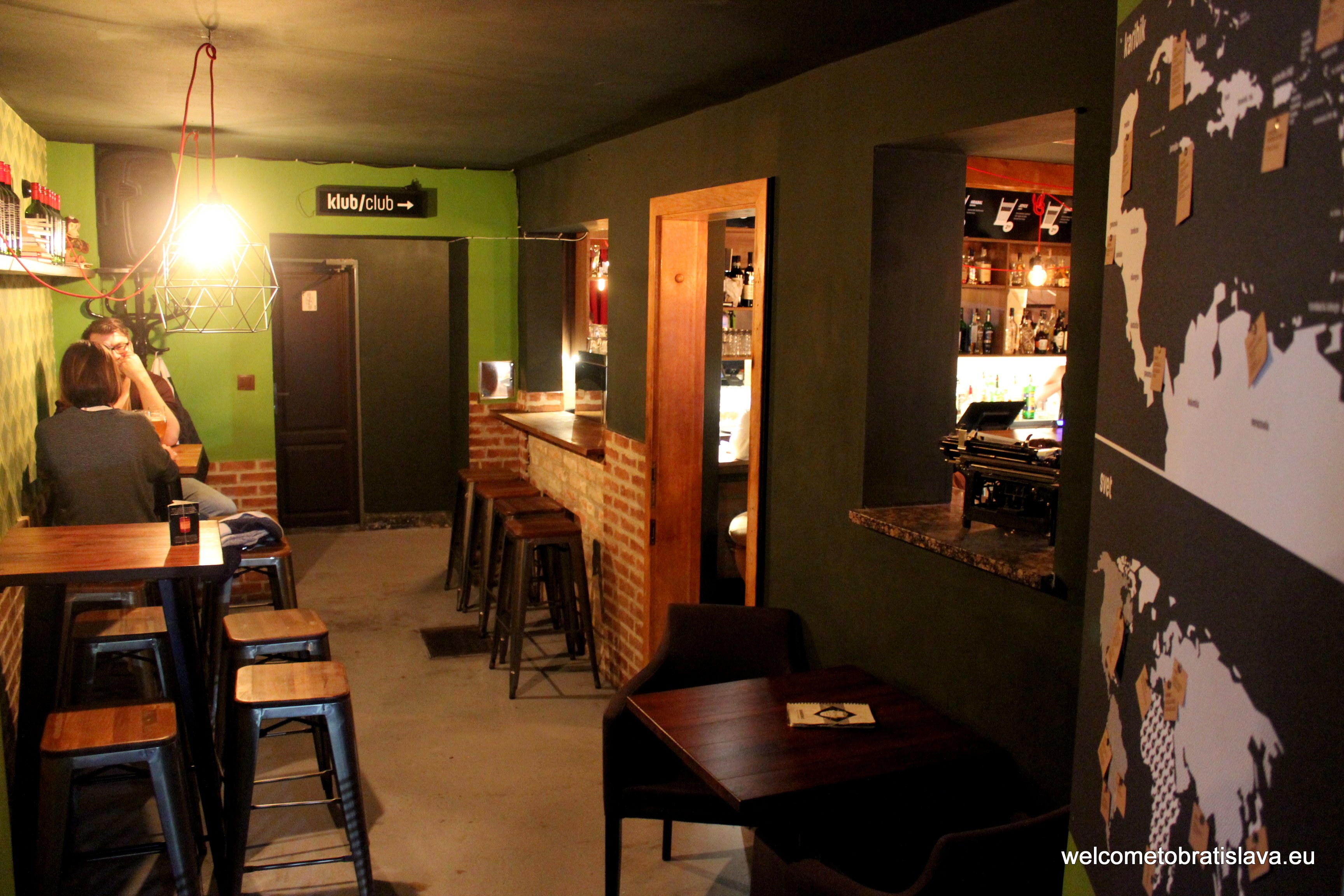 The bar connects with a courtyard with a gorgeous circular atrium, one of a kind in Bratislava. Sadly, it used to be a place for the waste bins! Recently, however, the pub turned it into an inner terrace with live music. Such a surrounding definitely raises the evening experience with a drink to a completely different level!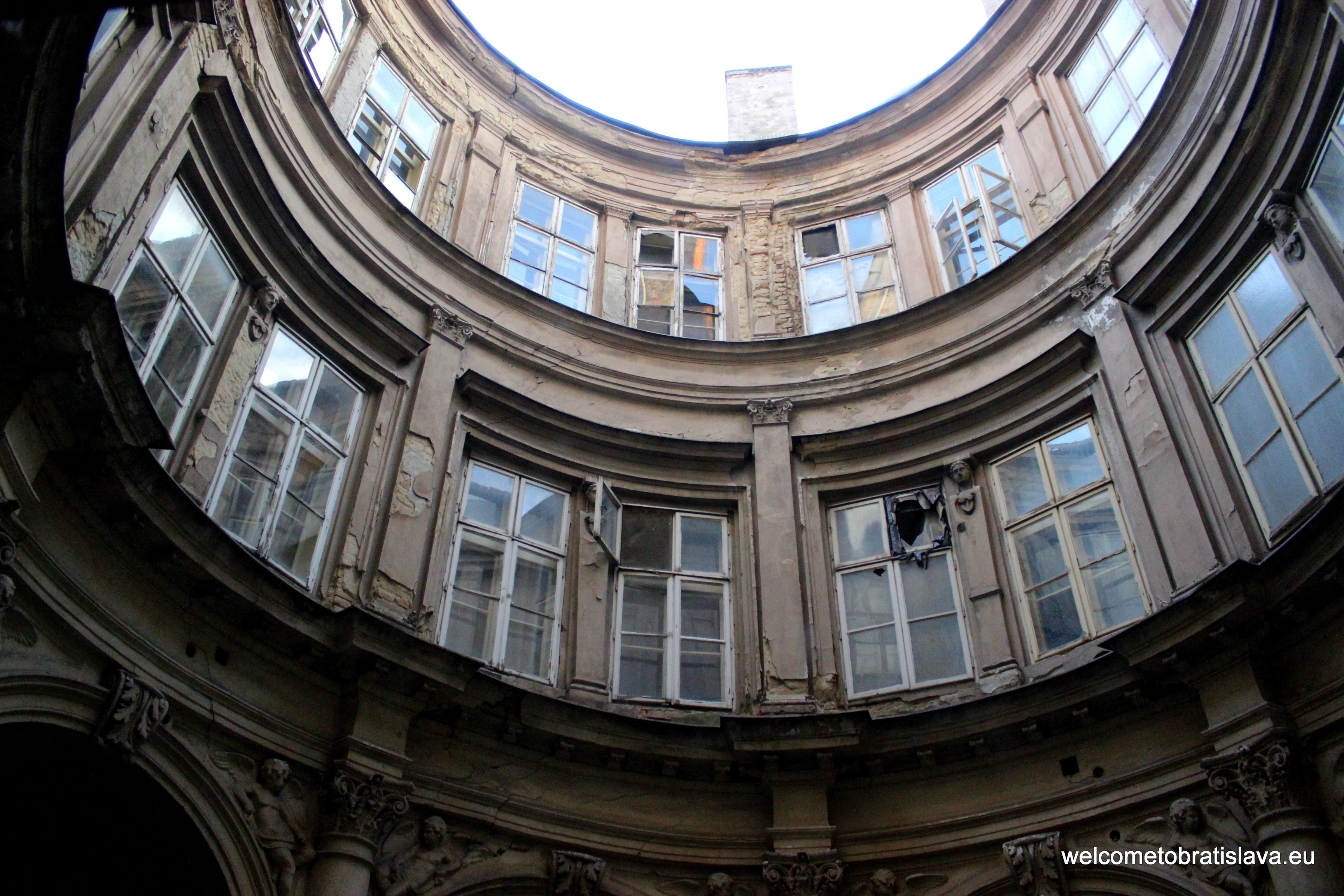 And the last thing to notice – when entering the bar, take a look at the wall by your left. You will see a very nice presentation of their special drinks offer in the form of graphic symbols inspired by the mid of the last century design. What a nice work!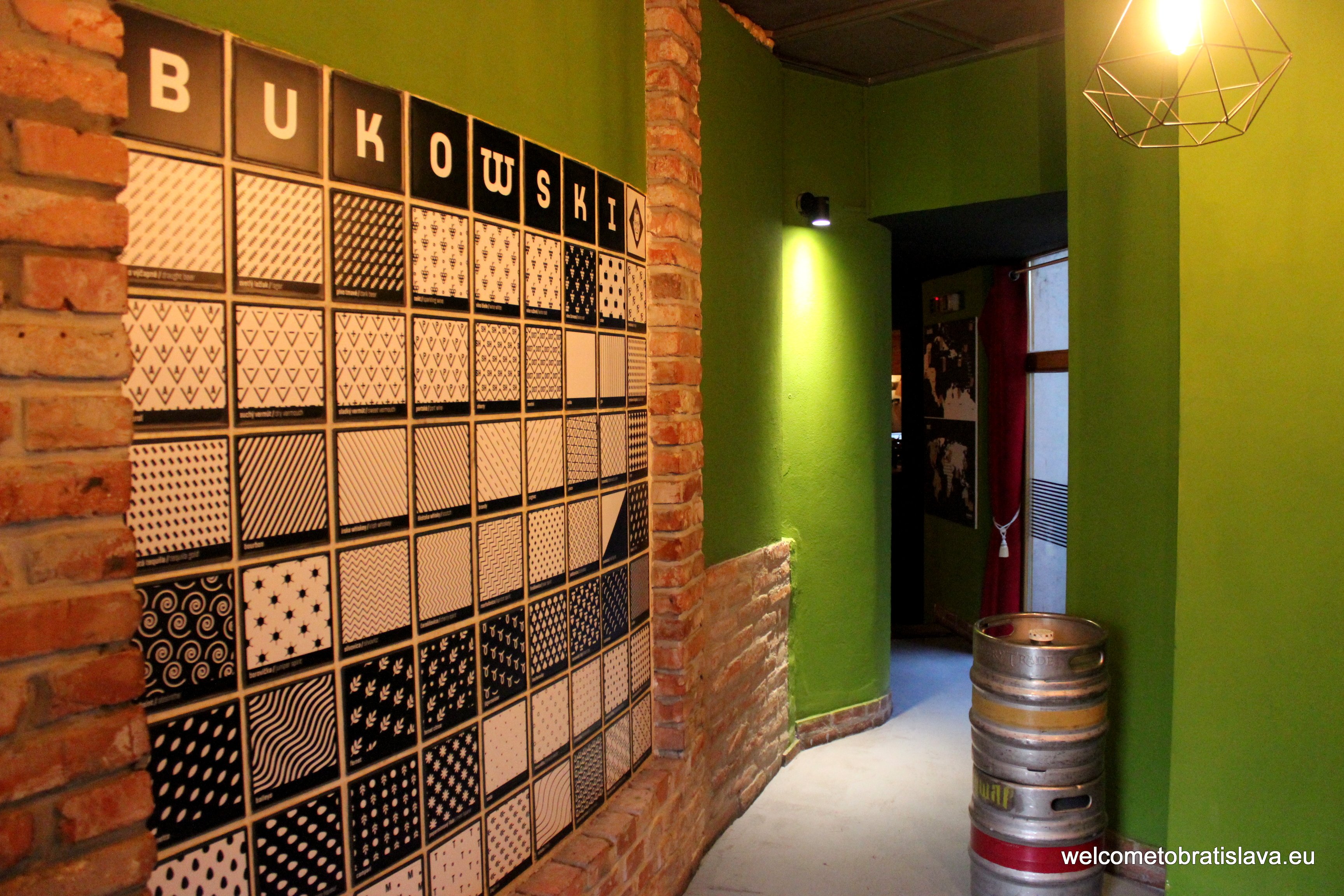 WHAT TO TRY AT BUKOWSKI

Whatever! Not kidding :) They serve all sorts of drinks from almost all over the world – currently almost 40 countries. Whether you feel like trying Indian whisky, rum from Canary Islands, Armenian cognac or good local beer, they won't disappoint you.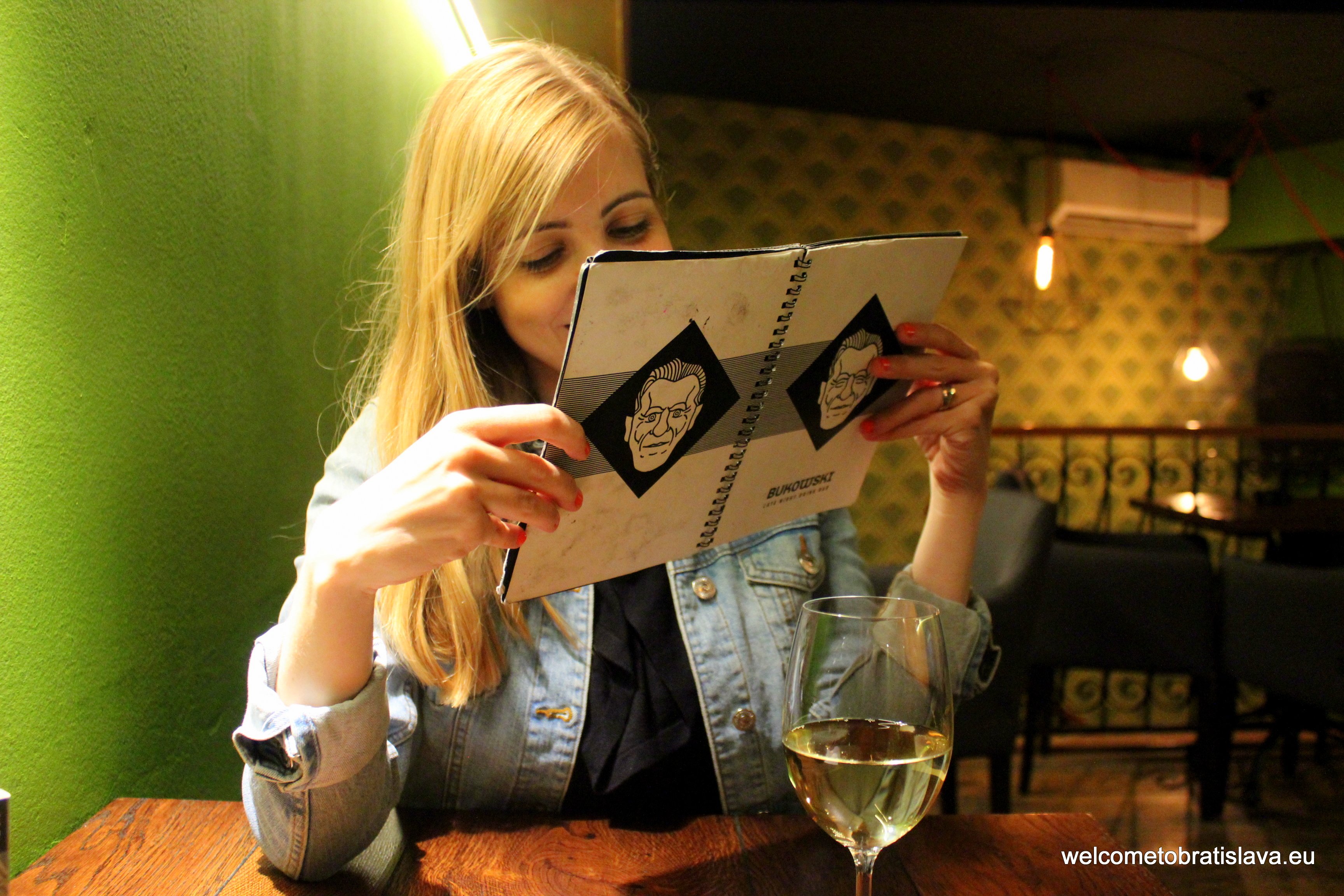 If you want to experiment a little and have something unusual, try one of their mixed shots. They are dedicated to the famous writers who shared the same strong passion for literature as well as for the alcohol. Each costs only 2 € but we don't recommend trying them all in one night :D
They take  the topic of drinking totally seriously here – if you start writing a blog about drinks and drinking, you must be really passionate about the topic. And they are! Unfortunately, the blog is available only in Slovak.
You can find some quotes of Mr. Bukowski imprinted in the menu in English. So, let's end with one of them: "Drinking is an emotional thing. It joggles you out of the standardism of everyday life, out of everything being the same. It yanks you out of your body and your mind and throws you against the wall. I have the feeling that drinking is a form of suicide where you're allowed to return to life and begin all over the next day. It's like killing yourself, and then you're reborn. I guess I've lived about ten or fifteen thousand lives now."
Author: Eva Latakova

 ADDRESS: SNP Square 24


 OPEN HOURS: MON – SUN, 15:00 till late night


CONNECT: Facebook, Web


 MAP LOCATION: