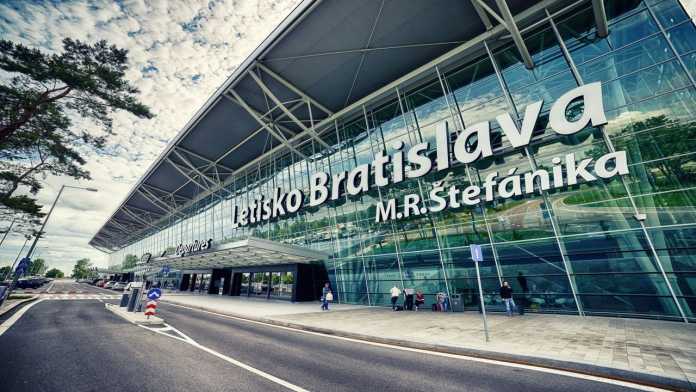 FLIGHTS TO BRATISLAVA
There are several airlines flying directly to Bratislava. Many visitors of Slovakia use also the nearby Vienna International Airport at Schwechat in Austria, situated just about one hour drive from Bratislava. An alternative could also be Budapest Airport situated some 3 hour drive to Bratislava. You can thus choose which flights to Bratislava might be the best options for your travel.
Bratislava airport is really a small one. Don't expect to find here hundreds of shops and certainly buy some souvenirs while at the center, as you might have difficulties buying a desired present here. There are a few cafes though where you can refresh yourself. Save your energy for the city! :)

HOW TO GET TO THE CENTER FROM THE BRATISLAVA AIRPORT

Public transportation
Taking public transportation is the cheapest way to get to and from the airport. Bus number 61 leaves from outside the airport and runs from around 4.45 in the morning until 11.30 pm. You can buy a ticket in one of these points at the airport: newsagents on the ground floor of the Departures terminal, City Tourist Point stand at the Arrivals terminal, ticket machine at the public transport bus stop or ticket machine at the Arrivals terminal.
buy a 60-minute through ticket (1,20 €)
get on the bus number 61 and validate your ticket in a funny little red machine
sit back and enjoy your 25 minute journey
get off on the last stop called "Hlavná stanica" (our main train station)
get on the bus number 93
take 2 stops (4 minutes ride) to the center
get off on the stop called "Hodžovo námestie"
Taxi
If you want a more comfortable way, take a taxi. There are some cars waiting at the airport so you can check for how much they would drive you. Generally it is however cheaper if you dial a number of any taxi service and wait for the car to pick you up. This way you should not pay more than around 10 € to the city center – it takes around 15 minutes. Our recommendation, however, is to use a mobile app to order your taxi – this way you eliminate the option to be cheated and charged a "tourist rate". Read this post for a list of taxi services.
Car rental
There is an option to rent a car and pick it up directly at the airport. For more information and booking details click here.
Private airport transfers
This is a great way to avoid waiting for a bus with tens of other tourists and also to avoid being tricked by the taxi drivers who take advantage of the fact you are a foreigner. Instead, you can get comfortably picked up directly from the arrivals hall by a private driver who will be waiting for you with your name sign and help you with your luggage!

Hotels near the Bratislava airport
If you want to be staying near the Bratislava airport, here is the list of hotels you can choose from.
Hotels in the Old Town
Want to be staying in the very city center? Have a look at the hotels in our Old Town :)
Author: Maria Kecsoova