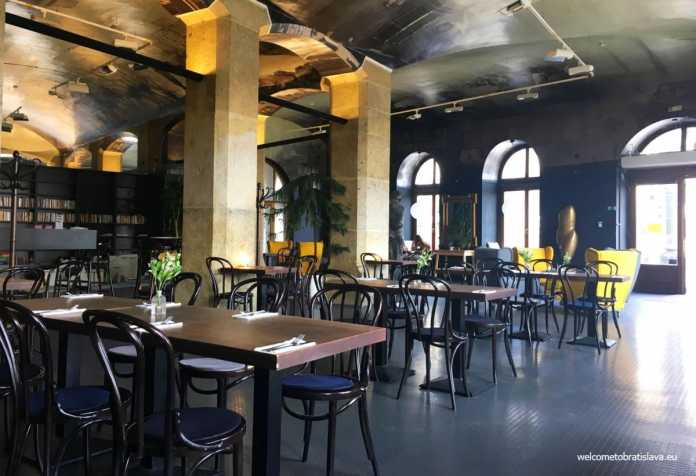 Do you fancy a truly artsy atmosphere while enjoying your cup of coffee? Are you interested in various forms of art? Maybe fine arts, books, architecture, film or music are those you enjoy the most? If you answered yes, or are just thirsty and appreciate aesthetically pleasing environments, we have just the spot where all the above mentioned  can be found under one roof! You are invited to a perfect place for every hedonist with an artistic soul: the Slovak National Gallery's legendary Café Berlinka.
LOCATION
Café Berlinka, as a part of Slovak National Gallery – the central gallery institution of Slovakia –  is located on the premises of Esterházy Palace in Ľudovít Štúr Square in the heart of Bratislava. Once there, this grand multi-storied building in neo-renaissance style cannot be overlooked. It stands majestically on the corner as the last building closest to the Danube river, usually decorated with huge teaser stretched over the front façade alerting passersby about the current exhibition. In addition to Café Berlinka and exhibition spaces, the building houses also the bookshop Ex Libris which offers mostly publications about art and culture, original Slovak literature and exhibition catalogues. We recommend having a look, too ;)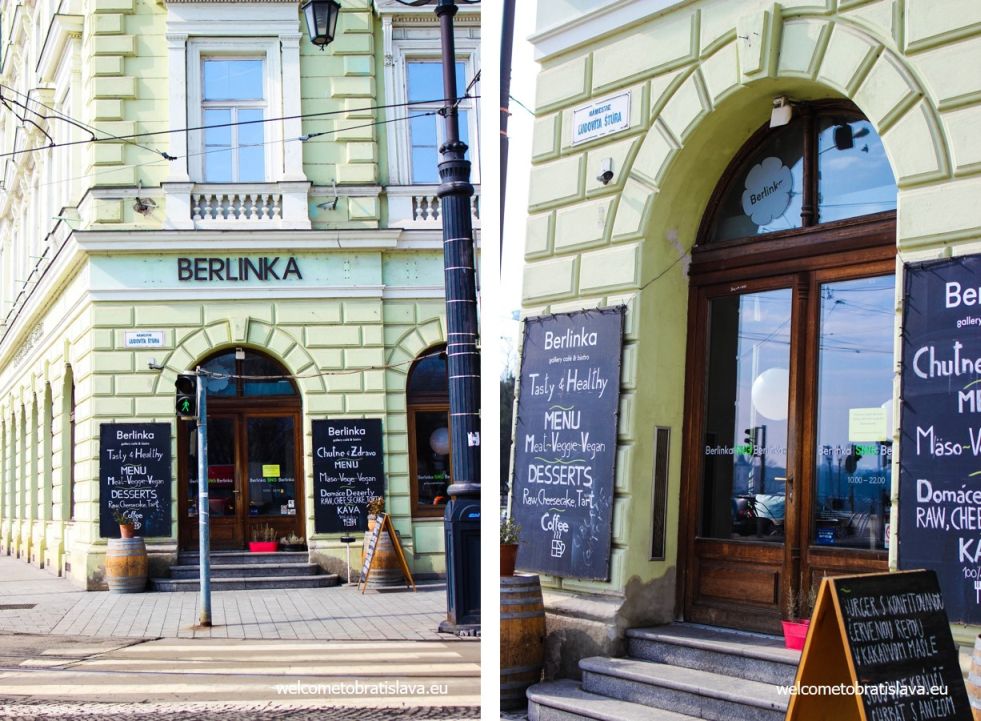 INTERIOR
Berlinka is located on the ground floor of the Palace. The premise itself is not large, but a high ceiling and huge arched windows that showcase the beautiful views of the Danube river's waterfront create a spacious and somewhat luxurious feel. Take a moment to observe the very pleasing space composition with hints of the past and unique paintings respecting the place history, along with the comfy seating of a modern bistro. Even a piano and a playground for small children are here. What more is needed?  :)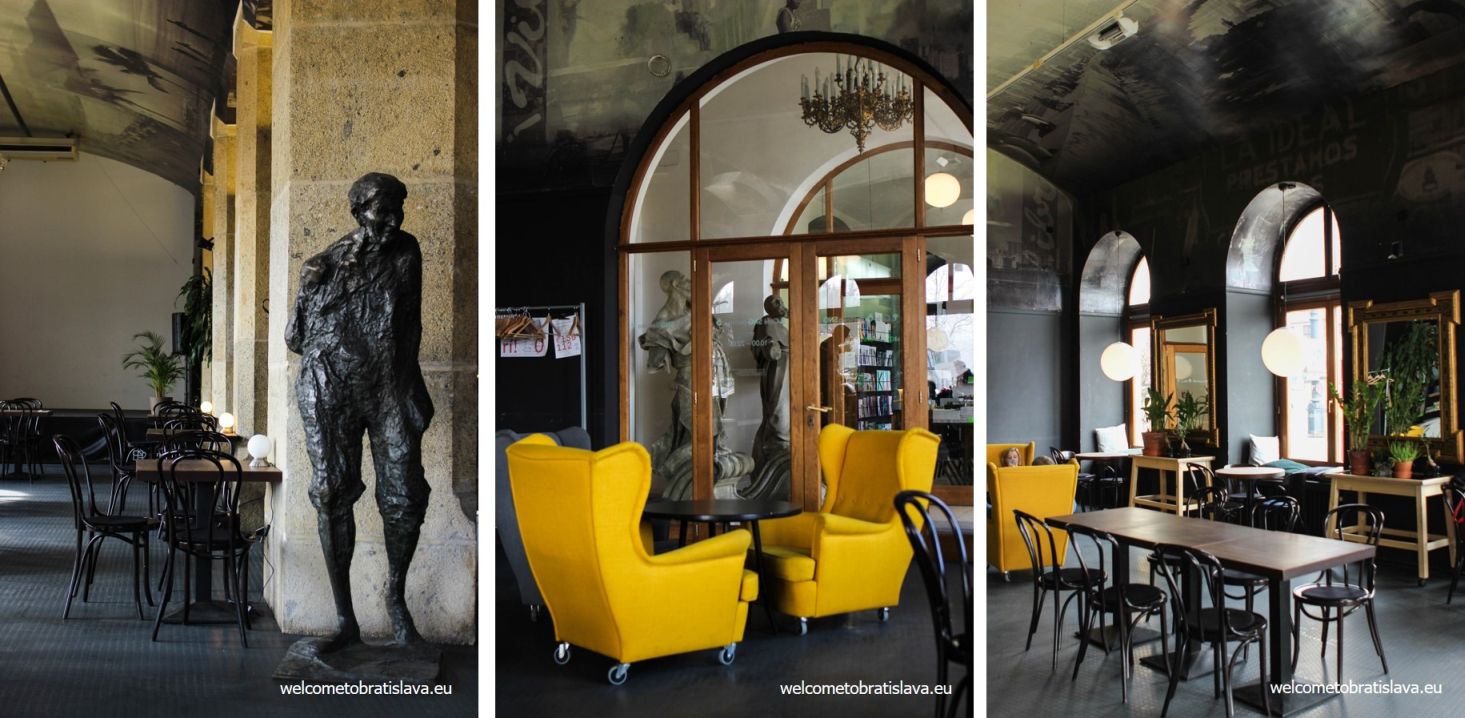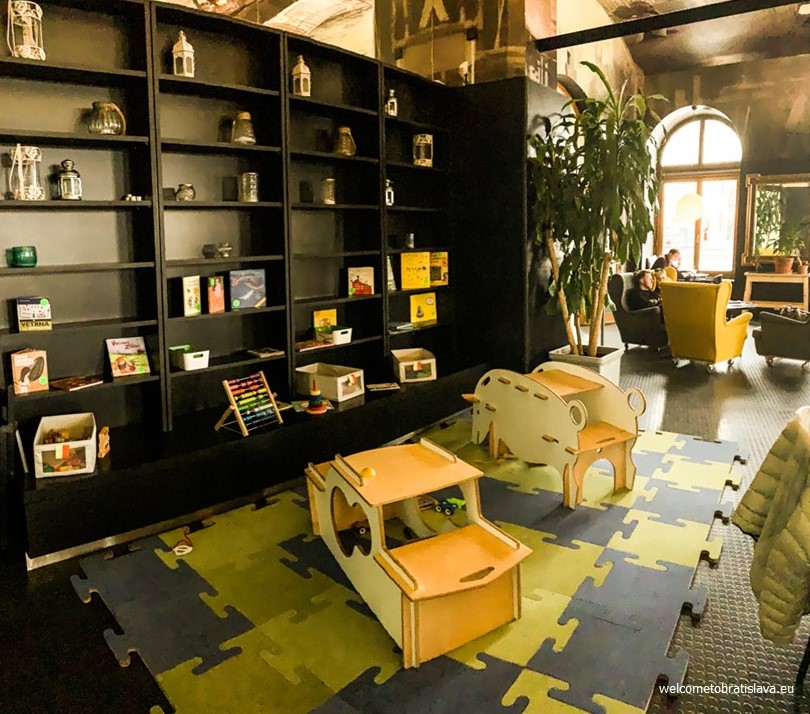 WHY IS CAFE BERLINKA SO SPECIAL?
As already indicated, this place has some history. A hundred years ago, then known as Café Hungaria, it was a spot where diverse community could gather. The cream of Viennese society would come together after disembarking the tram at the last stop from Vienna. Later, the space was used for various purposes and since 2013 luckily again is opened as a café. It also serves as a space for various events from book launches to workshops, discussions, lectures, film screenings, concerts, even parties ;)  For us, the best way to enjoy this café is to enjoy a coffee break just after visiting the gallery exhibitions.
WHAT TO HAVE IN CAFE BERLINKA?
You will not find coffee on the menu here alone. There is also wine by the glass, beer or even something stronger to have ;) Light lunch or dinner is on the offer as well. The menu is imaginative, though not very extensive, and the food usually looks really nice. On the other hand, we are not its biggest fans and you'll find out why. We praise the kitchen for trying to utilize local products and aiming to achieve zero waste utilizing raw materials, if possible. They are also trying new trends in cuisine and there is always something vegetarian and vegan on the menu.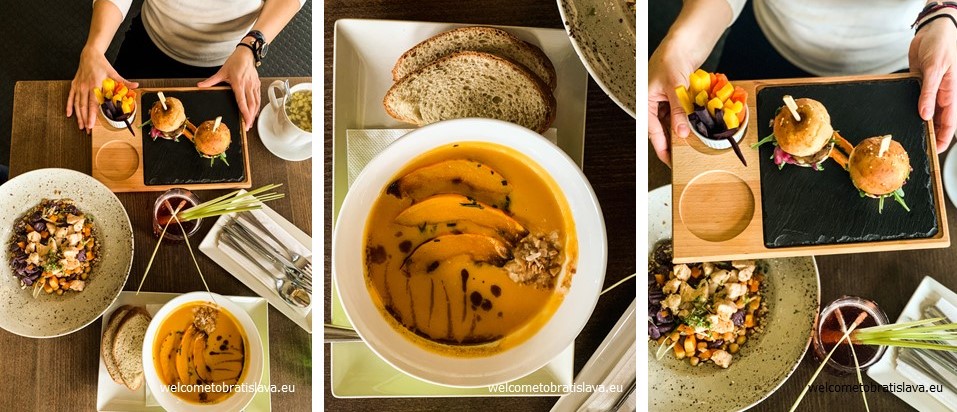 We've tried their burger with sliced pork neck which turned to be a small portion of two tiny burgers with the side dish of steamed carrot crudites which simply tasted like raw carrots. Sweet purple potatoes gnocchi with nuts and pumpkin was tastier but still dull. The pumpkin soup tasted funny in combination with coconut chips but was probably the best meal we tried here. Needless to say, we recommend Berlinka mostly for a nice atmosphere, drinks and all nice cakes displayed just next to the bar:)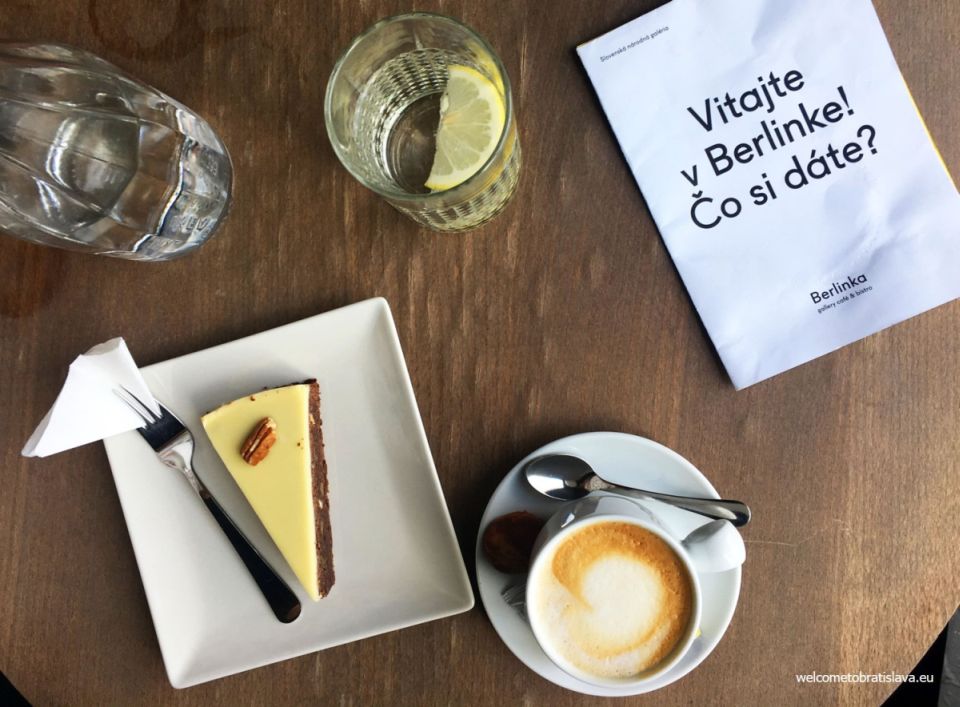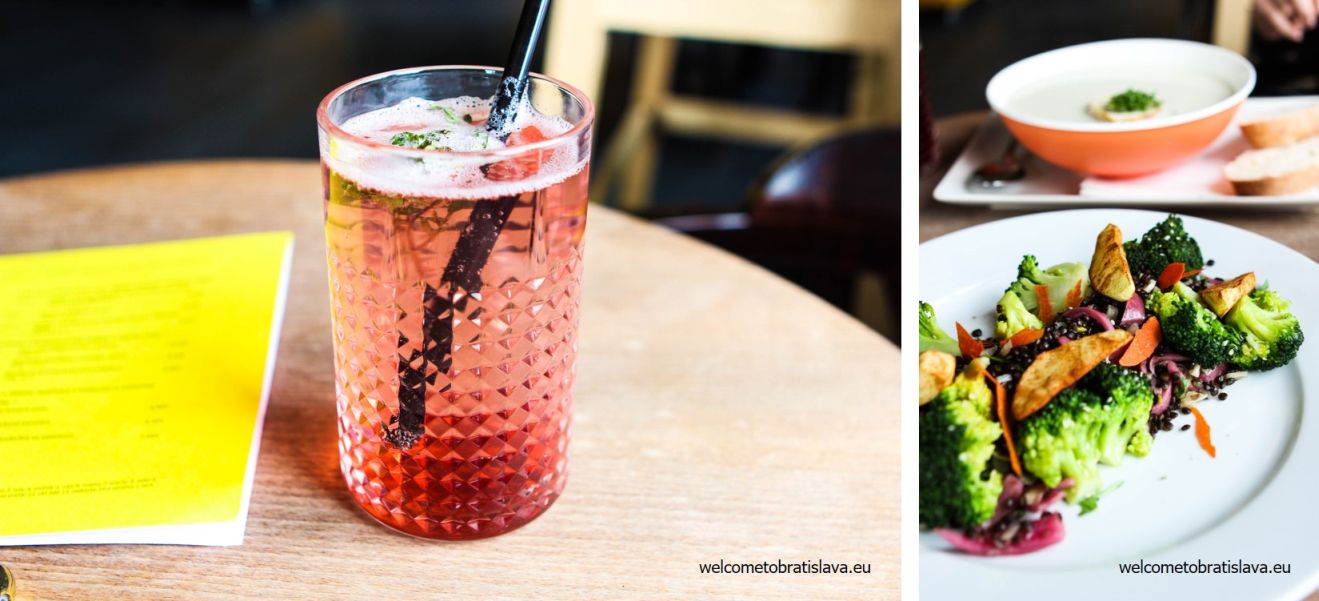 OPEN HOURS: Check the official FB site


 ADDRESS: Námestie Ľudovíta Štúra 4


 CONNECT: Website, Facebook


 MAP LOCATION: 
Author: Eva Latakova