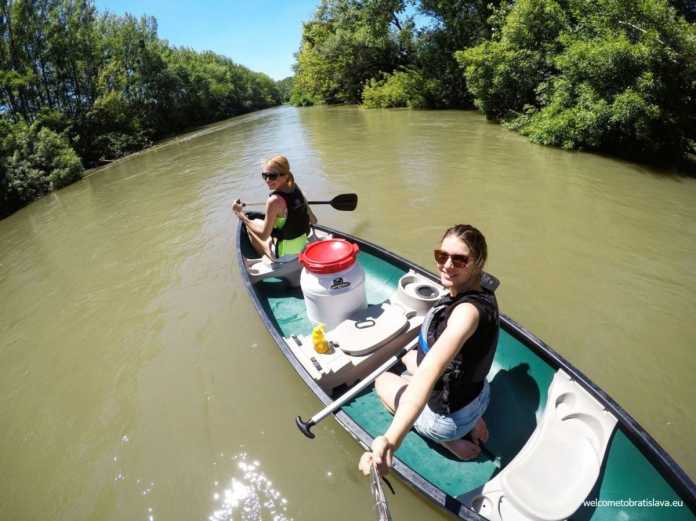 There's nothing like exercise in the fresh air to make you feel good about yourself. The more adventurous the activity is, the better feeling in general you get. Now imagine getting into a canoe and floating out onto perfectly still water where nothing else matters. Sounds good? Well, did you know you can do canoeing on the Little Danube, not far from Bratislava? We tried it thanks to canoetrips.sk and despite being a bit scared at the beginning, we absolutely fell for it. It's easy, it's cheap, it's fun, it's adventure!
LOCATION
The Little Danube is a branch of the river Danube. There are various locations where you can board, depending on the length of your desired trip. As it was the first time for us to try canoeing, we chose the easiest and shortest option – 8 km. Our starting point was in Jelka, a village that is a 45 minute drive from Bratislava, set in beautiful nature.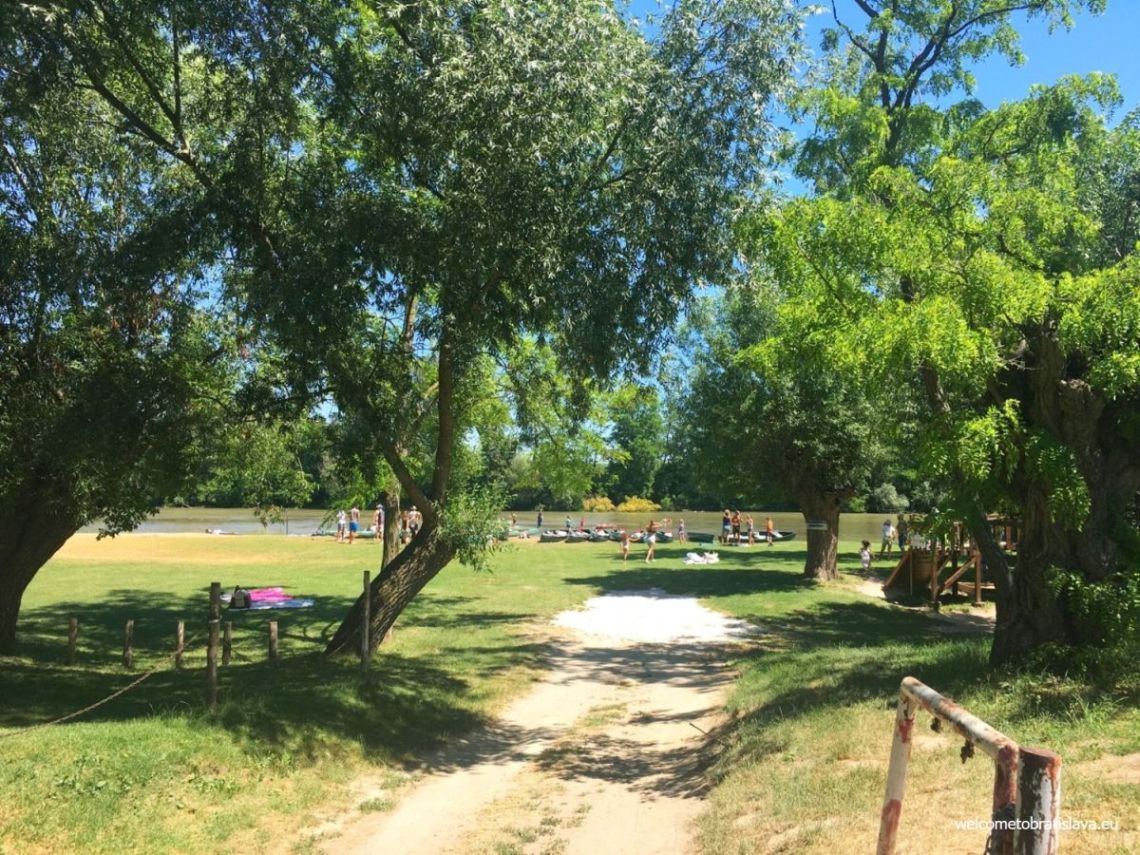 The actual meeting point where the guys from canoetrips.sk picked us up was at the water wheel mill (Vodný kolový mlyn). We left our car at the nearby parking, took our bags and off we went – to the spot where we were about to board! :)

(source: Canoetrips Facebook)
During a short drive the guys explained to us the basics of what we'd need to do when on the actual canoe. When we reached our destination – a small marina – they showed us how to paddle correctly in order to turn or keep going.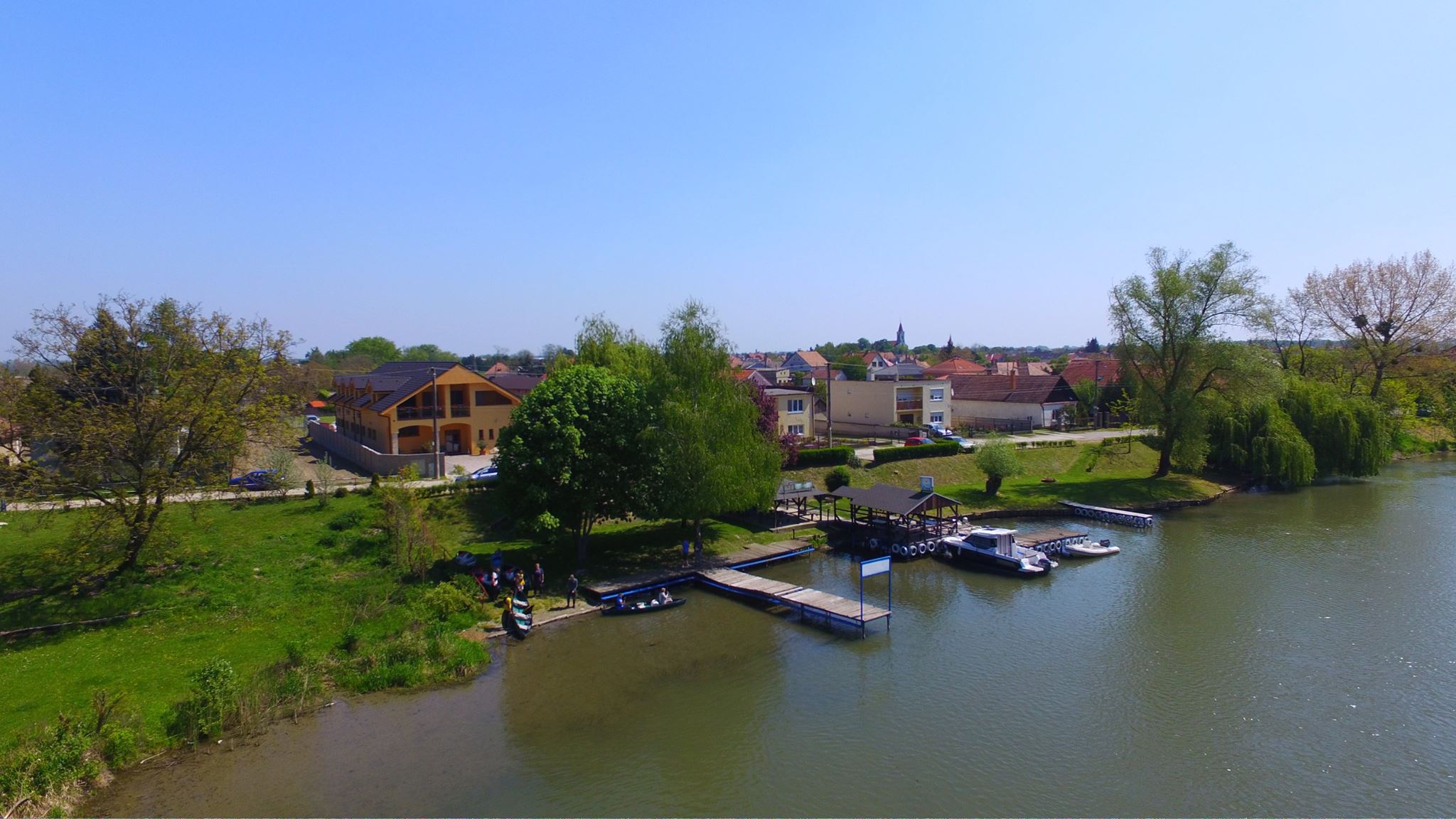 (source: Canoetrips Facebook)
When we asked which of them would be our captain, and the answer was "you're going alone," we thought they were joking. They were not! :D Soon though they calmed us down saying that it's really easy, this part of Danube is very calm, there are no dangerous sections and the water is only 2 m deep so nothing can happen to us.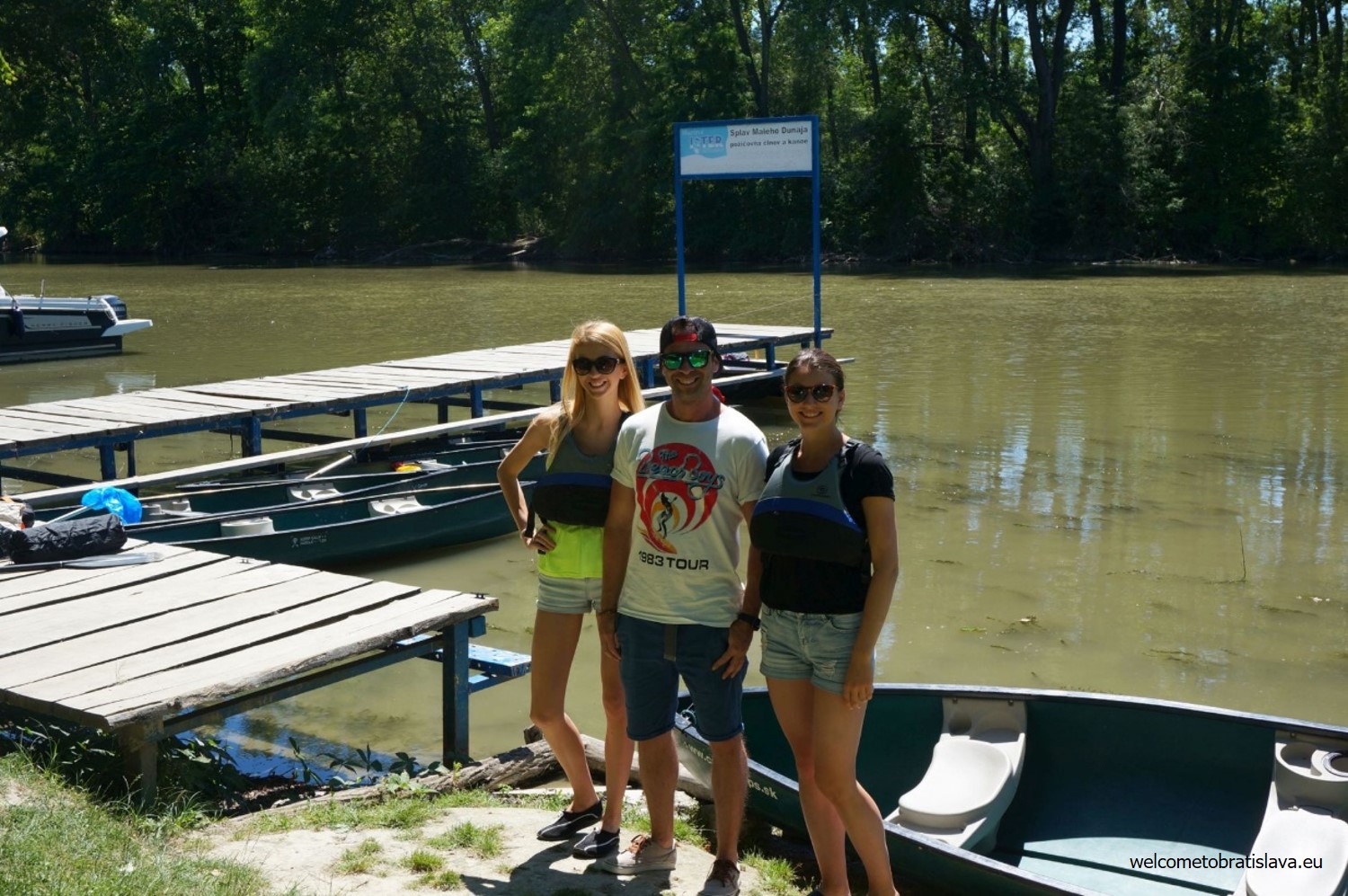 We were given life vests (just in case) and a big plastic barrel where we put all our belonging. This serves for the scenario you manage to fall out of the canoe into water. Which, luckily, did not happen. We waved bye to the guys who were supposed to wait for us 90 minutes later at the place of the original pick up – the water wheel mill. And off we were!
ON THE LITTLE DANUBE
Canoeing is a great way to explore the local waterways and get fit at the same time. By getting onboard you are actually getting closer to nature.
On this route, we admired the untouched nature in its fullest beauty and sometimes felt like being in a jungle, only rarely meeting some other people.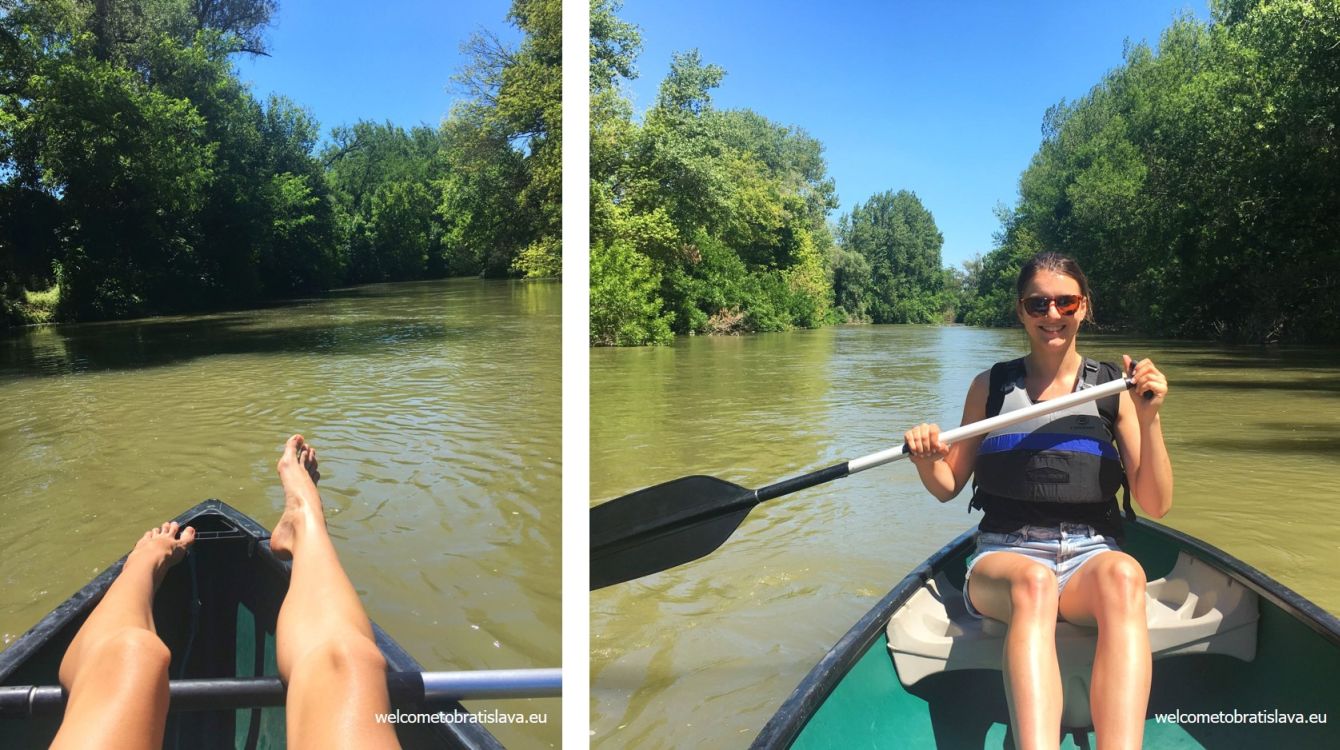 The Little Danube is one of the last places in Europe where old wheel mills are still preserved – there are four on this part of the river to be exact. We knew our destination was close when we eyed the one in Jelka. And the guys were right – it took us around 90 minutes to get there. We must say though that we were not trying to make it quickly but were rather enjoying ourselves, the nature and the beautiful weather. We heard that there was a group who managed to do the 8 km in 45 minutes but to be honest we think they must have been racing for their lives :D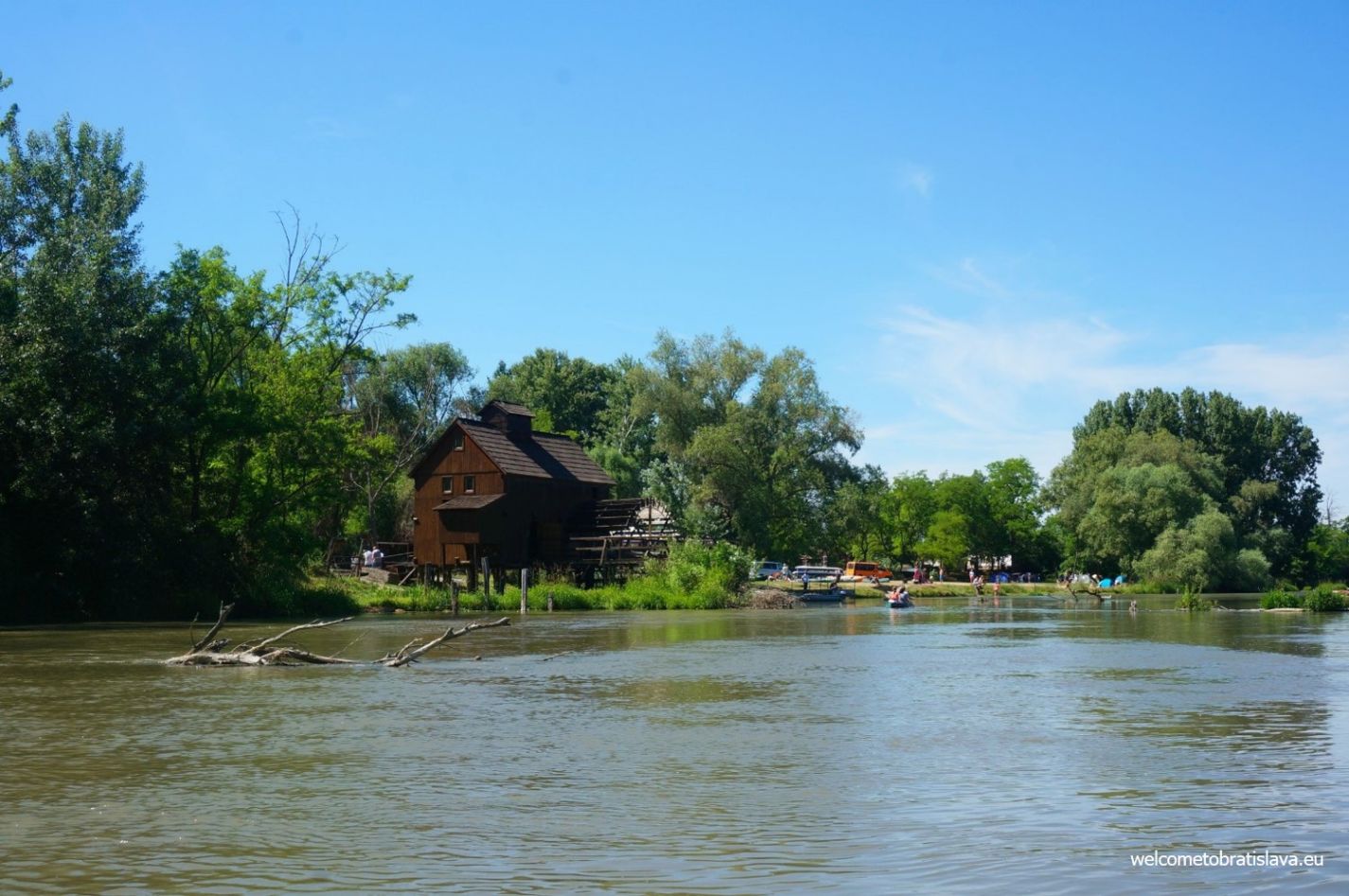 Once you are done, you can still get yourself busy on the shore. Doing various sports activities, grilling, picnicking, eating at the fish restaurants or visiting the actual wheel mill. It is a remarkable technical monument which offers public tours. If you want to know what technical tools were required for its operation in the past, or see some old documents and photographs, make sure you come between 8 am – 6 pm (summer season) or 8 am – 3 pm (winter season).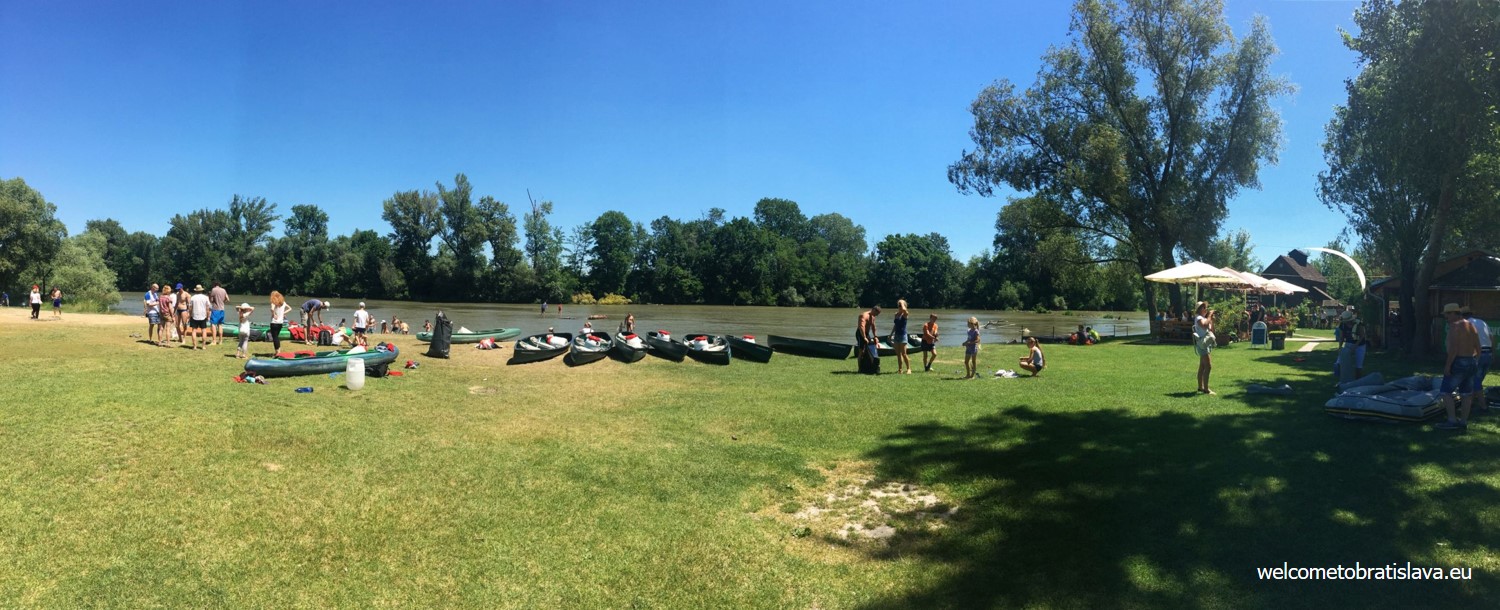 PROPOSITIONS
As we mentioned above, there are more spots to start off your journey. Places to board a canoe can be found on this map (with green signs). You can choose depending on the length of your trip (1 – 3 days) with a maximum of 71 km! If you want to do camping as well, you can borrow all the required equipment. And what is the price? It's cheaper than you think! A canoe for 2 people costs 13 € for a day, for 3 people 15 € a day. Plus there is the cost for travel/the pick up (in our case, 20 €). If you are a bigger group, the travel costs are smaller because they get divided. Overall, a lot of fun for little money :)
Check out this webpage or Facebook page for more info. They are both in Slovak, however, the guys who run the service speak perfect English so if you contact them, they'll respond fast to meet all your needs.
So, what do we have to say after our experience? If you want to get away from the everyday busy life, canoeing is definitely one of the coolest ways. A unique experience to reward yourself with, and you will enjoy it regardless of your age. The last proof is this video:
Author: Maria Kecsoova