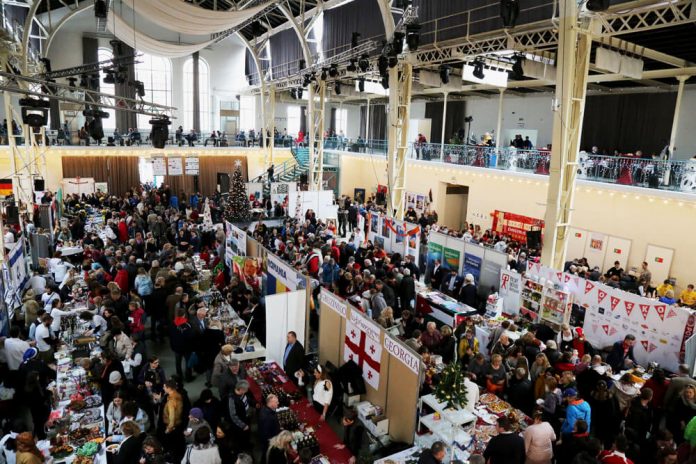 Join the biggest charity fundraising event of the expat and diplomatic community in Slovakia and come to find inspiring gift ideas while contributing to a good cause! This traditional Charity Christmas Bazaar comes alive with colourful national costumes, a vast array of international and local products, delicious flavours, enticing scents, a spectacular display of flags and accompanying program in the form of musical performances. Take a "trip around the world," visiting tables hosted by countries, international schools, civic groups and charities! Save the date: November 25th, 2018.
History of the Charity Christmas Bazaar
The Charity Christmas Bazaar has been organized for almost three decades by the International Women's Club of Bratislava. The Bazaar Team is comprised of volunteers who are passionate about giving back to the local community, partnering with international communities in Bratislava, foreign embassies, local and foreign companies, the City of Bratislava and the Slovak Ministry of Foreign Affairs. This event is the club's main fundraiser, in the past 26 years raising over 1 million euro in total, helping hundreds of charities across the country!
What to look forward to
The bazaar provides a unique opportunity for countries to introduce themselves to the local community through vibrant and informative tables.

Each year, there are thousands of visitors coming to the event, to discover different cultures through various national costumes, international products and meeting people of several origins. In this bazaar you will be able to buy handicrafts, Christmas decorations, sweets, books and various souvenirs.

Besides being able to "taste the world," visitors to the event will be able to bid on donated items in the Silent Auction for exciting prizes donated by sponsors, listen to Christmas music in live concerts and get to know local schools, companies and non-profit organizations that partner with the international community.


What happens with the raised money?
While promoting a greater appreciation for different cultures is one of the bazaar's purposes, the main one is raising money to provide financial assistance to selected, registered charity organizations in Slovakia. One of the source of doing so done via tickets sales. This means, to get in the venue, you need to purchase a ticket. You can do so directly at the spot or during regular meetings of the International Women's Club of Bratislava – to be announced on their website/Facebook event. These proceeds, together with the money gathered thanks to visitors purchasing the products at the stands and Silent Auction bids, are used to benefit Slovak charities which are carefully picked based on specific projects to meet the needs of the population they serve. Here you can find the results of past bazaars with raised sums and information about money allocations.
In 2017, the raised sum was over 80K euro!
Extend goodwill ahead of Christmas and join this beautiful event with an even more beautiful cause!
Save the date:

WHEN: 25th November 2018


WHERE: Stará Tržnica (Old Market Hall), Námestie SNP 25


TICKETS: Official website


CONNECT: Website, Facebook


MAP LOCATION:

Source of the photos: www.iwc.sk
Author: Maria Kecsoova