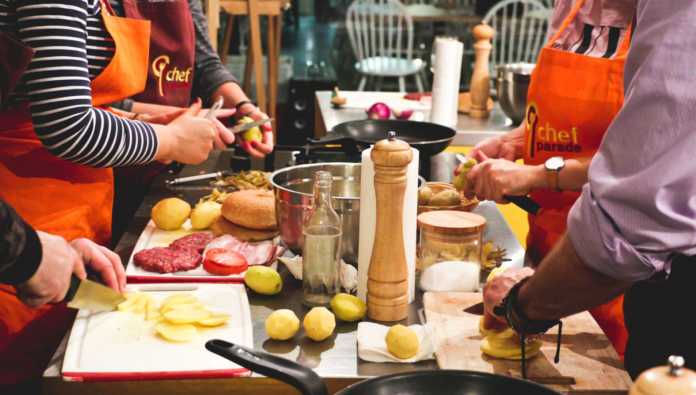 Looking for a new recipe? Need to find where to buy some special ingredients for it? And maybe some cooking best practices to improve your skills, too? Right, you can google it all. But the fact is it will never substitute a personal experience. That's why we only recommend to try cooking courses at a culinary school. We tried some at the Chefparade Cooking School and would like to share our pleasant experience with you.
There are a few cooking schools in Bratislava but Chefparade with more than 6 years experience and pretty good offer of courses – from traditional Slovak to any other world cuisine – and more than 15 thousand satisfied course participants seemed to be the right choice to try. Maybe you already know them from other cities like Budapest, Prague or Bucharest, as the Bratislava's branches are part of their international chain.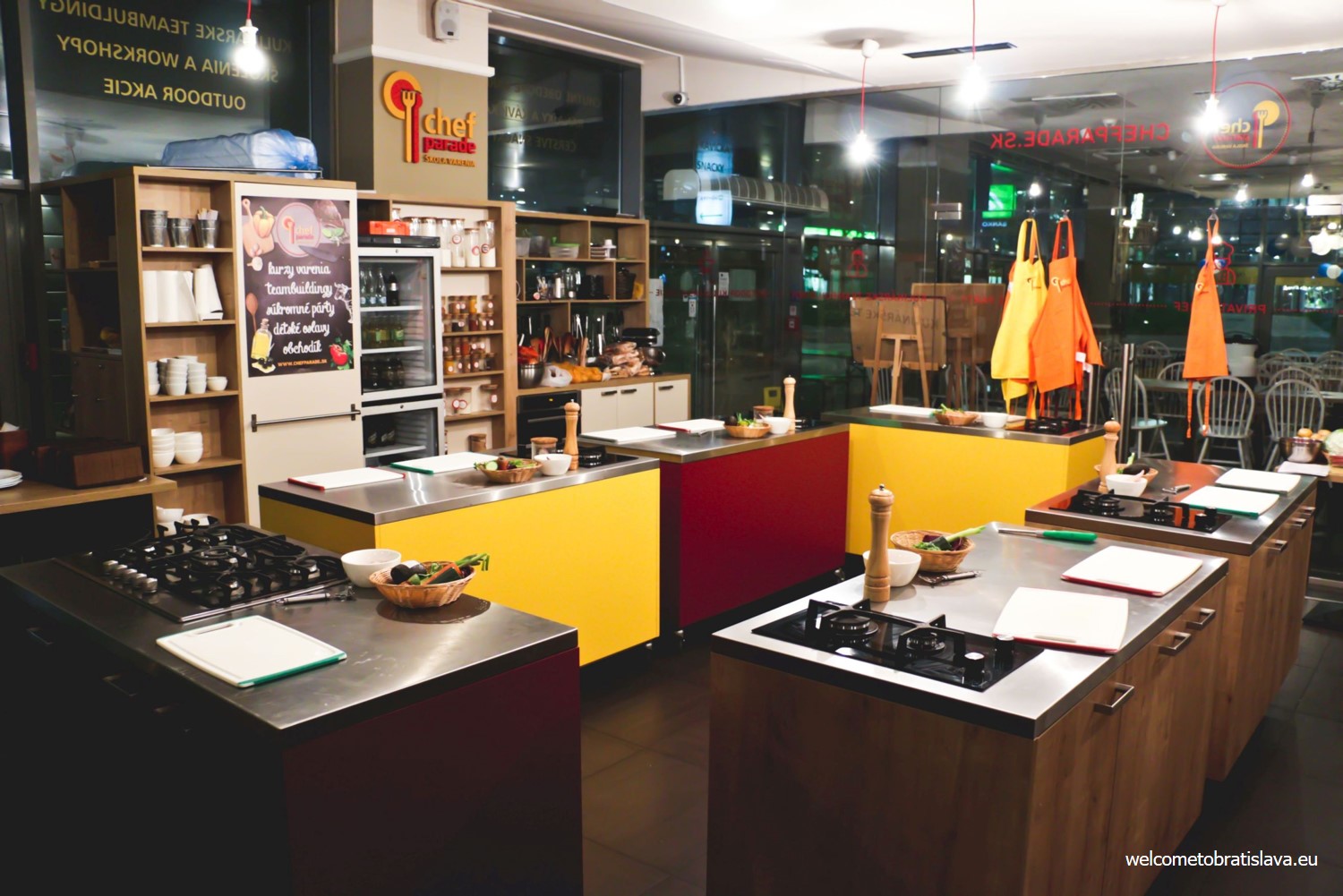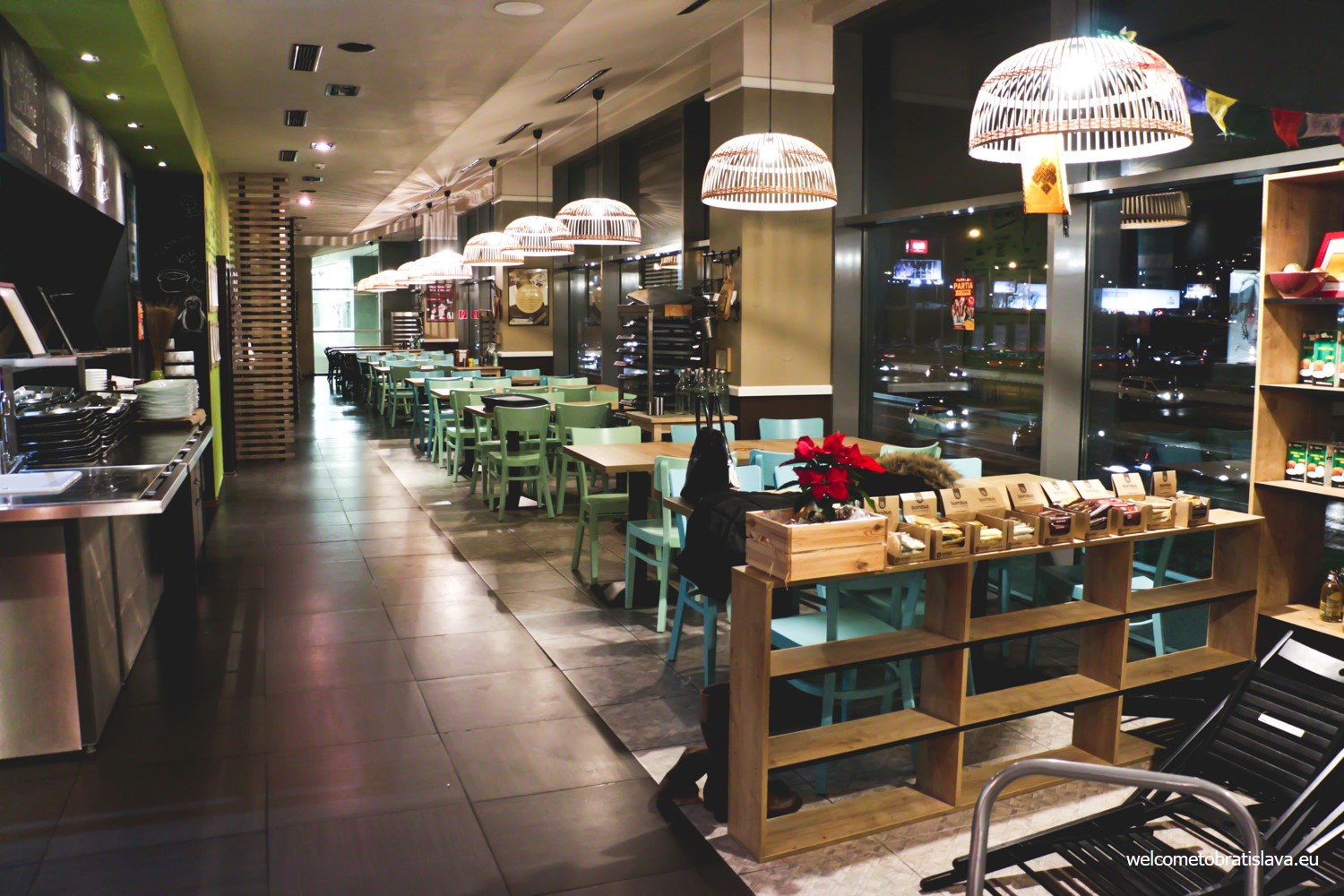 If this is your first experience ever, there is no need to worry. They say that courses are suitable basically for everyone. According to our experience, there is nothing else to do, just agree. All the time you are under the careful supervision of professional chef who is a specialist in the selected cuisine. You are also cooking in a group, so you can get a helping hand from your co-cookers if needed.
Chefparade has two studios in Bratislava – one on Košická Street and one in Digital Park on Einsteinova Street. We tried both and they are equally good! Very cozy, with all the kitchen equipment and ingredients displayed on the walls.  There is maybe a little advantage of studio on Košická, which is its location in combination with huge windows. That will guarantee that you will catch a few fascinating views of people passing by. Well, the view from the street into a full studio of people enjoying cooking and nice time is just adorable. We went by a few times, and you really feel like joining in an instant.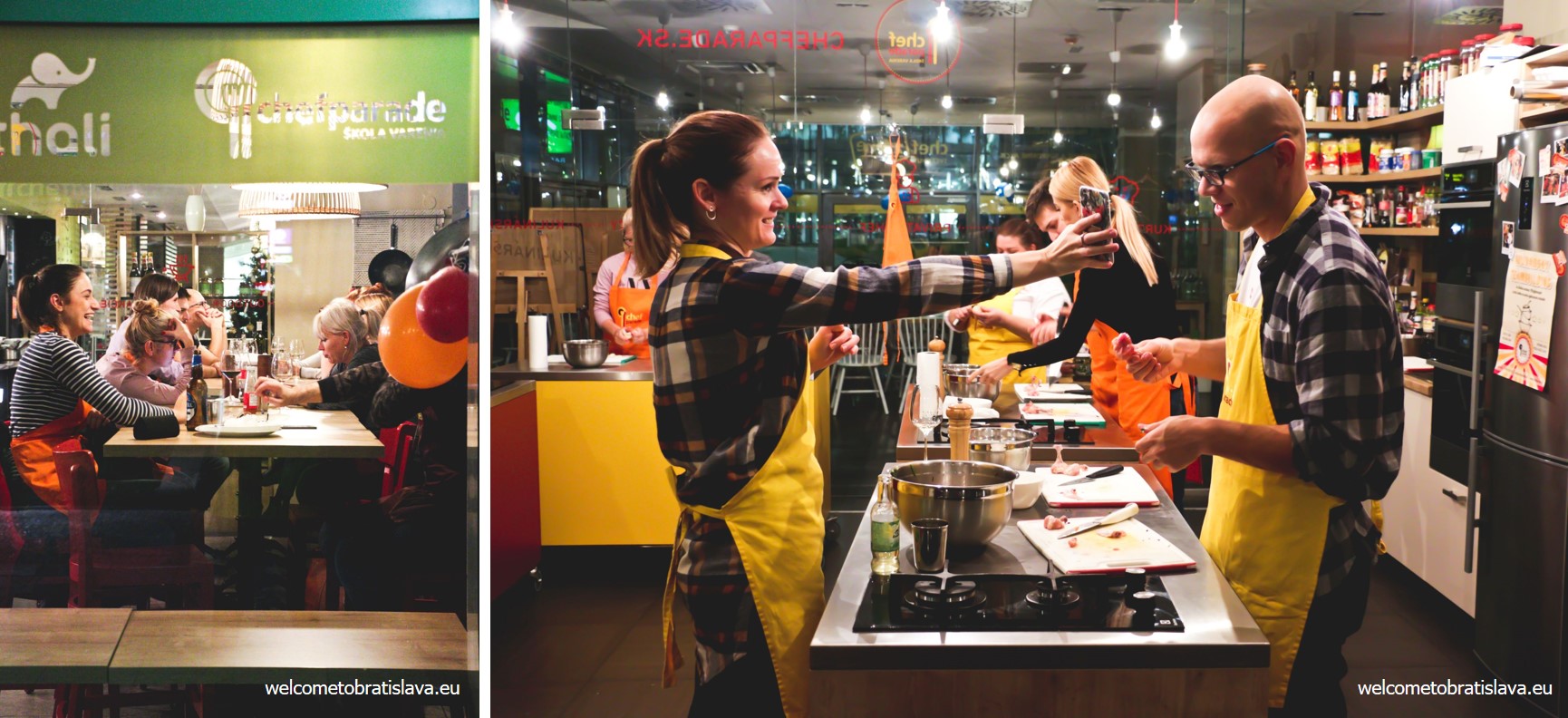 So, let's have a look at what they offer. Currently you can choose from four main groups: Meat, steaks, fish; European cuisine; Asia, sushi, exotic cuisine; Bakery school and pralines. All terms of current open courses are on their website, also with a number of free spots. For a course in English language we recommend contacting them directly, so they can fit you in a proper group.
Video from our cooking session:
OUR TIPS
The process may vary according to your final course selection, but we have a few tips for you we found working for all courses we tried:
reserve enough time for your course. You will need at least 4 hours and you will end up quite late in the evening. And all that cooking and following eating is quiet tiring, so better no big plans afterwards.
very important is to not forget about comfortable shoes. Might sound strange, but really :) Most of those 4 hours you will be just standing, so at the end you will feel not only your full belly, but also your legs.
be ready to eat a lot! You will prepare at least 5 various dishes and we bet you will want to try them all. So our recommendation is rather light lunch before :) At most of the courses you will eat continually during cooking – after finishing every dish you will get a short break for tasting. But there are also courses (like the course "Italian kitchen"), where you first cook and then you eat everything all in once at the end.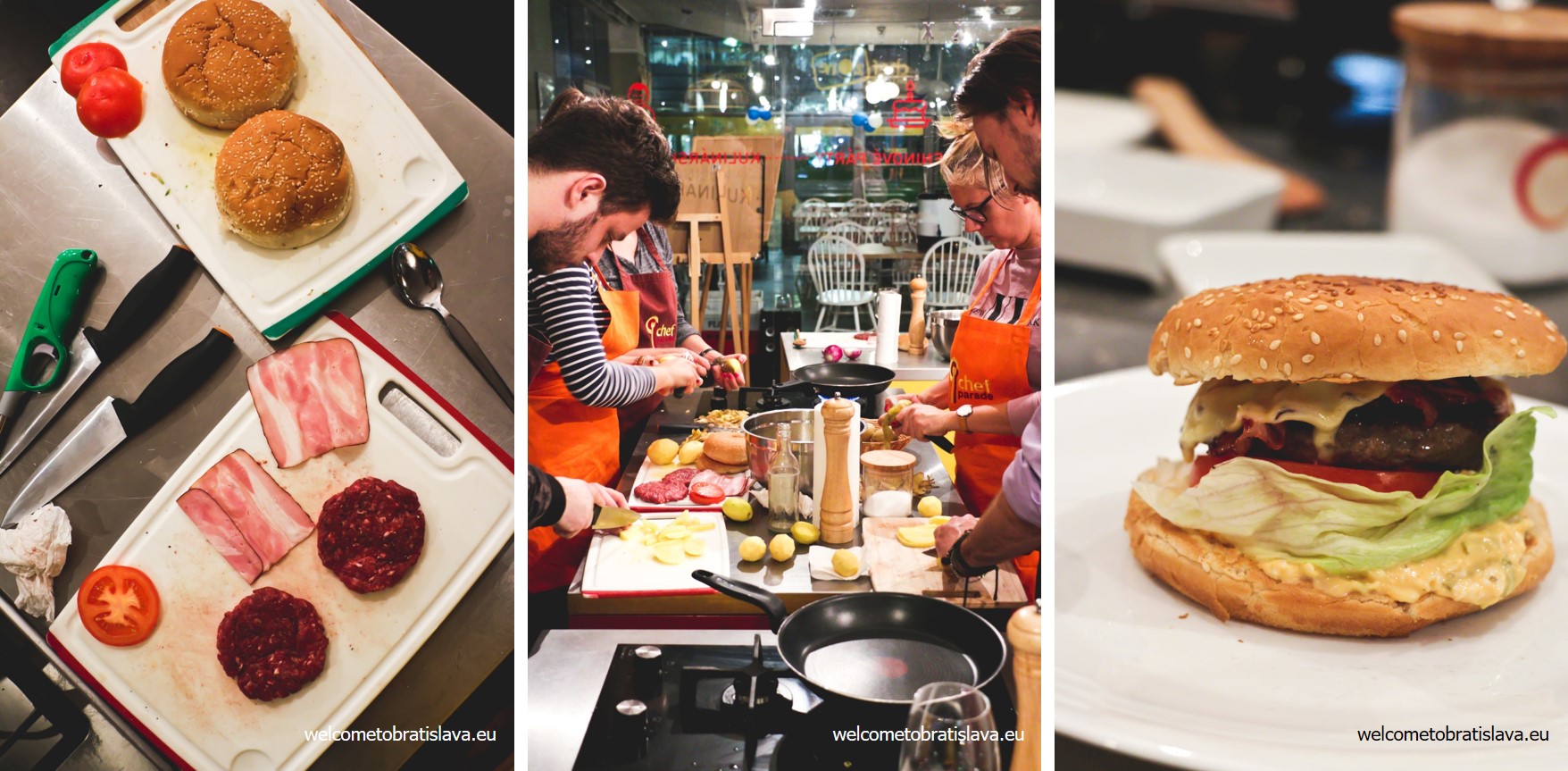 you basically don't need anything to bring, the school will take care of everything you will need. You can have some soft drinks or wine on the spot, they will charge you at the end. Some premium courses, e.g. the one about Argentina steaks, are including wine tasting.
the only thing you might find helpful is your own food dispenser :) That's the only way how not to be overeaten or to be sorry for throwing away all the great food you prepared and won't be able to eat there. With the food you take away, you can please your family or friends (or yourself the next day).
don't worry to ask about anything that interests you – it is your time and your opportunity to learn and master some new cooking skills. The chefs usually know a lot also about ingredients or about other dishes and do not hesitate to share their knowledge. Some tips will come naturally, during cooking (like never use a sharp side of knives to sweep food from chopping board!), for some you will have to ask.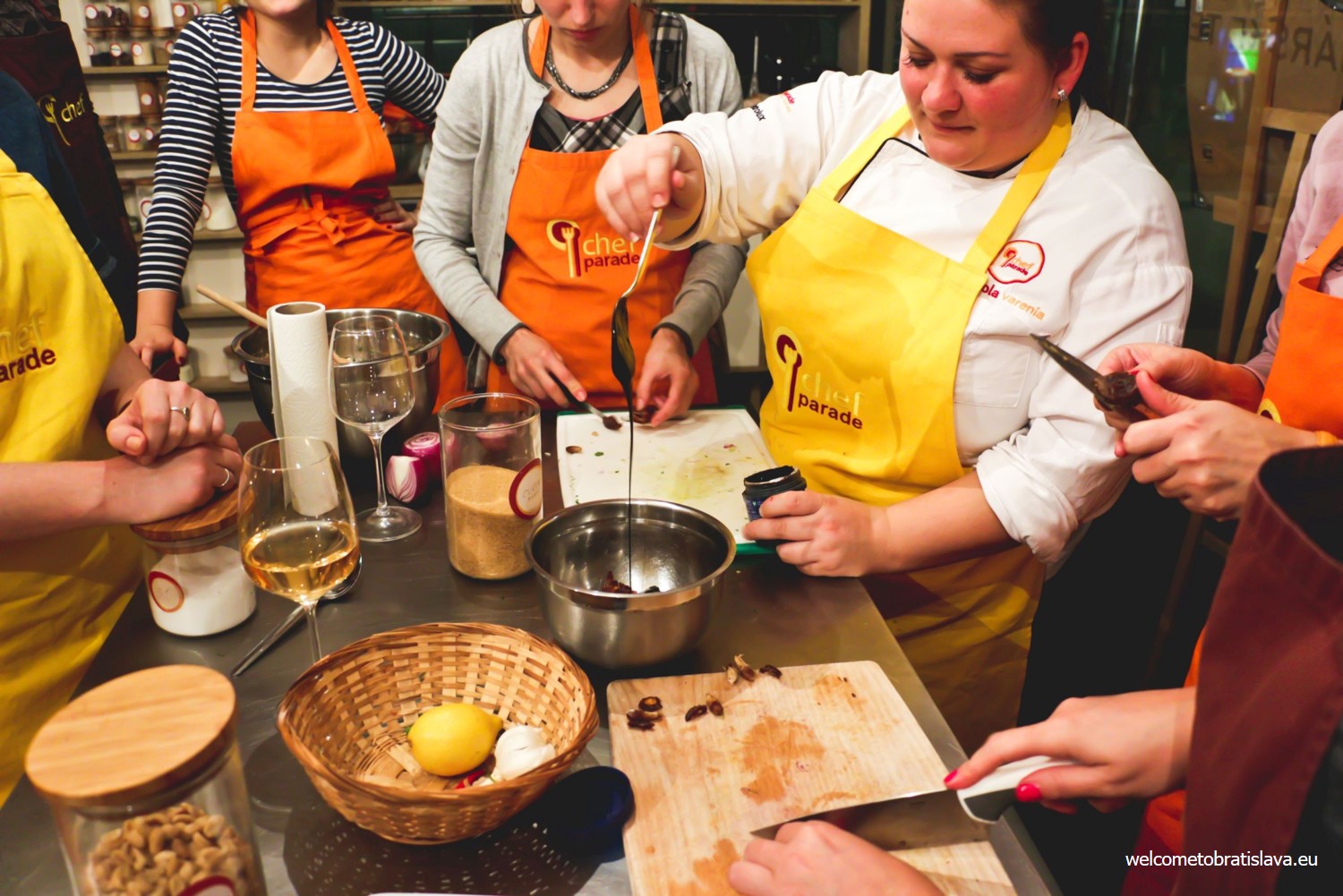 and the last thing is rather a warning – be careful with knives! As we learnt on our own skin, they are much sharper than in our households :)
Sounds interesting? Great :) Just be aware, these cooking courses aren't cheap. Be ready to pay around 60 – 70 euro per person. But if you count all the ingredients, time, professional equipment and supervision, it is really worth it. Not forgetting the great facts, you don't need to do shopping in advance and cleaning dishes afterwards! What is also worth to mention that they organize culinary team building, parties or private cooking courses, so it might be a nice present for your closest ones, too.
Ah and one handy thing as a bonus – if you find it impossible to gain all necessary ingredients (especially if you are into exotic dishes), Chefparade has its own shop and also e-shop where you can find just everything you need. Unfortunately, the e-shop it is for now available only in Slovak language – but some friends or google translate might help :) Happy cooking!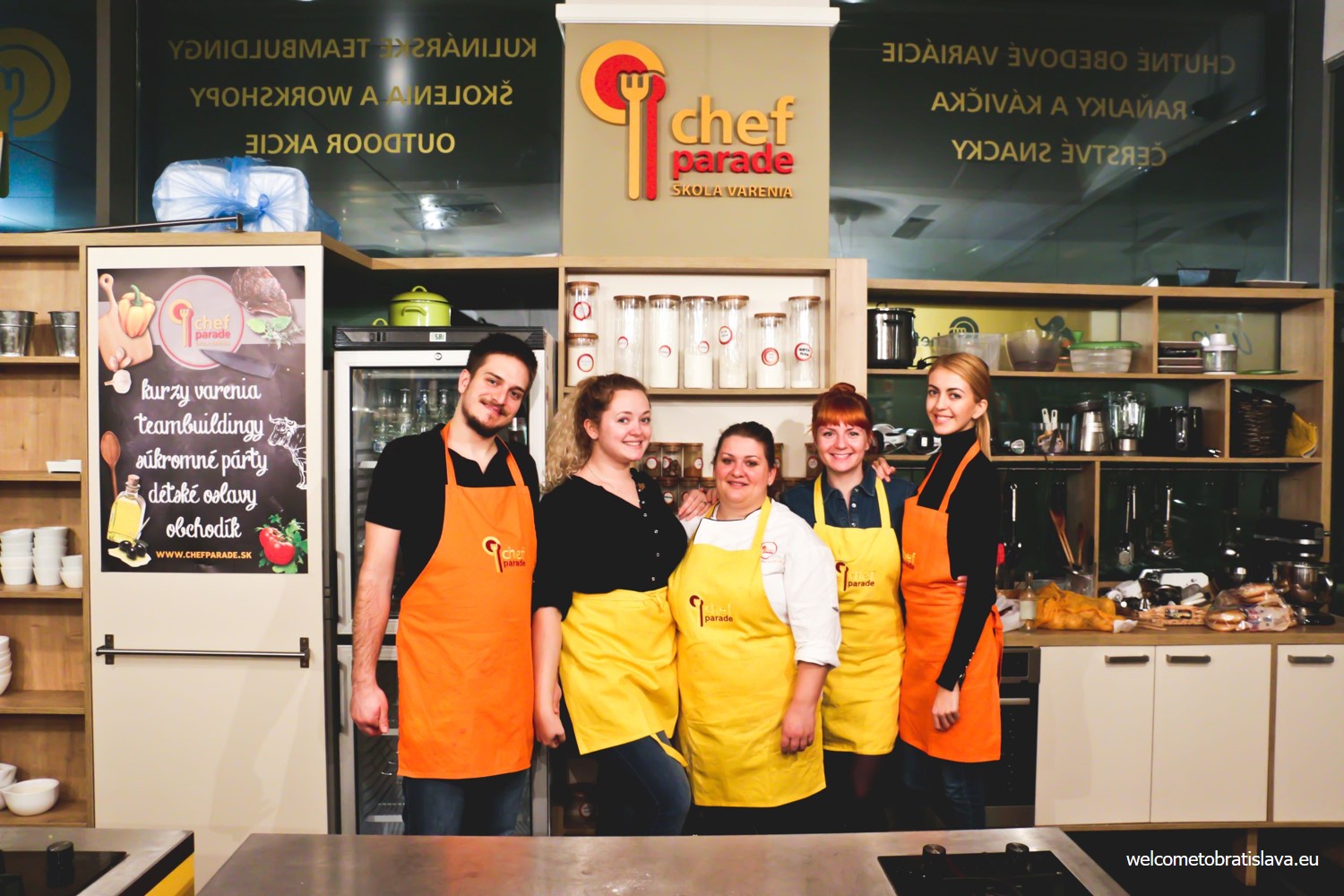 Author: Eva Latakova
Photo & video credits: Natalia Jankova

 OPEN HOURS: Check the official website


 ADDRESS: Košická 58, Studio Digital Park – Einsteinova 21


 CONNECT: Website, Facebook


 MAP LOCATION: