Looking for a convenient, chic and close-to-the-city accommodation? We recommend you check out the CHORS capsule hostel in Bratislava which is the very first art boutique hostel in Europe. During our stay, we were impressed by the high-tech room doors and lockers which can be accessed via mobile by linking it to your electronic key card, the sponge-like, high-quality beds that we slept exceptionally well in, and their breakfast which is included in the price – just to name a few of our favourite things! So if you're looking for an exciting experience, definitely try sleeping in one of their exclusive capsules.
GENERAL INFO: CAPSULE HOSTEL IN BRATISLAVA
Conveniently situated on Obchodná Street which leads directly to the old town, CHORS hostel provides ideal accommodation for all types of travellers. Don't be fooled by its name, because from the interior design to the range and quality of the services it provides, you would think you are staying at a hotel instead of a hostel – as its motto suggests. We were expecting a hostel-like accommodation but were pleasantly surprised by the high standard of a hotel.
We would describe the design of CHORS as modern chic with a dash of funkiness, offering an exciting visual experience with dynamic colours all over the walls in the hostel. You can admire the gallery of paintings by Marek Ormandík along the staircase and corridors (which you might or might not like according to your taste in art, to each their own). We really appreciated the velvet couches and tea tables in the lounge area as for us, it created a luxurious yet homey atmosphere.
Entering the reception and lounge area, we were greeted by friendly and helpful staff members, who also provide service 24/7. A bonus point was the fact that their English was so good (which isn't what you can also find around Slovakia) which made communication so much easier. They offer useful tourism recommendations for various activities, places and local events. We also appreciated the 24-hour food and beverage services as we started getting hungry at 2 am and were able to order food! We also liked that they had tea, coffee and even flavoured water available, free of charge!
Overall speaking, CHORS Hostel is a great place for travellers to stay, offering the comfort and cleanliness of a hotel. However, unlike our typical hotels where guests only enjoy room services, CHORS provides a sociable and inviting environment, where solo and group travellers can mingle in the lounge area or the outdoor terrace area. By the time it hits 7 pm, we heard live music from the terrace which was wonderful as it settled to a chill vibe until 10 pm daily in the summer months.
TYPES OF ROOMS
Common areas within the rooms
The rooms provided a lot more lounging space than expected, with cozy velvet armchairs for those who want to chill comfortably, and a table for those who need to research on their upcoming trips.
Lower bunk
There is a walk-in entry, with a little more space for luggage storage, offering a safe box, electrical socket, and a full-size wardrobe.
Top bunk
You would expect the top bunk to give a more oppressed feeling, but no! As the sturdy ladders led to the top bunk, we were pleasantly surprised by how spacious the top bunk is. The cabinets offer just as much storage space as the bottom one does, just that you would need a bit more muscle strength to lift your belongings up.
At night
If you are planning a short-term stay in Bratislava and want to find a suitable lodgement for a reasonable price, the rooms at CHORS hostel offer just the right accommodation. There are several types of rooms which accommodate 4,6,8 or 10 people in a room, each with shared common space as shown above. Each room type is equipped with the following amenities:
automatic lights
study desks and chairs
automatic air-conditioning (which isn't always available in European accommodation)
personal electrical socket and lights
keycard access to your individual, lockable wardrobe and safe box
private space with curtains
a towel and a glass
body soap and shampoo
hairdryer in the room
Despite retaining the hostel-style of accommodation where the shared-room feature allows you to know other travellers, we admired how the rooms were also able to provide a high level of privacy. Once you let your curtains down, you can be in your own little space of comfiness 🙂
You will be surprised with the comfort offered by both the top and lower bunks, with quality mattresses (one of the more expensive ones you can find) and linen bed sheets, with sufficient space to move around in. However, if you are claustrophobic, we do not recommend this form of accommodation as it is a dormitory-style capsule with limited space. There are many room types suitable for various interest groups and prices vary according to the peak and off-peak seasons.
UTILITIES
Bathrooms
The toilets and bathrooms had a sleek modern design ornated with marble finishing. Considering that the bathrooms are a shared-facility, it was comforting to see them clean and well-maintained. As you enter the bathrooms, you will see that there are 2 shower rooms and toilets each, with a hairdryer for usage.
Conference/ meeting room
Connected directly to the lounge area is the meeting room which can accommodate up to 15 people; it is free for anyone to use without prior booking! If you are in need of a place to conduct serious business, here is the place to work quietly on your laptop or hold a conference. We were ecstatic to find that there are board games and a TV available, with the option of Netflix, so feel free to watch Netflix and play some board games whenever the mood comes!
Game room (gym equipment, dartboard, table tennis)
When you get tired from working in the meeting room, head over to the game room to relax for a little. It is equipped with minimal gym equipment, a dartboard, and also a table tennis table. Borrow rackets and table tennis balls from the reception and challenge your friends to a duel!
Breakfast
We can't be the only ones who get excited by the idea of breakfast before we go to bed the previous night, and CHORS' breakfast did not disappoint. The hostel provides typical continental breakfast with a range of bread, cheese, cold cuts, fresh fruits and vegetables and cereals to choose from, served with juice or coffee. You can enjoy your breakfast on their spacious terrace.
Activities
One of the highlights of CHORS Hostel was the live concerts on the outdoor terrace, held daily from 7 pm – 10 pm, which showcased a chill, night vibe with English songs. Make your day better with a glass of bubbly, cocktails and shisha on the sunny patio and enjoy with some food available 24/7 at the reception. This event held daily not only allows you to meet new people, but also to enjoy the cozy outdoor sitting area equipped with deck chairs.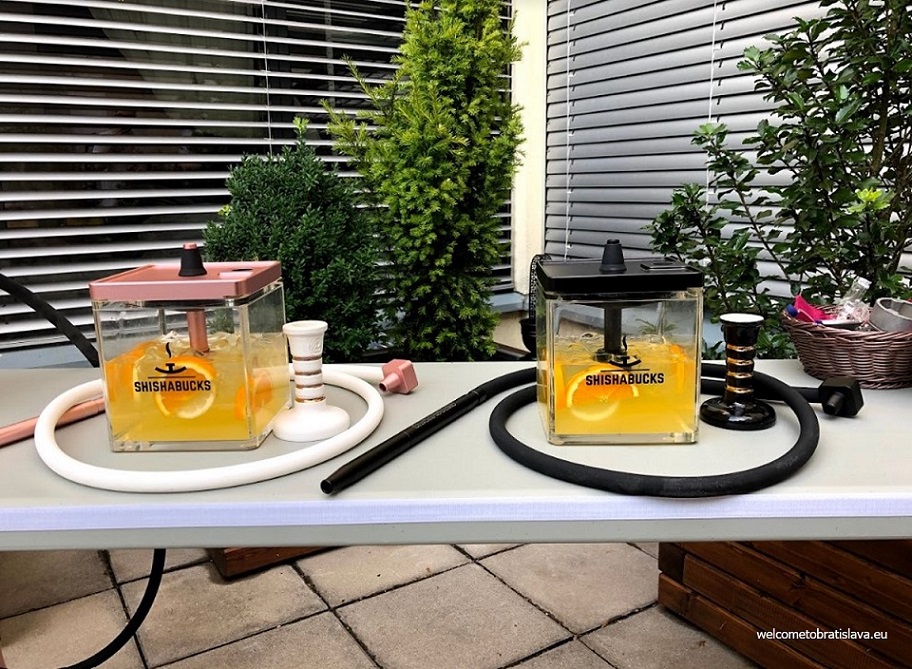 We had an interesting and exciting accommodation experience, with an atmosphere that was inviting and comfortable. They kept their promise with guaranteed privacy regardless of the number of people in a single room thanks to the roller blinds! So, If you aren't claustrophobic, definitely give this hostel a visit, or should we say hotel?

 ADDRESS: Obchodná 43


 CONNECT: Website, Facebook


 MAP LOCATION:
Authors: Sukhani Ritika Satish, Chu Lok Hang Sheryl