We are in a Christmas mood! One of the activities that are definitely considered Christmas-y is baking. Luckily when it comes to gingerbreads, you can bake them well in advance as they stay nice soft for weeks. That's what we did (though they are all long gone)! We are bringing you a photo recipe taken when part of our team (Slovak – American – Russian mix) met to create a Christmas vibe experimenting in the kitchen. And, besides baking the traditional Christmas gingerbreads, prepared a solid amount of home made Baileys liqueur (which is a great gift idea by the way). We are inviting you to sneak into our little world and maybe get inspired and have some similar fun time with your friends or relatives :)
GINGERBREADS EQUAL CHRISTMAS
To prepare the Slovak gingerbreads ("medovníky"), you are going to need 500 g plain flour, 1 TBSP bicarbonate of soda, 1 TBSP ground cinnamon, 125 g butter, 190 g powder sugar, 3 eggs, 125 g honey and nails/gingerbread spices.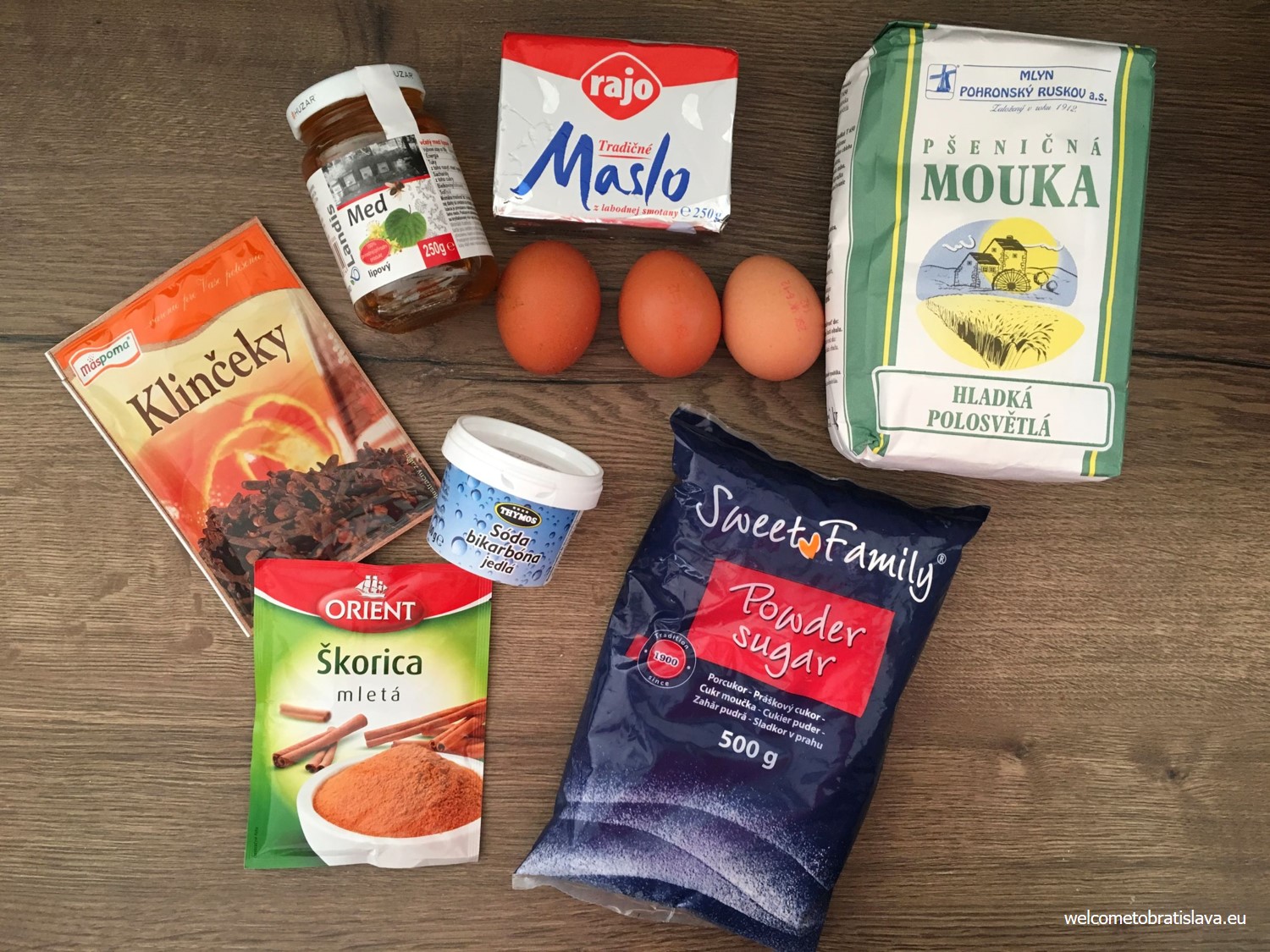 Sift together the flour, sugar, bicarbonate of soda and add butter cut into small pieces.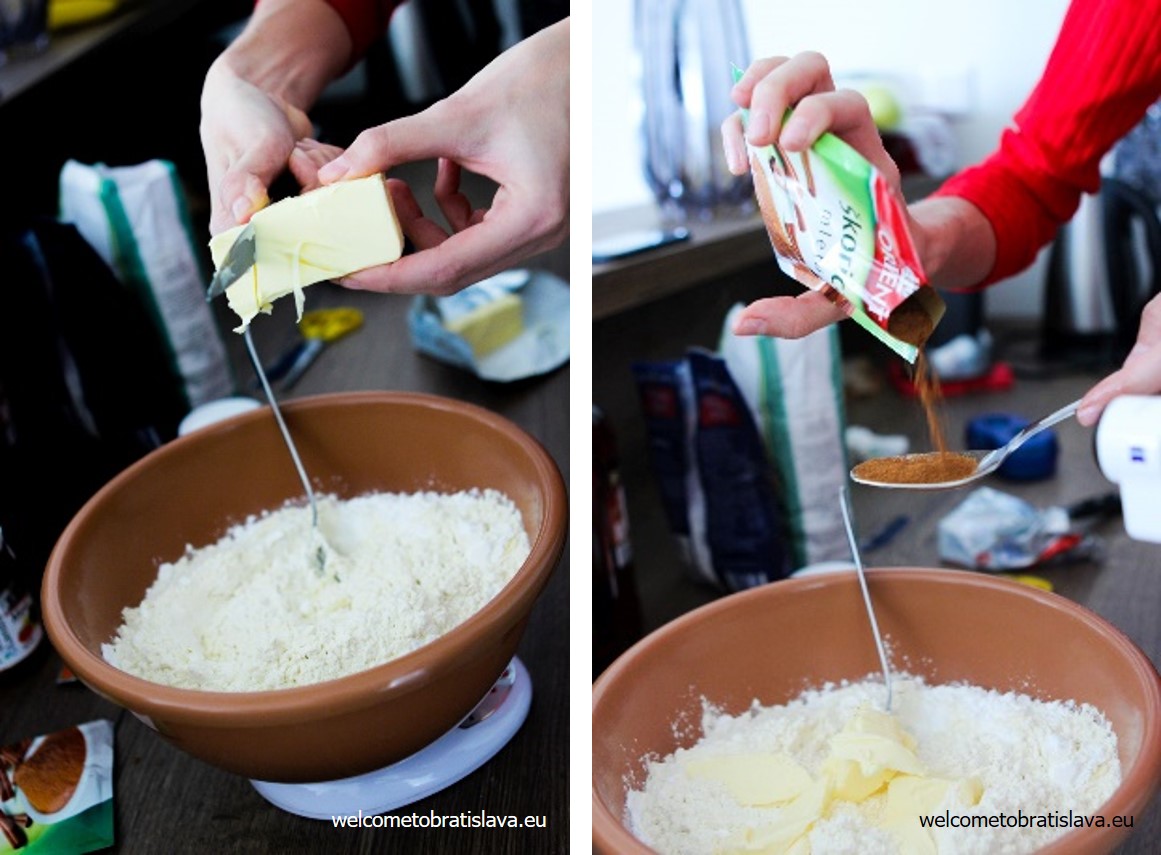 Slowly add the eggs, cinnamon, honey and gingerbread spices and knead until the mixture clumps together. Tip the dough out, wrap in clingfim and leave to chill in the fridge for 30 minutes. Sometimes, if you have time, you can leave it in the fridge overnight. As we had one afternoon only, half an hour had to do.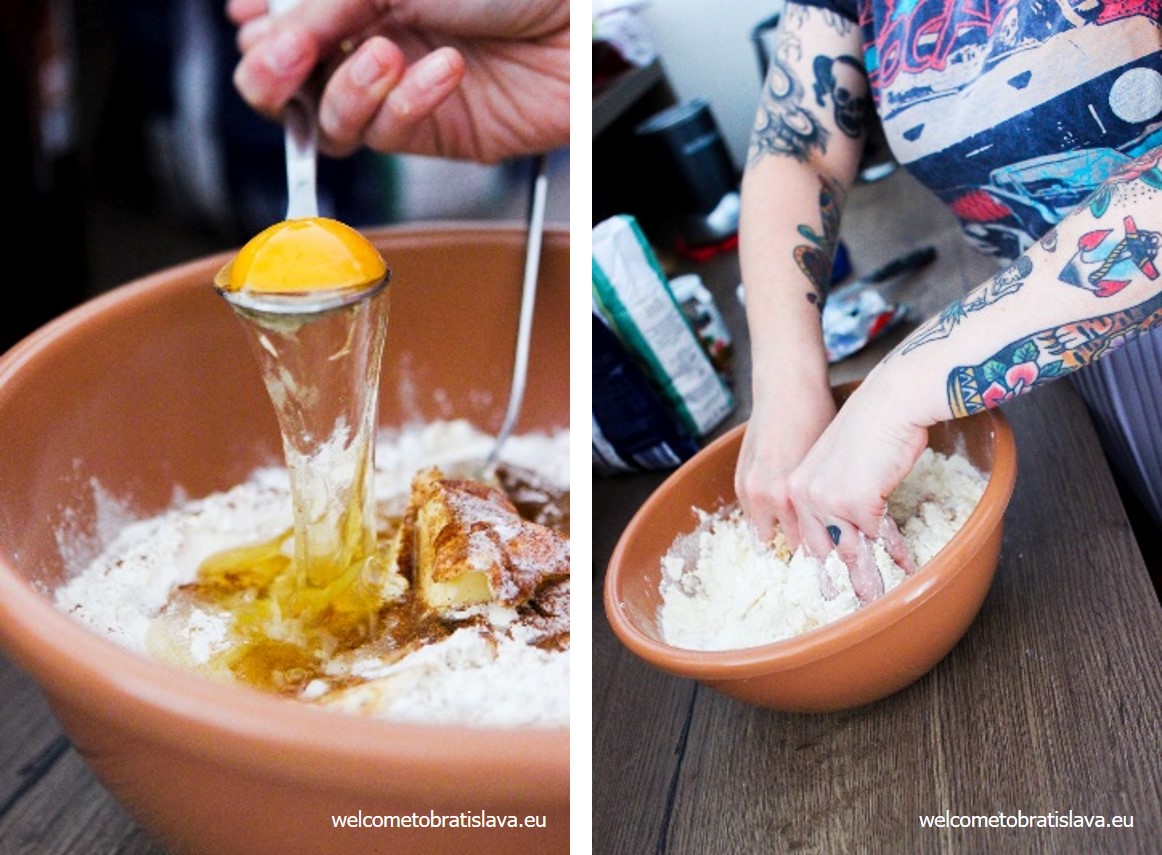 While the dough rests in the fridge, start working on preparing the liqueur. To make 2 litres of Baileys, you will need 0,5 l of rum/Tuzemsky Um, 1 powder almond pudding, 1 vanilla sugar, 2 cans of caramel Salko, 100 ml whipping cream and 500 ml milk.  As we were a group of 5 and had a babysitter on board as well, we made it a double portion :) Just to make sure that everyobdy can take some of the treat home as well :)
HOW TO MAKE HOME MADE BAILEYS
To start, mix the milk with pudding and vanilla sugar and bring to boil. Let it cool down with constant stirring so that the there is no "skin" created on the surface.

Slowly add the caramel Salko cans and mix with a hand mixer at low speed until you have a homogeneous, thick mixture.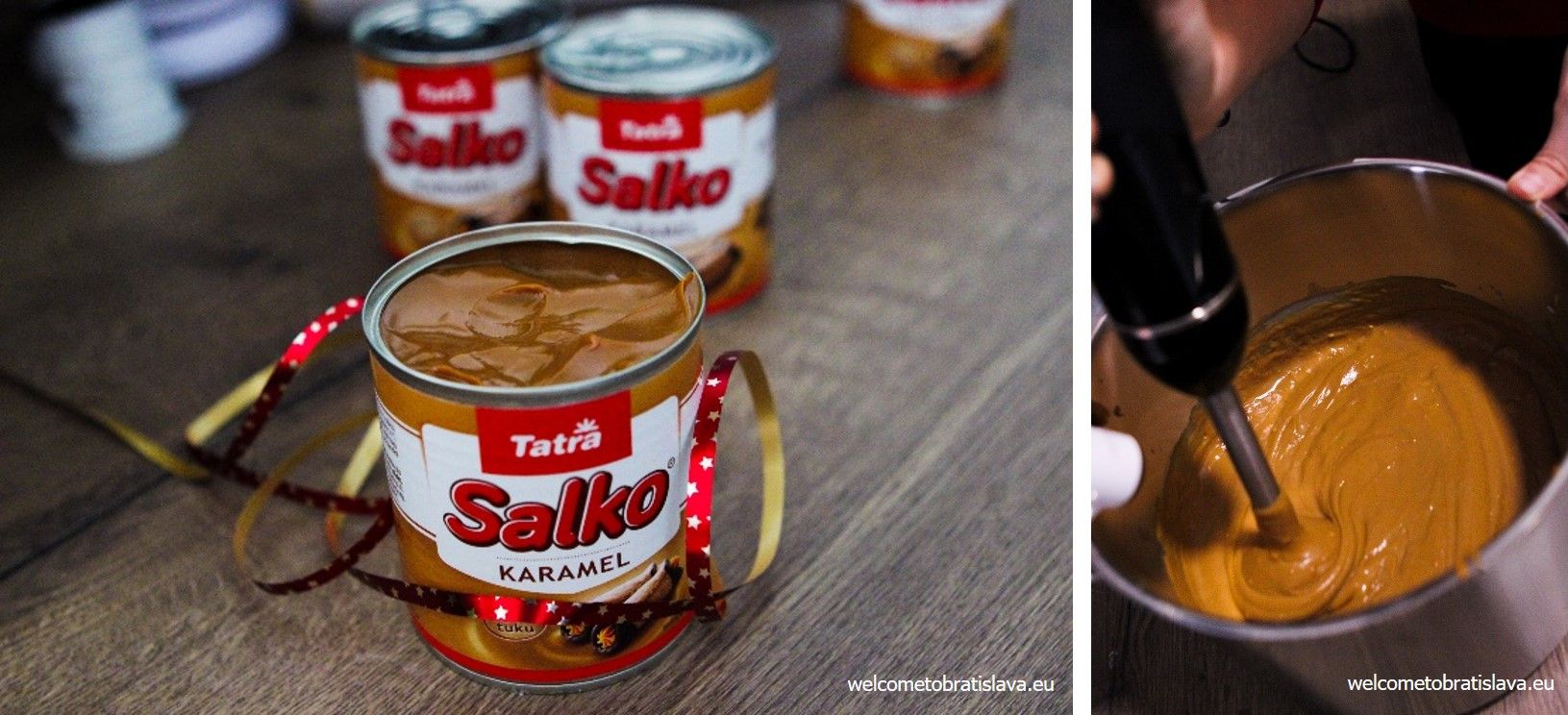 Add the rum and the whipping cream. We advice to use the Slovak "Tuzemsky Um" instead of traditional rum.
Note: Tuzemsky Um is a popular spirit with a long tradition, produced according to its own recipe with a delicate spirit of a rum flavor. The characteristic aroma and taste of the local Um makes it an indispensable part of mixed drinks and sweet treats. We use it for baking often in Slovakia. An alternative coming from Czech republic (which we used now) is called Božkov.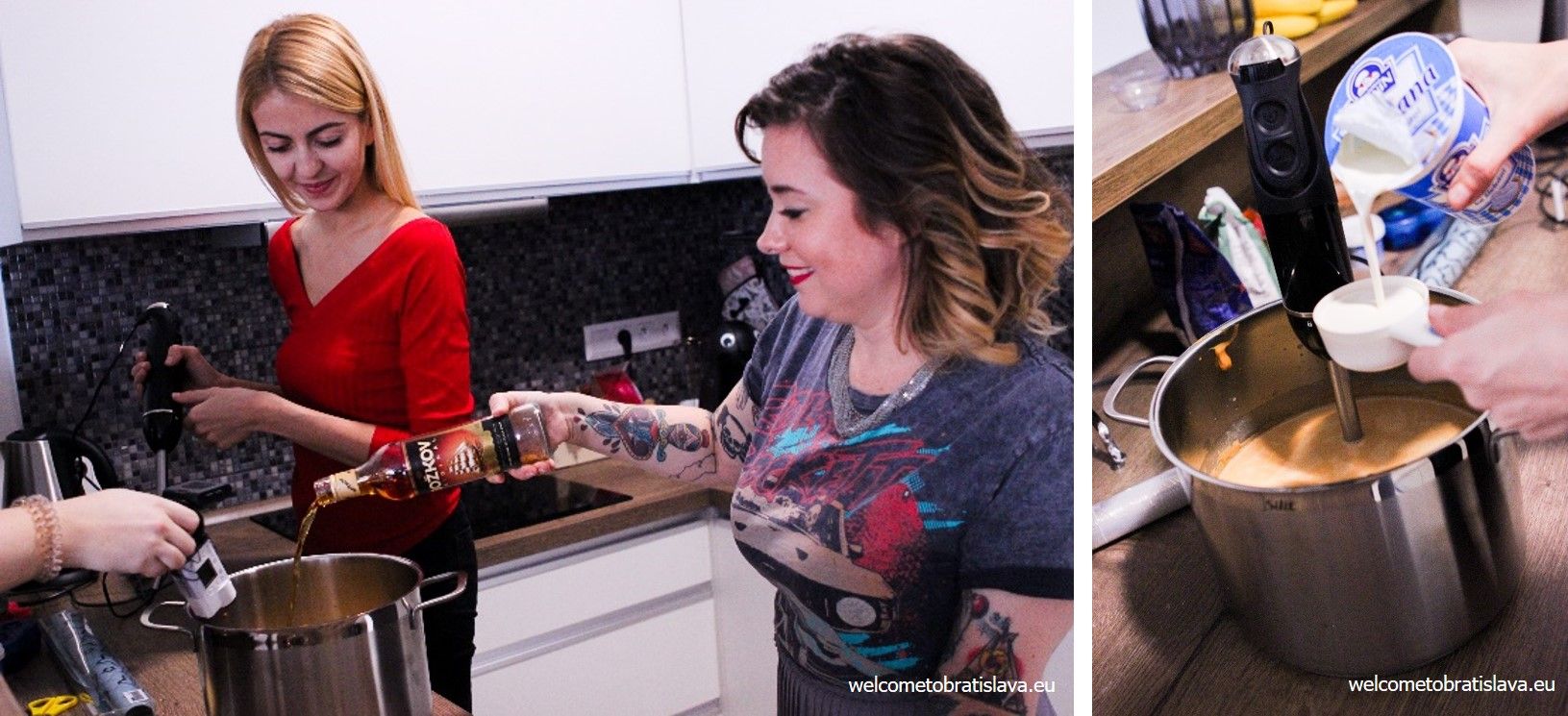 Mix everything again and voila – Baileys is ready to be tested!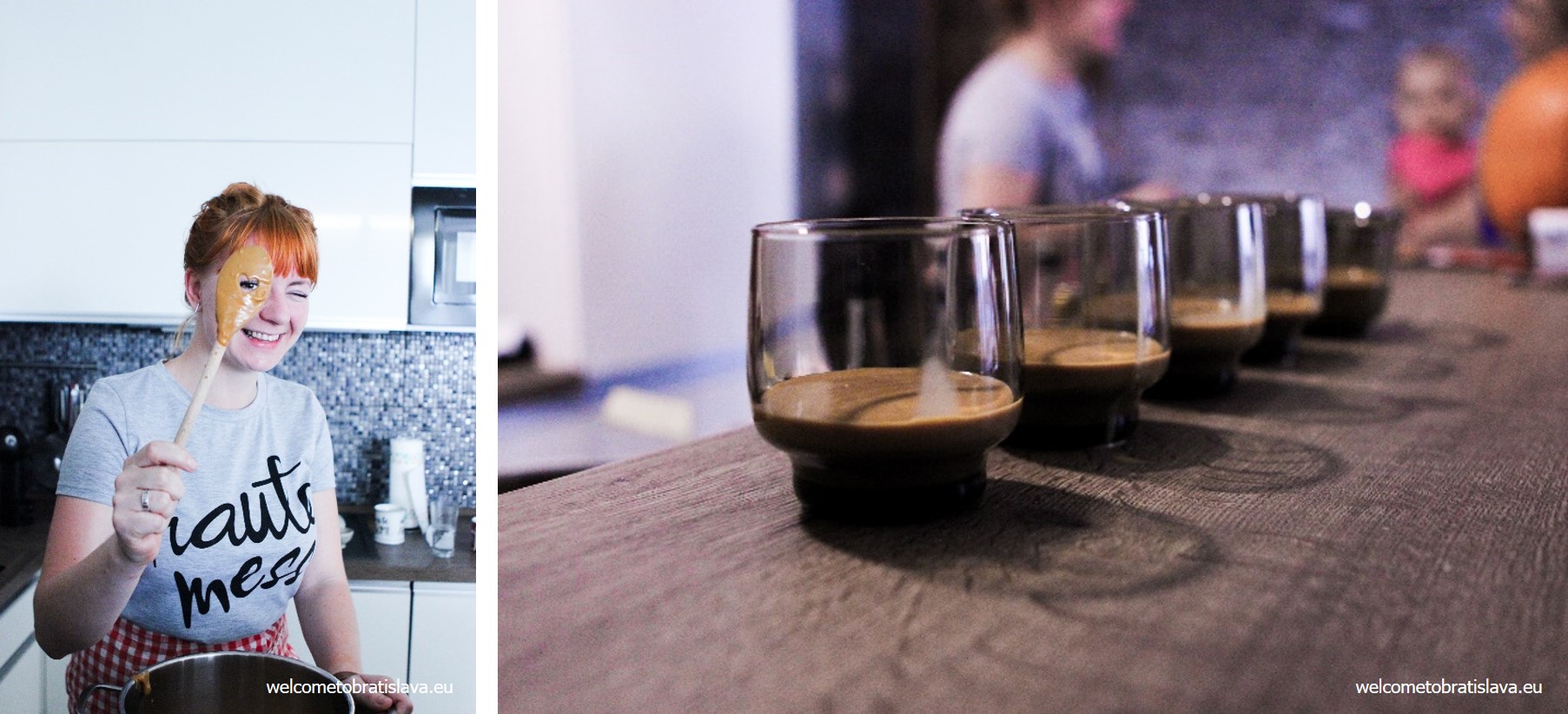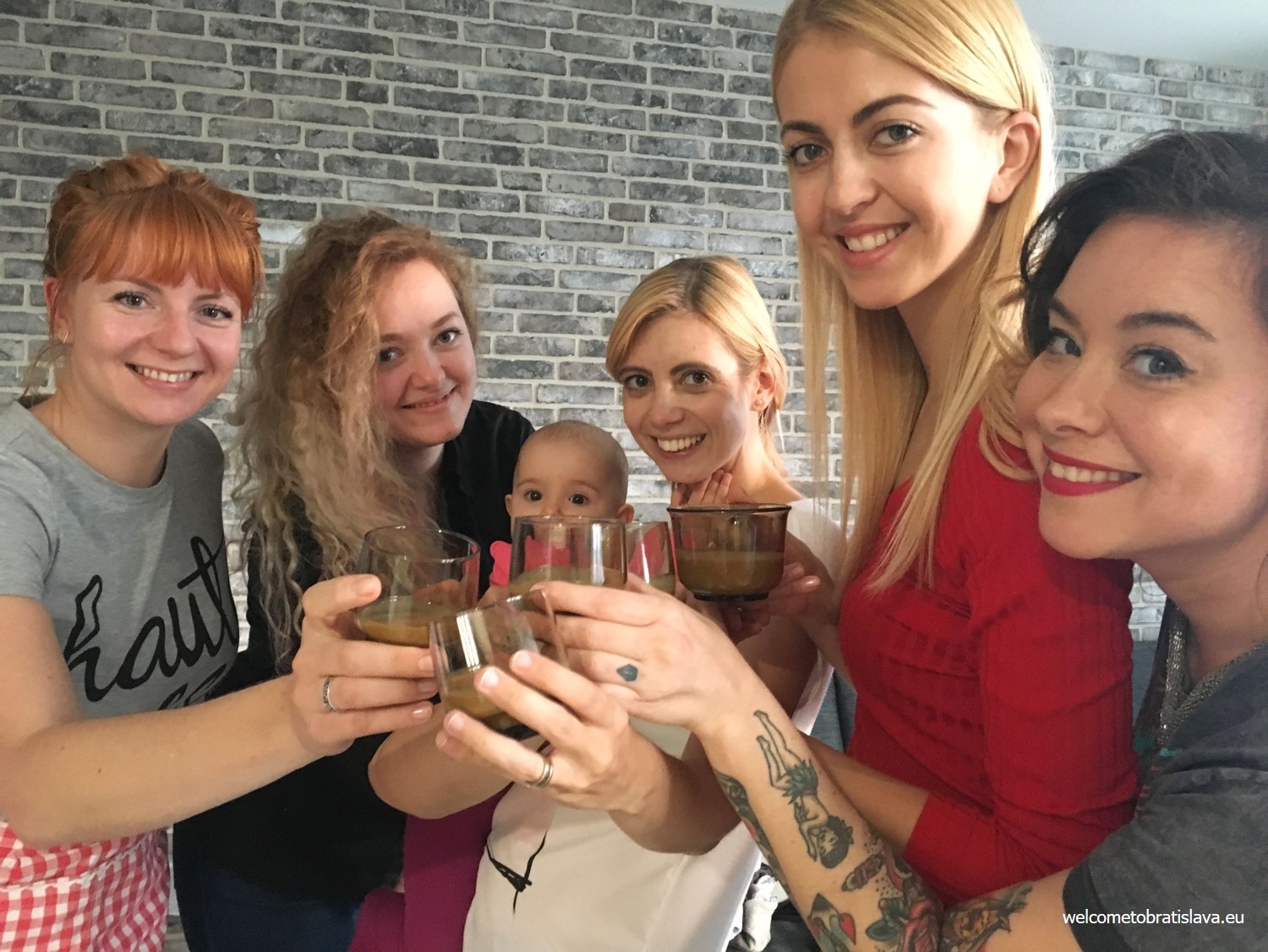 THE PERFECT CHRISTMAS GIFT
Once you pour the liqueur into glass bottles, store it in the refrigerator. Best is to leave it to rest for 12 hours before drinking – but of course you might not resist as it is really delicious!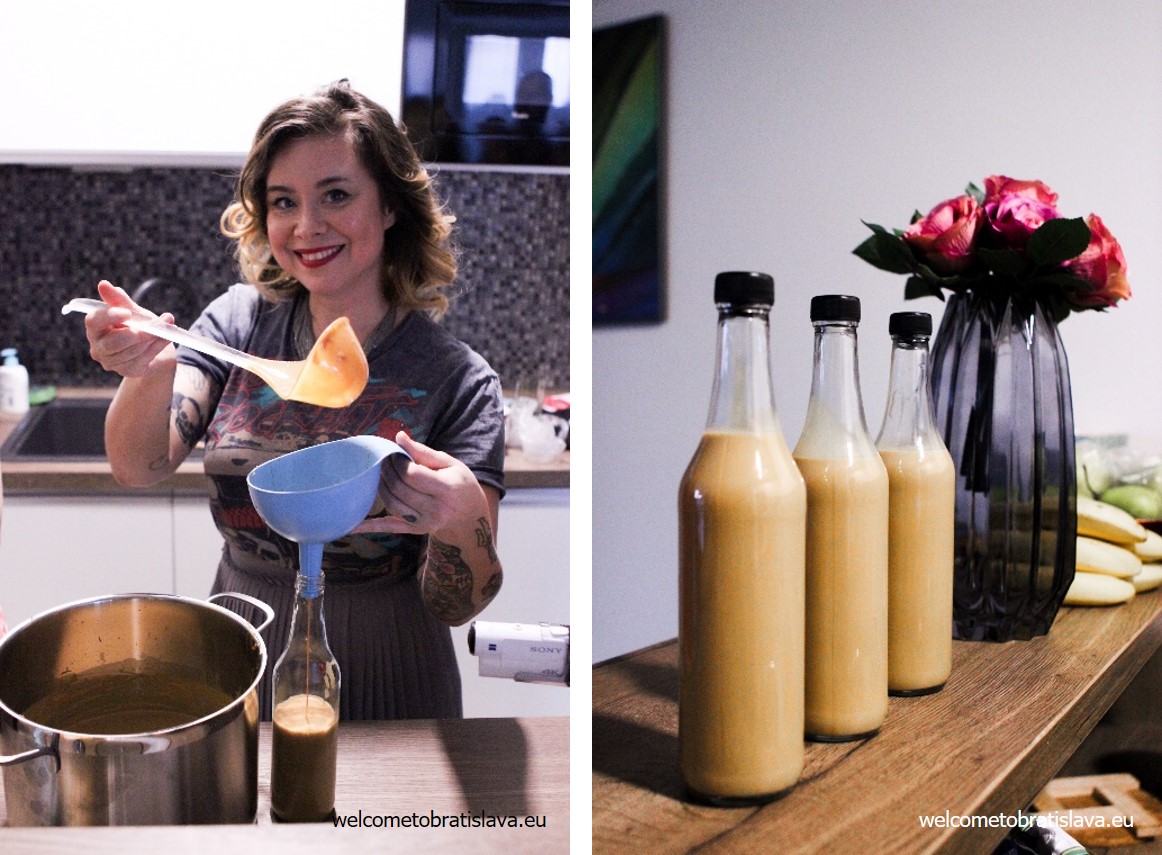 Insider tip: This special liqueur is not only great as a drink on its own. You can add it to your coffee, or try to pour it over a chocolate lava cake and serve with fresh berries and vanilla ice cream. The latter one is dangerous though – it can become an addiction!
Ok, let's not get carried away yet, the evening is far from being finished. After one major task is done, there comes the time to do the cake part. Take out the dough from the fridge and start to work on the gingerbreads. That's when the fun part continues :)
Roll the dough to approximately 3 mm width. If the dough is still sticky (which will probably be the case), use flour on the sheet for rolling. With molds, cut out various characters and place them on a paper roll with a baking tray to be baked at 180 ° C for about 10 minutes.

Some recipes will tell you to put egg yolk on the top of the warm gingerbreads – we did not do that (and you don't have to).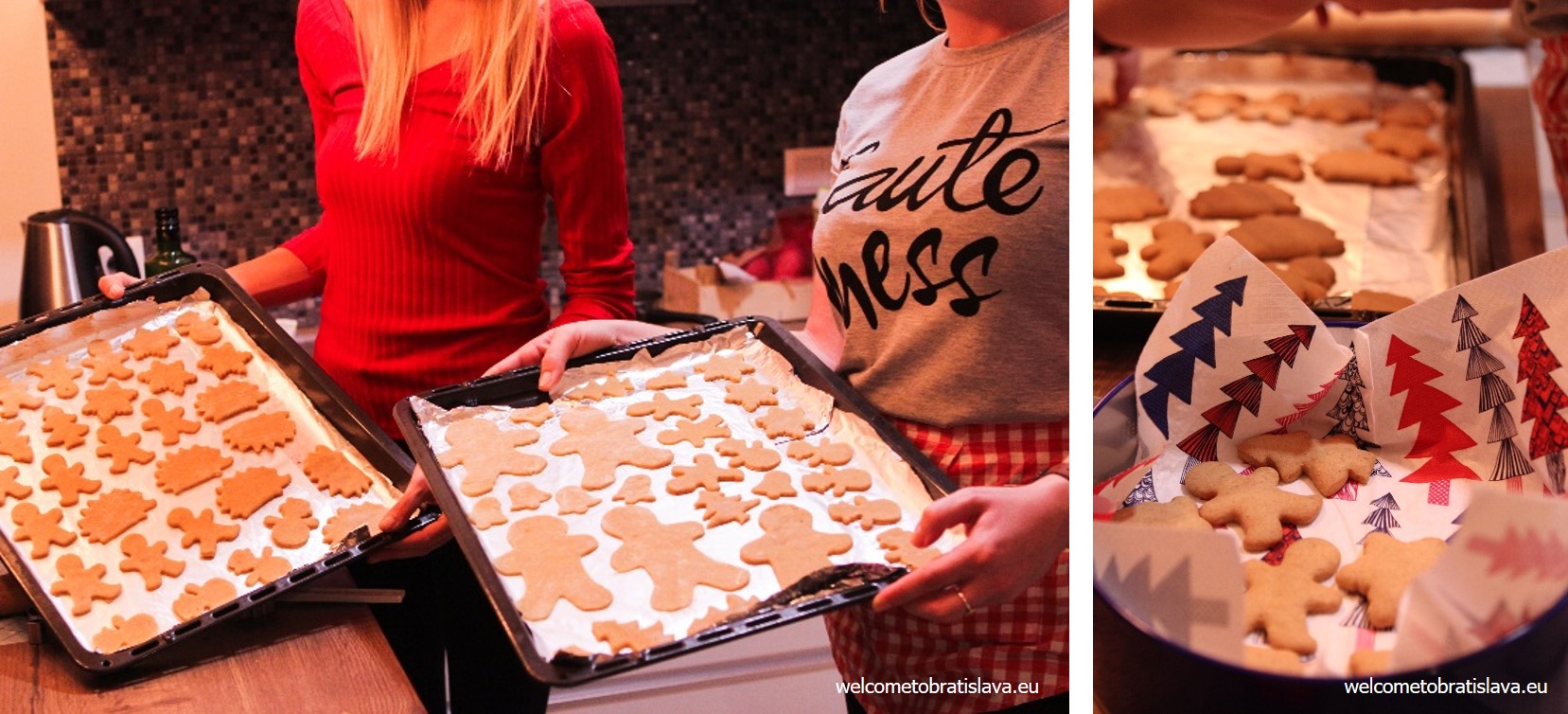 Instead, we preferred to decorate them with a mixture of egg white, powder sugar and lemon juice. You can make the icing as sweet as you like :) Just make sure you decorated them with icing once they are cooled.

THE MOST IMPORTANT THING – ENJOY THE PROCESS AND HAVE FUN
Don't be afraid to get inspiration from Internet or your friends but don't worry too much if your outcome will not be as picturesque as it is in the magazines. What really matters is not to have beautiful cakes but to have fun preparing them with people you care about. (and as long as there is enough Baileys, you will not really care much anyway, trust us!) :)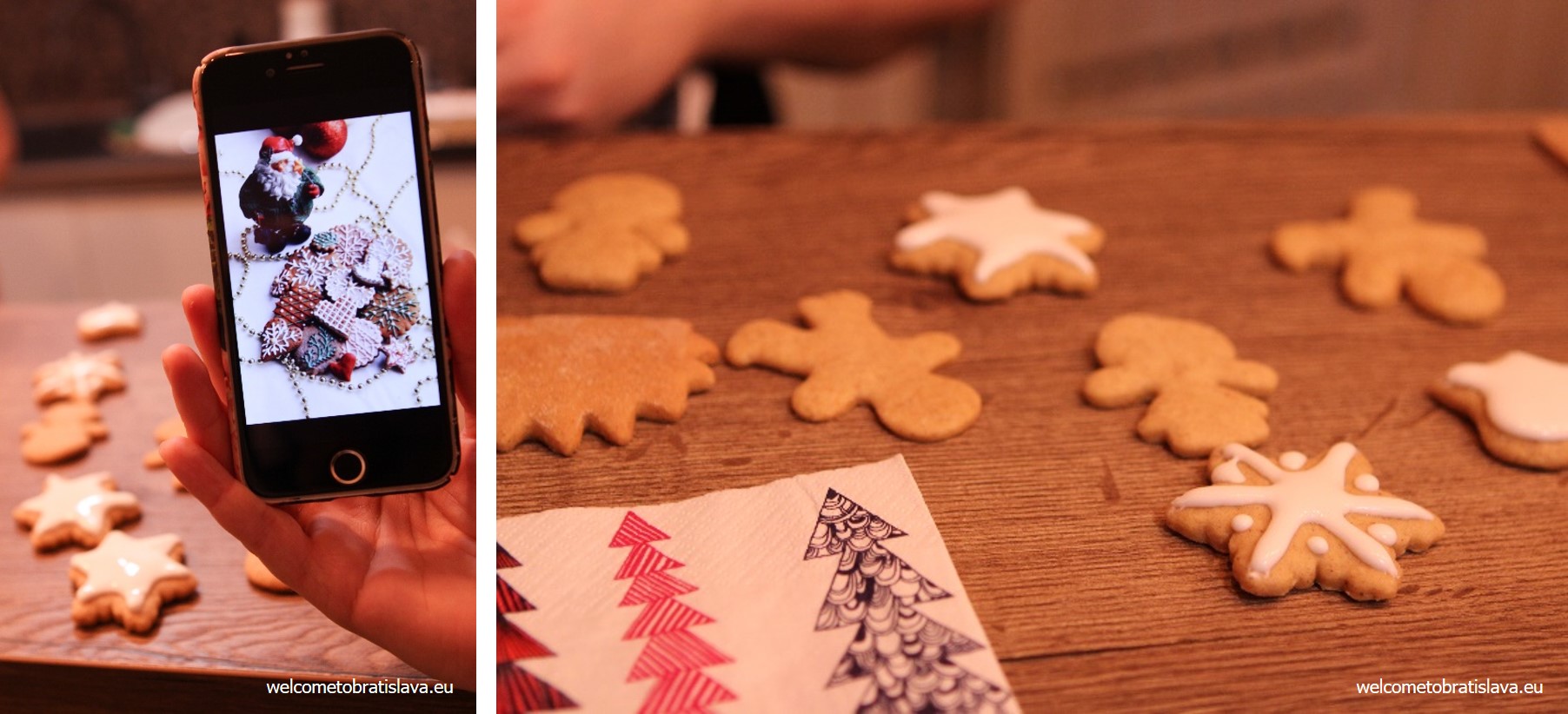 Luckily, we have a pastry chef and a photographer on our team, so we can proudly show what we managed to do in one afternoon: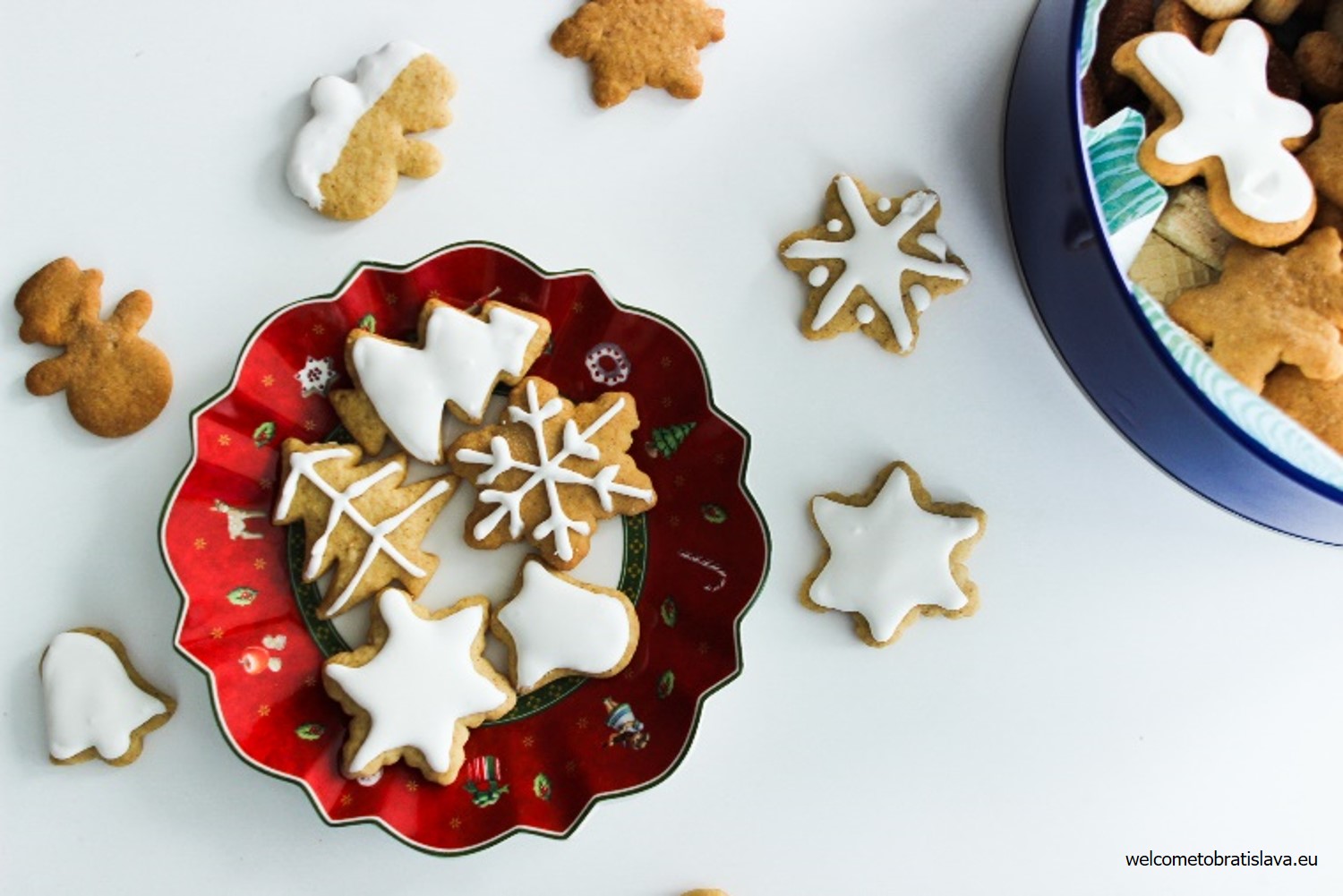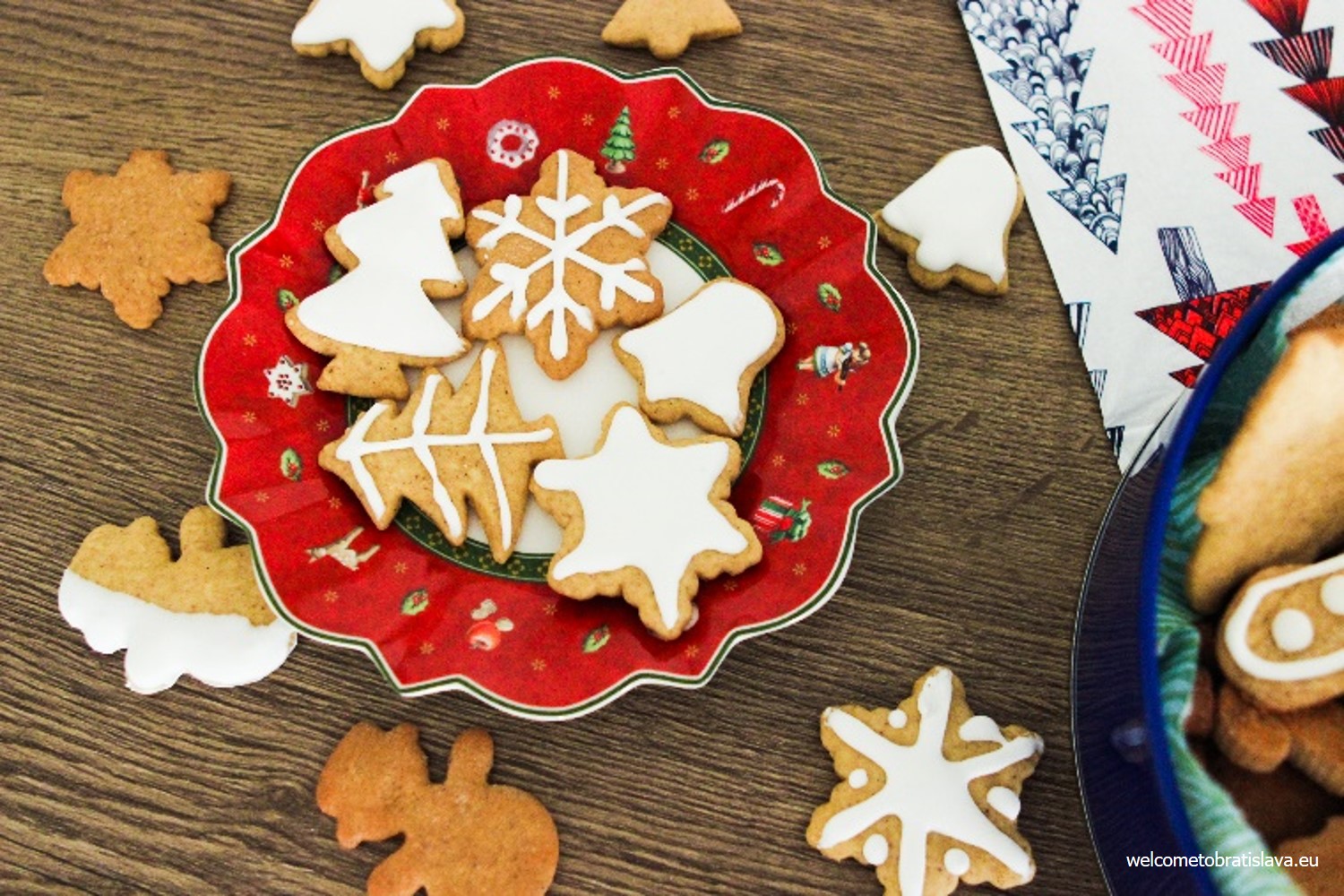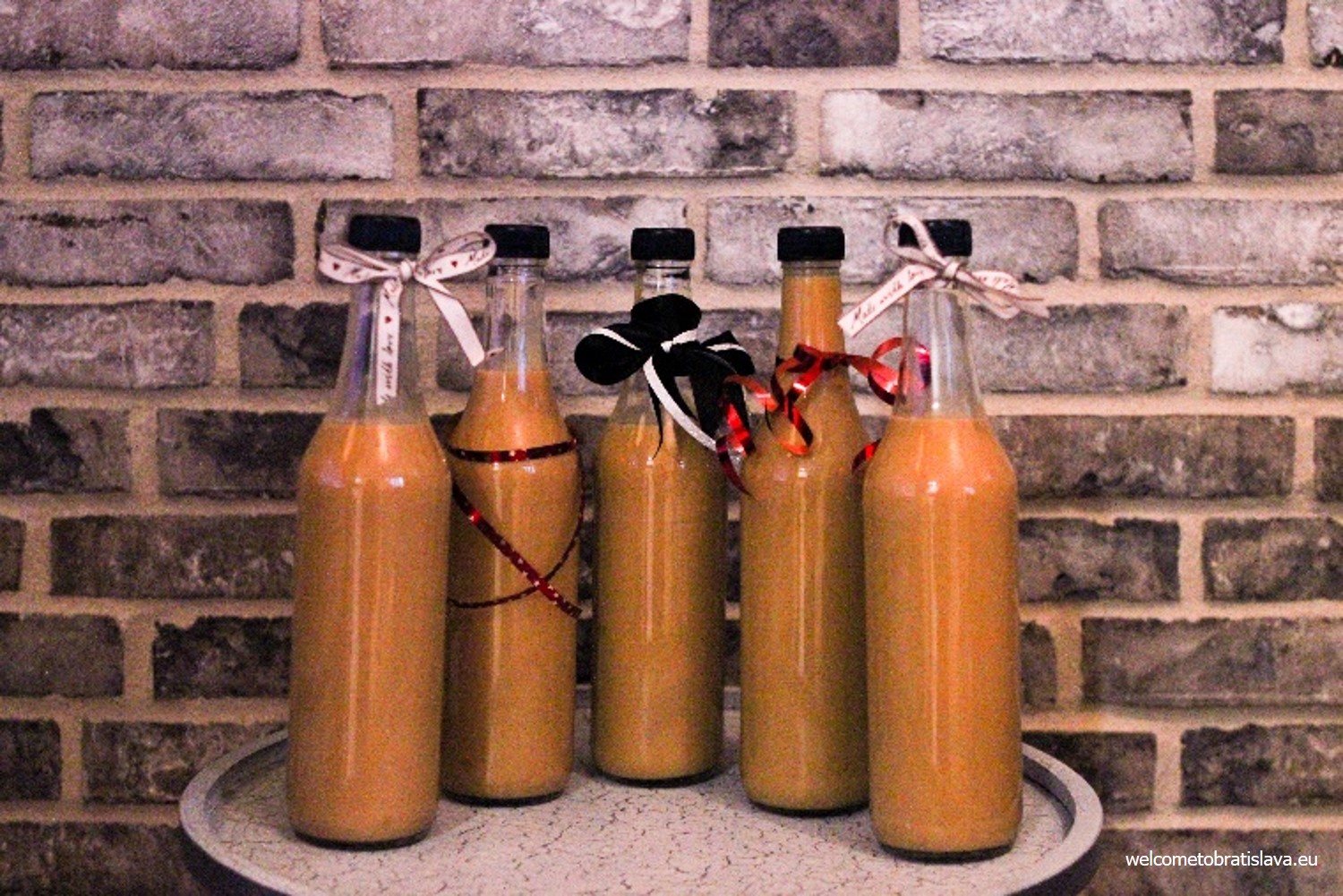 Check out this video to see the details :)
Cheers, dobrú chuť and hope you have fun!
Author: Maria Kecsoova
Photo credits: Zuzana Mytna
Video credits: Natalia Jankova