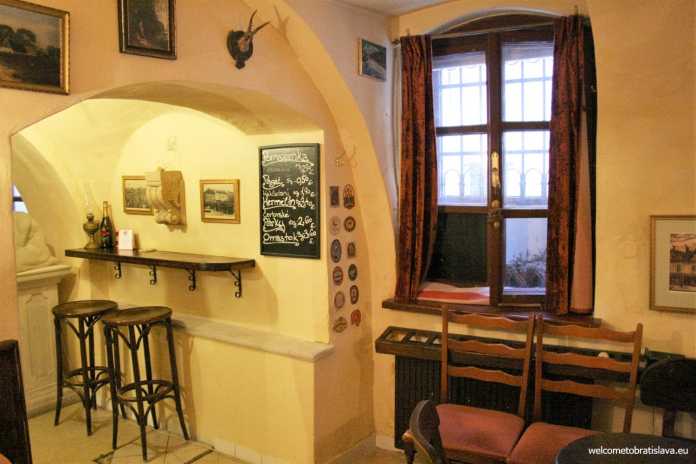 Fond of fancy places? Then Cierny pes is really nothing for you. But if you feel like having a good beer in a homie atmosphere, just behind the corner from all the hustle and bustle of city center, you better book your table in advance. Pub Cierny pes (translated as Black dog) is usually pretty crowded during the evening hours. Even though this pub is one of the most hidden places in the Old Town, many locals have found their way to this small popular beer spot with a specific charm.
LOCATION
Cierny pes is located in the very heart of our Old Town, on the street Na Vrsku. You can walk there easily from the Michael's Gate. Firstly, do not get discouraged by the steep silent alley that seems to be heading nowhere. It is up there, hidden between those enchanting historical resident houses. Your mission is to hit the right doorway and manage to pass through it (you will see, the doors are relatively low and narrow). As a reward, this cozy pub will reveal you its charisma. We think you definitely won't regret coming here.
INTERIOR
The whole place is quite small, accommodating only around 40 people. Just like the low doorway (that will make you bow your head like when entering a Japanese teahouse), also ceilings are pretty low. No worries, it doesn't make you feel claustrophobic – on the contrary, it supports coziness of this place. This is probably also thanks to the sober level of decorations used inside. Just wooden furniture of many sorts that seems to be there for ages and light of candles are sufficient enough.
WHAT TO TRY IN CIERNY PES?
Once you are here, you won't drink tea for sure! They are offering popular Czech family beer Bernard and you can choose from drafted light 10° classic lager, stronger 14°, a bit more distinctive Bohemian Ale or special dark 12° – with an eye-catching avalanche effect (similar to the well-known Velvet beer). They even have draft gluten-free beer and three types of non-alcoholic beers: a classic one and two fruit flavored (plum and cherry – very tasty and not only for ladies). Most of them are under 2 € per 0.5 l. If, by any chance, Bernard is not your type of beer, you can order bottled Pilsner Urquel or try some beer from special offer of craft beers changing regularly. These are mostly from local breweries like Kaltenecker, Wywar, Padre Craft or Hellstork.
They also have draft Kofola (Slovak version of coke), that might be nice refreshment once you start to feel a little fizzy from so much beer tasting. Selection of wine and spirits is nothing special but just enough to satisfy the taste of demanding gourmets following the mantra: Beer without shot = wasted money. Feel free to follow, if you have no commitments next morning :)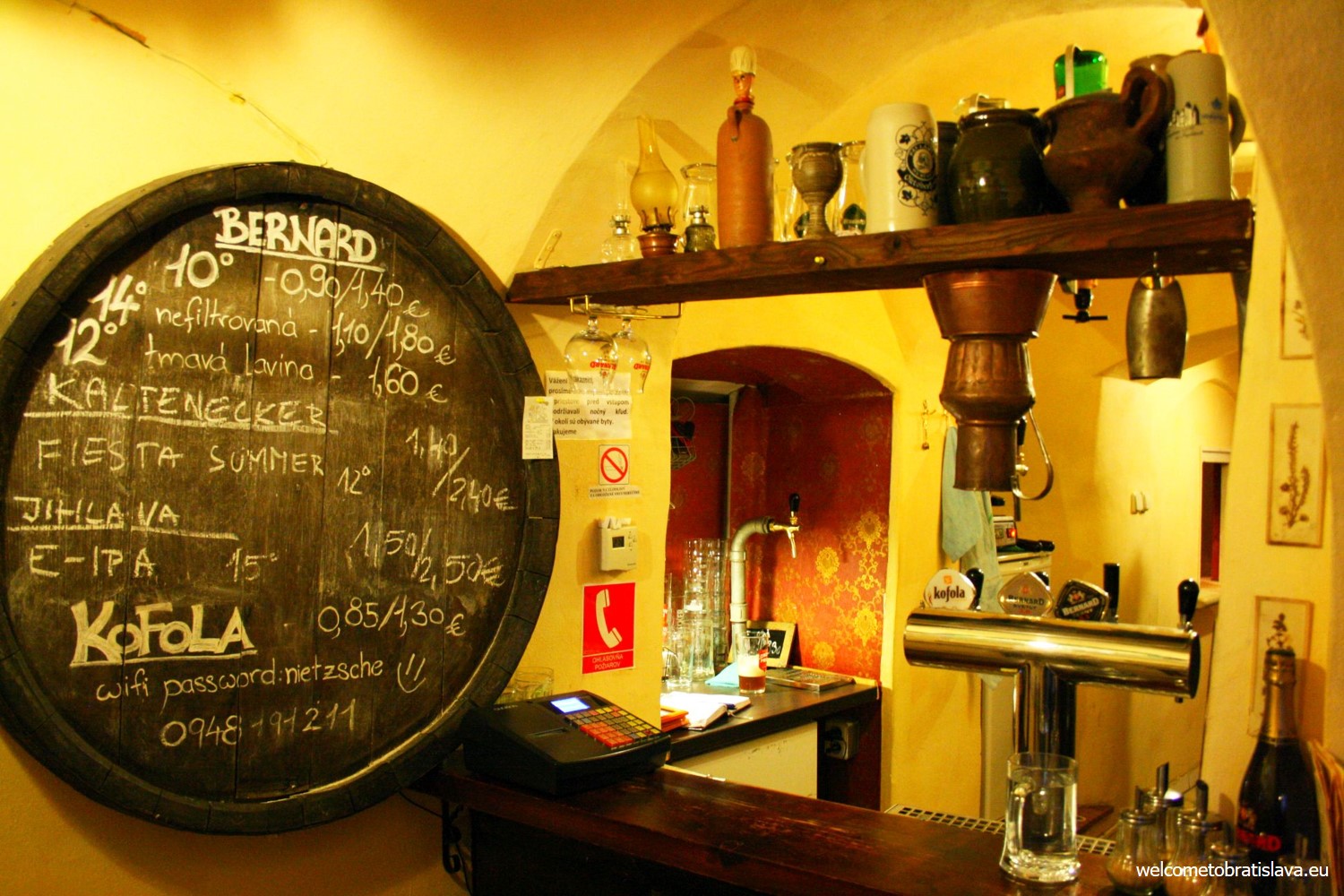 What makes this pub a real pub is not just the excellent beer offer but also very traditional pub snack selection for very friendly prices. You can try "Utopenec" (literally translated as a drown man) which is a very specific delicacy. We personally do not know any ladies appreciating this pickled bratwurst drowned in sweet-sour vinegar and the reason is not just its unattractive name. But it is popular among men for sure and moreover, it is believed that utopenec has a healing effect on hangover. So, if you find yourself on a few days' pub tour – go for it! "Nakladaný hermelín" is something like vegetarian version of utopenec with cheese instead of bratwurst and it goes perfectly with beer as well. If the specific smell discourages you, you can still have something more usual – like home-made spreads with bread or "pagáč", our traditional version of pastry, usually made of greaves, or maybe some frankfurters, who knows? We are pretty sure you will find something that fits you.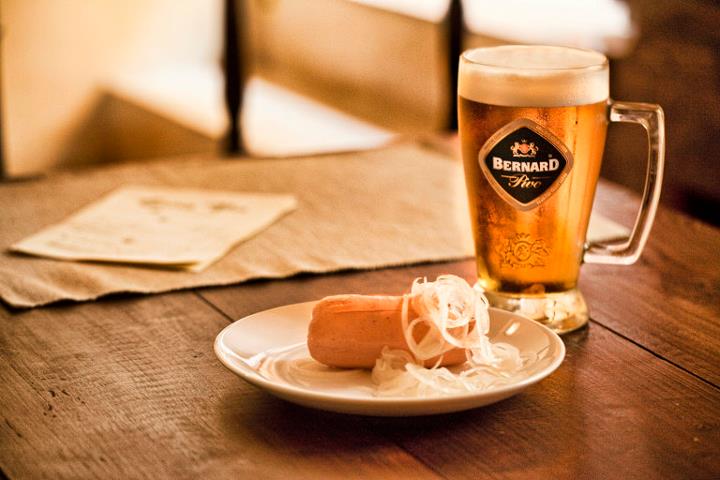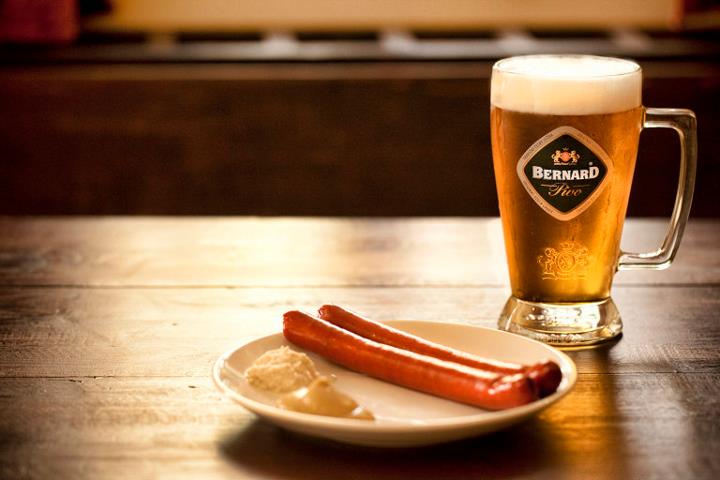 (source)
Still hesitant about your visit? Let us then add some no-nos that might help you to decide: no radio playing, no fake waiters' smiles, no hipster lemonades, no high heels… And wifi password is "Nietzsche".
Special tip: enjoy popular food and beer pairings at a well-loved local brewery!
Author: Zuzana Mytna

 ADDRESS: Na Vrsku 2


 OPEN HOURS: Check their Facebook


CONNECT: Facebook


 MAP LOCATION: