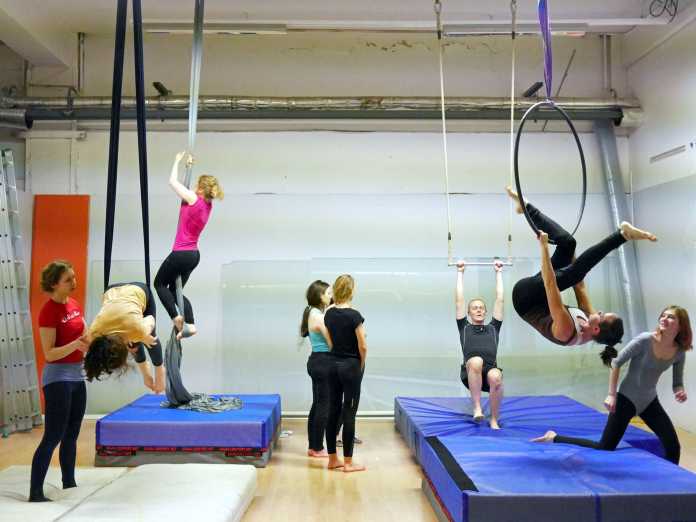 Would you like to master the circus art? Cirkus Kus is the first school of new circus in Bratislava that gives you the chance to train your strength, fitness, coordination and flexibility through creativity and acrobatics. Relax, rejoice and bring the best out of yourself at various trainings and workshops! They offer English classes, too, whether you are an adult or want to engage your children in an exciting activity :)
CIRCUS COURSES FOR ADULTS
Adults in this term are people aged 15+. You can join three kinds of courses in this category:
Aerial acro
Get the feeling of flying thanks to the air acrobatics! Learn how to perform savvy tricks and enjoy your progress while strengthening your body! This class is ideal for those who want to build the muscles on hands, feet, back and middle body. You will work with your own weight. At the end of the course you will be able to do your own mini performance! :) More info.

Juggling
Juggling helps you work your creativity, patience and motivation for a continuous improvement. It is suitable for anyone, regardless of experience or fitness level. Just have an interest in training your skills and having some fun! More info.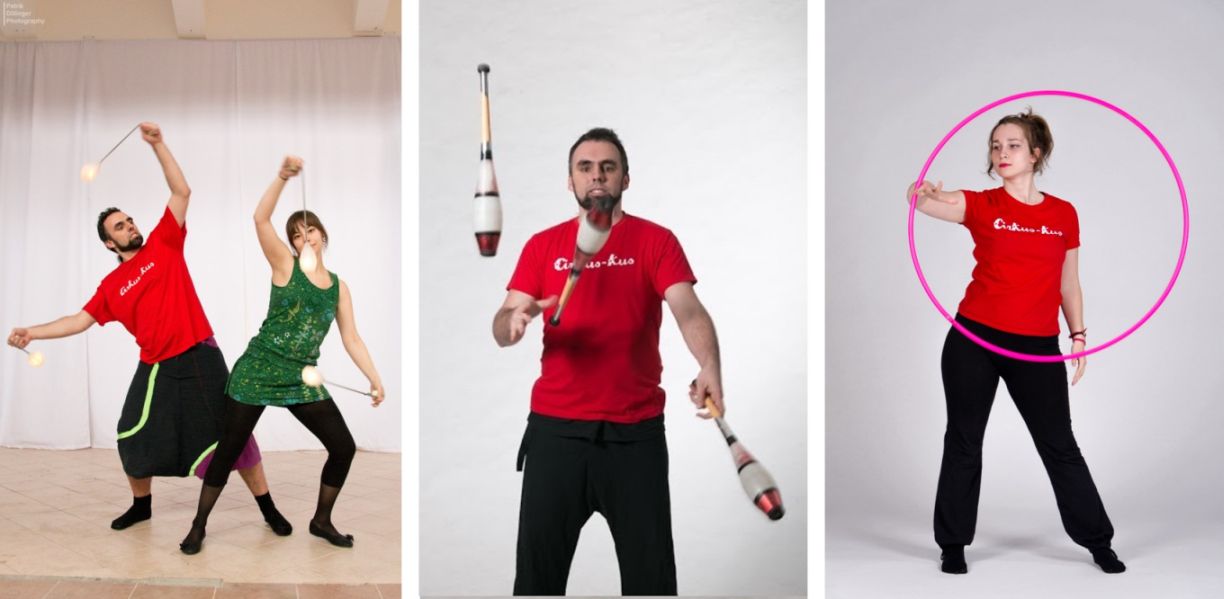 AcroBalans
Learn how to perform eye-catching acrobatic poses with a partner! This is again an exercise with your own weight where you'll strengthen your hands, feet, back and middle body. The classes are designed for all ages, body types, skill and fitness levels. More info.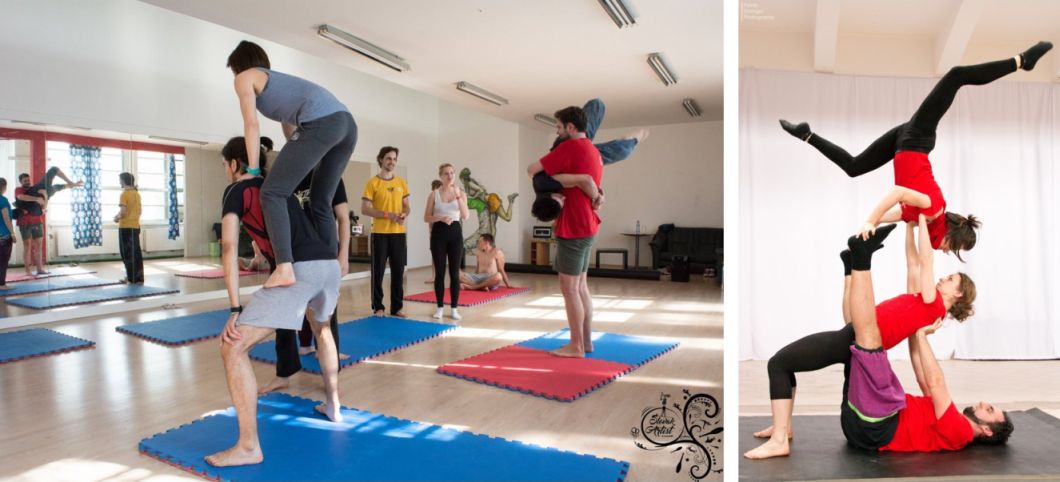 Members of the Slovak Artists' Community (SAC) meet every week at the open trainings. There you can try juggling, acrobatics, poi, playing with sticks or just anything you want. Open trainings give you room for improvement, sharing and creation. You can bring your own equipment, or you can borrow some on the spot.  Open trainings are held each Wednesday at 6 pm in the STRET Club on Košická street, Bratislava. Cirkus Kus and SAC organize common events, too. More info.

If you want to see the acrobatics in action, join one of the workshops led by professionals, clowns, theater actors, dancers, jugglers, acrobats on the ground or in the air and balancing artists. These last for about an hour and you can see the current offer here.
CIRKUS KUS FOR CHILDREN
In case you want to sign up your child for something extraordinary, you are reading the right article. During the acrobatic-gymnastics training in Cirkus Kus the kids will learn the basic gymnastic elements, thanks to which they will be more flexible and stronger. These courses are held at different places – cultural centers and children centers in Bratislava, and are divided according to age:
HAVE YOUR OWN CIRCUS PARTY
Are you a bigger group of parents or you look after several kids and you like the idea of organizing a family workshop? We are talking about time spent learning juggling, building pyramids or walking a tightrope – basically a party for kids, parents and lecturers :) You can have it organized by Cirkus Kus as well – the limit is 30 kids.
Is your little one about to celebrate their birthday soon? What about throwing them a birthday party where they can learn some tricks, be entertained by a clown or magician, enjoy a puppet theater show or have fun face painting? You can arrange this, too, for up to 15 kids per a party.
SUMMER CAMP FOR KIDS

Five full days of acrobatics, learning various tricks, spending time with artists and putting together own circus show. This is the program of the summer camp for children aged 6-15 years where all activities are provided by experienced trainers, professional acrobats, jugglers and actors. For more info click here.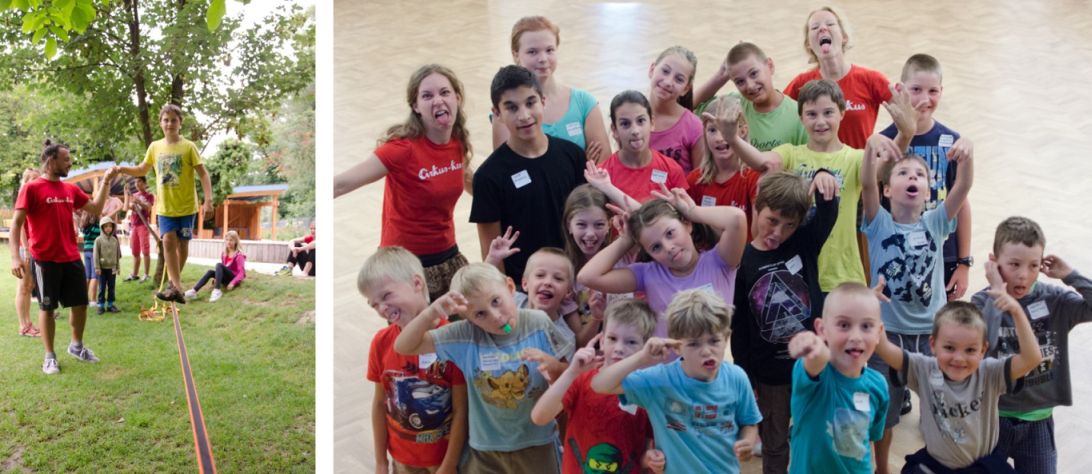 Does any of that sound like fun? If you think you can get hooked up on the idea of trying something different compared to a regular gym or traditional sport activities, or have any other questions, please contact Cirkus Kus via their email: cirkus@cirkuskus.sk, check their webpage (in Slovak only) or Facebook page.
Source of the pictures: Cirkus Kus
Author: Maria Kecsoova