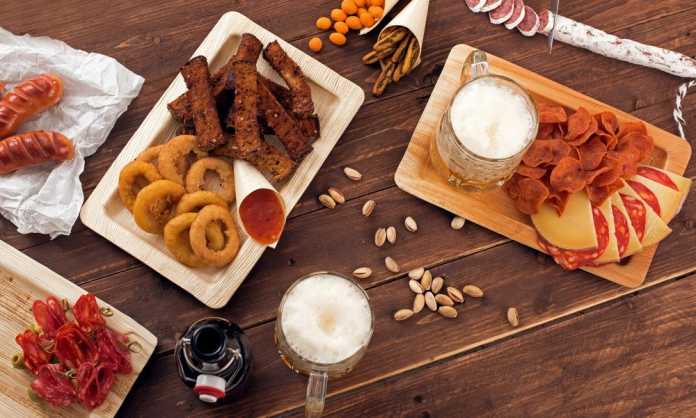 A recent issue of Monocle highlighting the most desirable places to live made a special footnote about Bratislava: we have the "cheapest beer in the world." Slovakia is famous for its beer and, as many travelers across Europe and beyond can attest, the pub culture in BA is delightful and enticing thanks to our high quality brew at ridiculously affordable prices.
But what sadly gets overlooked by so many travel guides is the increasingly satisfying and inspired food scene in Bratislava. Perhaps this is understandable. The kitchens here reflect the mosaic of traditions and cultures that ultimately define what Bratislava is, the majority of which is a blend of Czech, Hungarian, and Austrian influence. To us, though, this aggregate cuisine reflects Bratislava's 1000 year history from the leadership of Czech duke Břetislav I in the middle ages, to the influential Habsburg dynasty that blended Austrian and Hungarian high culture and transformed then Pressburg into a bustling city of influence, to the 20th century Soviet influence and eventual Slovak independence.
Our guide to classic Slovak beer snacks isn't a definitive lesson on Slovakia or its rich heritage, but we think it's a nice – and appetizing – place to start.
KLOBÁSA
Whether served pečená (roasted) or grilovaná (grilled), klobása is one of the quintessential Slavik beer foods you will find on menus all over the country. Traditionally spiced with garlic, caraway and paprika – spicy and sweet for more complexity – klobása has a juicy, meaty interior and a super crispy skin thanks to the use of črevá (pork intestines – no, really, it's good!). In pubs you will likely be served smoked klobása (údená), perhaps influenced by the Hungarian preference for smoked meats, though fresh sausage is also eaten. Slices of wheat or rye bread, pickled hot peppers, prepared horseradish, and mustard with a hint of sweetness are popular accoutrements. And beer, obviously. During zabíjačka, the seasonal celebration of butchery and feasting on the whole hog, special menus will offer their own versions of the dish and are definitely something to keep a look out for.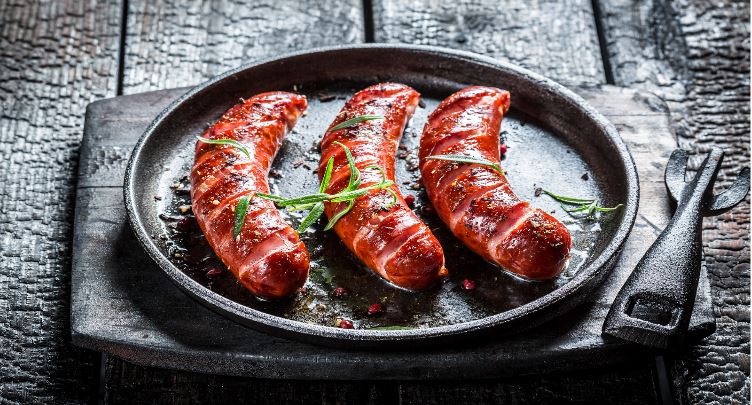 (source: shutterstock.com)

NAKLADANÝ HERMELÍN
Ah, yes. Pickled white mold cheese. The classic Czecho-Slovak dish nakladaný hermelín is notoriously "love it or hate it," and your first experience with this pungent, gooey, oily snack may be approached like a dare. But at its best, nakladaný hermelín is a lovely dish with a velvet center of runny brie-like cheese and a delicately chewy bloomed rind that has been marinated in oil and flavored with onions and fresh chili. It is best enjoyed with slices of fresh bread and pickled vegetables that serve as a foil to the cheesey, almost savory notes of the hermelín. Take note: not all pickled cheese is created equal. We recommend  Sladovna House of Beer for a quality example of a properly marinated hermelín!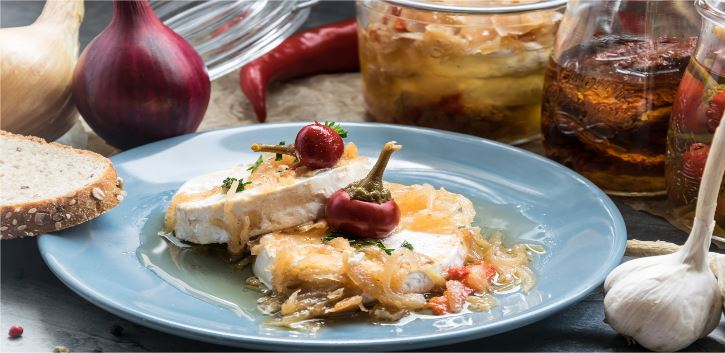 (source: shutterstock.com)
ŠKVARKOVÁ NÁTIERKA
Like a combination of Germanic griebenschmalz and the Spanish-influenced chicharrón, škvarková nátierka is a spread made from fried pork rinds and lard and classically seasoned with onions, pickles and occasionally hard boiled eggs. Depending on the pub, škvarková nátierka may be as simple as fat, onions, and cracklings blended together into a rich, porky spread with tiny flecks of crispy, salty, meaty bits for texture. Oškvarky, the cracklings themselves, can also be found on many menus and make an easier to eat, if less exciting, accompaniment to beer and spirits. Slovaks prefer the spread, as it is surprisingly less heavy than the cracklings themselves and easy enough to spread on fresh or toasted bread so as not interfere with the act of toasting a pivo or three with your mates. Na zdravie!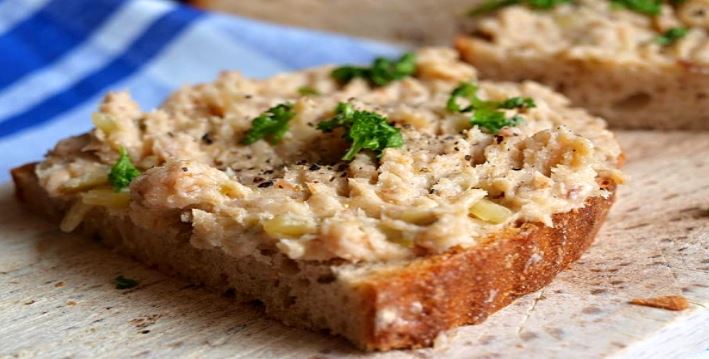 (source: receptyonline.cz)
UTOPENEC
Roughly translated as "drowned man" (though the debate rages about whether this or the more common "drowning man" is the correct adaptation), utopenec is another wildly popular Czecho-Slovak pub snack just screaming out to be enjoyed with a good Slovak lager. Marinated for weeks with vinegar, onions, chili and spices, this dish is a true pickled food – unlike pickled cheese which is actually marinated for days in oil rather than vinegar. Quite simply, this is a pickled hot-dog served with onions and more pickles and the obligatory basket of sliced bread. If you really want to experience classic Slovak beer food and are feeling a bit adventurous, we recommend giving it a try.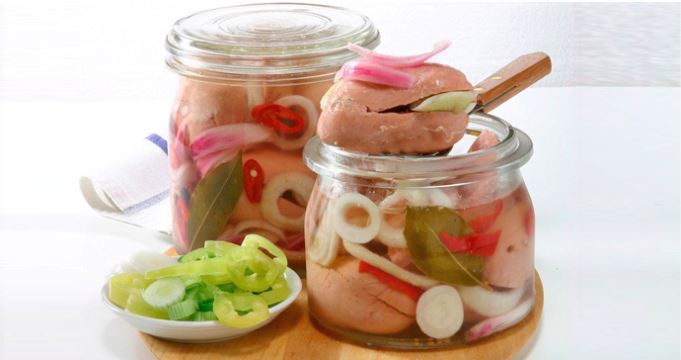 (source: blesk.cz)
TATARÁK
Introduced to the fashionable culinary scene in 1920s France, in many countries steak tartare is considered a posh dish of minced sirloin, delicately fried capers and shallots, crowned with a perfectly golden quail egg yolk. In Slovakia and neighboring countries, tatarák is standard restaurant fare and a simply delightful pairing with Slovak craft beer. Though still elegant in concept, the tartare you'll find in Bratislava is more rustic and served with ample sides of minced onion, pickle, chili and oh-so crispy "greasy" rye bread, or topinka, with raw bulbs of garlic for rubbing on the crunchy toast. You can choose fresh bread, if you prefer, but we endorse splurging on this one.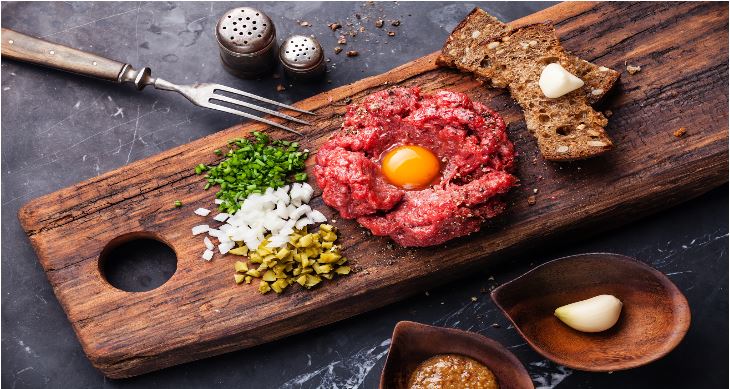 (source: shutterstock.com)
KAČACIA PAŠTÉTA
Another familiar European dish, paté is commonly associated with high-end foie gras and goose liver paté – which of course can be found on menus here, also. But in the Slavic regions, paštéta is mostly considered humble, traditional cuisine and is served in nearly all pub kitchens. Made from chicken, pork, and especially duck liver (kačacia pečeň), we adore a good paté during a night out. Everyone at the table will appreciate this buttery, savory-sweet, mildly gamey spread that pairs just as well with classic Slovak beer and it does with a crisp, regional white wine or even hruškovica, the deservedly famous pear liqueur that perks you up with its alcoholic burn and delicate fruit flavor!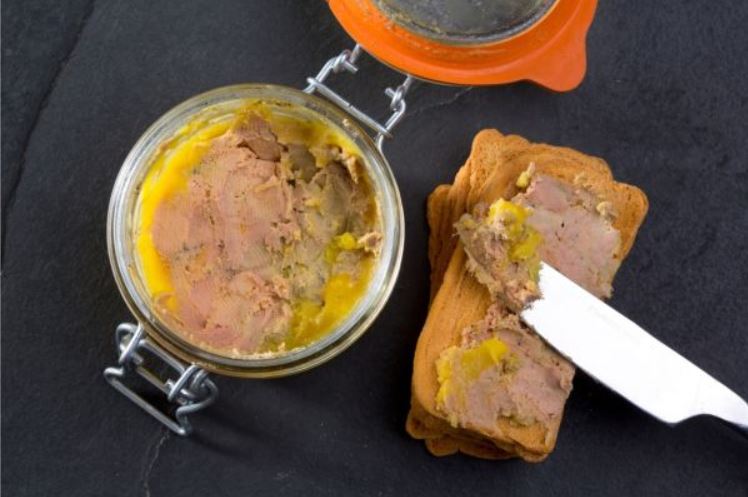 (source: dobruchut.azet.sk)
TLAČENKA AND HUSPENINA
Tlačenka and huspenina are simply the tongue-twisty Czecho-Slovak names for headcheese and brawn. (Depending on who you ask, the Slavic words for these dishes may actually be more manageable – at least on the stomach). Fundamentally a meaty cold-cut, tlačenka traces it's roots all across Europe and is usually seasoned with onion, allspice, black pepper, and of course vinegar. Czechs sometime call this sulc, a borrowed term from the German name for headcheese: Sülze. Croatian versions use a pig's stomach to hold it together, similar to how the Scots prepare haggis. In fact, Italian coppa is essentially a very fine headcheese sliced ultra thin. Slovaks tend to prefer tlačenka in thicker, ultra meaty portions with extra vinegar or mustard. It is a regional charcuterie that we highly recommend experiencing, if only to see how familiar "foreign" cuisine can often be.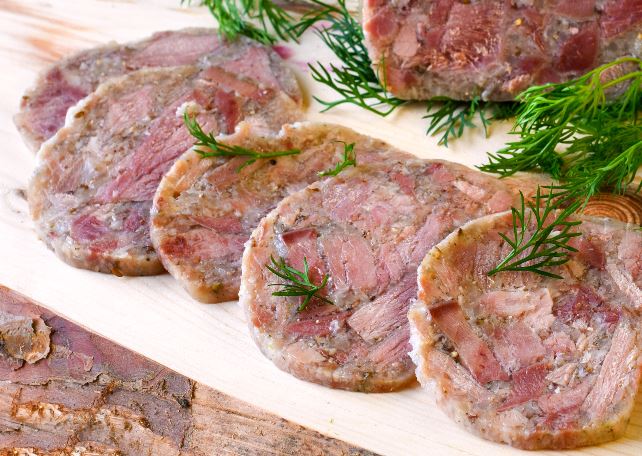 (source: shutterstock.com)
Huspenina, however, we openly admit can intimidate a newcomer to Slavic cooking. Even Slovaks are divided over their opinions on brawn, mainly due to the dish's heavy use of aspic. Done well, the chilled, deeply stock-flavored aspic will slowing melt on your spoon and in your mouth; savory flecks of stewed pork add substance. It is a luscious dish that benefits from thin slices of piquant raw onion, tangy white wine vinegar, and astoundingly spicy rawit chilis – the bright-red little pepper commonly served in Bratislava restaurants. For the brave who want to try huspenina, Bokovka's version is a treat.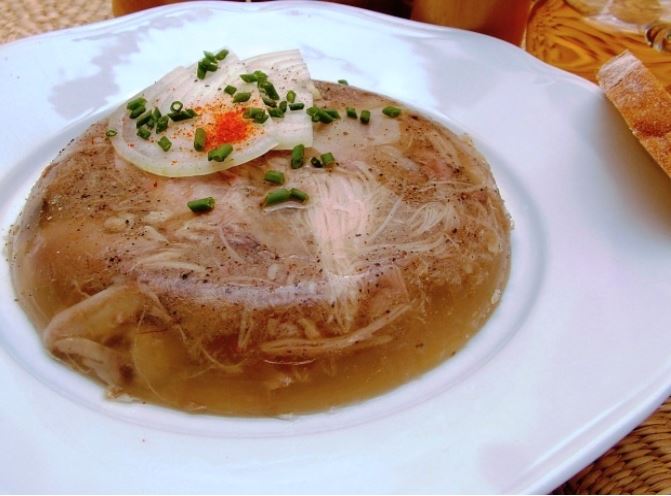 (source: recepty.netcabinet.net)
FAZUĽOVÁ POLIEVKA
Stay with us on this: while bean soup with smoked meat may not immediately come to mind when thinking "beer snack," fazuľová polievka can be the perfect small dish to sustain you during a night out and many Slovaks will attest to this. Slovak bean soup is a "raiding the pantry" style of stew and the recipe will differ depending on where you order it. It is the style of soup our grandparents ate growing up and we remember fondly being served at family dinners. Guaranteed – paprika, smoked meat, and a variety of plump beans (don't ask which ones – Slovaks mostly call all beans fazuľa) will be the staple of this homey dish. It is an especially nice meal when drinking in the colder months, after Martin's namesday brings in the snow. Or even the morning after too much borovička.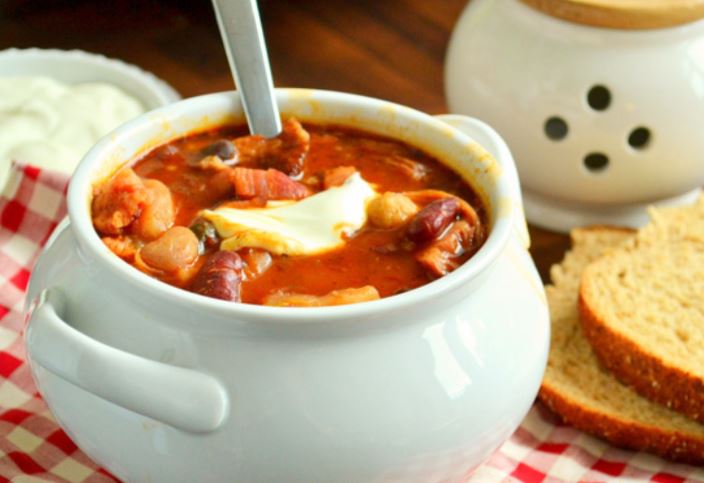 (source: pecmaniak.iedcom.eu)
PEČENÉ REBRÁ
Ribs are ridiculously popular in Bratislava pubs and you'll see plate after plate of this meaty, saucy meal go out to tables of happy drinkers. Not quite smothered in BBQ sauce like American ribs, though still very moist, ribs here are less smokey than most Slovak cuisine and quite hearty. Another difference to the American BBQ-style flavor is the lack of molasses in the Slovak recipe. Think savory and slightly sweet, not Heinz-esque thick and sticky. Hands down, Mestiansky Pivovar has the finest ribs in the city and should be tried at least once during your stay. And go ahead and order extra of their addictive garlic dressing and hot sauce on the side. Dip your bread in it, smother it all over your plate, drink it – you won't be sorry!
(source: zlavomat.sk)
P.S. – Onion rings are another American inspired beer snack in BA. Let us know how  they stack up against onion rings back home!
MÄSOVÁ DOŠTIČKA
When you can't decide on exactly what to try, don't. Every traditional kitchen in Bratislava offers some form of a signature meat plate with all the trimmings. Pickled mild and spicy chili, raw onions, mustards, freshly shredded horseradish, Slovak style pickles (sweet and slightly yeasty) and – you guessed it – fresh bread slices. Some places even offer a combo platter that will allow you to sample many of the snacks listed above in sharable portions. Combined with great local beer and traditional spirits, think of a night in the pub as an edible version of Slovak history.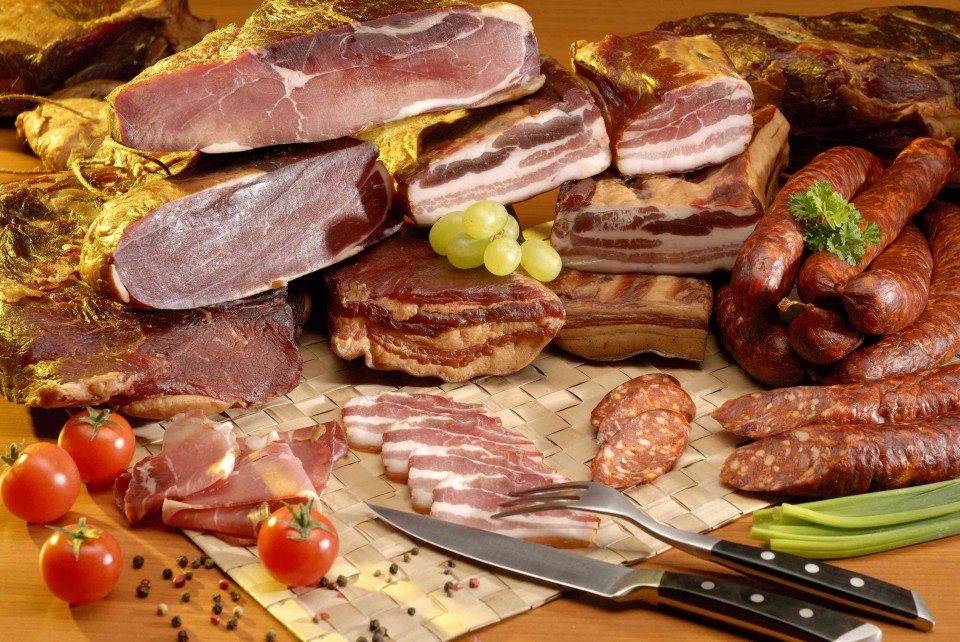 (source: anton.blog.pravda.sk)
Special tip: enjoy food and beer pairings at a well-loved local brewery!
Author: Jennifer Brown
Check also:
Beer places in Bratislava