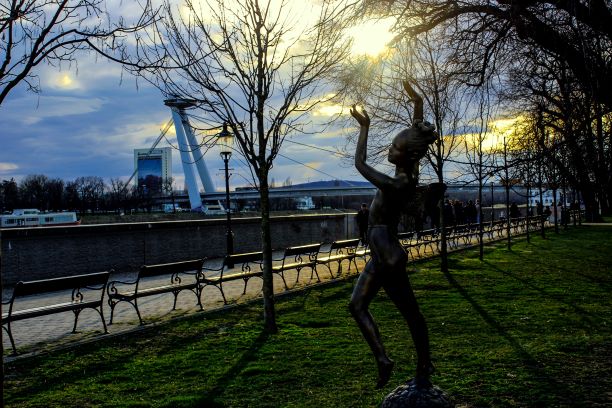 Even though many visitors of Bratislava are mostly interested in its nightlife, which is undeniably good, Bratislava is not only about cheap drinks and a variety of pubs and bars all around. This city has much more to offer and certainly will not disappoint the culturally oriented visitor. You can find various galleries and theatres here, as well as many opportunities for live music or film clubs oriented on worthwhile cinematography, and other cultural places worth to visit. But if we were you and had only one day to experience Bratislava's culture, we would spend it this way.
9:00 Breakfast at Kava.bar
Let's start our cultural day in what is probably the most beautiful café in Old Town: Kava.bar. This small place with big windows and even bigger atmosphere is located above Zochova Street near a tram tunnel – the tram line is very close to the entrance, though we don't find it disturbing. Once inside, your focus will shift from the tracks to the original decor, old wooden chairs, tables plastered with newsprint and fresh flowers. There is a lot of visual stimulation and very soon you get an artistic feeling.
A breakfast menu is served each day and while the selection is kept at a minimum, it will win you over with items like the house-baked croissants and tasty coffee served in diverse porcelain cups like at your grandma's house.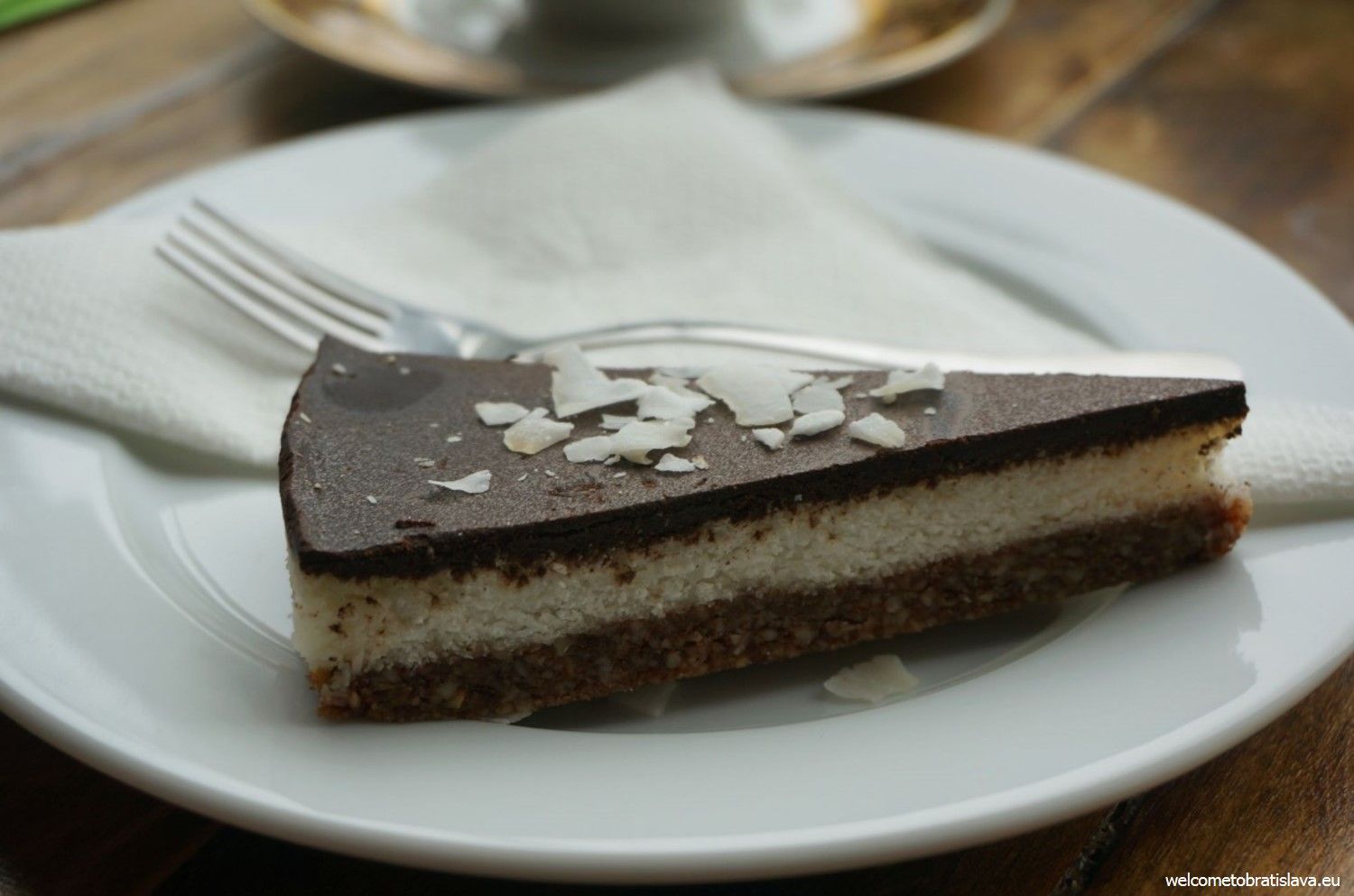 10:00 Stroll around the city's nicest nooks
Now, what about melting the energy from breakfast into a little walk? Strolling the streets of Old Town under the castle will unveil  many charming views. We prefer to go further from the Main Square and its posh restaurants and meander through the town's hidden nooks.
Especially recommended is the exploration of the Kapitulská Street with the most authentic and preserved atmosphere of old times. Just walk down from Kava.bar past the tram line and then down the steep steps by your right. Then let your shoes take you whenever they want. If you feel like walking a bit more, it shouldn't take you more than 10 minutes to pass the Theater of P.O. Hviezdoslav and in 5 more minutes you will encounter the most beautiful church in Bratislava: The Church of St. Elizabeth, for obvious reasons known as The Blue Church. Take your time and don't worry about getting lost, Bratislava's Old Town is rather small, so you won't be lost for a long time.  
12:30 Lunch at Berlinka Café
Once you get hungry, the river bank will help you get to the right point. Just approach the river and then follow its course in direction of the SNP Bridge, with a dominant UFO restaurant on its top. Very soon you should arrive at Štúrovo Square where Eszterhazy Palace is located, the home of The Slovak National Gallery and also Berlinka Café.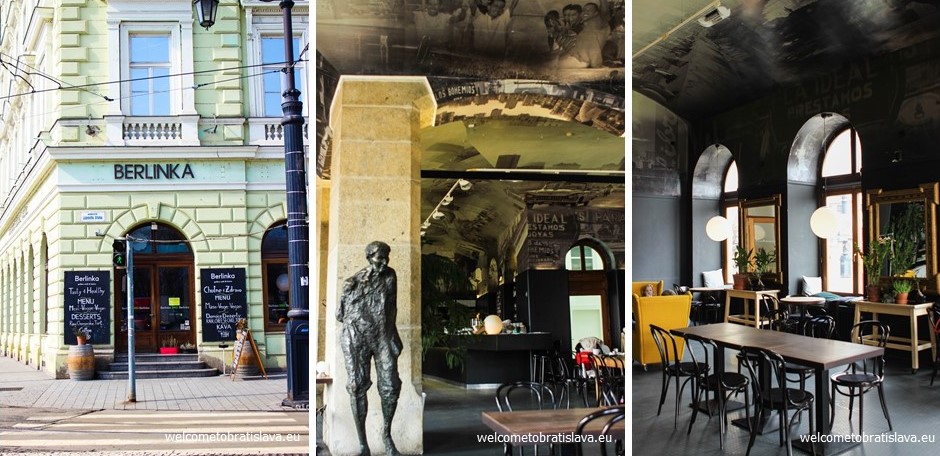 Originally named Hungaria, it once served as a legendary meeting place for diverse society. Today it is primarily a cafe, but you can get lunch there, too. The menu is not comprehensive but imaginative and prices are reasonable. Coffee and cakes are tasty as well. Take a seat near the window and let yourself feel spoiled by the beautiful interior and riverbank views. Just be careful – if you want to take pictures of this place, ask the personnel first. They are quite sensitive about it.
14:00 Artsy afternoon at the Slovak National Gallery (SNG)
You enjoyed plenty of walking during the morning stroll, so stay where you are for the moment. As already mentioned, SNG is situated in the same building as Berlinka Café and is one of the city's cultural musts. Entry is free now and the three story gallery offers various exhibitions of modern and classical art. The bottom floor houses a permanent exhibition, while the upper floors are dedicated to temporary ones. Check their website to know what is currently on display. Though part of the gallery is under reconstruction, we bet you will spend some nice time here. Descriptions are usually also in English. And if your cultural day is the first Sunday of the month, lucky you! Beginning at 4pm, the Sunday Rest is a guided interpretation of the current exhibition in English. It is free to join and no advanced reservation is needed  :)
17:00 Early dinner at Verne
By now you may be ready to change out of your day-time clothes and into something more festive. You may also be peckish after a day of exploring the town and the light lunch at Berlinka. We recommend an earlier dinner to get you fed and give you time to refresh before the night-time activities commence.
Located in Hviezdoslav's Square, just a 4 minutes walk from SNG and on the right hand of the statue of our most important poet – P.O. Hviezdoslav (you have probably passed the theater named after him during your morning walk), is your dinner destination. Named Verne, a nod to sci-fi novelist Jules Verne, this restaurant, café, and bar in one, depending on a time you are visiting, is a hidden gem between quite pricey restaurants of the square. Well, perhaps not hidden. Usually there is a full house and you will need to wait for your table. Also be prepared not to experience the best manners from the waitstaff. Despite this, we really enjoy this place. The antique décor and dim light create an artsy atmosphere, but more than that this is a current hub for artists and students of the neighboring High School of Performing Arts. The food is simple, primarily European cuisine, but it's good and reasonably priced.
19:00 The Slovak Philharmonic  / The Slovak National Theatre
The rest of your cultural day strongly depends on a program of these cultural institutions: The Slovak Philharmonic and the Slovak National Theatre. Unfortunately they don't offer daily performances and we strongly recommend booking tickets in advance, as they might be easily sold out. Both institutions are located in impressive buildings. The Slovak Philharmonic is in the beautiful and recently renovated Reduta concert hall. This former Baroque granary was built in accordance with an order of Maria Theresa in 1773. Later on it was turned into an object in neo-Baroque style with Rococo and Art Nouveau elements. Refined stucco work, stained glass in various compositions, and window panes with ornament-etched glass guarantee you a visual and listening experience. Check the upcoming concerts here.
If Philharmonic is sold out or not playing, let's take a look at plan B: the program of the Slovak National Theatre. As an English-speaking visitor, a better choice is the opera and ballet production; drama performances usually are not subtitled in English. There are two National Theatre buildings in operation now: old and new. Opera and ballet are mostly performed in the charming old neo-renaissance building from Habsburg era, located at the Hviezdoslav's Square. The new building is bigger and bit further from the center, at the Danube bank near Eurovea, and is also interesting, but for different reasons. Construction staggeringly lasted over 27 years due to lack of funding. When it was finally finished and opened in 2007, it was already kind of old. Now it is open and a the performances are really great. The shows mostly start at 7 pm and you can get tickets either online or in the cash-desk in both buildings. Check the repertoire here and here.

If there is no interesting performance for the day, we also have a plan C :) Look at this article with some more cultural tips in English and you will surely find something interesting for you.
22:00 Late night drink
No matter where you choose to spend your evening during this cultural tour of Bratislava, guaranteed there will be a nice bar close by for your last drink before bed. If the new building of Slovak National Theatre was your choice, take 5 minutes walk towards the city center and there on a corner is a historical building where The Gallery of Slovak Art Union as well as café Umelka found their home. You will find Umelka on the top floor and besides the paintings on the walls, you will be nicely surprised by the terrace hidden in the trees. From Slovak Philharmonic or The Old Slovak National Theatre you can either come back to Verne or dive deeper into the heart of the city and finish the evening at La Putika, a very cozy place with chilled atmosphere and separated smoking section. If you find these places full, don't worry and just try next door. This street is full of options where you can take a rest and recapitulate the day over a nice drink. And we hope you had a lot of fresh pleasant cultural experiences to talk about :)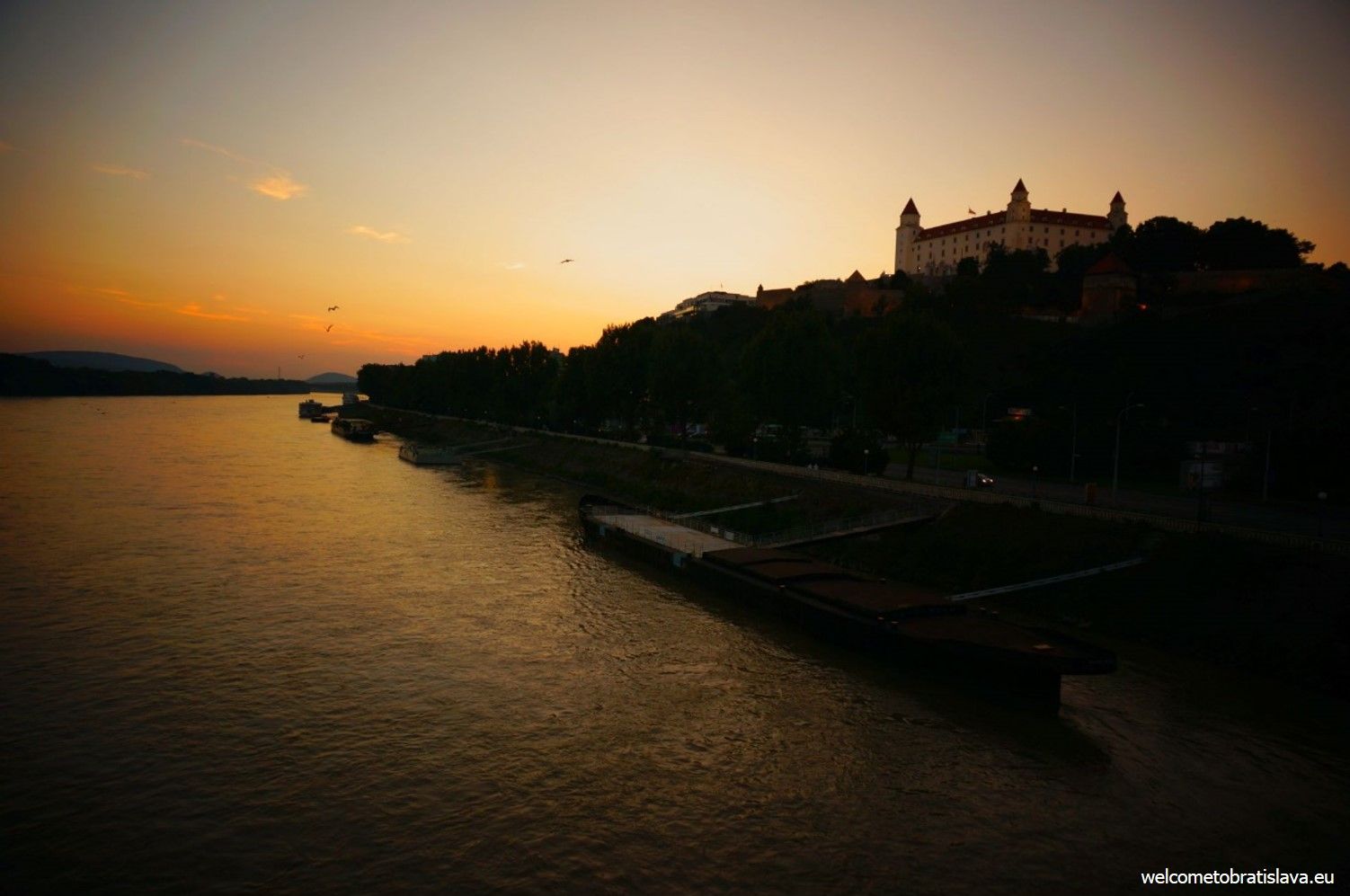 Author: Eva Latakova
You might also like:
Why visit Bratislava
Sightseeing in Bratislava
One classic day in Bratislava
Alternative one day in Bratislava
Weekend trip to Bratislava history