December is traditionally focused on everything related to Christmas. Special themed markets at different places packed with people, thematic concerts and events offering the most beautiful presents to buy.. the whole city smells of Christmas punch and mulled wine. There are many things prepared for you in our lovely city in the last month of this year – check the details below:
FRESH MARKET
each Saturday
The food market in the Old Market Hall (Stara Trznica) is held every Saturday from 10 am to 3 pm. Seasonal foods grown and produced by farmers and small producers from around Bratislava can be found here, as well as quality specialties from more distant countries. The market is regularly accompanied by various bazaars – antiques, books, clothes or vinyl – that are periodically rotated and can be found on the first floor. More info.
ITALIAN APERITIVO
each Friday
If you are looking for a perfect start of your weekend, here's a great tip: each Friday evening, an aperitivo is held in Pane & Olio Bistro, a showroom with Italian food and tasting of traditional dishes mainly from the Tuscany region. Delicious food, yummy drinks and Italian wine are surely a great option, whether you want to get yourself in a party mood or just want to have a great dinner time :) More info.
SLOVAK NATIONAL COLLECTION OF WINE
ongoing
It's been already the 10th year that the national collection of wine has been organized in the Museum of Viticulture in Bratislava. Come here for a tasting of 100 quality Slovak wines – you'll be able to choose from 43 white wines, 7 semi-dry and semi-sweet wines, 9 roses, 25 red wines, 11 naturally sweet and Tokay wines and 5 sparkling wines from 31 vintners. Open daily except Mondays from 11 am – 6 pm. Price per person: 4,99 € – 18,99 €. Official FB page. Official webpage.
CREATIVE WEDNESDAYS IN THE SLOVAK NATIONAL GALLERY
each Wednesday
If you have kids in age of 4-7 years, this might be an event you want to attend with them! The Slovak National Gallery organizes regular art workshops each Wednesday from 5 till 6.30 pm. You will examine the original art works and discover their hidden stories. In the studio you will be able to try different art practices and encourage your child's creativity. Entrance: 4 € per family.
TITANIC EXHIBITION
until 6.12.
Come to explore the legendary story of Titanic! This grandiose exhibition will teach you about the fate of the most famous seagoing ship and its passengers as well as about the turbulent period of technological inventions and socio-political situation at the beginning of the 20th century. Thanks to the perfect reconstruction of cabins, engine room or dining room you will experience the real luxury and misery from the beginning of the 20th century. More info here.
CHRISTMAS MARKETS
till 23.12.
One of the most beautiful periods of the year in Bratislava is definitely during the last weeks of the year, when people celebrate the scents of Christmas on the street markets. Come to taste traditional culinary delicacies and drinks, buy various kinds of souvenirs, Christmas gifts and craft products and have a great Christmas-y time with your friends! More info and pictures.
TENNIS CHAMPIONS EXHIBITION
1.12.
Are you a tennis fan? Fancy meeting some celebs from the sport scene? If so, you definitely should not miss the Tennis Champions Exhibition! This event has been held in Bratislava since 2008. The has show captured the attention of the spectators and sponsors from its very beginning, and thanks to it Bratislava has already attracted the world and Slovak tennis stars, the current winners of the Grandslam tournaments as well as the most popular legends. And at the beginning of December you can once again meet six former and current tennis stars at the National Tennis Center in Bratislava! More info.
MEDITATION IN ENGLISH
1.12.
Meditation is the practice of turning your attention to a single point of reference. The goal of meditation is to focus and quiet your mind, eventually reaching a higher level of awareness and inner. The goal is to enjoy relaxing and de-stressing our bodies with nice music, surrounded by great people in a peaceful place. Price: 6 € pre-sales, 8 € on spot. You need to make reservation at: info@internationals.sk. More info.
THE CHRISTMAS STREET
3. – 5. 12.
Take the opportunity to enjoy the Christmas mood in Devinska Nova Ves, Bratislava's neighborhood. The Christmas Street event means a wide choice on various dishes: the roasted pork, the sour cabbage soup, a traditional salty potato cake called "lokse", tripe sausages and many other dishes typical for this time. A special program is also waiting for kids. Check more info here.
INTERNATIONAL FESTIVAL OF ADVENT AND CHRISTMAS MUSIC
3. – 6.12.
This festival invites choirs from all over the world to the decorated historic center of Bratislava, so that they contribute to a peaceful pre-Christmas mood with songs, traditional culture and spontaneous presentations. A competition during which the choirs will be showing their quality of singing in front of an international jury won't be missing. Free entry! More info.
CHRISTMAS DAYS IN INCHEBA
3. – 20.12.
The calm and jolly advent period is regularly brightened by the Christmas markets held in the Incheba exhibition centre. It's a great place for those of you who would like to find all the Christmas gifts under one roof. The sellers will offer a wide variety of products, ranging from traditional Christmas decoration, toys, leather wear and other types of fashion clothing, to glass products, home accessories and fireworks intended for entertainment, cosmetic products, jewelry and costume jewelry, consumer goods and electronics, books and other items. There is always a great program scheduled to complement the happening and the children will also find some of the activities and events very entertaining. Admission fee: 2 €. Check the details here.
SANTA CLAUS IN THE SLOVAK NATIONAL GALLERY
5.12.
Experience the magic of Santa Claus and pre-Christmas mood at the Esterhazy Palace in our national gallery with some art. Choose your creative workshop, warm yourself up drinking nice tea and watch theater performances. The event is for all the families with children up to 3 years. You need to register yourself till 3rd December via email barbora.jurinova@sng.sk – entry is 4 € per family.
HRATISLAVA – FOR GAME FANS
5. – 6.12.
Unwind and relax during the pre-Christmas hurry! Come to HRAtislava, small town full of great games and lots of fun! The festival of games that will open its gates during Christmas Days in Incheba will draw you into world of good humour. The whole hall will be dedicated to games you are free to play – more than thousands of games from all corners of the world – some of which might be new and unknown to you, ready to be explored! Strategic, cooperative and family games; puzzle and games of observation; games for children, parties and many more. More info.
SANTA CLAUS PARTY

5.12.
Experience a devilishly angelic Saturday full of nice people, thematic costumes and have some great fun! The colors of this night will be red, white, black and green – come dressed as a Santa, angel, devil, elf or a reindeer :D If you don't like costumes, just wear something in one of the mentioned colors – by doing so you'll earn yourself a free welcome drink upon your arrival :) Check the details.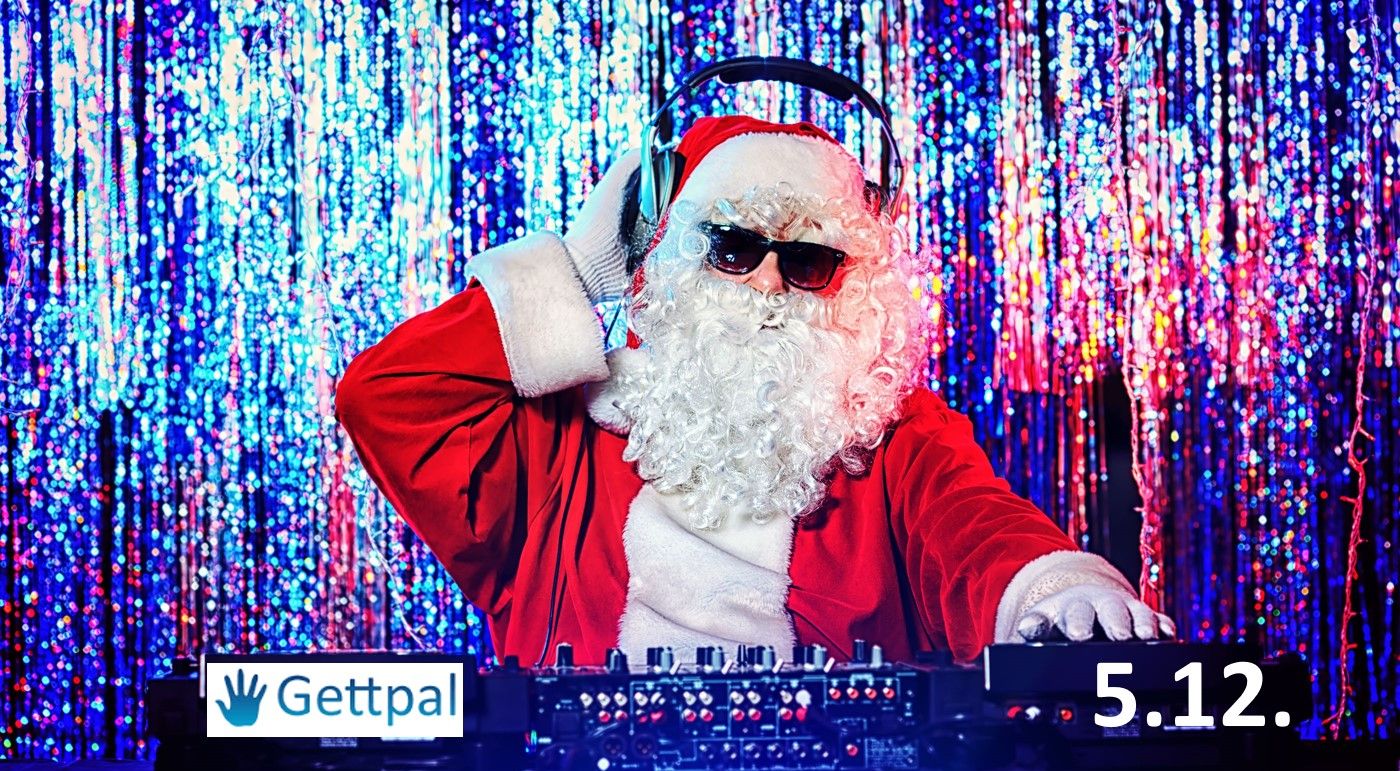 RETRO FLEA MARKET IN THE OLD MARKET HALL
5.12.
Antiques, art objects, vintage and other retro items will be presented in the Old Market Hall at the beginning of December. From 11 am there will also be a theater for children. Facebook event.

RETRO BAZAAR IN KC DUNAJ
5.12.
Clothing for ladies, gentlemen and babies, earrings, necklaces, headbands, rings, plates and other antiques will be offered at this retro bazaar from 10 am till 5 pm. Free entrance! Check the list of all the producers here.
FLEA MARKET ON BAJKALSKA STREET
5.12.
"Burzoblsák," as this flea market is called, is an event dedicated for the community and its main aims are recycling and re-usage of old clothes. There is also an option for sellers to donate clothes for one of orphanages in Bratislava. It is held each first Saturday of the month, starting from 8 am and lasting till 2 pm on Bajkalska street 20. No entrance fee. Get your special piece directly from the sellers' trunks or suitcases and enjoy the atmosphere of a real flea market! More info.
AN EVENING OF TRUE STORIES
6.12.
Share (and listen to) true stories in the most useful, honest, supportive, inspiring and transformational way. Anyone who wants to share their story can do so for 5 – 7min and tell true tales about life, experiences, passion, goals, taboos, cultures, romance, adversity – you name it. every true story is an opportunity to learn something about others, ourselves and has the potential to make a difference to our understanding of the world around us. Sounds interesting? Come join our very first session. Bring friends if you want but above all, bring ears to listen, a mouth to tell and a heart to feel. More details.
A VEGAN DINNER
6.12.
The idea of these regular vegan dinners is that each participants brings their own vegan food, plates and cutlery and shares their meal on the big table with other attendees. No entrance fee is required, all you need to do is bring your food, share it with others and taste from the meals other will bring to the table. No matter whether you self-prepare or buy the meal, whether it is cooked or raw. And for the rest of the night you can enjoy networking and getting to know interesting people :) Official Facebook event.
SPECIAL FEEDING OF ANIMALS IN THE ZOO

6.12.
If you are looking for a program that your kids would love on a Santa Claus day, take them to the Bratislava ZOO before lunch on Sunday – there will be a special feeding of animals from 11 am :)
MITTEL CINEMA FEST 2015
8. – 13.12.
At this festival you'll be able to enjoy the best of what was created in the Italian cinema last year. This show is prepared by the Italian Cultural Institute in Bratislava and will offer 11 great movies in the Lumiere cinema, many of which were awarded with Italian national prizes. Entry for individual screenings is 3-4 € or you can get a pass for 14 €, to be purchased directly in the cinema or via Ticketportal. Check the program here.
INTERNATIONALS BRATISLAVA CHRISTMAS PARTY
10.12.
Do you want to socialize, have some fun and meet people from all over the world? Everyone is welcome to this party that will be held in The Club. Every entry includes a welcome drink, sweets and a flag sticker, plus all girls have a free entrance before 22:30. Also, if you have birthday on 9th, 10th or 11th of December, just show your ID and you will be let in free of charge. More info here.
INTERNATIONS CHRISTMAS EDITION NETWORKING EVENT
11.12.
The regular event of InterNations, a community gathering expats living in Bratislava as well as locals. Spend a nice evening with your old friends from InterNations and get to know some new interesting people in the beautiful venue of Carlton Hotel. This December event will host a fashion show for a night of Glam & Glitter. Every attendee will enjoy a welcome drink, a raffle at midnight and some other surprises. The dress code of the December event is Christmas colors! More info.
URBAN MARKET – WINTER EDITION
11. – 13.12.
This Winter Urban Market will once again present the best selection of independent, professional and amateur design, fashion, jewelry and accessories. The event has traditionally an accompanying program made up of exhibitions, concerts, debates and workshops, as well as gastro-Christmas-minded zone. It will be held at the Pisztory Palace. Official Facebook event.

CHRISTMAS FLEA MARKET IN THE OLD MARKET HALL
12.12.
This event will offer not only traditional Christmas vintage things to buy but also a bazaar of books and old records. Come to choose a present which has a unique charm for you or somebody whom you want to surprise! Facebook event.
CHRISTMAS CREATIVE WORKSHOP FOR WOMEN
12.12.
Learn interesting decoration tricks and create Christmas decorations – you will work with textiles, feathers, paper, wire and beads. A clever body paint artist from Pakistan will also be present to create amazing henna painting for you. There is a symbolic voluntary entry fee 2 € (which includes all materials, refreshments and henna paint). The session will be held in English. More info.
SMALL CHRISTMAS MARKETS
12. – 13.12.
Christmas markets in the Forest School and its adjacent garden are held annually to support the foundation Horsky Park ("Forest Park") – 10 % of everything you purchase will go to the foundation. The Christmas markets will offer natural products such as honey but also Christmas cakes as well as beautiful hand-made products suitable as a gift for your loved ones. More info.
INTERNATIONAL TRIP TO BUDAPEST
12. – 13.12.
Join a a dreamy two-day trip to the capital of Hungary with a rich program including an exploring walk through the largest, the most beautiful and elegant indoor market hall in Budapest with tasting typical Hungarian food and drinks, visiting Váci street with its countless shops and souvenirs, relaxing in the Szechenyi Baths with marvellous medicinal natural hot spring waters, visiting the Castle, the President's Office, the National Dance Theatre, the Holy Trinity Column and many more! More info here.
A CHRISTMAS VEGAN DINNER
13.12.
The idea of these regular vegan dinners is that each participants brings their own vegan food, plates and cutlery and shares their meal on the big table with other attendees. No entrance fee is required, all you need to do is bring your food, share it with others and taste from the meals other will bring to the table. No matter whether you self-prepare or buy the meal, whether it is cooked or raw. And for the rest of the night you can enjoy networking and getting to know interesting people :) Official Facebook event.
DISNEY ON ICE
15. + 16.12.
Enjoy a memorable event with all your favorite Disney characters. Bratislava's Slovnaft Arena will experience a scene filled with music and magic, showcasing four unique worlds full of turbulent pirates, Caribbean rhythms and touching moments. The show starts at 17.30 and will last 2 hours. Tickets cost 19-45 €. Buy them here for Tuesday or Wednesday.
INTERNATIONALS BRATISLAVA COOKING CLASS – ITALIAN CUISINE
16.12.
Join this session of cooking and tasting Italian cuisine! Don't miss out because you will learn how to prepare famous dishes. First two hours of a class you'll cook upon instructions from the chef – after you eat all that you have prepared! The class is in English. Price 29 € – all ingredients included – the class needs to be paid in advance – via sending a request for registration to info@internationals.sk and you'll be sent the payment details. Official Facebook event and the menu.
CHRISTMAS FLEA MARKET ON OBCHODNA STREET
18.12.
Come and enjoy beautiful and traditional Christmas Handmade gifts. Creative artists from the whole Slovakia will be looking forward to present their products :) Facebook event.
CHRISTMAS FLEA MARKET IN THE OLD MARKET HALL
19.12.
Come to the Christmas market in the Old Market Hall where you can admire and purchase traditional Christmas products, but also books, design items, antiques and food. This event starts at 10 am and lasts till 5 pm. More info.
CHRISTMAS SWING DANCE HALL
19.12.
Experience the atmosphere of vibrant parties of the swing era, treat yourself to delicious wine and goodies and return to the bohemian times of 20-50th of the last century. Swing in stylish cafes – that is the concept of these dance hall evenings and the December one will be held in the chic bistro St. Germain. Solo Charleston, Lindy Hop and Boogie Woogie will be taught by lecturers during this event. Entry 6 €. Facebook event.
CHRISTMAS HANDMADE WEEKEND
19. – 20.12.
Incheba center will host a special market with handmade products a few days before Christmas. An ideal occasion for those who like to postpone the Christmas shopping till the last minute :)
NEW YEAR'S RUN

31.12.
A running event for all recreational runners who can not imagine the New Year without sports. The 10 km run starts at 10 am at the University of Economics and goes on via different Bratislava bridges: Pristavny bridge – Apollo bridge – Danube embankment – SNP bridge – Danube embankment – Lafranconi bridge – final destination. You can sign up till 27.12. via www.starz.sk or www.vos-tpk.sk :) Fee: 8 € if paid till 27.12., 10 € if paid later on or on the spot.

NOTE: Some of the featured pictures come from the Facebook pages of the mentioned events.