The castle which witnessed the glory and fall of Great Moravia and was blown up by Napoleon's army. Later declared to be a national cultural monument of Slovakia. Since it is situated on a high cliff over the Morava and Danube rivers, and standing on the frontier between Slovakia and Austria, it offers beautiful panoramic views and is a very popular place to visit. Come here if you want to soak in the rich medieval history which is mirrored in its ruins 🙂
Location
Devin Castle is situated in Devin which is a borough of Bratislava, 12 km away from the city center. The bus journey takes around 20 minutes. An alternative is to take a taxi (if you don't have a car). You can also get there by a boat from one Bratislava port or from Hainburg, Austria. The public transport is quite easy, you need to get on the bus 29 at the "Most SNP" station. It is the one under the UFO bridge (right part of the picture).

The bus' final destination (which will be also written on its front) is "Opletalova." Get off at the stop called "Štrbská." From there you walk around 6 minutes. You will know that you arrived to the correct place once you see a large parking lot with a hotel and some restaurants on your right side.
What to see around Devin Castle?
There are two parts of the castle you need to see. For the first one, which is the actual castle with the museum, you need to get a ticket. The second one is a public path along the river bank – also very much worth of seeing.
We recommend you start with the paid part (as the last admission is between 16:30 and 18:30 – depending on the month you visit). If you choose to go for a guided tour, the entrance ticket will be included in it so you don't need to buy it separately. We like this 3-hour tour because it allows you to learn about the castle's rich history and in the same time, sample some locally made products 🙂 Alternatively, if you want to combine the city sightseeing with Devin castle sightseeing, this 5-hour tour is probably a better option for you.
If you continue on your own with a purchased ticket, take the left trail on the first small crossroad. You will arrive to the cash desk which is built from many stones – quite an interesting building.
After a short walk, you will see a sign which will direct you to your first stop – a Christian chapel from the 4th century.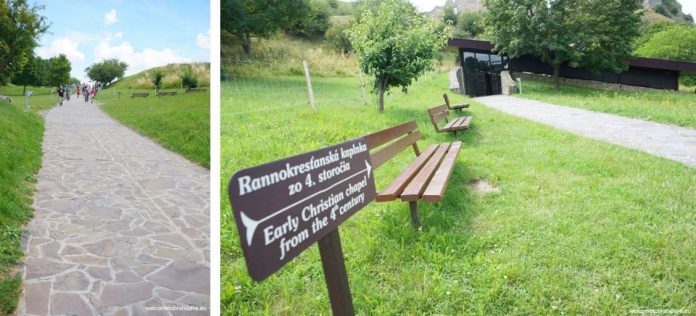 This one-room building reminds us of a tomb – you will find the fundamentals of the chapel and an old white cross there.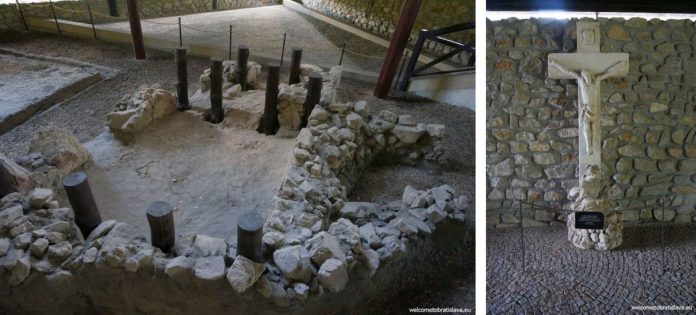 After getting back on the trail, walk for a few minutes until you arrive to a place with this white statue of a woman. A view on the living area under the woods will be worth of seeing. And you can also take some pictures of the grazing sheep! You will feel like in a countryside! 🙂
As you continue to walk up, there will be some more animals enjoying the green grass – goats! That's where the "zoo" part comes to an end and soon you are about to see the first walls of the castle 🙂
Behind that big wall there is a wide area to walk around and better see the ruins of the Devin castle.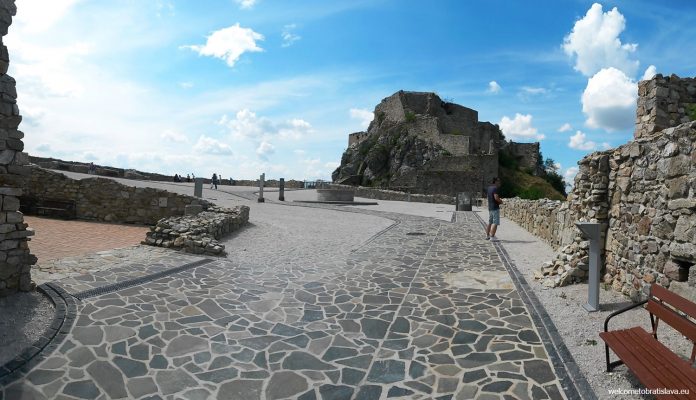 If you get thirsty after you walk here, a tap with drinking water might save you 🙂 You will find it right next to the round well which was dug in the 15th century and is 55 meters deep.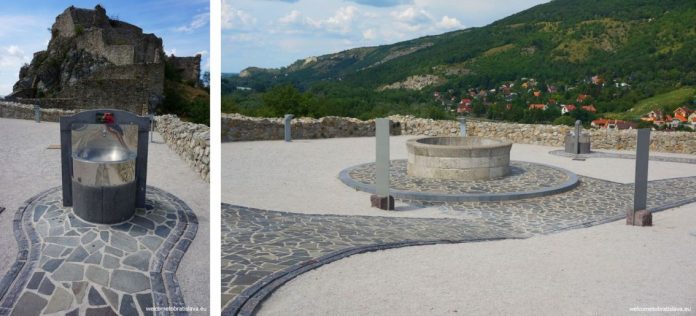 Famous Watchtower
What you see on the ground next to the wall below is the basics of a Roman building which were discovered during an archaeological research in the 1930s. Have a good look on the second picture – can you see the watchtower on the left? It is one of the most photographed items of the castle and a legend has it that a bride jumped from here on her wedding day after her family killed her groom because they did not approve of him. That's why it is called the Maiden Tower. If you have a closer look on the picture, you can also see a tunnel cave in the middle of the wall which passes through the whole castle hill.
The Upper Castle, where the museum is set, was closed down because of a reconstruction and is being reopened in May 2017. It offers a glorious view!
Walking up to the next ruins, you will have an even better chance to see the whole surroundings of the Devin castle.
Picturesque photos can be taken near the ruins of a so-called Palace of the lords of Gara, pictured below. It originally consisted of two floors.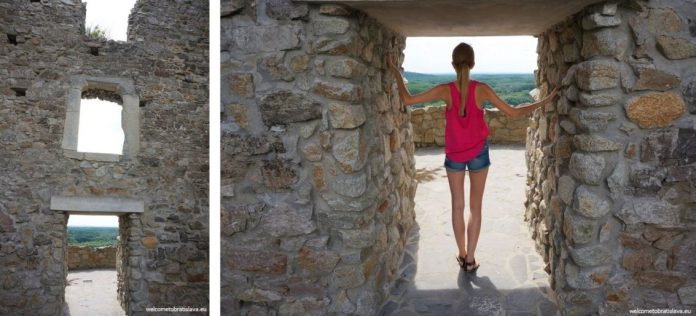 Cruising boats as well as cargo ships are often seen from here, heading their way to Austria and back.
Exploring Further
Next you need to walk back to the lawn with the sheep 🙂 and take the trail on your right which looks like leading nowhere. There are some more things to see though. First of all, after a few minutes walk you will arrive to a small turn with a sign which says "základy veľkomoravského kostola." That means "foundations of a church from Great Moravia times."
Walk up there and you will find the stones which suggest the ground plan of the church as well as a small replica assuming its appearance.
Walk back to the path and continue straight. When going further, on your right side there will be a construction which used to be an ammunition store in the 17th century.
A few meters from here there is a part full of trees and it will look like you need to enter a forest. Don't worry though, it will be a short (but very nice) walk.
And it is definitely worth of taking as you will find yourself in front of a historical gate. A few more stone fundamentals are to be found along this trail which will lead you to the crossroad with sheep again 🙂
You can for example find out what a workshop of craftsmen could look like. Or see where the castle guardhouse used to stand.
Taking another path
This is where you come to an end of the first part of your sightseeing of Devin castle. This all is quite a walk. Thanks God there are some restaurants for refreshing. You will find them at the parking lot, going back to the cash desk and through the main gate from where you entered.
After you gained some strength for more walking, take the other path at the crossroad. Pass a small wooden cottage and a stone kind-of-a-gate.
You will walk through a beautiful green alley full of plum trees…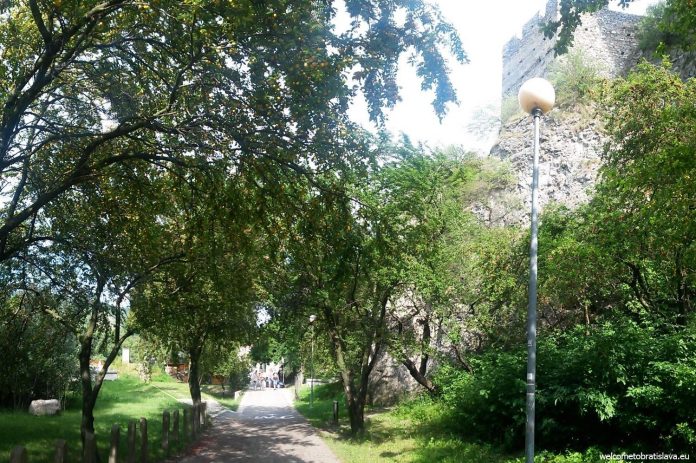 … until you arrive to another crossroad. Turn left as the right path is for cyclists only…
… and you arrive to the river bank! Finally! 🙂 We love to walk along and seeing Austria on the opposite side of the river. You can watch the fishermen trying their luck on the coast or just enjoy the pure sun on a bench.
This is a unique location because you can clearly see where the Danube and Morava rivers collide.

You can walk for a few minutes and then come back… if you walked too far, you'd happen to arrive to the nearest village 🙂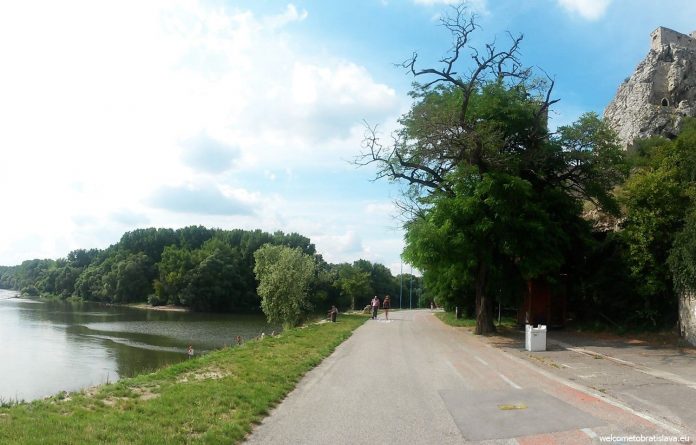 Devin Castle's History
The first settlement of the Devin castle is believed to be in the 5th century B.C. It used to serve as a boundary fortress, military station and a trade center in the past. It was blown up by Napoleon's army in 1809. The Palffy family, who owned it, did not make bigger efforts to repair it. Thus it started to fall into disrepair. In 1939 it became the property of Czechoslovakia for a symbolical sum of 1 000 crowns. It was declared to be a national cultural monument in 1961.
If you decide to visit Bratislava, this should be a stop you plan to make. Count with at least one afternoon as you will surely want to spend some proper time here 🙂
We found this video on youtube about Devin which we liked quite a lot. It can give you an idea of what it is like to visit this castle:

Author: Maria Kecsoova

OPEN HOURS: April and October: TUE-SUN 10:00-17:00 (last visit at 16:30) May-September: TUE-FRI 10:00-18:00 (last visit at 17:30), SAT-SUN 10:00-19:00 (last visit at 18:30); November – March: MON-SUN 10:00-16:00 in case of good weather conditions


TICKETS: Check the official site


ADDRESS: Muránska ulica 10


CONNECT: Website


MAP LOCATION: