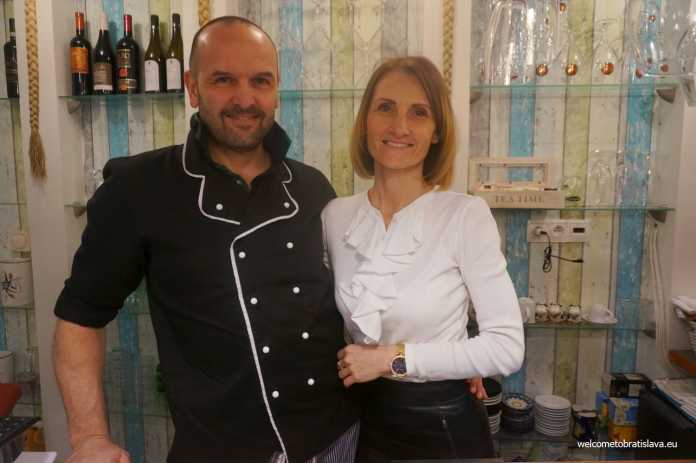 Sicilian-Slovak owners – and a lovely couple – Rosario and Romana have created a charming, small family restaurant located in Rača. While dining here means leaving the city center, this is the only traditional Sicilian restaurant in town with such authentic character and lovingly presented cuisine. We assure you, it's worth traveling for.
LOCATION
To get to Don Saro, you will need to do a bit of travelling to get to Rača neighborhood. But don't worry because the travel is definitely worth it: at the end of the journey, you will find the only traditional and charming Sicilian restaurant in town with delicious offerings!
INTERIOR
The whole place is rather small, having two parts connected together around the main bar.
If you've ever been to Sicily, you'll enjoy seeing the photos from this country hanging on the walls everywhere. Mostly from around Catania, as Saro (the owner and the main chef) comes from there. We particularly liked also the colorful framed shutters being part of the walls, helping the place have a more cosy ambiance. Italian radio playing in the background is a matter of fact in most of Italian restaurants and this one is no exception :)
Probably the best word to summarize the feeling about this place is "colorful." The interior is decorated in blue-red-white colors, supplemented with colorful details  such as flags, flowers, books or fruit.
If you have children, you might be happy to find out that there is a small children's corner where they can play and spend some time while you enjoy your meal.
WHY IS DON SARO CUCINA SICILIANA SPECIAL?
Owned by a Sicialian-Slovak couple Rosario and Romana, this is a small family business. And you can see the difference if you come to such a place, compared to big restaurants/chains. The owners greet you upon your arrival, talk to you, ask about your meal preferences, recommend food and wine. This really friendly and welcoming feeling you'll have here is typical for Italy (especially Sicily) and is nowadays unfortunately not so common in many of restaurants in Bratislava. That's probably one of the reasons people come back and like to dine here. We had the same kind of feeling after our visit.
WHAT TO HAVE IN DON SARO CUCINA SICILIANA?
We love Sicily. Have been there a couple of times and a few things that first come to our mind when hearing "Sicily" are arancino, parmigiana, seafood and cannoli. Of course we had to try all of these – and some more! We started with caponata which is an eggplant-based mixture of sweet&sour flavors, thanks to capari and raisins. Goes great with their home-made focaccia – a very fine thin "bread" made from pizza dough. Parmigiana is a Southern Italian dish made with a shallow-fried sliced filling, with cheese and tomato sauce on top, then baked. It is based on eggplant.
You will not find pizza on their regular menu, as they dont specialize on it. However, if you come with kids and they ask for pizza, they can prepare something for them. Aso, they offer lunch menus during the week Mon-Fri and each Friday they have pizza on the menu :)
It's a different story with pasta though. Want to have something really Sicialian? Go for the pasta alla norma with mussels, or pasta nero di sepia – black pasta with seafood.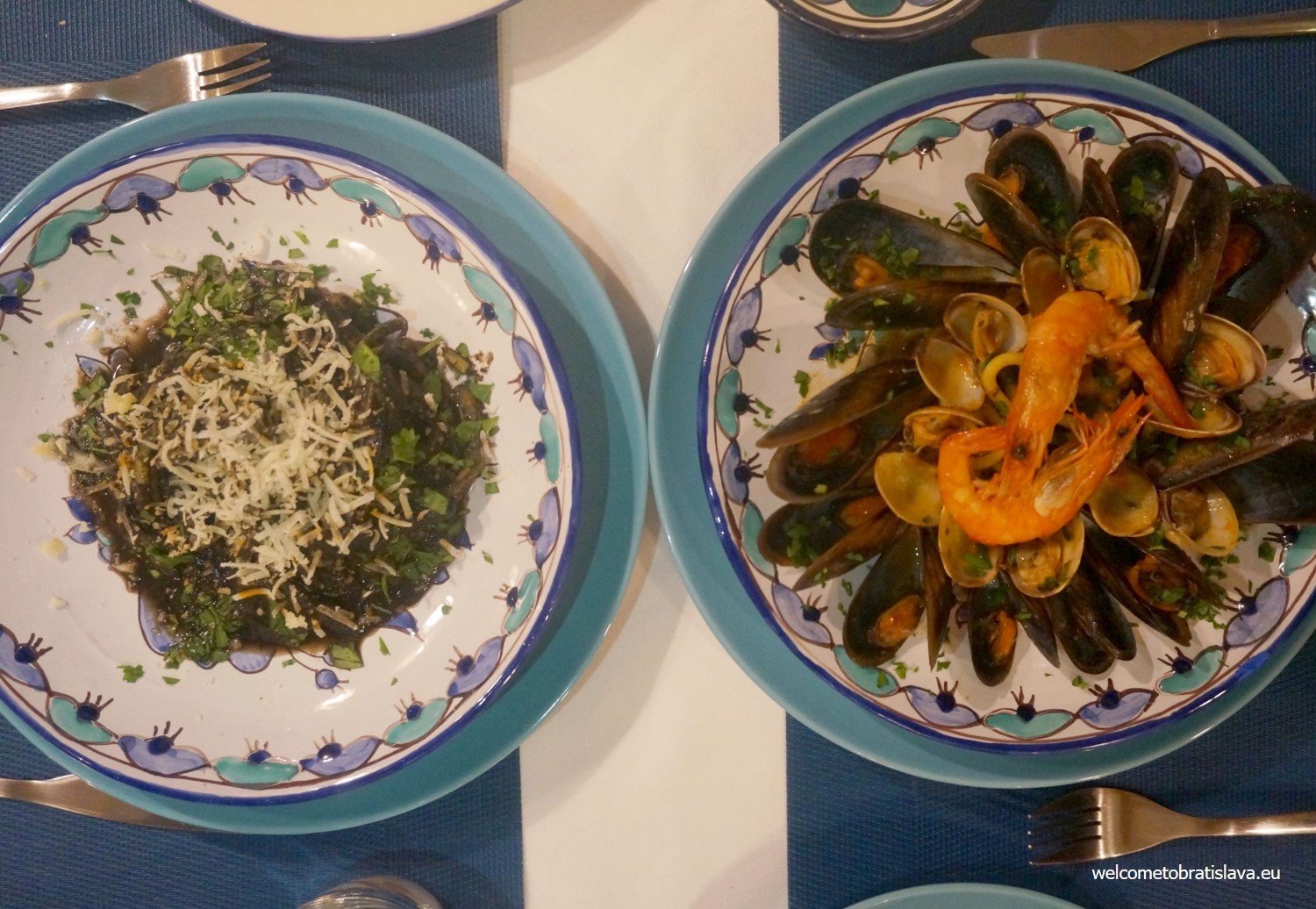 Finally we've found a place in Bratislava where they make arancini! This is one of our definite favorites – deep fried rise filled with ragu and cheese. Yes, we know, it doesn't sound very light and healty, but trust us – you have to try this very traditional Sicilian thing.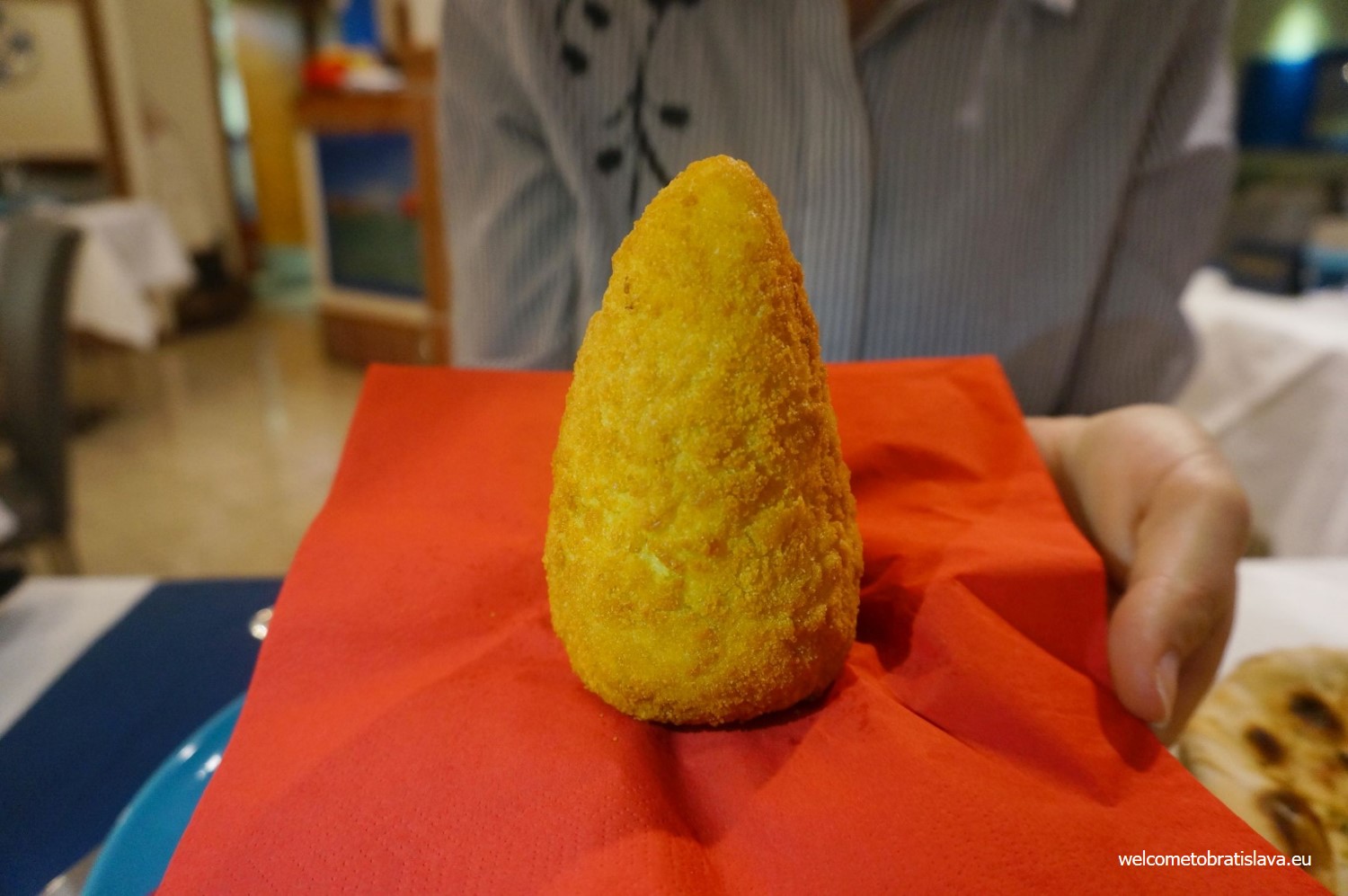 Time for desserts! The "must-try" is surely the traditional Cassata Siciliana. It's a sugar bomb with marzipan and pistacchio. Super sweet. For us a good thing to have tried, just too sweet to eat on a regular basis. A slightly less sugarish pick and also very common in Sicily is cannoli – pastries filled with sweet ricotta.
Fridays and Saturdays you'll have a chance to try specialties that are not on the regular menu – Saro always prepares something new. If you wonder what ingredients they use, well their main provider is a Sardinian guy living in Bratislava who imports Italian ingredients and also makes home-made pasta for them.
Reservation is recommended to make prior visit because the place is rather small and they get busy easily. If you wish to take food home with you or as a take-away only, ask in advance – it is possible.
How does this sound? Are you already hungry after seeing all those photos? Because we can't wait to go back again! The restaurant has also made it to our list of best Italian places in town. Once you try it and you are glad you did, you can leave a signature in their "book of satisfied guests" :)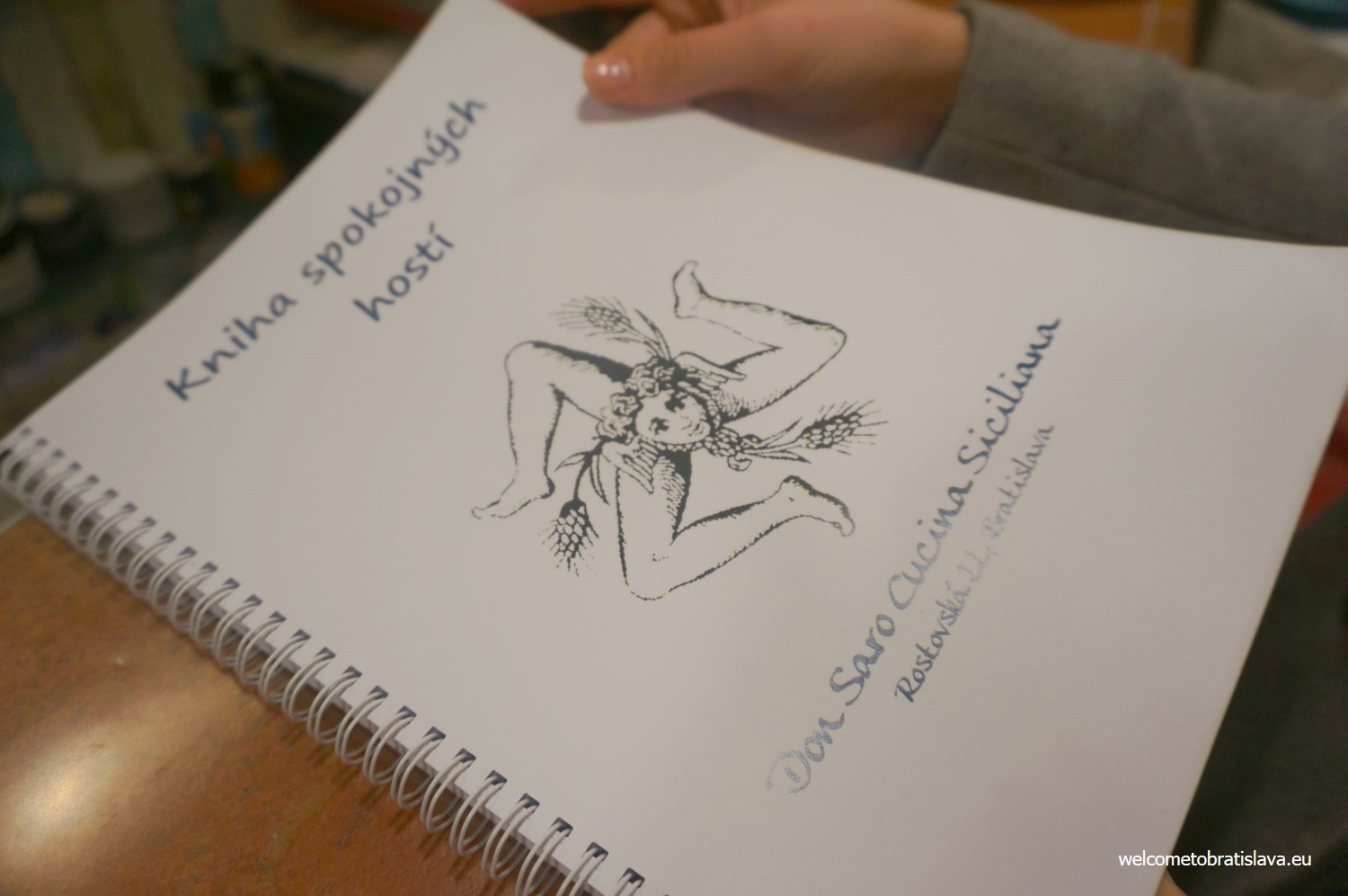 Author: Maria Kecsoova

 OPEN HOURS: Check official FB site


 ADDRESS: Rostovská 22 (Rača neighborhood)


 CONNECT: Website, Facebook


 MAP LOCATION: