Probably everybody who has ever arrived to Bratislava by bus, has faced pretty much the same situation – thirsty, hungry, in urge of the restroom. Before October 2017, you definitely wouldn't be delighted by the look of the Bratislava main bus station. And unfortunately, for many travelers, this was the first contact with the city. Nowadays,  the Mlynske Nivy bus station is being reconstructed and with a substitute temporary terminal on Bottova Street (just few steps away), it provides higher standard than before. But let's be honest, this first contact could be even more pleasant!
Therefore we explored a bit and found many cool places around which will sooth your travelling soul and body. You just need to know which direction to head. So, don't buy the first baguette and coffee that crosses your way once you get off the bus. Rather come with us for a small exploration walk of the best eat out spots around bus station Mlynske Nivy!
THE BUS STATION MLYNSKE NIVY 
Firstly, just a few facts to explain the unsightly surprise when seeing the neglected bus station for the first time. Well, you might have felt like travelling back into 90's. This perfect example of socialist architecture had been finished in 1983 and since then there was no change. Just dozens of eye-catching banners were added, but not helping to beautify the building at all. A big change happened in October 2017, when they demolished the old bus station and started to build a completely new one. We have a temporary bus station few steps away, on Bottova Street at the moment.

The renovation was originally supposed to be completed a few years ago. But you know, everything takes time. Therefore, the new project of redeveloping this gargoyle is planned to be done by 2020. Luckily this date doesn't apply to its surrounding. The adjacent neighborhood seems to be in its rebirth right now and lately, new canteens and cafeterias have sprung up like mushrooms after rain. Let us introduce our favorites to you.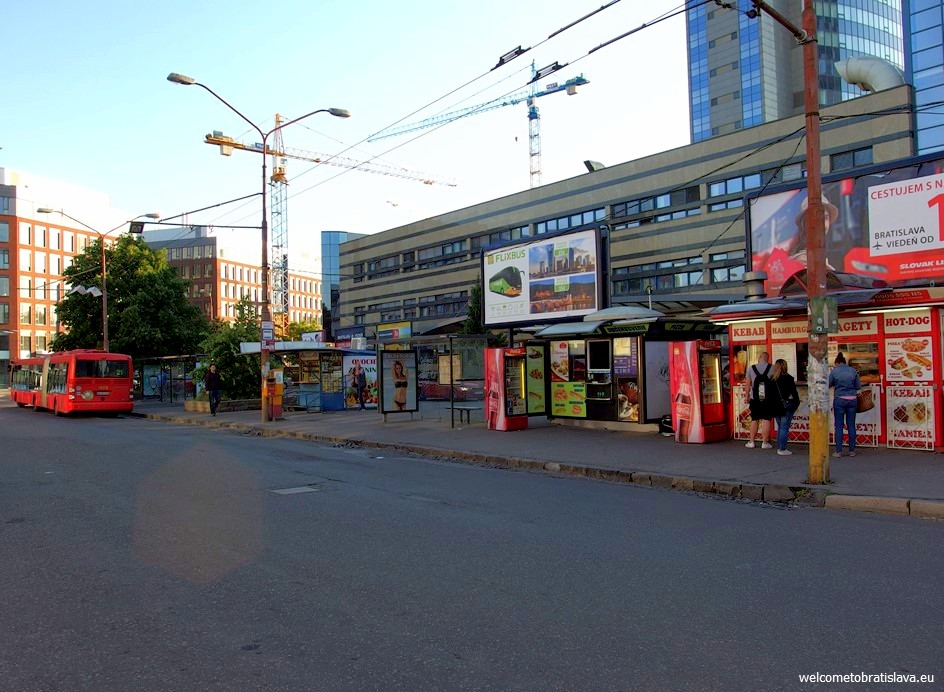 POKEBAR
If you are searching for a lunch or dinner spot around the bus station, the Pokébar located in the Twin City building is our top recommendation. It is a healthy fast-casual food concept with exotic Hawaiian dishes with a twist of the Japanese cuisine. Its colorful, fresh and tasty dishes became a number one hit right after entering the Bratislava food scene.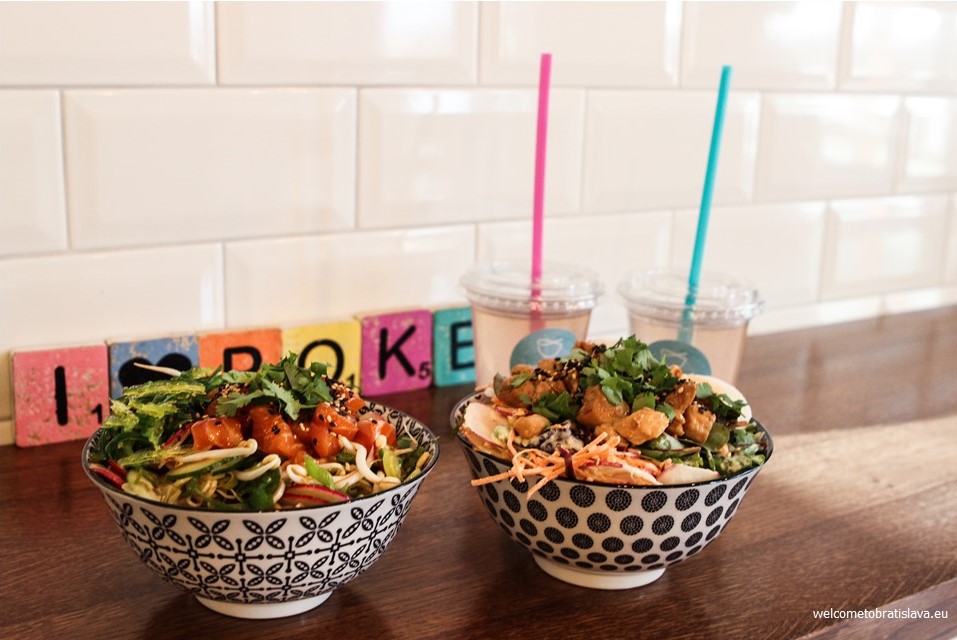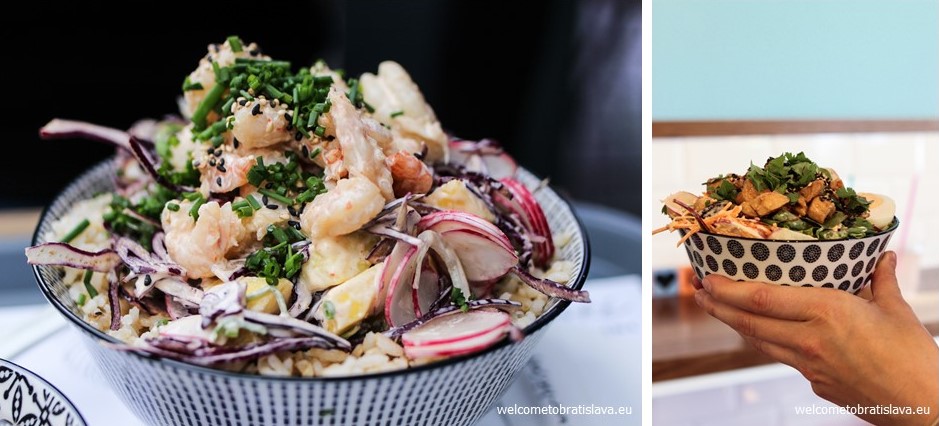 The interior reminds a colorful beach bar and is super instagram-friendly:) You can choose from the pre-set poké bowls or make your own mix-in that's just your taste. They also offer a daily soup as part of the lunch menu. BTW did you know that poké means "to chop?" This was "love at first sight" affair for us and we hope that you will enjoy it the same way:)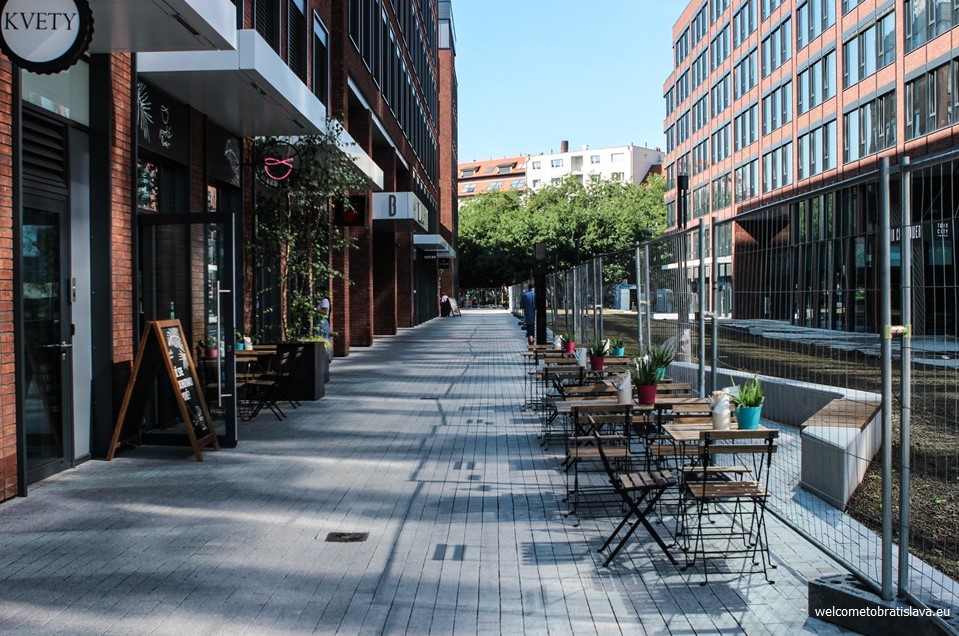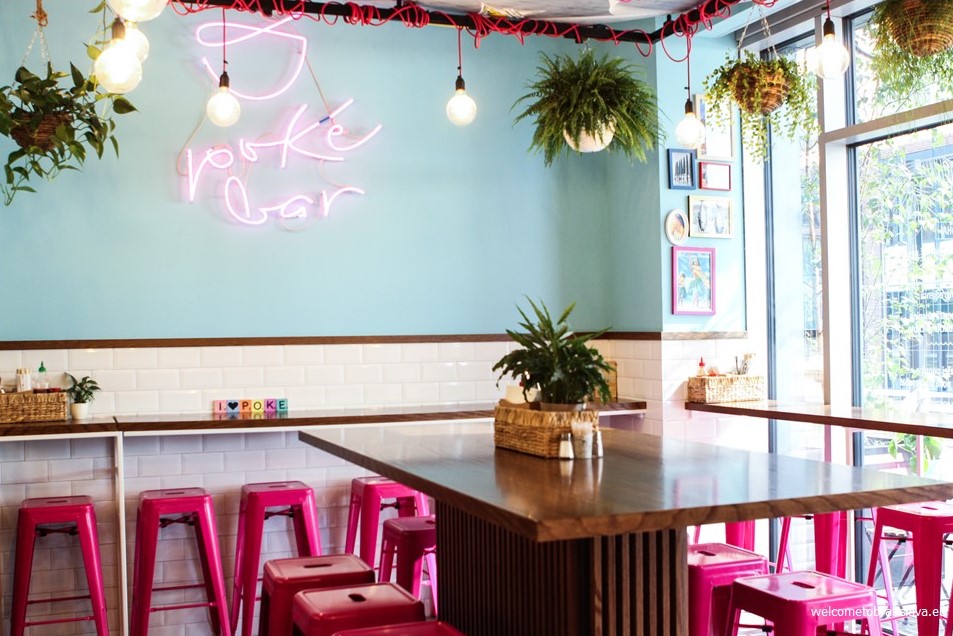 PAN KRALICEK PRIESTOR
The first place of salvation is literally a few steps away from the main entrance of the former bus station. It is located in the corner building and quite easy to find even without huge show signs. They started as a wheeled café, riding on tricycles in the city center and serving their coffee in paper cups with a peculiar logo – half man and half bunny. And now you can enjoy their great coffee in every weather, always at one place and with a restroom, too! 🙂

They have everything you expect from a great cafeteria – excellent coffee served in various ways (like luscious affogato with Madagascan vanilla, or inverted cappuccino), some nice snack to eat (try crispy, fresh waffles with whipped cream, nuts and maple syrup). They got into our hearts for serving breakfast till 15:00 on weekends. Add some local wines and craft beer, friendly staff, generous opening hours and gorgeous minimalist interior and you get a complete picture of this place!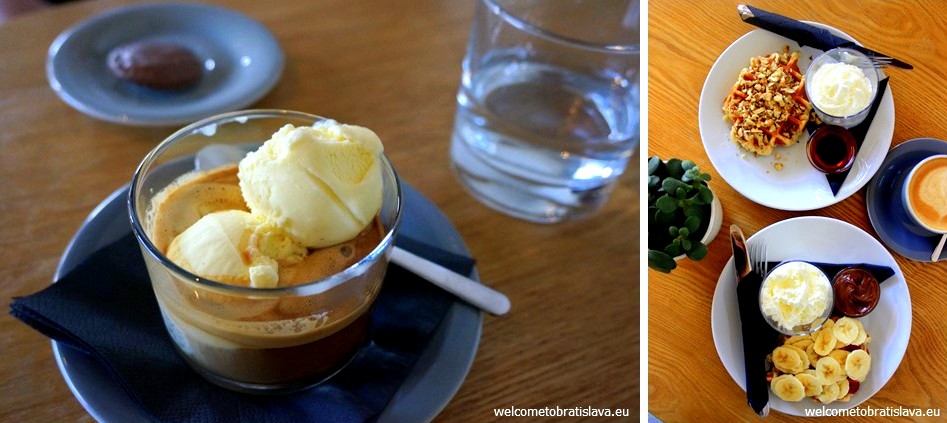 MONO CAFE
If Pan Kralicek is crowded, don't panic. Rather continue exploring the neighborhood. If you follow the Budovateľská Street deeper into the habitation, you will bump into another dandy place in a few minutes – Mono café. Hidden between apartment houses, this café is not of a kind you find by accident. Somebody must give you a tip. But if you are in Bratislava for a while and you love coffee, someone will recommend it to you sooner or later, for sure.
The reason is simple – if you are really into specialty coffee, you will hardly find a better place in Bratislava to replenish caffeine into your organism. The best coffee selection from all over the world, just like The Barn, Green Plantation, Doubleshot, Square Mile Coffee Roasters, Rebel Bean, The Coffee Collective… and some more, prepared in various ways with real passion and love. Yes, it must be true coffee love what you smell in the air of this small, pleasant place.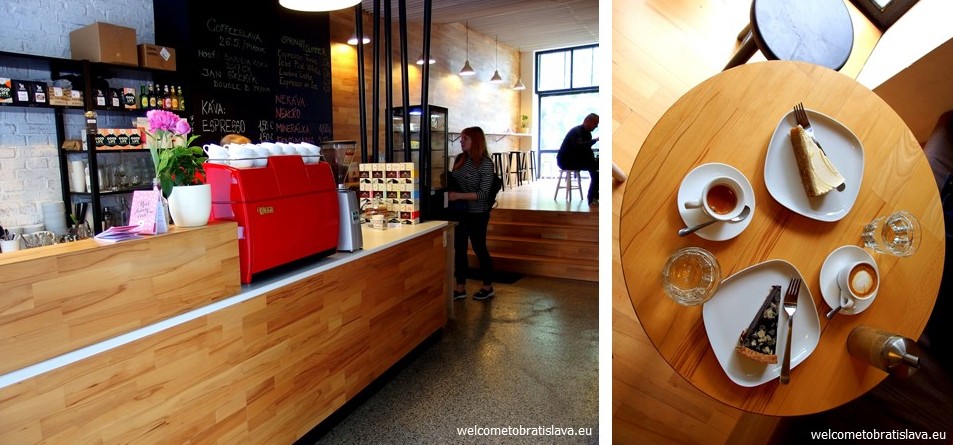 It doesn't come as a surprise, that kind and always willing barista is also an owner herself. Ask Iris, a short-haired blond lady with a girlish look, standing behind the bar, anything about coffee and you will see what a real dedication to this black beverage looks like. Grab also some nice cake and enjoy it together in this eye-pleasing interior, which reminds us of the pure Scandinavian design. Surprisingly – you can also find a small showroom of designer T-shirts there with the option to buy them 🙂 There is only one thing we do not like – Mono café is closed during weekends, what is really a pity.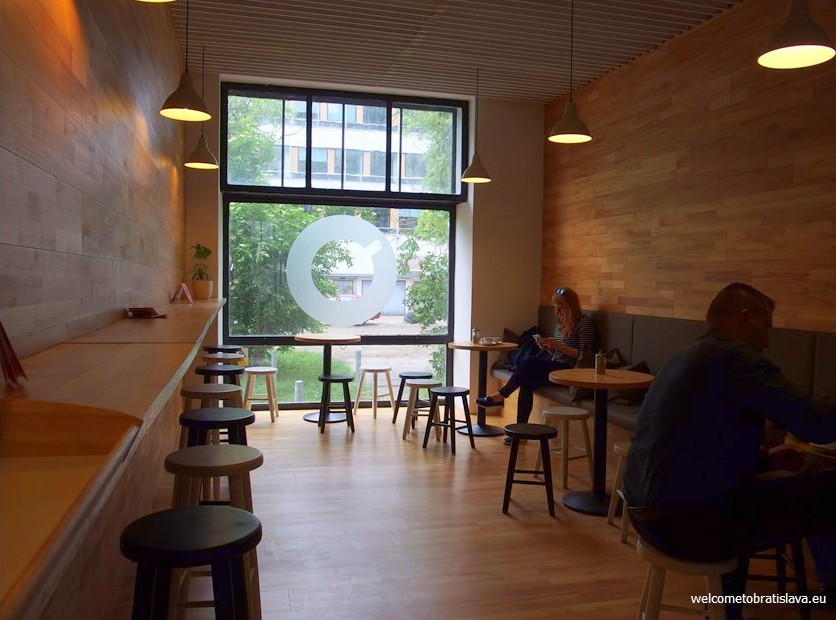 GRIN GRIN SALAD BAR
So close to Mono café, that it cannot get any closer, this is another hidden treasure of the Mlynske nivy neighborhood – Grín Grín Salad Bar. And they have much more in common than just the location in the same building. They also have equally friendly and helpful staff, beautiful, minimalist interior, similar opening hours (closed on weekends :(). And they even share the same restroom! 🙂 Your after-lunch-coffee is literally five steps away, what you can  appreciate especially when it rains. So practical and time saving!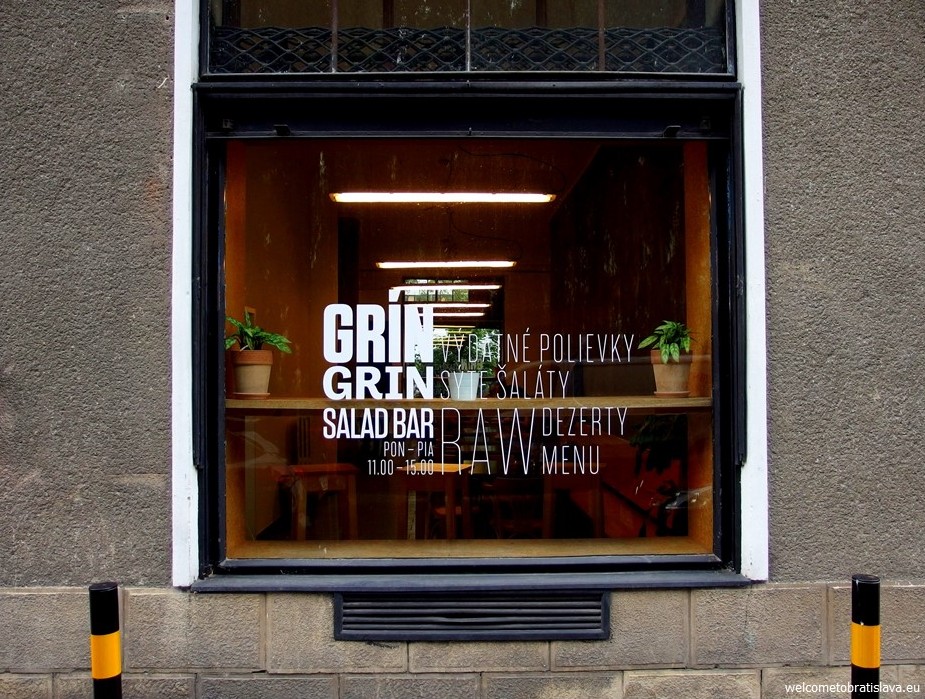 However, there is one more important reason for visiting Grin Grin: it is the food, of course! Healthy, high quality, tasty lunch and for a good price! Meat-lovers might be disappointed, as they only serve vegetarian meals. But even the biggest gluttons won't leave this place hungry, nor disappointed. You can choose from the buffet menu and the combine current offer of fresh raw and warm salads with the warm dishes. You pay for a grammage on your plate. We found the price – 1 EURO for 100 grams – fair enough. Water, usually flavoured with some fruit is for free. If you feel hungrier, add some vegetable soup and raw desert on your tray.

The food is indeed nutritious. Apart from various vegetables, you may find various cereals, nuts and seeds. They use either olive or pumpkin oil, coconut sugar or agave syrup for sweets. You will hardly find meat, eggs, sugar, wheat flour, or emulsifiers there. Sounds nice, doesn't it? Now some bad news. They are open only during working week from 11:00 – 15:00. But if you come later than 13:00, you may not get all options of the daily menu, as some food might already be eaten. Be prepared that most probably you will have to stand in a queue, but luckily it moves fast. Hopefully these few cons won't put you off and you will visit this vegetarian's heaven in Bratislava.
THE BUS STOP
On the right side of the bus station Mlynske nivy, there is a completely different experience waiting for you. When you cross the pedestrian crossing on your right, just behind the bus stop, there is a bistro named quite originally – The Bus Stop 🙂 You will easily spot this place from the distance – their stylish interior is tuned to the red colour and is inspired by the American bistro's culture from the fifties and sixties. The main eye catcher inside is a big red Ikarus bus re-made into a seating spot. Equipped with bar chairs and ashtrays, this is really an unconventional way of incorporating a smoking place inside.

We bet you will need 10 more minutes just for staring and looking around the interior. Old school street lamps, blue retro Liberta bicycle, tables made out of the stop signs, neon light, paintings on the wall, rearview mirror, or traffic lights on the way to the restroom. The interior is astonishing and thought through the last detail. Even the music selection complements the experience. They have their own "audio-guarantee", a music selector specialized in retro music.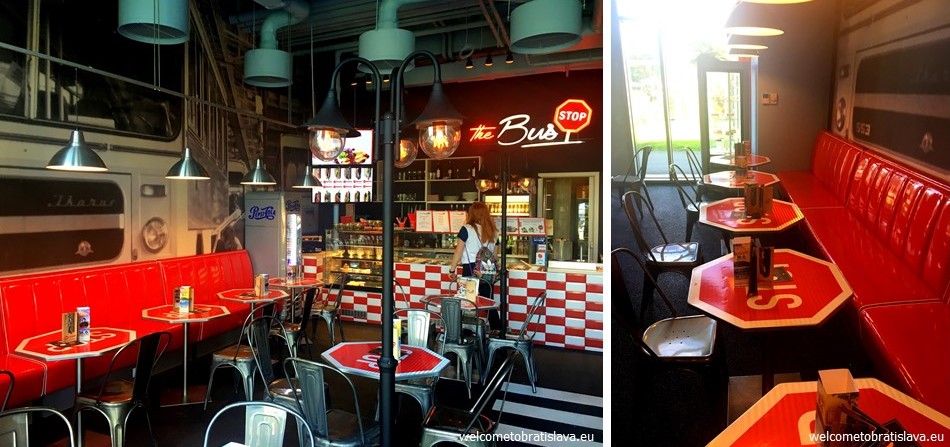 The menu is mostly about fast food – baguettes, cakes and pancakes, milkshakes and ice-cream. They also serve a few breakfast options and have nice fresh juices. What is cool and not that common in the bistro's offer is the cod mayonnaise salad, so popular with the Slovak folks! All that for a very reasonable price. For example, coffee to go is only for 0,99 EUR. But we need to say that the price corresponds with the quality. In general, it applies to everything on the menu. Simply, don't expect a gastro orgasm. But all in all, it is a pleasant experience and you will leave with a lot of cool pictures in your phone for sure.
W CAFE
Our last tip will take you closer to the city centre. W Café is located in the Wustenrot building (now you know where the name comes from :)), on the intersection of Grosslingova, Karadzicova Street and Dostojevskeho rad. Again, you can look forward to a beautifully designed interior – industrial premises, metal materials, chairs of all kinds… Might sound like a mess, but it all goes perfectly together. Maybe it is because of the background of the owners – they both studied garden architecture. You see they paid attention to every small detail and there is one strong leitmotif above it all. And that is California, baby!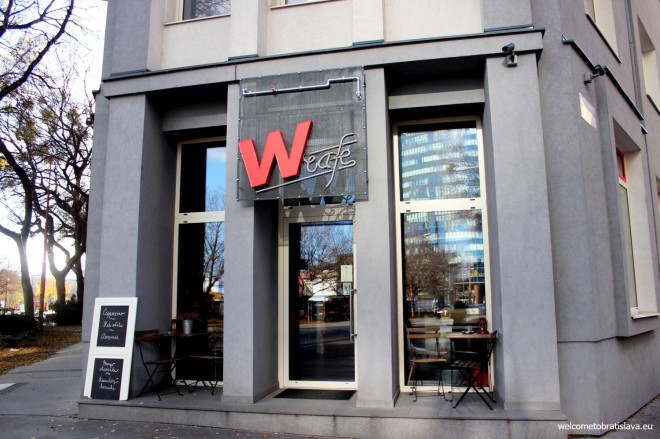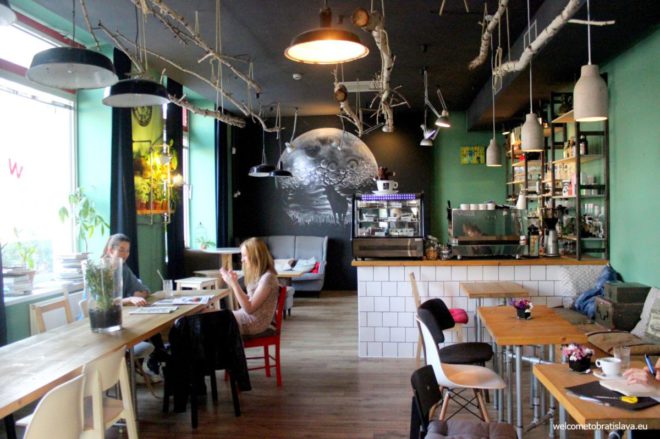 It comes as no surprise that this is the only place in Bratislava serving coffee roasted in San Francisco. Except for San Francisco Coffee Club, they also serve a Slovak brand– 9 Grams. This coffee from Žilina is one of our favourites! They clearly have a sense for offering the niche goods. The menu includes German lemonades Fritz, Lov Organic teas, Slovak wines, Czech beer… The eating options are not wide but rather tasty. Their fruit lemonades and excellent cakes are also worth trying.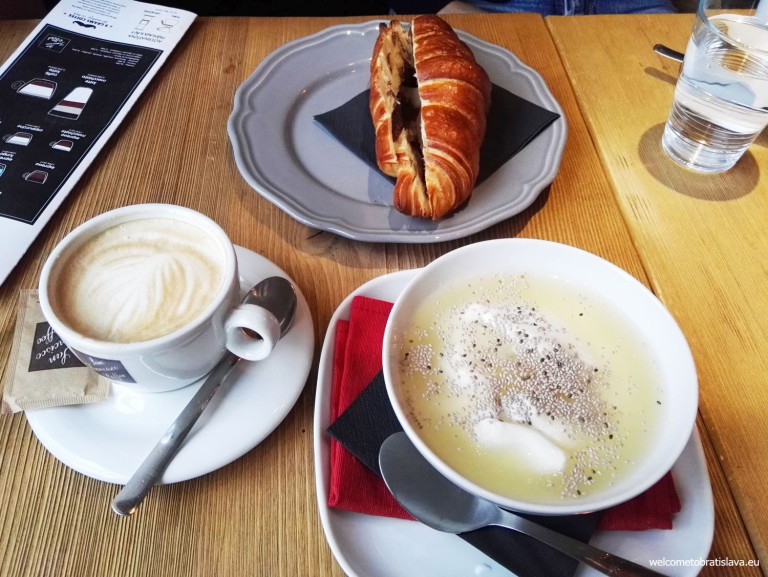 If you manage to find some time for visiting this cosy place, you won't regret it for sure. It is not only the stylish interior and fine food and drinks that will make you feel so good there. Welcoming and friendly staff has a significant impact on the good vibes of your experience as well.
Author: Eva Latakova