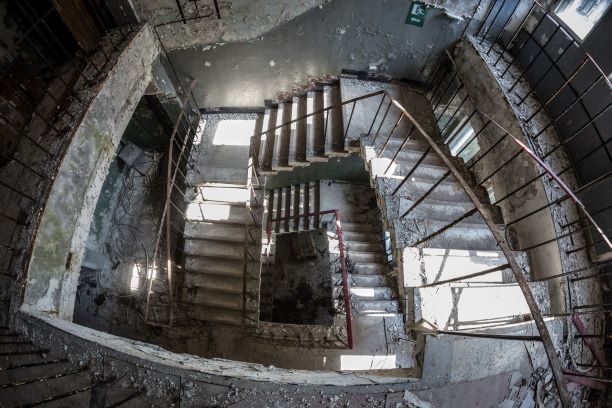 The worldwide phenomenon called Escape Room hit our Bratislava several years ago and it is still booming these days. What exactly is it? Well, imagine you get locked in a room with bunch of your friends or colleagues and have limited time to get out. There are clues and coded messages left around that you have to find and decode, using only your logic and observation skills. Got the goose bumps? Exactly! This adventurous concept guarantees fun and competition, either in your free time or as a team-building activity.
You can find numerous escape or panic rooms (sometimes even flats or houses) in Bratislava to have yourself locked up in. We have tried a few ourselves and would like to share our impressions with you. No worries, we will not reveal any details, so you can check them out yourself :)
In general, it was so much fun and adrenaline every time. Experiencing the unknown and having the brain cells challenged brought us into thrilling state of mind, which only those of you who have adventurous spirit and are fond of logical puzzles would understand. The rooms are to be booked in advance. Count with 60-70 minutes duration and teams of 2-5.
Four places based on the same concept managed to surprise us and brought diversity into the game. We would recommend all of them for different reasons. Read on to find out more!
BRAINTEASELAVA – more than an escape room
Treasure of Janosik – for those who want to experience Slovak folk history
Jánošík was a famous Slovak highwayman from the 18th century who according to legends stole from the rich and gave to the poor like Robin Hood. Because of that he is often considered to be a Slovak national hero. In this game, you will enter a rich farmer's house used by Jánošík to hide his treasure. The game has original, slightly challenging tasks. We did it just in time – 2 minutes before the execution! Check our game here.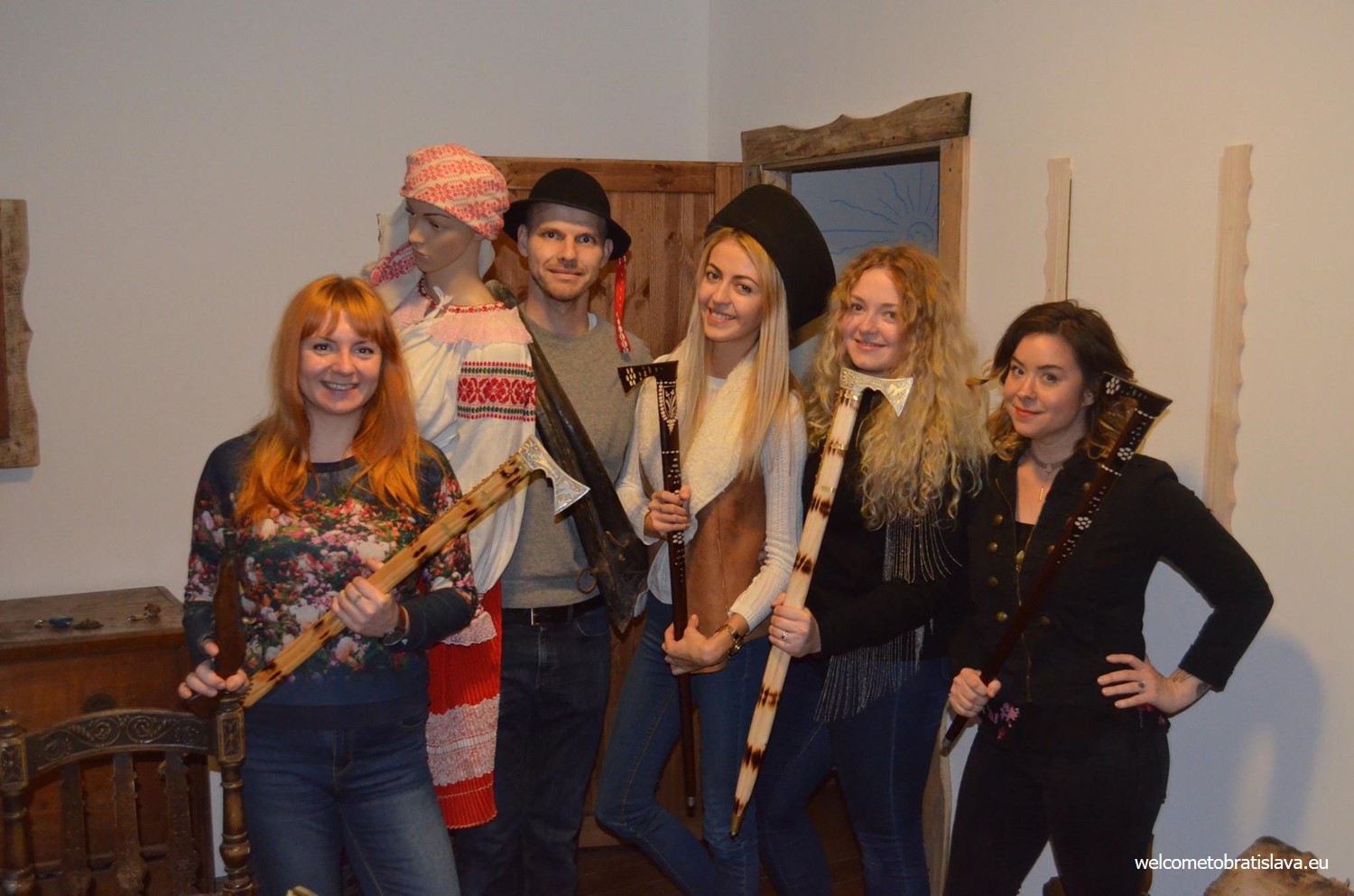 ADDRESS: Brainteaselava, Old Town


 OPEN HOURS: MON-SUN 10:00 – 22:00


CONNECT: Website


MAP LOCATION:
The Slovak Secret Security Police Room, Obchodna – for those who like history and mystery
Wow, also a nice experience! There are two escape rooms in this place and ours was actually a flat! The story was set in the past – in an apartment of an officer of a political secret service of Ministry of Interior in Czechoslovakia. We were led in the room wearing slumber masks which made it dramatic. The drama was underlined by a clock ticking loudly and counting down the time. The furniture was all from the past, however, since the premises themselves were quite new, the effect was spoiled by modern floors, walls and air conditioning.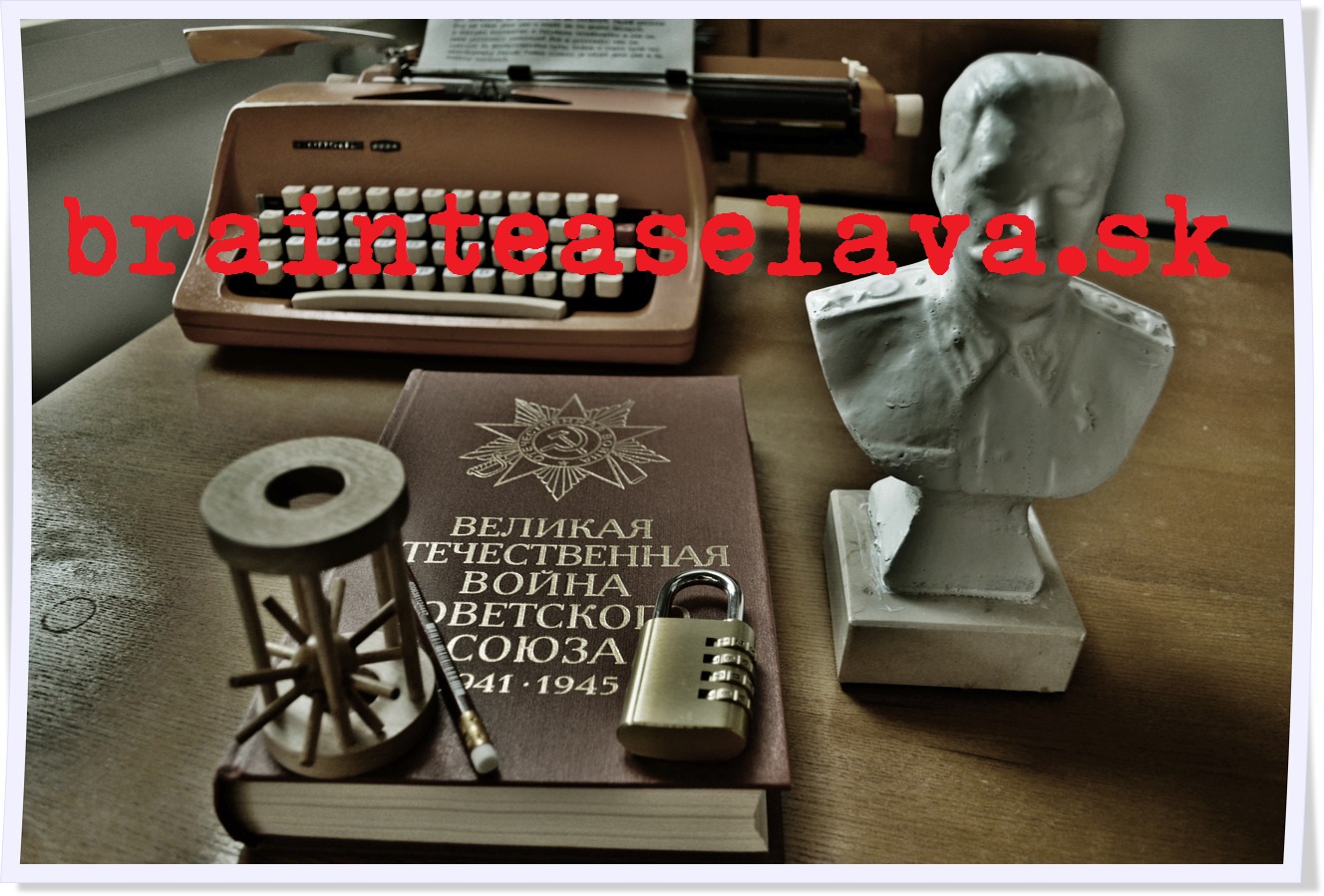 (source)
The tasks were numerous, very intertwined, diverse and challenging. They were also very original and managed to be of different nature compared to the other rooms we tried. The concept was so well prepared that the story went even further and was part of all tasks. If we moved in the wrong directions, we were contacted through the old school phone and given a hint, unfortunately with no punishment. However, we could ask at the beginning for not getting any advice at all. We managed to get out 30 minutes prior the end of game and almost broke the record but somehow it was not that easy. The game is available in English, too.

ADDRESS: Brainteaselava, Old Town


 OPEN HOURS: MON-SUN 10:00 – 22:00


CONNECT: Website, Facebook


MAP LOCATION:
Guys from Brainteaselava, besides escape rooms, offer also a murder myster dinner and a city game which we also tried and recommend.
QUESTUM – for those who love science and travelling in time and space
This was a totally wonderful experience! You can choose from two rooms – Secrets of Nikola Tesla or Ghost Stories of Socialism. Both are available in Slovak, English, German and Russian language. So far we have tried Nikola Tesla's room and would recommend it not only to adults but kids too. You have an interesting story told at the beginning, explaining your mission and bringing you back in time to the office and laboratory of Nikola Tesla. The equipment is just amazing, very technical and authentic (transported from Russia because of its uniqueness). Get ready for lights, electricity, steam, colors, sounds and much more. The concept is developed in detail and is quite challenging but manageable. You will feel like world belongs to you when getting out and bringing the infinite source of energy with you. Ghost Stories of Socialism are somewhat easier for logic but rather full of adrenaline, quite scary with real emotions, fear and thrill. Highly recommended!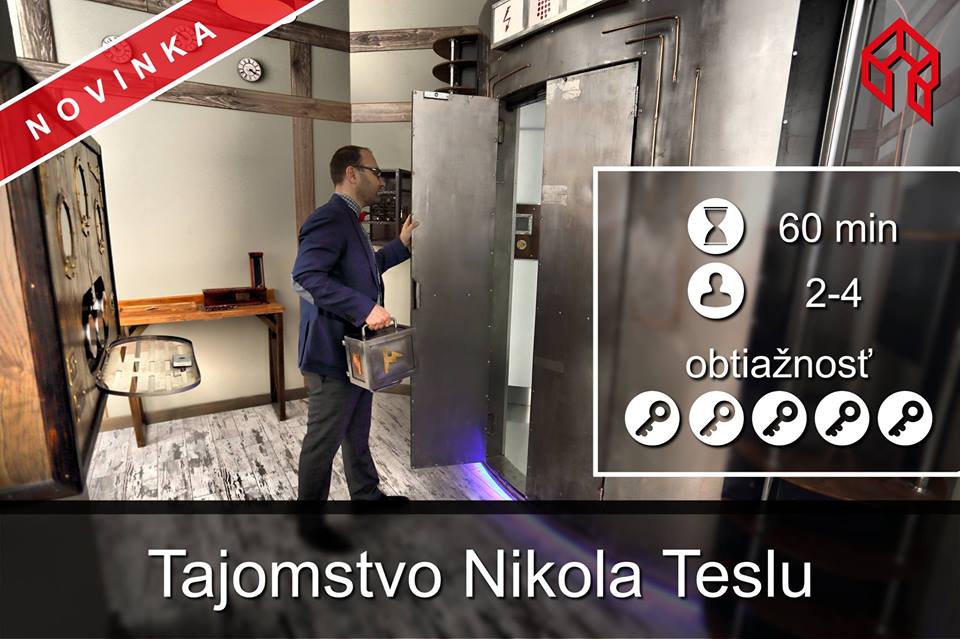 ADDRESS: Questum, Zahradnicka 72


 OPEN HOURS: MON-FRI 15:00 – 21:00, SAT-SUN 10:00 – 21:00


CONNECT: Website, Facebook


MAP LOCATION:
Law Office Escape Room – for those who like scary atmosphere
This was our first experience with the escape rooms ever. What we liked is that there was a background story why we were locked in the law office and what we were supposed to do. We were even threatened about what would happen to us if we did not manage to escape! Luckily we did in time :) The story was set in the past and the room complimented it perfectly with the contemporary furniture and style. We loved the scary music playing in the background which made us feel as in a detective movie.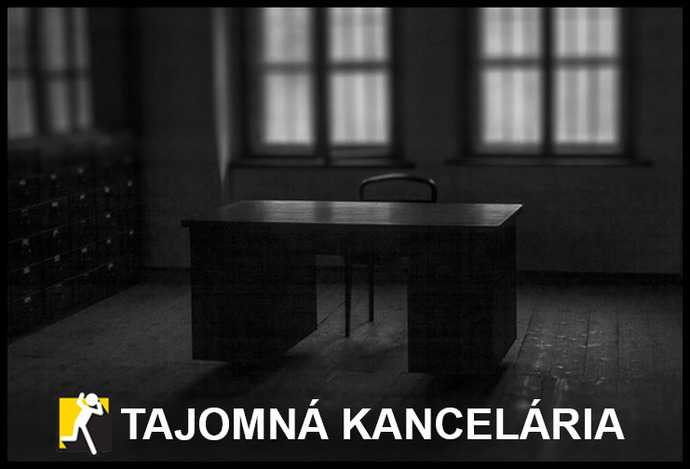 (source)
We also appreciated the fact that you had an option to ask for a hint if stuck but this was not without punishment. You were deducted three minutes from your time for each help which was quite fair. The help came in the form of mysterious texts appearing on the screen. The tasks themselves were however not that many, rather easy, too mathematical and not related as such to the story. Once you revealed the system which was not that hard, it took quite long to decode the task. This caused loss of dynamics in the game. We managed to get out pretty quickly and had around 20 minutes left. Pluses go for the creativity – each team had to come up with original name and the best teams were added on the board, competing for the first prize each month. The room is available in English, too!

ADDRESS: Escape Room, Nová Doba, Vajnorská 48


 OPEN HOURS: MON-FRI 15:00 – 21:00 SAT-SUN 10:00 – 21:00


CONNECT: Website, Facebook


MAP LOCATION:

Asylum, Cajakova – for those who like horror movies

Get ready for an adventure game during which you will have goosebumps all over your body! Asylum escape room involves actors, audio guides and thematic scenarios, to guarantee you are in alert during its whole duration. You will for sure not be able to rest and will want to get out of there as soon as possible. It took us 52 minutes to manage to "survive" which was considered to be quite a good result, however we believe that without being stuck at one or two tasks we'd have done even better. We must say that the tasks and puzzles were very thought-through so you'd better come here with a clear mind and energy to use your logical thinking fully. Good luck!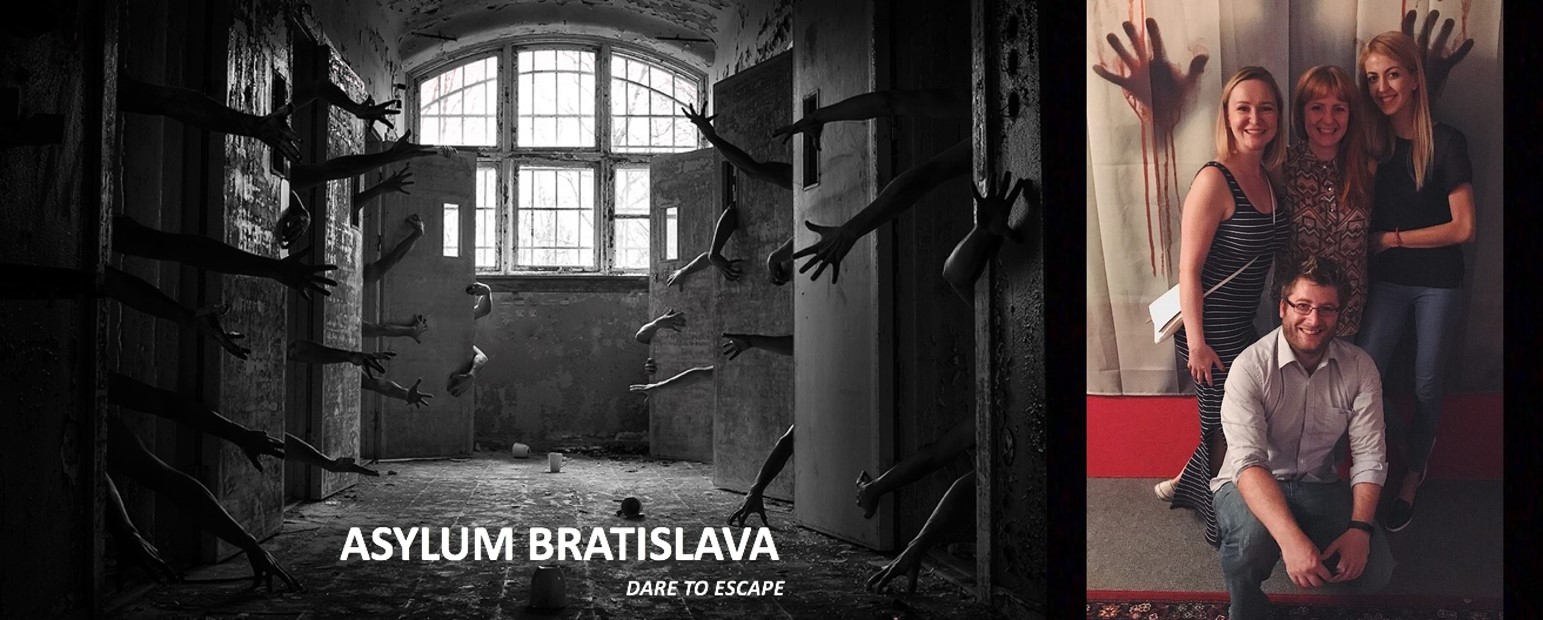 ADDRESS: Asylum, Čajakova 13


 OPEN HOURS: MON-SUN 10:30 – 22:00


CONNECT: Website, Facebook


MAP LOCATION:
GoEscape.sk – for those who want to save the world in the virtual reality
"Watch out! Asteroid on your left! Catch my shield!" A cluster of sentences we would never normally use. In reality, that is. But this ain't reality. This is GoEscape.sk, a virtual reality escape room.You get 60 minutes to master the game available in 5 languages. There are currently 2 escape rooms offered, however, GoEscape plans to add more. We chose the space mission. Not to give away too much, the view we got from standing on the outside platform of a space station was breathtaking. We must say that this experience is totally out of this world. It's simply something out of the ordinary. The staff is super friendly. Everything was well prepared, cleaned, arranged and ready to wear. After entering the Matrix we lost track of time and space, we totally forgot where we were, the only focus was on the mission and the stunning view. It may sound like we are overselling it, but the fact of the matter is that due to the novelty we had a blast. For some of us, it took a few minutes for the brain to recalibrate and get used to the feel of having real hands :) Check our full experience here.

OPEN HOURS: Check their online booking system or call +421 915 307 307


 ADDRESS: Vlastenecké námestie 7


 CONNECT: Website, Facebook


 MAP LOCATION:

Adventurous city discovery game – for those who don't want to be closed in one room but need the whole city instead
This is not an escape room per se, as you won't be closed anywhere.  We felt like including it here, as it involves cracking riddles and using your IQ to solve 14 mystical riddles and follow a secret trail by using instructions on your phone. Its other advantages are discovering the best hidden gems recommended by locals and unlocking cities' stories. Through the secret city trails game, you will learn interesting facts and urban legends about Bratislava. Trust us, it's FUN! Moreover, it was us, local bloggers, who designed the game Bratislava: History and mystery, through which we are showing you iconic sights as well as secret places and give you the best tips on where to go in our city. Plus, we think the game is really smart:) A great view is just a bonus. Unleash your inner Indiana Jones and start exploring now! Now with a 10% discount:)

ADDRESS: starting point: Slovak National Theater, Hviezdoslav's Square. Trail of 3 km.


 OPEN HOURS: daily MON-SUN 10:00 – 20:00


CONNECT: Website


MAP LOCATION:

There are few more to try and hopefully on our TO-DO-LIST soon. Here is what we found available in English language:
Paniq Room


ADDRESS: Hattalova street 12/B


 OPEN HOURS: call to arrange


CONNECT: Website, Facebook
Divny Dom (Strange house)


ADDRESS: Medvedovej 40


 OPEN HOURS: MON-SUN 10:00 – 22:00, possible to enter each two hours


CONNECT: Website, Facebook
Special tip: Standard game is in Slovak language, however if you contact them in advance, they will prepare an English version. The scary escape house from 1960's is waiting for you!
The following is available in Slovak language and therefore before booking, rather check if they can prepare the game in English:

Underarena


ADDRESS: Kopcianska 20


 OPEN HOURS: MON-SUN 18:00 – 23:00


CONNECT: Website, Facebook
Special tip: This is horror live action role play game and seems so scary!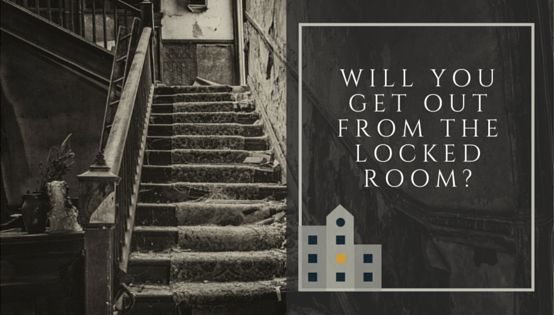 Authors: Maria Kecsoova, Zuzana Mytna