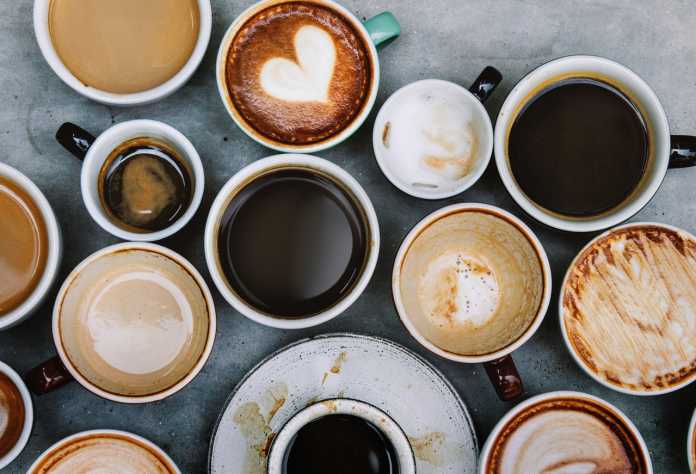 What if you wanted to hide from the main tourist spots and just relax? Here is our list of out-of-mainstream and at the same time most exciting places for coffee in Bratislava. These excite us because of their refreshing concept, specialty coffee, different vibe, or their great personnel. Trust us, each has something unique to offer.
Art Books Coffee
We call this place on the Bastova Street in the Old Town simply ABC, and as you might have already guessed, it combines a gallery, a bookstore and a cafe under one roof. Every alternative soul will find this place charming and soothing. Great for remote working or relaxing!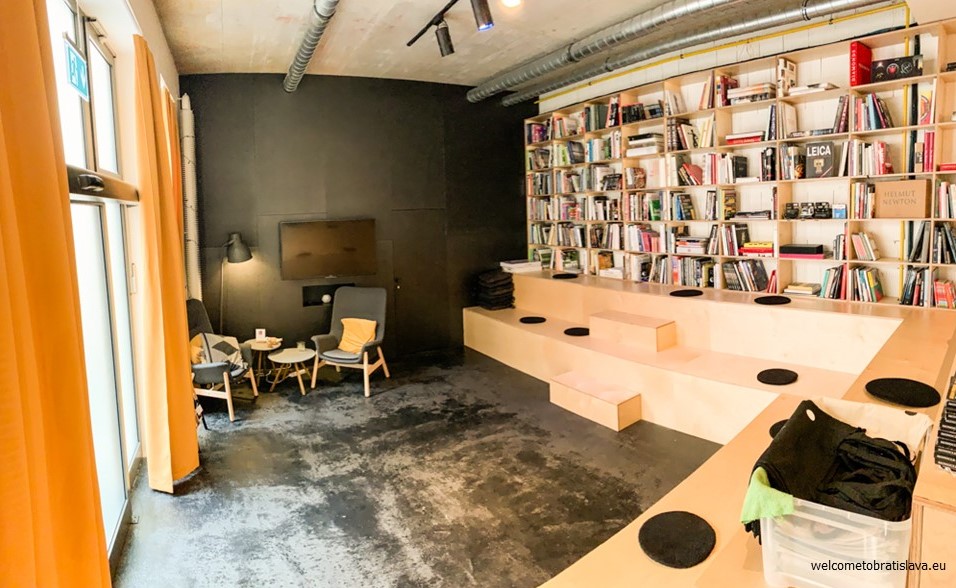 Big like for: amazing reader's corner with great book selection and imaginative exhibitions that need few moments to soak in.

 ADDRESS: Baštová 6/B


 MAP LOCATION:

Black Coffee
Definitely our hangout place during the warmer months! Its uniqueness lies in its location on the rooftop of a shopping centre in a kind of a secret Central Park. Black Coffee is different – as being a simple shipping container surrounded by greenery. Sit downstairs in the shade or sunbathe on its roof upstairs. Definitely relaxing!
Big like for: unique container concept, green area, nice people. Try their swing bench downstairs:)

 ADDRESS: Metodova 6 (OC Centrál)


 MAP LOCATION:

Black.
Petite specialty coffee place with own roastery will win your heart with its great (and frequently changing) coffee, vegan and gluten free cakes and relaxed vibe. We can describe it as very young, very hype, very itself.
Big like for: their ideology that recognizes coffee as a sweet fruit with twice as many aromas as wine.

 ADDRESS: Gorkého 15


 MAP LOCATION:

Dobrodruh
Dobrodruh is a travel cafe dedicated to all adventurous souls. Soak in the holiday mood of faraway lands and enjoy many travel related presentations and events organized here. In order to enjoy their world coffee, you need to travel to Vajnorska Street in Nove mesto municipality.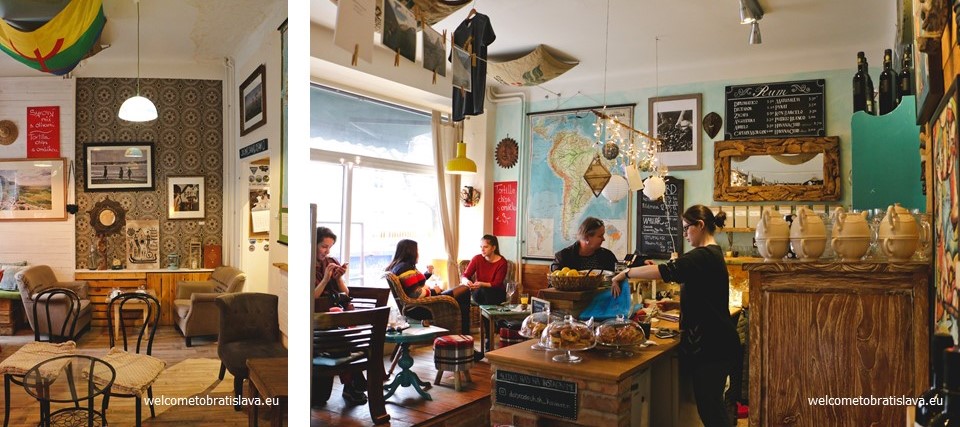 Big like for: travel souvenirs serving as authentic decorations, handful of travel guides lying around, small snacks for the hungry ones.

 ADDRESS: Vajnorská 3


 MAP LOCATION:

DOT. Espresso Bar
DOT. is a unique place for us as it is part of a contemporary gallery that focuses on the artworks that can shake the audience out of lethargy. The Espresso Bar is designed in a playful way and reminds us of a doll house thanks to the adorable menthol green color and imaginary furniture pieces painted on the walls. Must visit place for all those who expect something more from art than just sterile and bland artworks.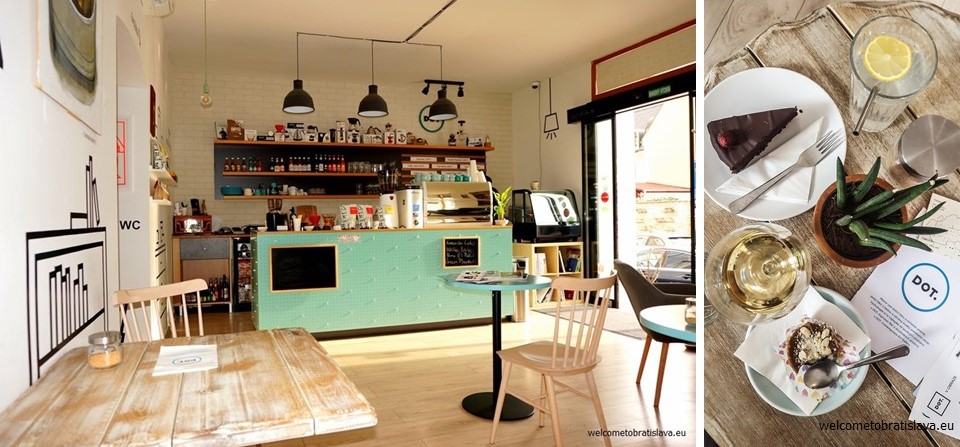 Big like for: connecting the best out of the art, specialty coffee and artistic events. Amazing paintings to stare at when savoring your coffee.

 ADDRESS: Lazaretská 13


 MAP LOCATION:

Kaficko
This snug cafe is hidden in a passage of Obchodna Street. They offer a wide selection of coffee from all over the world and have their own roastery. We love the interior and smell of fresh coffee. Highly recommended for remote working.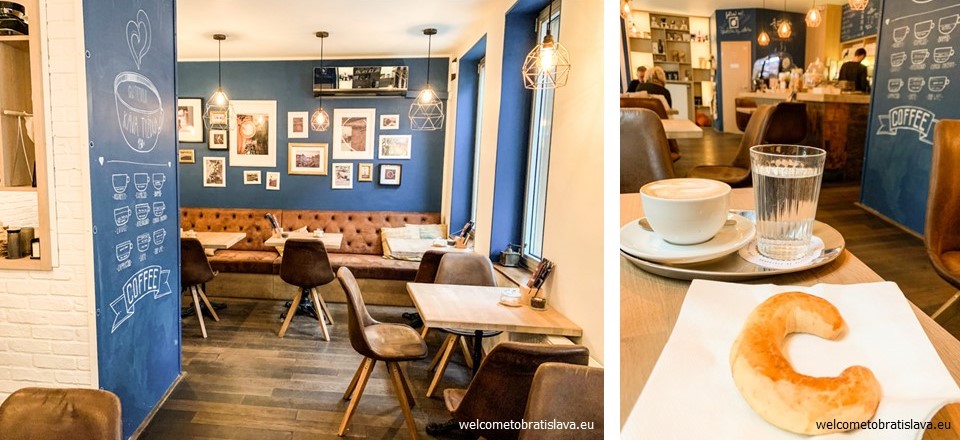 Big like for: friendly prices & cordial and young personnel.

 ADDRESS: Obchodná 17


 MAP LOCATION:

Kava Bar
A small spot with a big atmosphere. Lovely interior, welcoming service, great breakfast with home-baked croissants and amazing cakes. Stop at the Kava bar for a little Parisian charm – this place is just adorable!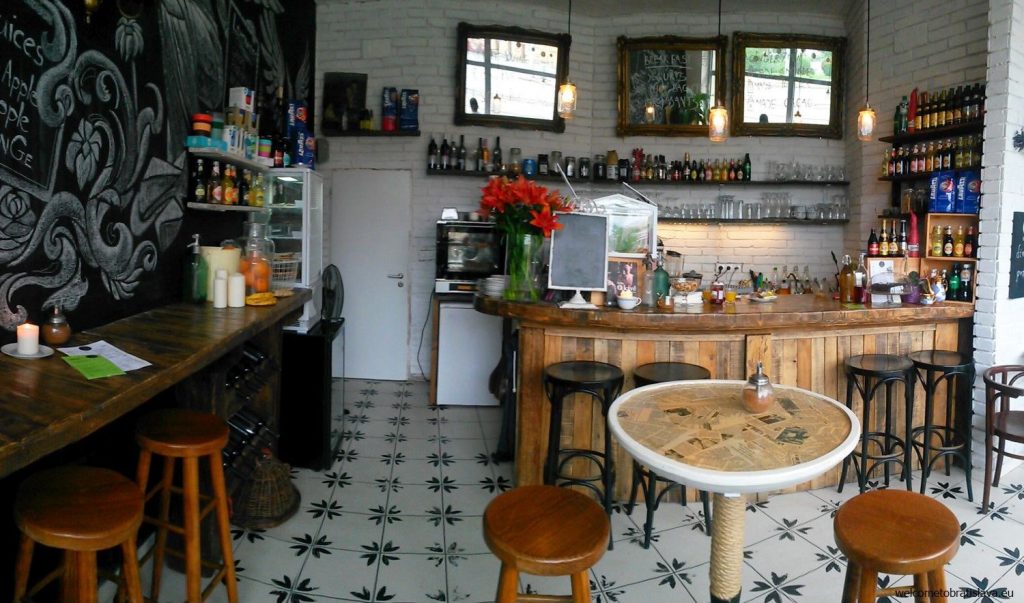 Big like for: original decor, breakfast menu and Parisian artistic feeling.

 ADDRESS: Skalná 1


 MAP LOCATION:

Mad Drop
Not just an ordinary coffee spot. It all breathes and lives with coffee here. Mad Drop is an Espresso and Brew Bar serving only top quality selection coffee, maintaining natural coffee flavors and aromas. As it's owned by a young couple, you'll notice its uniquely youthful spirit immediately.
Big like for: metal music and an enchanting coffee odor. Don't forget to try their Liquid Candy.

 ADDRESS: Radlinského 26


 MAP LOCATION:

Matsu Premium Tea & Coffee
It looks like Bratislavians have got an appetite for the green stuff, because the Japanese wonderfully versatile super green tea matcha has its own cafe in Bratislava now! Matsu premium tea & coffee is a matcha heaven, offering matcha tea or latte. We can only recommend this absolutely adorable Japanese themed tea and coffee house. If you wonder, they also serve Swedish specialty coffee.
Big like for: their authentic green tea, hipster lunch specials, amazing onigiri and matcha ice-cream waffles in an insta-worthy setting.

 ADDRESS: Špitálska 51


 MAP LOCATION:

Ost Block
Ost Block wants to show how Slovakia is still stigmatized for its former regime and is referred to as a "country of eastern Europe." Therefore they want to show the progressive part of modern Slovakia and their concept is based on the contrast between expectations and reality.
Big like for: Specialty coffee, craft beer, cute interior design and few board games to spend your time.

 ADDRESS: Blumentálska 21


 MAP LOCATION:

Panenská kaviareň
Panenská kaviareň literally translates as Virgin Cafe. It carries its romantic name after the street where it stands – Panenská or Virgin Street. Expect a petite space with few tables, gorgeous interior (no exaggeration) that looks like from a modern living magazine and the cutest coffee porcelain sets in all of Bratislava. Each cup and plate is unique and looks like from an antique shop.  

Big like for: tasty croissants and original interior pieces such as sewing machines converted into tables or DIY 3D frames hanging on the walls! And many, many plants…

 ADDRESS: Panenská 18


 MAP LOCATION:

Pan Kralicek Priestor
Once only a wheeled cafe, serving tasty coffee in paper cups from tricycles in the streets of the city center, nowadays a hipster hangout with smiling personnel and various coffee specialties. We like to describe this place as sheer minimalism and functionalism in its most beautiful form, with a pinch of industrialism and exposed red bricks. Great place, especially for the young crowd :)
Big like for: amazing affogato, worthy of committing a sin, with a scoop of Madagascan vanilla ice cream or an inverted iced cappuccino.

 ADDRESS: Budovateľská 2


 MAP LOCATION:

Vespa
When asking our readers about good coffee for a reasonable price, Vespa was THE place. We have been visiting mostly the branch on Moskovska Street and have to confirm that the atmosphere of this place reminds us of Italy. Many customers stay surprised that the owners are not Italians as they managed to create a very authentic Italian feel. Our feelings about this place are mixed but our readers' opinion matters, so here you go:) Rather go for an espresso here and forget the milky cappuccinos or lattes.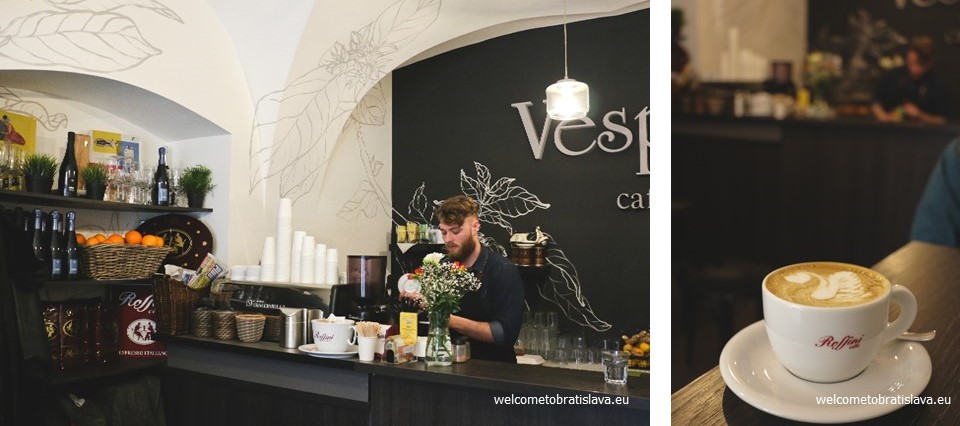 Big like for: warmly served croissants that we keep dreaming about :P

 ADDRESS: Laurinská 11, Mliekárenská 1, Moskovská 1


 MAP LOCATION:

W Cafe
This stylish hip cafe can be found a few minutes walk from the main bus station. Its specialty coffee is roasted in San Francisco and an always changing interior makes you want to return to see its new look. We experienced several of its faces already – old factory industrial look, enchanted forest or green jungle craziness:) 
Big like for: grand space and abundance of sockets for your remote working.

 ADDRESS: Grosslingova 62


 MAP LOCATION:

White Dragon
For students living in the university town Mlynska Dolina, White Dragon is no new name on the coffee scene. This means that you have to travel outside of the city center to experience its unique vibe. We love that it is inspired by the sci-fi and pop culture and the influence of the new wave of the technological elite of the neighboring companies have had a noticeable impact on this cafe, too. White Dragon is also known for great lunches inspired by various world cuisines. Again, the young crowd will especially love it here!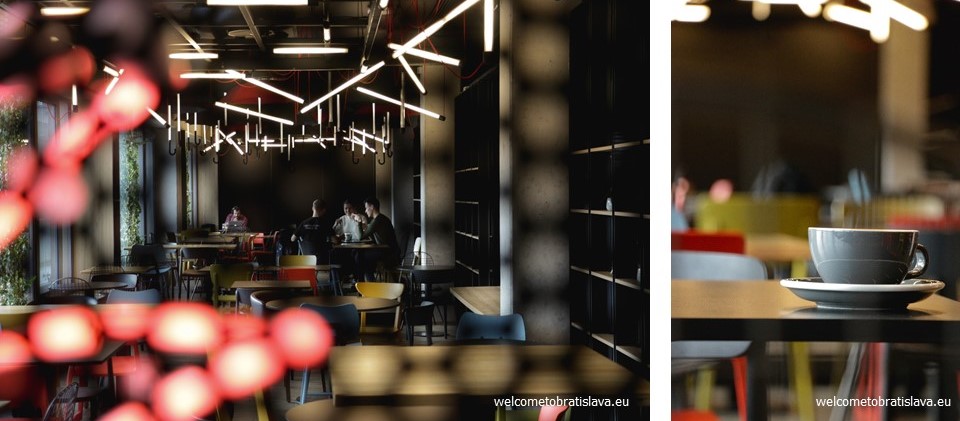 Big like for: super friendly staff – even if you break their cup and spill your coffee all over the place (true story), they keep smiling at you (and it looked sincere:D). 

 ADDRESS: Staré Grunty 18


 MAP LOCATION:

Author: Zuzana Mytna