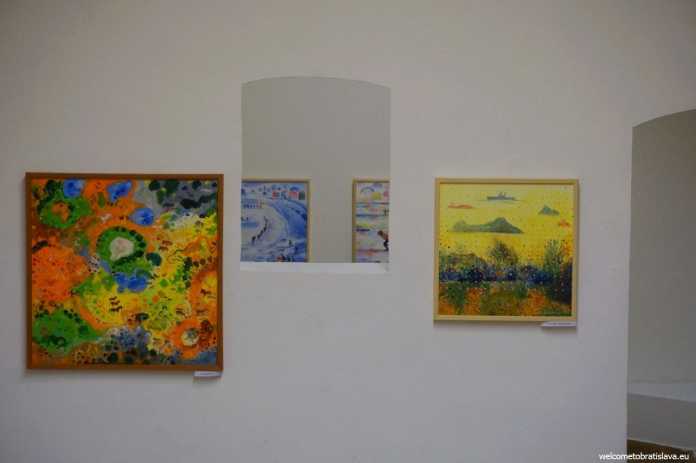 "The gallery for everybody" – this is how the F7 Gallery is called, as it exhibits works of professional as well as non-professional artists. A cute small place hidden in the heart of the city center which is open to public without any admission fee. A short inspiring stop to make during your walk in the Old Town :)
LOCATION
F7 Gallery is seated at Františkánske námestie (square), right next to the Main square with the traditional markets and the Old Town Hall. It is housed in a beautiful pale pink building which was built in a Baroque style in the 18th century and is our cultural monument.

You will need to enter a big dark wooden gate which at the first sight might seem to be locked – but it isn't. The door is usually closed but you can open it easily (if you come during the open hours of course) :)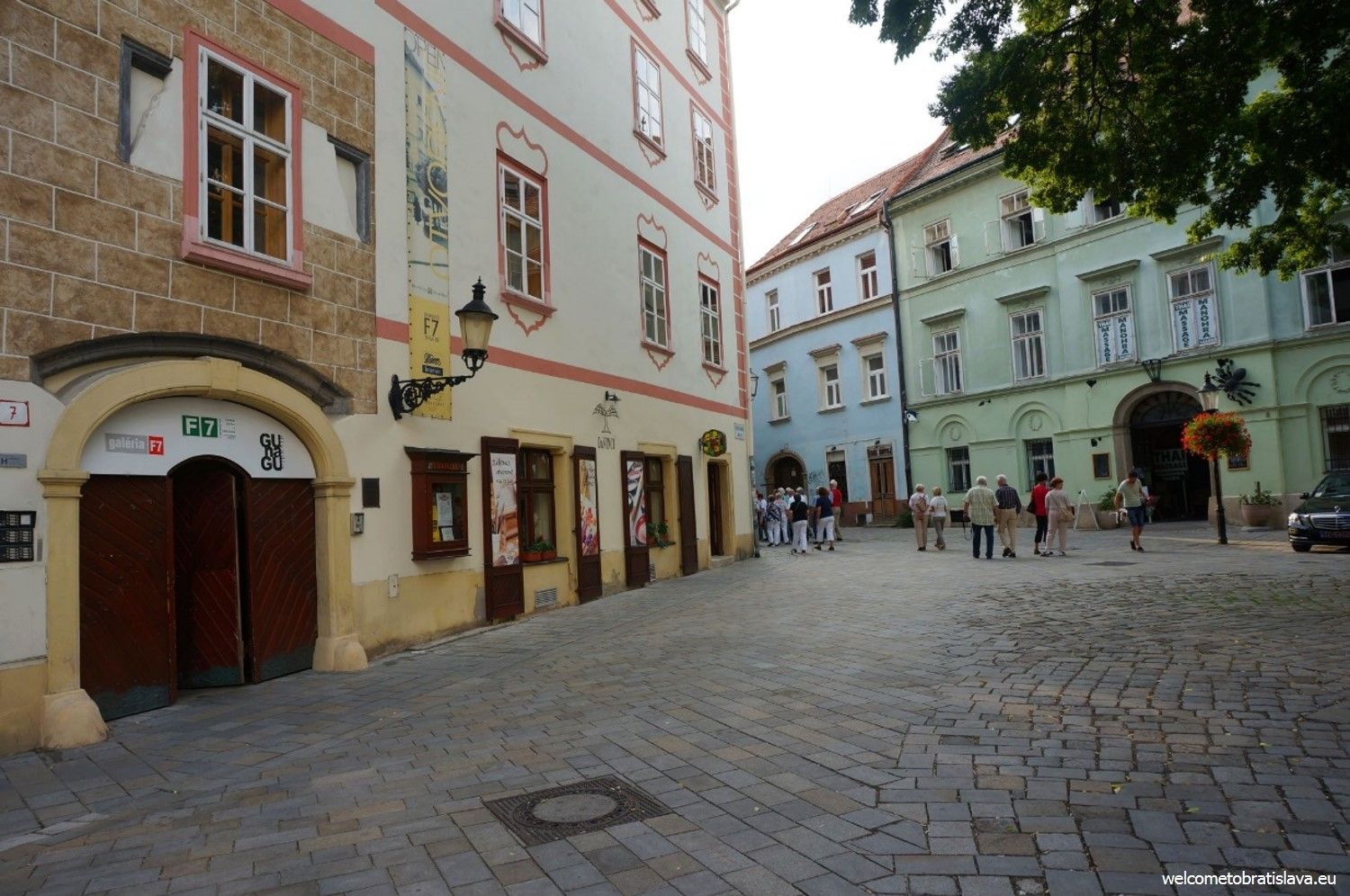 There will be a small corridor with a few more wooden doors. One of them is an entrance to a local theater called GUnaGU – both the theater and the gallery are administrated by the city. We love the tiny courtyard with balconies full of flowers, which are in the middle of the corridor – it gives the whole place an Italian look. Make a few more steps until you see a narrow door with a "F7" sign – this is where you want to go.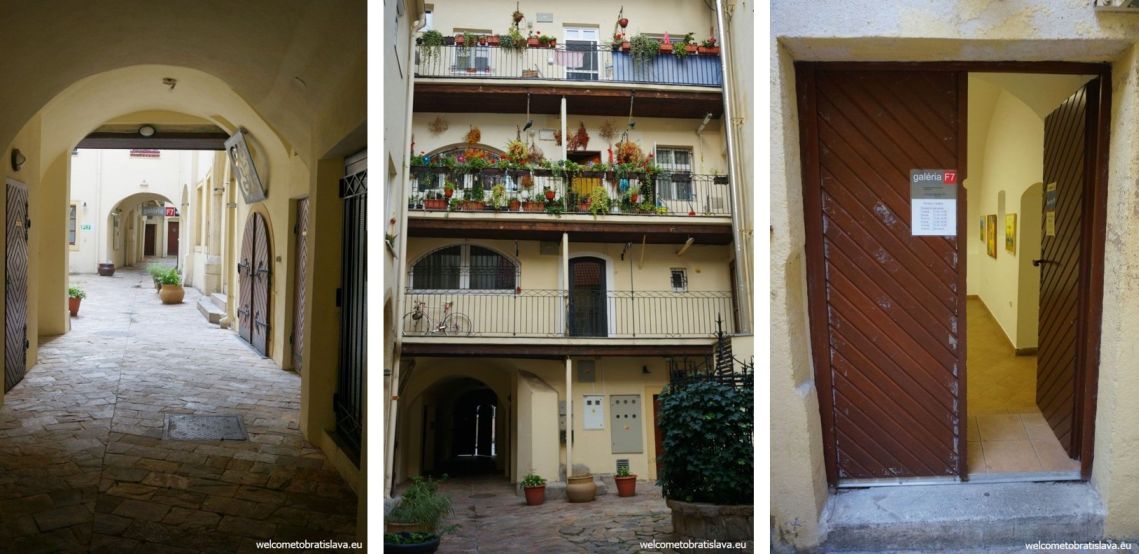 WHAT TO SEE IN THE F7 GALLERY?
A very friendly elderly lady will welcome you right after you come in. You will see there are three rooms inside, all painted snow white, so that you don't get distracted and the exposed paintings get the main attention.

The F7 Gallery is know as the "gallery for everybody." That means it exposes works of professional as well as non-professional artists. Want to have your works hung here? No problem, just contact the owner and wait something like half to one year – this is how long the queue is :) There is a new exposition each month, and sometimes the works change even more – each two weeks.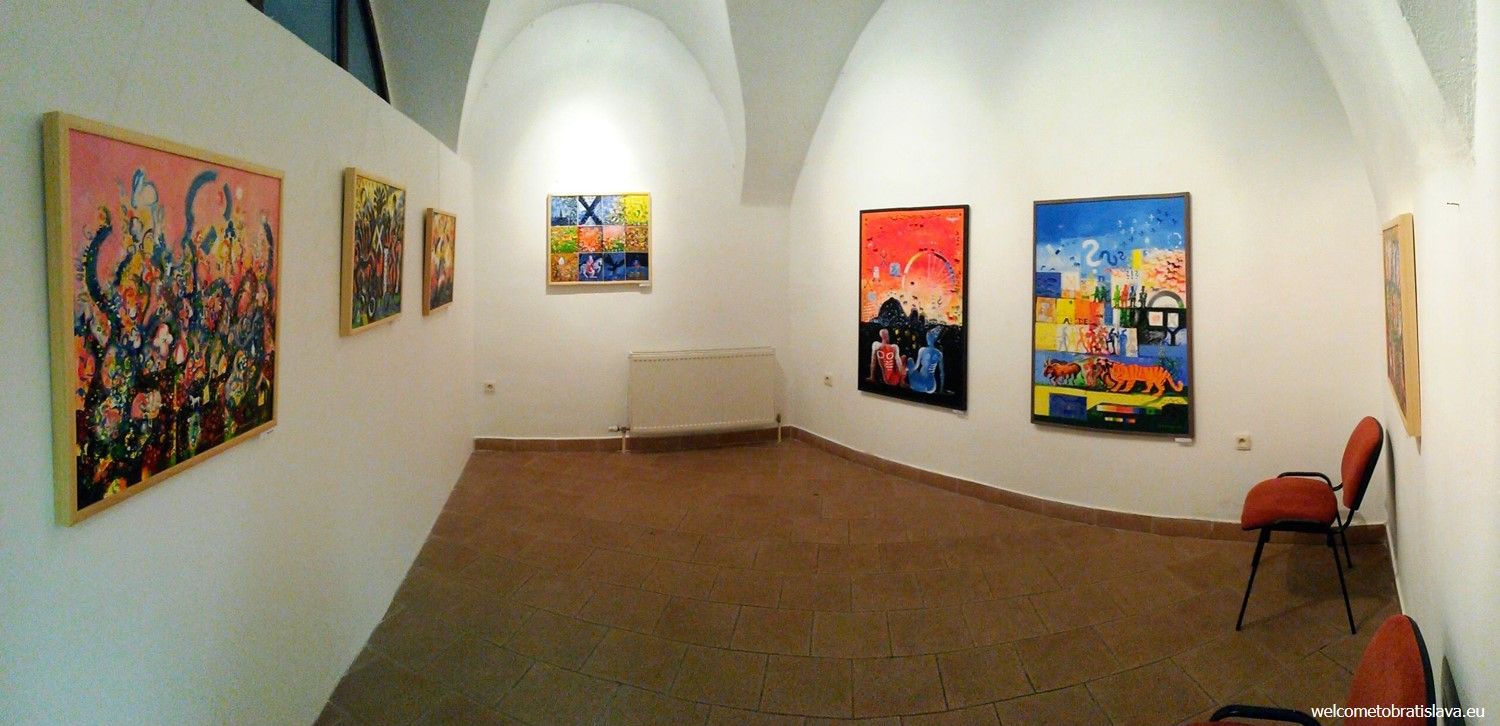 The whole interior looks very calming and fresh. We like especially the cute open "window" in one of the walls that separate the rooms. You can see through the whole gallery from certain angles :)
If you like any painting and you want to buy it, you might be lucky here. Sometimes it happens that artists offer their paintings for selling. You will need to ask the lady that oversees the gallery whether the current works are of disposal. Because there are no price tags attached to them, so you would not know otherwise. How it works is that if the artist offers certain works to purchase, he gives the lady a list of those specific paintings. If you are interested, this nice lady will give you the contact to the artist.

One small note: you'd better write down these few words: "da sa nieco kupit?" That means "is something for sale?" – as I highly doubt that the lady speaks any word of English. But you are welcome to try :)
This gallery is a great stop for your wandering in the Old Town. It will not take you more than 15 minutes and is literally a few steps away from many other places you should see, such as the oldest souvenir shop, Michael's Tower or Primate's Palace.
Author: Maria Kecsoova

OPEN HOURS: TUE-SAT 15:00-19:00


TICKETS: free admission


ADDRESS: Františkánske námestie 7


MAP LOCATION: