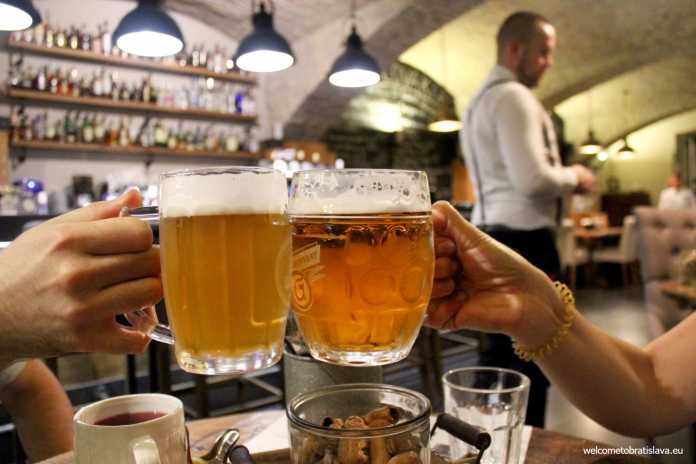 Fabrika deserves to be listed among the best beer pubs in Bratislava, with its noble and stylish ambiance, professional staff and great home-brewed beer. Why is this place one of the best in town? Let's take a closer look…
LOCATION
Fabrika is easy to find, especially if you travel to Bratislava by train, as it is a short walking distance from the main train station. You simply walk towards the city (south from Hlavná Stanica), cross a large bridge to get to Stefanikova Street, and continue walking south towards the Grassalkovich Palace. You will see Fabrika on your left side – it is next to the Hotel Loft.
INTERIOR
Let's be honest, not many beer pubs in Bratislava pay special attention to the interior or overall visual experience for their customers, however, at Fabrika this is a priority. The walls here are not just to protect you from the wind and rain, and the furniture is not only there to provide a seat for your butt. The layout and decor all work together in harmony to create the best possible drinking experience.
The charming atmosphere makes the beer tasting experience that much better, as do the stylish uniforms of the staff and their very professional manners. Even the food and the way it is served looks perfect. The only downside, however, are the prices – a bit higher than the average Slovak beer pub. But if you want to have a regal beer and a memorable experience, it is well worth the price!
WHY FABRIKA IS SPECIAL AND WHAT TO TRY
Fabrika has several of its own draft beers. For example, their "FABRIKA F 12°" is a Pilsner type lager made of Moravian barley and Czech hops. This beer features a rich foam, is traditionally more bitter and is brewed directly on site in Fabrika. "FABRIKA F 14°" is an American Pale Ale with a fruity aroma but bitter taste and is also brewed onsite. Still not enough? You can also try their light wheat beer, dark lager, or their dark stout brewed in the "foreign extra stout style". This dark stout has lovely complex hints of roasted coffee and chocolate flavors, while also retaining a light caramel fruitiness.
When it comes to food, they have a regular menu which includes traditional meals going well with beer, such as beer cheese or other types of cheese, potato pancakes, baguettes, white pudding, fried onion rings, nuggets, chicken wings or tortillas, grilled sausages, burgers, steaks, goulash, schnitzel or even pasta and fish & chips. Salads and soups are on the menu, too. During the week days they also offer a daily lunch menu (from 11:30).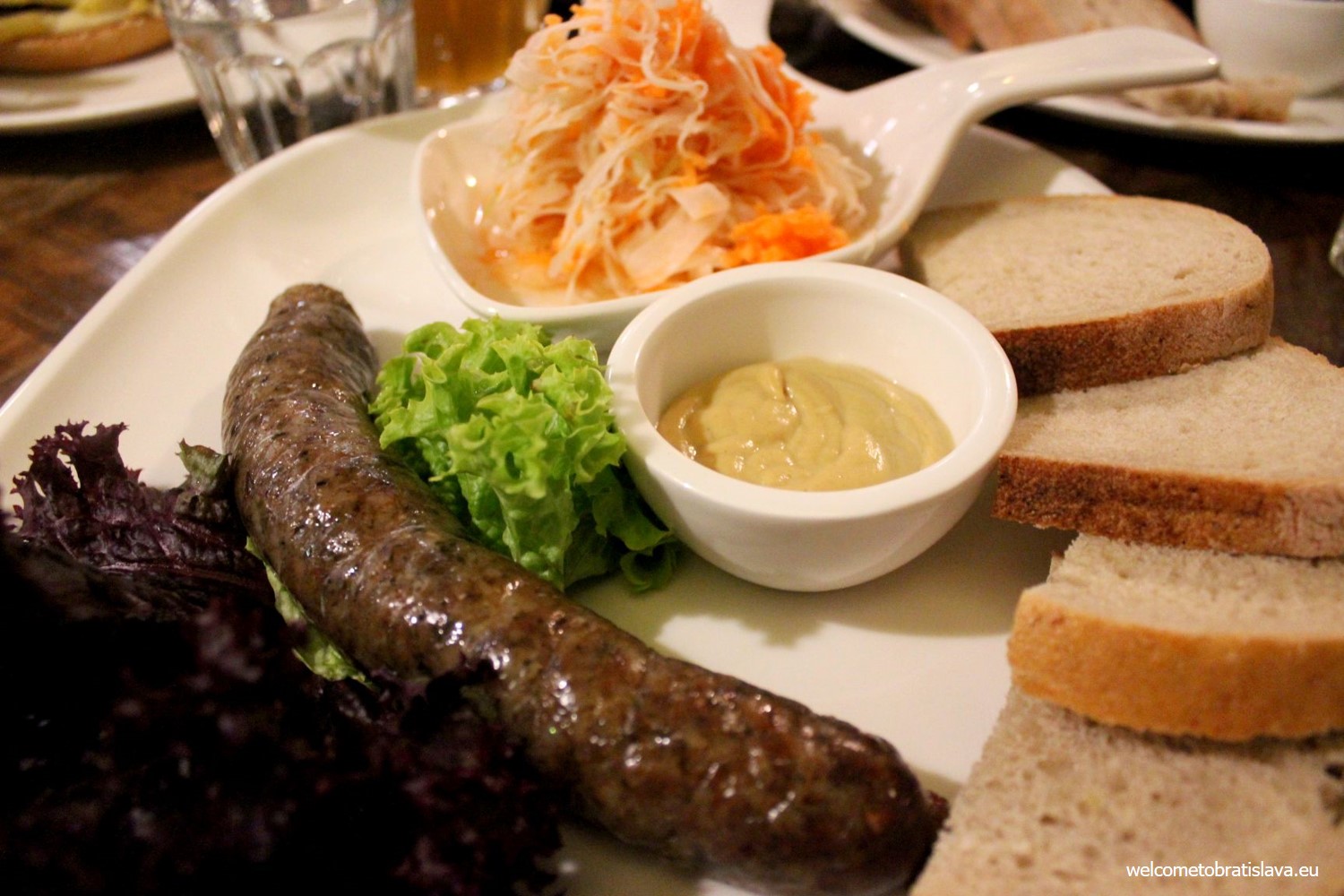 It is unfortunately not common to get anything for free in Slovakia, but at Fabrika, you are served peanuts automatically, and the bowl is constantly refilled.  They take good care of you! All this explains why many tourists, locals, and expats seem to be drawn to this fantastic beer pub.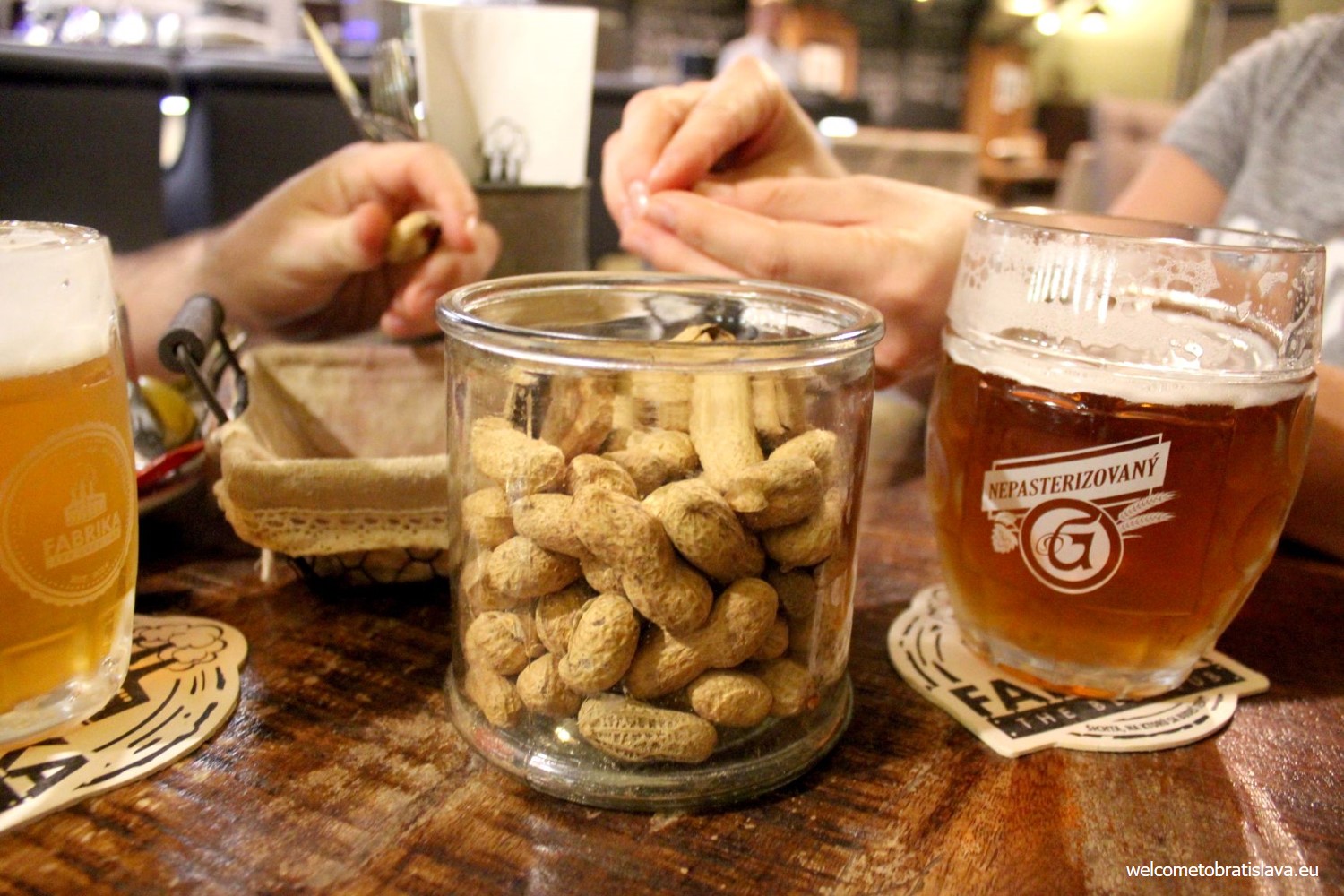 Special tip: enjoy popular food and beer pairings at a well-loved local brewery!
Author: Eva Latakova

 ADDRESS: Štefánikova 4


 OPEN HOURS: Check the Facebook site


CONNECT: Webpage, Facebook


 MAP LOCATION: