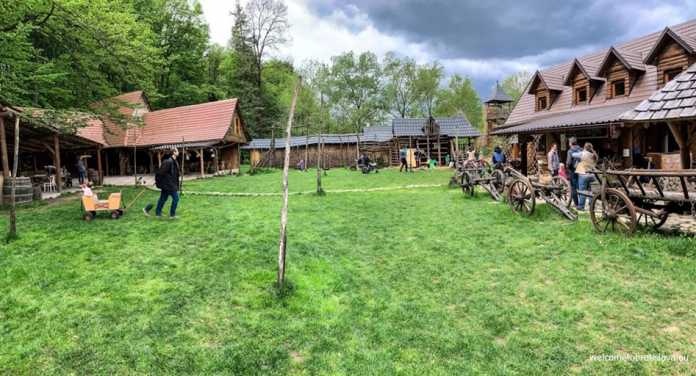 A blacksmith, a miller and a shepherd meet near a pond. This is not the beginning of a joke, this is the reality of Abeland, a small ranch near the village of Zohor. If you ever run out of inspiration for what to do on a Saturday, this place is a safe bet.
A perfect opportunity to escape the rat race, go offline and experience life the way it once used to be.
LOCATION
This paradise for families with small kids is a mere 30-minute drive from the city center. Take the highway to Brno, and after around 20 km take a right turn to Lozorno. About 1,5 km into the village, take a right turn, there's a sign of Abeland. From there it's just about going straight until you reach your destination.
You will eventually get to a No thoroughfare sign. If you feel like walking for a few minutes (only about 250 m), let your hyperactive kids run out of gas a little, you may wanna park there. In case of sore legs just drive through, there is a parking lot in front of the ranch.
EXTERIOR
Adam, Eve, where are you? The parking place, an indelible mark of civilization, aside, as soon as you get past the gate you will forget where you are. Intense green emanates from all around.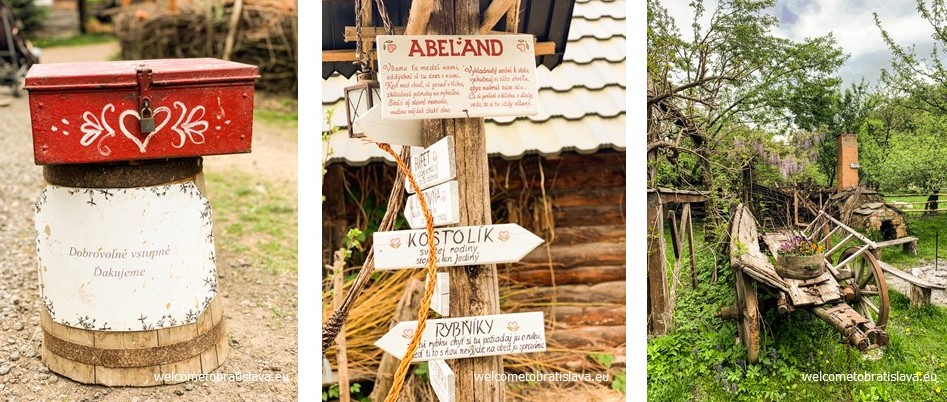 The cacophony of a busy city is replaced by a mild "bah bah", the clink-clank of the local blacksmith, the rustling of the leaves and children's laughter. No wonder this place has such a name – it's a land on its own. There's a pond, a herb garden, a fold, a playground, a mill, a church, a dance floor or even a tea room. No need to quibble about where to go. Just let your little rascals loose and wherever they go, they remain within sight.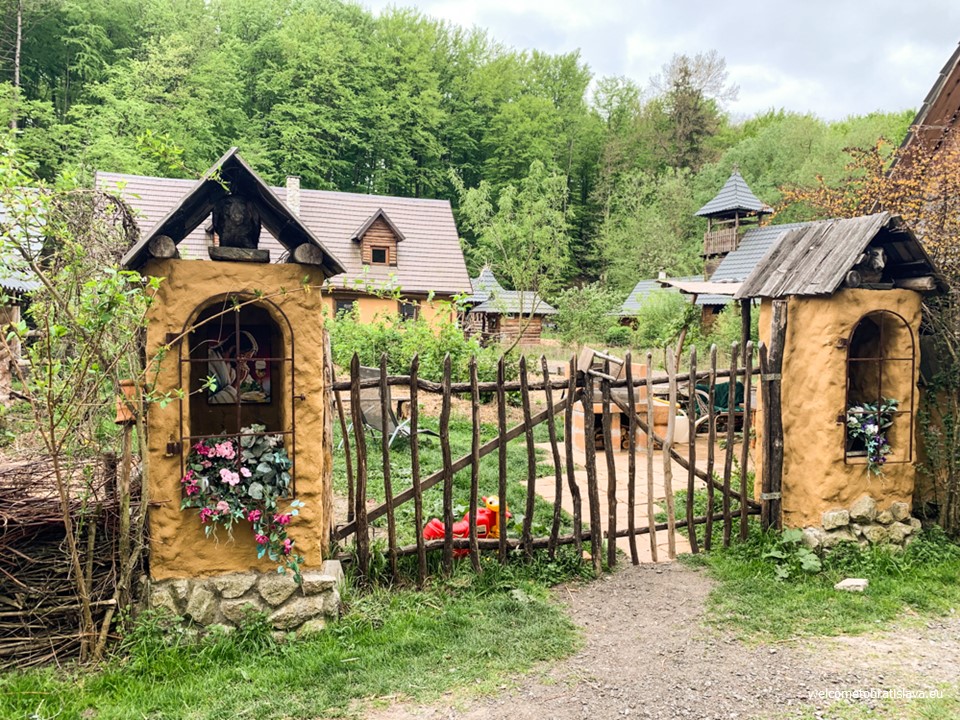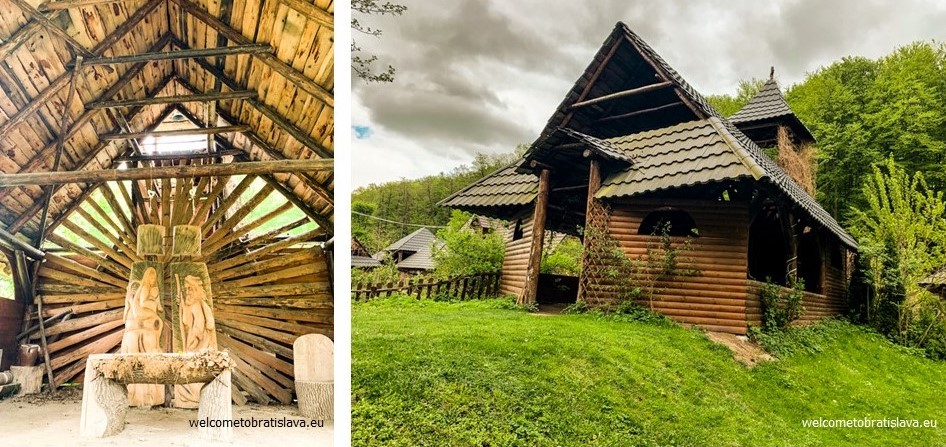 HOW IT WORKS
Abeland is a family farm with Mr. and Mrs. Abel in charge. In fact, you will find 3 generations of them on the ranch. Essentially, this is their property, but they feel like sharing what they have with the 'urban folk'. This happens only on Saturdays. The admission is voluntary, feel free to contribute after your experience.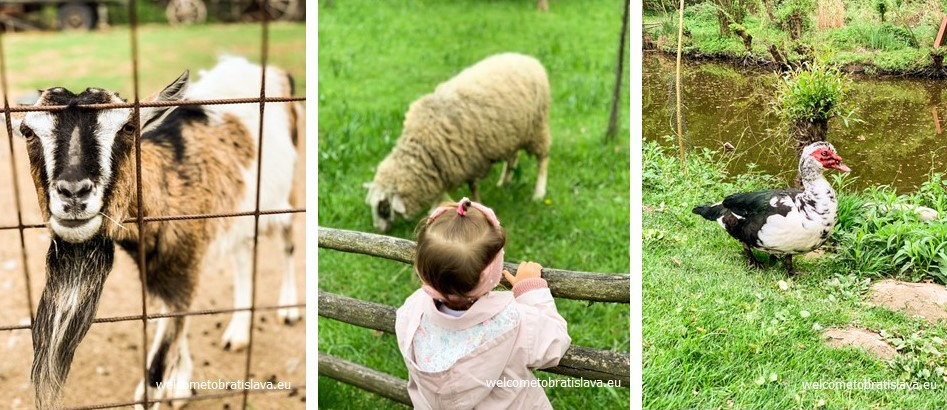 Walk around and do what you desire. Ride a horse, stroke a lamb, make a horseshoe with a blacksmith, take a pottery class, name the herbs in the garden or even ruminate in the gazebo-like wooden church.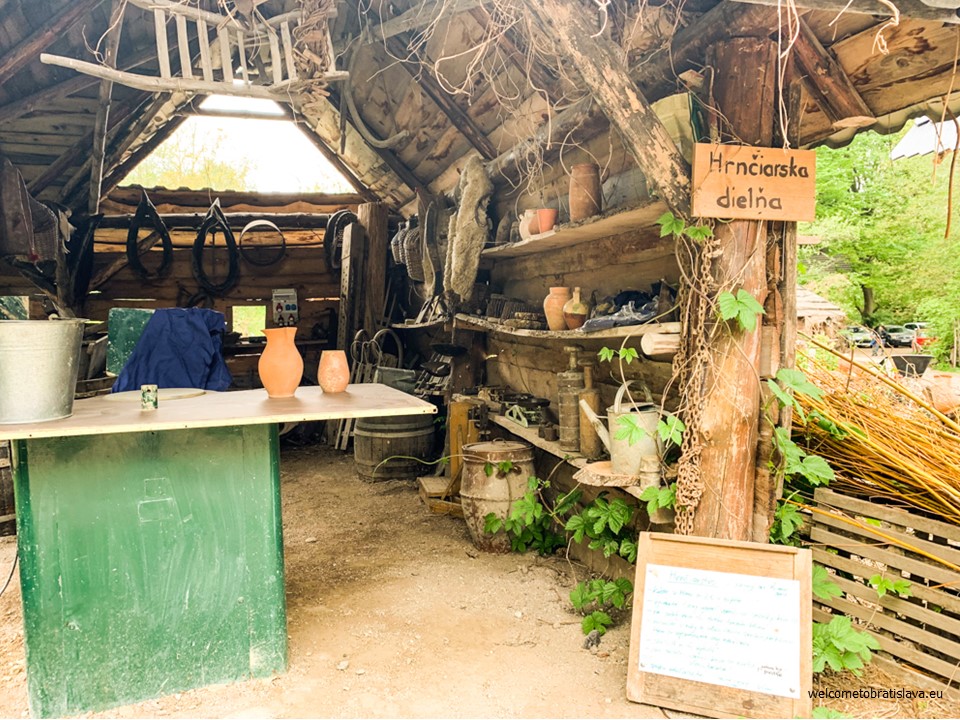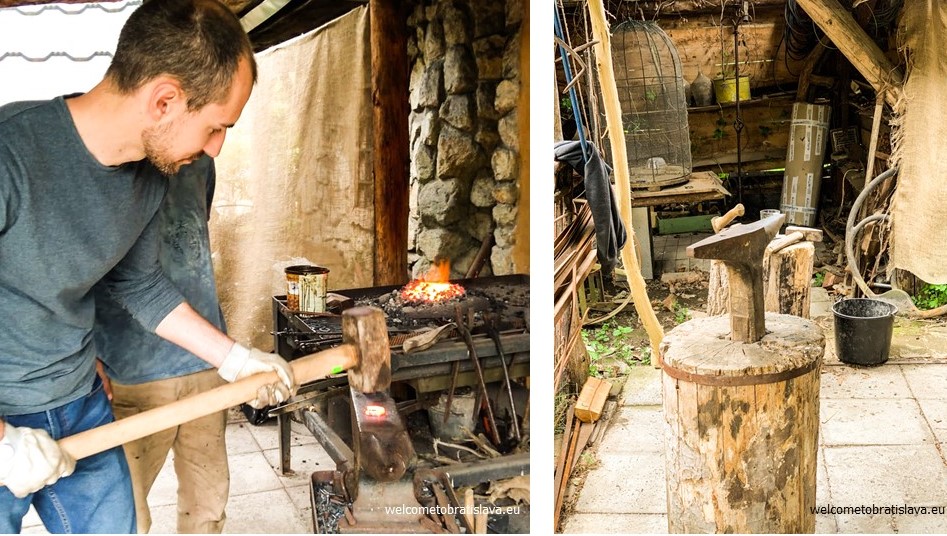 You can access the mill several times a day and see how flour is made.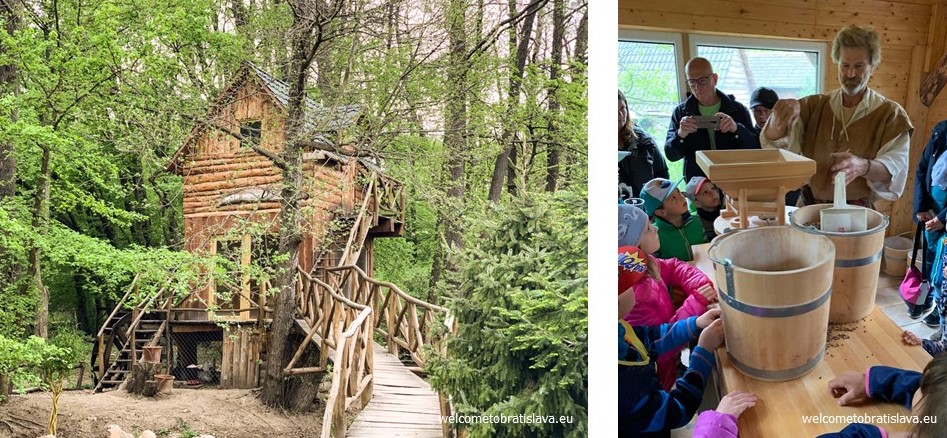 That same flour is later used in the kitchen. And once you get hungry, make room for a bowl of delicious soup and two versions of halusky – with bryndza (sheep cheese) or with poppy and jam. You will most definitely savor your food. There is a playground right next to the tables so that you can keep an eye on your offspring.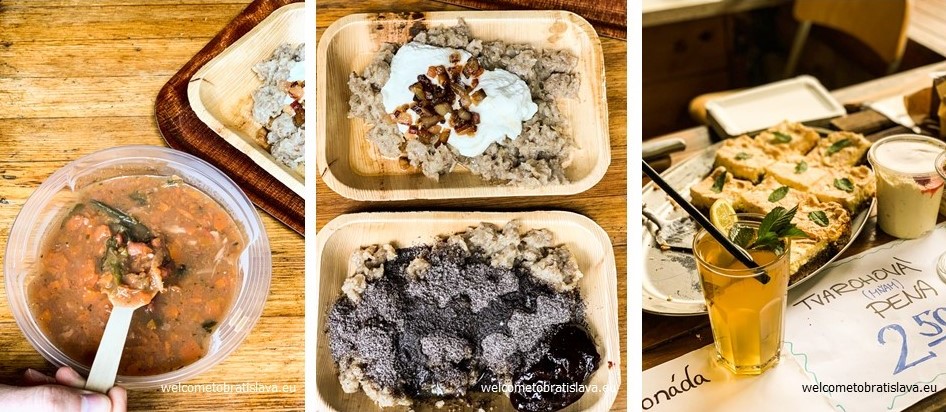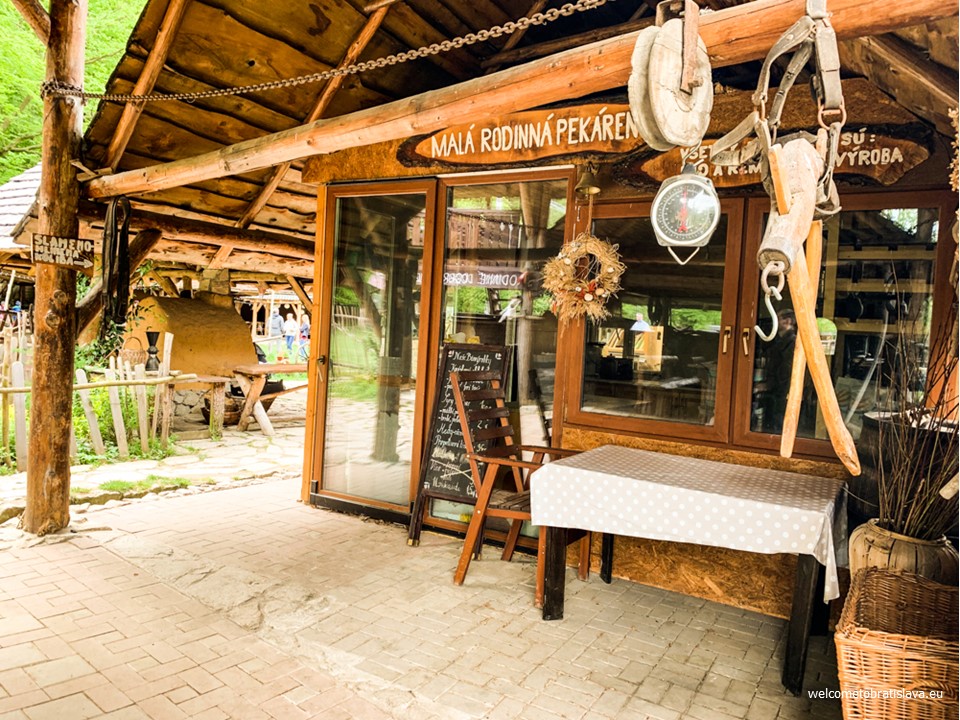 The tea room is an ecologically built building that uses natural materials from the surrounding area (straw, clay, wood, stones). We loved its design and amazing atmosphere.
And that's not all! Want an intense team building or a family experience? They offer two options of spending a few hours at the farm, trying to 'survive'. The "hunter" and the "farmer". Both last 4 hours, cost the same regardless of the number of participants and will test your skills. Can you catch your dinner? Make your own bread from scratch? Get out of your comfort zone and milk a cow. The sense of satisfaction that comes after you take that first bite of the bread you have made is priceless. If your kids or colleagues need convincing, just tell them it's Farmville in HD.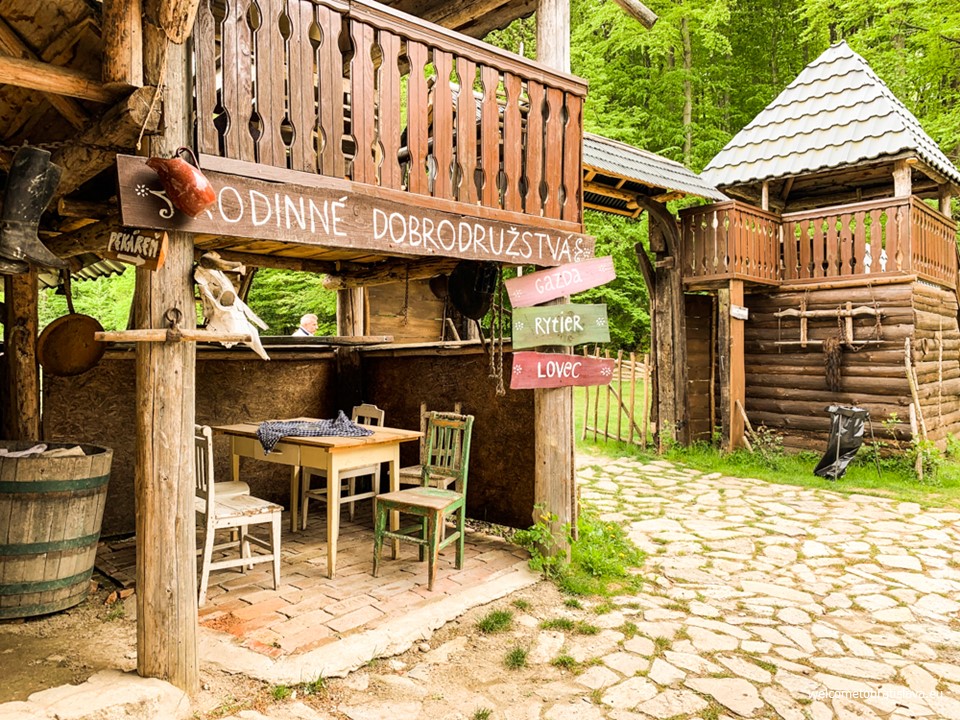 WHY IS ABELAND SPECIAL?
Undefiled nature, farm animals and super kind people. All you need to do is to have a look at their website – every week they write about the upcoming Saturday in an entertaining manner that shows how much they care and enjoy it.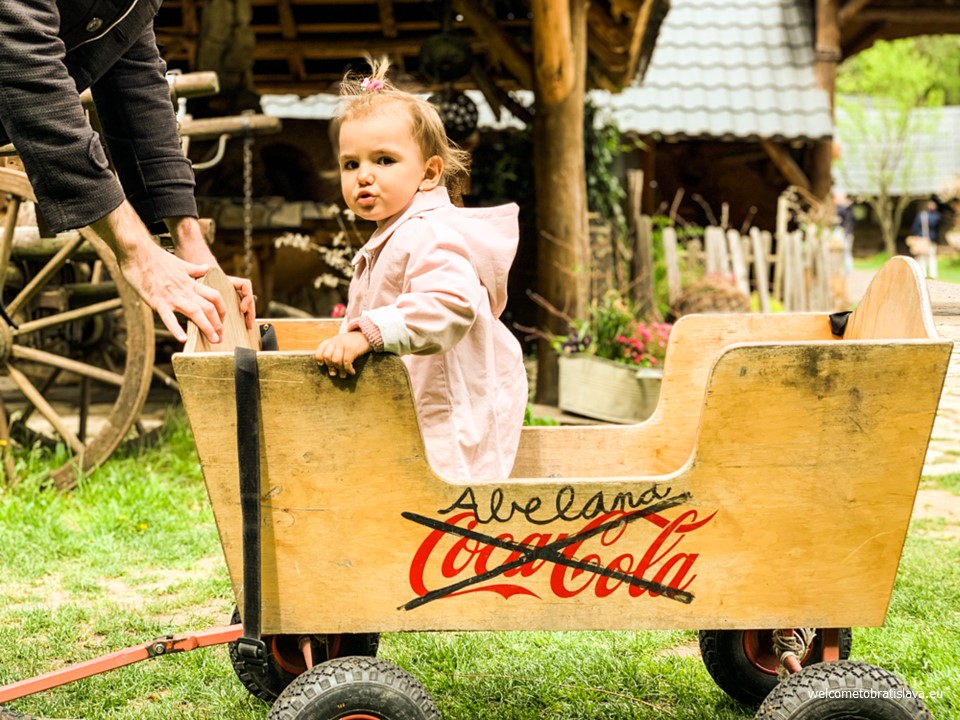 Abeland benefits from offering a niche experience and is a perfect example of combining what you love with the desire to share it with the community.

OPEN HOURS: 10.00 – 17:00 / Saturdays only / from March to June and from September – November


 ADDRESS: Abelovci, Karpatská 1044, Lozorno


 CONNECT: Website, Facebook


 MAP LOCATION:

Author: Tomáš Mýtny, photo credits: Zuzana Mýtna