The shortest month of the year will definitely not be short of the amount of happenings in our capital! Check the variety of February events in Bratislava that you can join :)
FRESH MARKET
each Saturday
The food market in the Old Market Hall (Stara Trznica) is held every Saturday from 10 am to 3 pm. You can find seasonal foods grown and produced by farmers and small producers from around Bratislava here. Buy some quality specialties from more distant countries, too! The market is regularly accompanied by various bazaars (antiques, books, clothes or vinyl). These periodically rotate and you can find them on the first floor. More info.
ITALIAN APERITIVO
each Friday
If you are looking for a perfect start of your weekend, here's a great tip: each Friday evening, an aperitivo is held in Pane & Olio Bistro, a showroom with Italian food and tasting of traditional dishes mainly from the Tuscany region. Delicious food, yummy drinks and Italian wine are surely a great option. Get yourself in a party mood or just have a great dinner time! More info.
WINTER FOOD FESTIVAL
13.1. – 15.2.
Winter is ideal for tasting various delicacies with friends or business partners. Until February 15th, you have a chance to try more than 40 restaurants in all regions of Slovakia. This is the offer of the 2017 Winter Food Festival. The fifth edition of this exceptional gastronomic event is for anyone who has a passion for quality gastronomy. Do you want to visit the best and often unaffordable restaurants and get great meals for symbolic prices? Check the details.
FLEA MARKET ON DRIENOVA STREET
4.2.
A community event that aims to recycle and re-use old and unused clothes. The whole idea is to support the emerging handmade manufacturers and meet with the locals in Ružinov. By buying the clothes and other items during this event you can support the orphanages, homeless people, women in need or dog shelters in Bratislava. Facebook event.
A VEGAN DINNER
5.2.
The idea of these regular vegan dinners is that each participants brings their own vegan food, plates and cutlery. Then you share your meal on a big table with other attendees. You don't need to pay any entrance. All you need to do is bring your food, share it with others and taste from the meals other will bring to the table. No matter whether you self-prepare or buy the meal, whether you cook it or bring it raw. And for the rest of the night you can enjoy networking and getting to know interesting people :) Facebook event.
THE WOLRD´S BEST COMMERCIALS
8.2.
KC Dunaj will host an evening where more than 150 commercials as well as famous film directors and their work in the advertising business will be presented. Come to look at the world's most awarded creative concepts that were banned in the past, or the best viral videos of comparative provocations and guerrilla marketing. Of course, the funniest advertising campaigns will not be missing. Entry: 4 €, start at 8 pm. More info.
INTERNATIONS BRATISLAVA NETWORKING
10.2.
InterNations Bratislava is excited to invite you to another entertaining evening at a favorite venue of Amber's Bar in the Sheraton Hotel. This chic venue is ideal for a fun evening of meeting internationally minded people, mingling and dancing. Amber's Bar is located very conveniently in the old town, in Eurovea. The Bohemios band will be performing live the most incredible Spanish music. And after the show, be prepared to dance the night away with Desentona2 Dj. More info.
A BEAUTY EXHIBITION
10.-11.2.
INTERBEAUTY fair gives an overview of the products and services available on the Slovak market. The top experts meet here annually, to show off their skills in competitions and exhibition performances. The general public attend the event in order to try and take home the hottest cosmetic trends, and also to enjoy the incredible atmosphere in the premises of Incheba Expo Arena. More info.
A WEDDING FAIR
10.-11.2.
Exhibitors and visitors will meet together at the international fair of cosmetics INTERBEAUTY. This is the biggest wedding fair in Slovakia which will introduce new looks in the premises of Incheba. The wedding fair has already become a traditional feast of wedding preparations not only for the future brides and grooms but also for wedding mothers and family members involved in organizing weddings. The aim of the fair is the presentation of active companies involved in the wedding industry, the introduction of new fashion trends of wedding dresses, men's fashion and exchange of knowledge and experience. More info.
A CHILDREN'S FAIR
10.-11.2.
This fair offers a wide selection of strollers, children's furniture, cosmetics, clothing, toys, medical supplies, food, but also service providers such as pre-school establishments, insurance companies and device with specialized health care. The experts will also address the issues related to antenatal courses and education of children of different ages but also topics such as gynecology, obstetrics, pediatrics and psychology. More info.
INTERNATIONAL MINI FESTIVAL
11.2.
Join this mini festival where you can get free Hennah painting, stretch  yourself at a Hatha yoga session and network with other international people! Start at 5 pm, free entry :) Facebook event.
A SWING VALENTINE'S EVENING
11.2.
With February comes also the Valentine´s day, and if you are thinking where to celebrate this special evening, you have a great opportunity to join a real vintage Swing evening. Fats Jazz Band, which is a live swing orchestra playing only original music of 20-ties and 40-ties on vintage musical instruments will be waiting you in the Véčko club. Facebook event.
SINGLES PARTY
11.2.
Are you single, feeling like meeting new people but you're not a fan of speed-dating events? Then come to the Nu Spirit Club during the Valentine's weekend! There is a big singles party organized with adventure games, excellent DJs, a photo corner and midnight raffle :) If you arrive disguised in a carnival costume, you will be welcomed with a shot of free Double Cross vodka :D But don't worry if you don't like costumes, you will receive a mask at the entrance anyway. Snacks will be offered all night long, too! Entrance: 10 € presale, 12 € on the spot. Start at 8 pm! Facebook event.
MULTINATIONAL PRE-PARTY & KARAOKE
11.2.
Join the popular Saturday gathering in Connecticlub which offers karaoke, drinks, dance and fun in the company of the #CONNECTICLUB Family! Take the chance to meet cool people and kick-start your Saturday night! Entrance free. Facebook event.
OLD TOWN CARNIVAL
11.2.
The Carnival parade prepared by the city district will start at 10 am at the Hviezdoslav's Square and will lead through the streets of the historical center towards the Zichy Palace on Venturska Street. The kids will have a blast thanks to special program. At noon the visitors will be able to get to know the carnival customs, have fun at the folk festival and taste abattoir specialties and traditional carnival goodies such as donuts or less known fanks. Official info. Exhibition of carnival masks and artworks by children from kindergartens, primary schools and nursery centers will be launched on that day at the Zichy Palace as well, lasting till the end of the month.
FESTIVAL OF CHAMBER MUSIC: KONVERGENCIE
12. – 18.2.
Several days of chamber music that you can enjoy will be brought to Bratislava thanks to the international festival of chamber music which organized here each year. Get blown away by beautiful melodies of classic works as well as film screenings! More info.
A VALENTINE'S STUDIO OF ACT
14.2.
A very extraordinary romantic evening taking place in KC Dunaj! A special experience in the company of a naked model, drawings enthusiasts, a relaxing atmosphere and all this accompanied by the tuned Valentine's underground music. Equipment (board, paper, pencils, brushes, etc.) is included in the ticket price (10 €). You just need to tune yourself into a wave of creativity and love for art :) Facebook event.
ST. VALENTINE'S LANGUAGE EXCHANGE
14.2.
All those who love someone, something, or just believe in LOVE are invited for this language exchange. Do you want to learn how to say "I love you" in Swahili or in Cantonese? Then you can't miss this one! :) Start at 7 pm. Facebook event.
A QUIZ NIGHT
15.2.
This popular Quiz Night typically takes places at Zeleny Strom and is organized by InterNations Bratislava. During short quiz breaks you can listen to live music, which will be played by the musician Igor Pekarík. All questions will be in English and designed for an international audience. Facebook event.
HOUSE OF TRADITIONAL DANCES
16.2.
Do you want to get familiar with the Slovak traditional dances and culture? Every month there is a House of Traditional Dances organized by the Draguni NGO – a dance party in the centre of Bratislava where you have a chance to learn how to dance to the classic folk music or music of various minority groups. The idea of these events is that there are no performers and spectators, there is just dancing and fun! Read the details (in English) and check the Facebook event (in Slovak)!
A CARNIVAL PARTY
16.2.
This time the Internationals Bratislava party will be held in the spirit of carnival and masked ball in one of the best clubs in Bratislava "The Club." During the night you can try face painting or decorate yourself with henna tattoo. Part of the evening is also a competition of seven best costumes where you can win some great prizes. So bring your imagination into overdrive, creativity and effort will surely pay off. In addition to lots of fun, music, dance and extra discounts on special drinks are waiting for you. Especially a lot of party people from different countries! Facebook event.
THE EVENT NETWORKING
17.2.
Regular business networking event in non formal atmosphere! You can visit The Event only based on personal invitation by the host. If you would like to receive an invitation, apply in writing on the.event.networking@gmail.com. Free entry. Details.
MUSIC BAZAAR
17.2.
Something for the collectors and fans of vinyl LPs, MC cassettes and music CDs. The event kicks off at 10 am and will last till 3 pm in the popular KC Dunaj. Free entry! Facebook event.
ST. VALENTINE'S SATURDAY PARTY
18.2.
All those who love someone, something, or just believe in love are invited to join to meet old and new friends and start a fun evening in company of #CONNECTICLUB. Come in red and get a free shot! A red dress, tie, or any other accessory will do it :) Start at 20:30, free entry. Facebook event.
Hello there! Did you know that now is the time when you can donate 2 % of your annual income tax (tax paid to the state) to support welfare activities? Our website is one of them, too. If you decide to support us in further writing, click HERE.
A STORY NIGHT
19.2.
A special evening of true stories told by skilled storytellers who come from different parts of the world to Bratislava. The main topic of this evening is "journey." The aim is to create an environment where speakers and attendees can socialize and network with one another. Nobody is forced to tell a story, so feel free to come and just listen to others' true stories. Admission is free :) Facebook event.
OPERA PERFORMANCE: LA BOHEME
23.2.
The legendary German opera director Peter Konwitschny has returned to Bratislava to stage Puccini's La bohème as yet another of his productions at the SND in Bratislava, following Eugene Onegin and Madama Butterfly. His narrative of the beautiful and sad story of four penniless young men is unsentimental, simple and convincing. The scenes brim with gaiety and often black humour which the bohemians use it to cover up their depressions and a sense of futility. Opera in four acts is in the Italian language. More info.
CARNIVAL PARTY
24.2.
Rio de Janeiro's carnival is considered the world's largest and most beautiful. But who said we can't rock here in Bratislava, too? Dress in the strangest and most extravagant clothes and invite your friends to join you thematic costume groups. Come to have fun at this carnival party! Details here.
ELECTRO SWING NIGHT
25.2.
Come and let yourself be carried away by the dance and atmosphere of the golden era of swing. The stylish Electro Swing Fever returns to Bratislava at the end of the month! Electro Swing Fever is known as the main electro-swing party project in the Czech Republic and Slovakia. See outstanding musicians of the genre at one place – Slovak band WHITE MELON and DJs from Electro Swing Bohemia, SWING THING and MAX W. Facebook event.
PAINTBALL BATTLE
26.2.
Have you ever tried paintball? Spend a super-fun Sunday with other international people and join an indoor paintball match! It should last around 3 hours and is open for up to 40 people. Book your seat quickly if you are interested! More info.
DISCUSSION: LANGUAGE BARRIERS & LEARNING
28.2.
A discussion about a topic of large interest: language barriers living in a foreign country, integration and tips about the best learning methods. Come and discuss the topic with the community, tell your opinion and experiences and listen to language experts sharing their ideas. Start at 18:30, free entry. Facebook event.
NOTE: Some of the featured pictures come from the Facebook pages of the mentioned events.
TELL US

YOUR OPINION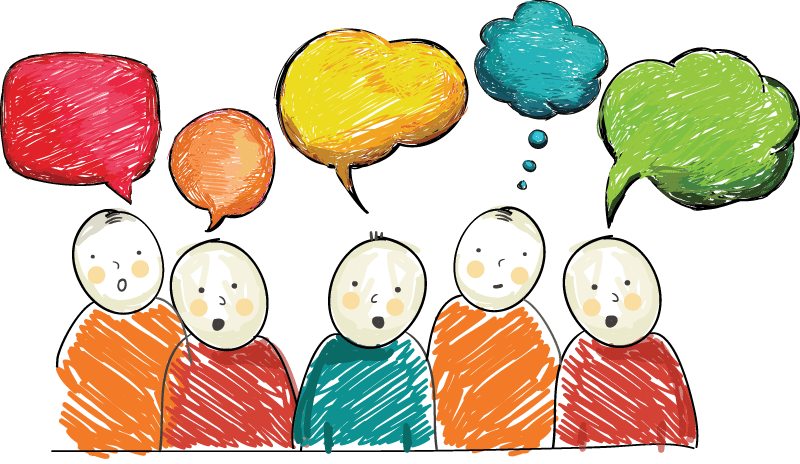 We wouldn't have the drive to write if it wasn't you supporting us with your reading :) As the aim of this webpage is to be useful to our readers, we would like to know which topics you find most helpful and what you would want us to write about in the future. We'll be thankful if you can dedicate a minute of your time and let us know here.
Happy New Year once again and thanks for reading!